Are you looking for proven ways to optimize your WordPress website for higher search engine rankings?
If yes, I would say that you are in the right place to grab some helpful WordPress SEO tips!
I love WordPress for several reasons, and yes, SEO-friendliness is one among them. Thus, it has been recommended by many experts to build any website with it.
I know how hard it is to increase the traffic of your WordPress site from search engines.
It becomes even more challenging when you have a brand new website with almost zero links and no authority. Let me be honest with you here for a second. Google doesn't trust new sites!
That's the reason why authority blogs/websites tend to rank higher in search engines even by targeting highly competitive keywords.
Most of the WordPress beginners try a lot of strategies and use several SEO tools to grow their search traffic but fail miserably.
If you are one among them who is struggling to boost your WordPress site rankings and traffic in Google, let me help you to some extent. 
Incredible Ways To Optimize WordPress For Better Search Engine Rankings
Are you ready to discover a few simple yet most powerful ways to increase your WordPress site rankings in search results?
1. Don't Forget The Basic WordPress SEO Settings
Most beginners don't know what to do after installing a WordPress site. They start creating new blog posts, publish them and wait for search engine traffic.
See, getting visitors to a new WordPress site is extremely hard. If you forget to optimize it, you won't get the best results.
By default, WordPress is not an "out of the box" SEO solution!
You have to do the basic WordPress SEO settings to see higher rankings for your content. Here are a few basic settings to do after installing a WordPress site
Name Your Site 
Installing WordPress isn't enough, you have to name your blog or website. To do that, go to your
WordPress Dashboard, click on Settings >> General and give name and tagline to your site.
Optimize Your Permalinks
URL structure of any WordPress site is extremely crucial. It helps you quickly optimize your content for better search results. By default, WordPress provides you an awkward Permalink structure that's not recommended.
Here's how to optimize your Permalinks for best results.
Go to Settings >> Permalinks
Now, click the option "Post name" for the best optimization of your URL structure. Shorter URL is always better to please the search engines!
Remove the Default Stuff
There is a Hello World post and a sample page that comes by default on all WordPress sites. You don't want them to delete them immediately. Also, make sure to uninstall the default plugins that are not required except Akismet.
2. Get Premium WordPress Theme
The first impression is the last impression in online.
Content publishers have too much competition these days. You need to grab quickly your visitor's attention to make them read your content, like your stuff or even buy what you recommend.
You can't do all that by using a mediocre theme on your WordPress site. You have to invest money on using a premium WordPress theme.  
Yes! if you are wondering why you need to get a premium theme over a free theme,
Please read the post, Why Premium WordPress Themes?
I hope that you have recognized the benefits of getting the paid themes for WordPress, However, where to get them? 
Here I recommended 5 Amazing Marketplaces To Buy Premium Themes For WordPress!
3. Make Use of WordPress Plugins
One of the major benefits of using WordPress to build a site is, you can have access to thousands of WordPress plugins. Here's where WordPress is the winner over other CMS platforms such as Joomla, Blogger, etc.
Fortunately, there are so many good SEO plugins out there to optimize a WordPress website for higher rankings. But, I suggest you install the following WordPress plugin and give a try to get better search engine rankings. 
WordPress SEO by Yoast (free): If you are a WordPress user who wants to skyrocket WordPress website for higher rankings, you should install this SEO plugin. It is used over by 1 million WordPress users worldwide, and the best part is that this tool is completely free.
This plugin will help you easily optimize your content for specific keywords that you are targeting. And suggests you where to put your primary keyword on your web page (title tag, image alt tag, meta description, etc.) to get higher rankings for it. 
I highly recommend this SEO plugin if you have a WordPress site. You may also use the alternative WordPress SEO plugin, All In One SEO Pack plugin that comes in both free & premium version. 
4. Keyword Optimization
On-page SEO is the key to getting more search audience to your WordPress websites.
Have a look at the following image made by Rand Fishkin from Moz. It will show you how a perfectly optimized page looks like and also give you an idea on how to craft your WordPress content for higher rankings.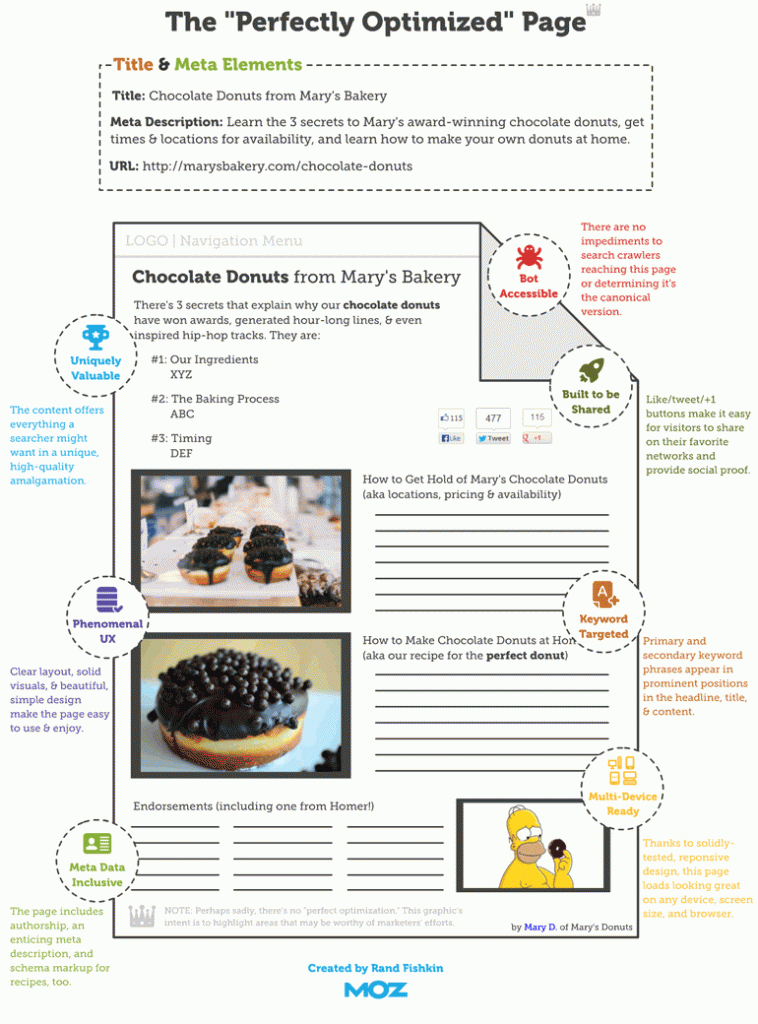 Image Credit: Moz.com
Here are few on-page SEO tips that will help you optimize your WordPress site for high rankings.
Do keyword research with the help of Google Adwords tool and find primary keywords before writing any piece of content. Get a few related keywords as well. Use the primary keyword and related keywords all over your content to get better rankings in search results. 
Use your main keyword in title tags and meta description as they both carry a lot of weight in search rankings.
If you are using images (you should have at least one image), use image alt tags by including your main keyword.
Optimize your URL by making it sweet and short and don't forget to include your primary keyword in it.
Interlinking is another essential factor that helps you quickly boost your search rankings. So whenever you write new content, make sure to include relevant links to the inner and already published posts of your site.
Use your primary keywords in body tags such as H2, H3 tags. Use subheadings for making them look natural.
Last but not least. Don't stuff your content with the same keywords. Use relevant words and Google will give you better results if you have written better content around it.
Long Tail Pro (paid): 
Keyword research is the key to optimize a WordPress site for higher rankings. Long Tail Pro Cloud is the perfect tool for finding less competitive keywords within minutes.
Grab their ten days of free trial and start using the keywords that you find using this tool and buy it only if you notice any good results after using it.
5. Implement Off-Page SEO Strategies
As much as on-page SEO optimization, off page SEO is also critical for WordPress sites to rank higher in search results. Here are three off-page SEO factors that matter a lot!
1. Social Media Sharing: Social media is a trendy SEO. It's the fastest way to increase traffic even to a new blog. If you are a beginner, spend at least 1 hour on connecting with the social media influencers. Yes, influencer marketing is a rocking strategy which is a good SEO. 
2. Commenting: Leave meaningful comments on the relevant sites in your industry after reading the content. It not only increase your site's exposure but also helps you build some quality links.
3. Guest Posting: Contribute the helpful content for other same niche sites alteast once in a month. Guest posting is the surefire way to establish your authority and build quality links for your WordPress site. 
6. Increase Domain Authority
Did you know that the overall domain authority of your WordPress sites can contribute to over 20% in search results?
That means, if you have a better domain authority (DA), you will have 20% more chances of getting into the top 10 search results for most of the keywords you target.
Have a look at the following image to see the Google ranking factors, done by Moz. The DA is contributing to a whopping 20.94% in Google search ranking factors!!
Image Credit: Moz.com
Domain authority is introduced by Moz team, and the higher the DA of a domain is the higher search results it gets. And DA depends on a lot of factors such as backlinks, domain age, domain trust factor, etc.
Now, if you are wondering how to increase your website's domain authority, here area few quick tips that will help you.
Get rid of all the bad links and dead links as it would kill your domain authority.
Create content that naturally attracts backlinks. The more links you get to your domain, the quicker you can increase your overall domain authority. It's as simple as that.
Build backlinks from all sources such as guest posting, creating Infographics, making videos, commenting, etc. The more backlinks you build from trusted sources, the better your DA will be.
Make sure to interlink to your older posts. Whenever you write a new post, don't forget to do interlinking. It always helps you get a better DA.
Additional WordPress SEO Tips To Perform Well
Use Ping sites
Make use of pinging sites. They help you quickly index your site content in search engines. You can get higher rankings on Google if you index your content immediately after publishing, right?
I use three ping sites after I publish my every blog post. 
http://pingomatic.com
http://pingler.com
http://googleping.com
Make Nofollow links
Make sure to add rel="nofollow" if you are linking to affiliate products or any other external links that are not much trusted.
For instance, if you are promoting Amazon products on your site, by adding rel="no follow" to those links will help you NOT pass your website's link juice to Amazon.
You can also use no follow links plugin which asks whether to make an external link no follow before linking out.
Submit Sitemap
An XML sitemap is much needed for any site to get discovered by Google search bots. If you are wondering how to add a sitemap for your new WordPress sites, I've got good news.
Fortunately, there's a free plugin called Google XML Sitemaps which you can use to add sitemap of your site. Just install and activate the plugin, it will take care of the rest!
SEO by Yoast plugin has XML Sitemaps feature as well; you may enable the sitemap functionality of your WordPress site with it. 
Final Words on WordPress SEO Strategies
WordPress SEO is an ocean. It takes time and efforts to get better results. Optimizing a WordPress website for better rankings is not a big deal.
Even a beginner with zero SEO skills can boost their search engine by focusing on following the right strategies such as creating engaging content, doing keyword research before writing and growing the domain trust factor.
So what do you think about increasing the search rankings of a WordPress site? Do you have any other best WordPress SEO strategies or tips? Did I miss anything? 
Share your thoughts in the comments and let me know if you have any more questions.