I can guesstimate that you would like to know some fast loading WordPress themes and get the best blazing-speed template for your business site, as Google considers the page load speed as one of the ranking factors.
And that's what I've brought to this blog post today.
Google and other search engines always appreciate a website with a good structure and quick loading nature.
Not only the search engines, but you will also gain credibility among your visitors; hence, they will be back for sure. Let's come to the point now!
I have done my best to gather the 16 best, fastest SEO WordPress themes that can load under 2 seconds. But before getting into the superfast WordPress theme list, let me reveal the importance of having the fastest-loading responsive theme.
Why Fast Loading WordPress Themes?
You should have an incredibly fast loading site in under seconds for the below reasons!
1. Get Love from Search Engines – As I said early, Google and other search engines hate slow-loading websites and never give the top rankings in SERPs (Search engine page results). So, it is a smart idea to buy a premium WordPress theme that is light in weight.
2. Give Pleasure To Audience – Studies have shown that most internet users expect the pages to load in seconds; otherwise, they would hit the browser's "Back" button.
3. Surpass The Niche Competitors – If you've tried several ways, like offering valuable content, implementing SEO strategies, and social media participation to beat your opponents, you may now get the hasty WordPress theme to perform better than them.
Do you still need more reasons to have a faster-loading website? I have consolidated all the benefits of having a fast-loading site to insist on implementing WordPress speed optimization.
16 Excellent WordPress Themes That Load Blazing Fast
Check the fast-loading WordPress themes that load in under seconds. You may buy the best one suitable for your business website!
1. GeneratePress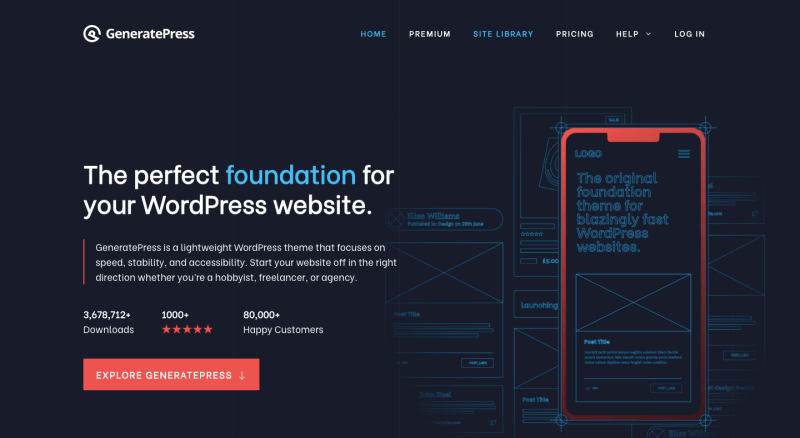 GeneratePress is the recent buzz in the Blogosphere! Yes, it is a simple, lightweight, and free WordPress theme, easy to use without any trouble. The GeneratePress theme has flexible customization features, which could be one of the best alternatives to Genesis themes.
The fastest WordPress theme has stable coding practices, compatibility with most WordPress plugins, and Schema.org microdata for search engines. It is 100% mobile responsive to make your site look fantastic on the small screen gadgets.
Moreover, they consider customer support seriously and respond well through forums & social media platforms. To use the premium version of GeneratePress, you must install the free version and activate the license after purchasing the paid version.
Best Features
Simple, lightweight, and free WordPress theme
Quite easy to use without any complications
Offers highly flexible customization options
Stable coding practices for reliable performance
Flexible to add Author Box & Sticky Sidebar
Compatibility with several WordPress plugins
Seamless upgrade to the premium version
Would you like to know the speed score of this fastest WordPress template? Check below!
2. Astra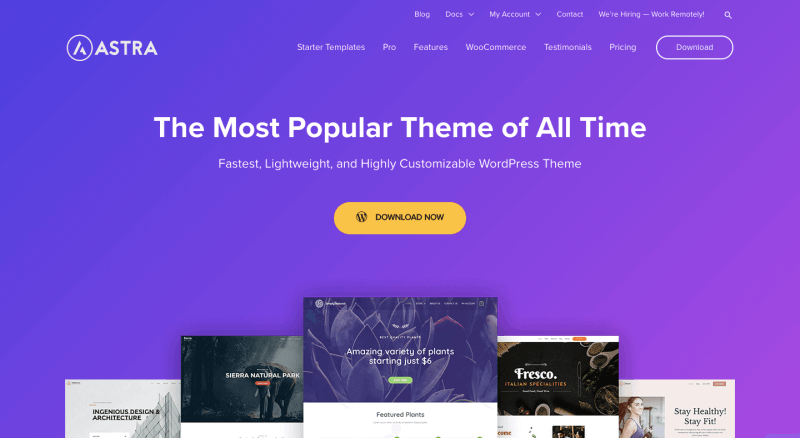 Astra is my second favorite theme for WordPress websites for its fast loading and customizable options. It requires up to 50kb of resources, which is nothing compared to other online themes. Due to low resources, your website will load faster, even less than 0.5 seconds.
I also like the "Colors and Typography" features that allow me to change the color and fonts according to my branding style. All these are available, and there's no need for coding knowledge; you may easily set up a theme or use the pre-built layouts to save time.
Best Features
Easy, pre-built layouts, no coding knowledge is required
Quick, fast loading, and offers optimized performance
Contains Header & Footer builder to get personalization
Requires least resources for lightning-fast website loading
Highly customizable options for full control over the layout
Supports easy customization of website colors and fonts
Impressive speed score, ensuring a perfect user experience
Best suitable to build your eCommerce store
Have a look at the speed score of the Astra theme below!
Note: Astra is offering exclusive discounts on all packages. The Astra Pro package, normally costs $299, is now available for only $227 for a lifetime.
3. Divi ($25 OFF)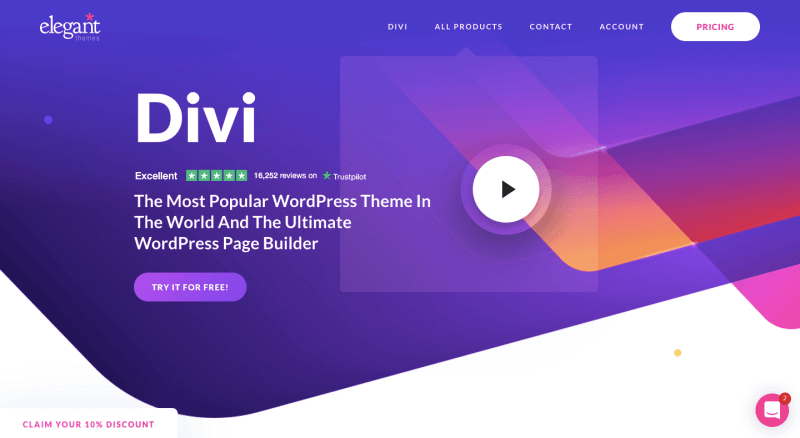 Divi from Elegant Themes is my favorite WordPress theme, and it lets you build a website that can load in under 1 second. I have used this theme on many websites. Having an insightful front-end visual editor for real-time design is an unusual feature of this fast theme.
This theme comes with responsive editing and a wide range of customization settings which requires no page refreshes. Without loading speed loss, you will enjoy its pre-made customizable layouts and modules like CTA, contact form, sidebar, and many more widgets.
Check my Divi WordPress theme review and understand its ability to design high-conversion business sites. You should also check the Divi discount offer to save some bucks. However, I highly recommend it to every beginner or experienced blogger.
Best Features
Remarkably fast WordPress theme; loads under 1 second
Front-end visual editor for real-time design and editing
Responsive editing and extensive customization settings
Pre-made customizable layouts and modules, including CTA
No compromise on speed while using the pre-built elements
Ability to design high-conversion business sites with ease
Possible to add a Video background and Google Maps.
You would like to see the speed performance of Divi, and here it is!
4. Admania
I'm glad to mention the Admania theme from ThemeForest on my list of the fastest WordPress themes! Yes, the designer of this Ad-Optimized WordPress theme is Sakthi, the co-founder of this blog. He always focuses on speed optimization for his ThemeForest themes.
As the name implies, Admania is an Ad-friendly theme specially made for Adsense users and affiliate marketers to fix the ads at the logical places and improve the CTR. It has 5 attractive layouts to build an impressive site and never frustrate the readers with the advertisements.
The front-end ad live editor and bottom post sticky Ad are the most impressive features of this ad-ready template. You may have a look at the complete details about this fastest responsive WordPress theme. Go and grab it and skyrocket your website speed right away!
Best Features
Ad-optimized WordPress theme designed for Adsense users
Focuses on speed optimization for improved website speed
Provides logical ad placement options to increase the CTR
Offers attractive layouts for creating an impressive website
Front-end ad live editor for ads editing and management
Bottom post sticky Ad feature for increased engagement
The fastest theme for optimal loading speed across all devices
Here is the loading speed score of the Admania WordPress theme!
5. SEO WP
SEO WP is the quickest multipurpose theme from ThemeForest. This theme primarily focuses on meeting the SEO factors like speed, responsiveness, proven codes with no bugs, Rankie SEO plugin, and additional features to perform the SEO analysis.
The line CSS codes have been removed from the section for better loading speed. Besides, they have reduced the number of requests and homepage sites for the same reason. You will get SEO-related icons and images for your content and website pages in this template.
More than 9K users have purchased this speed-optimized WordPress theme, and they have given positive feedback. This fast-loading WordPress template is getting regular updates to tweak the performance, and the developers claim that it can load in under 3 seconds.
Best Features
Highly focused on SEO factors such as speed and responsiveness
Integration with the Rankie SEO plugin for effective SEO analysis
Remove unnecessary CSS codes from sections to improve the speed
Reduced number of requests and homepage sites for faster speed
Regular updates to enhance performance and optimize the loading speed
Claimed to load in under 3 seconds for a seamless user experience
Look at the SEO WP ThemeForest theme's speed score!
6. Kadence
The theme I'm currently using on my new blog is Kadence. At first, I had many questions, like is Kadence good for SEO? Is the Kadence theme fast? With time I got my answers with its excellent performance as it loads faster, effortlessly improving the Core Web Vitals score.
The customization is simple with the drag-and-drop style editor. Select the item you want to add and place it in the right location. Kadence also includes social links, custom layouts, global typography, header builder, and many functions to simplify your blogging journey.
Besides that, I like its customer service and plugin integration. It's supported by famous plugins like Elementor, Beaver Builder, Learn Dash, WooCommerce, BBPress, etc. Also, each subscription plan of this WordPress theme offers 24/7 customer support.
Best Features
Fast loading speed, improves Core Web Vitals score and enhances UX
Drag-and-drop style editor for easy customization without any skills
Includes social links, custom layouts, global typography, and a header builder
Seamless integration with popular plugins like Elementor, Beaver Builder, etc.
Provides exceptional customer service with 24/7 customer support
Option to upgrade to the premium version to use its enhanced features
Here's the loading speed of Kadence!
7. Blocksy
I don't know about you, but "free" is a pleasing word for my ear, and why wouldn't it be? The prices of good themes are skyrocketing, and having a decent, fast-free theme like Blocksy is truly a blessing. At first, I wasn't sure a free theme would be that good, but it proved me wrong.
Blocksy is the best theme for individuals who don't have a big budget to invest in a premium theme. It's lightweight, fast, and multipurpose, with 28 pre-built layouts perfect for business, service pages, blogs, and portfolio websites. This theme is what you need as a beginner!
Besides that, it is more likely to design your website from scratch. Once you select the layout, customize the sidebars, header, and footer with the help of page builders like Brizy, Elementor, Beaver Builder, etc. And yes, this theme's dark mode is my favorite one.
Best Features
Free, lightweight, and fast WordPress theme for any website
Offers 28 pre-built layouts suitable for various types of websites
Seamlessly compatible with popular page builders like Elementor
Customizable sidebars, header, and footer for custom designs
Full control of fonts, background color, and header/footer options
Dark mode option for enhanced usability during nighttime work
If you want to know the site's speed, see the image below!
8. Avada
As an avid WordPress user and web developer, I've enjoyed working with numerous themes over the years. However, Avada stands out as an absolute game-changer. Its exceptional versatility, extensive features, and user-friendly interface make it the best option for everyone.
The theme offers an astonishing array of pre-built demos that cater to various industries and niches. With just a few clicks, you can import a demo and have a visually stunning and functional website in no time. Customer support is another area where Avada shines brightly.
Avada is supported by many plugins that elevate your website's functionality to new heights. Everything is easy, from advanced typography options and custom widgets to powerful sliders and dynamic content modules. You don't need to be a pro to use and edit this theme.
Best Features
Offers exceptional versatility and extensive features at a budget price
User-friendly interface for easy website development and customization
Multiple pre-built demos catering to various industries and niches
The simple import process for setting up stunning and functional websites
Compatibility with numerous plugins to enhance website functionality
Advanced typography options and custom widgets for personalized design
Very suitable for users of all skill levels; no coding expertise required
Here's the speed overview of the Avada theme.
9. Nexus
Nexus is a dynamic theme from Elegant Themes that could load quickly with its best coding practices. It often undergoes security audits, so you never need to worry about safety concerns. For me, Nexus is a reliable theme and significantly affects your website speed.
As it comes with the Homepage builder, custom widgets, responsive design, Shortcodes, and attractive templates, try to build stunning websites with it. I specifically listed this high-quality theme in this post as its files are well-coded for faster loading time and ensure high safety.
What else? The clean layouts of this theme have ad preferences at strategic locations as well. Its content modules, unlimited color choices, and SEO options are adorable. So, Nexus, with all these features, adds power to the fast-loading of the website, like having the ice on the cake.
Best Features
Dynamic theme from Elegant Themes designed for quick loading time
Perform regular security audits for enhanced safety and peace of mind
Reliable and significantly improves website speed with powerful options
Builder, custom widgets, responsive design, and attractive templates
Well-coded files add to faster loading times and high safety standards
Content modules, unlimited color choices, and multiple SEO features
Make sure you are glancing at the speed score of this fastest WP theme!
10. OceanWP
OceanWP is my next recommendation for the WordPress website. It has been downloaded by 6,397,300+ individuals happy with the service, performance, and overall theme. I'm sure you'll like this theme's overall responsiveness and blazing-fast loading speed.
With a collection of templates, you'll be able to design any website, from a personal blog to selling your services. Templates are divided into different categories like art and design, beauty, business, e-commerce, lifestyle, etc., to simplify the template-choosing process.
After selecting the design, start customizing the template with zero-coding knowledge. Each customization option will be available on the sidebar. A few steps you have to follow are to select the function where you want to change something like "Header" for the header setting.
Best Features
It has a highly responsive design and blazing-fast loading speed
Set of templates catering to various industries and website types
Offers different template categories like art, beauty, business, etc.
Over 63M downloads, so a large customer base is satisfied with it
Simple steps to customize specific functions, such as the header
Versatile and suitable for personal blogs, service-based websites
Look at the screenshot to know how fast the OceanWP theme is.
Note: OceanWP is now more affordable thanks to the exclusive discount, so get it now before it's too late!
11. Neve
If you want a WordPress theme that combines powerful functionality, excellent performance, and an intuitive user experience, look no further than the Neve. It's fast, simple to use, and perfect for mobile optimization. My favorite thing about this theme is its responsiveness.
Neve comes with a 100+ collection of ready-to-use templates for any website. These templates enable you to design your website in no time. If you're not into pre-built templates, design your website from scratch by adding a custom header and footer with custom code.
With Elementor Booster adding widgets, animations, banners, share buttons, etc., it becomes easy to perform these tasks within a few moments. Moreover, it's available in a free version that allows you to check the features overall before spending money.
Best Features
Powerful functionality, great performance, and intuitive UX
User-friendly interface for effortless customization and design
Provides 100+ ready-to-use templates for quick website design
Option to design your website from scratch with custom codes
Elementor Booster for easy addition of widgets, banners, etc.
The free version is available for testing and exploring its features
Here's the Neve theme's loading speed, have a look at this and make your decision!
12. Shoptimizer
I can't forget Shoptimizer regarding the fastest-loading themes! It is my go-to theme for e-commerce stores. In this digital era, every second counts, and Shoptimizer ensures that your customers can browse, shop, and complete their transactions with lightning-fast speed.
With its lean and lightweight design, Shoptimizer sets a new benchmark for e-commerce themes. It's fully optimized for mobile devices, ensuring customers enjoy a seamless shopping experience, whether browsing on their desktop, smartphone, or tablet.
Apart from its compatibility with mobile devices, Shoptimizer has features that make shopping more interesting. It has a "slide-up notification" feature that displays recent orders showing what others are buying from the website. I highly recommend it for online stores.
Best Features
Simple, elegant, and very lightweight design for optimal performance
Designed specifically for eCommerce stores with fast loading speed
"Slide-up notification" feature displaying orders purchased recently
Timer countdown on sales to create urgency and drive conversions
High compatibility with various plugins and integrations for stores
Offers a significant speed improvement for a better user experience
Here's more information about the Shoptimizer speed.
Note: Shoptimizer is now available with a 50% discount. Get it now before the sale ends!
13. Hestia
Hestia should be your priority if you want a minimalistic look and responsive theme!
Hestia is a multi-purpose theme that offers numerous templates for blogs, WooCommerce, portfolios, and business websites. These pre-built templates are a game changer; after selecting a template, do heavy editing and design it per your idea.
If designing words haunts you, rest assured, it's not about coding. You may change everything from font color to the web page background with the help of the sidebar menu designed for customizing. And you get all this at an affordable price compared to other expensive themes.
Furthermore, Hestia seamlessly integrates with popular drag-and-drop page builders. These include Elementor, Beaver Builder, and many more, empowering you to change the web page layout in a few minutes. Get the theme now at exclusive discounts on all packages.
Best Features
Minimalistic and responsive design for a clean and modern look
Multi-purpose theme with templates for blogs, WooCommerce, etc.
Pre-built templates to edit and customize to match your vision
Easy customization options without the need for coding knowledge
Ability to change font color, web page background, and more
Affordable pricing compared to other expensive themes on the market
Seamless integration with popular drag-and-drop page builders
Note the speed score of the Hestia in the screenshot below.
14. Swift Themes
Swiftthemes claims that they are faster than everyone and is a champion in all the WordPress theme speed test results. According to the Pingdom tool, it has an incredible speed score on Google page speed & GTMetrix and loads in less than 1 sec. Pretty impressive, right?
This fast, responsive WordPress theme is launched by giving the most priority to speed. Besides, it has a search engine-optimized code to perk up organic traffic. You will be in awe of its easily editable admin panel, as you can customize the elements without touching the coding part.
All 10 layouts of Swiftthemes result in a pixel-perfect look which is a great expectation of mobile users. Even the social media buttons never load your site slowly as they are non-blocking. If unsatisfied with its speed performance, you'll get your money back.
Best Features
The fastest theme, with incredible speed scores on speed tools
Loads in less than 1 second and offers an optimal user experience
Responsive design for seamless viewing across all devices
Search engine-optimized code to improve organic traffic
Easily customizable admin panel for codeless customization
Non-blocking social media buttons for fast-loading pages
100% money-back guarantee for unsatisfied customers
Below is the loading power of Swiftthemes!
15. Zakra
Honestly speaking, Zakra isn't a popular theme like the others, which is why I was afraid before using it. Fortunately, time proves me wrong, and all credit goes to its excellent performance. It's best for elegant portfolios, professional corporate websites, and eCommerce stores.
Zakra provides 80+ templates. Thanks to the templates, to design any website, whether a charity website or a simple blog. Currently, around 60,000+ individuals are using the Zakra theme on their website. It may not be a big number, but trust me, it's the best.
As per testimonials, the users are quite happy and satisfied with the performance. Like any other theme, you'll be able to customize the layout and add your personal branding touch. The price is low, starting with only a $69 plan with a 10% discount.
Best Features
Best for portfolio websites, corporate blogs, and eCommerce stores
Offers 80+ templates for designing any website you want
Trusted by over 60,000 users who are happy and satisfied with it
Customizable layout options for adding a personal branding touch
Affordable pricing starts at $69, with a 10% discount available
User-friendly interface for easy customization and management
Please scroll down the page to learn about its speed score!
16. Wanium
The last recommendation of the fastest-loading theme is Wanium. It is a feature-rich and versatile WordPress theme that offers a modern design and a wide range of customization options. The cherry on top, it is one of this guide's cheapest themes!
With its intuitive Visual Composer drag-and-drop functionality, you may effortlessly build your website without any coding knowledge. The theme also provides an easy one-click demo import feature, allowing you to set up your website with a pre-designed template quickly.
The best part is Wanium is fully optimized for search engines, making it easier for your website to rank higher in search results. It seamlessly integrates with premium sliders such as Revolution Slider and Layer Slider, enabling you to create stunning visual presentations.
Best Features
Feature-rich and versatile WordPress theme with a modern design
Wide range of customization options for personalized website creation
Affordable pricing, making it one of the cheapest themes available
Intuitive Visual Composer drag-and-drop for easy website building
One-click demo import feature for quick setup with pre-built templates
Fully optimized for search engines, aiding in higher search result rankings
Seamless integration with premium sliders like Revolution and Layer Slider
Excellent customer support service through a dedicated support portal
How To Find The Fastest Loading WordPress Themes?
I have used Pingdom Tools to show the speed performance of the themes mentioned in this post. If you come across an exciting theme and want to get it, you may use the tools below to check its loading speed quality.
I would suggest you check the speed of any WordPress theme before buying as the fastest theme WordPress could perform better than the themes with average loading speed.
Conclusion
With a superfast theme, your site will pass Core Web Vital assessments, and ranking on search engines is possible. The issue is countless themes are available online that are lightweight and faster. So selecting one among them is difficult, and that's why I did the tough job for you!
Lucky you that you're reading this guide for fast loading WordPress themes. I've tested numerous themes and selected these top 16 for you. 4 to 5 themes are currently active on my websites. So, I assure you all of them are best, particularly regarding the "fastest loading" scenario.
Now, you have to check the prices because some themes are expensive while others are affordable. Aside from the prices, consider the features and support you'll get with the package, then select any one for your blog or company website.
Don't forget to share your opinion below about which theme you plan to buy and why? Please don't get the fastest FREE WordPress themes! Do you know why? Check the reasons Why Purchase Premium WordPress Themes?