I assume that you are a dedicated person who would prefer to construct an authority WordPress website for your business, and thus, you are here!
Let me ask you some questions!
Do you love your WordPress site? How long has it been since you preserved its files?
What would you do when your hosting server get crashed?
How will you handle the virus attack or hacking circumstances?
What would have happened if you accidently delete a key file that would make your entire WordPress site to implode?
If you feel like saying, "Yes! I'm saving the duplicate version of my site, and it's safe with me", then your back is deserved for a pat. Very few people bother to do it and you're a cautious webmaster.
However, if you don't have the answers to my questions, then it is something serious that you should work on to protect the copies of your WordPress site.
Now, you might ask several questions to me like,
Is backup WordPress site so important? Backups from hosting service aren't enough?
How to backup and restore WordPress site? Is it possible to do without a plugin?
What are the different ways to backup WordPress? And so on!
Ugh. A lot of questions again! Let me answer all your questions through this post.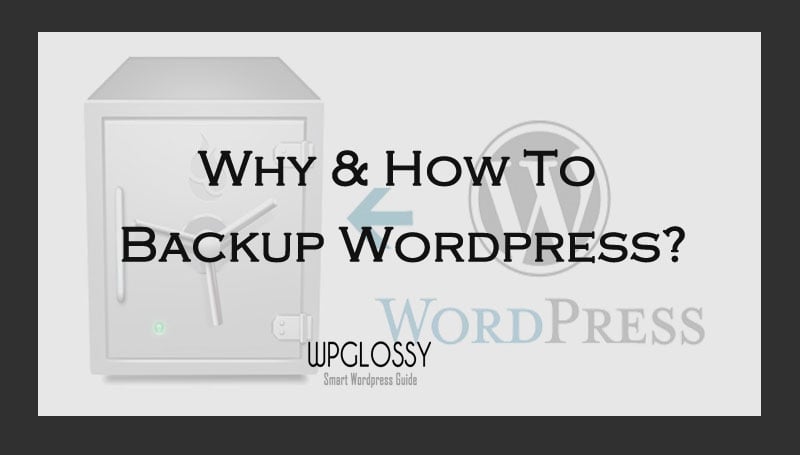 Importance of Having WordPress Backup
Just like you protect your valuable PC files, you need to care for your WordPress site as many things can harm it.
What the heck things are those?
It can be
1. Server Failure – Are you sure that the hosting server of your WordPress site never crashes forever? No server guarantees 100% security – it's 99% everywhere. So, you can't be assured, right? Anything may happen with them like building crash, electrical problems or technical faults that would kill their service. So, don't feel relaxed that you have the option to get your files from your hosting service provider.
2. Malware/Cyber Attack There is a point in explaining the severe security threats that happen with the technology advancements. Infected servers and hackers may steal your data anytime, and thus, you should have an up-to-date backup of your WordPress website.
3. Fault Codes/Updates – When you install a poorly coded theme/plugin, it not only slows down your site, but it may also corrupt the database and break your WordPress. Besides, the upgrades of the WordPress theme/plugins that you use may be incompatible that in turn smash up your site. Yes, sometimes the updates go wrong and thus the WordPress always insist us to take a backup before updating any files.
4. Your Mistakes – We all make mistakes! Error in MySQL command, accidently deleting the content, installing the dishonest stuff or wrong coding would make your WordPress site mess up.
I hope that you have recognized the possible disasters and need to backup WordPress site and database. Now, let us discuss the several methods to conserve your WordPress files.
How To Backup WordPress Site With & Without Plugin?
There are a hell lot of methods to create a simple backup of your WordPress site. The methods vary in complexity, frequency and coverage.
If you have a simple, personal, not-so-famous website, you may just install a plugin for backup and copy the files into your system.
Contrarily, if you're a high-end user, you should consider opting for a premium backup solution.
I have tried my best to cover as many options as I could in this article.
You will see three WordPress backup methods like
#1. Automatic backup (which is mostly at regular intervals)
#2. Manual backup 
#3. Backup via FTP
Let us deal with each of these methods.
1. Automatic WordPress Backup
(WP Backup Via Plugin)
As a consistent webmaster who already has a lot of things to remember and take care of, you should consider opting for at least one of the automatic backup solutions. 
The WordPress plug-in I use and personally recommend for everyone is WordPress Database Backup. It's free and efficient.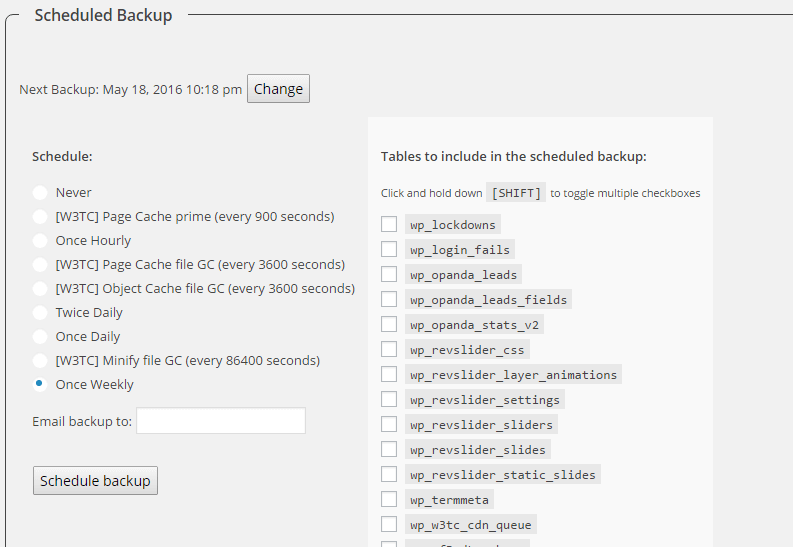 You can set a backup frequency to be it once a week, a day, twice a day or even once every hour. The WordPress database backup plugin allows you to choose the tables to include in your scheduled backups.
The core files of WordPress are included by default. The backup file is emailed to you. Thus, with this backup WordPress plugin, you're heading for a rock solid backup solution. Your backup files are safe in your e-mail account, and there's no way you will lose them.
Another efficient WordPress backup plugin is BackupBuddy. Even though it is a premium extension, it is the best WordPress backup Plugin as it has a clean, convenient, and professional looking interface. 
However, there's hardly any difference in the work of WordPress Database Backup and BackupBuddy. But I must confess that using BackupBuddy would require lesser knowledge.
Moreover, there is more flexibility in the options for storing your backups. You can store at BackupBuddy's own stash, Google Drive, Dropbox and more. BackupBuddy comes at pricing plans ranging from $80 per annum to $297 for a lifetime.
If BackupBuddy looks expensive to you, you can have a look at WordPress's own VaultPress. It's from the same house as WordPress and thus, there won't be any issues of compatibility or something like that.
It creates daily backups and preserves them for 30 days. Spam protection from Akismet is also included with VaultPress.
There are two plans – Basic ($99 per year) and Premium ($299 per year). If you don't want Akismet along with it, the prices are $ 55 annually and $165 per year respectively.
2. Manual WordPress Backup 
Most plug-ins that I have discussed above offer a manual backup feature along with automatic schedules.
However, you should stress on creating manual backups frequently! Yes! Relying on those automatic ones alone might land you in trouble.
Benefits of Backup WordPress Manually
No additional WordPress plugin is needed when we backup the files manually. You can simply do it with the file manager provide by your host and make use of its essential features.
Manual backups are a lifesaver if your website has been compromised by hackers and you lost your admin access, in that case, you won't be able to use the backup plugins to restore your site.
If you have a manual backup and access to your web hosting Cpanel, then you can correctly restore your site.
What to Backup?
To backup WordPress site, the only thing is that you copy your whole WordPress installation directory and then export its database then keep it's safely either with you or with your web host itself.
How To Take WordPress Backup Without Plugin?
You can take WordPress backup through cPanel in two ways!
Method 1:
Go to your CPanel Dashboard. You will be able to see the two options "Backup" and "Backup Wizard."

Click "Backup" if you wish to download a full website backup.
You may also go with "Backup Wizard" to get full or partial backup and restore the files.
Method 2
To start the backup process, log in to your web hosting Cpanel and then access "File Manager", it should be under "Files" section. I have marked the "File Manager" in the above screen shot.
Now in the file manager, find your WordPress installation directory, if WordPress is installed on the main domain then its files are more like to be in the root of your hosting, that is inside "public_html" or "www" ( This name may differ according to your host, but these are the common name, some hosts may use "htdocs")
If you have installed it on a subdomain, then it will be in public_html/subdomain.
Step 1: After finding your WordPress installation directory, just compress the whole directory that is if your WordPress file is inside public_html directory, compress the entire public_html directory.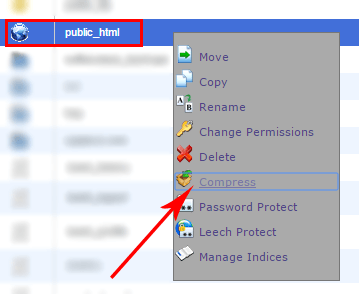 Like in the screenshot, select publich_html directory and right click on it, then select compress from options listed.
Step 2: Then a new window will pop up and ask to choose a Compression Type; this step is not much important choosing any kind will do, but different kinds have different compression ratio.
I prefer picking .zip as it is easier to handle with. Also in this window, you can specify where to store the compressed file.
Step 3: On the root of your hosting create a new directory and name it "Backups" or something that is comfortable for you, you will be storing your backups here. Now move the compressed .zip file to the directory you have just created.
Step4: To move, just right click on the compressed file and select move. Then fill in the path to "Backups" you have just created. As the compressed file and the "Backups" directory are in the root just use /Backups as the path.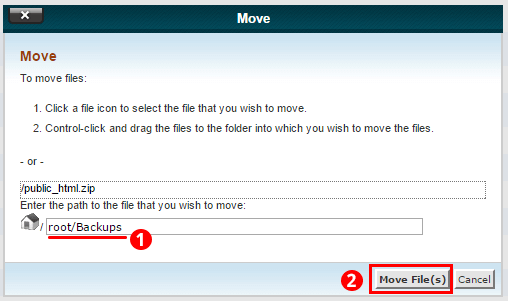 Step 5: To complete the backup procedure, you need to export the database of your WordPress, follow the steps below to export your database.
To export database, open phpMyAdmin which should be under Databases section.
Step 6: At phpMyAdmin find the database of your WordPress and select it. Click on Export tab on the top navigation bar.

Step 7: On the next page click on "Go" button. Now, a .sql file will be downloaded; that is the database. Either keep it with you or upload it through "Import" to the "Backups" directory which we have created before.
Now you have made a manual WordPress backup!
Warning: Be careful while handling the Public_html file as it is essential to display your site on the web. I have wrongly moved the Public-html file into a new folder instead of moving its compressed version. Thus, I got 404 error.
Then I copied the moved file and kept it back with the same file name "Public_html". It was a bitter experience for me as my blog was down more than 10 hours. 
I contacted my hosting support, and they instructed me to reset the "Permalinks" structure in WordPress Dashboard. I have done the same and made my blog pages live 😀
3. Backup WordPress via FTP
Backup WordPress site through FTP client is the least used method by the WordPress users. It is purely a manual process, there's no plugin out there to support you, and you will need to do it time and again.
It's the most reliable backup method out there since you're going to backup the segments manually.
My recommended FTP Client is FileZilla. It's simple, free and does the work as desired. 
Here is a complete tutorial on backup a WordPress website through FileZilla. 
Final Words
Intense site owners would never get distressed by losing all the work that they have put into their WordPress site over the years. But, most of the new WordPress users think that the backing up process is unessential and time-consuming, and they wouldn't understand its importance until something goes wrong.
WordPress Site backups are important because problems occur inevitably, and the user must always be ready in a position to take action against the encountered error. Expending few minutes to create a convenient backup of the database will allow you to stay away from panic thoughts.
Even you use the automatic plugins, it is recommended to follow any of the manual backup WordPress methods that I have discussed in this post. I hope that you have understood the importance of taking WordPress backup and different ways to do it.
What is your viewpoint about this post? Which method do you follow to save your WordPress files? Did you know any other feasible way to backup WordPress site? Which is your preferred method, automatic or manual WordPress backup type? Which WP backup plugin do you use? Share your knowledge and experience in the comment section.