Are you ready to launch the WordPress site for your business?
Or, an existing WordPress user who would like to take your site to the next level? 
Do you search for the aspects to be measured when selecting the best hosting for WordPress site?
If yes, you may read the post until the end to get the best WordPress hosting service provider and run your site on the internet. 
To choose the exact hosting WordPress service, you may ask these questions to yourself!
What type of content am I publishing?

How many visitors would I be receiving and from which part of the country?

What additional services/add-ons will I require?

Is Uptime important for me?

Will I get 24 X 7 Phone/chat/email support to solve the technical difficulties?

How much could I spend?
Asking and answering these questions would reveal that you're clear about your business plan and let you choose an ideal WordPress hosting service for your site. 
Like you, I too hunted for the best WordPress hosting and asking the above questions to myself. At last, I decided to buy the managed WordPress cloud hosting to tweak the performance of this blog, www.wpglossy.com.
Yes, we hosted this blog on Managed hosting with cloud features. 
If you are interested to learn more, read my Cloudways review so that you will come to know that we are doing well with this cloud hosting company that manages everything for us. 
Moreover, they have activated a special discount for our beloved readers. Yes, use the Cloudways Promo Code – WPGLOSSY and get a $30 coupon to use 3 Months Free hosting to test its awesome features. 
If you feel that the Cloudways is high priced hosting, then check the cheap cloud hosting for WordPress to get the suitable one!
Let me come to the key point now!
Why Should You Get The Top WordPress Hosting Service? 
You should pick an exact WP hosting service provider for the following things!
Did you know that your site speed mostly depends on your hosting provider? Did you also know that website speed is one of the crucial indexing factors in search engines? It means the web host you use can affect your site speed and search engine rankings. So you should do the WordPress Speed Optimization. 
If often your site goes down with an unreliable web host, it would create a negative impact on the search engine rankings. You may check the impact of hosting on SEO. 
Poor hosting service would have security holes and let the hackers grab your data quickly. 
Unreputed hosting would fail to offer high uptime, and thus, you may lose your potential visitors & clients which in turn leads to revenue loss. 
However, choosing the best WordPress hosting is hard. That's so true when you are a beginner who knows nothing about web hosting services.
Whether you know it or not, there are hundreds of web hosting companies offering hosting services ranging from free and cheap to premium services.
In this post, let's discuss the most important factors to consider before picking the right hosting for your WordPress sites.
Let's get started without much ado.
5 Factors To Consider While Choosing The Best Hosting For WordPress
Here are the five top elements while choosing the perfect hosting for WordPress sites. So, make sure to consider them before picking the hosting service for your website.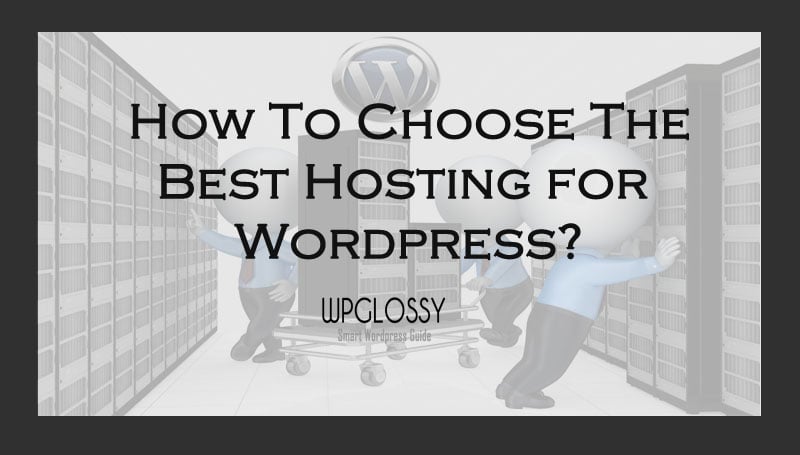 1. Reliability
The #1 factor to consider before picking up a web host is the reliability.
How excellent is your preferred web hosting service?
How much satisfied are the people who are already using it?
Have you done some research about the hosting you want to choose? 
And what others are saying about it? 
What are its pros and cons? 
Why should you pick it over other web hosting options?
These are all the fundamental questions you need to answer to check the reliability of any web hosting service. 
I know it's not easy, but with a little research on Google, you can get a better idea of the hosting you want to pick for your blog/site. 
Reliable web hosting helps you with unlimited space, bandwidth, and fewer downtime issues. Meaning that your website visitors will NEVER face issues while browsing your site.
That's the reason why you should go for modern and reliable hosting services such as Bluehost, HostGator, etc.
2. Hosting Options
There are so many hosting options available for the WordPress users. The following 3 are the widely used hosting options by all kinds of bloggers and marketers across the world.
Have a look at them and find out which hosting suits your WordPress site needs.
Shared web hosting: Shared hosting is one of the widely used web hosting options by the majority of the bloggers. Not only it comes with a cheaper price tag, but it also allows you to make your WordPress sites run smoother. Shared hosting is the finest option for small blogs with limited traffic.
This hosting costs you not more than $10 to $20 per month and you can reliable shared hosting from trusted companies like Cloudways, InMotion, GreenGeeks, Bluehost, etc.
VPS web hosting: If you have a growing site that gets 5000+ visitors a day, you should consider using VPS web hosting for giving a better experience to your website users.
VPS web hosting usually costs you $20 to $40 per month, and you will get unlimited bandwidth and storage. That means even if you get a lot of traffic and use lots of media files such as videos, Infographics or images, your site won't get slow down with VPS hosting.
Dedicated web hosting: Dedicated hosting is where you get an entire server to host your website. It doesn't share the resources or bandwidth to any other site so you can run your sites smoothly even if you get massive traffic to your sites.
Dedicated hosting costs you a lot (usually $100 a month or even more) and well suited for BIG blogs and brands that get massive traffic.
Managed Web Hosting: If you worry about the technical aspects such as backup, updates, migration and so on, then it is better to opt the managed hosting service. 
Yes! Here, the managed hosting company will take care of all the technical issues, and you can focus on your business growth. 
In a nutshell, there are lots of differences between shared hosting Vs. Dedicated hosting Vs. VPS hosting Vs. Managed hosting. It all comes down your blogging needs and more importantly the price you want to spend every year for your hosting.
3. Control Panel
The control panel is what makes it easy for you to access and manage your sites effortlessly.
Not only you can create and manage your email accounts, but you can check traffic, install theme files or plugins or make any modifications you want to your blog's design from the control panel (cPanel).
It also helps you quickly install WordPress on any of your preferred web hosting within a few clicks. Even if you are a beginner, if your preferred hosting offers cPanel, then it will be very much helpful for you to do all things by yourself (from installing WordPress to managing your emails).
All in all, a cPanel is mandatory while choosing the best hosting for WordPress sites. It gives you access to managing your passwords to using different website templates to manage emails without any hassle.
4. Pricing
Pricing is one of the most significant concerns for most bloggers before choosing the unsurpassed hosting for their WordPress sites.
See, you don't have to rob a bank to get the best hosting for WordPress blog/site. They are so many famous web hosting companies out there which are offering affordable hosting packages to their customers.
All you have to do is NOT to overthink about the pricing and focus more on your website needs. You may get the month-to-month hosting service so that you can pay easily and will not get the renewal charge burden. 
Are you concerned about giving the fastest user experience to your visitors when they browse your site? Or do you want to get the cheapest hosting that serves 90% of any website's requirements?
You can get reliable yet fastest hosting services from InMotion ranging from $4.19 per month. Likewise, other hosting services like GreenGeeks, A2 Hosting, etc. offer similar pricing packages.
Special Discount For WPGlossy Readers
If you're looking for the fastest hosting service for your WordPress website, then you may consider getting the server service from InMotion Hosting.
Do you want a special discount? Check the InMotion Coupon details!
5. Customer Support
You might think customer support would not be an issue if you are using a web hosting service but it's essential.
Let me tell you why!
When you are a beginner, you might get curious about making changes to your site design or might mess up with your hosting files.
It can cause your site to go offline. It doesn't matter what you do; it costs you both money and time to make your site running again.
This is where good customer support comes in handy. Whenever you face issues with your site or hosting, you should be able to get quick fixes from the technical assistance staff. 
Otherwise, it will not only give you a lot of headaches but costs you a lot in terms of money and time.
So make sure to read what other customers are saying about the client support team on forums or Google about the hosting you want to pick.
Also, consider getting the hosting from those who have 24 x 7 x 365 support in all forms (live chat, phone, email support, etc.)
Other Essential Aspects To Keep In Mind When Buying The WordPress Hosting Service
Consider the other below aspects while deciding the best hosting for WordPress websites!
1. Backup options
What would you do if the hard drive of your server gives up and your data is lost, or the hacker replaced the index.php file? It would be horrible, isn't it?
So, consider getting the best WordPress hosting that would let you back up your files via the control panel or auto backup through the Cron job or any other program.
2. Security
WordPress would get ruined by malicious themes and plugins as it is vulnerable and has security holes. So your website may crash at any time due to brute force attacks as well.
Hence, picking an excellent hosting service would keep an eye on malicious programs, help you verify that your core files are up-to-date and protect your WordPress site. 
3. Server Location
Do you know the location of the server that you're choosing can affect your sites' performance? 
Yes, if the target audience of your business are in the USA and if you'are picking the server location in Australia, then it would affect the speed of your site for your visitors. Hence, opt the best WordPress host with multiple data centers in several countries. 
4. Free SSL
Installing the SSL certification (https://) is not an option anymore! Google has made it mandatory for all websites, and hence you have to shift from HTTP to HTTPS. Some hosting companies offer FREE SSL Certificate and hence you may go any of such server providers. 
Bonus
Do you know about "Green Web Hosting"? 
If you would like to get the environmental friendly hosting for your website, then you should be familiar with the Green hosting services.
Check the basics of eco-friendly hosting and top green web hosting companies.
Conclusion On Picking The Best WordPress Hosting Service
Selecting the most excellent web hosting for your WordPress website can be a daunting task as you need to judge several things like reliability, uptime, cost, security and much more.
There are a lot more factors like Average customer reviews, Web hosting add-ons, Free domain name, Free WordPress installation service, Termination & Refund policy, etc. you should consider before choosing a web host.
But the above 10 factors mentioned in this post are crucial, and you shouldn't consider missing any of them to opt for a better WordPress hosting.
So what are your thoughts? What are the other factors that are recommended before picking the best hosting for WordPress sites? Share your valuable thoughts in the comments section!
Recommended Hosting Services For WordPress
I use Cloudways, and GreenGeeks hosting services for my other blogs and both are most trusted & best WordPress hosting services that serve thousands of satisfied customers.
They are fast & reliable as well, and I didn't face any glitch till now. Thus, I suggest you get any one of the best hosting service for WordPress blog/site to perform better. 
I have done the in-depth comparison of the two green web hosting services, GreenGeeks Vs. InMotion to help you choose the best one according to your requirements.