Finally, WordPress 4.5 has arrived!
I hope you aware that the new version of WordPress, WordPress 4.5, named "Coleman"(in the honor of Coleman Hawkins, Jazz musician) has just been released yesterday. Let me summarize its new glossy features through this post.
Adding the remarkable features in a consistent manner makes the WordPress a more powerful content management system.
Hence, the web publishers and webmasters prefer this dynamic content publishing medium to have a significant online presence.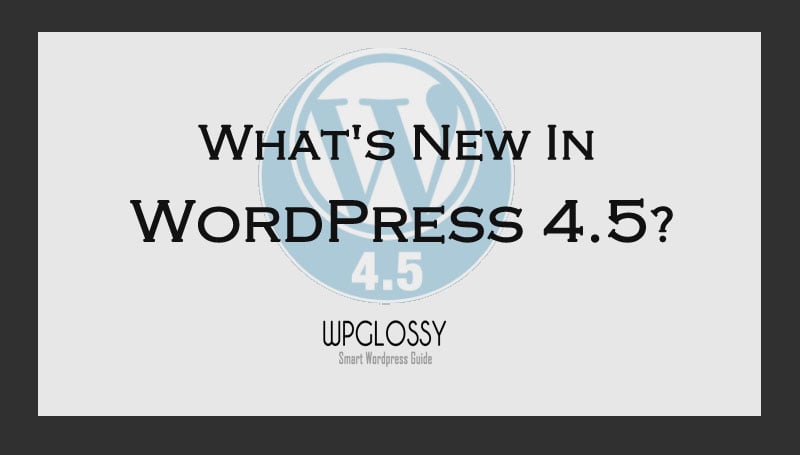 I love WordPress for several incredible reasons and have updated my blogs with the newly launched WordPress version 4.5. Have you done the same?
If yes is your answer, I would like to give an applause from my side! If you didn't, then you must know the reasons to have the recently updated WordPress version.
So, what is new in WordPress 4.5? What fresh features does it have? Let's dig now!
5 Dynamic Features of WordPress 4.5
It seems that this new major WordPress version focuses much on enhancing the editing experience of the users and upbringing mobile-friendly settings.
1. Mobile Responsive Preview
Mobile friendly is a must have feature for all the websites as Google has announced that it is one of the factors to get better rankings on mobile searches.
With the latest WordPress version, you can ensure that your site looks fit on mobile devices.
You can get this responsive preview option at Dashboard > Appearance > Customize
Look at the left bottom of your screen as shown in the below image!
I have selected the mobile version to check its responsiveness and you can see its preview in the above screenshot. 
Therefore, you don't need to use any third party tool to check the mobile responsiveness of your WordPress site.
2. Include Custom Logo
Adding custom logos through customizer is the most expected feature of WordPress.
Most of the premium WordPress themes offer the option to upload your custom brand logo but now you could do the same in WordPress version 4.5
This option has been added to "Site Identity" of the customizer, and you may reach it through
Dashboard > Appearance > Customize > Site Identity
You can see the option to add your business logo like
Make sure that your WordPress theme supports custom logo. Otherwise, this option would not appear in the "Customizing" settings.
3. Add/Edit Link Shortcut
To help you stay more focused on your writing, WordPress 4.5 has introduced the inline link edit choice with which you could add/edit the links in a comfortable manner.
Yes, you don't need to take your fingers out of the keyboard to include the links in the content.
Just select the text you want to add the link and click "Insert/Edit link" button. Now, you get the option to connect your old content quickly. Check the below image!
I have chosen the text "Why To Choose the Premium WordPress Theme", hit insert link button and typed "Why", you can see the old post suggestions by new WordPress version to add the suitable content. 
I would say that it is a disruption less interface launched by the WordPress to boost the productivity of the users.
Not only the shortcut for adding links, but WordPress 4.5 also has few more fresh time saver options like
1. Highlight the text > Ctrl + K – To Get Link Editor
2. – – – (3 dash lines) – To Get Text Separator (horizontal line)
4. Log in Using Email
It is somewhat tough to remember the username of different sites, but we never forget our email address. Isn't it?
WordPress 4.5 lets you log in with the registered email id and thus you don't need to memorize your WordPress username. 
Also, if you use any external add-on to get into your WordPress account, you may deactivate it now! 
5. Compressed Images
With this fresh WordPress feature, created images are being resized smartly without much quality loss. Thus, they would be able to load faster than before and appear better on small screen gadgets. 
Responsive image feature has already been introduced in WordPress 4.4 but you could get excellent visual quality in WordPress 4.5.  
Just take a minute and look at the official video of WordPress 4.5 to understand the latest WP features.

Under-the-hood WordPress 4.5 Enhancements For Developers
Below are the few upgraded options that are much useful for WordPress themes and plugins developers!
1. Script Loader Support – "wp_add_inline_script ()" has been available to add the additional code to the inline Javascript and thus the script header & Footer dependencies got improved support.
2. Embed Templates – Embed templates have been made better by splitting into parts and can be overridden directly by themes through the template hierarchy.
3. Selective Revive Customizer – When the developer testing their widgets or modifying only a part of the code , they don't need to reload the entire page. With the robust framework, they could preview the changes real-time through the selective refresh in the customizer.  
You may also use this feature if you edit the specific part of your site and you don't need to refresh the full page again.
Along with the above features, some jQuery updates are also available in WordPress 4.5. 
Final Words
WordPress CMS is a well-structured environment, and you can easily integrate social media to get a massive exposure. 
If you follow the basic WordPress SEO strategies and publish the unique piece of content, you would get the potential to grab better search engine rankings which is needed for the growth of your blog/business.  
WordPress 4.5 is the latest WordPress version, and it has been released 12th, April 2016 with helpful features to make it suitable for business branding.  
If you are a self-hosted WordPress user, I would suggest you take backup of your site and upgrade it to the new edition of WordPress to avoid compatibility issues and security threats.
We may expect the next version WordPress, WordPress 4.6 very soon as the work is already going on! I hope that you have learned the features of the most up to date WordPress version through this post.
What is your opinion about the new features of WordPress 4.5? Which is your preferred enhancement that arrived in the latest WordPress version? Tell your thoughts in the comment section.