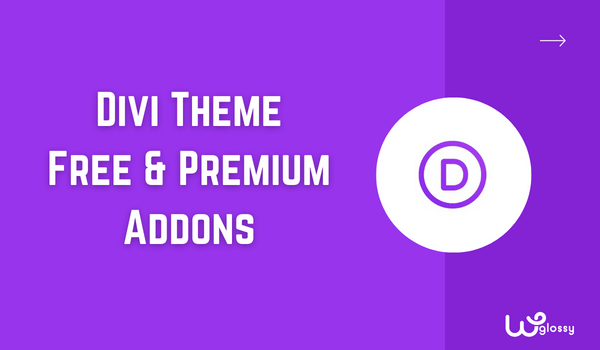 Are you a blogger running a personal blog or a small business owner using a Divi theme for your website? Do you love using plugins or extensions to ease the customization of your website? If that's the case, I've got the best Divi addons, free and premium, to install now.
Divi is a popular WordPress theme — it allows users to create custom websites using its default page builder. With these plugins, you can add new features to your website and boost its functionality. If you are not using this excellent design tool, grab the official Divi Discount now!
As there are a lot of plugins, it's a tough job to pick the perfect one. This post will list the best free and paid Divi addons to help you take your website to the next level. So, to enhance your Divi-powered blog, check out this article for Divi theme Addons.
Best Free & Premium Addons For Divi Theme
Many free and premium addons are available for the Divi theme. They can help you boost the functionality and design of your website. You must be careful about selecting, as some can reduce site speed. I did this for you to pick one per your needs!
Reviews of Best Free Addons For Divi Theme
If you're new to blogging and have switched to the Divi theme, I have the plugins to install now. All these are the best free addon tools for Divi, and I have personally checked them out. So, choose any of these addons without hesitation to fulfill your requirements.
1. Supreme Modules Lite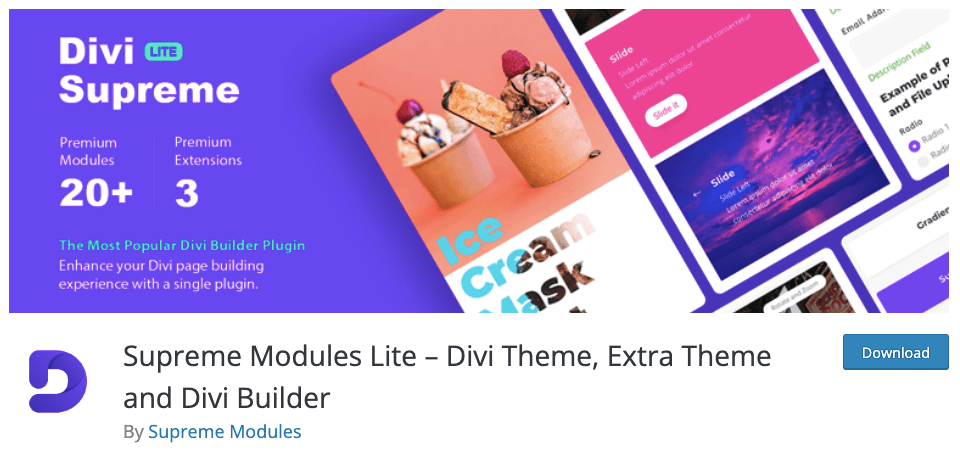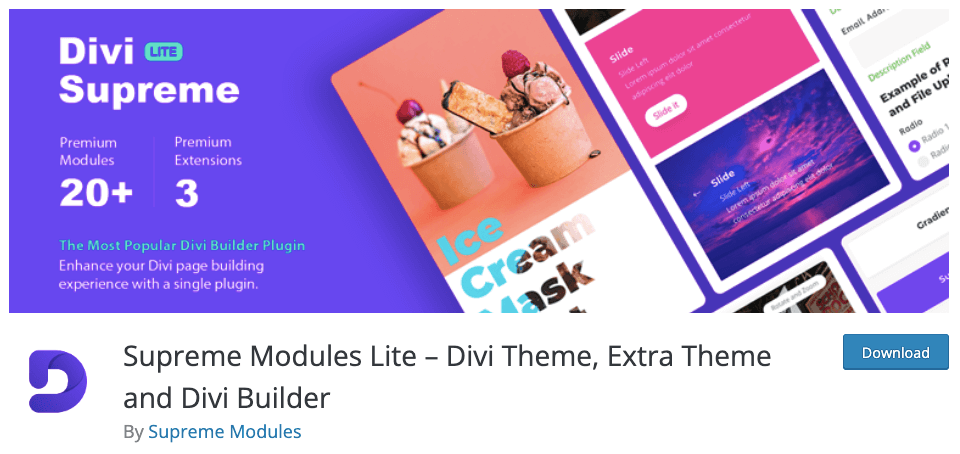 Supreme Modules Lite is the best free alternative to Divi Supreme Pro. In the Lite version, you get a few features of the paid version. It has many free creative, helpful, and robust modules and extensions. If you don't have a budget, this is the best plugin you should use.
It is one of the top Divi addons free to build attractive and responsive websites quickly. Its user-friendly and intuitive interface blends with the Divi theme builder. It gives you extra elements to work with. This tool does not affect the speed of your website, thanks to Divi developers.
Best Features
An intuitive interface blends with the theme builder
Contains more than 20 free Divi custom modules
Offers 10 types of hover animation to choose from
Supports image and video lightbox for YouTube, etc.
Creates responsive websites with no effect on speed
Ideal for making a top-notch eCommerce website
2. Divi Torque (Free Modules)
If you want an all-in-one addon for the Divi theme builder, DiviTorque is an excellent choice. It offers over 20 free modules and adds more, and I love FlipBox, Image Carousel, Video Popup, and Infobox. Use these modules to create websites with excellent speed.
DiviTorque is the solution for those fed up with complex modules and subpar performance. This plugin adds a variety of features to your website easily and quickly. It's a plugin to replace the most expensive add-ons. It'd help if you tried this plugin to see better results.
Best Features
Provides more than 20 free modules and counting
All-in-one solution and alternative to premium plugins
Cross-browser compatible and fully responsive tools
Build with Divi and provides you with expert support
Helps you create a video lightbox popup in the builder
Best for portfolio and brand or eCommerce website
3. Simple Divi Shortcode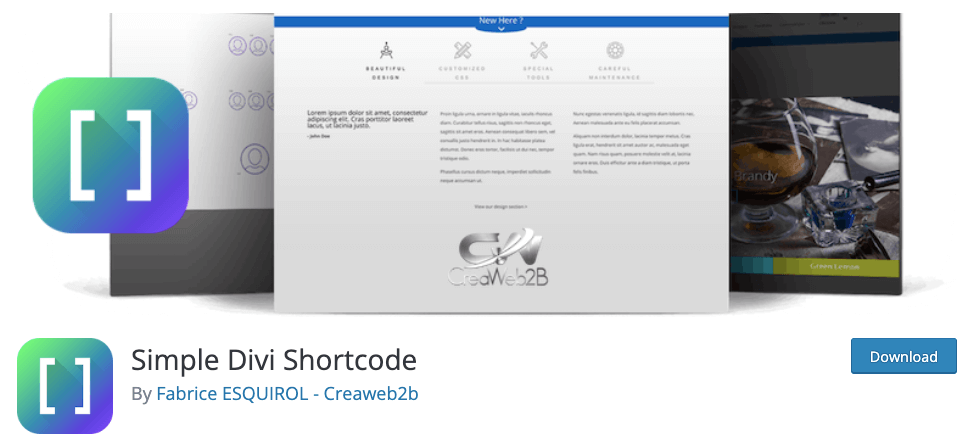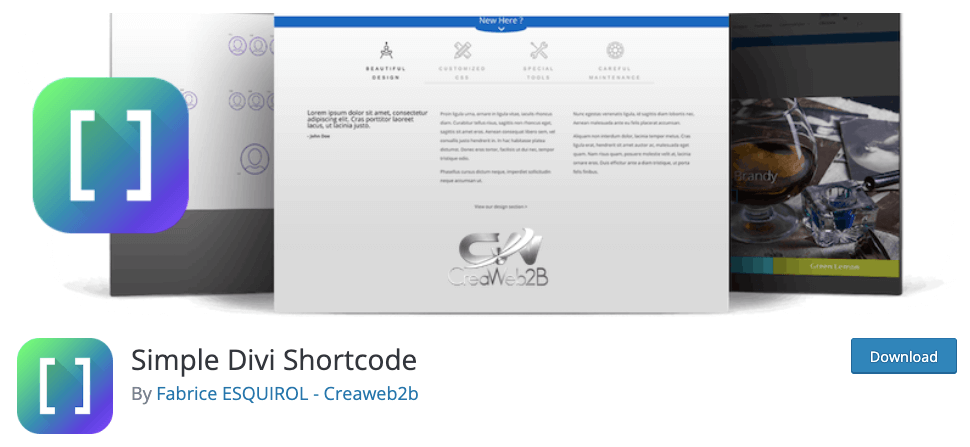 Simple Divi Shortcode is the best addon for those with coding knowledge. This plugin primarily works with the Divi library, allowing you to insert elements into modules. It allows you to add your favorite features into a PHP template, and yes, through a shortcode.
Let me tell you its requirements — this plugin must work with Divi, another theme, or Divi builder. You must build a layout or module inside the Divi library and embed it in your website. So, if you've some coding skills, Simple Divi is the perfect option.
Best Features
Pretty versatile; design what you want via codes
Allows you to create a shortcode from any layout
Lets you use shortcodes within other Divi layouts
Clear codes ensure your website speed stays high
Great customer support from a professional team
It's the perfect option for developers and experts
4. Wow Divi Carousel Lite
You are looking for a carousel or slider builder, right? Don't look any further; I've listed one: Wow Divi Carousel Lite. This free version of Wow Divi Carousel Pro offers three premium-like modules. These include Image, Logo, and Twitter Feed carousels.
Creating an interactive image and text carousels using the Image module is pretty easy. You get a few more options to make them more attractive. With the Logo module, display your items in style. Its Twitter Feed module lets you create highly engaging Twitter posts.
Best Features
Simple and easy-to-use; creates stunning carousels
Provides its users with three premium-like modules
Add a dynamic carousel to the carousels you create
Allows you to generate highly responsive carousels
Offers personal one-on-one support from experts
Free Twitter Feed carousel is an excellent addition
5. Popups For Divi
Wait, I have another best free Divi addon to use for displaying popups on your website. I'd recommend this plugin for its user-friendly interface and advanced features. This addon can help you display special offers, important notices, and other options.
Popups For Divi does not affect user experience; instead, it increases the UX of your website. This plugin ensures your visitors don't miss out on your new offers. It lets you create visually appealing popups with custom content. You can display popups where you want.
Best Features
Easy to use and lets you create stunning popups
Easily add and customize the elements of popups
Provides control over when and how popups appear
Enable popups when users try to leave the page
"Disable On" feature; set visibility on specific devices
Fully responsive and works perfectly on all devices
Reviews of Best Paid Addons For Divi Theme
So, these were the best free Divi add-ons for beginners and bloggers on a budget. This section is for you if you're an established or small business and can afford paid plugins. Here, I'll list the best and paid addons for Divi theme to make stunning website pages.
1. Divi Supreme Pro
Divi Supreme Pro is the premium version of Supreme Lite and offers multiple features. If you want to increase your website's performance, Supreme Pro is the best option. This package is complete; you do not need to install additional plugins.
This plugin significantly enhances the quality of your designs thanks to over 40+ superb modules and extensions. You don't need any other plugin to extend the functionality of Divi builder. I like this addon as it doesn't require any coding or other skills to work with.
Best Features
Simple and user-friendly interface to customize Divi
Over 40 highly creative, helpful, and powerful modules
Need no coding and additional skills to create designs
Light and highly responsive; doesn't affect the website
Offers free 1-year support and updates to add power
Affordable packages with yearly and lifetime plans
2. Divi Plus
Divi Plus is a premium and third-party plugin developed by Divi Extended. This addon supports more than 50 modules and will add more in the future. The best part is you can disable the ones you don't want to use. It's lightspeed and won't affect your website speed.
What else? You get the Divi library shortcode extension to add items from the Divi library wherever you want. You'll be able to create different web page elements using Divi Plus' modules and extensions. As a result, this will increase your website's looks and efficiency.
Best Features
Simple, easy-to-use, and most advanced Divi modules
Provides more than 50 Divi modules and extensions
Each module provides multiple customization options
Shortcodes for Divi to embed items on your website
Lightweight addon, making your website load faster
Lets you create eCommerce websites with a better UX
3. Divi Modal Popup
If you have some budget, I recommend using Divi Modal Popup — a premium version of Popups For Divi. This plugin allows you to create visually appealing popups for your website easily. Using Divi popups, you can put special offers and subscriber buttons on your site.
This plugin requires little to no coding. But if you want to display something in the modal, write a short code, and voila. If you don't have a high budget, this plugin is a budget-friendly premium plugin. So, forget about Divi Supreme Pro or Divi Plus and opt for this one.
Best Features
Lets you display text, images, and videos as popups
Provides multiple popup triggers for your convenience
Supports exit-Intent feature to display popups timely
Allows you to add various things in the content body
Choose custom styling options for the Trigger button
Provides free expert support and updates for 1 year
4. Divi Events Calendar
Do you own an event-based website and add calendars to your website for various events? If so, Divi Events Calendar is the best calendar addon to help craft an aesthetic event and story. Unlike other modules, this Divi module can add, edit, and manage events to display.
Divi Events Calendar is the smartest way to build an event website. This add-on lets you work in the Divi library and display stylish events in the Divi layout. You get many Divi settings and toggles to use and create and customize events with your style.
Best Features
Simple interface and quickly integrates with Divi
Fast, efficient, and user-friendly, even for beginners
Display your events with over 427 custom features
Lets you create events to display where you want
Turn On and Off features by toggling the buttons
Supports 6 custom Divi modules to choose from
5. Divi Essential
Finally, we have Divi Essential as the last premium addon for the Divi theme on the list. If you have not chosen any plugin till now, you might love Divi Essential for its versatile features. This addon could be your one-stop solution to create branded websites with plugins.
You get over 60 designing modules and unlimited features in a single plugin. This plugin offers over 600 layouts and helps you design a pro-level website. It's the best plugin for web developers and individuals who design their websites. 
Best Features
Suitable for beginners with 600+ starter layouts
Offers responsive features and dynamic content
All-in-one solution for individuals and developers
Supports over 60 designing modules in one place
Premium and 24/7 support from an expert team
Daily updates add new features and remove bugs
Wrapping Up
Well! That's all about the best Divi addons for personal blogs, business or company websites, or eCommerce stores. Developers are striving to find ways to simplify the website development process. We'll see more such plugins to help with developing great websites.
Among the free add-ons, I suggest Supreme Module Lite as this plugin has many modules of the premium version. However, among the paid addons, I recommend Divi Supreme Pro and Divi Essential. You get all the modules you need to build a website in one place.
As an expert in the blogging industry, I recommend these hand-picked plugins to fulfill all your design needs. I hope these free and paid Divi addons will help you to create websites quickly. These were the ultimate Divi builder addons I've listed to get now.