After using this versatile WordPress theme for the past couple of months, I have decided to write this honest Divi Theme Review 2023. I hope it will help you recognize its robust features, comfortability, and flexibility in building your business's high-conversion site or blog.
If you are a WordPress user, you have probably heard about this theme somewhere and might feel that it has complicated settings suitable for only experienced professionals. Or you may think that the Divi theme settings are too technical, with confused preferences that do not match the non-techies.
Whatever you feel and imagine, I'm sure you will know the truth after reading my unbiased Divi theme review, where I'm going to explain its excellent features, setting options, pros, and cons with which you can conclude whether it is the right and relaxing theme to build your business site or not!
Let's get started from the basics!
What is Divi?
Divi is a multipurpose WordPress theme created by Elegant themes (a team of WordPress enthusiasts) as they love WordPress and want to build some fantastic products for their customers. It is the smartest, most powerful, and flexible theme launched in 2013 to offer you complete yet creative control over your website.
This resourceful theme is entirely different than any other theme in their collection, and yes, this uniqueness makes us feel that it is problematic; however, it is untrue! Since it contains an advanced page builder and a set of robust modules, even a newbie can make the pages from the ground up.
Elegant themes release constant updates for this most popular WordPress theme. When writing this Divi theme review, its new version 4.0 has arrived with a brand-new builder that allows you to build custom headers, footers, product & blog post templates, category & 404 pages, and much more.
In simple words, the latest Divi theme builder is a game-changer! Yes, the new version makes the theme free from post content design and stretches its functionalities over the entire website which is essential to make the brandable business sites.
With this fully-featured site templating system, it is more likely to edit any part of the Divi theme, and hence you aren't restricted using the basic structure but instead create everything on your own. You can easily place and modify the logo anywhere at the header.
What Is The Difference Between Divi Theme & Divi Builder?
Most WordPress users get confused with Divi Theme and Divi Builder. Well, here is my answer to them!
Popular WordPress themes like GeneratePress, Astra, and OceanWP require a separate page builder to edit every part of the theme. But it is not needed in Divi as its page builder is called Divi builder.
When you use the Divi Theme, it is not essential to use the Divi builder because all the builder features are integrated into the Divi theme, so you will get full control over your site. Divi theme has a built-in Divi builder.
The Divi Builder is a plugin that virtually works with any WordPress theme that needs the page builder to design the page and post content areas.
How Fast Is Divi Theme?
No doubt that the Divi theme is optimized for speed. However, since it uses shortcodes, there is a concern about the bloat code creation, which may affect the site speed.
It would be best to understand that this fear is not only with the Divi theme but with other page builders like Thrive Architect and Beaver Builder.
So, you don't need to worry much about Divi; instead, ensure you use fewer resources and optimized images while creating the page or post.
What Can You Do With Divi Theme?
Divi is a multipurpose theme that is excellent for building business websites, Online course sites, or personal blogs.
This all-purpose template is suitable for bloggers, affiliate marketers, photographers, and eCommerce site owners to design stunning sites for their businesses.
Why is Divi Theme the Best?
You might wonder why Divi is the best and how it stands out! Well, let me tell you three primary reasons for it!
Divi is an advanced WordPress theme in the market because it has a superior visual editor to easily create spectacular designs.
Its pricing system is simple (including a lifetime plan) and offers unlimited usage on several websites through a single subscription.
It has solid rock security features and receives regular updates to stay compatible with the latest WordPress version.
Why I Have To Buy A Divi Theme?
Divi has impressive features to design, optimize, and convert! Here are some valid reasons to buy the Divi theme!
Front-end visual page builder to quickly build any home pages
More than 800+ templates are available to create any niches sites
40+ website elements to get personalized site design
Full Design Control to gain brand identity
Front-end live responsive editing for mobile devices
Magic color manager to offer a range of suitable colors
Font weights and text styling can be modified
Shape dividers are available to get transition effects between the pages
Inline Text editing to click and start typing
Undo, redo, and revisions to go back your designs if there is any mess
Built-in split testing and powerful conversion insights
Theme coding is highly secured which is certified by Sucuri
Adding YouTube video background is easy
Useful settings like Quick Actions, Keyboard shortcuts, Bulk editing, and more to design efficiently.
Including front-end elements, the interface with all form fields and descriptions will automatically switch to RTL mode after enabling your RTL language in the WordPress dashboard. Divi supports 32 global languages.
Divi Theme Cons
Divi has a few limitations like
Too many features, so you may feel a little bit difficult to setup
Its popup optin is not impressive.
Is Divi User-Friendly Theme?
Yes! However, before designing your site, shape your mind to learn new things.
It is essential to spend some quality time checking and understanding all the Divi options so that it will be a piece of cake to get done with the site design.
Is Divi Good for SEO?
Yes! Divi is an SEO-optimized theme for WordPress that includes Schema markup, excellent site structure, high-level coding, and a breadcrumbs module for higher search engine ranking.
You may use either the Yoast SEO plugin or the theme SEO settings shown below!
The Divi SEO settings for single post pages and the homepage help add custom titles, meta keywords, and canonical URLs.
Since experienced web developers and WordPress experts have created it, you don't need to worry about the SEO-friendliness of Elegant themes.
Does Divi Theme have Detailed Documentation?
The elegant theme offers detailed documentation through articles with hundreds of video tutorials so that you can easily learn how to add, configure, and customize the Divi modules.
Starting from the Divi theme installation, they have provided the full article to set up and use everything!
What I Mostly Like In Divi Theme?
As a WordPress theme designer, I specifically love a set of Divi features that impressed me a lot! Here are they,
1. Ultimate Visual Page Builder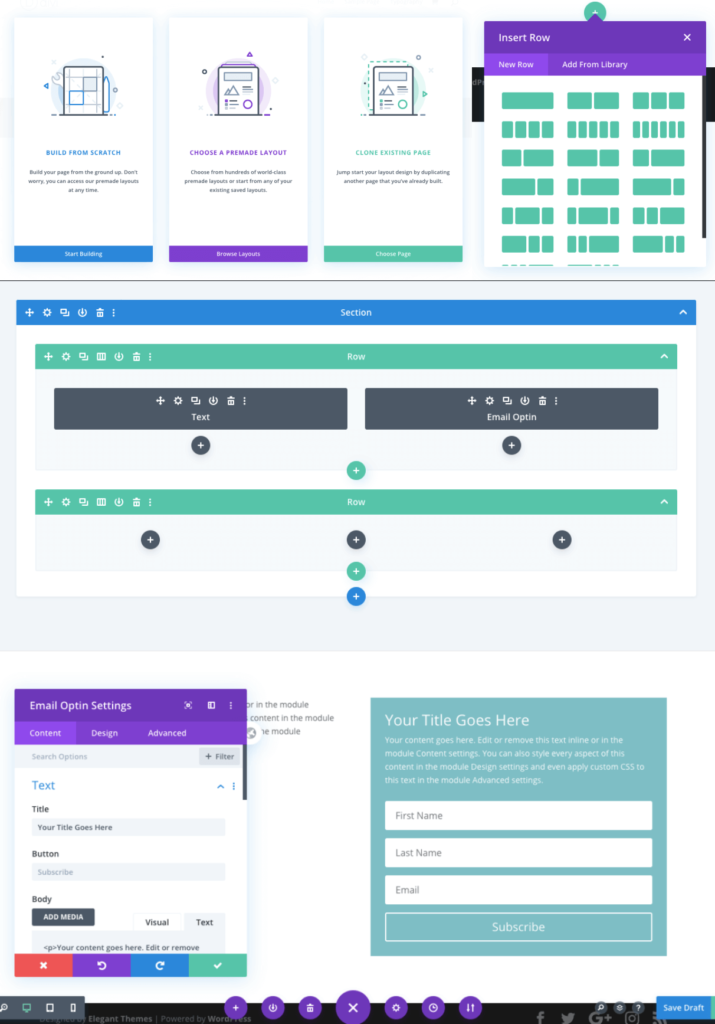 Divi theme has intuitive visual controls to design your pages in real-time and see the results immediately. You need to use the drag & drop building elements at the front end of your website.
The interface is simple to build responsive websites through thousands of design options. Getting access to global elements & styles to manage the entire site design is a notable feature of this website design system.
We must thank the team for providing an intelligent visual editor to simplify site-building tasks.
I'm impressed with the effects settings choices, shape dividers, bulk editing transforms, and hover states facilities of the incredible page builder of the Divi theme.
As a modern software application, it is easy to travel back to the design history to undo, redo, or get the revisions without fear of starting from scratch while making any mistakes.
2. 40+ Website elements
How about getting the building blocks that are easy to understand, fix & communicate and easily create the pages the way you want? The Divi theme has more than 40 special content modules like
Slider
Blogs
CTAs
Forms
Galleries
Video Slider
Testimonials
Pricing table
Countdown timer
And more to construct eye-catching yet high-conversion websites by dragging and dropping them into the content space. It is easy to insert Google Maps into Divi theme site.
3. 800+ Pre-made Layouts
If you don't want to use the modules and get the site-building job done faster, then you may use the pre-built Divi layouts with world-class designs with original photos and graphics.
You will find brand-new layouts in almost every category like Business, Health, Technology, Beauty, Ecommerce, Education, Lifestyle, etc.; hence it is possible to compose any website.
While doing this Divi theme review, it has 179 layout packs (1326 templates), and yes, they are adding the layouts every week with royalty-free photos and icons.
4. Divi Customization (Complete Design Control)
With the latest version of the Divi theme builder, you will get entire control over every element of your website. It is one of the most appealing features that attracts me the most!
Divi offers three major settings – Theme options, Theme Builder, and Theme Customizer
Theme Options has a set of settings, and you may enable or use the features per your requirements. Look at the wide theme options under each tab!
2. Theme Builder has detailed setting choices! First, navigate Divi > Theme Builder and get the 'Default template' with Global areas as shown below.
Now, you need to decide whether you are building from scratch, using the pre-made layout or duplicating the page you have already built.
If you are doing everything from scratch, you must insert the row and build your site.
Now, it's time to select and customize the modules you want.
As an example, I have chosen the "Call To Action" module and captured its settings!
You can see three different tabs – Content, Design & Advanced settings of the module that offers all the settings preferences for you to design the way you like.
Content – To make Divi layouts
Design – To take control over the appearance of the module
Advanced – To use your CSS and improves the visibility of the module.
Note: The design settings vary from module to module.
3. Theme Customizer is nothing but the backend settings of Divi. You may also use this traditional customizer to set up the page.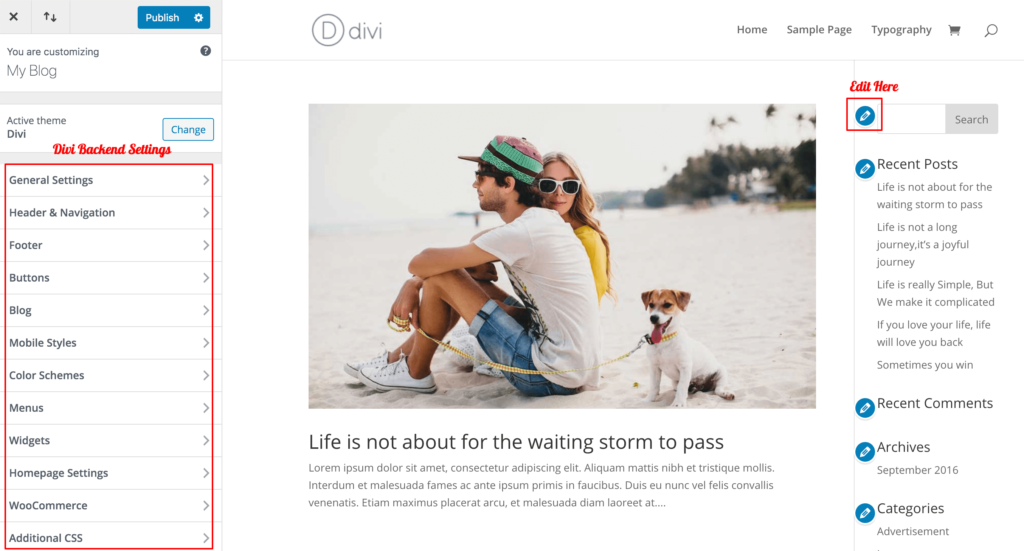 So, you may utilize the comfortable design method of Divi to build your website by controlling every element of your choice. I'm sure you will enjoy working with detailed settings with the entire control in your hand.
Not only these, but you may also get excited with the following design qualities of Divi!
Hover State Style – Make Divi modules into interactive elements.
Font & Text Style – Select from hundreds of fonts and alter their size, letter spacing, and line height.
Border – Add a border to any element and modify its size, color, and style.
Filters & Effects – Easily adjust any element's Brightness, Contrast, Blur, Opacity, and Saturation.
Drop & Text Shadows – Add depth to the pages and text by applying the shadow effect.
Animations – Add animation to any element to enhance user interaction.
5. Lead Generation Tools
It would be awesome if the powerful WordPress theme came with the essential lead generation tools. Divi theme has the following clever sources for maximizing your conversions!
Email Optin
Divi offers a great tool called Bloom for list building. You can increase your subscribers through this Email Optin module which has a wide range of Email support to build your list on any platform. Letting us create custom fields, offering six different display types, and boasting GDPR compliance are the notable characteristics of this email marketing tool.
Pricing Tables
It is easy to add attractive pricing tables in your sales pages with the Divi module, which would increase your sales conversions.
Contact Form
The new contact form module of Divi is an excellent lead-generating tool. In its improved version, they have provided new field types, customization options, validation for fields, and an easy-to-use interface for conditional logic to design personalized contact forms.
Social sharing
For promoting your social profiles and boosting your social presence, Divi provides Monarch social share plugin, a lightning-fast plugin that allows you to include buttons at five different locations on your website. My favorite is automatic pop-up and fly-in triggers because they improve user interaction and engage my audience.
Split Testing
The advanced WordPress split testing with powerful insights named Divi Leads has been introduced to the Divi visual builder. Its dynamic stats and insights let you present several versions of your page to different visitors and determine which version brings you more conversions. Therefore, you will come to know and use the high-performing variation to get more leads.
5. Woo builder for WooCommerce
I should talk about the Woobuilder in my Divi theme review! Yes, the Divi theme is compatible with the Woocommerce plugin so that you can sell products online without additional cost.
Here too, you will enjoy the entire control over the design of your product pages with the help of 16 new custom Woocommerce modules as shown below!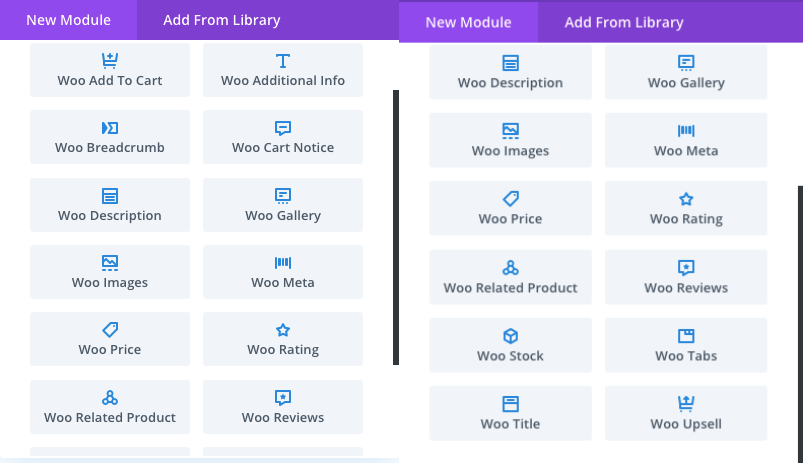 You can use both the modules (Woocommerce & General Divi modules) and make engaging pages for your audience. Just decide what to display on the product listing page, get things fixed, and take your online stores to the next level.
6. Divi Support
Divi offers 24 X 7 premium support for their customers. Since they work around the clock in an innovative support center, you can easily reach them through the live chat support or support forum and get help.
Moreover, they have 70 full-length instructional videos in an organized way so that you can learn and fix things quickly.
Divi Theme – FAQ
Q: Is Divi free?
A: No, Divi is a premium WordPress theme. It doesn't have a free version. You have to buy and use it.
Q: Which one is the best Divi theme or Divi builder?
A: Divi theme has an in-built Divi Builder. So, it's better to get a Divi theme builder!
Q: Is Divi Builder affect SEO?
A: No, it is an SEO-friendly theme optimized for speed and other SEO factors. It will not affect your SEO performance. I advise you to use fewer resources while creating the page or post.
Q: Is Divi worth buying?
A: Of course, yes! It is a well-known, complete WordPress theme that allows you to build a business site with more interactive elements through which you could make more revenue.
Q: Is Divi better than Elementor?
A: Every page builder has its pros & cons. You may check my detailed comparison Divi Vs Elementor to understand the qualities of both.
Q: Can I use Divi for clients?
A: Yes, you can use Divi for clients, as it allows us to use the license on several websites through a single subscription.
Q: Can I use the Divi theme for multiple websites?
A: Yes, Divi can be used for multiple sites.
Q: Is Divi good for blogs?
A: Professional bloggers use Divi to design and customize their blogs. Divi is much more suitable for blogging purposes.
Q: Does Divi has any refund policy?
A: Yes, Divi has a 30-day money-back guarantee and refunds your purchase if you are unhappy with its qualities and settings.
Divi Theme Pricing (Divi Discount)
The beauty of the Divi theme is its comfortable and affordable pricing system. If you get 1 license, you can install this fast-loading theme on unlimited websites.
In addition, you will get access to the Extra theme, Bloom Email Optin, and Monarch social media plugin.
Divi has two different pricing plans – Yearly access & Lifetime access. I would say that lifetime pricing is the best deal.
For my readers, here is a special Divi Discount Code – 10% OFF through this Divi review so that you can save some of your hard-earned bucks.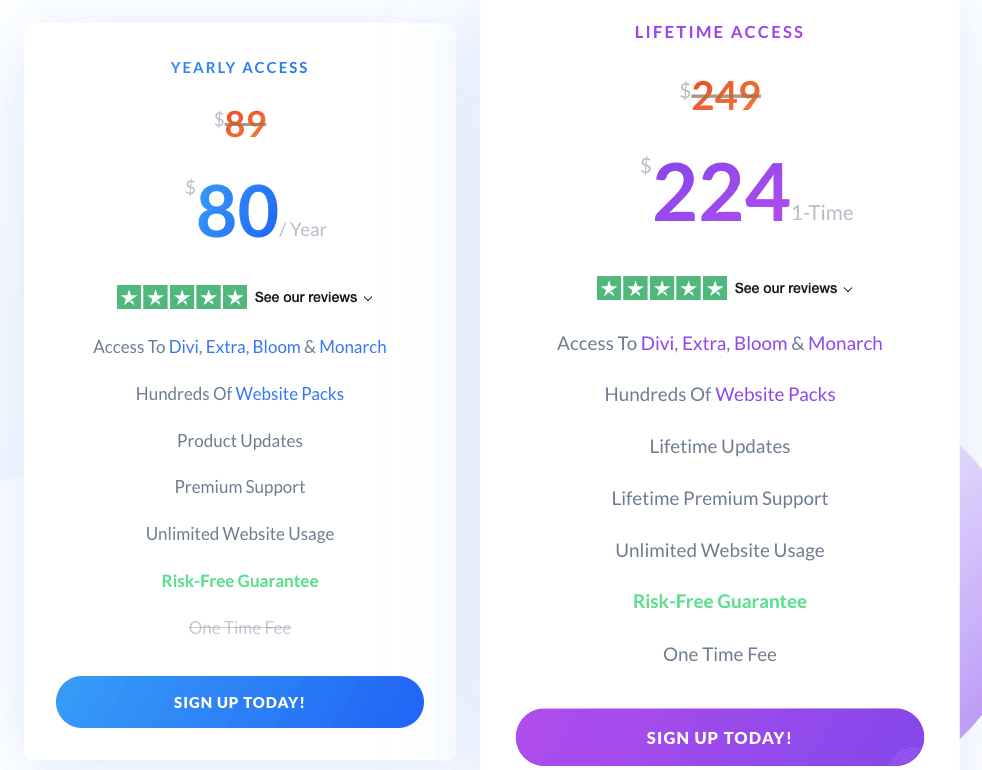 What's New In Divi Theme?
The recent Divi version contains
Fully featured Theme builder to design your entire website
Divi Marketplace gets many free and premium products like child themes, extensions, and layouts to construct unique websites.
Divi Preset for saving the design changes that you have made. It saves your precious time as you don't need to design the modules from scratch.
Divi Theme Comparison
I have compared the Divi theme with its competitors, check
Should You Buy Divi Theme Or Not?
The Divi theme can be conveniently used to build professional-looking websites without touching any code. As it contains the base theme and sophisticated builder, it is the best choice for small businesses, dedicated bloggers, eCommerce owners, and entrepreneurs who wish to create an efficient website for their business deals.
I would say that Divi is a great time-saver that lets you include contact forms, call to action, countdown timers, and any interactive elements in your posts and pages. You will adore the front-end editing interface through which you can take full control of your site design.
You don't need technical skills to understand and use the Divi theme. The countless features of this WordPress theme may frighten you; however, once you start using the available options, you will become familiar with the settings and feel comfortable building websites with the Divi theme.
So, I have left my honest views in my Divi theme review 2023. I'm using this improved tool to customize our clients' sites & niche blogs and getting great opportunities to enhance my design skills. It is just awesome regarding the Homepage and landing page designs. Just give Divi theme a try; it is worth the money.