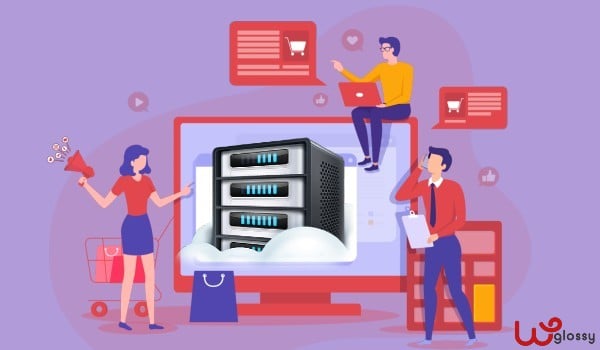 Are you looking for the best hosting for digital agency services? Uptime, migration, speed, and performance influence the quality of hosting services.
The rapid increase in eCommerce websites has created more demand for high-quality hosting services for digital agencies. In general, digital agencies offer website development and social media marketing support for various products and services.
There are also added services offered by digital agencies, including lead generation, email & content marketing, eCommerce store setup, speed optimization, and SEO services for businesses.
If you are a digital agency, you may have to concentrate on features and services offered by hosting companies. What are those elements to consider? Website management, web application integration, and server resource management options should be present.
Further, these should be easily accessible with simple configuration methods. If you are someone looking for the best hosting for digital agency, then get into the details. Before looking at the details of an excellent server, let's see how to select the best one!
How to pick the best hosting for a digital agency?
A digital agency needs a hosting service that offers the following features
Tools for website creation, marketing, speed optimization, and SEO
Scalability options along with storage with backup features
Security with proper monitoring protocols
Reliability
Maintenance features
Customer support
If you have already chosen a few hosting services and are waiting to choose the great one, here are more factors for your consideration.
The hosting service providers should have multiple servers and data centers worldwide with CDN support.
The service provider should provide instant scalability of server resources such as storage, RAM, CPU, and bandwidth for client websites.
The service provider should offer unlimited website installations with support for deploying web applications used by business services.
A web application monitoring tool with a dashboard should be available.
Hosting service providers should offer security solutions against malicious attacks with multi-level protection to deter hackers.
Easy to use control panel or WHM panel should be available with a simple backup and restore mechanism.
The hosting service should provide the server and OS-level caching methods to maintain maximum uptime performance.
High-end processors and the latest version of scripts and languages must be used in the servers to enable faster data transfer between the server and the browsers.
Availability of staging URLs for website migration and a website builder for a landing page design with a white label license.
Availability of one-click web application installer with multiple business tools integration.
5 best hosting services for Digital Agency
In searching for the best hosting service for a digital agency, it is essential to consider all the features listed above and factors like speed, support, reliability, security, and reputation.
After thoroughly researching hosting services ideal for and used by digital agencies, this article contains a list.
1. Cloudways Hosting ($30 Discount)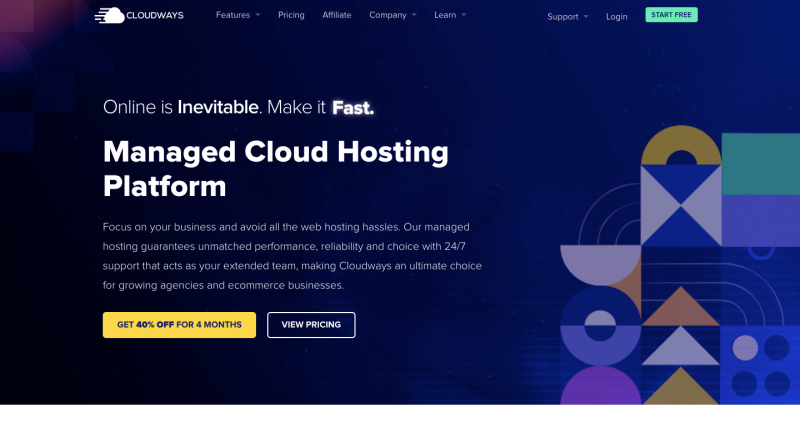 Cloudways provides the best hosting for a digital agency by offering multiple free website migrations with dedicated staging areas. It has multiple server management options under one control panel. These features make Cloudways maintain hundreds of client websites from different servers across the globe. The web application monitoring tool provides resource usage statistics and maximizes the availability to host many websites.
It has managed web hosting services for agencies to maintain multiple websites at one place with bandwidth scalability from different servers. Cloudways has three server locations: Digital Ocean, Google Cloud, and AWS. In addition to these locations, Cloudways also maintains 60+ data centers worldwide. This implies that we can host client websites on any server based on business location and customer target location.
Cloudways uses the Pay as You go method with fully scalable resources. As a result, agencies can purchase server resources based on client requirements at any time. We can also host client websites on multiple servers using Nginx proxy servers. The advanced caching method of Cloudways achieves a guaranteed uptime, an added advantage to digital agencies. On the other hand, clearing Cloudways cache is a simple process to live your site changes.
Cloudways application manager and one-click app installers with staging areas provide installation of new features. It also enables website migration without affecting live websites. SLA support, email ticketing, and premium telephone support by technical experts are available to solve technical issues as quickly as possible.
General Features Of Cloudways Hosting
Cloudways offers hosting services for agencies, small and medium business enterprises, and individuals from different servers.
Easy DNS management for multiple websites and Rackspace email addon for cloud-based email inboxes are also available with support facilities.
The cloud engineers of Cloudways monitor the servers and web applications using application managers. Its new feature, SafeUpdates, automatically updates all the applications for high security.
CloudwaysBot sends a notification to client websites using Slack, API, and Hip chat.
Cloudways API remains useful in building your platform to develop, integrate and manage server and business applications using RESTful API.
The servers are monitored in Cloudways 24/7/365, with over 16 metrics in the control panel.
WP CLI interface used for web development with a one-click app installer and Serviced Queue manager for Laravel applications.
Its CDN has introduced the Edge page cache to improve your site loading time, TTFB and LCP.
Cloudways provides GIT integration and one account for multiple team management with application management.
Application and server cloning options are available and done with a single click.
It is possible to launch 10+ apps in a single click with all apps that are PHP supported in Cloudways.
Why Cloudways Is The Best Hosting For Digital Agency?
Cloudways is exceptional for its scalability and pay-as-you-go method for utilizing 3 different server resources. It has a single account for server management, website management, and team management for project development. It has a dedicated staging area for website migration with 10+ application launches at one click.
2. GreenGeeks Hosting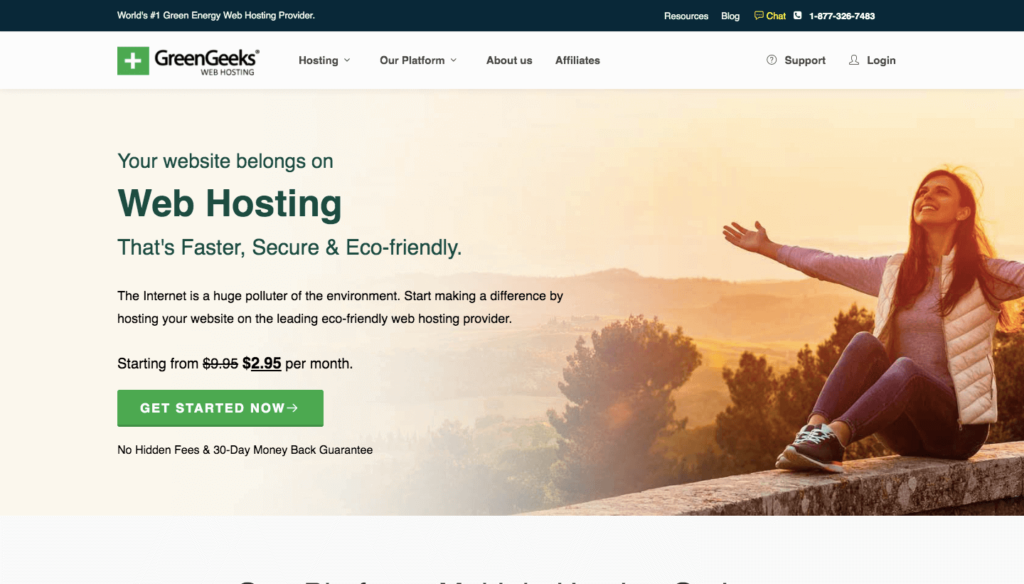 GreenGeeks web hosting is an ideal choice for a digital agency due to its predominant features like unlimited website hosting and unlimited bandwidth availability with multi-user access support. It also provides unlimited email accounts for a one-year free domain with SSL encryption. It allows users to use lots of web space in every hosting plan.
With multiple data centers in the USA, Canada, and Europe, free CDN associated with GreenGeeks Hosting can maintain good uptime for client websites with lite speed servers. It also has an LS cache to enable faster availability of websites for user interactions. The HTTP/3, PHP8, and MariaDB used in the server enable better loading speeds.
Unlimited MySQL databases, unlimited subdomains & parked domains, free Drag and drop builder for website design and development with a Softaculous installer are available in the GreenGeeks plan for agency hosting.
Secure IMAP/POP3 servers with spam filtering options are used for email configuration. Web email access via a browser is also available for conducting marketing campaigns. We can sync and schedule the calendar and share it with our contacts using GreenGeeks.
Features Of GreenGeeks
Free SSH and SFTP protection and access for web development with multiple PHP versions.
The web agency web hosting is available with 300% green energy renewal and managed control panel for WordPress.
GIT, WP-CLI, Drush, and Ton developer tools are available with PHP, Perl, and python scripts with FTP accounts.
Advanced web access firewall with AI-powered processing is used for protection against DDoS attacks.
Free malware cleanup is available for hacked websites with an expert support team.
The GreenGeeks dashboard manages multiple websites and applications with a one-click installer.
24/7 technical support with live chat, email ticketing, and telephonic support are available in GreenGeeks.
It offers Cpanel and WHM panels with 30 day money-back guarantee for all plans.
Why Is GreenGeeks Best For Agency Hosting?
GreenGeeks provides unlimited website management with an unlimited database and migration for over 30 Cpanels from different servers at no cost. It has an awesome support system extended in three different modes: email, chat, and telephone.
3. Inmotion Hosting for Agency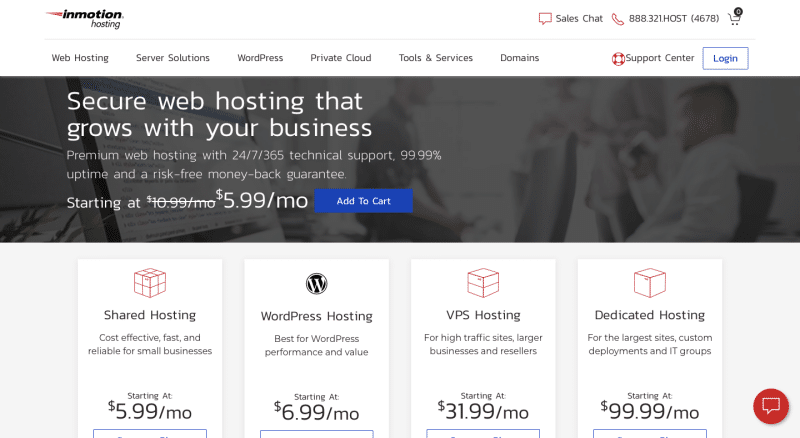 InMotion hosting is one of the best hosting for digital agencies due to its excellent cPanel and WHM options for server and applications management. It also has a drag-and-drop website builder with an unlimited website hosting feature. This hosting service provides secure and fast hosting with unlimited bandwidth usage.
It gives free website transfer with server setup with unlimited email accounts available for each domain hosted in it. Inmotion hosting gives a 90-day money-back guarantee with free data migration and server configuration by launch assistant. It uses W3 total cache for speed performance.
The website can be created using a drag-and-drop builder with smart sliders and custom sidebars. Inmotion provides iTheme security and antivirus scanning services for server and website protection. It also provides:
Web forms for lead capturing.
Yoast SEO for content marketing.
Page optimization with WooCommerce integration for online store setup.
Features Of InMotion Hosting
It has 3 dedicated IP addresses with all its hosting plans.
One-click installation for 400+ applications.
Unlimited MySQL database installations
Unlimited spam-safe email configuration using IMAP for email marketing is available in InMotion hosting.
It uses SSD-based storage devices in web servers for faster data transfer.
Bistro compression, Nginx, Apache, PHP-FPM, and Redis caches are available for faster page loading and maximum uptime performance.
The ultra stack custom technology enhances web server speed and performance.
24/7/365 US-based Support is available in InMotion hosting.
Why InMotion Is The Best Hosting For Digital Agency?
Inmotion web hosting provides unlimited hosting with email support for every domain and dedicated solutions for eCommerce sites, web forms, and integration of Yoast SEO. It gives 5 cPanel and WHM panels for every hosting account with 3 dedicated IPs.
4. Kinsta Web Hosting for Agency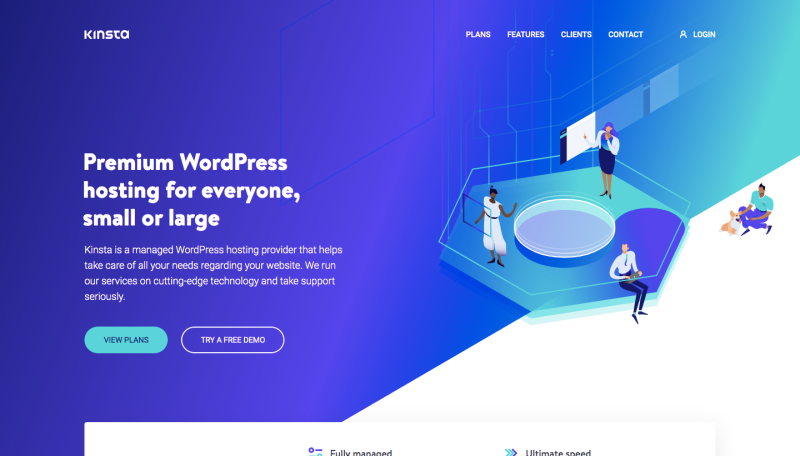 Kinsta web hosting is the best hosting for digital agencies as it offers smart site management tools to build, launch, and manage websites. Kinsta provides fast, safe, and secure web hosting for a digital agency to manage team members and client websites. It gives unlimited free website migrations even with infographic websites and e-commerce stores with 1 lakh products.
Kinsta provides free and pro plans for agency sites. It has a white-label cache plugin to add the client logo to our WordPress admin dashboard. It is possible to manage 1000 developers inside the Kinsta dashboard. It enables access to individual sites with stage environment and access control features.
It uses site management tools such as site transfer, site labeling, and agency partner program tool for client management. It has a DevKinsta tool for website development in a local environment. My Kinsta dashboard is used for search and replace features and easy debugging. It also has an APM tool for application process monitoring in WordPress sites.
Features Of Kinsta Agency Hosting
Free website migration with a staging environment
Pricing plans are based on the number of websites.
SSD-based storage devices and free CDN are used in Kinsta for better speed and performance.
It uses 28 datacentres locations worldwide in association with the Google Cloud Platform.
Kinsta provides multisite support with auto DB optimization, auto backup, and self-healing technology.
It provides multi-user environments with respective staging areas.
Site cloning is available with an application performance monitoring tool in Kinsta.
It has free server-level caching infrastructures.
Scalable server resources are available with the Google Cloud Platform.
Why Is Kinsta Web Hosting Best For Digital Agencies?
Kinsta offers several website management tools with its agency hosting. It also gives application performance monitoring tools for multiple website management. The uptime monitoring is performed every two minutes.
5. EuroVPS Hosting for Digital Agency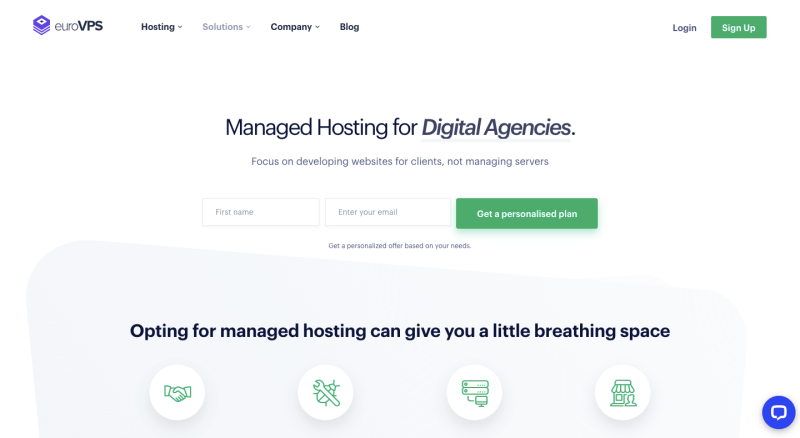 EuroVPS hosting is one of the suitable choices for digital agencies due to its excellent client websites management and server development. EuroVPS provides full freedom for them to focus on websites development with its consistent server maintenance. It provides both server infrastructure construction and maintenance with multiple websites.
We don't need to spend much time administering application tools and their updates in agency hosting. The system administrator will do all the monitoring and update works for website application tools and servers. The managed hosting control panel in EuroVPS can improve infrastructure by monitoring the servers.
The great support from the EuroVPS can solve last-minute queries from the client's website regarding changes and updates.
Features Of EuroVPS
It provides fully scalable resources for agency hosting.
EuroVPS gives 24/7/265 customer support for migration, debugging, and site launch.
It uses the latest web platforms with web servers and load balancers for high-traffic websites.
It provides full control to root access and the control panel.
EuroVPS minimizes downtime with high-performance tech resources.
Free performance optimization using web stack configuration.
Daily Support for installation, configuration, debugging, Cpanel, and Plesk Support with spam assassin.
A simple dashboard is used for VPS and DNS management for multiple websites.
Why Is EuroVPS Hosting Best For Digital Agencies?
EuroVPS provides complete server and infrastructure management for agency hosting. It guarantees no downtime and utilizes the latest technology tools for server management. It offers great support with its expert support team.
Conclusion: Best Web Hosting for Digital Agency
Choosing the best hosting for digital agency is based on several factors, including reliability, scalability, and maintenance support. Ensure the hosting platform provides tools for best support, site migration, high uptime, improved security, and regular backups.
Cloudways offers fantastic agency hosting in 3 different hosting servers with free website migration using staging areas. GreenGeeks hosting provides unlimited websites with unlimited email accounts for agency services.
Inmotion hosting provides website builders with e-commerce support. Kinsta offers website management tools for agency hosting. Finally, Euro VPS provides amazing server maintenance support to digital agencies.
Based on the nature of your requirement, you can choose one of them and then scale your digital agency instantly. If you ask my suggestion, I always recommend superfast hosting, Cloudways for optimal performance, and air-tight security. Grab its high discount now!