Choosing the best hosting for a website is a critical task. I would like to thank you for coming here to read my unbiased InMotion hosting review!
I faced a major roadblock with my previous hosting provider ASO, and thus I have shifted to InMotion web hosting last year.
[bctt tweet="How Good Is InMotion Hosting?" username="wpglossy1″]
Till now, I'm completely satisfied with this affordable server service and didn't face a single technical issue. However, I have experienced 1-2 times downtimes and it wasn't affected my blog's performance in any way!
Today I have decided to do the InMotion review and share my one experience with you. I hope that it would help to decide to go with this best WordPress hosting or not.
Let's get into my honest viewpoints and features of InMotion hosting now!
About InMotion Hosting
InMotion hosting is one of the leading web hosting providers as it offers the best service for a huge customer base since 2001.
This highly reputed web hosting company provides all kinds of web hosting solutions starting from shared hosting to the reseller, VPS, and dedicated servers.
The web hosting experts in their team have an average 4 years of hosting experience and their tech support undergoes 160 hours of internal training on several matters.
Out of all, the professionals in the management team of InMotion have more than 10 years of hosting expertise.
[bctt tweet="The Mantra of InMotion is To Exceed Your Hosting Expectations" username="wpglossy1″]
Hence, there is nothing to wonder that it provides, Quick, Unfalling and Inexpensive hosting service with Award-winning customer support for you.
Awards Earned By InMotion
Inmotion hosting has been featured as the top-rated CNET web hosting company for 14 years. Moreover, it has earned the A+ Grade which is the highest service rating from Better Business Bureau for outstanding business practices.
Not only the above credits, but the InMotion has been rewarded with the following awards.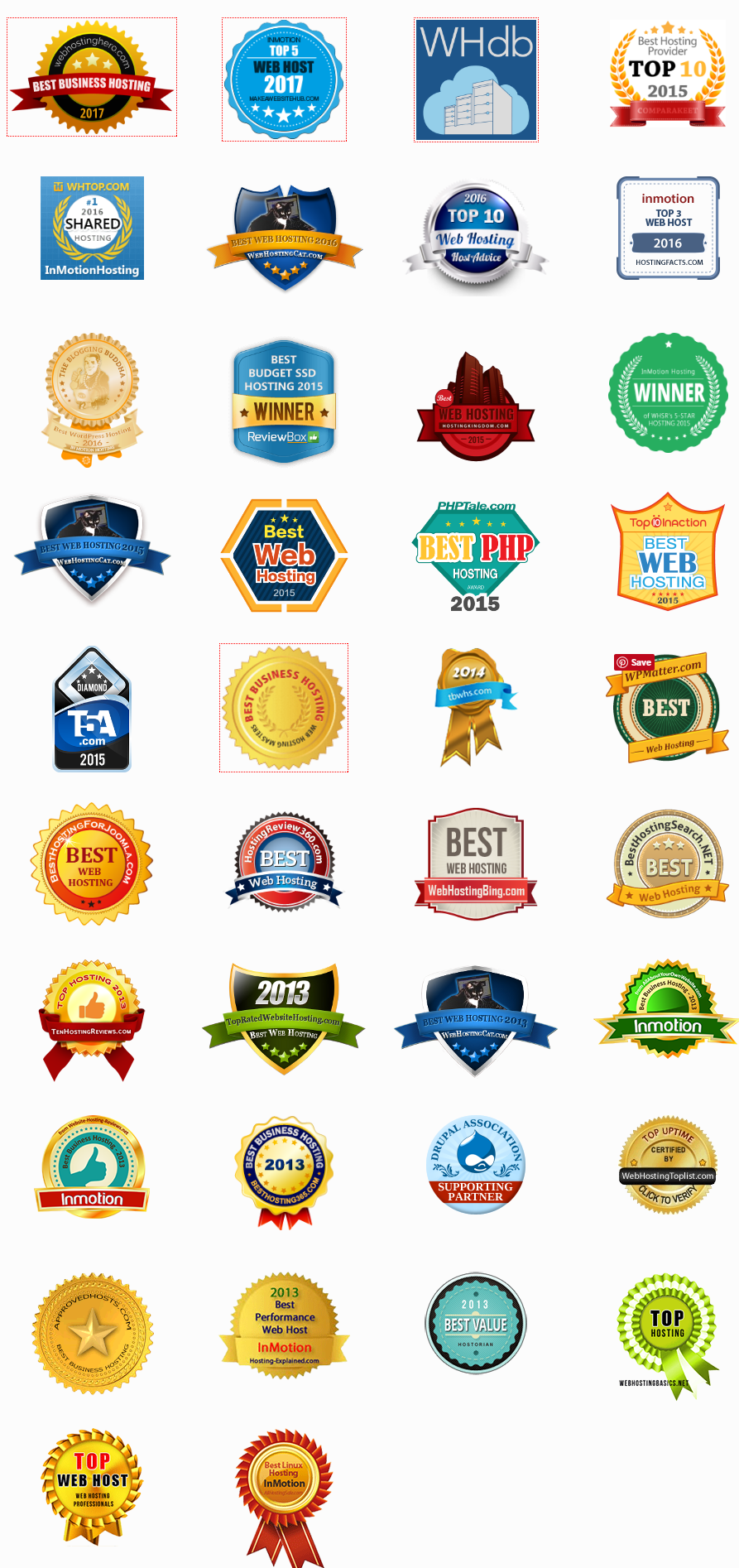 InMotion Hosting Review 2018
Having used the InMotion web hosting for a while now, I can assure you that it is worth every penny you invest in it.
Well, I am using it for my WordPress blogs, and I found it very easy to set up my new blog. You can easily install WordPress on your hosted domain using the scripts available on the InMotion cPanel of your hosting account.
I'm very much comfortable with the user-friendly InMotion hosting cPanel features, and I utilized the option "Website Transfer Request" to move my files from my previous hosting account.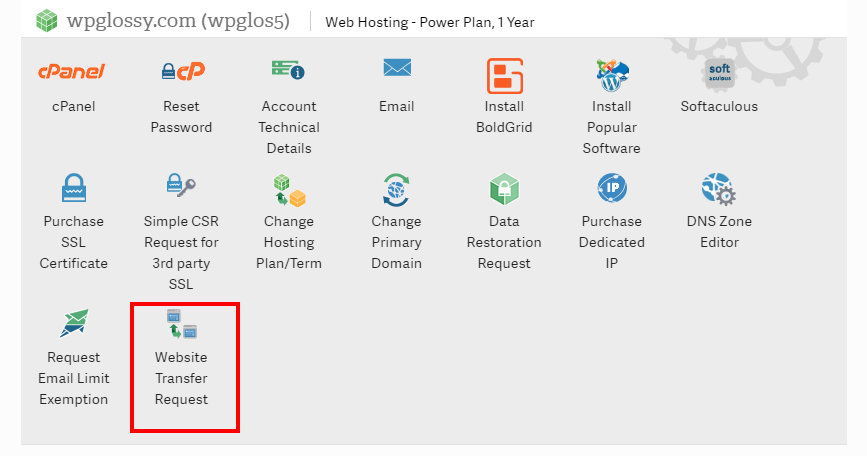 Within two days, I get the job done by the expert technical team at free of cost, and they have intimated the completion of migration process through email.
Then, I pointed my domain name servers to InMotion hosting name servers and started using right away!
Before we move on to my complete InMotion hosting review, let's check out some of the exciting features that you get while you opt for any hosting plan from InMotion.
Best Features of InMotion Hosting
Being in the business of web hosting for more than 15 years, the company has good experience in handling different hosting related operations as well as the infrastructure to run millions of websites smoothly in their data centers.
Established as one of the leading green web hosting companies in the industry, InMotion Shared Hosting is bundled with some fresh and exciting features that make it one of the best web hosting providers around.
Top Features Of InMotion Hosting
1. Fully redundant data centers that use high-performance servers for great reliability.
2. Follows the eco-friendly policies by using the latest technology equipment in the data center and making the web green by reducing the carbon footprint.
3. Includes 400+ software applications like WordPress, Joomla, Drupal, Prestashop in one click.
4. Offers free domain for 1 year. If you already own a domain, you can use this credit later.
5. Supports modern hardware technologies such as SSD-powered servers to deliver 20x faster performance. And yes, it is to improve the server response time for all websites hosted on it.
6. Grants free site migrations from your old web host to their hosting server with zero downtime.
7. maintains server software with regular upgrades for improved security. McAfee and SSL security are available with an affordable fee. You will get free daily backup as well.
8. Presents Max Speed Zones to boost site load speed for the visitors spread across different locations using peering based network and CDN.
9. Gives 90-Days Money-back guarantee and 100% satisfaction guarantee to let you have a piece of mind and try the risk-free service.
10. Boasts Top notch technical support through with 24×7 Live Chat, Phone, and Email to solve your technical troubles.
Exclusive InMotion Discount – 47% OFFER
Important Factors That Make Worth Investing In InMotion Hosting
Why have I chosen the InMotion hosting service?
Through this InMotion web hosting review, I would like to reveal the valid points that supported my judgment!
1. Superb Loading Speed
Upload speed of a website is one of the important factors used by Google and other search engines to rank sites. Hence, it was a must that my blog is hosted on a server that loads my WordPress site faster.
Well, the loading speed of the website depends on lot many factors such as page size, the number of images, and the server response.
Of course, the page size and pictures can be optimized, but there is no way that you could alter the server response.
Yes, the response time of the server depends on the hardware used by the hosting company on their server setup or the data centers.
Also, most of the times, hosting providers host too many domains on a single server that tampers with reserved bandwidth and slows down the response time for every website on that particular server.
Luckily, InMotion web hosting is different from these web hosting companies.
It makes sure that the all the servers installed on their two data centers are fully equipped with state-of-the-art infrastructure as well as they ensure that no server is overloaded with too many domains.
WPGlossy Speed Performance
The performance score of my blog, WPGlossy on speed test shows high. Also, I'm satisfied with the server response time of InMotion.

So, better loading speed boosts the user-friendliness of my blog automatically and pleases the search engines as well.
2. Incredible Uptime
Another important factor that determines the quality of a hosting service is the uptime. I would like to tell about the excellent uptime of my blogs in this InMotion review.
Just like every other hosting provider across the web, InMotion hosting also promises 99.99% uptime on their website while you sign up for the hosting.
Most of the hosting companies I have been using in the past didn't keep up their promise as I often got errors like "Bandwidth Exceeded" or "Site Not Found" when there was a spike in the traffic.
With InMotion web hosting, the story is different!
While using their shared hosting service for the past 1 year, there was not even a single occasion of downtime recorded on my WordPress blogs.
WPGlossy Uptime Performance
Despite having regular traffic with spikes now and then, there wasn't a single experience of my blog being down due to the server load or any error from the hosting side.
3. Reasonable Pricing
Pricing is more important that decides whether you would like to invest in a hosting service or not. No matter how great the product is, if it is priced too high, then it is unaffordable and unsuitable for the tight budget website founders.
[bctt tweet="Great Affordability – Here's where InMotion scores well!" username="Wpglossy1″]
InMotion may not be the cheapest shared hosting providers on the block, but it is well-reasonable as their basic hosting package starts around $4 per month that allows two websites and a free domain along with other features.
If you want to host more sites, then you can upgrade to the Power package around $5 per month to host six websites including other features and a free domain. For having hosted countless internet sites, you can opt for Pro package around $8 per month.
However, more than the unusual pricing structure, the best part about InMotion shared hosting is that you get all the important features of all packages. The only difference is the number of websites allowed in each package and the number of MySQL databases.
In addition to that, you also get a good share of WordPress support, if you choose to run your blog on WordPress platform. The WP support includes free themes, easy one-click install, and upgrades, etc.
InMotion Hosting Plan of WPGlossy
I purchased the Power plan of InMotion hosting at just $3.49 per month (56% OFF) and hosted two of my blogs in it. Both work well, and I'm well-pleased with its price affordability.
Sign Up InMotion Shared Hosting To Get 47% Discount
4. Excellent Customer Support
I should have a word about the InMotion hosting support team in my review.
With 24×7 live chat and email support, InMotion hosting is all geared to solve all your queries as early as possible. As I previously mentioned, the members of the support team underwent the rigorous training to handle your problems.
Being exclusively offering a fully US-based support, you don't have to deal with third-party customer representatives, which is most common with other hosting companies.
You can also talk to their customer representative using the toll-free phone support for a quick solution.
I have been advised by the support team to check their "Knowledge Base" section, which is an essential guide that every newbie can follow to understand how to manage basic setup process as well as handle other necessary queries.
InMotion Support - Great Experience with Fast Response
I have several times interacted with the chat support, and I got perfect & helpful replies every time. Besides, I didn't wait in the queue for a long time. InMotion tech support professionals are well attentive and provide quick solutions for my requirements.
How InMotion Protected My New Blog?
Recently, I have started a new blog and hosted on the InMotion server. It's hardly one-month-old blog with very few blog posts.
A month before, when I logged into its WordPress account, I was shocked to read the message from InMotion says "Due to the hacker attack attempts, we have temporarily disabled your WordPress login."
Then, I immediately contacted the support team, and they confirmed that they had seen some unusual activities through WordPress login, and hence they deactivated the login.
They asked me to wait for 30 minutes to get the lock released. But I was still unable to log in 🙁
Then, again I interacted with the InMotion hosting support, and they guided me to whitelist my IP Address through cPanel and remove the lock.
After that, I have changed my login credentials and login URL as well. Thus, my brand new blog was greatly protected by InMotion.
Pricing Plans for InMotion Web Hosting
InMotion hosting offers almost all types of hosting services like Business hosting, VPS hosting, Dedicated servers, Reseller hosting, WordPress hosting, and managed hosting
Shared InMotion Hosting
The shared hosting works well with the popular content management system like WordPress, Joomla & so on and it is suitable for static websites, blogs, and custom applications.
If you are a small business owner, you may go with the shared hosting plans of InMotion.
Have a look at the shared pricing plan details of InMotion hosting!

InMotion VPS Hosting
If you're a website designer or a developer, you may opt the VPS hosting service from InMotion as it equipped with cloud features, free server management, live-state snapshots and much more.
Also, if you are blessed with a great daily traffic (say 1K visitors every day), it would be better to buy the VPS plan from Inmotion!
Look at the Inmotion VPS hosting pricing plan details!

WordPress Hosting of InMotion
If you would like to use the WordPress CMS for your business site or already using it, then you may purchase the WordPress optimized web hosting service from InMotion.
It offers three hosting plans of WordPress users and they are similar to the Shared hosting plans.
Have a look at the below image to understand the features that you will get in the InMotion hosting WordPress plan.

If you're an enterprise or a serious business who would like to focus on your business rather than handling the technical aspects of your website, you may consider getting the Dedicated Servers or Managed hosting from InMotion hosting.
InMotion Coupon 2018
Discounts are the excellent way to cut down the expenses and saves your hard-earned money!
Are you looking for the InMotion coupon 2018 to grab the appropriate hosting plan of InMotion at the discounted price?
As I'm an existing user of InMotion, the marketing team has kindly agreed to offer WPGlossy readers (like you) a special InMotion hosting coupon.
Check the InMotion Coupon details below!
HUGE 43% DISCOUNT on all Shared & WordPress InMotion Hosting Plans
As you are my reader, you will get 40% OFF on Launch plan, 40% OFF on Power plan and 43% OFF on Pro shared hosting plan of InMotion!
Click Here To Activate InMotion Discount
InMotion VPS Discount Coupon 2018
Massive 51% DISCOUNT on InMotion VPS Hosting Plans
If you would like to get the VPS Hosting of Inmotion, look at the image and get the discount details for my loyal visitors like you 🙂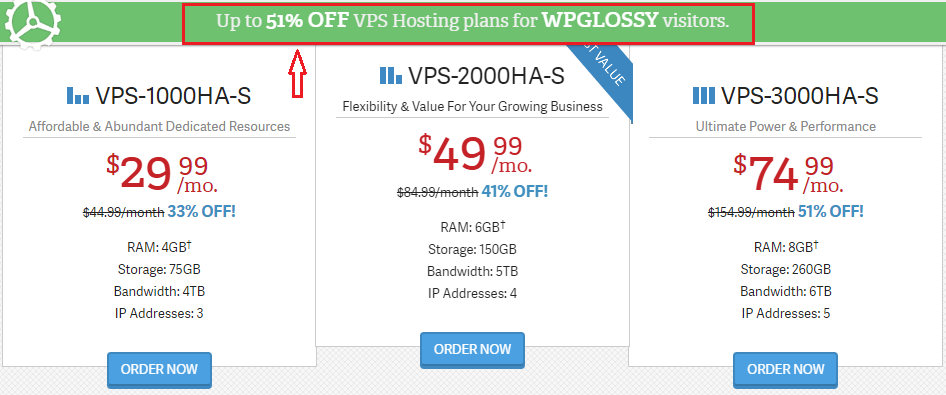 Click Here To Activate InMotion VPS Discount
Comparison of InMotion Hosting With Its Competitor
If you are still unsatisfied with the features and the pricing of InMotion, I have a great option for you!
Yes! Do you the main rival of InMotion? It's GreenGeeks green web hosting.
I have done the in-depth comparison GreenGeeks Vs InMotion Hosting.
I hope it would help you choose the best and suitable hosting for your WordPress site.
Final Words Of My InMotion Hosting Review 2018
Finally, my verdict on InMotion web hosting is very positive as I have till now never faced a single issue or any downtime for my blogs.
The transfer process for my blog from the previous host was quite easy to handle as well as the blog set up on InMotion hosting account was simple, to begin with.
The performance of my blog's loading speed has improved eventually as well as the traffic, including the regular spikes, is handled quite well by the company.
Thus, I strongly recommend InMotion hosting for the passionate WordPress users as it could offer the best and fast server service which is indeed needed to perform well on the web.
So, What is your opinion about my InMotion hosting review? Would you like to get a quick loading WordPress site with this reliable hosting service?
Which hosting service are you using? Are you satisfied with its performance? Kindly share your viewpoints and hosting experiences in the comment section.
Also, Look At My Inmotion Review Summary!