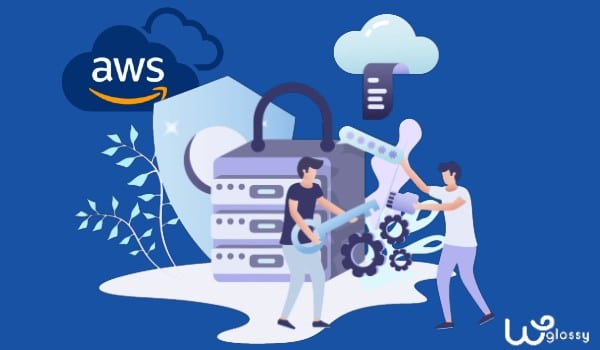 If you are looking for the best Managed Amazon cloud hosting service for your business site, your search will end here. Yes, it is the top list of Managed AWS hosting services that would take your site performance to the next level.
Managed AWS cloud hosting is the finest one of all services from Amazon for the hosting industry. By offering customers faster, safer, and cost-effective solutions for a long time, Amazon has achieved the charisma that no competitor can get in the hosting space.
No wonder you have already decided to get Amazon-managed cloud hosting services for your web hosting needs. The question remains unanswered: Which is the best-managed Amazon cloud hosting service to buy?
My experience with AWS starts a couple of years ago. Those were not the time of cloud hosts. Amazon started its AWS services to provide a safer and faster solution to hosting needs. Many websites that other hosting companies host use AWS services partially.
For example, the websites only used AWS to deliver key files, downloads, videos, etc. In 2012 I used it (Amazon S2) to host some members-only videos in one of my WordPress Membership site projects.
In my 10 years of internet marketing experience, I have had the chance to experience many hosting providers. However, no one has yet come near this all-rounder AWS regarding safety, content delivery, and fast loading.
Now, this is not just you or me. Anyone who used AWS in the past could feel the same. So Amazon's AWS is the right pick for your managed cloud hosting needs. Now the issue is whether we can handle the AWS-managed cloud servers. The raw (unmanaged) cloud server of AWS is a BEAST. The servers are built to perform efficiently.
The problem with the AWS servers is these are not easy to communicate for people like us who don't understand the hosting industry's nitty-gritty. That is where the Managed Amazon cloud hosting comes as a big relief.
Benefits of Managed Amazon Cloud Web hosting services
People like you and I can use it. We can do so much without any technical person's help.
We can choose to deploy Linux or Windows on our servers. For example, you can deploy Linux for WordPress and Windows for .Net websites.
We can also deploy PHP, python, java, or anything on the internet in just a few clicks.
AWS servers are secure with firewalls, DDOS, and other security protocols. So you get peace of mind.
You can scale up the resources whenever you need them. Also, you could add RAM and bandwidth on the go and scale down when you don't need it.
The downtime issue is not a worry anymore. With Amazon cloud hosting services, you get a 99.9999% uptime guarantee, meaning no visits or revenue loss.
Core software updates will not be on your to-do list anymore. Managing AWS cloud hosting services means you never need to worry about core software updates.
It would become easier for you to pass the core web vital assessments and rank higher on Google search engines for the targeted keywords.
Factors to Choose the Best Managed AWS Cloud Hosting
Before getting into the best-managed amazon cloud hosting list, we will see what factors I used to rank them. A cloud hosting provider can be considered best only if it meets the following criteria.
1. Safety
A good host must handle the safety of their hardware, network connectivity, and software via the best industry standards. Free firewalls, trial versions, and third-party contracts waste time. The real ones, secure ones, are very costly. So any best hosting company should invest money in securing their hardware and networks.
2. Scalability
There are different ways to add resources to our website's servers. Adding resources should not take any time; otherwise, we will miss the website traffic and revenues we could have gotten if our servers only could scale instantly. Some hosts offer an auto-scaling option. Some hosts offer settings to add resources in custom dashboards, and some offer to scale resources by their technical team.
3. Downtime
Server downtime can affect your revenues and potential customers. There are stats that the top 10 companies could lose $300000 in revenue for even a minute of downtime. Choosing a host that is not heard by many can cost your business a lot more than you could guess. Some businesses only buy hosts in their local town because they can get customer support in their native language and face-to-face deals. They rely upon them until one day they have the downtime of anywhere from 4 hrs to 24 hrs.
4. Upgrades
Businesses have time only to focus on their products and customers. They don't have time to learn what a server is. So then, how can they watch what software programs need to be upgraded in their hosting servers? The best AWS cloud host should upgrade all the software.
5. Server Deployment
Users should be able to configure their software through a few clicks. Moreover, the deployment should happen instantly. Modern hosts offer the settings to deploy the server immediately upon receiving the payment. I prefer a host that lets us choose the preferred version of PHP instead of forcing us to have the only one they have.
6. Server Pricing
Managed Amazon cloud hosting pricing is the least important factor in ranking. I would not suggest choosing an AWS-managed cloud host because it costs cheap. That doesn't mean we should go for costly ones—all we have to focus on is choosing an AWS cloud host based on the first five ranking factors. The best Amazon cloud host doesn't necessarily need to be costly either. The top service is Cloudways, as it offers budget-friendly AWS cloud hosting.
With these criteria above and my experience deploying the servers, I have listed the top best-managed Amazon cloud hosts.
Top 5 Managed Amazon Cloud Hosting For Excellent Performance
As the field gets more competitive daily, many managed Amazon cloud hosting services are available. But all are not great. Only a few companies provide outstanding service, and here is the list of the best AWS-managed cloud hosting providers worth buying for your business website.
1. Cloudways AWS Cloud Hosting ($30 Discount)
Cloudways is exclusively focusing on Cloud hosting. Cloudways managed Amazon cloud hosting cost is reasonable. The basic version pricing starts at only $36 for 1 vCPU, and the 2 vCPU pricing starts from $176. You should go for the 2 vCPU configurations if your website has more than a hundred concurrent visits all the time. Otherwise, all websites, small businesses, and non-profits can use the lowest pricing configuration.
You can experience optimized performance in the Cloudways Amazon cloud hosting servers. The reason is that they have implemented advanced caching technologies and optimized the servers to perform fast, in fact, fastest to say. Cloudways server administration dashboard is the industry-best through which you will feel uncomplicated AWS cloud server management.
Cloudways Team feature lets you add your team, assign roles to the team and give granular controls. Cloudways 1 click server clone, dedicated firewalls. Free SSL certificates, optimized stack, optimized cache, built-in CDN, SSD-based servers, Cloudways $30 Promo code, and unlimited staging areas make the Cloudways managed Amazon cloud hosting purchase a no-brainer.
2. MilesWeb AWS Managed Cloud Hosting
MilesWeb offers AWS managed cloud hosting pricing from just 10$ per month, and you can get 2 vCPU servers for less than $40. MilesWeb offers worldwide servers to host your website.
MilesWeb company operates from Maharastra, INDIA. If you are from INDIA, you will enjoy their native support. MilesWeb also offers MUMBAI server location; you may choose it if you target the Indian audience. Know this, UPI payments are also accepted.
This best Indian-based hosting company employs AWS-certified experts to manage AWS managed cloud hosting. They can migrate your websites running already on AWS cloud hosting of other hosts to MilesWeb's AWS cloud hosting servers. The migration will not cause any downtime. If you don't want to host altogether but want AWS consulting, Milesweb does that with perfection.
It can handle high-traffic websites, eCommerce websites, and all Linux/Unix and Windows operating systems flavors. Cpanel and Plesk control panels are available. It is more likely to scale up the resources with so much ease. You can use your already available Amazon Cloud account and launch multiple instances of Amazon Cloud.
Features
Transparent and Cheap Pricing
India Based Company
AWS-Certified experts consulting
Use your existing Amazon cloud account
3. TEMOK Amazon Managed Cloud Hosting
TEMOK Company is based out of DUBAI, UAE, and has offices at ROMANIA & QATAR & PAKISTAN. If your business operates from these regions, you may prefer TEMOK for your AWS cloud hosting purchase. In addition, Temok has offices in Europe & the USA. It employs AWS-certified professionals to deploy, monitor, manage, and secure their servers. You can use the professionals to deploy, migrate, or even consult regarding your AWS cloud hosting.
This best hosting offers a 30-minute free consultation to get to know their expertise before the purchase. Besides, it enables you to do single invoicing for the Amazon cloud hosting and TEMOK AWS consulting. Thus, it saves a lot of time for your business. TEMOK offers managed AMAZON cloud hosting with safe architecture, robust software build, and fantastic support.
TEMOK's AWS-certified team professionals upgrade software, run patches, and optimize performance through advanced-cache implementation. In addition, its collaborative feature allows your company teams to assign different tasks, offer specific controls, and assign priority to projects, thus helping you streamline workflows and boost productivity.
Features
TEMOK is based out of DUBAI, UAE
30-minute free AWS consulting
The collaborative feature enhances your teamwork
Single Invoicing for both Amazon cloud acct & TEMOK AWS consulting
4. CloudOYE Amazon Managed Cloud hosting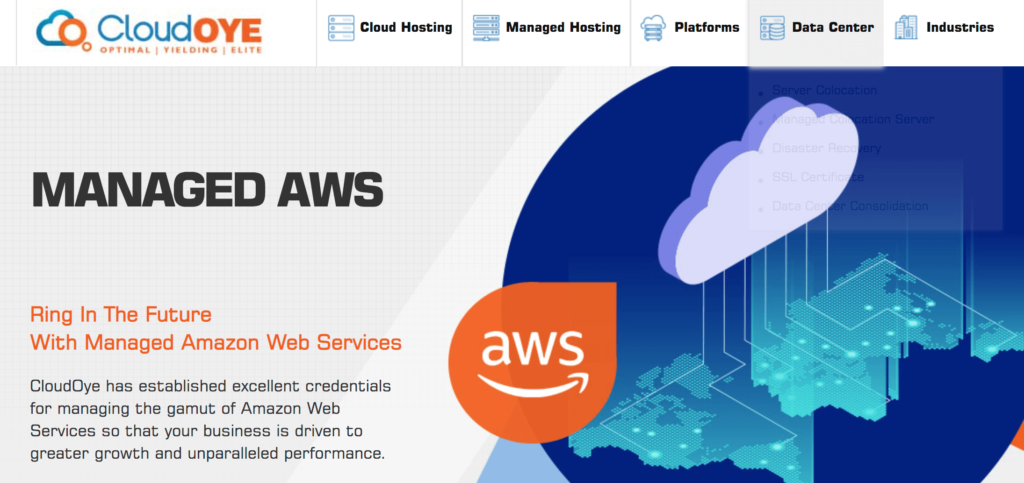 CloudOYE is one of India's leading cloud hosting providers and the best AWS consulting partner. CloudOYE employs experienced & AWS-certified professionals and offers managed services for AWS, including deployment, migration, architecture, and security. It supports three types of deployment methods like immutable, manual, and deployment automation.
The specialty of CloudOYE is that they are not just a managed service provider; they run their own data center through which they offer hosting services other than cloud hosting. So they know the in and out of running a hosting company. For example, managed AWS hosting follows the famous ITIL service management framework.
This company uses the Palo Alto VM series Next-generation firewall. This cloud host gives access to the resources based on the support request, not straight, because of the high-level security protocols they adopt. CloudEYE offers plans for all sizes of businesses, agencies, and websites. Just fill out the form and get customized AWS managed cloud hosting plans.
Features
Best AWS consulting partner in India
Three types of deployment methods
Follows ITIL service management framework
Run their own data center
5. ZNetLive Managed Amazon Cloud Hosting
ZNetLive offers servers in 69 availability zones within 22 regions worldwide. Like all the above-listed best Managed Amazon cloud web hosting companies, ZNetLive offers managed AWS cloud hosting with security, scalability, 24 by 7 support, resources, migration, deployment, etc. They do free migration if you can access the Znetlive Amazon cloud hosting server.
Buying ZNetLive managed Amazon cloud hosting involved four steps. The first is to consult your requirement. You may fill out the form on their website; their consulting engineer will contact you. The second step is to plan the cloud, which includes analyzing your requirements—suggesting the plans and pricing. The third step is building the architecture, deploying, hosting, migrating the website, and checking security. The fourth step is to go live your website on their cloud, continuously optimize the cloud instance performance, utilizing resources efficiently and cost-effectively.
ZNetLive offers database management in managed cloud hosting AWS servers. It includes Amazon Redshift, Amazon Aurora, Amazon Elasticache, SQL, MySQL, MariaDB, PostgreSQL, and many more. Scaling your AWS cloud hosting servers requires submitting a support ticket to ZNetLive; they will do that upon receiving it. Last of all, AWS-certified experts will always take care of your support requests.
Features
Best for AWS cloud host & AWS consulting
Best AWS database management expertise
69 data centers to choose from 22 regions
FREE AWS cloud hosting migration
Managed AWS Cloud Hosting – Frequently Asked  Questions
1. What are the differences between managed vs. unmanaged Amazon Cloud hosting?
An unmanaged Amazon cloud hosting server is just hardware connected to the internet; no software is installed to make it compatible with running a website or app. It has software for server management & network connectivity, nothing else. On the other hand, a managed Amazon cloud hosting server has software for running your websites/apps, or at the least, it will have options to install them in your dashboard if not installed before your purchase.  
2. Does managed Amazon cloud web hosting require an existing AWS account?
Some hosts offer ways to connect your existing AWS cloud hosting account, and some hosts don't. But remember, many hosts offer single invoicing, which means don't require a separate purchase.
3. Does Cloudways use AWS?
Yes, It is good news. Cloudways offers AWS cloud hosting at reasonable prices with the industry-best standard.
4. Are AWS S3 and AWS cloud hosting different?
AWS S3 storage service is not a full-fledged hosting service, while AWS cloud hosting is a great cloud hosting service. 
5. Does Managed Amazon cloud host cost more?
While managed Amazon cloud hosting costs are higher than normally shared hosts, the costs are not beyond the packets. The managed Amazon cloud hosting pricing is budget-friendly; for example, Cloudways offers a $36 package.
Conclusion – Which is The Best Managed Amazon Cloud Hosting Service?
Security, scalability, downtime, upgrades, deployment, and pricing are the six factors I used to grade the hosts to find out the best Managed Amazon Cloud hosting services in this blog post. While all the above-listed hosts are the top 5 amazons managed cloud hosts out of all the AWS hosts available worldwide, Cloudways wins over the other four hosts.
You need to skip Cloudways and go for the other four only if your requirement is more than just managed AWS cloud hosting; say you require AWS consulting for your already AWS-hosted websites. That doesn't mean you don't get consulting from Cloudways. Cloudways, as a hosting business company, do consults to assess your business requirements and recommends Cloudways if it fits your business.
Here is my conclusion!
#1 If you are an eCommerce business, developer, or agency looking for an Amazon web server with optimized performance to reach a new height in your business, then your ideal pick should be Cloudways.
#2 You should get the four best AWS-managed cloud hosting providers for other AWS consulting requirements.
#3 For AWS database management services, ZNetLive is the best.
#4 For migration and software deployments, go for TEMOK. If you prefer an AWS cloud host in your geographic area, TEMOK is best for UAE, PAKISTAN, and QATAR regions.
#5 Milesweb & CloudOYE are best for India AWS-managed cloud hosting.
I hope I have helped you choose the best managed Amazon cloud hosting. Let me know your favorite AWS-managed cloud hosting in the comment sections below.