Are you looking for the best Scalable WordPress hosting for your website development in 2023 & beyond? You have reached the right place to pick the best host server to conveniently increase the bandwidth, storage, and other resources for the raised site traffic!
Cloud hosting usage has drastically increased among small business owners and bloggers because of its flexibility, scalability, and Pay-as-you-go pricing plans. And through the scalable quality, it is more likely to extend the bandwidth, RAM, and storage of your server so that you would be handling the traffic spike at times.
Yes, scalable WordPress hosting is one of the most preferred hosting options by most businesses who want to expand in the future. In this hosting, you can grow the resource to match your business website's expansion.
You don't need to worry about downtime or reduction while adding the resource. WordPress hosting with high scalability is more powerful and versatile. The amazing part is you will get more storage without paying a huge amount.
3 Best Scalable Hosting For WordPress – Quick Suggestions
| | | | |
| --- | --- | --- | --- |
| | | | |
| | | Lightning Fast Server & Fully Optimized Managed Scalable Hosting | |
| | | Powerful Enterprise Hosting Which Is Instantly Scalable & Auto-Scaling Available | |
| | | Built On Robust Platform On Docker Container For Auto-Scaling | |
Top 6 Scalable WordPress Hosting For High Traffic Sites
The ability to modify the server resources is the highlight of scalable hosting. Let's get into the details of such site server hosts!
1. Cloudways ($30 Discount)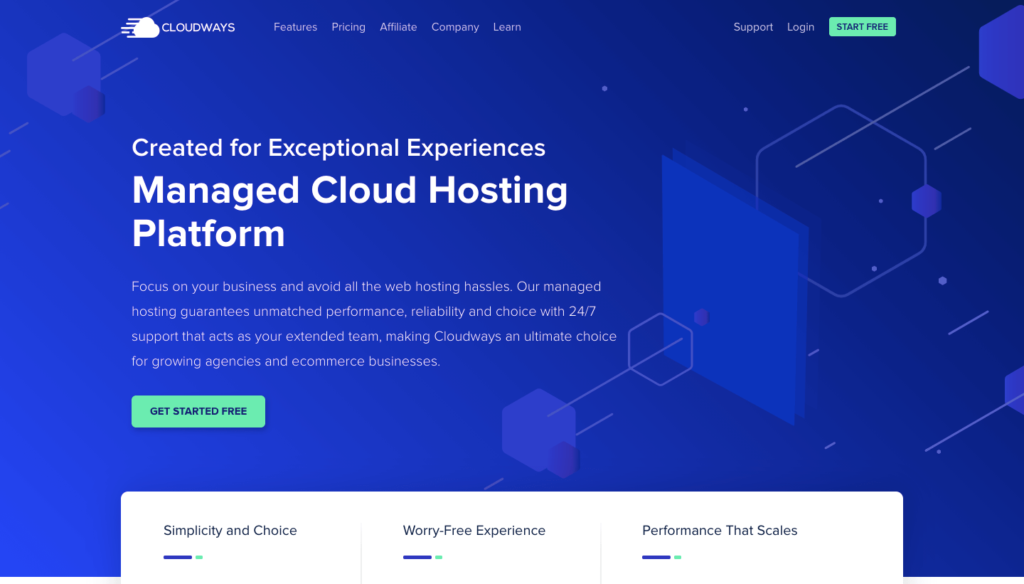 Cloudways hosting guarantees you unmatched performance, reliability, and choice. With this scalable cloud web hosting, you may only focus on your product/service growth and avoid all the web hosting hassles.
It allows you to go live in a minute, and it has taken away the complexities of setting up your database. Cloudways WordPress hosting gives you the fastest performance, highest security, and seamless scalability for your sites.
You could also solve the problem that you face with advanced and premium support add-ons; 24/7/365 live chat, online ticketing, etc. All make this Cloud we hosting the Best hosting for high traffic, and you will come to know how good is Cloudways after reading my detailed review,
The servers that have been launched on the Cloudways hosting have dedicated resources. Contrary to the shared hosting limitations, its dedicated environment will permit you to maximize server and app performance.
The powerful options of this managed cloud hosting will make you control several server parameters and deploy applications. Out of all, it will give you complete control over hosting, complete freedom, extraordinary security, endless choices, and multiple powerful add-ons
Highlights
SSD based fastest website hosting
Auto-healing managed cloud servers
Regular security patching
Launch 10+ apps just with a single click
Cloudways $30 discount is available to use 3 months hosting for free
Single click backup and restore.
2. Convesio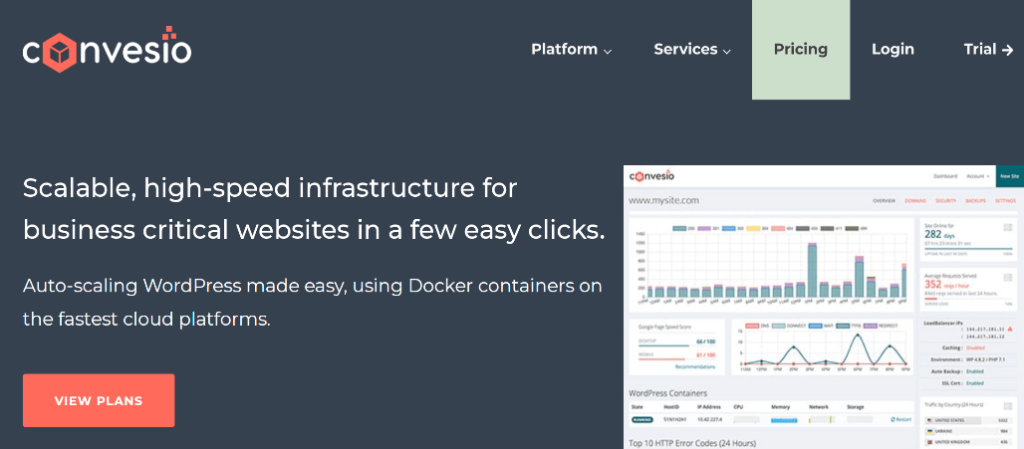 Next to Cloudways, I'm delighted to have Convesio scalable WordPress hosting on my list. Are you hearing this name for the first time? Well! Let me consolidate its impressive features and it would help to buy this high-speed hosting for your business website.
Auto-scaling in WordPress has been made easy in Convesio hosting. Having excellent infrastructure for high-performance, this scalable hosting takes off your potential pain that comes from server administration and security monitoring.
It is easy to deploy your WordPress site with the redundant file system, load balancers, and database cluster, and that too without any complex setups. You may set up your site on the Cloud infrastructure like AWS or Google cloud at the just push of the button.
Using the recent Docker container technology to distribute the traffic for high availability is a notable feature of Convesio hosting. It is not only an easy-to-use platform but also a speed-optimized server service to manage your WordPress site like a Breeze.
Highlights
Contains custom made cache in the load balancer
Multiple MYSQL server for high uptime
Application level monitoring and self-healing
Well suitable for eCommerce, event and LMS sites
Starter plan with malware cleanup and Cloudflare security
30 Days free trial to test the performance
3. Kinsta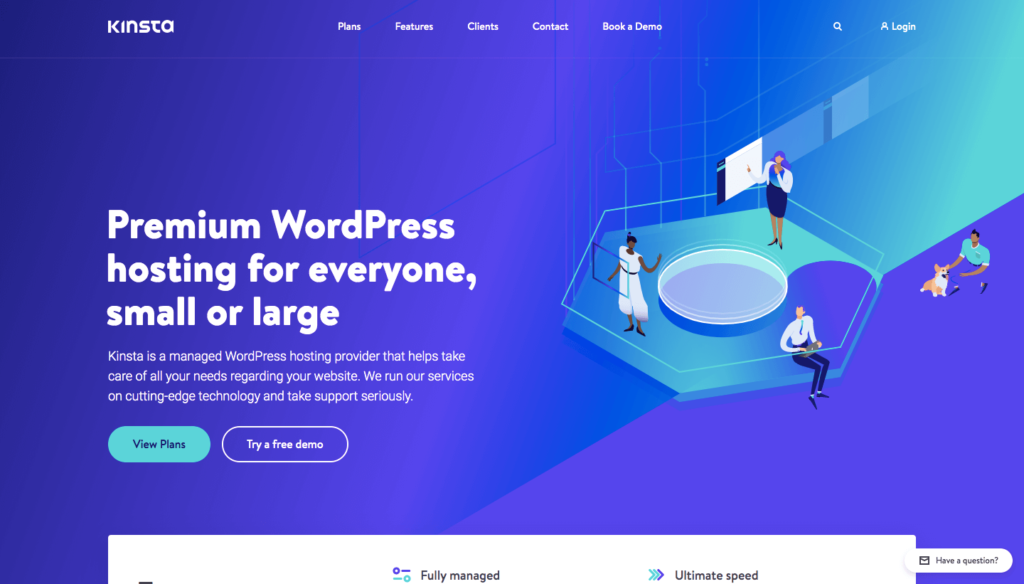 Kinsta is a premium WordPress hosting for everyone; whether you are using it for small needs or bigger needs, this best scalable web hosting will help you rock over your competitors.
It runs its technology on cutting-edge technology and takes support seriously. With Kinsta, you are free to focus on growing the business, and Kinsta will take care of the rest. This managed hosting type's primary care is 'support,' so you will always get help from the experts whenever you face any issue with Kinsta or its services.
You will get auto-scaling, resource isolation, and high-performance with any plan of Kinsta. It uses the latest and greatest tech stack optimized for WordPress, which will help your website to handle high traffic spikes with ease.
With single-click staging environments and cloning, you can take full control of your code. Continuously, Kinsta runs malware scans, supports GeoIP blocking, and automatically bans abusive IPs; in simple words, Kinsta gives a fully secured environment for you, and have a glance at Cloudways Vs Kinsta to decide the suitable hosting for WordPress.
Highlights
Secure like Fort Knox
Google cloud platform
Daily backups
Free migrations
Lightening fast speed
4. 10Web
10Web hosting is a managed hosting platform for high-traffic websites; just scale your site on super-fast hosting especially at a low price. This scalable website hosting uses the Google cloud's best servers & SSDs, FastCGI caching, LXD containers, PHP, and Nginx; if you do not know any of these just know that 10Web will give you high performance scalable hosting infrastructure.
It will automatically optimize the images you upload on your WordPress, making your online website 3 times faster than the normal website and your images 10 times lighter with up to 90% image compression, especially without any quality loss.
Your web files will automatically be backed up by 10Web hosting and keep your backup in AWS storage; the system saves only the changes made after the last full backup, so it works very fast on an hourly basis.
To adapt and adjust to site load and handle sudden surges in website traffic, the 10Web uses elastic scaling. It is also the best WordPress hosting for high traffic, which offers a complete automated solution that includes high-performance hosting, smart hosting configuration, and much more.
Highlights
1 click auto migration
Advanced caching
SSD power scalable hosting
Encrypt SSL certificate
24/7 responsive support.
5. Nestify
Nestify helps improve your site speed, increase conversions, and eliminate outages. It has a single-tier support division, which means Nestify's engineers have years of WordPress experience, and they will help you fix your WordPress issues at any time.
Generally, moving hosts has been considered a painful task, but not with Nestify. The experts of Nestify will move your web pages for free from any provider; Moreover, it has a system in place to ensure that your online asset does not go offline or lose data while moving to Nestify.
If you want to stand out from others, then you have to try Nestify hosting; they even do security and speed, and hence this WordPress hosting with high scalability is the most preferred choice for the business website. It is one of the exceptional cheap cloud hosting services as well.
WordPress sites have been frequent targets for hackers, especially if you are running any insecure themes or plugins. With Nestify, it is possible to avoid this scenario. Nestify''s automated systems scan your website frequently and make sure that the website is secured.
If it gets hacked, this scalable SSD VPS hosting will retrieve it up for free and secure it. You do not need to bother about cache and the site speed. It will take care of the website cache without asking you to download and install any plugins; Nestify cache keeps your primary business site super-fast and available all the time.
Highlights
Free migration
Free CDN & SSL
Staging sites
Free Daily Backup
Unlimited Visitors & Sites
WP-CLI
6. WP Engine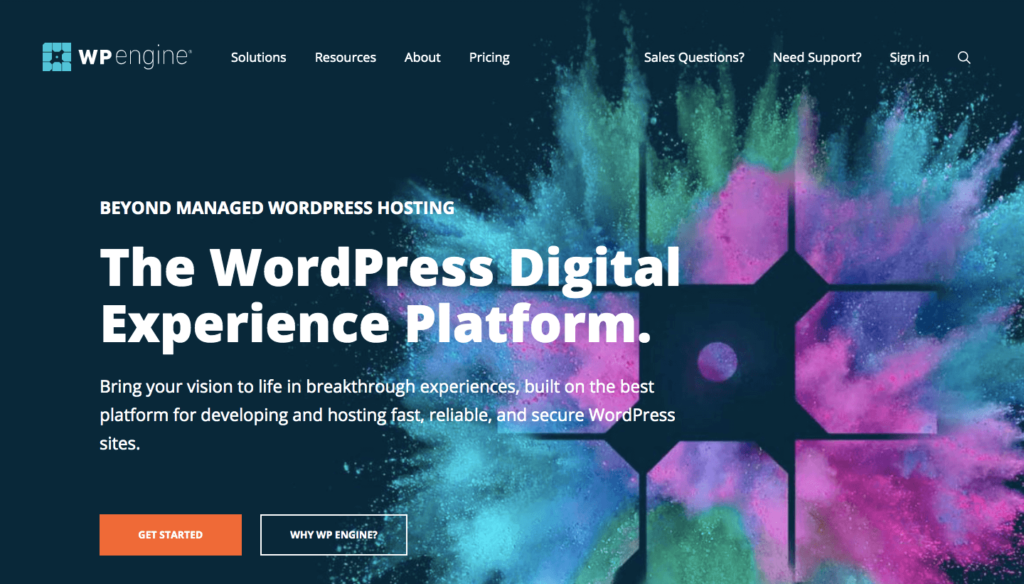 WP Engine is the most popular WordPress hosting with high scalability; It is the most reliable hosting platform for businesses of all sizes. WP Engine has been the most trustworthy hosting service from small businesses to creative agencies to enterprise brands.
It will handle managed upgrades, automatic updates, daily backups, and continuous monitoring. You do not need to focus on any issues; focus on your business, and WP Engine will help you.
WPEngine is an excellent pick for you because they are integrated with best-in-class technology partners, AWS, Google Cloud, New Relic, etc., and optimize their technology, especially WordPress.
With the WP Engine, you can easily move data between your cloud development environments. Use the WP Engine's tools to simplify and shorten the development cycle through rapid testing of changes.
It offers you an isolated environment for development and testing purposes. Transferring the ownership will be an easy thing with the WPEngine; it provides an easy way for the agencies or freelancers to transition site ownership and billing to clients post-launch.
Highlights
Staging site
Billing transfer
Responsive support
Managed security
Immediate disaster recovery.
Which Scalable WordPress Hosting Should You Buy?
When your business website started to grow, it will be quite difficult for its hosting server to handle many requests. During that high traffic period, the scalable WordPress hosting will add the server resources and no need to be depressed about the downtime issue.
A plethora of hosting companies offer this adjustable storage type. However, when we talk about the excellent services for maximum results, these 5 hosting providers rank top on my list because they will let you extend or reduce the server power according to your website traffic.
Out of these 5 best scalable hosting companies, if you ask my top recommendation, then my vote goes to the top managed cloud hosting for WordPress, Cloudways. It is a fantastic scalable hosting type that comes with amazing features to boost your online presence.
Without any second thought, Get Cloudways hosting with $30 Free Credits (3 Months Free) by using the Promo Code – WPGLOSSY