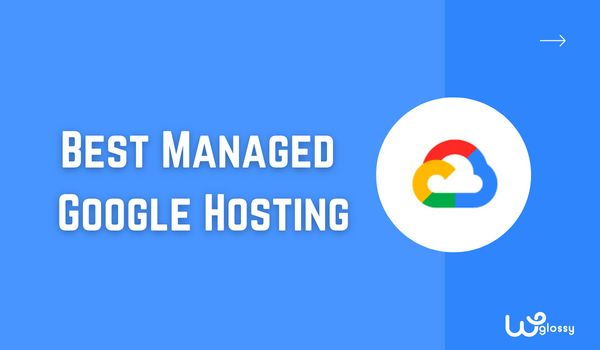 Are you looking for the best managed Google cloud hosting service offered by reliable providers for your long-tern business site or blog? If yes, you have come to the right place to pick the best one within your budget and perform better than your competitors.
Business site owners' biggest challenge is finding a reliable hosting solution that costs less and delivers as promised. Back when I began blogging, I was promised great offers by the hosting service providers, but with the increase in traffic, the quality of service deteriorated.
Due to compromises in features, I have shifted several hosting service providers down memory lane. Most importantly, some hosting providers are highly vulnerable to third-party attacks and fail to adapt to the latest technologies.
We resort to Google every day for various reasons. Why miss the opportunity when a hosting provider offers the best managed Google hosting solutions at an affordable price and as a complete package?
In this article, I will take you through the main reasons to choose managed Google hosting and handpick the list of best managed Google hosting providers in the market. I hope it would help you have a better online visiblity!
Why managed Google hosting?
Google cloud hosting is a boon to every website owner out there. We tend to spend time and effort managing and configuring servers and sites. With the presence of a managed cloud hosting solution, you get guidance for every step from the service provider. Most importantly, you pay just for what you use.
From installing WordPress to database management, backup, emails, and other fundamental needs, a managed hosting solution can keep your business profitable and long-lasting. So, what is it with managed Google hosting? Google cloud services offer reliable solutions meant to host different sites, take advantage of turnkey solutions, and pay only for the service used.
What is even advantageous is that Google wants more site owners to enjoy this service; hence, it offers several free credits and has also partnered with top hosting providers around the globe. With Google, you can benefit from global infrastructure, use multi-cloud and open-cloud systems, evaluate productivity, and deploy sustainable solutions.
As a site owner who has used managed Google hosting solutions, I should admit that it has provided outstanding support solutions, security, performance, uptime, quality of infrastructure, and ease of setup.
Top 6 managed Google hosting Services To buy In 2023
To let you enjoy Google's low latency network and widespread data centers, you should go with some of the best managed Google hosting providers. In this section, you will go through them one by one.
1. Cloudways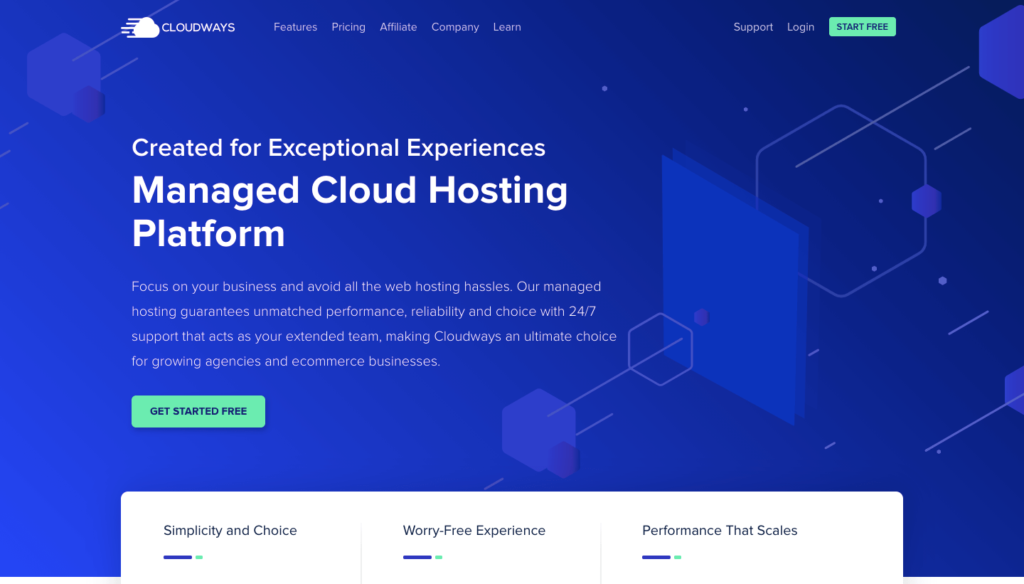 Cloudways offers a complete hosting solution with Google, which can also be tried for free. With this solution from Cloudways, you can shuffle between applications and servers but still manage your site like a pro.
Some of the features that caught our attention are right here.
You pay as you go for bandwidth. Cloudways Promo code is also available to avail the discount offer
Seven pricing plans make it easier for users of all needs to utilize services. 
All managed Google hosting solutions provided by Cloudways offer automated backups, round-the-clock support, a dedicated firewall, auto-healing, and real-time monitoring.
With Cloudways already holding a renowned name in the hosting industry, this service is a must-go if you are a fan of Google and want to choose a reliable solution. 
2. Kinsta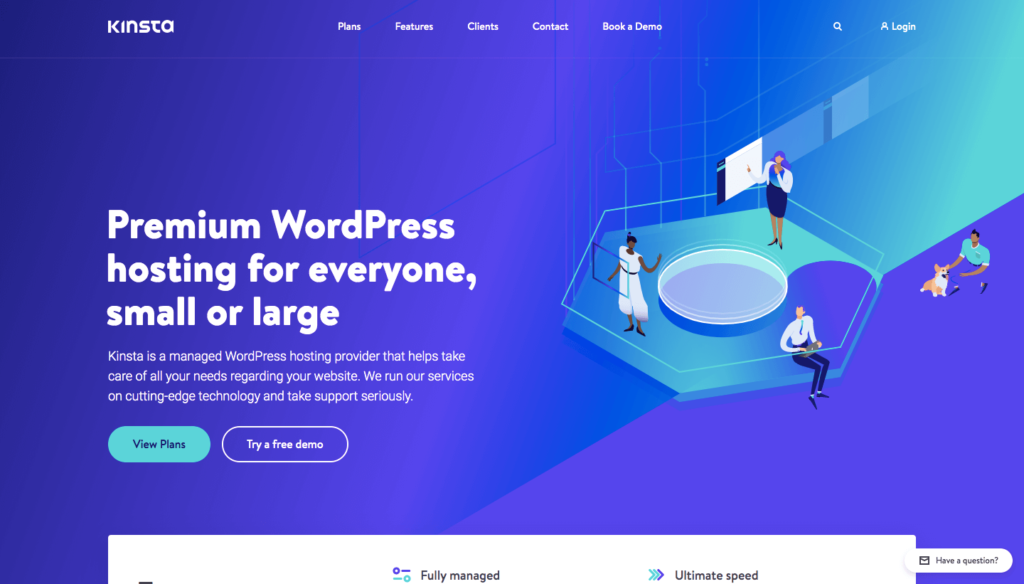 Kinsta calls itself the first managed WordPress host to have used Google's cloud platform. Kinsta offers managed Google hosting solutions with high-end architecture, a high-security network, scalable hosting services, and regular uptime checks.
Every hosting provider has some uniqueness. Kinsta, one of the well-known names in the hosting industry, provides extraordinary benefits to its clients. Here are some exciting features of Kinsta that you should not miss.
Incredible loading times
Round-the-clock availability of WordPress experts to guide you on the go
30-day money-back guarantee
Scans sites once in 2 minutes
From our experience, this is an attractive solution if you are hosting your site on WordPress. You may also look at the comparison, Cloudways Vs Kinsta, to pick an ideal service for your requirement.
3. Templ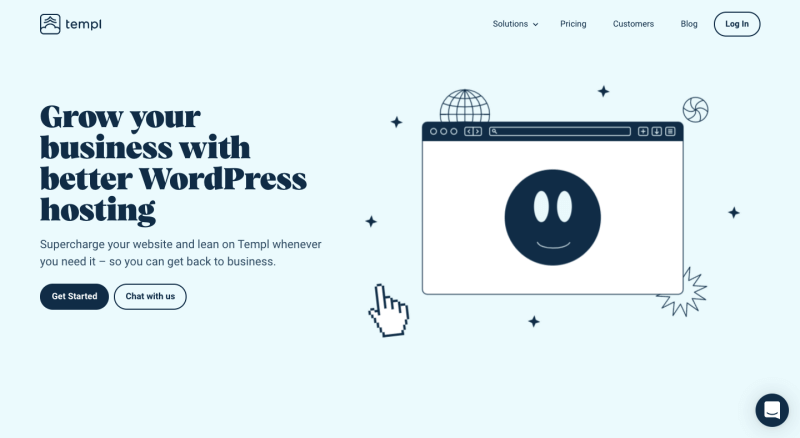 Templ.io's Google cloud service is trustworthy and ideal for all types of websites. Beyond that, we recommend you use the managed Google hosting offered by Templ if you have a WooCommerce site. It has a dedicated setup meant to operate these sites.
If you are unsure about the quality of this hosting provider, there is a 10-day trial option up for you. You can upgrade your plan later.
Here are the top aspects of Templ.io's managed Google hosting solution that you should not miss reading before you make your decision.
It has a proprietary server stack containing software that you can click and begin using.
The technical support team is highly capable of recovering and restoring hacked sites.
Templ.io offers a simple control panel that lets you do several operations like backup, file management, domain management, and website management without having to shuttle between screens.
It has four pricing plans to choose from.
The most significant advantage of Templ.io is the debugging support offered to clients. This maintains your site's performance irrespective of the plan you are in. So, you can eliminate possible worries about your site when you host on Google's data center in partnership with Templ.
4. Closte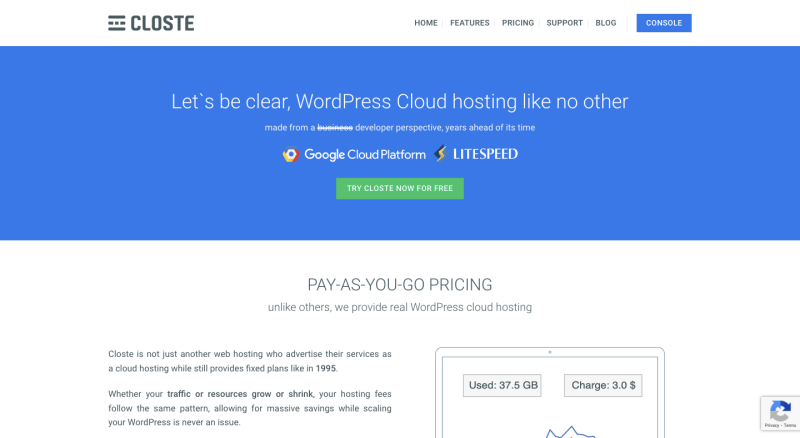 Closte offers managed Google hosting services with outstanding support, offering fixed plans since 1995. Closte accommodates the idea of a utility bill where you pay only for what you use. 
It uses a Litespeed cache and lets you start your site at as low as $12 monthly. There is a free trial option as well. If you run small sites, $12 monthly is quite handy and affordable.
Having used Closte's services for quite some time, certain features stood out.
WordPress-friendly features include automated updates, built-in CDN, security, and one dashboard for the team
Non-compromised speed for your site with Google Cloud CDN, LiteSpeed Enterprise, and Google Cloud DNS
User-friendly dashboard with ample options to manage tasks, maintain logs, collaborate, maintain backups, and the site easily
Are you looking for an insanely fast hosting service? You need this intelligent and automated infrastructure to boost your site's performance.
5. Rackspace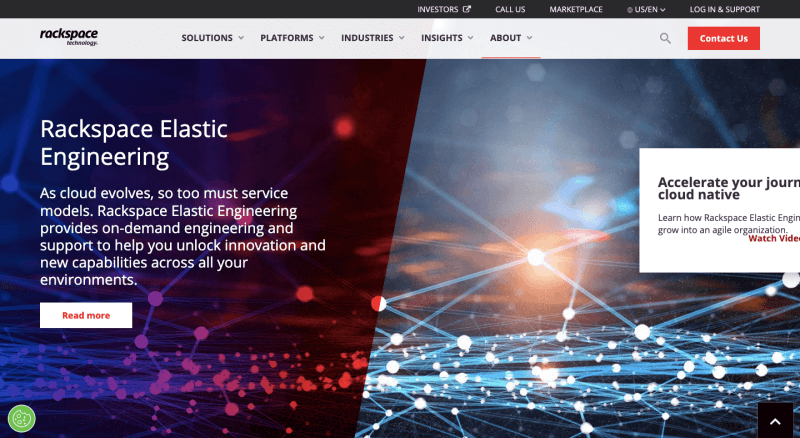 Google Cloud Platform has handpicked brands to collaborate with and offer its services to their clients. Rackspace was handpicked by Google mainly because Rackspace stood out in terms of expertise and name in the market.
As a trusted Google Cloud Managed Services Provider (MSP), the managed cloud hosting service needs high expertise and support. Rackspace has outranked on both. If you are looking for a trustworthy provider, you should go with Rackspace as it has bagged Partner of the year in North America from Google Cloud in 2020. 
Let's look at what Rackspace has to offer for you.
Customizable solutions for varied cloud computing needs
Round-the-clock availability of cloud architects and engineers
Automation for imaging and logging
Enhanced usability with its dashboard
Option for add-ons for various container services and applications
Regular monitoring and alerting systems
Rackspace also integrates most of Google's infrastructure for security, big data, and hosting services. The idea is to support the uncompromised workloads of clients with fully managed services. 
If your site is the bread and butter, you should go with the pioneer, and Rackspace is the answer to it.
6. Go4Hosting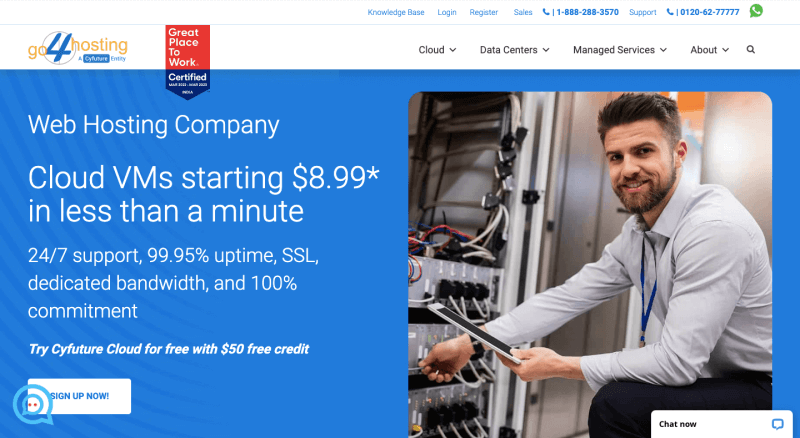 Running short of money but still want a managed Google hosting service? Go4Hosting is your destination. Combining Google's infrastructure with Go4Hosting's support, your site can instantly skyrocket to its next level. 
Google Cloud offers developers many opportunities, including analytics, speeds, lock-in, easy remote integration, and responsive design. Although several agencies already offer managed Google hosting solutions, there are particular reasons to choose Go4Hosting over the rest.
Ability to avail of Google Cloud managed services, including G Suite, DRaaS, Kubernetes, and Google VMs.
Professional support team to let your site achieve break-even with outstanding technical infrastructure
Regular optimization of sites at no additional cost
Personalized guidance for its clients adhering to guidelines of Google Cloud Platform
Ideal infrastructure placement
Complete assistance for migration
Value for money
You can now host your site on Google's data centers, leveraging the expertise of Go4Hosting. Already ruling the hosting industry with its inexpensive plans, this is an excellent option if you are starting with managed Google hosting service. 
Conclusion
As technology advances, site owners like you and I should adapt to new trends. When they are from Google, we should never miss them. Host your site at the world's best data center; no looking back is involved! 
While there are ample options for us to host our sites, managed Google hosting can continue to be the ideal choice. Pioneers of the hosting industry like Cloudways, Templ, Kinsta, Rackspace, and Go4Hosting have begun offering state-of-the-art services in association with Google.