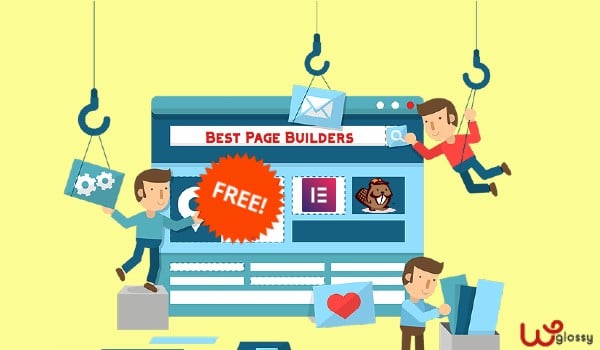 Are you looking for the best free page builder plugins to get the best one and build a professional website? Well! Perhaps you are a budding or aspiring blogger? Maybe you are a business person who needs a website for personal branding?
You could even be a well-established digital entrepreneur who's just trying to update your blog or website with visual & engaging pages and optimize for more conversions. You might want to stop relying on designers & developers and make the pages more dynamic.
But whatever the case be, you all need a solution; tools that can help you make your blog or website better. What truly makes up a builder is the tools and skills that he is equipped with. Similarly, no matter how skilled a webpreneur is, he is nothing without the right tools.
The tool that is going to aid you in building your blog or website is called a 'page builder.' A page builder or website builder is a tool that lets users design and build blogs and websites from scratch without the need for manual coding.
It is a life-saving tool for many bloggers and website architects all over the world as it saves time and effort by eliminating the need for adding and editing the coding.
So now, anyone can construct a blog or website, and they do not need even basic coding knowledge. Various web hosting companies offer online page builder tools to their clients. But the most famous among them all, and the reigning champion, is WordPress Page Builder.
Top 8 WordPress Page Builder Plugins To Install For Free
Below is a list of 8 free powerful WordPress Page Builder Plugins with which you can make a beautiful site for your business.
1. Elementor Page Builder
The most famous and user-friendly page builder is Elementor. This plugin allows you to create some of the most amazing designs, and it will enable individuals to perform a lot of advanced functions.
It is a drag & drop page builder that requires zero coding knowledge. Elementor helps to create and use live designs. It can work with or without Gutenberg. Users can choose to build from scratch or modify pre-designed templates that are ready-made.
The tools offered by Elementor makes web page editing very easy. But what makes Elementor truly special is the fact that it makes sure that the page constructed adapts to different screen sizes, including that of mobile phones.
With the free version Elementor, users can create incredible landing pages! Upgrading to Elementor Pro allows users to design with greater speed and efficiency.
Features
Adaptable designs
100 plus pre-designed templates with 30 of the best widgets
Lightning-fast speed
RTL and multilingual supported
Works with WooCommerce and Gutenberg
Best in the class documentation
Amazing customer support services
Active Installations: Whopping 4 million
Rating: 5 stars
2. Page Builder By SiteOrigin
SiteOrigin is also a famous WordPress page builder. It enables users to create responsive web pages easily, which means that one's content will automatically adapt to mobile screen sizes and positions.
Its widgets are highly interactive. Hence you can create the best web pages. Another amazing feature of SiteOrigin is that users do not need to have any basic coding knowledge to use it.
In addition to it, you can work freely with any themes using this excellent Page Builder for WordPress. It imposes virtually zero restrictions on the user when it comes to editing their web page.
This free Page Builder also supports live editing. It is available in 17 languages. Unlike Elementor, it does not restrict certain features to Pro users.
Features
Zero restrictions to editing
User-friendly and high customizable
Live editing
Quick Performance
History browser to roll back and forward
Active Installations: Whopping 1 million
Rating: 5 stars
3. WordPress Page Builder – Beaver Builder
Beaver Builder is a WP Page Builder Plugin that lets you easily create and build web pages. It is highly flexible. Users no longer need to worry about coding.
The widgets help to perform advanced functions. It has a growing and supportive community. With Beaver, you can create responsive web pages.
Beaver Builder is an incredible WordPress plugin that comes with Pro feature that offers users expert support, additional modules that are not available for regular users, or allows users to create custom modules.
Features
Growing and supportive community
Amazing widgets and shortcodes
Responsive web pages
Pre-made layout templates
Customization of modules
Active Page Builder For WordPress Installations: Happy 3 lakhs users
Rating: 5 stars
4. Page Builder: KingComposer – Free Drag And Drop
Now comes the fastest page builder plugin available on the internet, KingComposer. With KingComposer, users can save time and effort, thus creating amazing designs without the need for coding.
This free Page Builder for WordPress allows making back-end edits for free! But only users who have subscribed for its Pro version can use its front-end editor.
With this page builder plugin of zero cost, users can create responsive pages. It has a powerful CSS system that allows users to make superb customizations. It will enable its clients to use more than 850 google fonts.
Features
Fully functional backend editors
Fastest plugin
Powerful CSS system
Offline and online section presets
More than 850 google fonts
A superb collection of widgets
Active Free Page Builder Installations: Happy 1 lakh users across the globe
Rating: 4 stars
5. Brizy – Page Builder
Brizy is a super user-friendly page builder plugin for WordPress. It is very easy to use and fast in its work. Users do not need to have pro coding skills or even basic skills.
This free page builder uses a drag-drop feature, which makes page building much easier and simpler. What's more? Brizy offers its users 150 premade designs. It is mobile friendly and helps users create responsive page designs.
Features
150 premade designs
Fast
More than 4000 icons
Mobile friendly
Clutter-free
No need for coding knowledge
Active Installations: 60,000
Rating: 4.5 stars
6. Nimble Page Builder
Nimble Page Builder is an amazing plugin that allows users to make amazing customizations and real-time designs.
This smart page builder for WordPress employs drag and drop features and a great selection of widgets to get the job done. It also includes pre-designed templates that users can use or customize.
Features
Drag and drop
Great selection of widgets
Customizable premade templates
N number of content modules
Total Page Bulder Installations: 40,000 active users
Rating: 4.5 stars
7. Page Builder: PageLayer – Drag and Drop website
PageLayer is easy to use, and a light page builder plugin for WordPress. It works well with any WordPress theme.
It has a fantastic collection of widgets that users can use to create spectacular web designs. Users don't need any coding knowledge to use PageLayer.
Features
Amazing selection of widgets
Effortless inline editing
Real-time design
Easily customizable
Single click copy maker
Feature of typography
Total Number Of Users: Family of 2 lakhs
Rating: 3.5 stars
8. Page Builder: Live Composer
Live Composer is a fantastic page builder plugin that uses drag and drop features to create astounding page designs. It is compatible with WooCommerce and Gutenberg.
Allowing the users to create incredible page designs in real-time, it provides users with an amazing selection of widgets that they can use to create superb web pages.
What's more? Live Composer allows creating responsive web pages, meaning that the web pages function well in all screen sizes.
Features
Highly responsive on mobile
Compatible with WooCommerce and Gutenberg
Real-time designing
Active Installations: Happy 30,000 users
Rating: 4.5 stars
Frequently Asked Questions About Free Page builder Plugins
1. Should I use a WordPress page builder?
Ans: Yes! When you want to create some amazing website or blog layouts that can bring more sales or subscribers, it is better to use a page builder. Just drag and drop the essential elements and quickly finish the design job to attract huge eye-balls.
2. Which is the best free WordPress page builder?
Ans: I have done deep research to list the best page builder plugins; you may use any of the tools listed here. My suggestion is to try Elementor, you will love it for sure!
3. Are the page builders bad for SEO?
Ans: It depends on the tool that you use. When the poorly coded page builder extension is used, then it would affect your SEO performance. However, in the professional tool like Elementor, they are not using the shortcodes and not artificially forcing the Javascript codes to allow full screen. Hence is it considered as the SEO-friendly page builder plugin.
4. Does a page builder slow down the website speed?
Ans: Heavy tools definitely affect your page speed. Therefore, you have to be very careful in picking the ideal one. Try to get the fastest page builder with a clean user interface to perform well. My vote always goes to "Elementor".
5. Is it worth using the Elementor free?
Ans: Yes! If you are a beginner you may use the free version of Elementor. It has basic features through which you can build a functional website. However, when you grow, you have to consider getting the premium version to stand out from the crowd.
Wrapping Up
With these powerful free page builder plugins, you can make any type of website with a stunning look. As you can use the pre-built modules to design the pages for business branding, you don't need to deal with the coding part.
Getting the entire customization freedom is the primary benefit of page builders. Without any professional help, it is more likely to create the landing pages, add headers & footer, include widgets anywhere, and modify the layouts as you like.
What else do you want more than this flexible option? If you are just entered into the website design, blogging, or online business, you may get any of these free page builder plugins to develop your design skills. When your business grows, upgrade to any of the premium page builders.
So, which free page builder would you like to install for your WordPress site? Are you already using any third-party extension? Share your views and experience in the comment section.