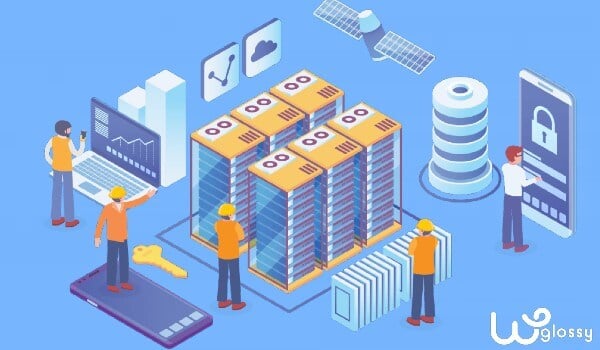 Are you dreaming about starting your own web hosting business through the best reseller hosting service and struggling to pick a reliable company to fulfill your desire?
Whether you are a web designer, digital marketing consultant, copywriter, or programmer who would like to provide the hosting server for your clients and make income with it, reseller web hosting is the right path.
So, you have come to the right place to know some of the trusting companies' excellent reseller hosting plans.
Before getting into the list, let's see the things to consider while buying the reseller plan, and hence you will get an idea of what to look for in reseller hosting to give an unfailing service to your customers.
How To Choose The Best Reseller Hosting Service?
Here are a few features to keep in mind while getting the reseller web hosting service!
Established web hosting with a good reputation
Easy to use interface to manage your client accounts
Maximum guaranteed uptime & Longest Money back policy
Sufficient Disk space, Bandwidth & Domain hosting In Basic Plan
Free SSL Certificate & Free Site Migration
White Label Feature To Get Brandable cPanel & Custom Nameservers
Automatic Backups With DDoS Protection
WHMCS (Web Hosting Client Management Panel) for account management & billing
Geeky Round The Clock 24/7 Customer Support
Why reseller hosting?
If you are hesitating to start a reselling hosting business, then you should read its benefits!
Lucrative to make a side hustle by acting as a middleman
No need to worry about the server resources
No headache of giving technical support
Build your identity and brand
Configure different hosting accounts as per the needs
The parent company offers management and billing software.
Top 9 Reseller Hosting To Run Your Hosting Business
1. GreenGeeks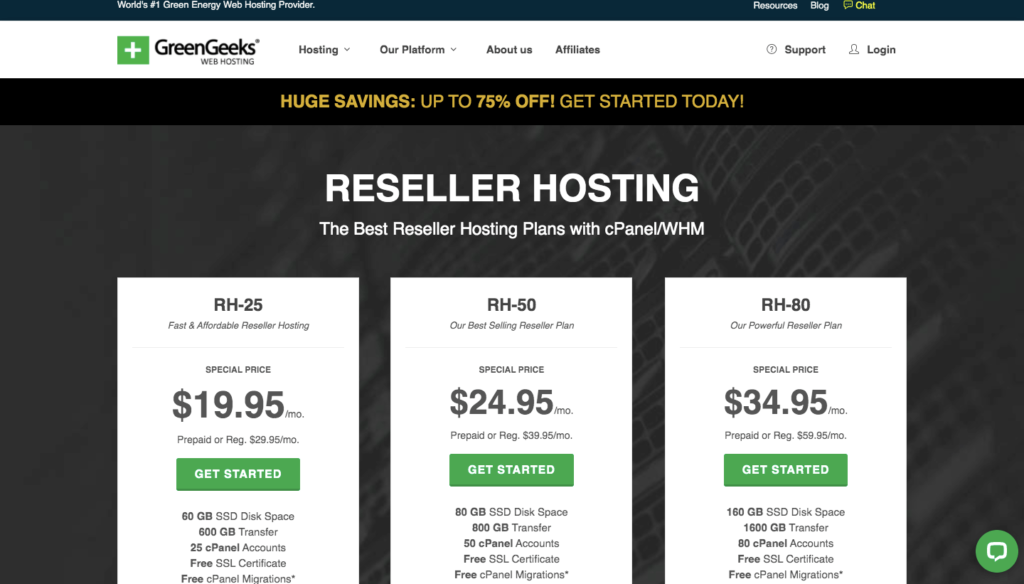 Specifications
60 GB – 160 GB SSD Disk Space
25 – 80 cPanel Accounts & Free Migrations
30 Days Money Back Guarantee
300% Green Hosting
Fully Managed Support
If you are looking for the best Reseller hosting with WHMCS that has been built for speed, security, and scalability, then your pick should be GreenGeeks. This environmentally-friendly hosting is fast & affordable with excellent all-time reseller support.
Highlights
Host unlimited domains
Free email accounts and drag & drop builder
Unlimited MYSQL databases and Sub & parked domains
Free CDN integration and LS Cache support
Pro-active server monitoring & Real-time security scanning
Supports developer-friendly features and the latest PHP versions
Why GreenGeeks Reseller Hosting?
GreenGeeks allows you to create individual cPanel accounts by offering access to WHM. 1-Click CMS deployment, Free WHMCS billing software, Wholesale domains for customers, and Custom security with zero-day vulnerability are the positive sides of GreenGeeks reseller hosting plans. Moreover, it is 100% white-label to take the branding benefits and create your own private name servers.
2. DomainRacer
Specifications
Unlimited SSD Storage
Unlimited Bandwidth
70 cPanel Accounts
Free WHMCS Billing Account
Fastest Moving LiteSpeed Technology
Undoubtedly DomainRacer is the best reseller hosting. As it enables you to focus more on starting and manage your hosting business. By offering a powerful solution with uncompromising reliability and robust server infrastructure functionality. Get all in one unlimited reseller hosting packages with WHM module.
Explore the well-optimized and fully-featured cloud-based white label cheap reseller hosting platform here. That allows full customization and boosts up your brand identity at market-leading prices. If you are looking for the best domain registrar on behalf of your client. Then DomainRacer offers an affordable domain reseller plan and multiple accounts. That makes your numerous client handling easier. And enables you to earn marginal profit.
Highlights
Excellent Global Connectivity through IV Data Centers
Reinforced Server Security with Imunify360 + Free SSL
Disruption-Free Backup and Upgrades
Industry-Leading 21x Speedy Performance
Quick Action to Query Customer Support
Save Server Management Time with 0 Downtime
Support LMS Hosting Solution
Free Premium SEO Default Tool
Why DomainRacer is a Perfect Reseller Hosting Partner for Hosting Business?
DomainRacer is one of the cheapest reseller web hosting companies. Offers well-designed reseller plans to scale up your business. Uses the best combination of enterprise-level hardware with innovative software to enhance your sales, SEO score, and global visibility. Apart from these, easy integrations with WHMCS, free website migration, 1click installation, 100% flexible on-demand scalability. Those are the other remarkable feature that attracts you to prefer DomainRacer's Reseller Hosting Services.
3. A2Hosting
Specifications
60 GB – 270 GB SSD Storage
20 – 75 Client Accounts
Free SSL & Cloudflare CDN
Supports WebHost Manager and cPanel
Free WHMCS or Blesta Billing System
No doubt, A2 Hosting is the fastest Reseller hosting that would make your customers' site load super fast through their Turbo servers. You may blindly trust this fine-tuned reseller hosting solution for Site Migration, Security, and Support.
Best Features
99.9% Uptime Commitment For High Reliability
Free Automatic Server Backups
Free Site Migration & Hassle-Free Money Back Policy
Developer-Friendly Features With Soundest Version Software
Environmental Friendly Hosting By Recycling Old Servers
Unlimited Free Email Accounts
Access To Raw Log Files For Clear Statistics
Why Get A2 Hosting Reseller Hosting?
Like GreenGeeks, A2 Hosting is also White-label hosting through which you can customize the control panel of your customers and billing software with your branding. Free billing solution, Blazing fast service, Custom branding, Active tech support, and Perpetual security are the features that make A2 Hosting one of the best reseller hosting solutions.
4. Liquid Web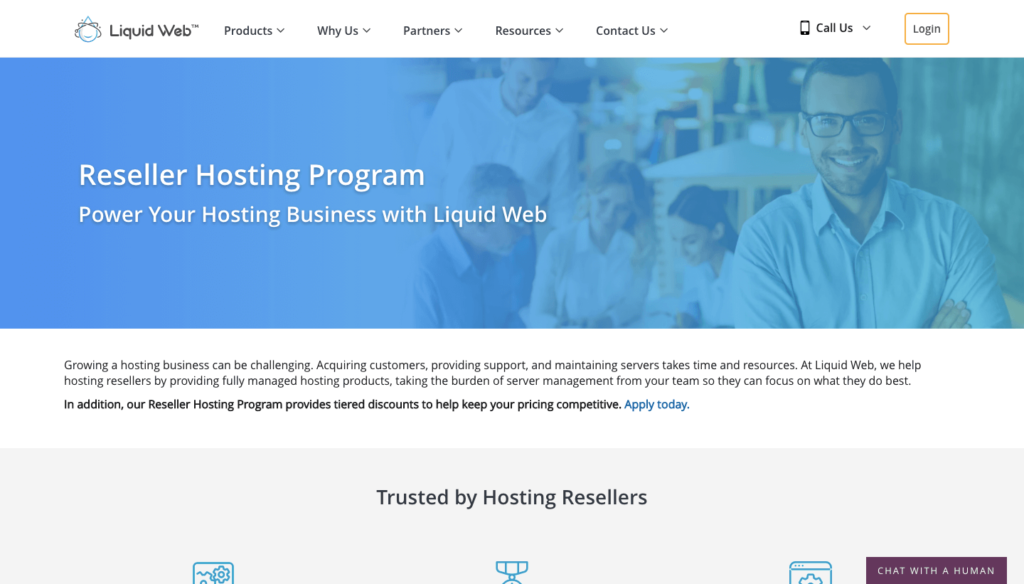 Specifications
8 GB – 64 GB DDR3 SDRAM
250 GB Acronis Backups
2 x 240 GB SSD Drives – 4 x 480 GB SSD Drives
Free Standard SSL For Secure Connection
Interworx or cPanel Option
Are you looking for a dynamic reseller hosting service that lets you resell their dedicated and cloud server? If you nod your head, then Liquid Web is the right choice as it comes free WHMCS license and exclusive pricing for resellers. With WHMCS, you can create your own fully customizable packages, services, and add-ons; and it allows you to oversee every aspect of your hosting business from within a single interface. Liquid Web is undeniably the best reseller hosting 2023.
Highlights
Fully Automated Deployment
Instant Size Customization
Offers Private VPS & Cloud Servers
Standard DDoS Attack Protection
Free WHMCS For Account Management (Billing To Email)
Why Liquid Web Reseller Hosting Is A Perfect Choice?
Here, you are getting the opportunity to sell reliable cloud VPS and cloud dedicated products to your clients, which would improve your fame in the industry. Moreover, the free WHMCS plugin is available for cloud products for easy site management.
5. InMotion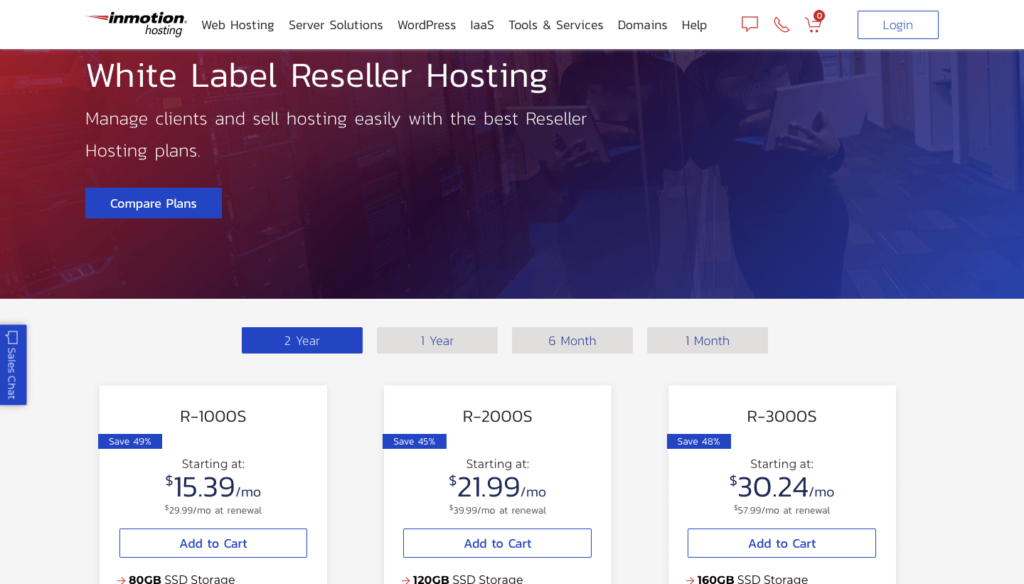 Specifications
80 GB – 160 GB SSD Storage
Free Dedicated IP Address
25 – 80 cPanel Accounts
Free Domain Registration
Powered By UltraStack
Reseller hosting business can be made simple and easy by InMotion reseller hosting plans. Along with the regular InMotion hosting plans, you will also get affordable reseller VPS plans for your hosting business. The plans are optimized for eCommerce as well, and you never need to worry about the site transfer as they transfer the cPanel accounts for free.
Highlights
Free Billing Software To Manage Client Accounts
Includes cPanel & WHM To Handle Databases & Subdomains
24 x 7 Dedicated Support Through Phone, Live Chat & Email
Excellent Data Protection (No Downtime Issue)
2 Free Hours Managed Hosting In VPS Reseller Plans
Why Should You Go With InMotion Reseller Hosting?
Like other reseller hosting services, InMotion also offers the White-Label plan and WHMCS, a comprehensive billing interface to automate and Invoice your customers. Speed, Security, and Support are top-notch here!
6. ResellerClub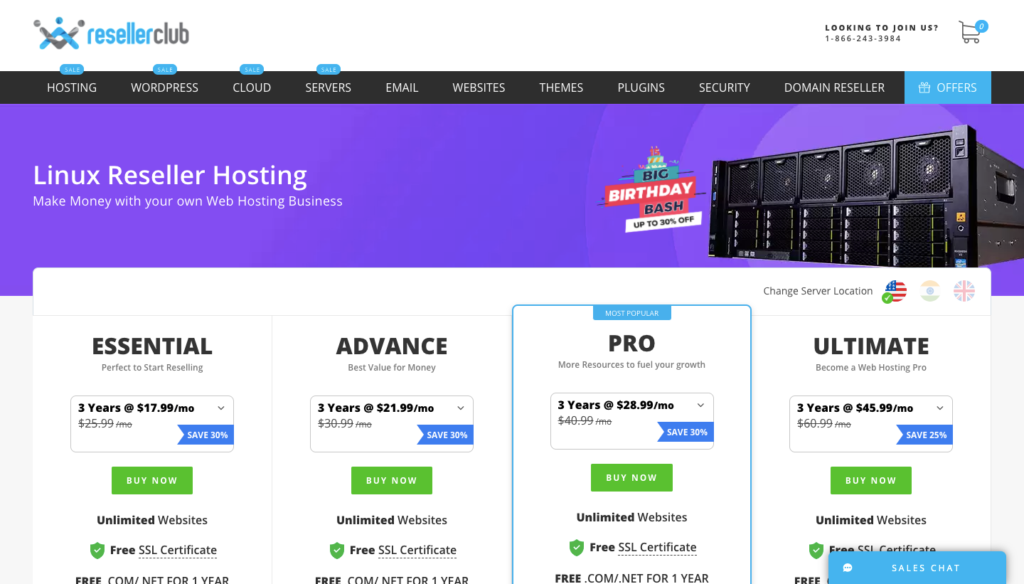 Specifications
40 GB – 200 GB SSD Disk Space
40 – 300 cPanel Accounts
Free SSL, CDN, & Unlimited Email Accounts
Host Unlimited Websites
Free Domain For 1 Year
The ResellerClub offers you the maximum uptime – 99.9%. This hosting platform has made with cutting-edge hardware and low-density servers, giving you high performance and reliability. With the white label support, you can build your brand and establish a tremendous web hosting business uniquely. It offers 24/7 responsive customer support via phone, and live chat will let you fix your issues at ease; It also offers Sitelock, which will monitor and fix potential threats.
Highlights
Free WHM and Cpanel
Easy Setup & Unmatched Speed
Highly Scalable & Seamless Upgrades
Unlimited Email Accounts
Free Reseller Hosting Account
Free Migration For 50 cPanel Accounts
Why Your Choice Should Be ResellerClub?
Resellerclub simplifies your web hosting business. Easy integration with WHMCS, Pre-integrated payment gateways, Free domain & reseller hosting account, Hundreds of 1-click pre-installed apps, and Brandable control panels are the few valid reasons to go with Resellerclub hosting.
7. Scala Hosting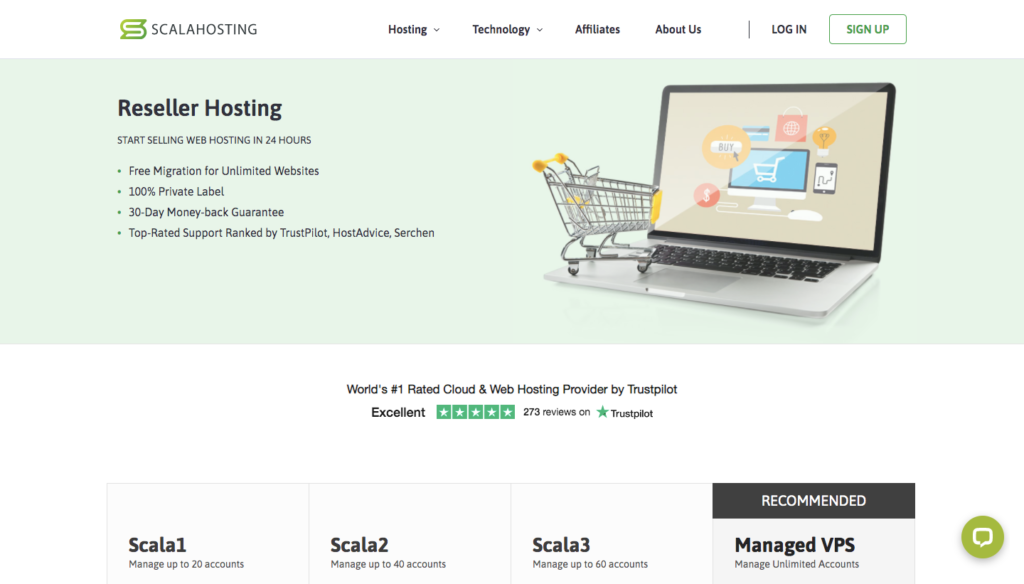 Specifications
20 GB – 75 GB SSD Storage
20 – Unlimited SPanel accounts
Free Migration, SSL & CDN
Webmail & Autoresponders Are Available
24 x 7 Live Chat Support
The support team of Scala hosting is reliable, knowledgeable, fast, and efficient. Your website data will always be secure, and it will be protected with automatic daily backups on a remote server. You can configure private nameservers like ns1 and ns2.yourdomainname.com, making your brand more authentic. The reseller hosting plans don't reveal your identity and ensure it is completely anonymous, which means your customers will never know that you are a reseller. Hence, all this makes Scala hosting the best cheap reseller hosting.
Highlights
Remote Daily Backup With 1-Click Data Restoration
SShield Cybersecurity For Real-Time Monitoring
Free Site Migration For Unlimited Websites
30-days Money Back Guarantee
100% Private Label
Why Is Scala Hosting In The List Of Top Reseller Hosting?
Scala reseller hosting offers managed VPS plan to manage unlimited accounts at an affordable cost. Free domain reseller, Pro spam protection, Free CDN, and Award-winning customer support are the other valid reasons to recommend this most high-grade reseller hosting for your business. As it has 12 years of hosting experience, you don't need to bother about the performance and tech support.
8. ChemiCloud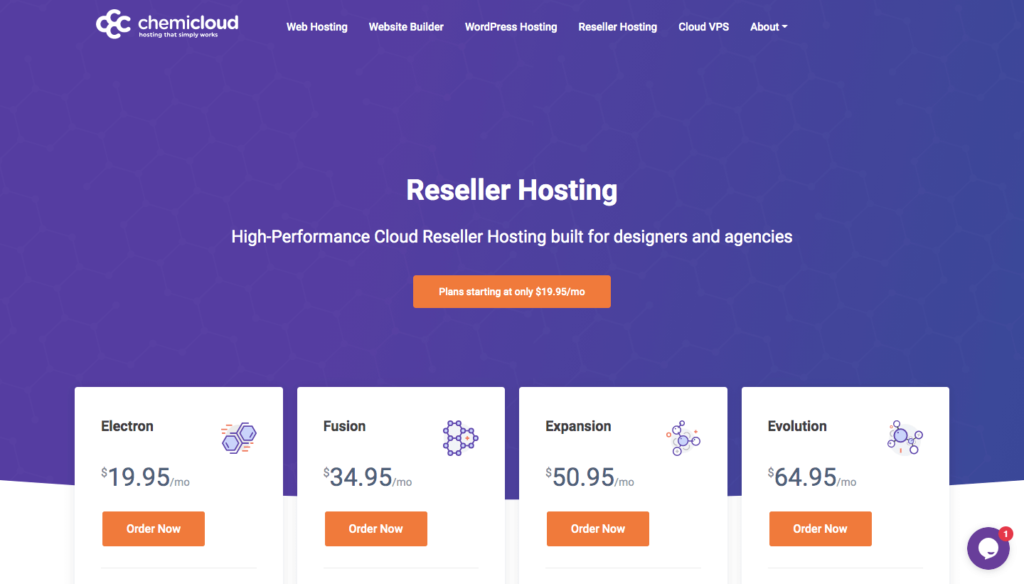 Specifications
30 GB – 100 GB SSD Disk Space
40 – 200 cPanel Accounts
Free SSL & Daily Backups
Free cPanel/WHM Accounts
Imunify360 Security
ChemiCloud will give you a Domain Reseller account, allowing you to register .com, .net, .org, plus more TDL's. You do not worry about email blacklisting as it has partnered with MailChannels always to have your emails delivered to the recipient's inbox. Low-density servers, multiple server locations, and premium hardware of the ChemiCloud will let you enjoy faster load times for your websites. This affordable cloud reseller hosting uses cutting-edge technology like HTTP/2, PHP 7, LiteSpeed, and a free CDN to make your site faster than ever; this will help you improve your Google rankings and gives visitors the most satisfying experience possible.
Highlights
Lightning-fast performance
Reliable Email Service
Worldwide server locations
Custom nameservers
45 Day Money-back guarantee
Why ChemiCloud Reseller Hosting For Your Web Hosting Business?
With ChemiCloud reseller hosting, it is possible to oversell the resources to your customers. Besides, its SSD servers are 300% faster, and therefore, your clients would not face the slow site loading issue. If you are an agency or designer who looks for high-performance cloud reseller hosting, then you should not hesitate to go with Chemicloud.
9. HostWinds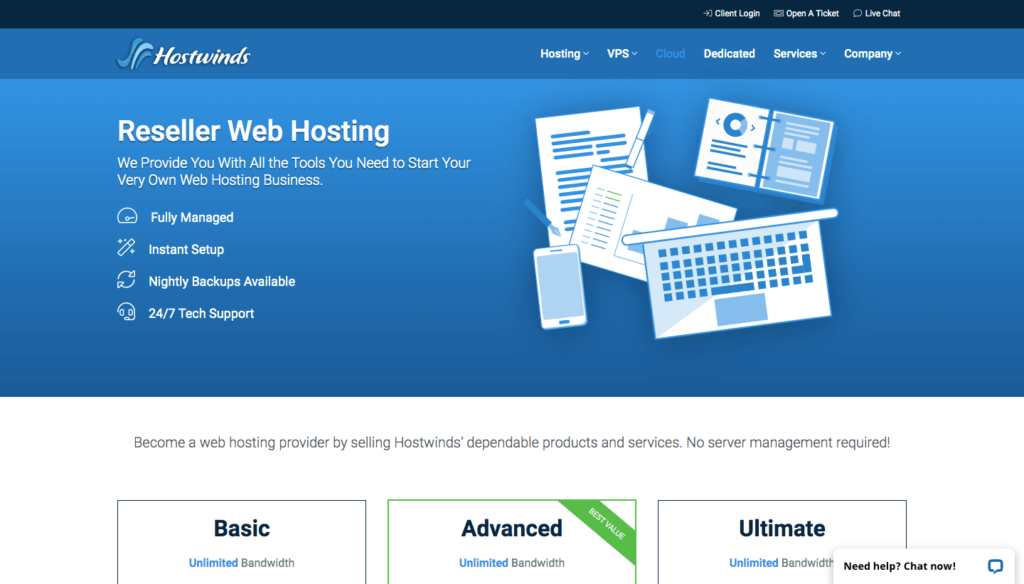 Specifications
Unlimited Diskspace & Bandwidth
Free SSL Certificate
1 to Unlimited Domains
Latest cPanel With Instant Setup Quality
Do you want to become a web hosting provider? Here, I have a final yet most suitable option for you, and yes, it is Hostwinds. This hosting platform will offer complimentary website transfers to all reseller web hosting clients; you can request a site transfer by submitting a support ticket that contains your hosting logins, and HostWinds will take care of the rest. It keeps your data, and your client's data secure with the cloud backup service. Yeah, this best-unlimited reseller hosting provider backs up the data each night, and you can access it any time.
Highlights
Intuitive Online Interface To Manage Client Sites
Free Site Migration For All Reseller Accounts
Unlimited Databases & Subdomains
Nightly Backups Available
Expertise 24 x 7 Tech Support
Got Awards From The Tech Giants Like PCMag.
What Is The Highlight Of HostWinds?
The website monitoring service of the HostWinds will monitor your client's website for you, and if there is any issue arising, a ticket will be open on behalf of you to resolve it. The expert team of HostWinds will give you all support you need for your client, and you can focus on making money for your web hosting company.
FAQs About Reseller Hosting
1. What is Reseller Hosting?
You will buy a hosting package from the company for a wholesale rate and start your own web hosting service by configuring the server for your clients. Here, you can customize the control panels and rebrand their pricing plans on your own.
2. What Are The Advantages Of Reseller Hosting?
At the beginning of the article itself, I have listed all the advantages of reseller hosting. You may have a look at them.
3. Which Is The Best Reseller Hosting?
All the services that I have featured in this blog post are the best. If you want me to pick the one that I highly recommend, it would be GreenGeeks Reseller hosting.
4. Is Reseller Hosting Profitable?
Yes, it is super profitable. The parent hosting company will take care of all the responsibilities, including customer support. You need to allocate the server resources for your clients.
5. How Do I Start A Reseller Hosting Business?
It is simple! Just choose any of the reseller hosting services from my list, sign up with your details, and start selling the hosting plans to your clients.
Which Reseller Hosting To Get In 2023?
Selling the hosting server has been made possible through the reseller hosting type. Here, you will rent the servers at wholesale price from the hosting company and resell them to your clients. Hence, you are getting an opportunity to generate a substantial income and build a reputation with your clients.
I have rounded up the most dependable reseller hosting companies that provide reliable yet user-friendly service to their customers. If you ask my suggestion in picking the most competent one, my top recommendation would be GreenGeeks since it has been launched with the developers in mind. They will get multiple PHP versions, FTP accounts, and much more developer tools. Get Started!