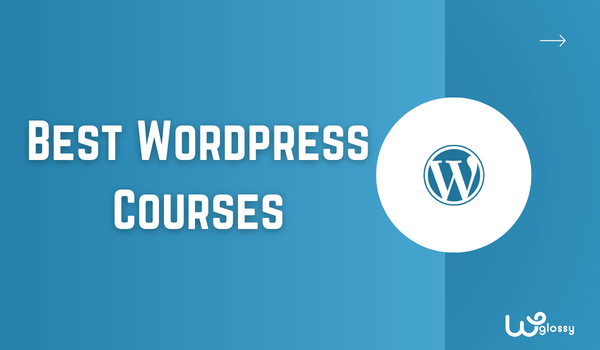 Are you seeking the best WordPress course to pursue your career as a WordPress developer or SEO freelancer? Do you want to start blogging and learn how to manage and operate your website? Either is the case; I've got what you're looking for in this blog post.
WordPress is the world's largest and most widely used Content Management System. It's now an essential tool for online businesses and website creation. If you're looking to create a blog, an online store, or a company website, WordPress can help you achieve your goals.
You want to learn WordPress and wonder which courses are worth your investment, right? In this article, I'll share the best WordPress courses in 2023. I'll discuss the things you must consider before buying any course. Let's get started without any further delay:
Things To Consider Before Buying A WordPress Course
Before we dive into the courses, there are a few things to consider before buying a WordPress course. You may decide which course is best for you by looking at your skill level, i.e., beginner, intermediate, or advanced. However, below are some other factors to consider:
Course Price
The cost of a WordPress course is a significant factor to consider. While some courses are free, others can be pretty expensive. Setting a budget and finding a course that fits your budget is essential. Look for courses that offer value for money and meet your learning needs.
Course Duration
Another crucial factor to consider is the course duration. Consider your schedule before opting for a course. If you have limited time, a short course may suit you. But a more prolonged course may be better if you have more time and want to learn more in-depth.
Course Content
Course content is the most critical factor to consider. Enroll in a course that covers all the vital topics, including installation, theme customization, plugin management, and more. Ensure the course is well-structured and easy to follow, irrespective of your skill.
Certification
While not necessary, a certification can be an added advantage when completing a WordPress course. Some courses offer certification upon completion, and you should go for them. It can boost your credentials and increase your chances of landing a job or freelance work.
Course Reviews
Last but not least, read course reviews before making a purchase. It'll help you to know about the course's quality, content, and instructor. They can offer valuable insights into the course and let you choose the right one. Be wary of courses with too many negative or no reviews.
7 Useful WordPress Courses To Begin Your Online Career
Finding the right course per your skill level is tough, but I have done the job for you. Here are the top 7 best WordPress courses in 2023 you should buy now to learn. I'll review the details and share its features below so you'll be able to know which course suits your skills best.
1. Udemy WordPress Course For Beginners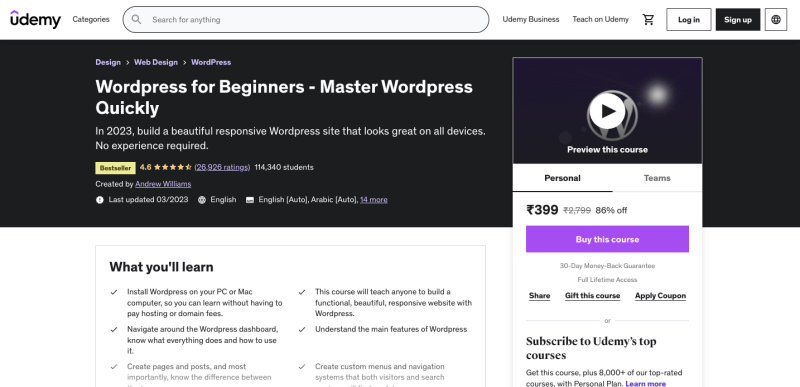 Price – $74 Fee
The first course is from Udemy, a well-known online course-selling website. This course is from Andrew Williams, the creator of 30+ courses on Udemy about WordPress and SEO. It's for all beginner students, particularly those who know little about WordPress.
Enrolling in this course lets you quickly master the WordPress skill. The course outline starts with the introductory chapter on installing WordPress and ends with creating different website pages. You'll learn to create homepages and various navigational pages with drop-down menus.
The overall rating is 4.6, that's pretty good, with outstanding reviews from students, making it the best WordPress course on Udemy. What else? The price is $74! But if you're a new student on Udemy, you'll get an 80% discount to buy this course for only $13.99.
Why This Course
You'll get lifetime access to the course and watch it anytime.
It consists of 10 chapters and a total of 9.5-hour classes. 
30-day money-back guarantee and 15 downloadable resources.
Offer WordPress developer certificate after course completion.
80% off if you're purchasing the course for the first time.
2. SkillJet WordPress Course For Beginners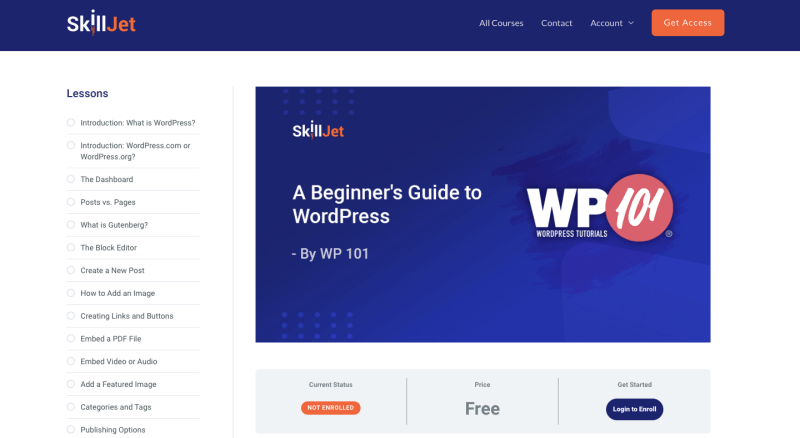 Price – Free Course
SkillJet also offers online courses to students worldwide, but it's not as famous as Udemy. But this doesn't mean it's not a good course. The best part is the WordPress course is entirely free. Yes, you've read it right. It's a free course for newbies to empower them with. 
With the help of this course, a person can quickly learn the know-how of WordPress and create a good website for clients. The registration process is super easy; you must register yourself on the website SkillJet. Yes, that's the only requirement to learn for free. 
As far as the course content is concerned, everything is simplified in step-by-step videos. The first chapter starts with an introduction to know about the course. After that, you'll learn to create categories and tags, customize themes and plugins, and do general settings.
Why This Course
The simple registration process on the SkillJet website.
No hidden costs, and it's completely free.
Perfect course for WordPress newcomers.
Easily create a professional website for clients.
Develop WordPress skills for professional use.
It's accessible to all students worldwide.
Increase your web development knowledge.
3. Udemy Complete Course To Master WordPress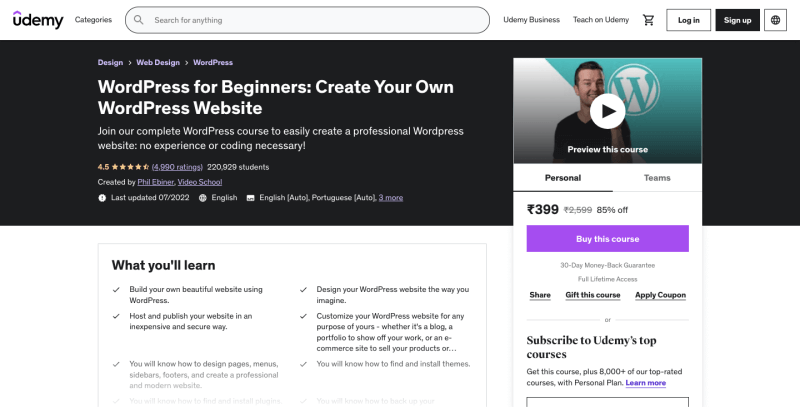 Price – $69.99
Another helpful course I've found for you on the Udemy website is "WordPress for Beginners: Create Your WordPress Website." It's from Phill Ebinar, a top-rated instructor on Udemy who has also successfully launched about 180+ courses that rank with good reviews.
The content of the course is comprehensive and easy to understand. No need for experience or coding knowledge is required. Anyone can enroll by just paying the fee. After completion, you'll get a certificate showing your skill level and help you get the right job.
In addition, the course price is not too much. Its price is only $69.99, and that too for students who have already enrolled in other courses. If you are new on Udemy, you'll get up to 80% off—so the fee will be $14.99. I think it's an excellent investment to learn an advanced course.
Why This Course
Only a 7.5-hour long course (in video format).
Two downloadable resources for all students.
Lifetime access all over, including TV and mobile.
Offers certification on completing the course.
30-day money-back guarantees to students.
80% discount if you're new to the platform.
4. Web Design Courses By Envato Tuts+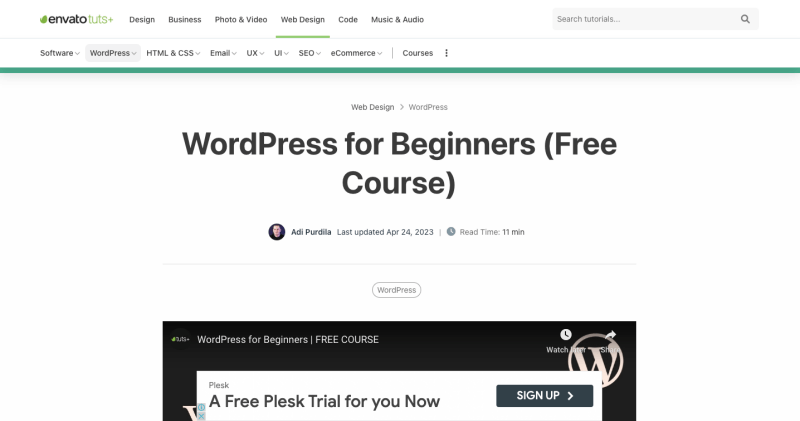 Price – Free
Envato Tuts+ is a renowned platform that empowers students with creative and technical skills. They have also designed a WordPress for a beginner course. However, the best part is it's readily available on YouTube, completely free. So, at least subscribe to Envato Tuts+ and enjoy!
The duration of the course is only about 2 hours 19 minutes. In these few hours, you'll get all the basic to intermediate knowledge (installing WordPress to customize themes and websites). And this is what every beginner needs to create a perfect WordPress website.
The total number of lessons in the course is 16, all containing helpful and easy-to-understand content. The only issue I've found so far is there won't be any certification. But don't forget; it's a free course that gives comprehensive knowledge without spending 8 to 10 hours.
Why This Course
Free WordPress course for beginners on YouTube.
Learn basic to mid-level knowledge in just 2 to 3 hours.
Offers 16 lessons with easy-to-understand content.
No cost for comprehensive WordPress knowledge.
Best WordPress training course that covers everything.
Taught by expert Adil Purdila on Envato Tuts+.
Accessible to anyone with an internet connection.
5. WP101 WordPress Course For Beginners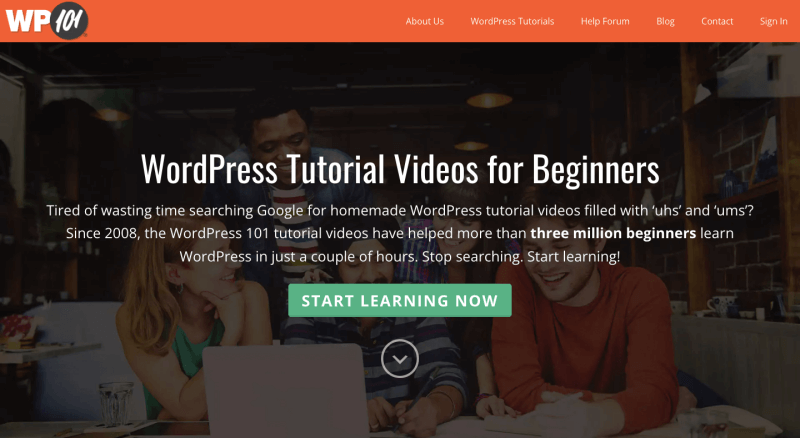 Price – Monthly $12, Annually $48, & Lifetime $96.
WP101 (WordPress 101) isn't a platform like Udemy or SkillJet that offer courses online. Instead, it's a video series that started in 2008 about WordPress and its basics. In this video series, you'll get access to countless WordPress tutorials designed for beginners.
The course includes a basic introduction to advanced-level knowledge of customizing a website, theme, changing the settings, etc. You can also watch the four starting videos for a demo and decide whether it's your cup of tea. If you like the course, you can buy it. 
Additionally, the course price isn't a one-time fee. You'll have to subscribe to the website. They offer a monthly program for $12, Annual access for $48 yearly, and Lifetime access for only $96. A free week trial is also available for students unsure about the course.
Why This Course
Comprehensive video series on WordPress for beginners.
Access to countless WordPress tutorials and eight additional courses. 
Best WordPress course for beginners to gain pro-level knowledge.
4 introductory videos and a free trial for a week are available.
Their subscription model provides flexible payment options.
Users can purchase monthly, annual, and lifetime course access.
One-on-one WordPress help for students of any skill level.
6. WordPress Essentials WordPress Course
Price – $7 Membership Fee
WP Apprentice offers an excellent WordPress course, WordPress Essentials. It's a website that offers exclusive knowledge of WordPress through video tutorials. To access the course, the student must pay the membership fee; you can easily get all courses.
The course duration is 12+ hours, and it's divided into 65 video lessons. These lessons start with the chapter discussing the difference between Wordrpess.com and WordPress.org and end with solving the theme setup problems, customizing the site with CSS, etc.
No need to hurry, as you can learn the skill at your own pace anywhere you want. The only thing that is needed is the dedication to learn daily. Another noteworthy feature is they offer a 30-day money-back guarantee for those unsatisfied with the content.
Why This Course
Learn WordPress essentials through video tutorials.
The membership fee gives access to all courses.
12+ hours of content divided into 65 video lessons.
Covers wide topics from basic to advanced levels.
Learn at your own pace and anywhere you want.
Offers users a 30-day money-back guarantee.
7. Yoast Free WordPress Course For Beginners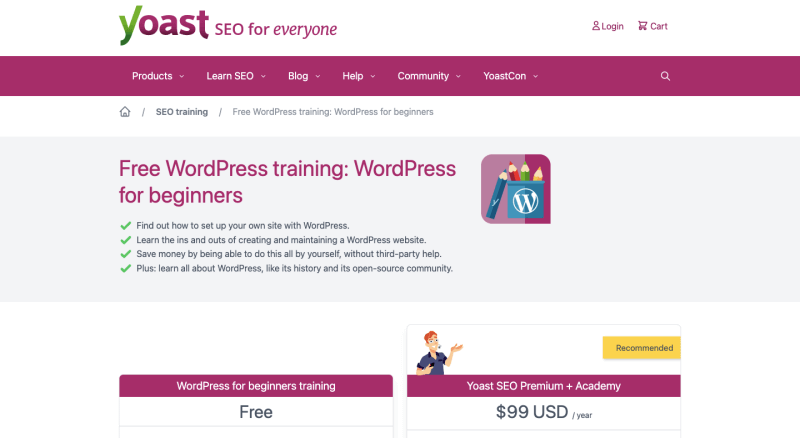 Price – Free
Yoast is a famous plugin for SEO, but little did you know it's also an academy to learn courses related to WordPress, SEO, etc. They offer not one but countless courses for a $99 per year fee. But this WordPress course for beginners is completely free to get enrolled in.
This course teaches you about installing WordPress, creating a website from scratch, and maintaining it. Moreover, the course includes quizzes, pdf files, learning resources, and cheat sheets for WordPress vocabulary, apart from the 3 hours of videos.
Last but not least, the feature that makes this course stand out among all free courses is it offers a certificate of completion. Alongside the certificate, you'll also get a badge to add to your portfolio site to showcase your skill level. It'll help you earn jobs through your skills.
Why This Course
Learn WordPress from industry experts for free.
Covers basic knowledge of website creation.
Includes quizzes, pdf files, and cheat sheets.
Learn as you want and anywhere you want.
Offers a certificate and a badge for portfolio.
Frequently Asked Questions (FAQs)
How do I completely learn WordPress?
You may learn WordPress thoroughly by enrolling in a course on Udemy or watching videos from YouTube. Once you watch the videos, you should create your own or client website and add them to your portfolio to showcase your skill level. 
Can you learn WordPress quickly?
Learning WordPress or any skill quickly, like in a few days, is difficult. Learning any skill takes a lot of time, especially one like WordPress. However, by giving 110%, learn WordPress in up to one or a maximum of two months.
How much does it cost to train in WordPress?
The cost depends on the platform you're learning WordPress from. If it's Udemy, SkillJet, etc., you must pay a specific amount to access the content. However, courses that are available on YouTube or Yoast are completely free.
Can you learn WordPress by yourself?
Yes, it is possible to learn WordPress by yourself. Honestly, it's not difficult to start by enrolling in a course that you like and think it's helpful. Then watch all videos, practice, and start offering your services to clients. That's how you make your portfolio. Also, learn SEO to get your targeted audience.
What is the best place to learn WordPress?
Here are a few best places to learn WordPress.
Udemy.
YouTube.
SkillJet.
Yoast.
WP101.
WP Apprentice.
Envato Tuts+.
Is It Possible To Learn WordPress Without Coding?
Yes, you may learn WordPress without coding. WordPress's user-friendly interface allows you to create and manage content without writing code. Utilize the plugins like Elementor to customize a website with drag-and-drop features. 
Is it worth learning WordPress in 2023?
Yes, it's worth learning WordPress in 2023. The future of SEO is bright; until then, there will always be a need for a website for WordPress developers. Ensure you don't stop learning, understand the features, and always remain up-to-date with the latest trends.
Conclusion – Best WordPress Courses 2023
WordPress is a great resource to begin your online career. Here, it is easy to manage your content and implement SEO to drive your targeted people to your business website. I've been using this amazing tool since 2010, and yes, I have learned WordPress myself.
I have spent quality time consolidating these best WordPress courses worth buying in 2023. I hope. It is sufficient to pick a course from my list and get started. You may buy a suitable course based on your budget and requirements.
If you don't have a budget, go with the free course of Yoast or Envato Tuts+. First, learn from the free resources and then use the premium-level WordPress course. It is the best way to gain knowledge and build a highly authoritative business site.