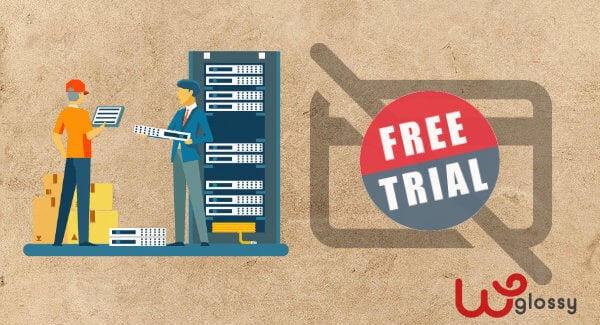 As you have landed on this blog article, I understand that you are looking for the best hosting trial no credit card required.
So, let's get into the details!
Finding the right web hosting company is the most critical task for every digital entrepreneur.
With so many options and recommendations from industry experts, it becomes even more difficult to choose the right server to host a business site.
A bunch of hosting discounts and deals for new or first-time users often distracts both newbies and pro bloggers and webpreneurs.
Although digital enthusiasts (including me) used to recommend a similar approach a couple of years ago, the times have changed now.
Blogging has always been a long-term affair for me, and I firmly believe that you will hardly succeed if you're not serious about your online business.
It is important to think long-term, even with a server company!
You must be very careful and keep your eyes open while picking the hosting service for your business website.
Migrating from one host to any unreliable service wastes a lot of time and loses credibility in the eyes of Google and other search engines.
So, what's the ideal solution to finding the right hosting?
Well, you can always take the free trial option offered by most of the top web hosting companies.
Most offer a wide range of services ranging from Shared Hosting to fully managed hosting while a few offer a certain type of hosting package that fits all.
Today, cloud or VPS hosting is attracting huge demand as such hosting is ideal for a WordPress website/blog in the long run.
If you are in a hurry, let's look at the best free web hosting trials – no credit card required!
Hosting Trial Without Credit Card – A Quick Glance
Benefits Of Free Trial Offered By Top Web Hosting Companies
Several web hosting companies offer a free trial option to acquire new customers.
The free trial option allows you to test the hosting service for a small period for free. The free trial helps you test out different hosting companies and find the ideal hosting service.
Here are some great benefits of taking the Free Trial offer from web hosting companies!
It offers you a first-hand experience of the service without investing a dime.
It allows you to test different hosting services to choose the best of the lot.
You can estimate the bandwidth and necessary storage space to choose the best hosting plan.
You can track the uptime performance and downtime (if any) during this period and server response time to play well on the search engine results.
It will be an added advantage if the company provides the best hosting trial without credit card details.
It is a nice opportunity to explore the special features of the hosting server.
If you wish to get the cloud hosting service, you will learn how to set up the cloud server and utilize its scalable feature.
Who Should Opt For Web Hosting Free Trials?
# Free trial offer by web hosting services is the best suited for new small business owners to go with the appropriate one.
# It is also a great option if you aren't satisfied with your existing hosting company and want to try out different hosting services to buy the exceptional one.
# The storage space, bandwidth, cPanel, and other advanced features available with the hosting plan can be tested with the free trial offer. So, it is ideal for someone who wants to explore the sophisticated features of the server.
# Emerging bloggers with a growing audience can upgrade to a better VPS or cloud hosting plan by testing out different web hosting companies via the free trial mode.
However, not all hosting companies offer a free trial deal. And, most web hosting companies with free trial offers require registering the credit card to avoid spam or misuse of the free trial offer.
Well, there are a few exceptions though.
Let's find out which hosting provides a free trial period without using a credit card!
10 Reliable Free Trial Hosting Services With No Credit Card Details
Some well-players in the hosting industry don't add the credit card stipulation as their primary goal is to acquire new customers by offering the best service.
Yes! Most hosting companies allow users to try their service for free for a few days.
So, if you want to test some web hosting companies using their free trial offer before finalizing the deal, then here are the top 10 hosting free trial without credit card required.
1. HostGator
HostGator is one of the leading and most popular web hosting companies serving customers worldwide. The company has been dominating the hosting industry since 2002.
Although the web hosting company offers a wide range of hosting services such as VPS, Dedicated Servers, and WordPress hosting; HostGator is known for its shared hosting plans.
Features Of HostGator Hosting
Free domain
Free SSL certificate
Free site migrations on WordPress hosting
Unlimited Bandwidth on Shared Hosting plans
Unlimited Storage
Supports one-click installation for WordPress, Joomla, Drupal, etc.
Flexible and manageable cPanel
99.9% Uptime
Free Trial Period: 30 Days
Note:
Being one of the most famous hosting services, the free trial attracts a lot of spammers too. To avoid the nuisance, HostGator charges a cent to try their first-month trial offer. You can use your PayPal account to pay the free trial charge. Hence, there's no credit card required.
2. Cloudways ($30 Highest Discount)
Cloudways is an excellent, fully managed WordPress hosting platform and undoubtedly the best option of all. Hence we are using this server service to host our blog, WPGlossy.
It operates as a managed cloud hosting platform powered by third-party hosting partners such as Digital Ocean, Vultr, AWS, Linode, and Google Cloud.
To offer affordable CDN service for its users, it has been partnered with StackPath, so that you can make your site load lightning fast.
All you need to do is register on the Cloudways platform by selecting Get Started for Free. You can choose the desired cloud hosting provider, preferred CMS application, and server configuration.
If you want to get the cloud hosting free trial no credit card details, then Cloudways is the way to go! You may also use our special Cloudways coupon code – WPGLOSSY to get $30 credit and use it for 3 months for Free.
Features Of Cloudways Hosting
Multiple cloud-hosting providers to choose from (Digital Ocean, Google Cloud, AWS, Linode, Vultr)
Host unlimited domains/applications
Free site migration (Migration by yourself)
Easy-to-use control panel
Support all PHP apps
Advanced caching and easy to clear cache
SSH support
Managed backups and security
Free SSL powered by Let's Encrypt
Free Trial Period – 3 Days
3. Interserver
Serving customers since 1999, Interserver is a veteran in the hosting industry and one of the oldest web hosting companies on our list.
Interserver charges the same rate irrespective of whether you are billed monthly or annually. The great advantage of the Interserver hosting service is its Price Lock Guarantee. Hence, you will not get affected and will remain the same for a lifetime.
Features Of Interserver Hosting
Unlimited Domains
1-click install feature for 461 scripts
Easy and flexible Control Panel
Supports 450+ cloud apps
Unlimited Storage and Transfer
Unlimited Email accounts
Free site migration service for Standard Shared Hosting packages
Free Website Builder
Price Lock Guarantee
Free Trial Period – 30 Days
Note: Like HostGator, you can try Interserver hosting services for the first month for just a penny.
4. Netregistry
Netregistry is an Australian-based web hosting company that allows you to test their cPanel hosting package at free of cost for the first month.
Unlike the previous two hosting companies, Netregistry doesn't hold any obligations, stipulations, or credit card registration by the users to grab the free offer.
Netregistry is an ideal web hosting service designed for small businesses entering the digital arena. The hosting company is also the best launchpad for newbie bloggers testing their web industry expertise.
Features Of Netregistry Hosting
One-click install feature for WordPress, Joomla, and Drupal applications
cPanel interface for ease and flexible management of websites
DIY Website Builder
Integrated technologies like MySQL, PHP, Perl/CGI, Python, and Apache webserver
Free Trial Period – 30 Days
5. Flywheel
Flywheel is an ultra-fast Managed WordPress hosting company catered towards freelancers and creative agencies.
Serving more 70,000 creative professionals worldwide, Flywheel is an ideal solution if you are looking for a full-fledged managed WordPress hosting service at economical rates compared to its competitors like WP Engine & Kinsta.
The USP of Flywheel hosting service is the Blueprints feature which makes it an ideal hosting partner for design and development agencies worldwide.
Features Of Flywheel Hosting
Free site migrations with zero downtime
Free CDN powered by Fastly
All-in-one SFTP
Specifically optimized for WordPress hosting
Staging environment for seamless editing without affecting the live site
Site cloning
Blueprints – A feature designed to save and bundle common themes and plugins for future projects
WordPress development application to create WordPress sites locally on your PC
Free SSL powered by Simple SSL
Free Trial Offer – one-month free trial on annual billing mode.
6. Nestify
Nestify is the second fully managed WordPress hosting provider on this list. In addition to offering a great hosting platform for bloggers, freelancers, and agencies, Nestify also provides custom hosting packages for eCommerce stores.
You can choose your designed package based on your site requirements and traffic estimation. Free site migrations, as well as staging environments, are offered in all plans available on Nestify.
Hence, moving a website to Nestify will be a cakewalk for the users. You can avail of the free trial offer once you have signed up and logged in to the user dashboard.
Features Of Nestify Hosting
Free site migrations with Zero downtime
Free Premium CDN service
Automatic daily backups
Free SSL powered by Let's Encrypt
WP-CLI feature to update plugins, configure multisite installs using WordPress Command Line Interface
Daily Security Scans to avoid vulnerabilities and hack attempts
Git support
Staging environment
Free trial offer – 7 days
7. AccuWeb Hosting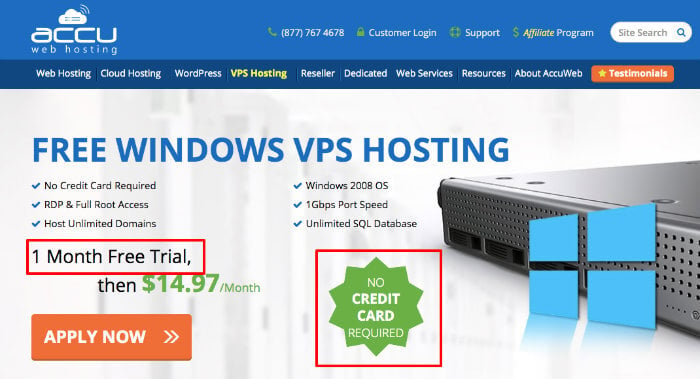 AccuWeb Hosting is a full-fledged hosting service provider offering a wide range of hosting options ranging from shared hosting to dedicated servers and reseller plans.
All the available hosting plans on AccuWeb Hosting are primarily categorized under three platforms: Windows, Linux, and Cloud. You can also avail of dedicated servers at AccuWeb Hosting for higher needs.
If you are looking for the best free VPS hosting trial no credit card information, then AccuWeb is the perfect choice to go!
Features Of AccuWeb Hosting
Host unlimited domains
Unlimited SQL database
WebsitePanel Control Panel for managing your server
Remote Desktop & Full Root Access
Server Firewall
Weekly Backups feature
Money-back guarantee with hassle-free cancellation
99.9% uptime
Free Trial Period – 1 month
8. Lithium Hosting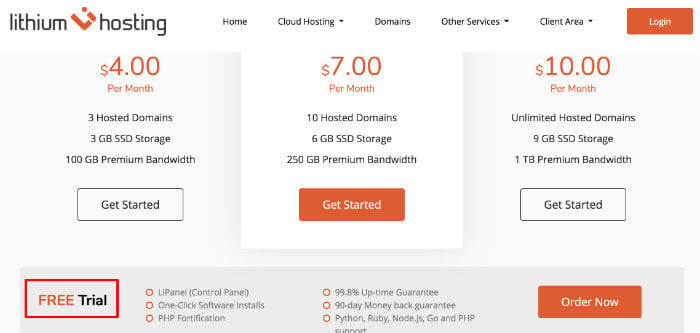 Lithium Hosting is a highly cost-effective cloud hosting service ideal for bloggers, web agencies, and business owners.
The hosting provider offers three different cloud hosting services based on customer requirements. You can choose from cloud shared hosting, cloud reseller, or cloud VPS as per your preferences and website needs.
Although launched in 2006, Lithium Hosting is still a new kid on the block in the web hosting industry.
Lithium Hosting offers a 90-day money-back guarantee. The money-back policy offers a full refund if you're unsatisfied with their service and cancel within 90 days from the initial sign-up.
Features Of Lithium Hosting
LiPanel Custom Control Panel for managing the hosting account
One-click software installs (e.g. WordPress, Drupal, Joomla, etc.)
99.8% Uptime Guarantee
Supports PHP, Node.js, Go, Python, and Ruby
Free SSL
Free Trial Period – 1 Month
9. Cloud Sigma
If you are familiar with server administration and an expert in server management, then Cloud Sigma is for you.
Cloud Sigma offers a VPS hosting solution where you can enjoy greater control and flexibility than what you get with other shared hosting or fully managed VPS solutions elsewhere.
With Cloud Sigma, you need to set up, configure, and manage your VPS on your own or with the help of an expert.
If you like such freedom and are interested in a free VPS hosting trial with no credit card, then check out the VPS solution by Cloud Sigma.
Features Of Cloud Sigma
SSD & magnetic drives for storage
Wide range of resources offering up to 40 CPU cores, 128 GB RAM, 5 TB SSD drives, and 100 TB magnetic drive
Secured cloud servers administered under the laws of the server location
Instant provisioning of IPs, new servers, drives, and private networks without delays
10GigE networking for faster video streams and large data transfer
Fully customizable hardware and CPU configuration
Dedicated API for Customer Control Panel
ISO Security Certified Cloud
Free Trial Period – 7 Days
10. 3Clouds Hosting (24×7 Cloud Host)

Based in India, 3Clouds Hosting is our list's cheapest cloud hosting services. This cloud hosting offers different hosting services catering to various requirements and preferences.
Start-ups, small business owners, and freelancers can opt for basic web hosting or WordPress Indian hosting plans. You can upgrade your plan to business hosting or VPS hosting as your business and traffic grow.
3Clouds Hosting also offers reseller hosting plans for agencies or individuals interested in reselling 3Clouds Hosting services under their brand.
Besides the free trial, the company also offers a 30 days money-back guarantee.
Features Of 24×7 Cloud Host
Unlimited cloud hosting (bandwidth, emails, and storage)
100% cloud hosting server
Free website builder
1 Free domain for life (Pay monthly for your 24×7 Cloud Host plan)
Free SSL certificate
Automatic daily backups
Guaranteed fixed renewal price (Renew at the same price you signed up for)
Free Trial Period – 1 Month
Over To You!
Picking the right hosting service for a business website will decide its success. As you know, site availability is extremely important for serious business owners who want to establish their foot on the web.
In this digital era, the hosting features are sophisticated enough to withstand traffic spikes, so it's better to check and use them before buying the ideal service.
The list contains all hosting options so you can choose the best one that suits your needs and budget. You can get the best hosting free trial without credit card, so you can try out all the above options without hesitation.
What is my recommendation?
Without any second thought, I can blindly recommend trying Cloudways hosting, an exceptional service that lets us take our blogs and business sites to the next level.
When you get signed up in Cloudways, don't forget to use our Coupon code – WPGLOSSY, to get $30 free credit so that you can test the features of the DO server in 3 months.