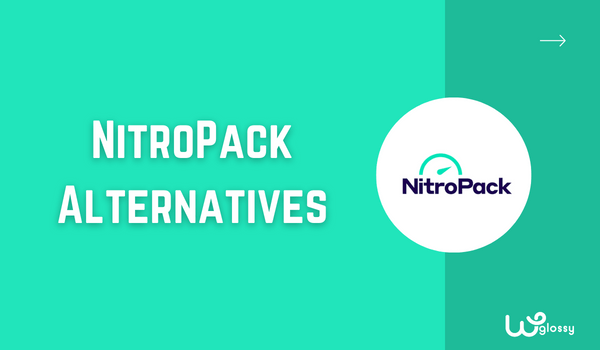 Are you thinking of switching to another performance optimization plugin from NitroPack? Good for you because I made a similar decision like this for one of my sites. Undoubtedly, it's a great tool, but there's room for improvement, particularly in the packages.
You can easily find other tools that, in my opinion are less expensive and offer the same or better performance than NitroPack. To help you out, I'll discuss my top 10 favorite NitroPack alternatives for 2023, along with their best features.
Aside from that, I'll explain why I switched to another website performance-optimizing tool. After getting all the information, you can decide which NitroPack alternative is the best for your website. So let's get into the details!
Why Should You Avoid Using NitroPack?
Before I start, let me clarify one thing: it's my personal review of the NitroPack plugin. You can continue using the plugin if you think the points I mentioned aren't an issue. And in case you're thinking the same, I've also discussed the solution (NitroPack alternatives).
So I was happy with the performance of the NitroPack plugin. It optimizes performance, provides a good user experience, and is easy to set up. However, these aren't the only things that were my priority.
My budget for that specific website was low, and the price of the NitroPack services was high. I had no issues initially because I used the basic plan costing $16.62 a month. The issue started when my site got a boom on Google.
The traffic increased, and since each NitroPack plugin has a limit of website viewers, I had to upgrade the plan, which cost $40.37 monthly. Due to having a short budget, I started looking for alternatives and found some amazing affordable plugins.
10 Best NitroPack Alternatives To Speed Up Your Website
Here are the 10 alternatives for the NitroPack plugin. Although it's your choice to select anyone, I want you to consider the first three options. These performance optimization plugins are the best among all, offering excellent services. Let's know more about them!
1. FlyingPress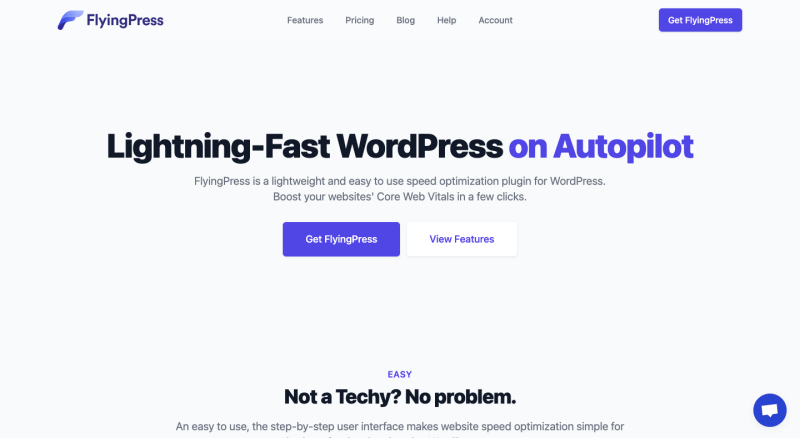 The FlyingPress plugin is designed for WordPress to boost the website speed by increasing the Core Web Vitals. What is best about the plugin is it's affordable too. It optimizes your database, performs page caching, removes unused CSS, lazy load, and offers many other benefits.
Everything you get is a minimum amount of $60 per year. If you want to use it on up to 5 websites, the developer plan comes at $150 yearly. My other favorite feature is it makes you worry-free; there's no limit to website viewers.
Best Features
Quickly speeds up website load time through cached web pages.
Provides an easy user interface, making website speed optimization simple.
Compatible with major WordPress hosting providers, themes, and plugins.
Removes unwanted spaces and comments from JavaScript for faster execution.
Loads images and videos to improve overall load speed.
Affordable option compared to the NitroPack.
2. Perfmatters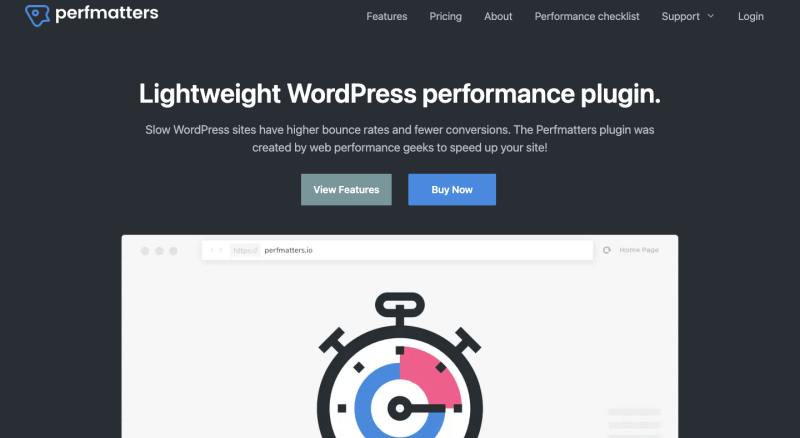 The second best plugin after FlyingPress is Perfmaster. Its simple and easy-to-use interface is enough to win the customer. You'll get all options like lazy loading, removing unused CSS, optimizing the database, limiting revisions, deferring or delaying javascript, etc.
The best point is everything is less complicated. The settings tab is simple; you only have to use the toggle button to enable or disable the function (no need to be tech-savvy). Cherry, it's far more affordable than the FlyingPress plugin.
Best Features
Includes all functions like disabling emojis and removing spammy comments.
Offer a simple dashboard setup with a quick toggle option.
You can use lazy load functions for images, videos, and iframes.
Optimize the database within a few minutes by only enabling the function.
Allows you to customize the site by adding code to the header, footer, and body.
Support CDN and host Google Analytics locally.
3. WPRocket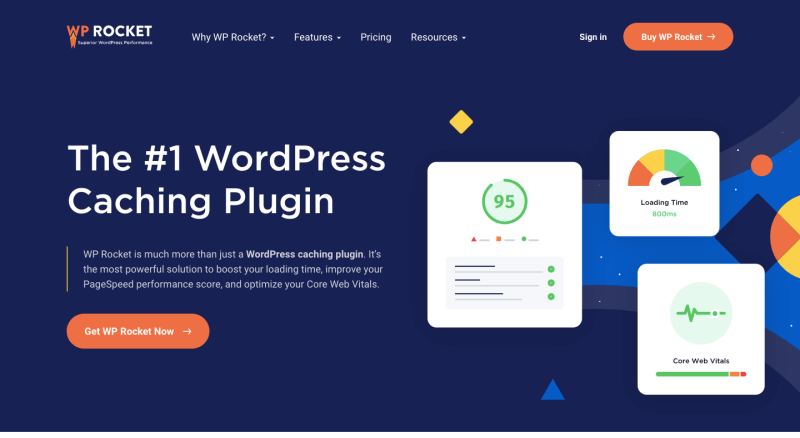 WP Rocket is a famous name when it comes to performance optimization plugins. It offers basic to advanced cache settings for the website, easy setup, CDN integration, and Database optimization to boost the performance and enhance the core web vitals.
Thanks to the plugin, you can cache websites for mobile devices. The integration and setup are easy, nothing takes much time, and the customer support is fantastic. They replied within a few hours and solved my issue related to the plugin.
Best Features
Easy-to-navigate dashboard, making it simple for users to manage caching settings.
Video guides explain features and demonstrate how to optimize your site effectively.
All settings in WP Rocket are well-organized and accompanied by clear explanations.
Offers premium support; users can send messages from the WordPress dashboard.
Optimize media files and includes a LazyLoading feature to delay the loading of images.
Offers database optimization features to keep your database clean and efficient.
4. Litespeed Cache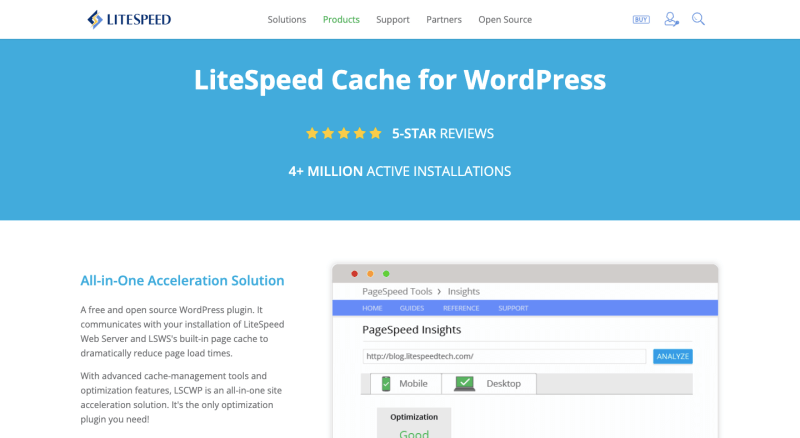 I've not used the Litespeed Cache plugin personally, but my friend did. According to her, the Litespeed Cache plugin performance is quite good, particularly if you consider it a free plugin (no hidden charges).
It offers solutions for image optimization, database optimization, CSS, Javascript, HTML minification, CDN network support, and lazy load images. It also fully supports plugins like Yoast SEO, WooCommerce, etc.
Best Features
Offers easy-to-use and powerful cache-management tools.
LiteSpeed Cache allows you to use the WebP file format.
Includes a crawler that scans and caches pages automatically.
Loads only the necessary media to fill the current viewport, improving loading times.
Suitable for database optimization and eliminates the need for a separate plugin.
It's a free plugin that will do all the work of any premium cache plugin.
5. WP-Optimize
The next plugin I've selected for you is the WP-Optimize. It isn't completely free but has paid and limited free versions. Like any other performance optimization plugin, it makes websites fast by optimizing the database, images, and lazy load content.
A unique feature of the plugin is it allows you to schedule your task. You can easily schedule routine maintenance. In this way, your website always remains up to date even if you're busy doing some other tasks. The setup is simple, and premium support is available for paid packages.
Best Features
Minify and combine CSS and JavaScript to improve performance.
Compress image files JPG, PNG, etc.; you do the bulk compression.
Optimize the database by limiting post revisions, unnecessary comments, etc.
Set up scheduled maintenance to clean your WordPress site automatically.
Optimize and lazy load the images available on the website.
Available with free and paid versions for all users.
6. Smush
If you're starting your blog and don't have a budget to spend on an all-in-one plugin. I'll suggest you use Smush. It optimizes your site but not like FlyingPress or Perfmatter. The only function of this plugin is to optimize all the images you have uploaded on your site.
Remember, image optimization is important and affects the core web vitals because unoptimized images take much time to load. However, the solution is the Smush plugin, it lazy loads, optimizes, and resizes all images manually one by one or even in bulk.
Best Features
Compress images without degrading quality.
Smush Pro version is available with advanced settings.
Save images on Smush CDN, a global network of fast servers.
Optimize and compress images in bulk with a single click.
Serve images in WebP format if the visitor's browser supports it.
The plugin is easy to use and set up.
7. Swift Performance
The features of Swift Performance are related to caching the website and improving its performance. It combines and minifies CSS and Javascript files. While using it, you don't need any other plugin for image optimization as it offers its services.
The advanced image optimization feature allows you to compress or resize images in seconds. What I like most about it, you can decide on which pages you want to use the plugin and where not.
Best Features
Provides a highly efficient caching system for WordPress
Offers a handy wizard at the start to help users choose and apply the best settings.
Minify CSS and JavaScript files for faster loading
Combines multiple CSS files and scripts into a single file for improved performance.
Cleans and optimizes WordPress databases for excellent performance.
Compresses and optimizes images, reducing file sizes and improving loading times.
8. 10Web Boosters
10Web Booster is another fantastic option that improves your blog's Core Web Vitals, automatically increasing the chances of ranking. It's a powerful caching plugin and image optimizer providing lazy load service and minifying and compressing the Java Script.
You'll get options like the critical CSS generation function that improve the website performance by loading the critical CSS first. It offers backend optimization but is limited to the users using 10 Web hosting services for the website.
Best Features
Reduces file size by compressing or minifying CSS or JavaScript.
Prioritizes the loading of critical CSS and defers the execution of non-critical JavaScript.
Lazy load images until they are within the view of the website visitor
Converts images to the WebP format, which offers smaller file sizes.
Generates different-sized copies of images and uses them based on the screen size.
Minimizes image file sizes while preserving image quality.
Easy to set up and offer a premium and a free plan with limited features.
9. WP Super Minify
Minifying the coding files of your website is one the most important processes to boosting site performance. The Super Minify plugin is all about it; the developers designed it specifically to Minify, combine, or cache your website's JavaScript and CSS files.
It doesn't offer other features like all-in-one performance optimization plugins because it's created for only one purpose. However, one noticeable feature I like most is it's free, completely free. You only have to go to the plugin tab of WordPress and download it.
Best Features
It's a free plugin available for WordPress users.
Minify, combine or cache the JV and CSS files.
Increase the site performance by decreasing loading times.
Simple to set up and easy to use.
10. WP Fastest Cache
This guide's last all-in-one performance optimization plugin is the WP Fastest Cache. It's excellent for minifying HTML and CSS files, combining CSS or Javascript, or disabling the WordPress emoji for good website performance.
You can also use the functions like Database cleanup to remove all unnecessary data like post revisions, trash files, spam comments, pages, etc. Other than that, it optimizes images, lazy load, and converts them into WebP for faster performance.
Best Features
You can manually delete all cached files from the plugin's options page.
Cached files can be set to expire and automatically deleted after a specified time.
The plugin provides support for SSL and CDN integration.
You can exclude specific pages of the website from being cached.
Provides image optimization services that make the site faster.
Available with both free and budget-friendly, paid versions.
My 3 Favorite NitroPack Alternatives
For me, all plugins I've discussed above are good, but my favorites are FlyingPress, Perfmatters, and the WP Rocket. These three are the best NitroPack alternatives due to offering almost similar and better service.
I've used all three for the test and am still using FlyingPress. They've successfully increased the core web vital score of my website. Core web vitals are three metrics of Google, which is also one of the ranking factors.
LCP (Largest Contentful Paint): LCP measures a website's time to display the largest content on the website, like an image.

FID (First Input Delay): FID is all about the responding time of the web page whenever we interact with it.

CLS (Cumulative Layout Shift): CLS measures the visual stability of the web page when it loads or when we use it.
How are these three metrics related to the plugins? The answer is quite simple. Performance optimization plugins like Perfmatters and FlyingPress solve the issue that causes a content element or web page to load late.
For example, with the help of FlyingPress, you can optimize the images that ensure there's no image on the website that takes a lot of time to load. Plugins also help optimize the database, minifying or compressing the Javascript or CSS files to make the website load faster.
Features like Critical CSS prioritize loading CSS styles important for the initial rendering of the visible content. But with this feature, Critical CSS files don't affect the CLS metrics badly.
That's how these three plugins improve the Core Web Vitals. As a result, we see a boost in ranking because, for Google, the priority is the user experience. The better your website's user experience will increase the chances of ranking.
Frequently Asked Questions (FAQs)
What are the disadvantages of NitroPack?
I don't think NitroPack is a bad plugin, particularly considering its performance. However, it doesn't mean there are no disadvantages. The plugin is expensive, and each plan has limited website viewers.
For example, if you're using the basic plan, and after a year, your website audience increases and surpasses the limit, you must upgrade the plan. There's no other way, so either upgrade the plan or change the plugin.
What are the free alternatives to NitroPack?
LiteSpeed Cache is a free alternative to NitroPack. You only have to download it from the WordPress plugin store. You can also use WP Fastest Cache, WP Super Minify, 10Web Booster, or WP Optimize free versions.
Wrapping Up The Best Nitropack Alternatives 2023
It is essential to do WordPress Speed Optimization. I've shared my favorite NitroPack alternatives with you with all the details. Now it's time to decide for yourself what you want. What services do you need for the website? And do you have the budget to get premium plugins?
If you have the budget for premium performance optimization plugins, my suggestions will always be the FlyingPress, Perfmatters, and WP Rocket plugins. However, you can choose the free plugins in case you don't have a big budget.
Make sure that no matter what plugin you select, it should meet your requirements. Also, don't forget to compare the packages of different plugins; this will help you understand which plugin is the best NitroPack alternative for you.