WordPress is a versatile CMS platform for bloggers and digital marketers!
However, if the right precautions aren't taken, WordPress would become a sluggish medium and hassle your site visitors by loading slowly. 
Are you puzzling over a question "Why is my WordPress Site slow?"
Do you want to speed up WordPress site?
If you nod your head with the answer "Yes", then this is the exact blog post that you need to read right now!
We all want faster loading websites. No one likes to stay FOREVER on your sites to read your content or buy your stuff.
If you are not focusing on optimizing your website speed, your competitors will steal away your site audience and traffic. It's as simple as that.
Why Is Website Loading Speed Important?
According to a survey, 47% of your website visitors expect a page to load under 3 seconds, and 57% of visitors abandon a page that takes more than 4 to 5 seconds. That means each second counts.
The slower your website loads, the more traffic, and sales you will lose.
Besides, Greater Site Speed = Higher Search Engine Rankings 
So how to make your WordPress site load blazing fast?
Let's first talk about the basics!
Analyze Your Website Speed
Before looking for ways to optimize your website speed, you should know how much time your website is taking the time to load.
Use tools like GTmetrix, Pingdom tools or Google Page Speed tools to find how your site performs by also knowing how fast it is loading.
As a rule of thumb, your website should take no more than 3 seconds to load. If it is taking more than that, you must implement the strategies mentioned on this page.
5 Simple Ways To Speed Up WordPress Loading  Time
Now, let's talk about few of the proven ways to speed up WordPress site if it is loading slow!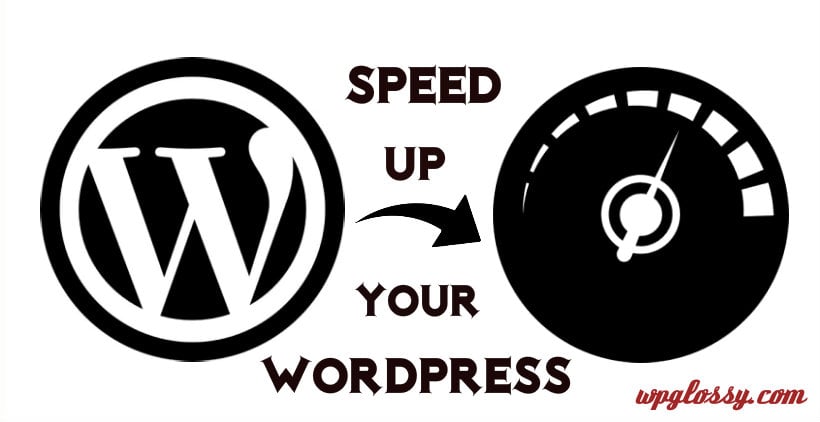 #1. Enable gZip compression
Did you know that by compressing both your HTML and CSS files with gzip saves around 80% of your website's file size? Yes, that's true.
It means you will be able to save 80% of your hosting bandwidth, so your website loads 80% faster than it usually is just by doing gzip compression.
How can you do WordPress gzip compression?
You can do this by several methods including editing your .htaccsess files. But if you are a beginner, I don't recommend making changes to any of your web server files.
So let's talk about an easy way to enable gzip WordPress compression to boost your website speed.
You can use a simple yet most effective WordPress plugin called Gzip Ninja Speed Compression. It will help you to compress your files quickly into gzip format.
It not only makes your website to load faster but also reduces the bandwidth of your hosting servers.
You can also know your website speed performance by checking your site speed using Pingdom tools or GTMetrix before and after making gzip compression and you will find out why I highly recommend doing it.
#2. Cache Your Web Pages
By installing the plugins like W3 Total Cache or WP Super Cache, you can quickly clear all the cache from your databases, files, and websites.
Whenever you update or deactivate a plugin, your website databases store some cached information (temporary data) which results in slowing down your website speed.
By frequently clearing all the cache using the above mentioned popular WordPress plugins, you can always increase your website performance thus also by improving its speed.
W3 total cache optimizes browser caching, database caching and also supports CDN support which makes it possible to improve your website speed effectively.
#3. Three Simple Yet Essential Factors That Affect Your Website Speed
The following are the three primary factors that can make or break your overall website loading times.
So make sure to optimize or eliminate them to speed up WordPress site!
Say No To Post Revisions
Whether you know it or not, whenever you update your posts while creating content or updating them after publishing, post revisions are stored in your databases. If you frequently edit your posts or pages, you will be wasting your databases storage consumption.
The best way to improve your website loading efficiency is to stop post revisions. You can use plugins like Revision control to take control over post reviews.
Optimize Your Homepage
If you want to make your homepage to load blazing fast, I recommend you showing fewer posts and removing all the clutter from your sidebar or footer.
If you are showing 10 pages on your homepage, consider showing up 5 to 7, and you can see dramatic improvements in your loading times.
Browser Caching
You can use sites like refreshyourcache.com to make your web pages load faster. It will refresh all the cache from your browsers which result in boosting your speed.
You can use it once in a while to take care of your site performance.
#4. Optimize Your Databases
Did you know that your website database files take a huge chunk of your hosting's bandwidth and affect your website speed?
If your databases are consuming too much size, your site naturally takes more time to load which ultimately result in slow loading times.
If your site is a bit sluggish and taking more than 3 to 4 seconds to load, you should start optimizing WordPress database regularly to improve your site performance.
There's a cool plugin (free) called WP-Sweep, and it helps you clean all the duplicated and unused data files from your WordPress sites by also optimizing your database files.
Apart from them, the plugin optimizes the following stuff from your site.
Spammed comments and all the remaining unused or duplicated files.
#5. Compress All Your Images
We all know a picture is worth a thousand words and you can improve your blog's content by adding more appealing images.
But what most people don't usually remember is, they don't optimize their images.
What happens when your images are of large size?
They create a huge burden on your loading times, and it can result in making your web pages to load slowly. It hurts both your website speed and your user experience.
I highly recommend you to compress the size of your images before using them. You can use online tools like TinyPNG, or you can simply start using WP Smush it plugin to automatically compress the size of your images.
Other Effective Tips For WordPress Speed UP
Get the fastest WordPress hosting service. Consider getting the best managed cloud hosting, Cloudways to get the excellent server response time. Use Cloudways Promo Code – WPGLOSSY to get 1-Month Free hosting (Basic DO plan) and test its features. 
Identify the plugins that slow down your site through P3 Plugin 
Stop Pingbacks & Trackbacks by visiting WP Dashboard > Settings > Discussion
Conclusion On Making Your WordPress Site To Load Faster
The internet is a competitive medium, and thus, the website speed matters a lot!
When you search for terms like "increase website speed", "how to speed up WordPress site", "WordPress speed Optimization" on Google, you will find a gazillion of results.
Still, most of the bloggers, online publishers, and internet marketers are struggling to boost their website speed.
Do you know why? They just skim through the articles they come across online and don't implement what they read.
So my recommendation for you is simple. I've mentioned the simple tips on how to increase the speed of WordPress site. Just start implementing them right away to see better results.
What are the other tricks do you follow to speed up WordPress site?
Are you interested in knowing some superior strategies to make a WordPress site load super fast? Check my advanced WordPress site speed optimization guide. 
Meanwhile, leave your pleasant thoughts to improve WordPress speed in the comment section.