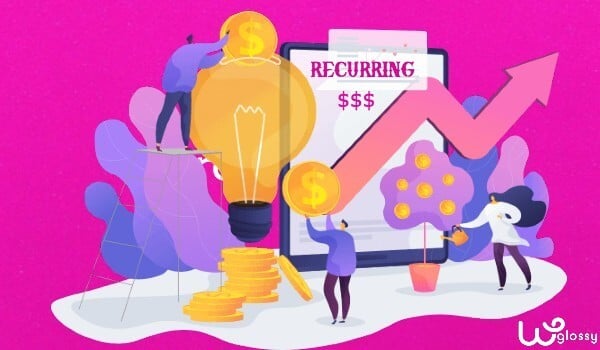 Do you want to earn money while sleeping? Here are the best recurring affiliate programs that pay high commissions for every referral. These programs usually work based on subscription but the exciting part is that you just need to refer one buyer and that's it! Money keeps flowing in!
Awesome, isn't it? Let's see more details! I have already consolidated some best affiliate programs in Fashion niche and now, let's get into the programs that has reoccuring commission payment feature.
How does a Recurring Affiliate Program work?
A recurring affiliate program is not the same as a normal one as the latter involves payment of commission to affiliate once for the sale while the former involves payment of commission for every renewal and upgrade. So, affiliates can get revenue for a referral until the lifetime of the product.
There are several recurring affiliate programs in the WordPress domain that pay the affiliate for each subscription. These can include SEO plugins, hosting, automation products, funnels, and membership plugins in addition to themes. Perhaps, these services are necessary for any small business as they rely on digital customers.
Let's find out the top 15 recurring affiliate programs that are high-paying too!
15 best recurring income affiliate programs
A small business online needs a website with great design, digital customers, products or services with easy delivery methods, and a marketing strategy that works well for a particular niche. We have many services exclusively for small businesses to simplify every part of the business.
As affiliates get boosted to promote high-quality products, recurring commission affiliate programs are needed. So, every service from web hosting to membership content delivery uses monthly affiliate commissions in its programs.
Web HostingRecurring Affiliate Programs
When it comes to online business, web hosting is an essential part. Cloud web hosting service providers offer the best affiliate programs with recurring commissions. We have listed the top three web hosting services that provide superior service for online businesses.
1. Cloudways (50$ to 150$ for sale in Slab, 30$ per sale + 7%recurring in hybrid)
Cloudways hosting provides managed web hosting services with incredible technical support. It uses recurring affiliate programs with lifetime commissions and fixed high rates for each sale.
It uses two types of affiliate payments for referrals. The first one is the Slab program. Cloudways pays a commission of 50$ to 150$ for each sale based on the affiliate's profile.
The second one is a hybrid program. Cloudways will pay $30 per sale and 7% lifetime recurring income for all referrals.
Cloudways hosting uses sales tracking with 90 days of storage of cookies. The cookies will be stored on the computer until 90 days. Any purchase made through your referral will fetch you a premium commission. However, it will generate the commission only during that period.
Once the referral has made the sale, it needs 45 days for you to claim the amount.
Cloudways uses monthly payments for affiliates with a minimum threshold of $250.
It uses Paypal and wire transfers for affiliate payments.
If an affiliate is a Cloudways customer, they can transfer the funds to the Cloudways account with a minimum of $100 per transfer. Affiliate banners and links are available within the affiliate arena.
2. Liquid Web Hosting (minimum 150$ per sale or 150% commission per sale)
Liquid web hosting is a fully managed cloud web hosting service for businesses. It provides the highest affiliate commission for promotions. So, when an affiliate refers to a managed hosting service, they will get paid $150, and if they refer 400$ worth of services for the dedicated server, the affiliate will get 600$ commission.
The liquid web offers 150% affiliate commissions for each sale generated by the affiliate.
It also uses the minimum referral commission of 150$ per sale, even for low-cost products.
Liquid web hosting also allows friend referrals with 50$ commissions without having additional login details.
Liquid web hosting uses 90 days cookies storage policy for affiliate referrals and an impact radius affiliate network system for payments.
It uses electronic fund transfer, PayPal, and wire transfer with a minimum of 10$ monthly payment.
It uses recurring affiliate commissions for web professionals with 5% to 15% monthly residual payments based on referrals. A minimum threshold of $100 to obtain a payout during the calendar month.
3. Kinsta Web hosting (50$ to 500$ for every signup with 10% recurring commission)
Kinsta is an exceptionally managed scalable cloud web hosting service, and it also qualifies as one of the highest-paying affiliate programs with recurring commissions.
Kinsta web hosting gives high affiliate commissions from $50 to $500 for every signup based on the plan.
It also provides a 10% recurring commission for the referral made by the affiliate.
This fastest WordPress hosting uses 60-day cookie tracking methods for the referrals given by the affiliate.
It uses 60 days conversion window after the customer has done the referral signup. After the conversion window period, the amount can be claimed by affiliates.
Kinsta pays affiliate payments monthly by PayPal, and the transfer happens between the 15th and 20th of every month.
To be eligible for payout, there is a minimum threshold of $50 to be achieved by affiliates to get paid via PayPal.
Email AutoresponderRecurring Affiliate Programs
Email autoresponder service is vital to speeding up business operations with customers. Many email autoresponders provide marketing automation services with tracking and reporting provisions.
Marketing is a major part of enabling the success of the business. Automating operations, it gives more time for business owners to accelerate growth. We have now listed the best recurring commission affiliate programs under this category.
4. AWeber Email Autoresponder Service ( 30% recurring commission)
Aweber is an ideal autoresponder service for business operations. It has web form design, email design templates for list creation, and contact management with automation in scheduling newsletters and follow-up messages.
AWeber provides 30% recurring affiliate commissions for the signup throughout the lifetime.
This autoresponder service uses 365 days of cookie duration for every referral by affiliates.
AWeber uses PayPal for payouts, and the affiliate referral commission is paid every month with a minimum $30 payout.
The commission is paid 15th of every month.
AWeber is the best recurring commission affiliate program with a lump sum 30% payment for affiliates.
5. GetResponse Email Autoresponder (100$ per sale or 33% recurring commission)
GetResponse email autoresponder service provides many services such as web forms for lead generation, marketing automation, conversion funnel with tracking and reporting, and landing page templates. These services are available with corresponding autoresponder services. GetResponse offers two types of affiliate system for promotion.
It uses an affiliate bounty program and a recurring affiliate program.
In the first method, GetResponse gives a $100 affiliate commission for each sale that the affiliate referred.
On the other hand, the recurring program gives a 33% affiliate commission for the payment made by the customer (referred by the affiliate).
GetResponse uses 120 days cookie storage period for every referral.
The threshold for monthly payment is at least 50$, and this payment is made on the 20th of every month.
The commission is usually paid from 60 to 75 days from the day of sale for the bounty program.
It is the high-paying monthly billing affiliate payout available in the WordPress arena.
6. Convertkit (30% recurring commission)
ConvertKit is predominantly known as the finest email marketing service for online businesses and their customer management with marketing automation features. It also provides the best recurring commission affiliate program that has led to the presence of a large number of affiliates associated with them across the world.
Convertkit gives a 30 % affiliate commission to the sales that the affiliate has referred.
It uses many subscriber-based monthly payments for its autoresponder service. When the subscriber grows, the recurring commission for the affiliate also increases gradually.
How to become an affiliate?
Apply for the program.
The ConvertKit team will review your application.
Once you refer a customer for its autoresponder, your affiliate commission gets approved.
Affiliate banners and links are available within the affiliate dashboard. It is one of the best recurring affiliate programs in email marketing services. Perhaps, this is also a program that no affiliate marketer should miss.
Landing PagesRecurring Affiliate Programs
Landing pages are used for lead generation and sales funnels, especially for online businesses. Such pages need eye-catching designs to increase email subscriptions and business customers. The advantage of creating a landing page is that it can be created with the help of an automated library offered by the service provider.
7. Leadpages (50% recurring commission)
Leadpages provides website builders, popup form builders, SEO controls to landing pages, A/B testing, mobile responsive landing page designs for product promotions, and leads generation for product launches.
Leadpages provides 50% recurring affiliate commissions for every customer referred by affiliates.
It is one of the high-paying recurring commission affiliate programs for lead generation and marketing solutions.
The commission for new sale referrals can vary between 10% and 50% based on the customers' payment to lead pages.
This best landing page builder uses 30 days cookie period for the referrals.
Leadpages provides the best two-tier affiliate program with recurring payments. It uses bronze, silver, and gold levels for recurring payments, depending on the revenue generated by customer referrals. Leadpages uses 30 days cookie period for referrals with a maximum of 50% recurring commissions for affiliate referrals.
8. Clickfunnels (20% to 40% recurring commission)
Clickfunnels is a simple solution for product launch and marketing automation. It uses a drag-and-drop web page editor. Further, it also has a high-converting sales funnel automation solution and shopping cart integration facility to upsell products. Moreover, it has email and Facebook marketing automation services to enhance revenues and achieve brand recognition.
Clickfunnels provides the highest-paying affiliate program with a recurring commission. Based on performance, it has 20%, 30%, and 40% recurring affiliate income slabs.
For one funnel away, it provides 20% affiliate commissions.
Once affiliates earn $1000 per month, they will be eligible for a 30% referral recurring commission.
We can also get a 40% affiliate commission for referrals after 40 active referrals observed in the last 30 days in your affiliate account.
After that, affiliates can apply for a 40% recurring commissions affiliate program for their referrals to Clickfunnels. It also offers $100 for every funnel away and 30-day sales.
WordPress ThemesRecurring Affiliate Programs
WordPress themes now provide high-paying affiliate commissions for referrals. Nowadays, WordPress themes are coming up with page builders and speed-optimized source code structures embedded with SEO options. The only concern is that it needs to be updated every year with the annual license payment.
The WordPress theme developers provide affiliate commissions for the license upgrade as well. Here, we have identified top themes that provide high affiliate payments with a recurring commission for license updates
9. Elegant Themes (50% affiliate commission for sales and renewals)
Elegant themes is one of the fantastic WordPress themes that provide page builder themes like Divi. It includes modules, WooCommerce integrations, and membership site options for website creation in small business operations.
Elegant themes offer a 50% affiliate commission for all the sales referred by affiliates.
It provides the highest commission percentage for affiliate referrals, and also it provides payment for subscription renewals.
Whenever you renew WordPress theme licenses, the affiliate will get paid.
It is one of the best high-paying affiliate systems of recurring type available in WordPress themes that will nudge you to earn a lot of money even if you are sleeping.
10. Thrive Themes (35% commission per sale with 25% recurring commissions
Thrive themes have multiple features along with WordPress theme options It has a bundle of solutions addressing the end-to-end needs of customers. For instance, Thrive Leads is meant for list creation.
On the other hand, Thrive Architect, Optimize, and Suite are other tools that are meant to optimize marketing. This interactive theme has a perfect affiliate system for promotion with the highest recurring commission for affiliates.
Thrive Themes affiliate payout has a 35% commission per sale and a 25% recurring commission for all its services updates.
The affiliate payment will be paid via PayPal every month as soon as the minimum threshold of $20 is met.
They use 2 years cookie durations for affiliate referrals.
In accordance with its 30-day refund policy, the commission will be approved after 30 days from the day the sale has been referred.
After the approval on the 1st day of the next month, the affiliates will get paid for their referrals.
SEO Recurring Affiliate Programs
SEO is an integral part of content marketing and brand promotion in the digital arena. For the business to gain better recognition, it is essential to be displayed in search results. This is where optimization of web pages comes into the picture.
Many SEO audits, rank checkers, and link status checker tools are available to improve the quality of web pages. These tools undeniably increase the quality of landing pages and are perhaps a must to every digital business owner
11. SEranking (30% recurring commission)
SEranking is an all-in-one SEO software with keyword rank tracking, website audit, backlink checking, and monitoring services. It offers solutions for entrepreneurs, small businesses, agencies, and enterprises.
SEranking provides a 30% commission to affiliates for every subscription.
It has 120 days of cookie storage to track referrals.
The affiliate commissions are paid twice a month with a minimum threshold of $50.
The payment is made via PayPal or Web Money. The payment is made every 14 days; the payout will take 5 calendar days.
You will see transparent statistics in its affiliate dashboard.
As we are making a good income through this recurring affiliate program, I'm suggesting SERanking for you. You may get this SEO tool, use it and then promote & earn.
12. Long Tail Pro (30% recurring commission)
Longtail pro identifies less competitive keywords for a site to rank higher in search engines. The advantage of this tool is that it gives information on competition level, SEO difficulty, and CPC based on which the site can be optimized. The website audit will check broken links and the quality of web content as well.
Longtail pro provides a recurring affiliate program with a 30% commission during the subscription period.
This tool is specially used for marketing professionals, SEO consultants, affiliate marketers, and agencies to drive more visitors to the landing page.
Here, the affiliate system is powered by post affiliate pro, share a sale, and commission junction affiliate networks.
Longtail pro has keyword research tools, SERP analysis tools, rank checker tools, and site audits in its subscriptions.
13. SEMRush ( 0.01$ for signup, 10$ for a new trial, and 200$ for new subscription)
SEMrush is the best place for SEO, Content marketing, market research, advertising, and social media operations of a website. It gives SEO analysis by audit, rank tracking, and on-page SEO checker solutions for any website. PPC advertising, market research, and content research can also be done easily with SEMrush.
Offering a host of services, it is chosen by marketers and business owners worldwide without a second thought. Hence, exploring and accumulating revenues can be considered high-paying affiliate payouts.
SEMrush provides 7 days free trial. For new signup, it gives $0.01.
The new trial gives a $10 commission. For a new subscription, it provides $200 for each sale.
SEMrush uses 120 days cookie periods for affiliate referrals.
Once the sale has been made, the commission will be locked for 27 days after which the approval begins.
Once the commission is approved, affiliates will get paid after 20 days. However, the payment is paid to affiliates monthly. It is a high-paying affiliate program in SEO operations.
Membership Plugins Recurring Affiliate Programs
The protected content has always had a better value than publicly available content. WordPress provides membership plugins for subscription-based content delivery such as online courses, video tutorials, etc.
The membership levels and subscribers are managed within the plugin setting along with email autoresponder integrations. Here we will see top high-paying membership plugin affiliate choices.
14. MemberPress ( 25% recurring commission)
MemberPress plugin is used to create a membership site to sell online courses that securely accept payments with credit cards and payment systems. We can control the content protection widely with MemberPress, and videos, categories, tags, communities, and digital files can also be protected and delivered to subscribers in an effective manner.
MemberPress provides recurring revenue affiliate programs with a 25% affiliate commission for every sale referred by affiliates.
MemberPress uses 60 days cookie policy and all the affiliate banners and links are provided within the affiliate arena.
The payment is paid out to affiliates 1st of every month via PayPal.
MemberPress affiliate method works well with easy affiliates, and we can track the sales and statistics about the referrals in easy affiliates. It uses a one-click PayPal payout for all the affiliates with its recurring affiliate programs.
15. Member Mouse ( 25% recurring commission)
Create and run excellent membership websites to sell digital products and protect content such as PDFs, videos, and software with this excellent solution – Member Mouse. With the Member Mouse plugin, we can manage members and maximize the revenue using subscription-based membership level creation. We can drip and schedule content for the subscribed members.
Various checkout methods are available to accept membership payments. We can also run our affiliate system for selling the products using member mouse.
This Plugin Offers a 25% affiliate commission for recurring payments as well.
90 days cookie storage policy is used by the Member mouse affiliate system for affiliate referrals.
The payment is transferred to affiliates for the referral on the 1st of every month after 30 days of a successful referral.
It uses the minimum payout of $50 as the threshold to send payment via PayPal.
It is the top high-paying affiliate program with monthly payments sent via PayPal. Once signed up for the program, we can choose the banners and links within the dashboard.
Wrapping up
WordPress business services such as hosting, themes, email autoresponders, landing pages, membership plugins, and SEO have high-paying affiliate payouts. In this article, I have listed the best recurring affiliate programs that provide high payout and steady income, subscription-based services, and other customizable solutions.
The above-listed top preferences are niche-based recurring affiliate programs for small businesses. We are earning from some of the greatest resources mentioned here, and out of them, Cloudways and SERanking help us to earn a passive income every month. Which ones are you keen to explore further?