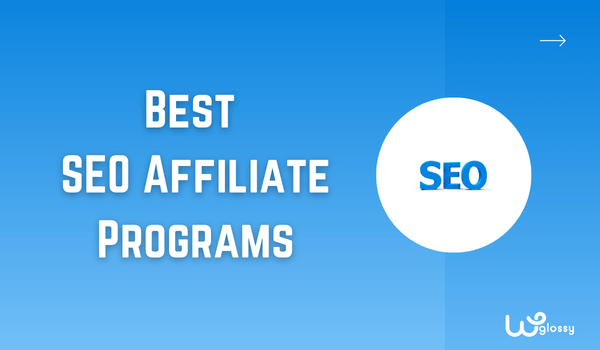 Are you looking for some best SEO affiliate programs to earn passive income from your blog? You have come to the right place, as I'll consolidate the top programs that pay a decent commission for their affiliates. Undoubtedly, affiliate marketing is an excellent way to make money blogging.
SEO affiliate programs offer a great income source without creating your products. Promoting SEO-related products can earn you a commission through sales from your affiliate link. However, you must choose some genuine programs to join that pay promptly.
In this article, I'll discuss what an SEO affiliate program and how it works is. I'll suggest some of the top SEO affiliate programs offered by industry-leading SEO tool providers. So, let's dive into the basics and discover how to earn passive income through SEO affiliate programs.
What Is An SEO Affiliate Program & How It Works
An SEO affiliate program is a partnership between an SEO company and an affiliate marketer. In this program, the affiliate marketers promote the company's tools to their audience. When a person buys a tool through their link, affiliates earn a percentage of the revenue generated.
You should know the working process of SEO affiliate marketing if you want to earn through affiliate programs. With proper knowledge, you may enjoy some additional benefits of using SEO affiliate programs. So, here is how SEO affiliate programs work: 
Visit the company website and sign up for the affiliate program.
Once approved, you'll get a unique affiliate link to promote.
Upon successful purchases, you'll earn a specific commission.
You'll receive your payment per the program's payout schedule.
Overall, an SEO affiliate program is a win-win situation for the SEO company and the affiliate marketer. The SEO company gains new customers, and the affiliates earn fair commissions for their marketing efforts. So, are you ready to register for a program? Let's go ahead!
Top 15 Best SEO Affiliate Programs For Bloggers
You must find the right product to promote to earn a good commission. But it's a difficult job to research and find the highest-paying SEO affiliate program, right? Of course, Yes. And that's why I have brought this guide for you after spending hours picking the right programs.
1. SEMRush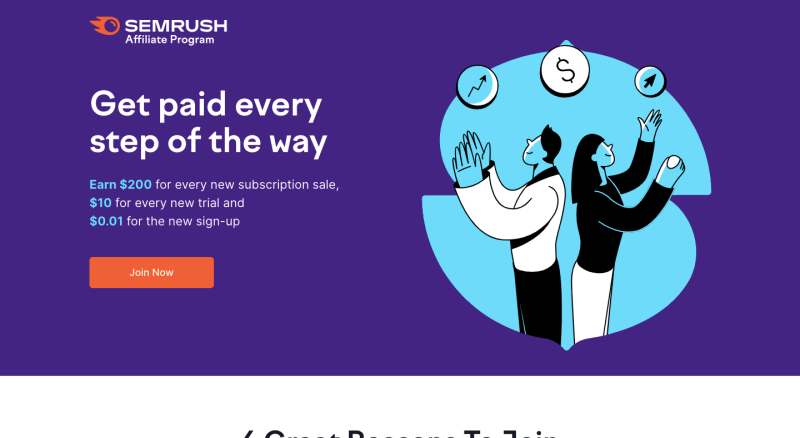 SEMRush is among the most popular tools in the SEO industry used for site audits, keyword and traffic analysis, and more. And you know what? When I started blogging, the first research tool I used was SEMRush. It means there is a broad audience for SEMRush—it's the best program for affiliates. Promoting this tool can earn a lot from a few sales for its high commission rate.
Why SEMRush
Commission Rate: Up To $200
Cookie Duration: 120 Days
Join The SEMRush Affiliate Program Now!
2. Surfer SEO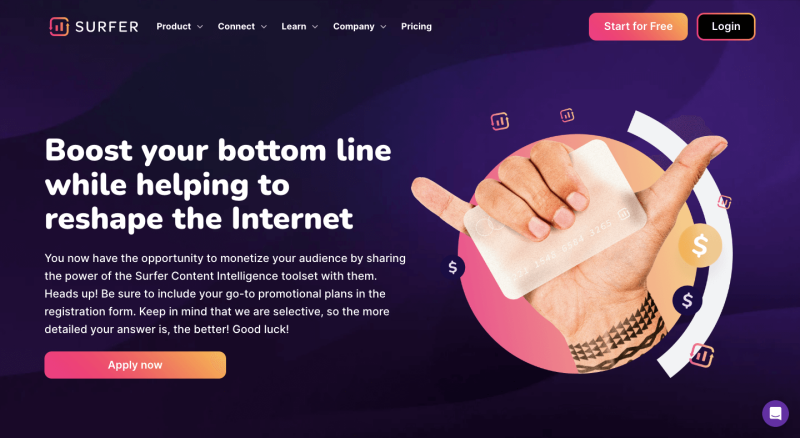 Surfer SEO is a content optimization tool known for its excellent results. If you have a blog in the content marketing niche, the Surfer SEO affiliate program is the best monetization option. I also use this tool for optimizing my content for Google. So, anyone new to blogging will buy this tool. You'll get a 25% recurring commission through sales and can win monthly cash prizes.
Why Surfer SEO
Commission Rate: 25%
Cookie Duration: 60 Days
Join Surfer SEO Affiliate Program Now!
3. Ahrefs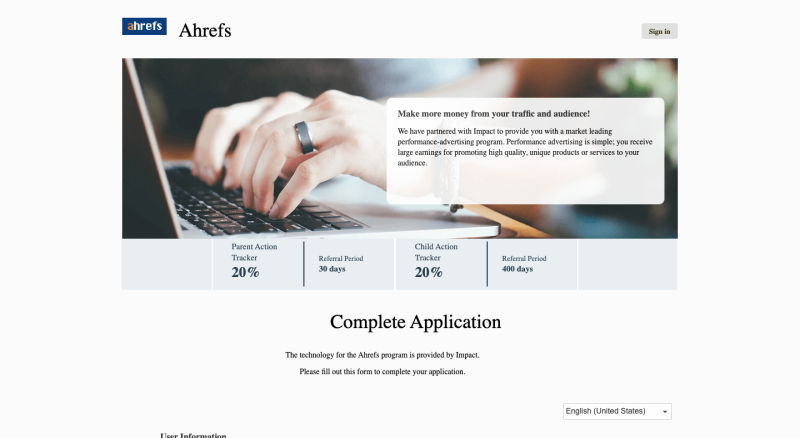 Ahrefs is a robust SEO tool that helps businesses with keyword research, backlink analysis, and content exploration. Most big enterprises use Ahrefs for their SEO clients (I'm also using it these days). Its affiliate program offers up to 20% recurring commission and around 400 days of cookie duration. You have a perfect chance to promote and bring sales through your link.
Why Ahrefs
Commission Rate: 20%
Cookie Duration: Up To 400 Days
Join Ahrefs Affiliate Program Now!
4. Rank Math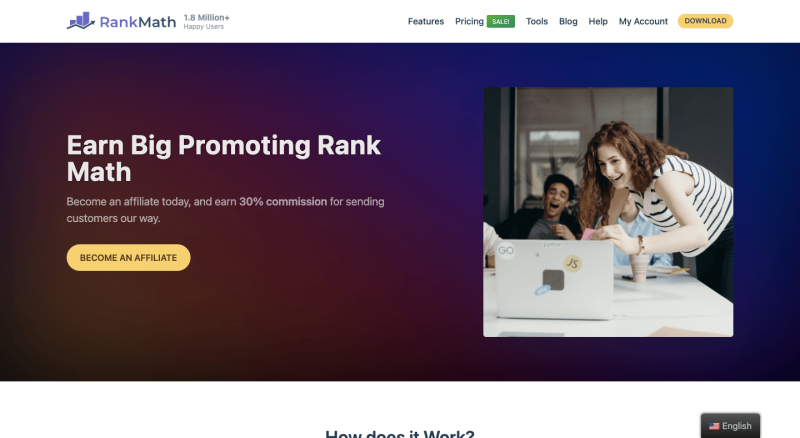 Rank Math is a versatile SEO plugin designed for WordPress websites to help with OnPage SEO of blog posts. I'm also using its pro version, and it's more magical with extra features than the free one. So, most developed bloggers and companies buy it for their content SEO. You'll more likely make a massive profit as your target audience is always willing to pay for it.
Why Rank Math
Commission Rate: 30%
Cookie Duration: 60 Days
Join Rank Math Affiliate Program Now!
5. SEO PowerSuite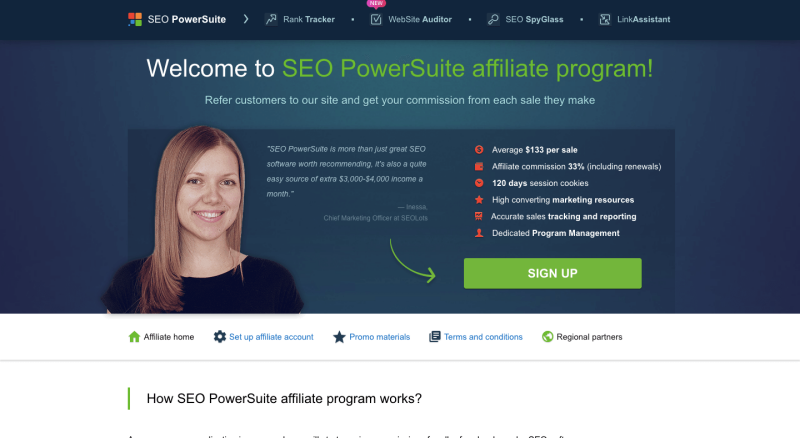 SEO PowerSuite is an all-in-one SEO tool, including keyword research, backlink analysis, ranking checker, and site auditing. Its affiliate program offers a generous commission rate of 33% with the potential to earn up to $230 per Sale. So, PowerSuite is an ideal choice for affiliates seeking to promote a lucrative tool and earn up to five-figure monthly incomes. 
Why SEO PowerSuite
Commission Rate: 33%
Cookie Duration: 120 Days
Join SEO PowerSuite Affiliate Program Now!
6. Mangools
Mangools is an affordable and user-friendly SEO toolset that includes popular features such as KWFinder, SERPWatcher, LinkMiner, and SERPChecker. It's a popular choice for SEO experts and website owners seeking to optimize their websites and increase organic traffic. Its affiliate offers a recurring commission structure that can generate around $500 monthly for affiliates.
Why Mangools
Commission Rate: 30% Lifetime
Cookie Duration: 30 Days
Join Mangools Affiliate Program Now!
7. SE Ranking
SE Ranking is a powerful SEO toolset and offers huge commission rates, making it an excellent choice for affiliates. Once a user signs up via your link, it'll attach to your link forever. Its 120-day cookie duration offers you enough time to make sales. The best part is this program is free to sign up for and provides a sales monitoring tool to keep counting your commissions.
Why SE Ranking
Commission Rate: 30% Lifetime
Cookie Duration: 120 Days
Join SE Ranking Affiliate Program Now!
8. SpyFu
SpyFu is a versatile SEO tool that provides competitor research, keyword research, PPC analysis, and more. It's an excellent option for affiliates looking for high-paying SEO programs, with a 40% commission on every successful Sale. This program is unique in that you can link directly to their site. So, it's a bonus for affiliates looking for a more streamlined approach.
Why SpyFu
Commission Rate: 40% Per Sale
Cookie Duration: 30 Days
Join SpyFu Affiliate Program Now!
9. SERPStat
Serpstat is an affordable SEO tool with a pricing plan starting at $69. It has a unique commission structure where you earn more commissions by referring more customers. Its rates start at 5% for up to three payments and increase to 30% for 21 payments or more. This makes it an excellent choice for affiliates who want to earn more as they refer more customers.
Why SERPStat
Commission Rate: Up To 30%
Cookie Duration: 15 Days
Join SERPStat Affiliate Program Now!
10. Site Checker Pro
Site Checker Pro is an all-in-one SEO tool providing several products to its users. These include website crawlers, backlink trackers, and On-Page SEO checkers. It offers a complete product package to help individuals and businesses optimize their websites. So, it's the best tool to promote and prepare big customers for purchasing such a helpful tool.
Why Site Checker Pro
Commission Rate: 30% Per Sale
Cookie Duration: 30 Days
Join Site Checker Pro Affiliate Program Now!
11. Link Whisper
Link Whisper is an SEO tool that helps bloggers improve their internal linking for better search traffic. It uses AI to provide the perfect linking suggestions. With this tool, one can internally link posts quickly and efficiently. Link Whisper is the best SEO affiliate program for bloggers, as most users need it. It also offers commission on renewals, making it an ideal option for affiliates.
Why Link Whisper
Commission Rate: 30%
Cookie Duration: Unknown
Join Link Whisper Affiliate Program Now!
12. Morning Score
Morning Score is an innovative SEO tool offering over 20 different products for the best SEO results. Besides its helpful features, this tool's affiliate program pays up to 40% commission to marketers. On average, its affiliate traffic converts over 15% of website visits to trials. And its conversion rate from trial to paid is above 7%, making it a desirable option for affiliates.
Why Morning Score
Commission Rate: $300
Cookie Duration: 180 Days
Join Morning Score Affiliate Program Now!
13. AccuRanker
The AccuRanker is a popular SEO tool among agencies, brands, and bloggers. Its fastest keyword rank-tracking capabilities make it a valuable asset for any SEO strategy. This tool offers around a 20% commission rate for affiliates, which is quite impressive. AccuRanker's affiliate program is an excellent choice because it's a well-established and high-selling SEO tool.
Why AccuRanker
Commission Rate: 20%
Cookie Duration: 120 Days
Join AccuRanker Affiliate Program Now!
14. SEOPresser
SEOPressor is another popular WordPress plugin. It simplifies On-Page SEO and provides instant suggestions for content optimization. It's an ideal tool for beginners, offering an overall content quality score and easy-to-use features. If I talk about its affiliate program, it's the highest-paying SEO affiliate program. It pays up to 50% monthly commissions per Sale.
Why SEO Presser
Commission Rate: 50%
Cookie Duration: Unknown
Join SEOPresser Affiliate Program Now!
15. BrightLocal
Bright Local is a powerful SEO tool for businesses that want a strong local online presence. It boasts local SEO features such as rank tracking, GBP auditing, On-Page SEO auditing, etc. These features make it an excellent choice for affiliates to target local businesses. As an affiliate, you can earn a recurring commission of 15% for every customer you refer to the platform.
Why BrightLocal
Commission Rate: 15%
Cookie Duration: 60 Days
Join BrightLocal Affiliate Program Now!
Final Thoughts
Search Engine Optimization (SEO) is an art that makes the search engines understand what you write about. SEO affiliate programs are a popular choice for affiliates to earn money by promoting SEO tools. By joining some suitable programs, you can make high commissions consistently.
With the above list of the 15 best SEO affiliate programs, you have many options. If you want to maximize earnings, choose an affiliate program relevant to your niche. It's a good idea to test the products yourself to ensure they meet the needs of your target audience.
Affiliate marketing is long-term, and success requires patience and consistency. Promote your links authentically and genuinely to make your audience trust you. Before joining any affiliate program, check out the commission rates, payout methods, and support offered. 
Similar Articles
Top Recurring Affiliate Programs
Best Fashion Affiliate Programs