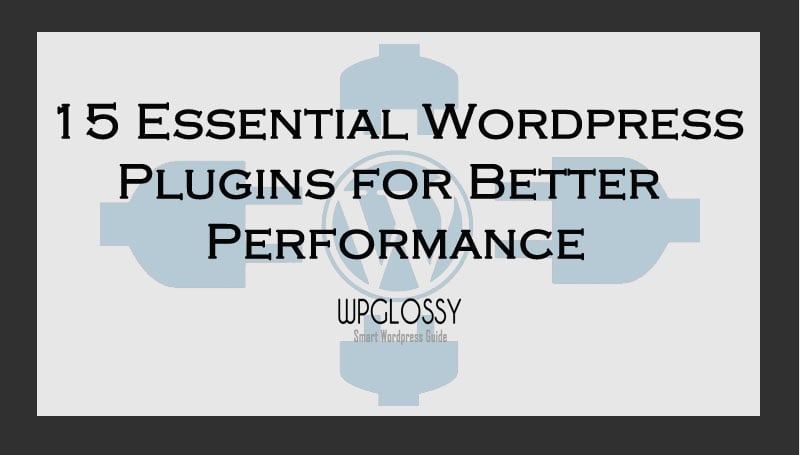 As you all know, WordPress is an open-source tool written for the creation of websites. It is probably one of the easiest-to-use content management systems for blogging and websites.
WordPress has an untold number of plugins that helps in the betterment of the blogging experience and, at the same time, increase SEO friendliness.
However, whether you are a newbie or an expert in using WordPress, the number of plugins it has, which is more than 57,000 in the plugin directory of WordPress.org, can be very confusing at times.
You often fail to select the best WordPress Plugins to extend the functionality of your blog or website. At the same time, you can't even survive on the web without the essential WP plugins, as they are the building blocks of your site on WordPress.
I'm sure that you have been amazed by the features of WordPress, and I assume that you have chosen a reliable hosting service to make your site accessible on the internet.
Once you have decided on which type of website you are going to create, you need to install WordPress and a perfect WordPress design to attract your visitors.
Many modern WordPress themes come with specific pre-installed plugins to help you have a pleasant WordPress journey.
But, certain plugins can be very specific to your requirements as the host. You need to install these essential WordPress plugins separately on your site.
I have already told you should keep the number of WordPress plugins to a minimum so that your site doesn't get overloaded and slow down during the loading process.
Now, let me provide a list of must-have WordPress plugins that will help you manage your website and ease your blogging and make it a better experience for your readers.
Best 17 WordPress Must Have Plugins To Install
Here are the WordPress must-have plugins that would assist to run an optimized website.
1. WordPress SEO by Yoast
WordPress is not only a powerful medium but also a pretty good SEO platform by itself. You may enhance its SEO affability through the popular WordPress plugin, WordPress SEO by Yoast.
It has great SEO features with which you can do the perfect on-page SEO. Also, it helps you write better blog content and provides you with a preview of what you are writing.
In simple words, if you want to make your WordPress site optimized for search engines, you should have this best SEO plugin for WordPress.
Install Yoast SEO WordPress Plugin
2. W3 Total Cache
If you are looking for a WordPress plugin that will help you to improve the speed of your page and also the user experience at the same time, then you have to use W3 Total Cache.
Increasing server performance, reducing download times, and providing transparent content delivery network (CDN) integration are some of the methods by which it helps in improving the WordPress experience.
It is not just a caching plugin; its advanced settings would nudge the WordPress site to perform well with fewer efforts. But you should pay more attention while configuring its advanced settings to avoid adverse impacts.
Get W3 Total Cache Plugin For WordPress
3. GDPR Cookie Consent
GDPR Cookie Consent is an ideal solution for assisting you in the GDPR compliance of your WordPress website. It lets you run a cookie audit on your website and list all the cookies to it so you can later add it to your cookie policy page using a short code, which is one of the requirements in GDPR.
Plus, you can display a cookie banner that asks for users' consent to whether or not to render cookies on the website, another primary requirement of the law. The cookie banner is easily customizable to match your website's appearance.
In addition to GDPR, the plugin also assists you in the compliance of CCPA by displaying a 'Do Not Sell My Personal Information' control to the cookie notice.
Get GDPR Cookie Consent Plugin
4. myCred
myCred is the best WordPress plugin for quickly transforming any website into a fun and engaging gamification platform. It allows you to create a variety of badges and awards for your users when they complete different actions (triggers) on your website.
This plugin makes it easy to give reward points for completing specific tasks. It allows you to charge for virtual currency, sell virtual currency for real money, and reward users with virtual cash for completing achievements. In the same vein as the WooCommerce Gamification add-on, this plugin offers a variety of ranking and badge choices in addition to a rewards program and a customer loyalty program.
The myCred plugin eases the burden of adding functionality from other popular WordPress plugins like BuddyPress Community and Jetpack to your site. There are three different ways for myCred plugin users to receive recognition: points, ranks, and badges.
Download myCred WordPress plugin
5. FS Poster
FS Poster is one of the best social media auto-poster plugins for WordPress. Marketers now have the ability to auto-publish their blogs, republish previously published material, bulk schedule numerous articles, and directly share individual pieces on the most prominent social networks thanks to the combination of social media auto-poster and scheduler.
It allows users to post blog images, infographics, videos, or other media on visual sharing services directly from WordPress. A social media calendar that supports 19 social networks and services will help you broaden your audience and enhance your search engine optimization (SEO) by increasing the number of visitors to your website.
FS Poster is a freemium plugin. The free version of the plugin is FS Poster Lite, and it's available on WordPress for downloading.
Install FS Poster Plugin For WordPress
6. OptinMonster
Every business targets to generate leads/sales. Isn't it?  If you would like to build an effective email list for your site, OptinMonster is the must-use WordPress plugin. 
Yes! It is one of the best WordPress plugins, which helps in the generation of leads and the acquisition of customers. It allows you to create attractive forms and pop-ups that will give your visitors visual appeal and convert them into subscribers.
OptinMonster provides you with awesome features: page-level targeting, analytics, split testing, exit-intent technology, etc.
Install OptinMoster Plugin For WordPress
7. WP Notification Bar Pro
WP Notification Bar Pro is a popular paid plugin for WordPress from MyThemeShop. The notification bar helps in seeking the attention of visitors.
It is superbly easy to use and activate and allows you to customize the same according to your needs. It makes the WordPress site attractive to visitors interested in the site.
Text & link buttons, email subscription, countdown timer, social media button, popup video, and search form are just some of the features it provides you.
Download WP Notification Bar Pro
8. WP Smush.it
WP Smush.it is one of the top WordPress plugins which helps in applying image filters to the pictures present on your WordPress website. Manually upgrading every image to increase the speed of your site can be a time-consuming and tiresome process.
It is the must-have WordPress plugin that does the work automatically. It strips the images of the bulky information so that they can load faster, which would help your site load faster.
By optimizing the images, it could also provide better search engine rankings for your WordPress website.
Include WP Smush.it WordPress Addon
9. Contact Form 7
One of the majorly essential plugins for WordPress is Contact Form 7. It is a free WordPress plugin that provides flexible options to customize your contact form and mail content.
It is straightforward to operate and has a flexible build-up. It supports a broad range of documents and helps you to pinpoint any pertaining issue that may make your experience difficult.
As it is a freebie, you can't expect the advanced features, but you customize the forms with fundamental features that are easy to use.
Install Contact Form 7 WP plugin
10. Theme Check
How would you validate your WordPress theme against recent standards? You don't need to get worried!
Theme Check is the smart WordPress plugin to test your WordPress theme to the latest standards. If you use third-party themes, you may consider installing this WordPress extension.
It may not be a perfect tool, but you can download this WordPress plugin to make your theme more capable and ensure it meets the latest WordPress theme standards.
Download Theme Check WordPress Plugin
11. TablePress
Do you wish to create and manage attractive tables on your WordPress site? TablePress comes handy; you don't have to write the codes anymore to insert the "Table".
You can enter any type of data in the tables and embed them into posts and pages through shortcodes. Besides, the tables created using this WordPress plugin can be imported/exported to/from CSV, HTML, JSON, and Excel files.
As it is more likely to build feature-rich tables, TablePress is considered as one of the top plugins for WordPress 2022.
TablePress WP plugin Free Download
12. Monarch Social Share
Monarch is brought to you by ElegantThemes and helps you to share all your WordPress content on various social media sites.
Social media play a significant role in popularizing our blogs or website, so it needs to be used correctly. Monarch provides a host of attractive social media buttons that you can organize according to your requirements to boost your social media sharing and ranking.
You can add the social sharing buttons in 5 different locations and spread your WP content over 20 social networks.
Add Monarch Social Share Plugin
13. Redirection
Redirection is the famous redirect WordPress plugin that helps you efficiently manage 404 errors and 301 redirections. This WordPress plugin is a must for every site, as there may be some broken links on your site, which may force your visitors to discontinue your page.
Therefore, you can use this WordPress plugin to keep your visitors engaged even with the broken links on the site without creating a tremendous negative impact.
This dynamic plugin for WordPress is simple to install, and you can make most of the redirect work automated. You never need to worry about speed or performance difficulties with this free WordPress plugin.
Download Redirection WordPress plugin
14. BackWPup
Taking regular site backup is a good practice! If you want to take your complete WordPress site back up for free, you may consider installing BackWPup Plugin.
This backup plugin backs your data and saves it in external services like S3, Dropbox, FTP, and on your PC. It lets you create the backup in different formats and schedule automatic backups.
Malware crashes and site hacking may happen at any time. So, don't ignore taking a regular backup of your WordPress site.
Install BackWPup plugin for free
15. WordFence
WordFence is one of the best WordPress security plugins that block several types of security threats, Malicious networks, throttle users, and robots accessing your WordPress site.
Besides, it has first-class login security, Firewall, security scanning, and monitoring features to protect your site from Brute Force attacks.
Over 10 million online masters have downloaded this WordPress security plugin and secured their confidential data. It is a free and open-source WordPress extension, but you can get its premium version to use its advanced features.
WordFence now comes with multi-site compatibility and is integrated with phone signup to save your WordPress site effectively.
Add WordFence WordPress Plugin
16. Akismet
One of the biggest hurdles every WordPress user faces is spam commenting. Automated spambots generate enormous unsolicited comments that would occupy your disk space and slow down your website.
With the Akismet WordPress plugin, you can eliminate spam comments automatically. It is million times downloaded the anti-spam WordPress plugin, which is also available in the premium version.  
Download Akismet Plugin For WordPress
17. Revive Old Posts
How to keep your old posts alive? You can promote and drive social traffic to your old posts through the Revive Old Posts WordPress plugin. It's like a post scheduler that lets you choose the number of posts and the time between them to share on social networks.
So, with this handy extension for WordPress, you can consistently engage your social followers and bring traffic to your website. You may also add images while sharing your aged content to improve reachability.
Install Revive old Posts WordPress Plugin
What about Broken Link Checker & P3 WordPress Plugins?
You might think I've left including the famous WordPress plugin, Broken Link Checker (to find the broken links on the site) in the must-have plugins for WordPress. Yes, it would put a lot of stress on your server.
I suggest you use the online tool, Brokenlinkcheck.com to find and remove the dead links on your WordPress site. 
Likewise, if you use the P3 (Plugin Performance Profiler) WordPress Plugin to find out the plugins that make your site load slowly, deactivate that plugin when it is not used. 
Final Words On Essential WordPress Plugins
WordPress users could easily extend their site's ability through useful Plugins without fearing modifying the codes. I hope these WordPress must-have plugins provide you with all the functionalities you want.
Although there are many more incredible WordPress plugins, which ease your managing job on WordPress, the list provides you with some of the essential plugins that would boost your performance in the WordPress world.
Did I miss listing any more essential WordPress Plugins? Would you like to add some useful extensions to the must-have WordPress plugins? Share your knowledge/experience in the comment section.