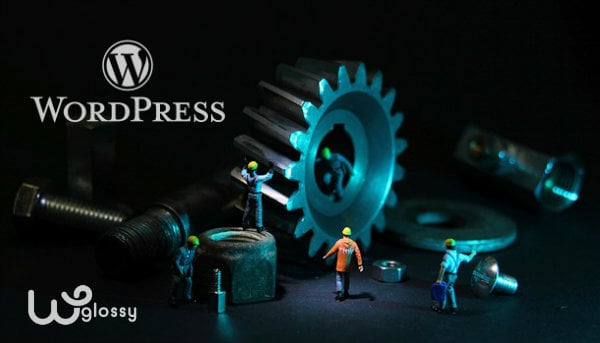 As you expected,  I'm also going to list the best WordPress Maintenance services so that you may take the suitable one without any hesitation. I have invested quality time to list the exceptional services that never let your site down at any cost. 
If your business relies on your website powered by WordPress, then you should read this article as I am going to tell the importance of keeping your site 100% available all the time and safeguard its valuable content. 
Before getting into the excellent list of maintenance services for WordPress sites, you should understand the benefits of doing the routine tasks for your business site. 
Why WordPress Maintenance Service? 
WordPress website management is as important as the maintenance of your vehicle. 
Yes! It needs special care!
You may ask why invest in a WordPress maintenance service when you can do it yourself.
Well, you can keep your WordPress up-to-date and take regular backups using plugins as a part of your WordPress maintenance task.
But is that enough? No, not at all!
You should regularly check your WordPress website for security vulnerabilities, performance lags, comment spam, server-end maintenance, uptime monitoring, and many more.
Remember, maintaining your WordPress blog/website not only boosts productivity but also makes it more user-friendly.
There are a few individual plugins and services to tackle some of these tasks. However, you will need a full-fledged service to take care of every task on your WordPress maintenance checklist.
Doing it yourself will lower your productivity. You will spend many hours maintaining your WordPress website, which otherwise you can spend on making more content, sales, leads, or develop new marketing strategies.
Assigning the WordPress maintenance task to a professional company takes out the load from you, and you can switch back to work on taking your WordPress website to the next level. You can save a lot of time and spend it on productive tasks which will boost your income eventually.
Still, the biggest challenge is to choose the right service that can make your site run all the time smoothly. There are several companies out there offering WordPress website maintenance services, let's see the great ones! 
Top 10 WordPress Site Maintenance Services
Finding the best of the lot can be tricky. Hence, I have shortlisted the nine best maintenance services for WordPress users after thorough research and analyzing features offered by each company.
#1. WP Buffs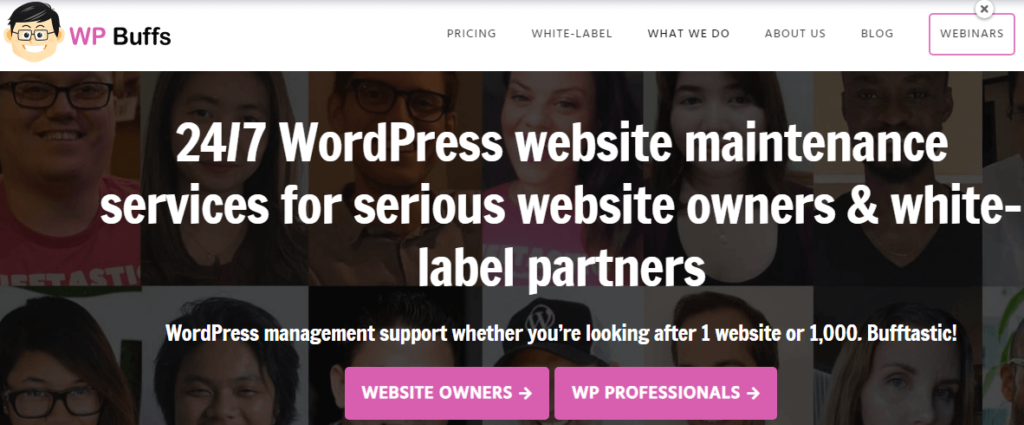 WP Buffs is a 24/7 WordPress maintenance service provider for serious website owners and white label partners.
Starting at as low as $67 per month, WP Buffs offers essential WordPress management services such as daily backups, uptime monitoring, WordPress core, theme, & plugin updates, as well as emergency support.
However, if you need more advanced features such as WordPress speed optimization, unlimited 24/7 website edits, free premium plugins, malware removal, priority support, as well as mobile & tablet optimization; then you should opt for the Perform plan priced at $197 per month.
Besides offering WordPress maintenance plans for website owners, WP Buffs also provides a White Label Partner program. If you're a successful WordPress business or freelancing career, then you can sell WP Buffs plans under your brand and earn profits year after year.
Here is exciting news for my readers! If you have decided to go with WP Buffs, then you may use WP Buffs Discount Code to get a 10% discount on all the plans. 
Best Features Of WP Buffs
24/7 Uptime monitoring

Daily cloud backups

Unlimited 24/7 website edits

Complete malware protection

Speed optimization and performance boost

Emergency support for a quick solution

Priority support for higher plans

Mobile & Tablet optimization 
#2.

WP Agents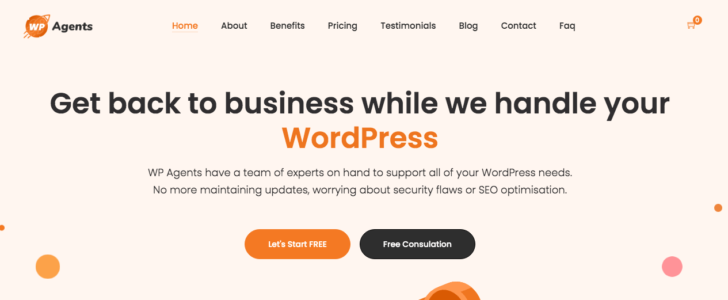 WP Agents have a team of experts on hand to support all of your WordPress needs. No more maintaining updates, worrying about security flaws, or SEO optimization.
There's no doubt that WordPress is a fantastic platform, but with such a varied and in-depth framework comes update after update, not only from the WordPress Maintenance platform but from all of your 3rd party plugins and theme developers. Take the worry out of pushing updates live and let WP Agents take care of all updates.
Be safe in the knowledge your website is backed up and monitored for vulnerabilities 24/7. So if the worst should happen, you will be back up and running in no time.
The team of SEO experts is on hand to perform a technical audit of your website and take care of any SEO adjustments, so you get off on the right foot. Getting discovered is the first step to getting business. Increase your chances of cutting through the noise and gain the trust of prospective buyers by being on the first page of Google.
Over 50% of all web traffic is now via smartphone. With a dedicated app for your website, you're never more than a click away from engaging with your audience. At WP Agents, we care that you stay relevant, which is why IOS and Android mobile apps are included with all maintenance plans.
I'm quite impressed with their free SEO audit for the first month and affordable pricing plans suitable for all types of businesses and startups. Just grab their 2-month maintenance service for free and see how things are going on.
Best Features Of WP Agents
Daily Backup
24×7 Security Monitoring (Vulnerability testing)
24×7 Performance Checkout
Uptime Monitor
Monthly round of updates on the website
2 Hours/month FREE website tasks i.e. Images, textual edits.
Monthly reporting
Free SEO site audit
Bug fixing
PWA Included (Web To App)
2-Factor Authentication
FREE Hosting
#3. FixRunner
When you don't have a great budget to spend on WordPress maintenance, then it would be better to go with a company that offers affordable packages.
One such reasonable WordPress help service is FixRunner. They provide personal WordPress support, secure updates, website speed optimization, cloud backups, 24 x 7 security, and uptime monitoring.
They are super fast, and you can get their service in just 1 minute. You have to explain the issue and give the login credentials of your site. The experts will debug the problem in the staging environment without taking your site down. After fixing the errors successfully, you will get the link to make the payment.
As the FixRunner will optimize and secure your site for maximum performance, you can stay relaxed and focus on your business activities. You can submit your request anytime because they are working round the clock 24 x 7.
If you're a Woocommerce business, then you can get a free consultation to boost your website results. Likewise, when you feel hard in configuring the Woocommerce plugins, you may reach the team and get the configuration process completed quickly.
To keep your site running optimally, fix the issues, improve WordPress speed, tighten the security, and take a backup through a cost-effective way, the FixRunner has been launched. This fantastic WordPress paid help has inexpensive pricing plans when compared to others on this list. 
There are three different packages – Premium, Rocket & Advance, and you should get the service for a minimum of three months. The essential functions are available in the Premium plan, and if you want the support for your web stores & on-page SEO, then you may consider getting the Rocket plan.
The Advance plan costs $179 (monthly plan) where you will get phone support, premium hosting, and a dedicated account manager. You may go with any suitable pricing plan and for more than one WordPress website, please contact the company and explain your requirements.
Best Features of FixRunner
One-time support for $49

Fast & Reliable service

Worldwide satisfied customers

Urgent support request will be attended

30 days money-back guarantee

Cancel at anytime

Support for online shop

White label support for agencies

Get a free estimate before beginning the work

Custom development to make your site functional and unique
#4. WP Tech Support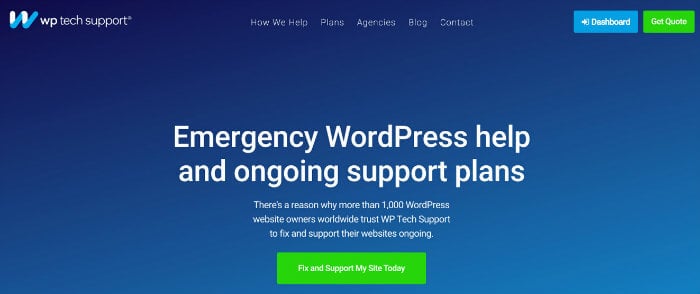 Let's assume that you need urgent WordPress help for your business site that needs to be resolved as soon as possible, then? Don't worry! Wp tech support is at your rescue. 
Thousands of WordPress users across the globe trust this maintenance service as their support plans offer unlimited emergency fixes. They are available 24 x 7 and could diagnose technical glitches. Then, they will assist you with the best support and make your site up and run like before. 
Dedicated customer support is their top priority, and hence, they have an online portal with full transparency of your account. No doubt that you will get a piece of mind through the premium quality maintenance service.
If you're a small business, then the brut force attack would cost you in $$$ and take off your peacefulness. Don't let your site reach extreme security breaches! Just get this proactive WordPress support and focus on your business growth instead of worrying about the core updates and backups. 
The experts will maintain your business site, and you will have full visibility through the secure portal and view weekly reports. During the upkeep tasks, they will look for compatibility issues, and your site is available forever without any errors. 
I should tell you about the pricing plans of WP Tech Support, and yes, they are highly affordable. The basic plan for just $25 /month has a one-time emergency fix with weekly core & plugin updates. They are currently running a 20% off flash sale on their other pricing plans that will save your hard-earned bucks.
Best Features of WP Tech Support 
Unlimited WordPress fixes

Daily backup to secure cloud server

24 x 7 malware monitoring 

Ongoing improvements for your business 

Loading speed tune-up

White label services for agencies & developers

Spam comments cleanup

SEO audit to boost your search visibility

 
#5. WP AOS
WP AOS is a team of WordPress experts with a passion to help WordPress website owners and agencies achieve their business goals.
WordPress maintenance service at WP AOS starts at just $29 per month, which includes monthly reports, updates, uptime monitoring, cloud backups, and if the site gets ever compromised, the complete malware removal is included.
If your website requires more attention, WP AOS got you covered with more advanced plans, which include performance monitoring, speed optimizations, priority support, unlimited website edits, and much more.
For businesses that handle more than 5 WordPress websites, WP AOS offers a white label partnership option with personalized pricing and customer experience.
Best Features Of WP AOS
Theme & plugin updates

24/7 Uptime monitoring

Security monitoring

Cloud backups

Complete malware removal

Emergency Support

Unlimited 24/7 website edits

100x keyword tracking

Speed optimization

Mobile & tablet optimization

2 hours custom development ($178 value)
#6. Valet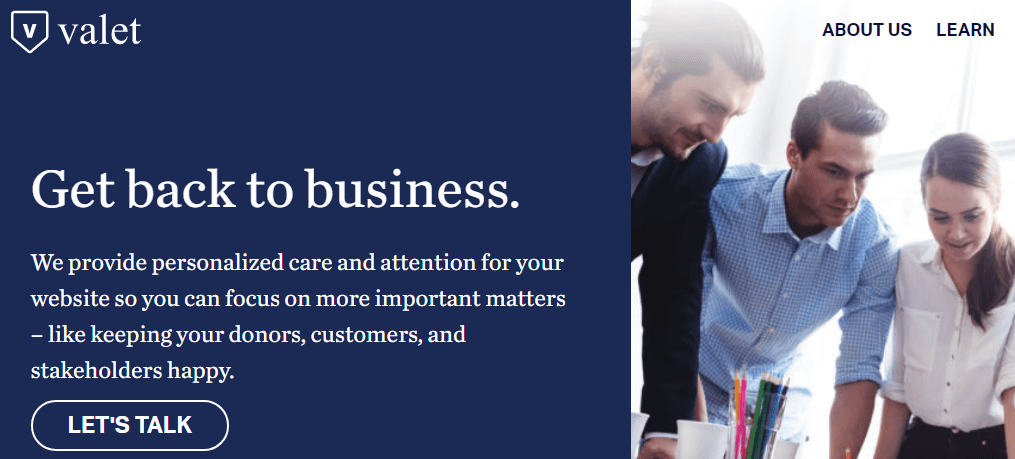 Valet, earlier known as WP Valet, is one of the most recognized brands in the industry when it comes to WordPress maintenance.
With a combined experience of over 50 years, Valet is an excellent blend of quality and industry experience. Valet offers a variety of different maintenance services such as uptime monitoring, regular backups, security shield, performance improvement, etc.
Valet is one of the most expensive WordPress site maintenance services. They ask you specific questions before they disclose their plans. The plans offered at Valet ranges from $250 per month to $1,750 per month. Why so expensive? You may ask!
The reason behind such high rates is the quality of service offered by Valet.
Besides looking after the maintenance of your WordPress website, Valet also helps you with proper business advice, offers guidance in selecting the right theme or plugin, solves major development concerns, as well as aids in implementing the latest SEO practices.
In short, you get a full range of services to grow your blog/website along with proper WordPress support and maintenance.
You can begin with their plans, starting at $250 per month for maintaining your WordPress blog. However, if you are aiming to scale up your WordPress business, then you must check out their business plans as well.
Best Features Of Valet
Host selection with Site migration support

Professional level support

Custom development with the help of industry pros

Insightful day-to-day maintenance tasks

Speed optimization and performance booster 
#7. WP Site Care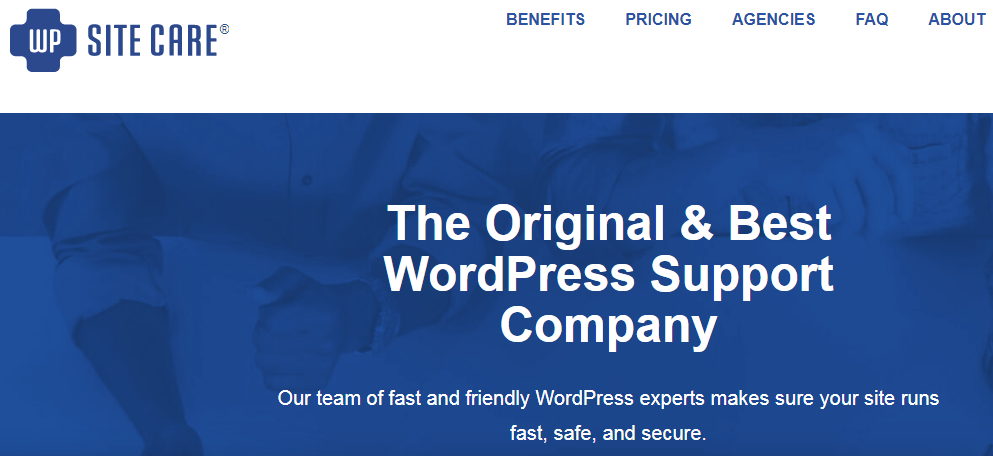 After recognizing the need for a WordPress service to take care of regular backups, security, maintenance, and site updates; Ryan Sullivan launched WP Site Care to offer a full-fledged WordPress Maintenance Service in 2012.
In a few years, WP Site Care extended its presence in the industry to become one of the best WordPress maintenance services.
The primary aim behind launching WP Site Care was to offer a more accessible and effective solution to help WordPress users with day-to-day maintenance and management of their WordPress sites.
To ensure that the service is accessible to maximum users, WP Site Care offers an affordable package starting at $99 per month ($79 per month if paid annually).
In this package, you can relax as the WP Site Care team will take care of the regular WordPress backups (powered by Amazon cloud service), latest updates, and security.
Besides, if you encounter an issue or problem, you can raise a support ticket which will be addressed within an hour. Their 100% rating in their Customer Happiness Report suggests the efficiency and dedication to offering the best solutions to their clients.
The Walkie Talkie feature lets you send support requests directly from your WordPress dashboard. It saves you from all the hassle of sending emails and keeping track of it.
For more advanced features, the WP maintenance service also offers a Professional subscription plan at $349 per month ($299 per month if paid annually).
In the WP Site Care Pro plan, you get all the features of the basic WP Site Care plan plus additional uptime monitoring, two development hours per month, eCommerce support, CloudProxy Firewall, Priority Support, and Version Control with Github.
You also get an hourly cloud backup option with the Pro plan compared to the daily cloud backups on the basic WP Site Care package.
So, if you want to explore further with WP Site Care and make your WordPress site more efficient and secured, then it is recommended to opt for the WP Site Care Pro plan. For essential WordPress maintenance, their starter package is also not wrong either.
Best Features Of WP Site Care
Regular & timely cloud backups

WordPress core, plugins & theme updates

24/7 Security monitoring and clean-ups

Real-time activity tracking

2 development hours per month with the Pro plan

CloudProxy firewall with Pro plan

Uptime monitoring with Pro plan

Priority support with Pro plan

Version control with Github with Pro plan 
#8. Maintainn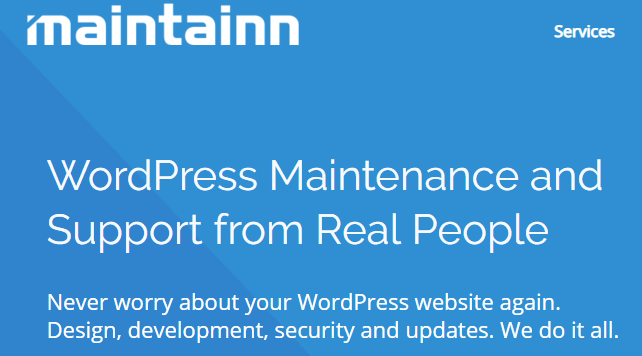 Maintainn is the brainchild of WebDevStudios which is a renowned brand in the WordPress development industry. Launched in 2012, the WordPress maintenance services offered by Maintainn starts at $49 per month.
In this package, Maintainn takes care of off-site backups, timely WordPress core updates, regular theme/plugin updates, and round-the-clock security monitoring.
With biggies like Microsoft on their clientele list, WebDevStudios is trustworthy and so is Maintainn. They have collaborated with security giants Sucuri to offer 24/7 monitoring, whereas the backups are powered by and stored on the Amazon cloud.
In addition to offering hassle-free backups and tight security, Maintainn also helps its premium clients with site migrations while changing hosts.
Besides site migrations, the premium package offered by Maintainn also assigns a dedicated developer to handle development concerns throughout the subscription period. Maintainn will also set up a staging environment where you can run tests before moving to the production site.
While the basic WordPress website maintenance plan starts at $49 per month, the Premium+ package comes at a price tag of $99 per month. Besides migrations, you also gain access to video tutorials, top priority response, and one-hour development support.
Best Features Of Maintainn
Daily offsite backups

24/7 website security monitoring

Free Website and data migration

Instant support from experts

Custom development at discounted rates 
#9. The WP Butler
The WP Butler, owned by Dave Clements, gets a unique mention on this list for its versatility. Founded by the man behind Do It with WordPress, The WP Butler lets you choose a custom plan rather than offering a monthly package with a ready set of tasks.
The idea of launch The WP Butler came to Dave when he observed that the clients didn't care much about the WordPress updates or didn't have any clue about the same.
It triggered the idea to offer a streamlined service that would take care of all the WordPress maintenance tasks at a nominal fee.
This service was called The WP Butler service as the program was designed to offer full attention to the need and care of the WordPress site.
The WP Butler will take care of timely backups, regular malware scans, check for updates, and uptime monitoring. You can either choose a monthly subscription package or one-off services at The WP Butler.
All the plans are designed to secure the needs of different users. Bloggers tight on their budget can opt for the basic plan starting at $39 per month, making it the most economical WordPress Maintenance Service on our list.
You can also choose any of the one-off services offered at The WP Butler. Whether you need speed optimization, security assessment, site audit, migration support, etc.; you can pay a one-time fee and get it done.
Best Features Of The WP Butler
Full daily backups on Amazon cloud

Regular updates to WordPress core, themes, and plugins

Regular scans for malware protection

Site reviews

Uptime monitoring

Development time on retainer on selected packages

Version-controlled updates and development

Business and strategy review 
#10. WP Maintainer

If you're looking for the simplest yet effective WordPress maintenance service on this list, then your search ends at WP Maintainer. Priced at a fee of $99 per month, WP Maintainer offers a complete WordPress maintenance package under one package.
Once you sign up, WP Maintainer will offer a free website migration (if needed) as well as a thorough security audit of your WordPress site to get things started. At $99 per month, WP Maintainer takes care of all WordPress core, theme, and plugin updates.
The plan also covers scheduled site backups as well as Sucuri security monitoring and cleanups when necessary.
Besides these essential maintenance services, WP Maintainer also offers monthly site customizations where you get developer support at $99 per hour.
WP Maintainer offers a straightforward package without any complicated plans or unnecessary fees. At $99 per month, you can focus your energy on other tasks, while WP Maintainer takes care of your WordPress blog/website.
Best Features Of WP Maintainer
Initial complete site audit and security setup

Scheduled regular cloud backups

Regular WordPress core, theme, & plugin updates with compatibility support

Free WordPress migration

Sucuri powered malware clean up

WordPress Support

Discounted development charges 
3 More Excellent WordPress Maintenance Plans 
1. Fixmysite – If you are looking for on-demand tech support for WordPress like fixing issues & errors, malware removal, migration, theme customization, speed optimization, and everything at an affordable cost, then Fixmysite should be your pick.
2. WPSiteplan – For the USA-based digital marketers, bloggers, and businesses, WPSiteplan would be an ideal option to get WordPress website support services. Its pricing plans are not that much expensive. 
3. Fixmywp – This WordPress paid support service keeps you happy and stress-free through its reasonable plans. So, if you are looking for a cheap WordPress maintenance service, then you may get its Junior WordPress maintenance service.  
Which Is The Best WordPress Maintenance Service in 2023? 
WordPress maintenance is essential to keep your website up-to-date, secure, and efficient. By letting a professional take care of the maintenance, you are saving a lot of time and energy for your business or blog.
These are the best WordPress maintenance services that you can get without any second thought in 2023. Each service is designed to serve a specific set of users.
Clients ready to spend can opt for Valet and enjoy additional support and services besides taking care of WordPress maintenance.
Whereas, bloggers with budget constraints can opt for WPBuffs WordPress Manintaince Service.
You may use the Coupon code – WPGLOSSY10 to get a 10% discount on any WordPress website maintenance packages of WP Buffs and save your hard-earned money! 
If you are looking for the best company to speed up your WordPress site, then you have to check the best WordPress speed optimation services and choose the appropriate one from the list!
You say, which top service would you like to get for your WordPress site? Leave your views in the comment section, let's discuss.