So, you want to know the best WordPress Speed Optimization Service to improve the loading speed of your site, right?
You're in the correct place to fix your slow WordPress site!
Many companies offer the Website Speed Service that helps you load your site pages very faster and enhances the user experience, which is good for SEO. 
Their work is to take care of your website and continuously improve its performance which means they are the experts working to make and showcase your site better.
I have done my best to find excellent WordPress speed services to make your website load lightning fast so they will not disappoint you at any cost! 
| | | | |
| --- | --- | --- | --- |
| WordPress Speed Optimization Service | | | |
| | Essential Speed Optimization Methods + FREE Premium Plugins | | |
| | Follows a 3 STAGE Speed Fix Process | | |
| | Custom-made, real-world, Result-Oriented Performance Architecture | | |
| | Clear Pricing Plans With Detailed Description | | |
| | Guaranteed Speed Performance Otherwise Money Back | | |
Before getting into the features of each company, let me tell you a few things that you should consider while getting the outstanding page speed optimization service.
How To Choose The Best WordPress Speed Up Service?
You may consider the following features as the CHECKLIST while buying the service to optimize your WordPress site for more speed.
They should provide
A set of WP speed optimization strategies they are going to implement 

Daily/Weekly Reports

Complete Site Backup

Clear Pricing plans and working coupons

Easy & Secure payment methods
You may also have a look at the
Feedback/Reviews From Clients on their website

ways to get in touch (Live Chat, Phone or Contact form)

"About Us" page to know their history and mission
Top Services To Make WordPress Site Optimized For Speed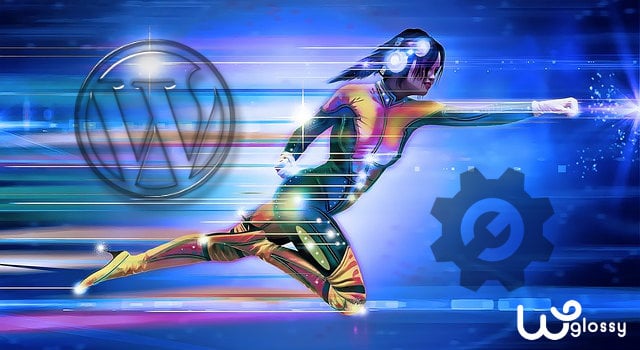 Based on the above checklist, I have compiled a list of the 5 Best companies that offer WordPress Speed Optimization Services. You can go through each of them carefully and decide which one to choose.
Without wasting any further time, let's hop on to the list.
Just wait for a second!
You have to check this before getting into the WP Speed Up Services list! 
WPGlossy WordPress Speed Optimization Service
We are working with the WordPress CMS for more five years, and yes, we have adequate knowledge in dealing with the essential optimization techniques and common issues.
We have done the WordPress optimization for our blogs by ourselves. You may check the speed score of this blog WPGlossy, and hence you could understand that we are doing well in making the site super fast.

The experienced WordPress user should do coding tweaks like combining the stylesheets & images and the .htaccess file optimization. You may leave this job to us!
Just send your site speed requirements to our email – [email protected], and we will get back to you as soon as possible. We are sure that we could do the WordPress Speed Optimization service at the cost you could afford.
You may now get on the list! 
1. WP Buffs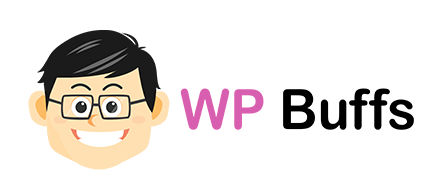 WP Buffs is one of the most reliable companies that manages and maintains websites on WordPress.
They are professionally submerged in handling unlimited edits and performance enhancements, daily website maintenance, and regular security troubleshooting.
The Buffs Team has the Bufftastic spirit worldwide, which means 24×7 support for your website grievances and changes in the website decisions.
They also organize timely WordCamps where you can interact and engage with the Team and learn many techniques for yourself.
The features of WP Buffs include:
Free access to Premium Plug-ins like WP Rocket and WP Smush Pro.

Usage of lossless compression to optimize images.

Minify JavaScript and Inline Critical CSS and make the necessary changes to optimize speed.

Move render blocking resources to codes which won't affect the site loading time.

Maintain and Make a Leverage Browser Caching.

Enable Gzip compression.

Optimize Mobile Experience.

Continuous 24/7 monitoring of the website.

Transparent reports and timely notifications on the changes made on your website.
Pricing Plans
WP Buffs caters to its customers via two main kinds of WordPress speed Optimization service plans on a yearly subscription basis. They include:
Perform Plan Pro ($ 120/month. Billed yearly) – It focuses on websites dealing with eCommerce, Membership, Multilingual, Staging, and Advanced functionality. From this plan, you will get a weekly page speed optimization service. 
Perform Plan ($ 80/month. Billed yearly) – This plan focuses more on your website's speed and security. Yes, you will get DAILY speed optimization service for your website. You also get $1000 worth of premium plugins free of cost as a part of the service.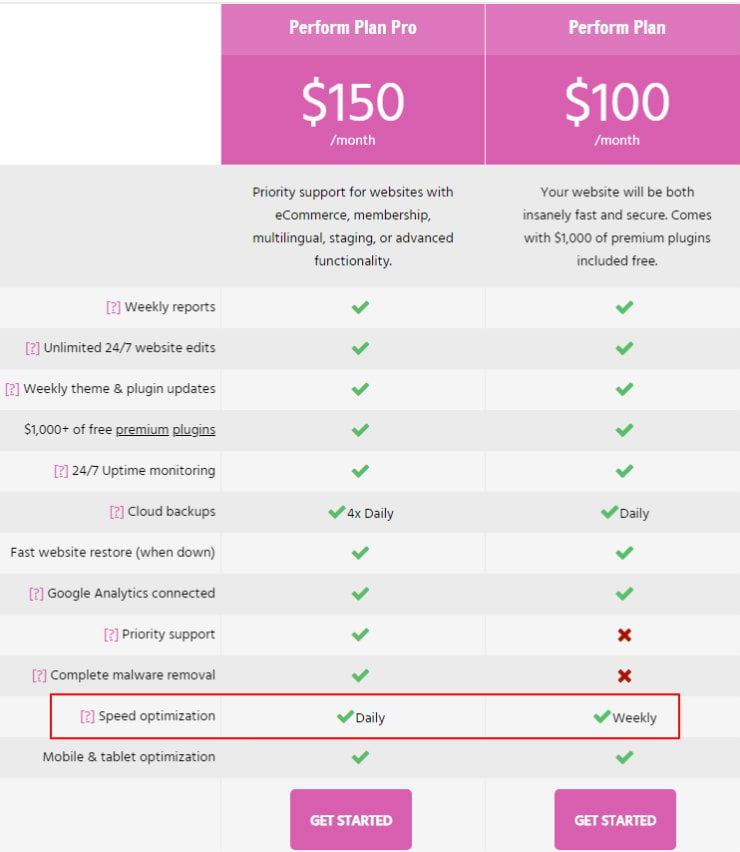 They also have a few monthly plans that include:
Custom Plan at $300/month for websites with custom code.
Custom Plan Pro at $400/month for custom sites with advanced functionality.
Retainer Development Plan at $999/month for larger projects.
You can use the WP Buffs Promo Code – WPGLOSSY10 to get a 10% discount on any pricing plan. 
2. WP Speed Fix

WP Speed Fix mainly focuses on optimizing the site loading time for your website. They also run a WP speed optimization course and WordPress Speed Optimizing Consultation for your website.
You can also have a free website speed audit on their official website. They also have a specialization in WordPress Hosting services.
The features of WP Speed Fix include:
Speed Fix services to help you fix the site loading problems.

Assistance offered and problems are solved in 48 hours in most of the cases.

WordPress Optimization course offers the same techniques used by WP Speed Fix techies which your company members can learn and incorporate further in the future.

Page and Browser are caching and tuning.

Database optimization and necessary clean up.

Image Optimization and compression as per needs.

404 and Bad Request Review and Repair.

Guaranteed Money Return if they are unable to fix the website.

Deep root analysis and quick problem-solving.
Pricing Plans
They have two customer plans which they are offering currently:
Standard ($179) – It includes the fixes offered to standard websites. They usually target to get the speed optimization to less than 3 seconds and under 1-1.5 seconds for high-quality hosting sites.
Business ($249) – This section focuses on businesses and fixes the speed optimization to less than 1 second. It also includes migration to Vultr VPS Host.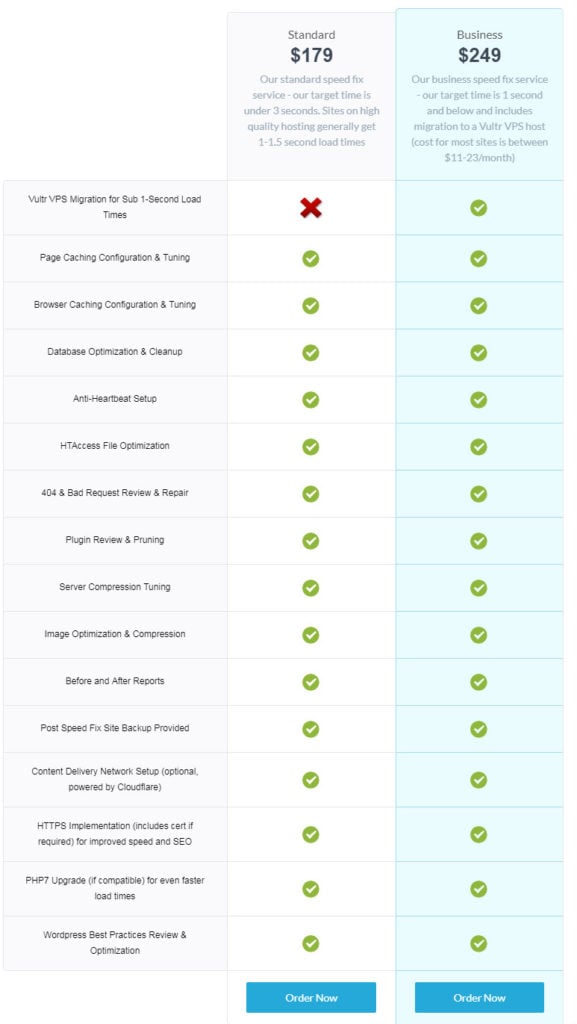 3. WpFASTER

WpFASTER not only focuses on website speed performance optimization of your website but an aesthetically pleasing website that will have great speed as well.
Keeping in mind the algorithms to rank higher and appear in the top search results of Google, they strive to increase the site speed loading time and help you achieve your goals.
They mainly pay attention to the user-centric performance metrics, which is approved by Google itself to rank higher on the search engine result page.
The SERPs aren't a concern anymore. They use more than 37 techniques to improve your WordPress Speed Optimization.
The features of WpFASTER include:
Fixing of landing page redirection.

Optimize or Upgrade PHP as per requirement.

Implement full page, image, memory, object, OpCode, and fragment caching.

Minify and Optimize CSS.

Reduce the server response time to the minimum.

Minify HTML and JavaScript.

Maintain a consistent URL and source.

Take care of website safety.

Assistance in moving your website to a better hosting provider.

Specify cache validator and character sets.

Timely reports and transparent services.
Pricing Plans
They offer two WordPress speed up service plans which customers can opt for as per their needs and budget. They include:
Complete Optimization Service – This is the main and flagship service they offer to their clients and prospects. They incorporate self-performing and self-maintaining robust techniques that improve your website timely and work smoothly on any device.
Economy – If you're someone who has a tight budget and still can't compromise on the site loading speed to increase your output; this plan is best suited for you. They will fix the primary issues on your website, resulting

in a big boost.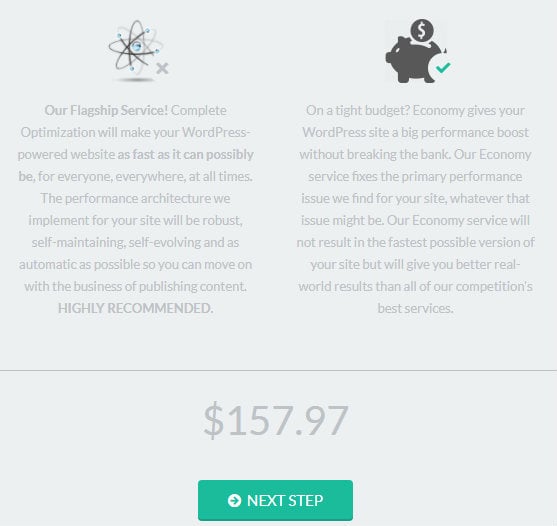 4. WP Speed Guru
Speed Guru caters to clients from around the globe and has just the right basics to optimize your WordPress site speed which will prevent Google from scowling at you.
The company is specialized in offering website speed optimization services specifically for WordPress website owners. You can even do the optimization on your own under the guidance provided by WP Speed Guru over Skype.
The features of WP Speed Guru include:
Experienced advice over the website speed performance optimization.

Free secret videos on the website that will help you improve your skills in speed optimization.

Fast and secure service.

Focuses on self-optimization so that you learn while you earn.

Methods used are based on research and experience.
Pricing Plans
WP Speed Guru offers three kinds of plans: Skype-based, where you can learn from Speed Guru himself. The plans include:
The Speedworks ($199) – You get a free website audit report along with the Speed Guru himself working on your site to fix the errors and optimize your site. It mainly focuses on smaller to medium-sized sites.
The DIY Speedworks($299) – If you're eager to learn the techniques for yourself, Speed Guru will teach and guide you on how to optimize your site over a Skype phone call.
Speed Works Consult ($149) – With Speed Guru, you will test and optimize your website over a Skype phone call using Free tools.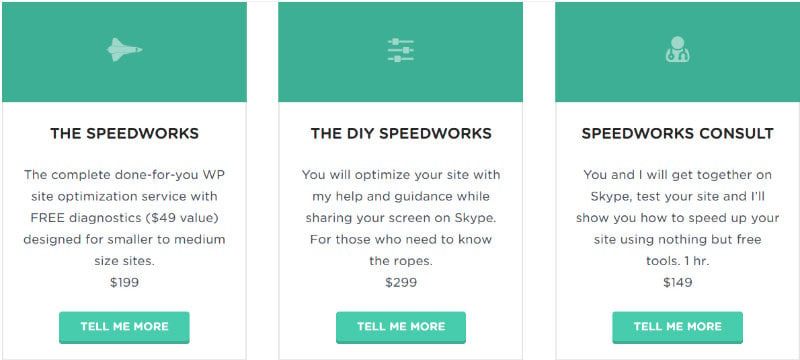 5. WPLOOK THEMES

WPLook Themes has a group of dedicated people to give better solutions for WordPress users.
Even though it is a WordPress design company, it offers WordPress speed optimization plans which can help you improve your page speed to up to 90% and helps you rank higher on the search engine results page.
The company claims that you could get a drastic reduction in the bounce rate and better user engagement & conversions.
So, you may try their speed solution and fix your slow WordPress site loading issue. As their mission is to satisfy the clients, you can expect better results from them. 
The features of WordPress Speed Optimization include:
Image & Database optimization

Image lazy loading

Javascript & CSS minification

Mobile Optimization

CDN & Report facility for premium plans
Pricing Plans
There are three WordPress speed service plans which you can start by adding any one of the best suited to the cart. They include:
Boost ($199) – Boost includes the primary fixture of your website and then optimizes the site loading speed.
Turbo ($499) – It also includes mobile optimization and SSL certificate along with the primary services.
TurboBoost ($999) – TurboBoost is the complete optimization package that also includes timely reports and CDN services along with the full optimization of your website.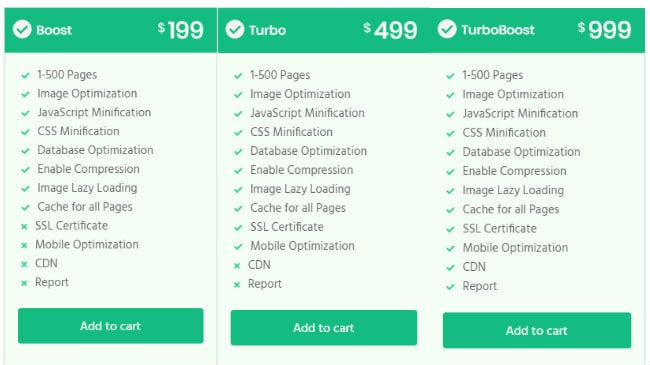 Why Should You Work On WordPress Site Speed?
"WordPress Speed is the trending and technical SEO"
Yes!
I approached the industry expert and asked: "Why is it important To Make WordPress Fast?"
And check his valuable reply!
Brian Jackson from Kinsta
WordPress performance is a lot more important than people realize. Speed impacts everything from your SEO, conversion rate, bounce rate, time on page, and the overall user experience as a whole.
Google has moved to its mobile-first indexing and announced that speed is now a landing page factor for both Google Search and Ads!
Every website owner should be investing in some form of performance optimization. The ROI is there!
Bloggers and digital marketers are working hard to rank higher on the results page of search engines. 
If you too fall under this category, then you should understand that the "USER EXPERIENCE" matters a lot in driving the organic traffic to your website.
One of the things that are responsible for a higher number of bounce rates includes the 'Loading Time' of your website.
Yes, you heard that right!
In the long run, website loading time affects your website's overall performance.
Imagine that your friend just told you about a new food joint which has opened around the corner. You're excited to order food or even visit that place to try out the meal. The first thing as a basic instinct will make you visit the website of the place.
But if the website keeps on loading for more than 40 seconds straight, there are 80% chances that you will opt out and press the cancel button of the search bar.
The advantages of having a faster loading website include:
The better and faster your website loads, the lower is the bounce rate of your website.

The faster your website and its pages load, the easier it gets for Google's Spiders to crawl and index your pages.

Faster websites can make more conversions and get better ranking on search result pages.

As you can impress the readers with a fast loading site, building a brand awareness would be an easy task. 

It gives you an upper hand from your competitors.
It is a matter of the fact that your site requires constant monitoring so that your page speed is not affected by any unwanted glitches and technical errors.
I believe you understand the importance of making your site fast for your readers and search spiders.
Who Should Get The Website Speed Up Service?
I have written an in-depth guide for WordPress Speed Optimization with all the essential tasks to be accomplished. However, if you are a
Non-tech savvy WordPress user who don't have sufficient knowledge about coding and hesitating to add or edit the codes to improve the website speed
Busy businessman or Blogger who could not invest quality time in optimizing the website for more speed
The webmaster who owns several WordPress sites and hence looking for the reliable service to tweak their speed performance on-the-go.
So, when you feel difficult to make your websites or blogs lightning fast, then don't wait to reach out and get the right resource from the list that I have given in this article. 
Wrapping Up – Which Is The Best Speed Optimization Service For WordPress In 2022? 
Website Speed optimization is much more important than you think as it affects your customer engagement and sales of your website.
Moreover, if you want higher SEO rankings, you have to satisfy Google and other search engines with a lightning-fast loading site. 
I recommend you not to neglect the WordPress speed issue because the site loading speed shows your dedication and professionalism, which are the primary aspects of attracting more clients. 
The above-given list will surely help you improve the speed performance of your WordPress website, thereby increasing your authority and sales. 
However, among the five best WordPress speed optimization services, I highly recommend you to buy the speed service from WP Buffs as they offer quality services that have resulted in a vast and satisfied client base all over the world.
WP Buffs offers a lot more than they charge and moreover you have a successful proposal from my side as well. So, use the opportunity and Grab it Now!