Are you searching for the best WPAstra alternatives to make an eye-catching website that loads super fast? You are in the right place to pick the best theme for WordPress that would let you build an engaging business site for your customers.
WPAstra is one of the best and most lightweight WordPress themes made for page builders that has no Jquery code that increases your page speed a lot. It provides seamless integration of Elementor and beaver builder for custom page building.
Besides, the WPAstra Pro version has 18+ modules for complete customization with the header, footer, and blog layouts. It has better typography with global color control with Gutenberg integration for post styling. Moreover, it offers 180+ starter templates with WooCommerce and Learndash integrations.
Even with immense features and several customization options, it has some downsides that make us think WPAstra alternatives. We are using the premium version of Astra for our primary blog, MyMagicFundas since it is an SEO-friendly WordPress template, and hence I can easily let you know its limitations.
Downsides Of WPAstra Theme
WPAstra has limited features in its free version, and we need a pro-version upgrade to use necessary features like Header layout customization.
The lifetime license is very expensive in WPastra to access all the features.
The customization of the header section needs many modules to support; even with Gutenberg editor archives and post page customization options are limited.
A 10% discount on the renewal makes us purchase a lifetime license is better.
If we are a beginner to WordPress, WPastra offers many tools and modules to customize layouts and features integration. So we need time to learn through its video tutorials before we implement it.
These downsides might make you choose the best one as the alternative from the below list.
Top 10 WordPress Themes I recommend as alternatives to wPAstra
The best alternatives should satisfy many of its features with reasonable prices and ease of use for beginners. The layout customization options should be drag and drop with typography settings.
The theme features should have inbuilt options instead of integration. Here I have the best WPAstra alternatives list for you!
1. Divi Theme ($25 Discount)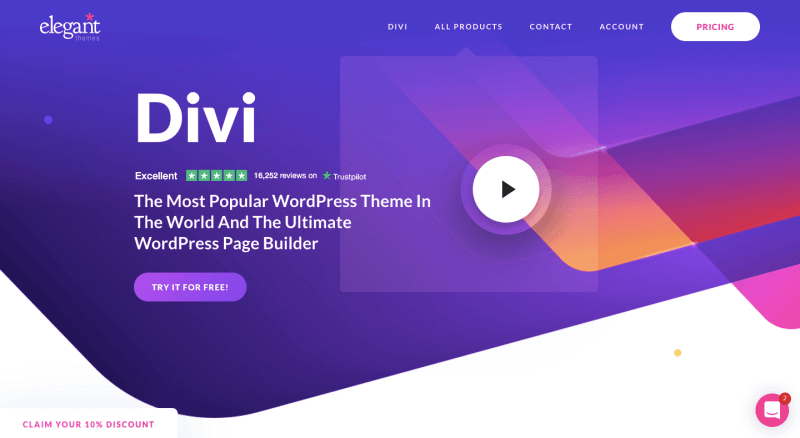 Divi theme is the best alternative to WPAatra with visual page building options. It provides an awesome WordPress theme with four additional components for freelancers, businesses, and eCommerce websites. This super SEO-friendly theme for WordPress includes Divi builder for template customization, Extra magazine theme for online publications, bloom for email optin, and a Monarch plugin for social media engagement.
With more than 200 layout packs, Divi is an extraordinary theme for building online stores, businesses, restaurants, and non-profit websites with eCommerce integration tools. We can promote a business using its fantastic features like lead generation, split testing, and social media integration. You may also check the split test analytics with eCommerce sales as well.
Divi Theme Features
The design uses drag-and-drop modules with visual page builders. It provides complete colour control and typography with responsive editing in Divi Builder.
The web page shape divider, the design control, and effects are similar to Photoshop and sketch. The filters and effects like shadows, animation, and gradients are available for the layout design.
Divi gives a good page speed score in Google page insights because of having codes with no bloat in PHP, critical CSS detection, and removal of render-blocking using the speed boost option. 
It gives complete customization control over page layouts such as archive pages, store pages and eCommerce pages with modules, and we can transfer the design to different website places.
Divi provides better marketing and conversion insights within the WordPress dashboard.
You will get a $25 Divi Discount offer while going with the lifetime pricing option and a 20% price reduction for an annual subscription
Why should you get Divi instead of Astra Theme?
Divi theme contains a Visual Page builder with complete design control and in-depth customization options to make any website design. It has Woobuilder to create online stores with the necessary functional modules. You can also do a social promotion with performance insights. All these qualities make it the best WPAstra alternative.
2. GeneratePress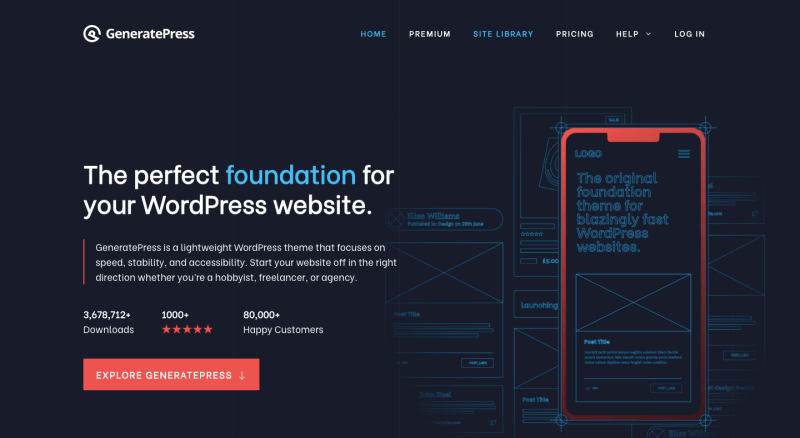 GeneratePress is a lightweight theme designed to achieve speed, stability, and better accessibility by its block-based design. This amazing resource is a free open-source theme for freelancers and agencies to build elegant designs for their clients.
The premium version of GeneratePress has more design and customization control for typography and styling. The block-based design used an advanced hook system to place objects anywhere in the layout. It provides more flexibility and control in WooCommerce store creation with slide-out and overlay off-canvas panel.
Qualities of GeneratePress Theme
This superfast theme uses a dynamic block-based theme builder to design and customize every element.
The site library is available to choose the right design for our website, reducing tremendous time spent on design.
The block element is available from post meta to author box, Site menu to footer, single page to custom 404 page, and custom postcards for everything.
You can use a single license for more than 500 websites with unique designs.
Its technical support is so quick and the experts will solve any queries.
How is GeneratePress superior to WPAstra?
The dynamic block-based design provides complete control over any part of a web page with unique design and customization. It uses 2 HTTP requests with zero dependencies to make high page speed performance. These are valid reasons to get GeneratePress over the Astra theme.  
3. Neve Theme
Neve theme is one of the best WPAstra alternatives for fast-loading sites with a mobile-first design approach. Even its free version has accelerated mobile page compatibility. Having starter site bundles for different page builders like Gutenberg, breezy, Elementor, and beaver builder is the highlight of this feather-light theme. You must check Neve pro vs free to understand the theme qualities.
Moreover, it has Divi Pro, Thrive architect pro, and WooCommerce integrations for online store template design with customization options. Neve is undoubtedly light-in-weight, and its straightforward design approaches are helpful for long-standing business. I admire the quality of its unique feature, the Elementor booster for customization in the footer, header, and layout builders.
Neve Theme Highlights
Neve comes up with clean SEO source code architecture with Whitelabel licenses for developers to build awesome websites.
It uses popular caching, magnification of images, and Javascript for better page speed in google insights.
Neve provides expert tech support with a one-minute setup, one-click update, and video tutorials. 
The live customizer has color palettes and seven elements: content switcher, review box, particles, and animations.
Custom layout design uses hooks & filters with the header, footer, and layout builders with multiple components for design.
Neve gives a single license for unlimited websites with a WooCommerce booster for online stores.
Why Get Neve Theme than Astra?
Neve theme provides a mobile-first approach for layout design and speed performance. It contains 20+ header components with cart options in the header for WooCprebuiltoperations. These things made the Neve theme better than WPAstra.
4. Avada Theme
Avada is designed for professionals to create many projects with form builder options. This best-selling theme is used to build websites, and its lead generation option is well suitable for marketers. It has an innovative workflow for developing and deploying websites for long-term business growth.
Avada uses 80+ prebuilt websites for categories such as WooCommerce, portfolio, marketing, food, and magazine with forum templates. With 91 design elements for layout customization and unique website designs, we are more likely to design and build custom layouts with massive drag & drop of design elements.
Features Of Avada Theme
Avada has a layout section with conditional logic for posts, pages, categories, portfolios and more with custom title bars.
You may use the global layout for the design setup with custom sections. Any design can be achieved using 91 design elements and 20 layout design elements.
Every design element has drag & drop options with typography style settings. It also has global typography and color selections.
This ThemeForest theme uses a live Visual builder for detailed customization.
It has a performance wizard for marketing with lead generation and conversion. Its form builder can be utilized for landing page designs.
Avada is 100% responsive in all mobile gadgets with SEO code architecture.
In What Ways Is Avada Excellent Than WPAstra?
Avada is a fantastic theme for conversion-based websites such as online stores and lead-generation business sites. It gives you a Live visual builder for customization, and form builder & a performance wizard for marketing. Now, you will come to know why I recommend Avada as the excellent WPAstra alternative.
5. Newspaper Theme
Newspaper theme is widely used WPastra alternate for magazine and WooCommerce websites. This marvelous theme has been integrated with social media prebuilt sharing, video sharing, and visual sharing options. This dynamic template from ThemeForest provides powerful lead generation options with opt-in form builder integrations for journalists, marketing agencies, and WooCommerce stores.
Newspapers theme uses an Online store builder in WooCommerce with 20 + drag & drop design elements. These design elements make a unique design to shop pages. Moreover, this design source has huge prebuilt templates for online shops in different categories. tagDiv composer used as front-end page builder for designing the shop, magazine, business, reviews, and news websites.
Brilliant Points Of Newspaper Theme
Newspapers theme has a performance optimizer tool for critical CSS removal and provides optimized page code structure with greater Core Web Vitals.
The modern trendsetting web page design is available in newspaper theme with 120+ pre-built websites.
Exceptional news theme built for mobile and small screens with faster performance.
It includes a cloud library with more than 1300 design elements for website construction.
It also provides awesome support with mobile-friendly design for news and eCommerce websites.
The newspaper theme has Ad Box Widget for monetization using Adsense and banner ads.
Newspaper Theme Vs WPAstra
Newspaper theme is a great alternative to WPAstra theme for building News, eCommerce, and marketing websites. It includes a performance optimizer, composer for front page building, and many design elements for eshop creation. This vibrant theme is a perfectly optimized mobile-friendly theme for news websites.
6. Betheme
Betheme is one of the ideal WPAstra alternatives for WooCommerce with Elementor integration. This popular theme uses a website builder for customization with 600+ prebuilt websites for easy design imports. It has WPRocket integration for the speed performance of the website. Besides, it incorporates Woobuilder for online store design and gives several muffin layout options for archive & product pages.
The single product and shop pages can be designed with 3 or 4-column grid options. The product image arrangement and its cart setup have been made using Woobuilder. Dropdowprebuiltages are used to find our orders, and downloads from the customer's perspective. Eye-catching carts and product catalogs for product display with off-canvas sidebar settings are used in Betheme WooCommerce.
Betheme Theme Positives
The Betheme live builder is used for drag-drop design and customization of websites without prior coding experience.
The real-time customization has been done with mobile, desktop, and gadget view options. It holds 100s of video tutorials for customization of Betheme.
The muffin builder is used for global customization settings like logos, buttons, and sliders.
The social add-on, font typography, and Custom CSS and Js options are available for the design.
Live search, child theme, single page import, megamenu, sidebar widgets, and video background effects are available in Betheme.
The responsive theme with code highlighter and shortcode manager options available for design.
Valid Reasons To Buy BeTheme
BeTheme is an exciting WooCommerce theme with a live builder, Muffin builder, and muffin options available for theme customization. It keeps back 600+ pre-built websites with easy-to-import options. Muffin options provide design control, responsive control, global option control, mirror control, Addon 7 plugin control, and advanced backup restore options.
7. Ocean WP Theme
OceanWP is a free WordPress theme with premium features with full customized settings to build a website without having any coding knowledge. It uses global fonts with seven customizable sections to create eye-catching websites. It provides a lead generation process setup with four title page styles.
This fantastic theme provides single post page customization with nine block elements along with different layout customization options. Besides, it provides Woocomerce integration with shop page customization and single product display and cart setup. To offer an enhanced SEO performance, OceanWP uses Schema mark-up and breadcrumb with responsive design.
Ocean WP Theme Qualities
The header section customization is available with 3 different mobile menus. Multiple logos and social options in both header and menu are available.
The blog, archive and home page layout customization are done with post meta and post box attributes.
The blog page has an excerpt, pagination with typography setup, and visibility control in footer copyrights is available in OceanWP.
The lead pages customization with four titles, breadcrumbs, colour and typography setup are also available.
In WooCommerce, it utilizes product styling, an off-canvas filter, and multi-step checkout options with conditional layout settings. 
Upsell options with floating bars and product tab style are also present with mini checkout options.
How Can Ocean WP Replace Astra Theme?
OceanWP is a brilliant WPAstra alternative to construct online shop websites. It utilizes multiple options in the product prebuilt setup; Individual product pages have a tabbed slider with different checkout options. The breadcrumb and Schema mark-up highlights the product in WooCommerce websites. 
8. Soledad Theme
Soledad is well-suitable to make news, magazine, and multi-purpose websites with accelerated mobile web pages (AMP) support. This great theme is fully compatible with BBpress and BuddyPress forum integration in news websites. Soledad has 700+ Penci blocks (combining the blocks), templates, and prebuilt website designs with easy import options.
It is a fully customizable theme for news websites with eCommerce store integration as well. We can easily combine blocks and templates to create awesome pages in website design. It contains full SEO compatibility with Core web vitals using a built-in optimizer tool and cache plugin setup. You will also get multiple slider options for content display.
Great Features of Soledad Theme
Soledad has a simple configuration with WordPress customizer using elementor and WPBackery page builders.
40+ design elements are present with fully customizable layouts and styles.
It utilizes different post display styles, including all posts by one click, parallax images, Video style support, and 35+ slider options.
It offers many slider elements from the elementor. We can customize the master slider layer slider with fonts, sizes, and colors.
Many layouts are available for food recipes and portfolios with 1000+ customization options with fonts and typography.
Built-in JSON-LD support with Yoast, rank math, and all-in-one SEO options are fully optimized for high-traffic sites.
Why Is Soledad Preferable To WPAstra Theme?
Soledad is an amazing customizable theme for WordPress with different types of post displays with 35+ slider options. It is a well SEO optimized eCommerce theme for unique product display in online stores. Fully responsive quality, AMP support, Penci Blocks, Custom sliders, Facebook instant article support, and Superfast professional support are the superior features of the Soledad theme when compared to the WPAstra theme.
9. Blocksy Theme
Blocksy is an innovative WordPress theme with faster page loading options that use the latest web technologies for speed improvements. It is the perfect WPAstra alternative for great speed performance and AMP support. As it comes up with fully customizable header, footer, and blog layouts with woo-commerce support, I recommend this new player to design your business sites.
React, Webpack, Babel, PHP, and ECMA script 7 to execute and load complex scripts. Both free and premium versions are available here, with enhanced customization options for menu, fonts, sidebar, and custom code snippets. Offering multiple ready-to-import starter sites is the remarkable feature of the Blocksy theme.
Blocksy Theme Advantages
The blocksy used an advanced hook system for custom template creation with its pro elements and header builder.
It used adobe, google font, and custom fonts with white label licenses to design unique websites.
Blocksy uses content blocks with drag & drop pro elements for layout customization.
A floating cart, off-canvas filter, gallery slider, product wishlist, and product quick view options are available in Blocksy WooCommerce.
The clean architecture of source code and code splitting provides faster page loading in many insights.
Why Your Choice Should Be Blocksy Theme?
Blocksy uses code splitting and custom snippets with a fully responsive design. It also uses blocks-based content display that improves the page speed even with WooCommerce websites. So it is the top WPAstra WooCommerce alternative.
10. JNEWS Theme
JNEWS theme perfectly matches for News and magazine theme with better speed performance. It is the right WPAstra replacement theme for media publishing websites with Video, Podcast, PayWall, and Paywriter tools. Jews theme fully customizes frontend page design with Post modules, hero features, Elements, and Speed performances.
This crisply-made theme has a header & footer builder, Maga menu builder, single page, and category page features to achieve any design in news and media publishing websites. The latest updates, carousel, slider, and side-feed sections can be customized in magazine websites using the drag-and-drop elements options.
Exciting Features of JNEWS Theme
JNEWS theme uses 74 elements for home page, single page, and category pages to customize using Post Modules, Hero Block, Slider, Carousel, and misc modules like video playlist, links, and news ticker.
Header filter, content filtering using tags, categories, and author are done by ajax loading.
Pagination and appearances make a great display of content on the post pages.
15+ hero styles are used to display news websites on desktops, tablets, and smartphones with customization of fonts and typography.
The better speed in news websites is achieved by codebase preload, lazy loading images, script loading techniques, and removal of unused classes.
Contains a page builder with a live-style editor.
Frontend post submission and social sharing features are also available in the JNEWS theme.
How JNEWS Replaces WPAstra Theme?
JNEWS is the better news and media publishing theme with a live-style editor. It uses video, podcast, Paywritter tools for media publishing. In addition, it comprises of massive customization elements for content display and arrangement in news websites with good page loading time in many insights. It makes Jews theme better than WPAstra when it comes to online media publishing.
Conclusion – Which Are Best WPAstra Alternatives?
Designing innovative WordPress sites with several themes is a marvelous thing I would love to do in my web-based profession. Yes, playing with the theme customization settings is always thrilling, and I mostly end the site design process satisfactorily. Glad I'm getting great opportunities to buy popular WordPress themes for my blogs and use them well to make good sites.
Coming to the point, I would recommend Divi and GeneratePress as the best WPAstra alternatives because of their fantastic features and design control for the users. Moreover, they focus on the recent speed trends; hence, they will never slow down your site at any cost. And my following recommendations are a Neve theme to build your site from scratch, and you may get the Avada theme to construct a dynamic website with sliders and videos.