Divi Vs GeneratePress, which is the best theme to build WordPress business sites or blogs?
This question is most common among digital entrepreneurs like bloggers, online marketers, and eCommerce businesses because both are super performers.
And yes, it's really tough to choose between the best!
Well! I have always wanted to produce innovative website designs for all my clients through recent best practices.
Also, I would like to customize the site with eye-catching design elements with user experience in mind.
Hence, I'm getting the opportunity to play well along with the design options of the WordPress themes that are trending in the web industry.
As I'm using Divi and GeneratePress for my blogs and clients' sites, I can compare these well-known theme layouts better to help you pick the ideal one for your requirements.
Let's begin the war Divi Vs GeneratePress through a tabular column.
| | | |
| --- | --- | --- |
| | | |
| | | |
| | User Friendly theme, But You Need To Invest Time To Understand The Features | Features Are Limited; Settings Are Easily Understandable |
| | Advance Front End Visual Page Builder Technology | Simple Backend Section; Tiny Page Builder |
| | Full Design Control with Divi Visual Page Builder. | Full Control With WordPress Front End Customizer |
| | 800+ Ready Made Designs, Can Be Used Instantly! | 40+ Pre made Site Library |
| Premium Modules & Elements | | |
| | Build Your Stunning Store With Woobuilder | Compatible with woocommerce, Add color, typography and layout options to your online store |
| | Completely Optimized for Page Speed. | Light weight theme! Fully optimized for page speed |
| | Monarch Social Share Plugin To Boost Your Social Presence. | No Social Media plugin Supported! You Have To Install A 3rd Party Plugin |
| | Bloom Popup Builder Available To Increase The Conversions | Such features Are Unavailable, You Need To Rely On 3rd Party Plugins. |
| | Fully SEO Optimized with SCHEMA | Schema Integrated, Fast Loading, Lightweight Theme |
| | | |
| | Live Chat Support Available. In-depth Documentation With Video For Every Setting Option | Support Forum Is Available. Documentation & Video Tutorials Are Good & Enough |
| | More Than 100+ Features Available Like Split Testing, Visualize Color Control, Shape Dividers, Etc. | Features Are Limited! However, Compatible With Page Builders Like Elementor & Beaver Builder |
| | | |
| | | |
| | | |
GeneratePress Vs Divi – A Quick Comparison
From the above comparison, you could conclude that the GeneratePress is simple and lightweight with essential features; however, Divi is suitable to produce high-quality professional sites for businesses.
Here is my quick suggestion for you!
I Recommend Divi Than GeneratePress
Check the following reasons and understand why am I recommending Divi WordPress theme than GeneratePress
It is more likely to develop a professional business site with a unique look.
You will get entire design control to personalize the site for business branding.
You can boost the conversion through Popups and social media sharing.
800 + Ready-made templates are available; just pick the ideal one and start designing.
Drag and drop builder integrated to construct a website from scratch.
You would get the lifetime access and avoid renewing every year
It supports several plugins with which you could build a unique site for brand awareness.
I Recommend GeneratePress Than Divi
Have a look at the valid reasons for buying the GeneratePress theme!
It's a lightweight coded theme for faster user experience and high Google rankings.
Easy to use with page builders like Elementor to establish stunning business sites.
The price is highly affordable and suitable for beginners.
You can install the free version to test the features and then upgrade to premium.
Even the free templates are of high quality that are well-coded.
Divi Vs GeneratePress – Who Is the Real Winner?
Now, let's compare both WordPress themes in a detailed manner!
1. Ease Of Use – Which WordPress Theme Has Simple Interface?
How easy is it to use the theme? – It's essential that it saves a lot of time! Let me tell you about the working interface of Divi and GeneratePress.
Divi
Divi has been created by a team of WordPress developers with a high user experience in mind. So, you don't need to worry about its settings and customization preferences.
You are getting a new functionality and total freedom to design your website; however, you have to get into the learning curve as it is somewhat different from the default WordPress builder.
If you want to get most of it, you must first familiarize yourself with the new interface. Shape your mind to play the fresh features, and yes, detailed documentation has been provided to implement everything from scratch.
The user interface of Divi may frighten beginners, but you could get help from the support team to get outstanding design results.
The primary advantage of this advanced theme is a live preview customizer with which you can exactly see what you are doing and Undo the settings if there is any mess.
GeneratePress
The free version of GeneratePress is available in the WordPress theme repository. You need to install the theme and start using it.
Its settings are simple and easy to understand. It can be used without issues because it is a 100% Gutenberg compatible theme.
GeneratePress Pro version is available in the plugin format, and it is also comfortable to use as it has simplified settings in "Modules" format.
After installing the premium plugin, go to WordPress Dashboard > Appearance > GeneratePress to pick the modules you want and start customizing them.
This lightweight theme is suitable for non-coders and developers who can insert the CSS or HTML codes at a specific location with the "Hooks" feature.
Winner – GeneratePress
Reason – I have clearly mentioned that the GeneratePress theme has straightforward settings, and even a newbie can play well with the features and create an eye-catching website. The Divi theme settings are also uncomplicated; however, be ready to get into the new world and implement what you will learn.
2. Drag & Drop Builder
The drag & drop builder lets you create and customize eye-catching websites so that you may avoid hiring a professional designer. In this battle GeneratePress Vs Divi, let's see which page builder possesses more features to build the site from scratch.
Divi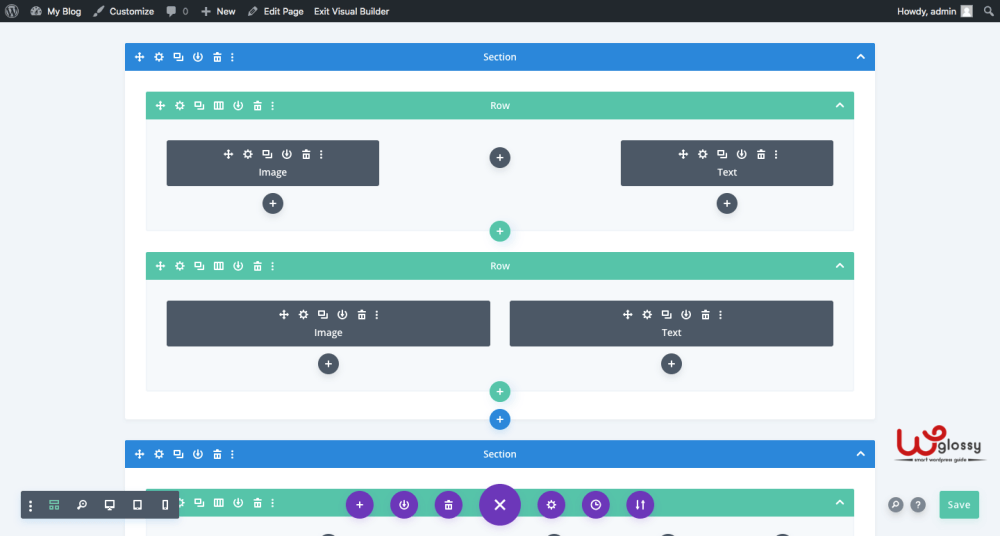 Divi has its drag & drop builder. It's more than just a WordPress theme! This innovative tool replaces the regular WordPress editor with a superior visual editor. Therefore, it gives you the ability to make stunning designs with excellent efficiency.

There are no confusing back-end options and no coding knowledge required to construct the website from scratch. Just you need to Add & Move the elements on the front end of your site.
GeneratePress
Unlike Divi, GeneratePress has a tiny page builder at the backend! Yes, if you desire to get an uncomplicated drag & drop visual editor, then the GP theme is a perfect choice.
After activating the GeneratePress premium, you will be able to see the option "Sections" on the right-side settings of the Posts and Pages in WordPress editor.
Just enable the "Use Sections" option and get the drag & drop functionality to the GeneratePress interface.
You can add as many sections you want and then add the content like Text, Media, and Links with the background & colors.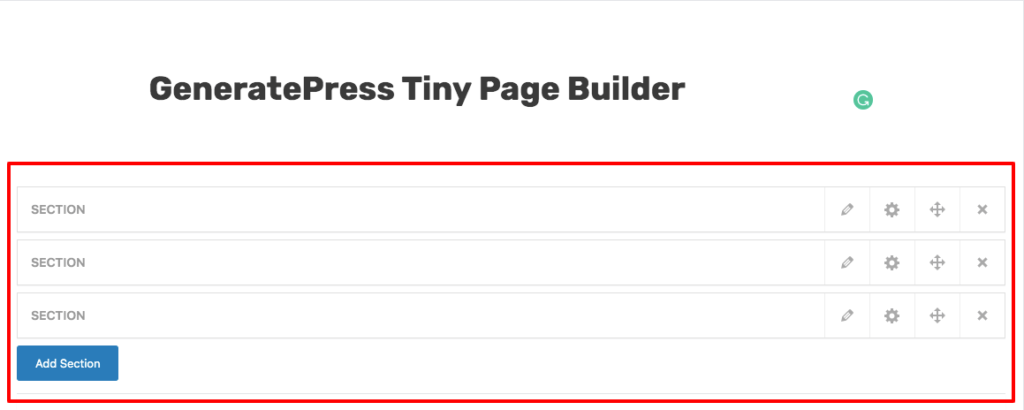 Click the "Edit" option (pencil icon) and get the settings options to enter the details. Look at the below image for a better understanding.
Here are the GenenerePress builder settings options for your view. They are simple and easy to customize!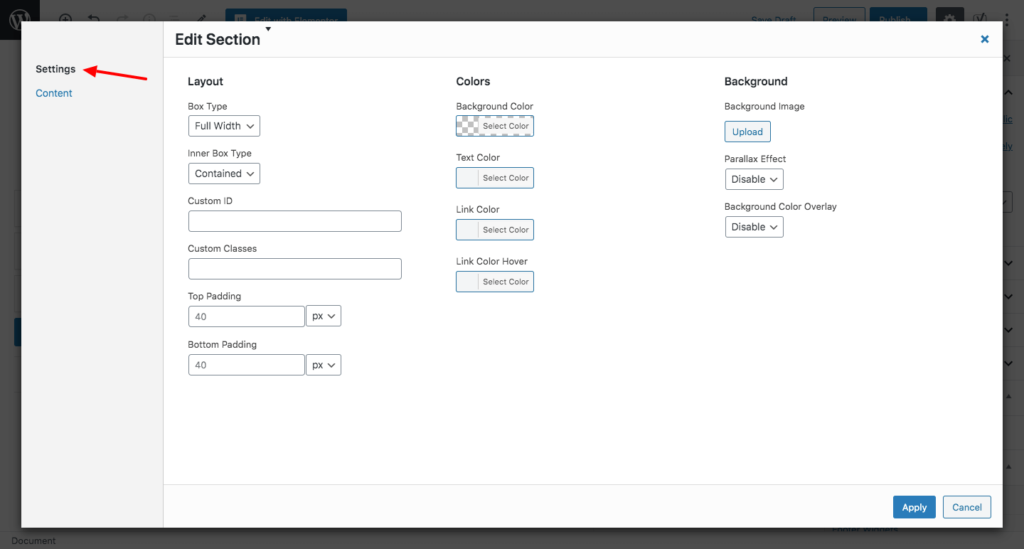 Choose the layout type and do other customizations in the Sections module of GeneratePress theme and beautifully organize them,
Winner-Divi
Reason – The drag & drop builder of Divi has several options that nudge you to customize your building experience. Here, you will not get locked down into particular UI conventions; instead, obtain the freeness to build the site as you like.
3. Design Options – Which Theme Has Stunning design Controls?
While buying the theme, you should look at their flexible design options, with which it's feasible to offer a great user experience with proper navigation to reduce the bounce rate, which is expected by the search engines for higher rankings. Let's see which WordPress theme offers outstanding design choices.
Divi
The design options of the Divi theme are mind-blowing! To make your site visually appealing, you gain dozens of page elements and thousands of design preferences.
With the intuitive visual controls of the Divi, just design your page in real-time and see the results instantly. Responsive editing can also be done, and check how your site looks on mobile devices.
Besides, you can
Save & Manage your designs for reuse
Undo, Redo & Go through the editing history (If anything went wrong)
Use 800+ pre-made site layouts with loyalty-free photos & icons
Design your site Header, Footer, 404 Page & Product Templates; place and modify logo easily.
Set custom roles and permissions for your team so that they can modify your designs with some restrictions.
Apart from these virtues, Divi has the following design characteristics like
Text Shadows
Animations
Keyboard shortcuts
Settings & Search filter
Countdown Timer
Magic Color Manager
Bulk Editing
Advanced Code Editing
Shape Dividers
Robust Border Editor
And much more!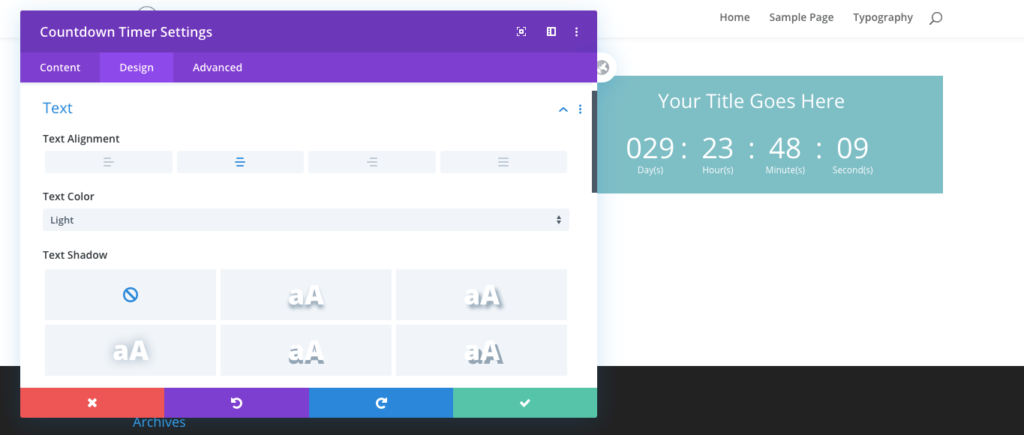 GeneratePress
GeneratePress has decent design options to build a website with a minimal look. These design features are user-friendly and allow you to control your website.
Some exceptional design settings of the GeneratePres are
Layout Control – Create personalized layouts by taking control of padding, margins, and sidebar.
Colors & Typography – Modify the colors and typography with the help of customizer. And the paid version provides you the styling options for every element.
Pre-Made Demos – GeneratePress offers more than 25 pre-built, importable demo sites to begin your business projects. Few of them are compatible with the Elementor page builder and Beaver Builder.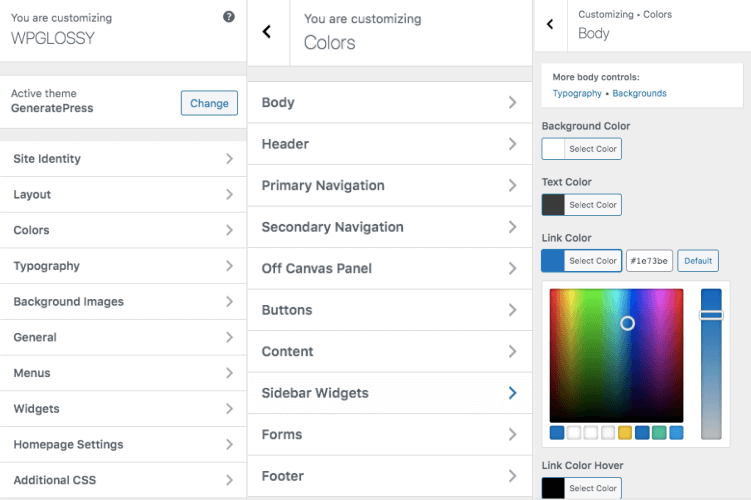 Not only the above-mentioned design qualities but it also has the following settings like
Sticky Navigation
Featured Image Adjustment
Mobile Header
Page & Site Header Merging
Add Icons To Menu
And a few more design properties!
Winner – Divi
Reason – From the above design options contest, it is apparent that the Divi has the module for almost everything, entire customization control, and settings to design with more efficiency. Therefore, the hero of design controls and preferences is Divi.
4. GeneratePress Vs Divi – Speed comparison
The theme loading speed decides your site's success. Hence, getting the fastest WordPress template is compulsory to acquire a place in your readers' hearts and get high search rankings. Now, it's time to reveal the quick loading theme, Divi or GeneratePress?
Divi
From the above-explained features, controls, and design settings, I assume that you have recognized that Divi is somewhat a bulky theme. Yes, I, too, feel that Divi is a bit bloated.
When I was using the Divi theme for my client's sites, I have always suggested getting the WP Rocket plugin and CDN to boost the speed performance.
Even though Divi is optimized for speed, it has heavy shortcodes usage, which is terrible for speed performance. However, the theme and visual builder are getting regular updates for the huge speed performance improvements.
Check the Divi speed when used for our test site!
GeneratePress
GeneratePress is one of the weightless themes! Yes, the team severely took speed performance and made this thin & transparent layout for the dedicated professionals.
The default WordPress install with their theme is less than 30KB, and hence it's easy to guess how sleek the theme is! No doubt, it can make your site load blazing fast.
Moreover, it uses Vanilla Javascript for clean coding, and therefore render-blocking issues will not be present.
Winner – GeneratePress
Reason – If you are looking for the feather-light theme that loads super fast for great user experience and top Google rankings, then GenereatePress is an ideal theme to go. I have clearly explained that it is sleek and optimized for more speed when compared to Divi.
5. Divi Or GeneratePress – Which Is Best For SEO?
The dream of every digital enthusiast is to get visitors from search engines. I hope you too desire the same! Therefore, it's better to buy a theme that is highly SEO-friendly. Divi Vs GeneratePress, which is the most SEO-optimized theme? Let me tell you!
Divi
I often come across the question – Is Divi bad for SEO? And my answer is – Not so!
Divi is optimized for search engines, and you can use an SEO plugin like Yoast with proper configurations to obtain the meta boxes inside the post and page editor.
As it is a heavy program, it's better to optimize your website for speed by using a dedicated hosting and cache plugin. Otherwise, your site would load slow and affects SEO performance.
GeneratePress
The best SEO-friendly WordPress theme is GeneratePress, because
It has the latest coding standard and well-structured.
Javascript and CSS modification files are significantly smaller than other themes.
This theme is fully Schema integrated so that the search engines can easily understand the structure of your site. It can automatically add the schema objects to your content and the elements that you don't want can be removed manually.
Through its unique and clean look, it can offer the best browsing experience for the users and reduce the bounce rate.
Winner – GeneratePress
Reason – Even though the Divi boasts SEO features, you have to do some preparations to make it fast and search engine friendly. This is not the case with GeneratePress. Since this template is specifically optimized for SEO in mind, it will definitely meet your expectations.
6. Woocommerce Support – Who Offers Best Features For eStores?
The eCommerce business is trending because of having several benefits like saving travel time & cost, overcoming geographical limitations, providing product comparisons and detailed information. If you are a WooCommerce business and looking for a fantastic theme to build your online stores, you must check the details of Divi & GeneratePress eCommerce support.
Divi
Products can be sold online with a Divi theme at no additional cost. Yes, Divi is compatible with the Woocommerce plugin available for free. It is more feasible to display unlimited items in your stores for visitors to browse & buy the products easily.
The WooBuilder features are
It offers 9 pre-made demos to build your successful online stores
Product layouts can also be created through Woocommerce modules. Check the modules available. You will enjoy the full design control! Just move the modules and create a unique product page that sells more.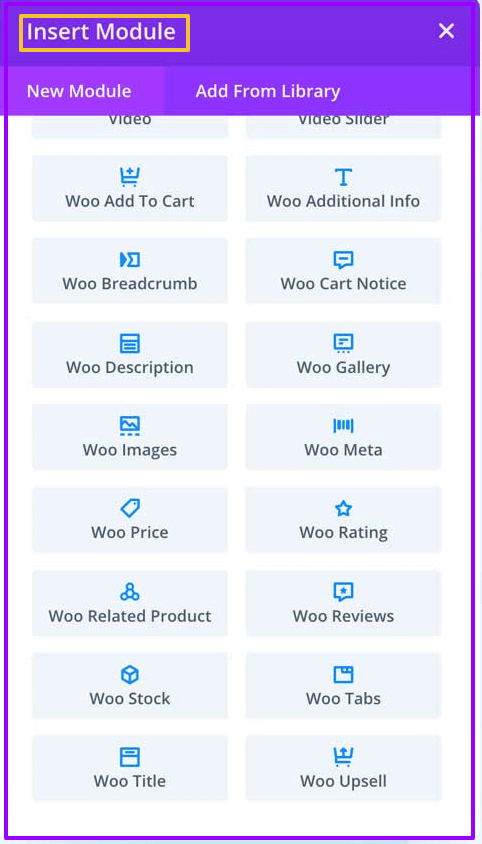 GeneratePress
To get the eCommerce feature in the GeneratePress theme, you need to install and activate the WooCommerce add-on to get the settings to enable in the GP Premium.
Start customizing your online stores after enabling the "Wocommerce" option through Customize > Layout > WooCommerce.
Now, you will get the General, Shop, Single Product, Color & Typography settings for customizing your eStores.
The Woocommerce settings preferences of the GeneratePress theme are detailed, and hence you would make the online stores as per your requirements.
Winner – Divi
Reason – When we compare the WooCommerce features of Divi and GeneratePress, the champion is Divi, since it offers the full design control WooBuilder with which you may showcase unlimited items in an eye-catching way and take your web stores to the next level.
7. Social Media Features
Having social media authority shows your online establishment to your readers & search engines, and as a result, you gain more trust among them. So, which theme makes it easy to promote your social profiles and add the share buttons to the content? Let's see!
Divi
When you get Divi's yearly or lifetime access, use Monarch, the social media sharing plugin, to add the social buttons on your site.
This lightweight extension lets you integrate several types of social networks follow buttons like Floating sidebar, Above or Below content, automatic popups, and fly-ins to your business website.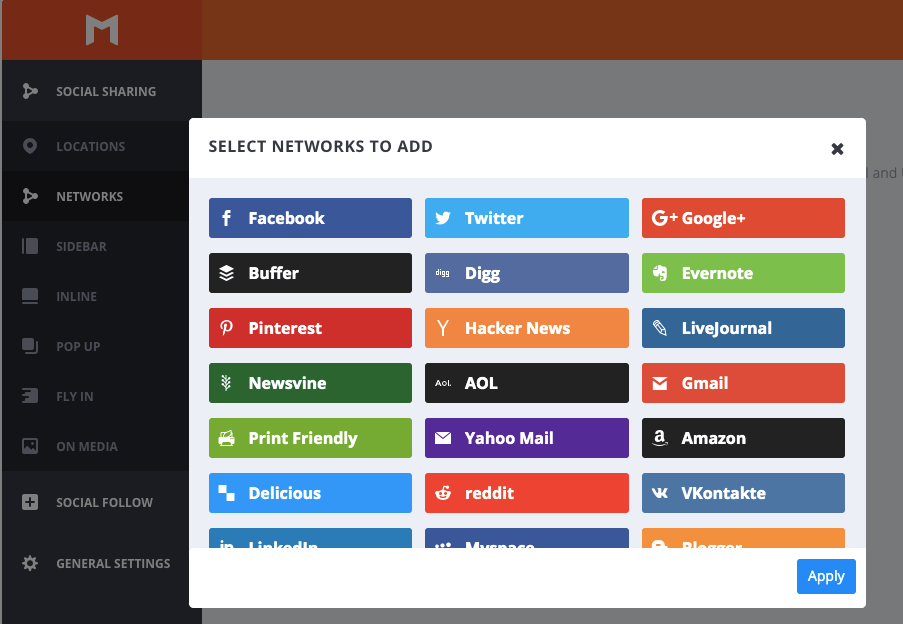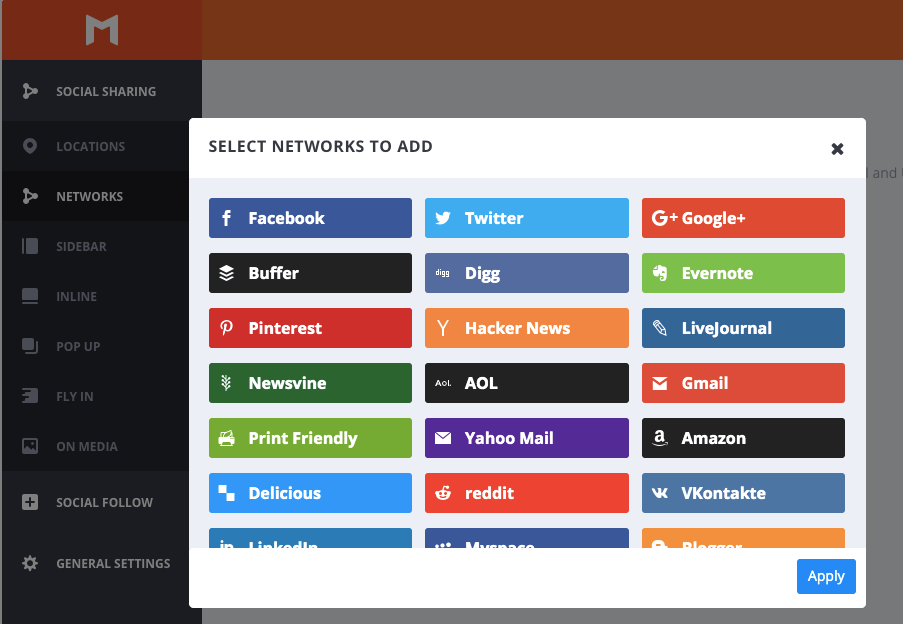 GeneratePress
GeneratePress does not offer any social media support. So, if you are looking for a good social presence, you have to rely on third-party plugins to install the social share & follow buttons.
Winner – Divi
Reason – Divi offers you Monarch social media plugin where you can choose from 30 social networks for integration. This plugin has a clean interface and is highly customizable to display social counts precisely.

8. Customer Support – How Fast & Knowledgeable Are They?
The theme support should have a team of experts to assist you with the right solutions for your concerns quickly. In this Divi Vs GeneratePress comparison, let me have a word about their customer support.
Divi
The technical support of Elegant Themes is really active when it comes to Live Chat. They are knowledgeable as well. You will receive quick assistance from customer support to fix your problems.
You may also ask the community, browse the detailed documentation, or join the Divi Facebook group to discuss your difficulties and find out the solutions for them.
Their community forum is beneficial where I used to take part and get things fixed quickly. Likewise, I don't have any complaints about the support team; they always react fast via the best answers.
GeneratePress
Like Divi, the GeneratePress theme also provides excellent care for the customers in the support forum and a contact form. However, we cannot reach them directly via Live chat. I hope they will include this feature soon for their clients.
The GeneratePress forum is really supportive in solving my queries. While customizing the theme, I may need the CSS codes to implement a specific feature, and hence I used to approach them through Forum.
Tom, the lead developer, is highly helpful in providing such needful and yes, they offer great support.
Winner – Both

9. Pricing – Which Theme Is highly Affordable & Worth for Money?
The money you invest in the theme should be worth it! Buying an expensive theme doesn't mean that you will make a stunning website. It's good to evaluate which theme is worth the money spent and is within your budget. Check the exciting pricing plans of both WordPress templates.
Divi
Divi theme has two types of pricing choices – Yearly & Lifetime. In both options, you will get access to Divi, Extra (Magazine WordPress builder), Bloom (Popup plugin), and Monarch (social media plugin).
If you are a dedicated online business owner or digital marketer, it's better to grab a lifetime deal that is highly profitable. Just pay the one-time fee and receive lifetime updates & support.
When you are not satisfied with the Divi's performance, you may utilize the 30-day money-back guarantee.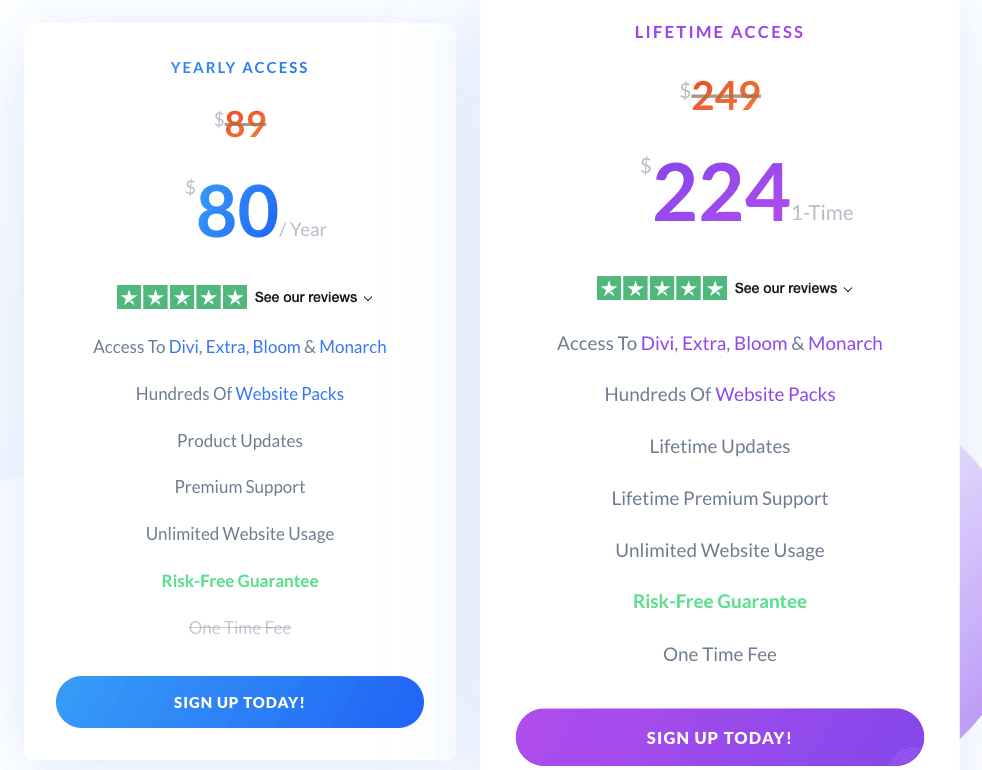 Get a Divi special discount 20 % OFF through the exclusive offer made for us. Yes, you can save $9 for yearly access and $25 for lifetime access. Grab it now!
GeneratePress
The pricing plan of GeneratePress is simple. When you would like to upgrade to their premium version, pay a fee for just one year, and get access to their site library & premium modules.
This superfast template can be used for unlimited websites and grab their support for one year. I would say that it has an inexpensive plan because even the beginner can afford it for a year and if they are not satisfied by the performance, they can get back their money within 30 days.
Winner – GeneratePress
Reason – Divi is somewhat costly and expensive for the newbie. The cost of GeneratePress is transparent, with no hidden charges included. Moreover, you will get a 40% renewal discount every year. So, when we compare the cost of Divi Vs GeneratePress, the second one is the real winner.
10. Marketing Features – Who offers the best marketing features?
The marketing features of the theme play a vital role in tweaking the conversions or subscribers. GeneratePress Vs Divi; let's see who wins in these criteria?
Divi
Divi theme has several marketing features like
Email Optin support – List building can be made easy with Divi. Just create custom fields and collect unique information from your contacts.
Pricing Tables – It is easy to make compelling sales pages for your products through the help of Pricing tables.
In-built split testing – Designs and content can be tested through the A/B split testing and pick the best one to boost the conversion rate.
Contact Form Builder – Through the full range of design choices, creating the custom form builder is simple with Divi. You can hide & display the input fields using advanced features.
GeneratePress
Marketing features are not available in the GeneratePress theme. If you want to implement this quality, you have to add CSS or PHP codes or use Hooks to get the job done. Otherwise, it would help if you used any of the page builders to execute the about-mentioned marketing features like Divi.
Winner – Divi
Reason – In the marketing qualities war of GeneratePress Vs Divi, the latter one is the direct winner because it offers a tremendous ability to double the sale conversions and increase the number of subscribers.
Frequently Asked Questions
1. Is Divi better than GeneratePress?
Ans: Yes, but in terms of professionalism. However, if you need an SEO-friendly, lightweight theme that can easily be customized, then the right choice is GeneratePress. This template is best for beginners as it has straightforward settings that are simple to use.
2. Are Divi and GeneratePress themes compatible with Yoast SEO plugin?
Ans: Yes, both the WordPress themes are compatible with the SEO Yoast plugin.
3. Which WordPress theme is better for Blogging?
Ans: If you are a dedicated blogger who makes a living from blogging, then GeneeratePress would be an ideal solution for you to perform well and surpass your competitors. Make sure to use this theme with a simple page builder to make your site look awesome.
4. Does GeneratePress Theme offer any discount?
Ans: No, as of now, the GeneratePress theme has no discounts. However, you may wait for the GeneratePress Black Friday deals 2022 to claim a % discount.
Divi Vs GeneratePress 2022 – My Conclusion
Our WordPress design team has developed several websites and a few child themes with Divi from ElegantThemes, and yes, we have customized a few clients' sites using GeneratePress. I have used GeneratePress + Elementor Pro to design this blog, WPGlossy.
In our earlier phase, we were struggling to design with Divi. We have met some timeout errors and worked on the speed optimization due to the shortcodes & unclean codes.
And now, with GeneratePress, I'm making fast-loading websites with distinct elements that offer the best user experience.
Both Divi and GeneratePress are SEO optimized themes suitable for creating WordPress business sites. They have WooCommerce and BuddyPress compatibility as well along with top-notch customer support.
When it comes to Features, Functionalities, and Lifetime access – Divi wins the race by making excellent sites that are possible to yield more conversions or subscribers.
When we compare the Sleekness, Superfast, and Affordability, GeneratePress is the real champion that would help you create minimal sites with superfast loading ability.
Are you still confused even after checking the in-depth comparison Divi Vs GeneratePress? Look at the GeneratePress alternatives, and they may give a solution to your requirement. So, which is your top pick? Leave your valuable thoughts in the comment section!