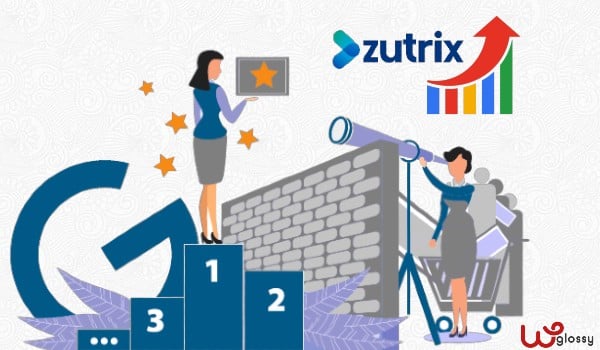 "Rank Tracking" is one of my favorite SEO strategies. Yes, it is the ultimate approach to measure the results of doing Keyword Research and On-page SEO.
Staying in the web marketing field for over a decade, I often come across the question – how do I keep track of keyword rankings! I should admit that you need to get an excellent keyword rank tracker to see how well the target keywords perform in the search engine ranking positions.
Since SEO is my Cup of Tea, I always search for interesting tools to boost my blog visibility and gain authority. While hunting for the best SERP checker tools, I found an admirable Google rank tracker named, Zutrix.
After starting using this best SERP tracker, I have decided to write an unbiased Zutrix review to come to know its amazing features and use it to monitor your focussed keywords and tweak its performance in the ranking results.
Before getting into the detailed review of the Zutrix search engine rank tracker, let me convey the benefits of using a precise keyword rank tracking tool for your SEO projects.
Why Is Keyword Tracking Important?
When you begin the keyword tracking process for your targeted keywords
1. You will be boosting your site traffic by improving the content and building links
2. You will be Identifying your competitors who dominate you in the search engine results and plan to outrank them.
3. You will be learning a lot about search intent and attain the top rankings in Google
Now, it's time to introduce the dominating tool for SEO, Zutrix!
Meet Zutrix – Intelligent Google Keyword Rank Tracker
Zutrix is an excellent tool to follow the position of your aimed search phrases on the search engine results. It is the smart assistant for digital marketers that comes with AI-powered accuracy. As Zutrix has made rank tracking simple, some great companies have trusted and used it every day.
Its main mission is to help digital companies grow by offering exact Google rank results. At the time of writing this Zutrix review 2023, it has crossed 8 years of experience and earned hundreds of satisfied customers with 95% positive feedback. Coming to the Zutrix interface, it is simple with no confusing settings. 
I'm pretty sure that you can begin your SEO journey in an organized way with Zutrix. Yes, you can decide your keywords with Zutrix keyword planner, dig the device-based results, and know the meticulous results through the perfect metrics and advanced reports.
You might think, what the heck does it have? Why am I recommending this best SEO tracker? Let's dive into the best features of Zutrix.
Best Features of Zutrix Google Rank Checker
In my honest Zutrix review, let me consolidate the exceptional features that help it to stand out from the crowd.
1. Easy Interface
Zutrix contains an uncomplicated user interface with comprehensible setting preferences. You may log in to the account and start using the tool with any difficulties. All the settings are simple and comfortable; you can glance at them in the below screenshot.
In simple words, I would say that it is a beginner-friendly tool for efficient keyword tracking and competitor analyses.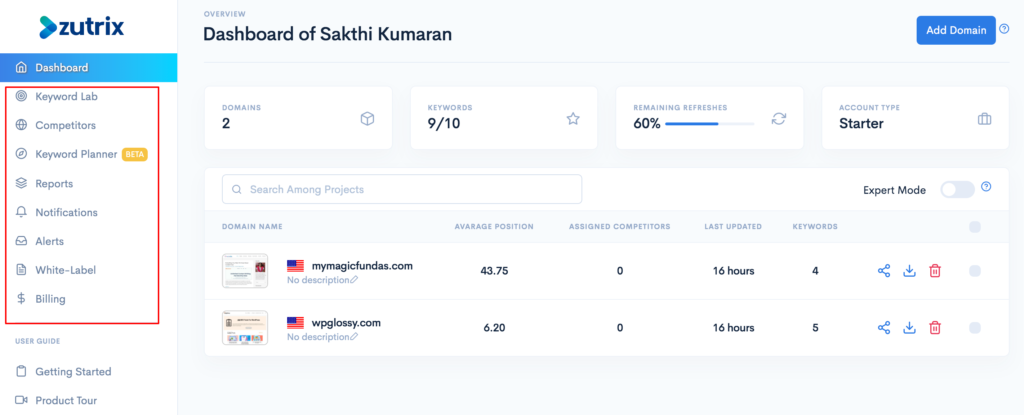 2. Real-time Notifications & Alerts
"Notifications" is a nice feature of Zutrix that will send the changes through Telegram, Slack, and Email. You may configure the notification frequency with the help of the Zutrix sensor. Likewise, you can also see the alerts for the position changes.
3. Keyword Lab
Keyword lab is an amazing feature of this cleaver SEO tool. It lets you analyze your desired keyword by providing its search volume, competition, keyword difficulty, Domain Authority, CTR, and few more metrics. Look at the results of my experimental keyword!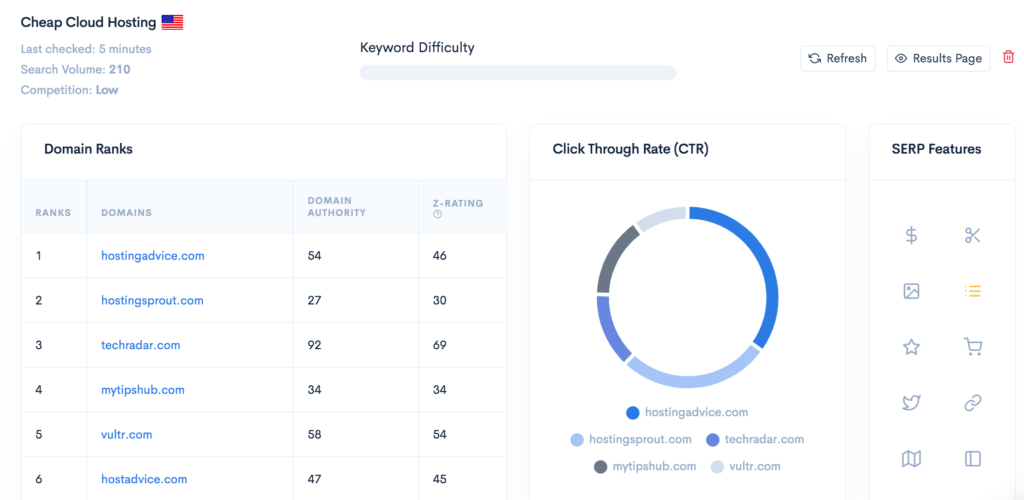 4. Advanced Reporting
This excellent rank checker tool sends detailed reports for the added domains. The PDF reports reach your inbox daily, and hence you don't even log in to the Zutrix account to look at your targeted keyword ranking places.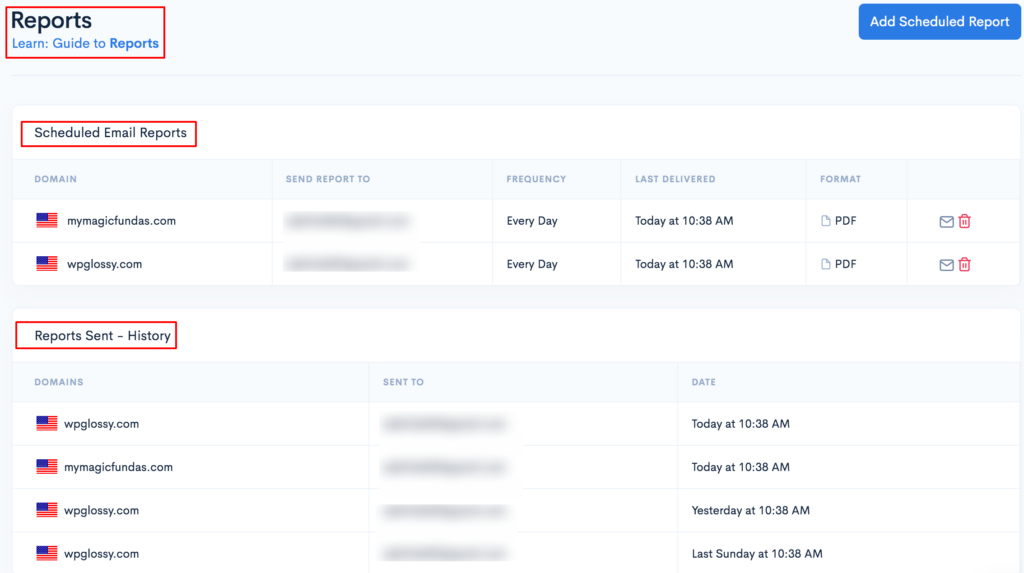 5. Free Tools
Zutrix provides a handful of Free tools for your SEO tour!
1. Free SERP Checker – If you don't have a budget and looking for the best free Google SERP rank checker, then Zutrix is the ideal choice. It allows you to track 10 keywords daily and send notifications for the position changes. You can create a free account and start using the tool without entering your credit card details.
2. Google Suggest – It is a useful tool available for free in Zutrix, through which you can optimize the content for the right keywords. With this Google Autocomplete feature, you will understand how people are searching for your business brand, and hence, you can recognize your audience's intent and act according to their necessities.
3. YouTube Tag Generator – Like Google Autosuggest, Zutrix provides a free YouTube keyword tool to grab the best search terms to use on your YouTube videos. It is more likely to craft better video titles and descriptions to attract the targeted viewers and more impressions.
4. Keyword Planner – I would say that it is one of the best free tools of Zutrix to help you rank top in search engines. This flawless tool has been effectively designed by the experienced SEO experts for in-depth keyword research. Zutrix keyword planner gives you accurate Keyword Search Volume, CPC, Competition Score, and General Trend.
5. Word Counter – Sometimes, you may need to write the blog content with a specific word count to surpass your competitors and improve your SEO rankings. Now, the free Word Counter of Zutrix comes into action.
How to use Zutrix for rank tracking?
Getting started and using the Zutrix tool is easy!
Step 1: After signing up for free and finished the account verification, you need to log in to the Zutrix account and enter the dashboard. There you can add the domains and start tracking the keyword positions.
Click "Add Domain," and you will get the below options to add your site details!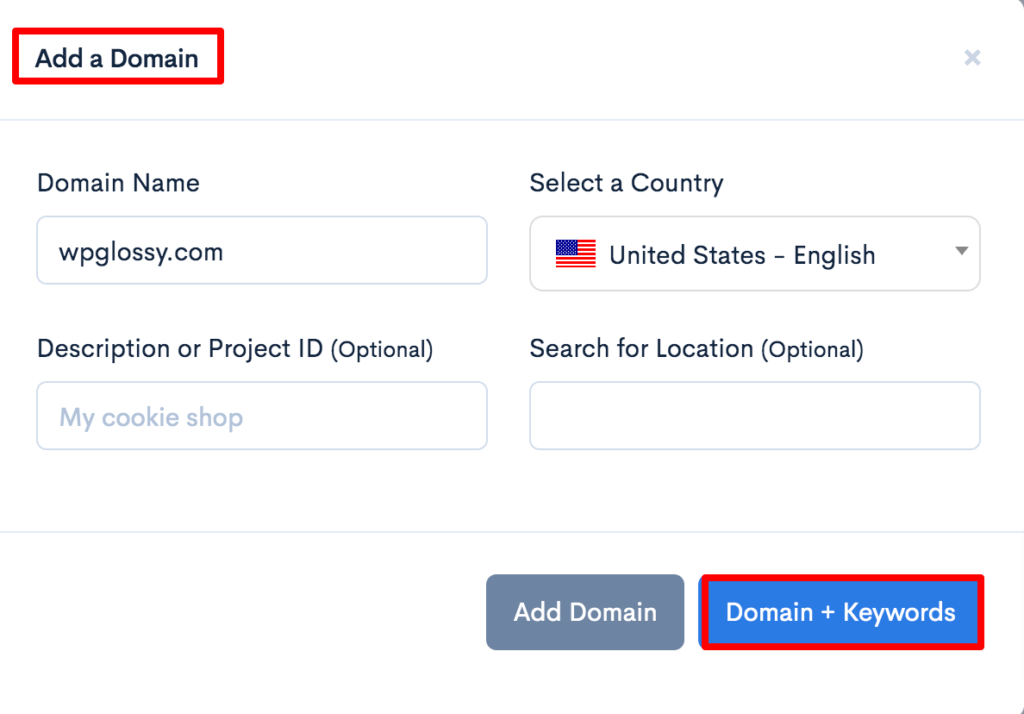 Here, I'm adding my domain with keywords.
Step 2: Click "Add Keyword" to track your money-making keywords. Here, you may use the auto-suggestion feature to see the keyword suggestions and add suitable ones. Choose "Desktop," or "mobile," or both devices and hit "Add Keywords."
Step 3: After adding the keywords, you will see their ranking performance after a day. You can also see their ranking places when they get added and their search volume. Zutrix allows you to monitor the keyword positions for 30 days and a lifetime.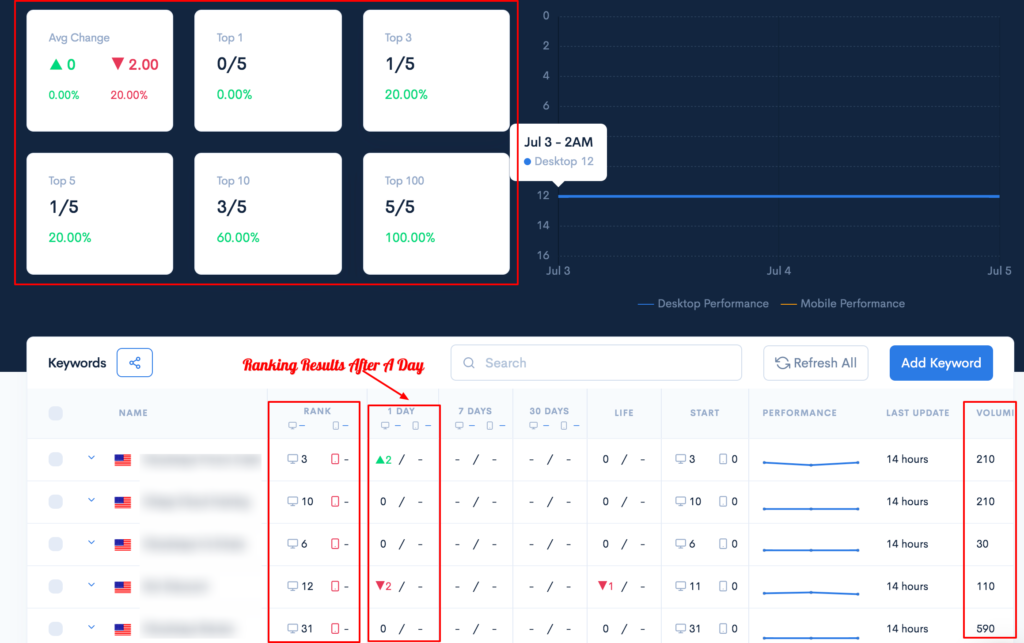 Step 4: Not only the keyword tracking, but you can also chase your competitors and get new keywords from Keyword Planner (I have explained this feature in the best features of the Zutrix section)
Step 5: After adding the keywords to track and your competitor domains, start receiving the Reports, Notifications, and Alerts from Zutrix to your email so that you can start working to improve the keyword ranking positions.
Zutrix Pricing
Zutrix has 4 different pricing plans – Starter, Basic, Standard & Advanced; You may pick the suitable pricing according to your tracking requirements.
It is the right time to get its Advanced Plan as they offer a 90% discount on all four pricing plans.
Pros Of Zutrix
Why should you use the Zutrix rank tracker? Here are some valid reasons through this Zutrix review!
Intuitive user interface with straightforward settings
AI-powered accuracy on search results
Real-time rank change notifications through Telegram, Stack & Email
Competitors chase and let you one step ahead of them
Free tools to sharpen your SEO skills
Allows to create unique links and share real results with teammates
Keyword planner with daily updated CPCs
Detailed keyword analysis through keyword lab
Country/City based rank tracking
Google search console integration to fetch your site keywords
30 days money back guarantee to test the features
24 X 7 customer support and help centre to use the tool comfortably
Affordable pricing plans. 7 Days free trial with no credit card requirement
Zutrix Cons
API feature Is not available
No lifetime pricing plans
Zutrix FAQs
1. How Good Is Zutrix Rank Tracker?
After using this SEO source for the past couple of weeks, I would say that it is a remarkable tool for keyword rank tracking. Now, I'm on the starter plan and wish to upgrade to the highest plan and utilize its advanced features like white-label reports for my SEO profession. In simple terms, I'm concluding that it is an ideal tool for tracking the position of the keywords on Google results.
2. Is It Possible To Track Keywords On A Specific Location With Zutrix?
Yes! You can track the keywords on a particular state or country in Zutrix. It is the ultimate location tracker that comes with a secure online payment system.
3. Does Zutrix Offer Free Trial To Test The Features?
Yes! Zutrix rank tracker gives a 7-days free trial and 30 days money-back guarantee. You don't need to share your credit card details for the signup.
4. Can I Do Competitor Analysis With Zutrix?
Yes! You can do it and plan to outrank your business opponents.
5. Do I Need To log in to Zutrix To See The Keyword Position Changes?
No! Zutrix sends reports and alters to the registered email. It has a Telegram channel as well, where you may join and receive updates.
Zutrix Review – Conclusion
By knowing how the targeted keywords are positioned in the search engines, you will get clarity about the effectiveness of your keyword research and on-page SEO practice. To get this task done, you need to use a brilliant tool built with new technologies and methods that use complex algorithms to find out the exact Google positions of the intended search terms related to your business.
If you are a Blogger, digital agency, or SEO professional, then you should start using Zutrix to play well on the search engine ranking results by monitoring your keyword spots on the SERP. This game-changing tool is more than a Google SERP tracker. You can perform keyword research and competitor analysis with Zutrix and start performing well on the Google search results.
After reading this Zutrix review, I hope you would like to use this AI-powered tool meant for high accuracy. As its setting options are easy to use and navigate in the dashboard, I recommend this resource for even the newbies and business start-ups. So, what are you waiting for? It is the perfect time to grab this ingenious SEO tool because a grand discount is going on!