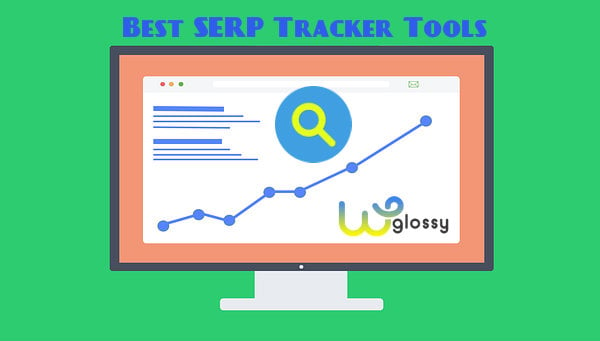 Are you looking for some best SERP checker tools to often check the search engine ranking for your targeted keywords?
If yes, you are in the right place to get the excellent tool to meet your requirements.
Even though you are doing the keyword research correctly to find out the best low-competition and LSI keywords, it is essential to track the performance of the published content.
Here is where you need the best SERP rank checker tools.
In my earlier post, I shared some useful tips to improve keyword search results.
However, the most critical factor is determining whether keyword rankings are growing or declining.
That's how you can analyze whether your marketing campaign is moving in the right direction.
Okay, now let's get into the quick suggestions! Yes, if you're in a hurry and don't want to read the entire post, look at my top recommendations!
3 Recommended SERP Position Checker Tools
| | | | |
| --- | --- | --- | --- |
| | | | |
| | Tracking unlimited number of keywords and projects | | |
| | Accurate Results & Monitor Everything From Scratch | | |
| | Daily Rank Tracking & Compare Positions For Specific Date | | |
Before getting into the details of good SERP checker tools, you must know the importance of tracking the search engine ranking positions!
What Is SERP And Why Keyword Rank Tracking Is Important?
SERP is the acronym for Search Engine Results Page or abbreviated as Search Engine Ranking Position.
In the digital marketing world, analyzing and monitoring SERPs is crucial as it hints at the progress of the online marketing campaign.
Yes! Keyword tracking on Google and other search engines is essential, and let me tell you the valid reasons to track the position of your focused search terms.
SERP is the result of the on-page and off-page SEO that you have done for your content. If you have reached the top rankings in Google search engine for the targeted keyword, then you are doing the SEO process (Keyword research, Great-Quality content with perfect on-page SEO, Social signals and Backlinks) in the right manner.

SERP tracking is a must-do rule to ensure that you are staying away from the negative SEO impact. At least if you could rank on the 3rd or 4th search engine page results, then you can feel free that your SEO does not ruin your keyword ranking.

The third valid reason for rank tracking is to boost your site traffic. Yes, as you know that the keywords rank on the 4th – 10th page on Google search can bring a little traffic to your website. And, if those keywords have medium-high search volume, and then you have a high potential to increase the traffic by improving the SERPs through a content update or building the quality backlinks.

SERP tracking will let you know who your competitors are and how they could perform in search engines. You can steal their ranking keywords and find out what makes them get high SERPs. So, you can always keep an eye on their ranking search phrases to crush them easily.

And the final benefit – If you manage multiple blogs or handle the online marketing campaign for several sites or offering the SEO services for clients, then you have to monitor the SERPs for each targeted keywords and make a plan for the further improvements. Here's where the best SERP checker applications come handy as these tools will automate the entire process of analyzing and monitoring the search engine rankings as well as keep track of the competitors.
I hope you have come to know the benefits of the SERP tracking process!
However, the real question is how accurate these SERP tracker tools are. Well, that's a gamble you need to take as most of these applications are programmed differently.
How To Select The Best SERP Keyword Tracker?
A plethora of tracking tools are available on the web, and hence you have to get the best one rather than picking any ineffective keyword rank checker app to watch the Google rankings of your targeted keywords.
Before buying the rank-tracking app, ensure the following qualities are present.
A large number of keywords that can be tracked daily or per month

How accurate the SERP position results are

Should support local and Mobile rank tracking

Provides clear & detailed reports that can be exported

Affordable pricing plans
To save your valuable time, I have listed some excellent SERP check resources, both free and paid, that are worth buying and using.
Let's get into the details!
12 Best SERP Tracking Tools To Monitor The Focus Keywords
Of course, you can always Sign up/Buy SEMRush, AHREFs, or MOZ to keep complete track of your SEO campaign.
These premium SEO tools can monitor and report your sites' performance relevant to keyword rankings and traffic growth.
However, these tools are pretty expensive but worth your investment if you are looking for a tool that offers more than just keyword tracking.
Here are some cheaper alternatives for expensive SEO tools!
8 Premium Yet Affordable SERP Checker Tools of 20

23
If you are a little tight on your budget, you can always try out some excellent and affordable SERP ranking tracker tools on the web today.
1. SEO PowerSuite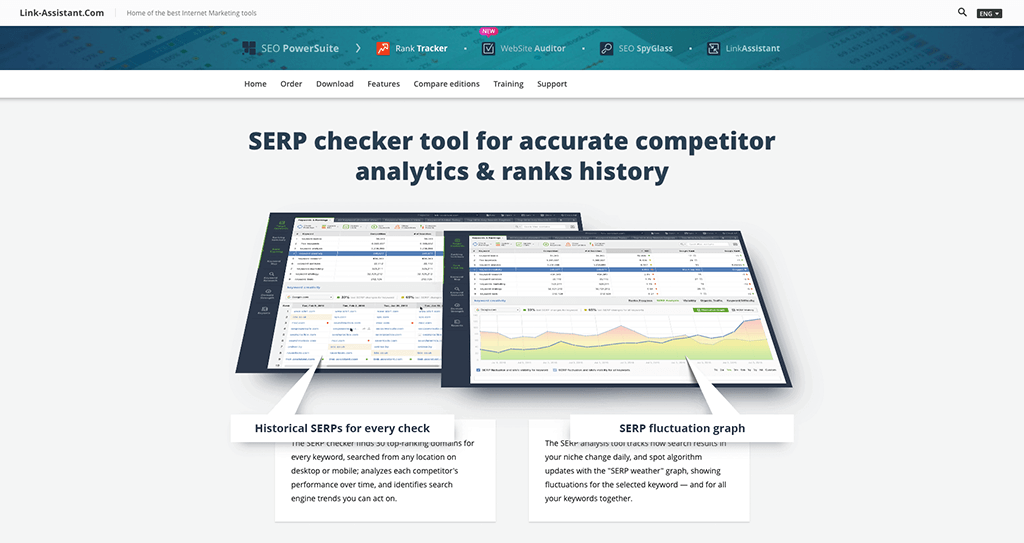 SEO PowerSuite is a suite of four desktop tools that does a whale of a job at really competitive pricing. Part of the suite is Rank Tracker doing accurate ranking checks, keyword research, and SEO/PPC estimations.
The SERP tracker tool can be set up to track keyword rankings in any search engine imaginable. The tool lets you track mobile rankings separately from desktop, optimize for video keywords on YouTube, or research keywords for Amazon.
The SERP History, which can be recorded starting from the Professional pricing plan, lets you record ranking positions, monitor rich features on the SERP, and spot Google algorithm updates through the particular SERP weather graph.
The SERP Analysis feature inside Rank Tracker analyzes your top SERP competition and predicts how difficult it will be to beat the SEO competition.
Best features of Rank Tracker from SEO PowerSuite
Tracking an unlimited number of keywords and projects
Over 500 search engines supported
A vast keyword database and 24 keyword research methods
Customizable SEO reporting templates and white-label for SEO agencies
Integrates into Google Analytics and Search Console
Automated tasks and alerts for SEO agency workflow.
2. SE Ranking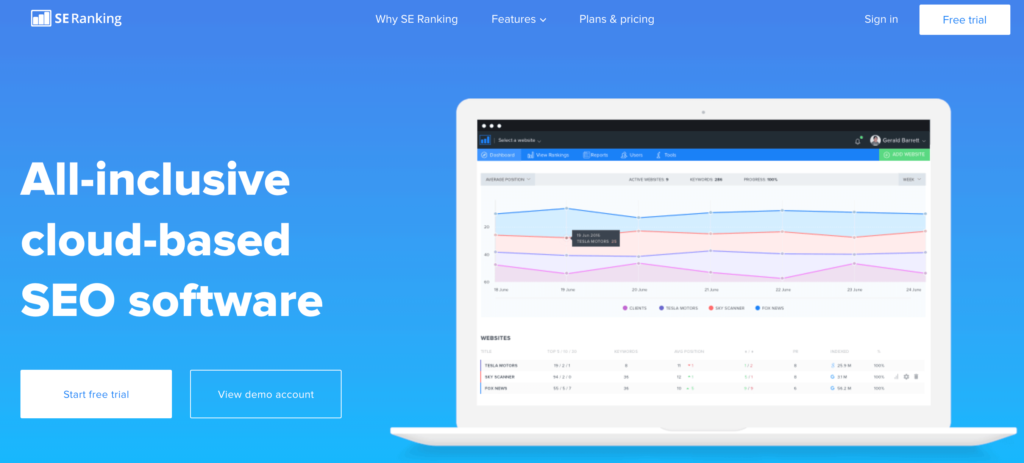 If you are searching for a 100% accurate keyword rank tracker tool with a handful of premium features, then your choice should be SE Ranking. It is an exceptional SEO tool with position tracking as one of its leading features.
According to G2Crowd, SE Ranking is the highest-rated SERP tracking tool as it could provide more up-to-date Information and contain flexible pricing plans. This SERP tracking software can take your product/service to the next level with the best features for businesses.
It has white-label & API features that are indeed needed for collaborative use. You can organize the workspace by creating sub-accounts to access the project details. Regarding professional reporting to clients, no one could beat SE Ranking.
Now, it's time to summarize the exceptional qualities of SE Ranking that make them better than competitors!
Best Features Of SE Ranking
100% accurate data with complete information like search volume, suggested bids by Google, and much more data

Our data is secure and never leaks to public research tools

You can monitor the Map results, your Google Ads positions, and keyword tracking. You can also track your YouTube video positions.

It is possible to track your top 5 competitors by getting deep ranking reports and visibility scores.

You can analyze and get a retrospective view of the top 100 search results.

Just pay for one keyword and track up to 5 Keyword combinations. This pricing feature of SERanking is unseen in other keyword position checker tools.
3.

Zutrix – Intelligent Rank Tracker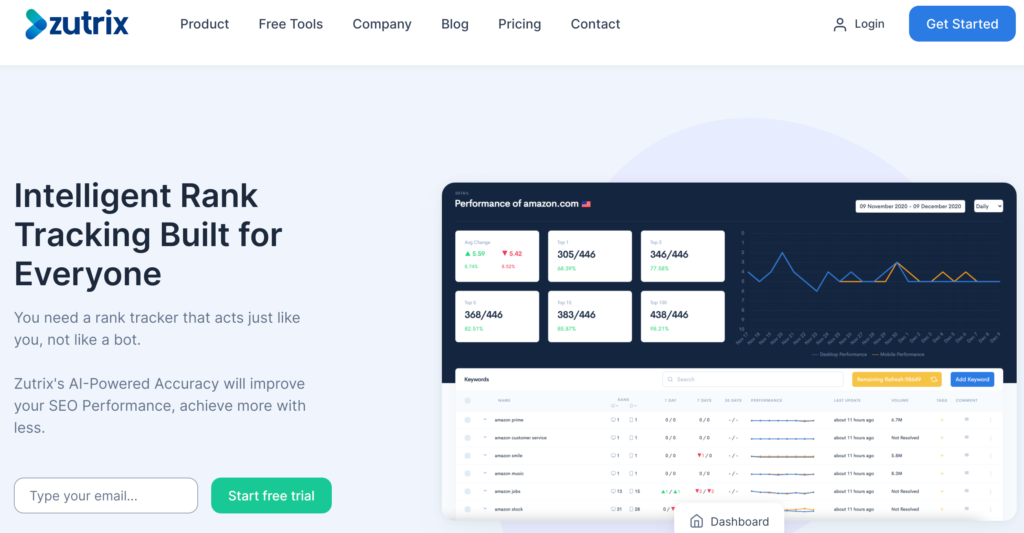 How about using the world's first keyword rank tracker that uses AI behind the screen? It would be exciting. Zutrix is an intelligent rank tracking tool specifically made to improve your SEO performance. It is a complete suite that covers all your keyword ranking monitoring needs.
You can start using this tool by creating an account and adding your site by creating a new project. Importing your keywords through Google Search Console and fetching SERP results for your website is possible. As Zutrix uses complex algorithms and procedures, you can see your targeted keywords' exact positions.
Best Features of Zutrix SERP Rank Tracker
AI-powered results with ultimate accuracy
Device-based SERP features and location results
Real-time notifications through Telegram, Slack, and Email with custom rules
Unlimited competitor tracking with intelligent suggestions 
Unique reporting system includes scheduled reporting and white-label integrations
Keyword lab is available for more ideas
Track keywords at every location with 100% accuracy
Ranking report sharing through uniquely created links
The basic plan of Zutrix is affordable, with the tracking capability of 250 keywords daily. Check its other pricing plans!
4. SiteChecker Pro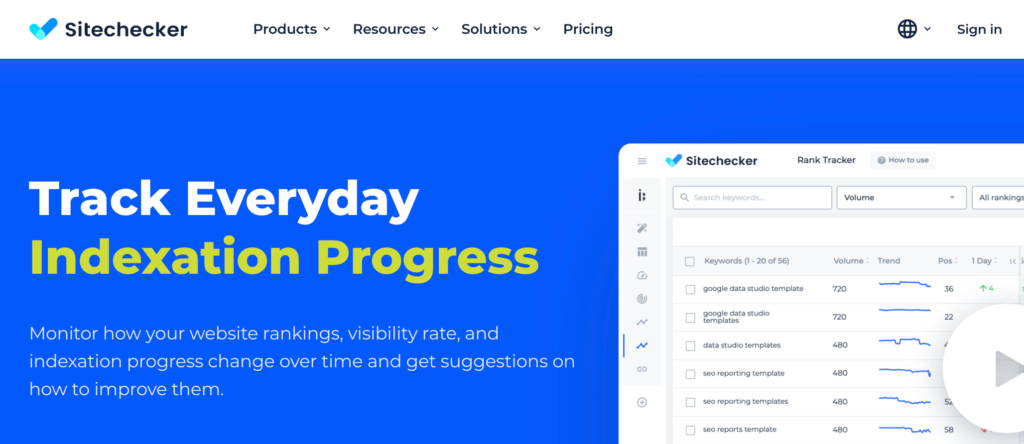 In the list of best SERP tracker tools, I will list an efficient plugin, the rank tracker of SiteChecker Pro, because of its innovative features like an easy-to-use interface and gives alerts & reports that will take your site to the next level.
It is one of the cleaver SEO tools that lets you boost the on-page and technical SEO. With this great plugin, you can track the position of your focused keywords daily and receive suggestions to improve the rank position.
Best Features Of Sitechecket Pro
Track positions on several search engines, on any device, and on any country
Both daily and weekly reports are available
Filter keywords through multiple conditions
Advanced mode to customize table settings
Perform SEO analysis for any keyword
Full-screen option and conduct bulk keyword action
PDF ranking reports for brand identity
The basic plan of Sitechecker Pro costs $29 per month, and I would say that it is an ideal tool to elevate your site's SEO performance.
5. SERP Checker & SERP Watcher
SERP Checker and SERP Watcher are the ultimate SERP Competition analysis and rank-tracking tools every blogger or digital marketer must have. Both come as a bundled package from Mangools, where you get KWFinder, SERP Checker, SERP Watcher, Link Miner, and Site Profiler.
While SERP Checker and SERP Watcher will be enough for SERP and Competition analysis, the other tools in the package can also come in handy to drive your marketing campaign in the right direction.
Best Features Of SERP Checker & SERP Watcher
Get the critical rank tracking data through the distribution charts
Daily keyword position updates and interactive reports with localized results
Track the overall progress via the Dominance index that represents the unique organic traffic
Track the desktop and mobile results
Set up custom event-based automatic alerts
Unlimited tracking domains and 100 SERP analysis/per (In the basic pricing plan
Starting price is affordable, and yes, this keyword rank checker toolset from Mangools is a much cheaper deal than premium tools like Ahrefs, SEMRush, or Moz.
6.

AWR (Advanced Web Ranking)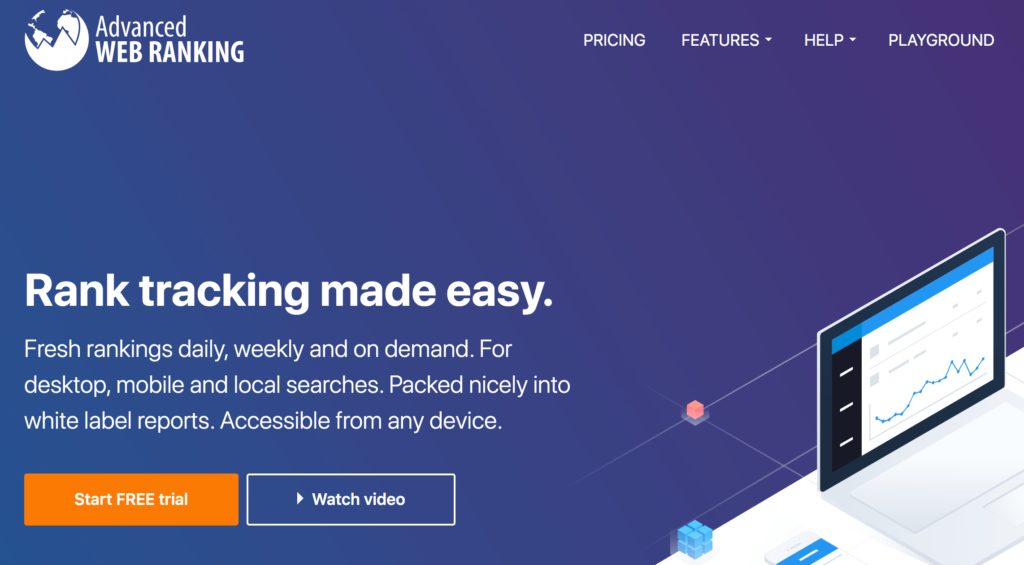 AdvancedWebRanking claims that rank tracking is made easy through the white-label reports accessible from any device. Several thousands of brands & agencies are using this SERP keyword checker to enhance their business growth.
One of the major highlights of this best SERP rank tracker is that you can track the keywords in any language you want. Moreover, it uses the human search emulation mechanism and geo-located proxy servers to provide high-accuracy data.
Best Features of AdvancedWebRanking
Easy-to-use interface

Track rankings from 3000+ search engines in over 130 countries

Not only white-label reports but also supports customizable ready-to-use reports

Powerful API to integrate full SERP data

Sync your Google Analytics and Search Console accounts

Free 30 days trial without the need for Credit card
The starter plan of AWR is reasonable with a 2000 Keyword tracking limit.
7. Long Tail Pro Rank Tracker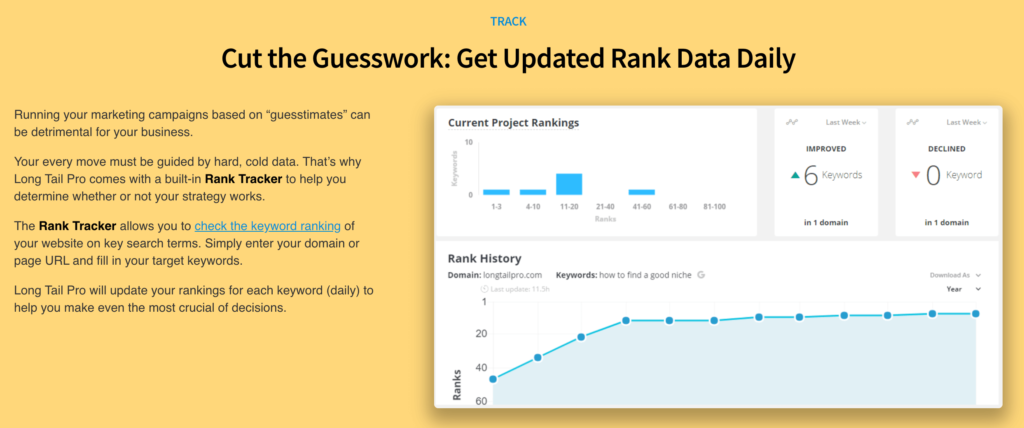 Long Tail Pro is most commonly known as the ultimate keyword research tool developed by top bloggers and affiliate marketers globally.
This keyword research tool was created by Spencer Haws from NichePursuits.com based on insights from a successful blogger and affiliate marketer.
While Long Tail Pro is primarily known for Keyword Research & Analysis, the tool also helps monitor rankings for the targeted keywords through its Rank Tracker tool.
Best Features Of LTP Rank Tracker
You can add 2 URLs to track the rank of the keywords (per month)

30 rank tracker terms are allowed per month

Detailed report with rank and date (Like yesterday, last week, and last month)

Daily rank updates
As I'm a proud user of LTP to increase my organic traffic, I'm using its keyword rank tracker for a few of my targeted keywords!

The annual starter package of Long Tail Pro is highly affordable. Currently, it is the best keyword research tool to identify long-tail keywords, which come in handy for efficient online marketing campaigns.
8. SERPWoo
SERPWoo is another great online tool for SEO Rank Tracking. It brings in the Deep SERP analysis factor to help you monitor and analyze the top 20 results of each targeted keyword to offer a better understanding of what the competitors are up to.
With this best SERP tracker, you can monitor or track the rankings for your blog or website and help you compete with other brands strategically.
You can quickly check the historical SERP, understand how and why the competitors rank higher, and optimize your website or blog accordingly.
Best Features Of SERPWoo
Take a customized look at the data with the help of rebuilt, innovative reporting system

Find new opportunities within your SERPs to get more visitors

Developed by industry experts who have been playing well on the web for more than 30 years

Get automatic email notifications for changes in the ranking position

Start exploring the features with the free account without the need to enter the credit card details
You can get the Bronze plan of SERPWoo at a standard price and enjoy all the features of SERPWoo except the mobile tracking feature.
Best Free SERP Checker Sites To Track The Keyword Rankings
Well, if you are just a newbie blogger who doesn't want to invest in premium SERP checker tools, here are some great free SERP tracker tools for you!
9. What's My SERP
What's My SERP is a simple keyword position checker tool to track rankings for multiple keywords for a single domain for free. You can add the keywords manually and your domain to start monitoring.
Currently, this free SERP checker only tracks SEO rankings on Google. You can choose your region based on the target location or try Google.com for global SERPs.
Once the rank tracking is complete, you can export the CSV file on your computer to monitor the changes and performance of your website or blog for the selected keywords list. If you register at this SERP online tracker, you can check the SERP for 20 domains and 25 keyword limits per domain.
10. SERPROBOT
SERPROBOT is an excellent SERP tracking tool that delivers accurate results for Free. Earlier, it was called SERPLAB, and now, this free SERP tool has been rebranded to SERPRobot. Just input your region, domain name, and keywords to be tracked, and the ranking positions will be displayed as early as possible.
In this free keyword rank checker tool, you can enter up to 10 keywords to check their rankings on search engines. They suggest you use the tool after removing the browser cache and signing out of Google accounts to get exact results.
11. SERP SURF
If you are looking for a fast and reliable SERP ranking tool that can be used for Free, SERP SURF is an excellent option. You need to enter the domain name, choose the region & device, and enter the keywords you want to see.
You may also enter your competitors' domain names to determine their status. The result will show you the exact ranking position of the keyword you have entered. SERP SURF also displays the top 10 results of your search phrase. Having an intuitive interface, this is the best Free SERP tracker tool that comes in handy whenever you require it.
12. Searchenginereports.net
Searchenginereports has a set of Free SEO tools for text analysis, keyword planning, and web management, and SERP position checker is one among them. These free tools have been created by a team of top-notch web developers, and of course, they can bring you accurate results.
The interface of searchenginereports is neat and clean, where you can monitor the SERP by keyword and URL. Not only Google SERPS, but you can also choose other search engines according to the country and device (mobile or desktop) to check SERP competition.
Best SERP Checker Applications 202

3

– Conclusion
Researching and picking the right keywords for your web pages or blog posts and later monitoring the search engine rankings of your domain and competitors' domains for those keywords is essential if you wish to compete in the online industry today.
The SERP tracking software tools are beneficial in keeping track of your website or blog's performance for targeted search queries. I hope you got the answer to "How to track my Keyword ranking."
These SEO rank checker tools will not only help you keep a watch on your website's performance for the targeted keywords, but they will also help you keep track of your competitors and help you strategically plan your online marketing campaign accordingly.
The free SERP Checker tools are helpful but aren't as productive as the premium ones mentioned above. With these free Google SERP checker apps, you can begin your digital marketing or blogging journey. 
But as you progress, I highly recommend investing in any of these premium best SERP tools to track your campaigns better, improve productivity on a larger scale and reap the benefits that I have listed at the beginning of the blog post.
So, which tool would you like to get and track your targeted keywords? If you ask me, I would recommend – SEOPowerSuite, SE Ranking, and Sitechecker Pro are the best SERP checker tools 2023 worth spending.