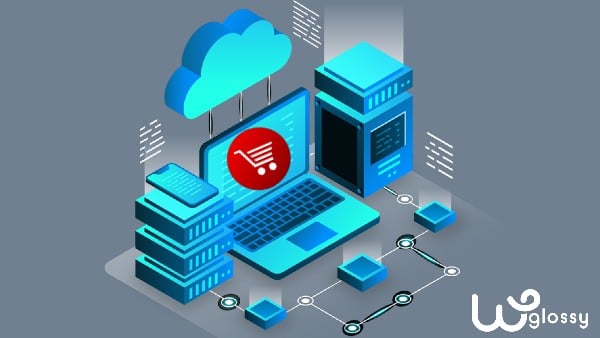 Do you have a product or service to sell online? So, are you searching for a best eCommerce hosting to start your web stores?
You are in the right place to know some excellent web hosting for small business eCommerce to launch your web store without any pain. Of course, you have thought of coming up with an attractive eCommerce website.
However, as you already know the online selling website requires a lot of resources, and it is way too complicated!
Hence, you must invest in a reliable eCommerce website hosting. A good web hosting will help you to handle all your web traffic and provide you with all the resources you want.
But, there is indeed quite a lot of best eCommerce hosting solutions available out there. So the question is, what are some of the best eCommerce hosting providers that can take your e-stores to a new height?
Here is a quick view of some exceptional online stores hosting I'm going to recommend.
Top 5 Shopping Cart Web Hosting 2023
Supports Popular eCommerce Apps

Suitable For High Traffic Online Stores

No Restrictions To Launch The Number Of Servers

1-Click Free Cart Software

Extra eCommerce Hosting Software Tools

PayPal Merchant Accounts Available

Free Shopping Cart Install

Contains Professional Storefront Theme

Fully Customizable Online Stores

Storefront Theme Installed

WooCommerce Pre-Configured

Storefront Theme Pre-installed

High-Performance Cloud Server Environment
Before getting into the list of managed hosting companies in detail, let me tell you a few things to have it in mind while purchasing the server service for an eCommerce website.
5 Factors To Consider While Buying The ECommerce Hosting Plan
What to look for in hosting for eCommerce sites? – This is a common query raised among the emerging eCommerce business owners!
When you buy the hosting for your online selling website, you have to check if the following qualities are present in the service.
#1. Superfast Server
Whenever you buy the hosting for your long-term eCommerce business site, make sure to get the fastest web hosting service so as to win your readers' heart and get search engine ranking benefits as well.
#2. Pre-Installed eCommerce Software
Every web hosting is not compatible with the eCommerce software which is essential for fixing the product database, shopping cart, and checkout page. Hence, when you are purchasing the server, ensure it has a pre-installed software like ZenCart, PrestaShop, Magneto or any other reputable eCommerce resource so that it can make your job easier.
#3. High-class Security
Business website's security is most important. As the internet is more prone to data hacking and intrusions, it would be better to go with a highly secured hosting to keep the cyberpunks at bay. Moreover, your customers will always look for a secured site as they are making the financial transactions. Therefore, you should get a secured eCommerce web hosting with a helpful backup to establish your online brand.
#4. Free SSL Certificate
Installing the SSL certificate to enable "Https" is not an option anymore; you must install it! Since you spend a good amount of money for a reliable hosting server, look for the service that gives you a free SSL certificate.
#5. Knowledgeable Customer Support
Setting up an eCommerce site involves some confused tasks like product listing, displaying deals, installing payment gateways and much more sophisticated jobs. Look at the customer reviews and get the service that provides top-notch customer support at all times.
Best 5 Web Hosting Providers With Shopping Cart Feature
1. Cloudways ($30 coupon)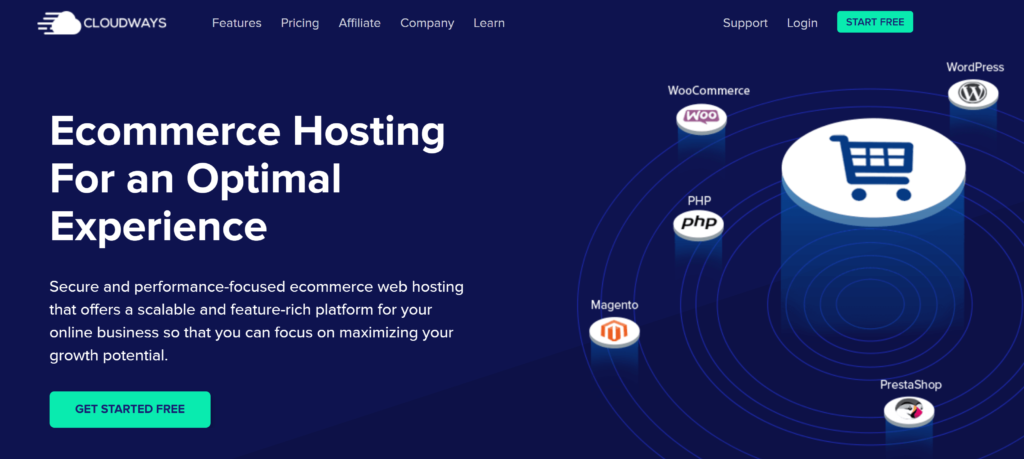 Cloudways is the best eCommerce hosting company because it lets you build your store on Industry-leading platforms and help you to establish your brand. This online store hosting is secure, stable & scalable and hence it is more likely to focus on productivity & quality.
Key Features
Cloudways comes along with SSD hosting, which is 3X faster than HDD hosting. As a result, they can offer breathtaking performance and reduced page loading speed for your online store.
All the Cloudways servers are PHP 7.x ready. And as you probably already know that PHP 7 is extremely fast than its predecessor.
Cloudways has robust CDN, which offers superior performance and top of the chart global response. Install CloudwaysCDN with just a few clicks!
Getting Redis support from Cloudways is really exciting. By enabling Redis, it presents an improved performance in the database. Also, if you combine it with Apache, Nginx, and Varnish, then you would get an unbeatable performance.
eCommerce Features
Through the dedicated resources, get full control over your cloud server.
It boasts built-in cache technologies like Memcached, Redis & Varnish, ensuring an unbeatable performance.
It gives automatic schedule backups with the frequency of your choice. Like, you may enable weekly, daily, and hourly backups and take a backup on your demand.
Cloudways allows you to scale your server storage space in just a few clicks. And it does not affect your store's performance at all.
Pricing
Cloudways has monthly and hourly billing options. However, If we talk about the monthly pricing, there are four different pricing options available for you. All pricing plans encloses the same features. And, depending on your plan, you will get your server resources.
Having "Pay As You Go" pricing plan is the finest upside of Cloudways, and yes, you only have to pay for the resources you consume. The pricing options are the $10, $22, $42, and $80. Also, the higher the pricing is, the more resources will be available for the server.
Recommended Starter Plan
You may get started with the basic plan that costs you $10 a month. And it provides 1GB of RAM and 25GB of storage, 1TB of bandwidth, and a one-core CPU backs the server. You may use our Cloudways discount code – WPGLOSSY to get a $30 maximoum discount.
Besides, this managed cloud hosting has some cool features like free SSL, Free Migration, Unlimited Application Installation, Dedicated firewalls, 24/7 Real-time Monitoring, and so on.
Pros
Install unlimited applications on a single plan.
It boasts a pay as you go pricing system
Cloudways contains its powerful panel (Not like the traditional one)
The control panel is straightforward to manage and get started with.
Move your site to Cloudways through self-migration plugin; free site migration is also available.
Cons
No email and domain registration.
2. A2 Hosting
A2Hosting is also popular yet best eCommerce hosting providers available out there. It comes with fastest servers, developer features and flexible pricing plans. I'm sure that its set of tools will take your web stores to the next level.
Key Features
A2Hosting has unlimited SSD hosting and transfer speed.
It offers free & easy site migration and helps you with free automatic backups.
It contains a 99.9% uptime commitment to make sure your website is always online.
E-commerce Features
A2Hosting eCommerce hosting plans are WordPress, Drupal, and Joomla optimized. Get the most dependable performance.
Its online store hosting is backed by Turbo servers, which is 20x faster than other web hosting servers.
The service is compatible with many eCommerce software like WooCommerce, OpenCart, Magneto, PrestaShop, and so on.
It provides automated server rewind backups.
Pricing
A2 Hosting has four different hosting types and pricing. Like there is Shared Hosting, Reseller Hosting, VPS Hosting and Dedicated Hosting. The shared hosting costs you $2.96, and the other plans are priced at $9.80, $5.00, and $99.59, respectively.
Also, you may see features difference across different plans and check out a single type of hosting programs. Like if you want to get shared hosting, there are a total of 3 plans which you may check out.
Recommended Starter Plan
The basic plan costs you $2.96 a month. And this plan is WordPress, Drupal & Joomla optimized. Along with that, you may utilize unlimited SSD storage and transfer. The web hosting plan can be used for only one account. And you will acquire 25 email accounts.
Pros
The fastest web hosting is A2 Hosting.
It comes with advanced features like server-side caching.
They keep seven copies of your site.
Multiple server locations to choose from.
Cons
The customer support is not up to the mark.
3. SiteGround
If you are looking for an amazing managed WooCommerce hosting, then SiteGround is an ideal choice. SiteGround is recommended by the big players like WordPress, Yoast and Woo to set up an easy WooCommerce store. It just takes a few clicks to build professional-looking online stores.
Key Features
Siteground runs on a distributed storage running on SSD disks to offer an optimal speed and a high level of redundancy.
Google Cloud powers Siteground. And as you already know that Google is known for maintaining the fastest and best-connected networks.
The hosting is also backed by dedicated security experts who check for software vulnerabilities. No need to get worried, your website will be in safe hands.
E-commerce Features
Siteground hosting runs on PHP 7.0, and it helps in doubling up your website speed.
It includes HTTP/2 enabled servers and provides automated Daily Backup.
Free Cloudflare CDN and smart caching for faster performance.
Get free WooCommerce migration or do it yourself through the migration plugin.
Pricing
Siteground comes with three different hosting plans which include StartUp, GrowBig, and GoGeek. And these plans cost you $3.95, $5.95 and $11.95 per month, respectively.
Also, all hosting plans have quite the same features. However, the difference between each plan is resources and some extra features.
Like the GrowBig and GoGeek plan, just host unlimited websites as well as there are quite a lot of other features like on-demand backup, staging and SuperCacher.
Recommended Starter Plan
As you start with your eCommerce website, I would suggest you check their Startup plan out. It has all the necessary features that you need and fits in your budget too. With this website, you will be able to host one website and get 10 GB of web space.
This best eCommerce hosting includes free SSL, Daily backup, Free CDN, Free business email, and unlimited databases to handle 10000 monthly visits.
Pros
Free shopping cart install
Automatic daily backups and restore.
Managed WordPress hosting across all the plans.
Free SSL and Cloudflare CDN.
30 days money-back guarantee.
Cons
Limited data storage.
Free site transfer is not available in the basic plan.
4. BlueHost
Bluehost is also one of the popular names in the hosting industry. Even, it falls under the top 20 web hosting companies worldwide. The company was founded back in 2003, and it offers you way too many hosting plans in different categories. So let's just go ahead and check what features we are getting with Bluehost eCommerce hosting services:
Key Features
Bluehost provides dedicated IP address that will protect you from noisy neighbour websites.
It unmetered traffic. So you can grow your website traffic without worrying about running out of bandwidth.
As it gives one free domain, you do not have to purchase a domain from a third party register. Besides, manage everything under a single roof only.
Free SSL is available which will keep all your visitor data encrypted.
E-commerce Features
Bluehost automatically installs WooCommerce and Storefront theme on your eCommerce hosting. So you do not have to go through the complicated installation process.
It allows you to monitor your internet store performance from a single roof only.
With its scalability option, start your website with the necessary resources and upgrade your web store as your traffic grows.
When you purchase a Bluehost plan, get $100 for Microsoft Advertising and $100 for Google Ads while you spend your first $25 on a new Microsoft Advertising and Google Ads account.
Pricing
Bluehost has three different pricing plans, which include the Starter, Plus, and Pro. And these plans cost you $6.95/month, $8.95/month, and $12.95/month, respectively.
Also, all plans have similar features. However, you will get to see the difference across the resources. Like the starter plan, you will only get to host one website. But with the other two plans, host unlimited
Recommended Starter Plan
As far as the recommended plan is concerned, I would suggest you check out the Starter plan. It contains affordable pricing too and comes with all the features that Plus and Pro plans have. However, the only drawback is that it can only host one website, which is okay if you are starting.
Pros
Ensures high uptime.
Unmetered bandwidth and free domain.
100GB of storage option in the basic plan.
Cons
The starter plan lacks automatic backup.
It only provides US servers.
It does not offer you free migration.
5. DreamHost

At the end of the best eCommerce hosting providers list, I have Dreamhost which is optimized for WooCommerce. They have been around 18 years and proudly hosting 1.5 million websites and now it has turned as one of the reputed web hosting companies.
Key Features
Dreamhost has exceptional loading speed and contributes you guaranteed uptime.
It grants powerful caching and one-click staging.
The on-demand backup choice is available.
E-commerce Features
Dreamhost has WooCommerce pre-configured servers. They pre-install WordPress and WooComemrce for you. So you do not have to go through the complicated setup.
Install a free SSL certificate to accept secure payments on the online store.
It boasts Server-level caching for enhanced site speed.
It only uses SSD servers for 200% better performance than standard hard drives.
Pricing
Dreamhost has monthly and yearly plans, and it has three different pricing plans. These plans are the DreamPress, DreamPress Plus, and DreamPress Pro. Also, these plans cost you $16.95/m, $24.95/m, and $71.95/m when your bill for a yearly basis.
Also, three plans come with similar features. However, depending on your usages, you will need to choose a plan for yourself.
Recommended Starter Plan
I would recommend you to grab the starter plan and yes, it includes everything that you need. This plan is built for 100K monthly visitors which will be sufficient for you. Along with that, you will get 30GB of SSD storage and possesses with unmetered bandwidth. Also, it delivers you on-demand backups, and you can install your backup with just one click.
Pros
Checkout feature for direct purchase.
Email accounts at your domain
WordPress, WooCommerce and storefront theme pre-installed.
Various options available for payment ways and shipping
Cons
There is no cPanel.
No phone support is available.
FAQs About eCommerce Hosting
1. Is shared hosting good for an eCommerce website?
Ans: No! eCommerce site involves financial transactions and customer payment information, you should go with managed hosting type because it has excellent security, dedicated firewalls and SSL certificate to protect the data against DDOS attacks. Besides, it's better to have a dedicated IP (not the shared one) for your eCommerce business site.
2. What should I look for in an eCommerce hosting service?
Ans: Server response site, dedicated security & backup, eCommerce software compatibility, and 24 x 7 responsive support are the few qualities to be considered while getting the web hosting with shopping cart.
3. Which hosting is best for eCommerce stores?
Ans: All five eCommerce hosting services that I have listed here are excellent to set up the online store's launch. However, Cloudways is an ideal choice since it gives the optimal experience to focus on maximizing your growth potential.
4. Is WordPress good to build an eCommerce site?
Yes, of course. WordPress is an open-source content management system which is highly flexible and SEO-friendly than Shopify. You can easily get the thrid-party WordPress extensions to build your web stores from scratch.
5. Which is the best payment gateway hosting for secure eCommerce?
Considering security, responsibility and comfortability in mind, I would like to tell the hosting giants – Cloudways & A2 Hosting have the secure payment gateway system and hence you may buy their service without any second thought.
Which Hosting Provider Should You Get For An eCommerce Site?
It is highly appreciated that you have chosen the WordPress CMS to build your online stores and sell products. When you choose the hosting server for your eCommerce business site, make sure that you purchase the ideal service that contains key features for the trading asset.
So those were the best web hosting sites for eCommerce. Each of these hosting providers has its own set of features and pricing plans. Now it is your call to go ahead and check these plans out and see which web hosting company is working excellent for you.
If you ask my suggestion, I would recommend you go with Cloudways since it provides a powerful solution for the eCommerce success through the robust applications. It is the top managed WordPress eCommerce hosting that has affordable pricing plans.
Without any hesitation, just move your eCommerce site to Cloudways for free. Use our exclusive coupon code – WPGLOSSY and get maximum discount.