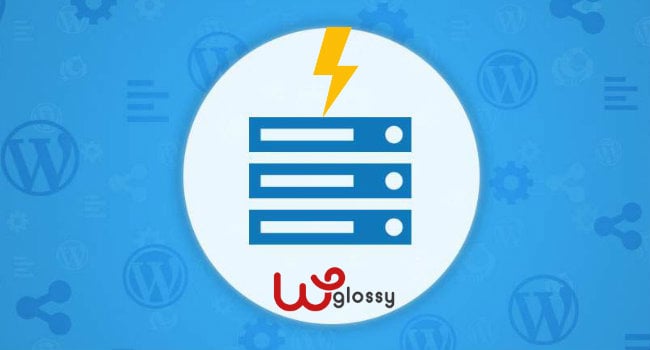 So, you want to buy the fastest hosting for your WordPress site, right?
I would like to appreciate your interest in getting the high-speed hosting for your website because as you know that the site loading speed is one of the technical SEO strategies that need to be taken care of!
I can predict that you have realized the importance of having a fast loading site to offer the best user experience for your readers and grab top search engine ranking results in 2020 & beyond.
To support your understanding, here is the proof from John Mueller (Webmaster Trends Analyst At Google) in a Google group discussion and check one of his Twitter replies for a query as well!


Moreover, recent research has found that the bounce rate is getting worse with the increase in page load time.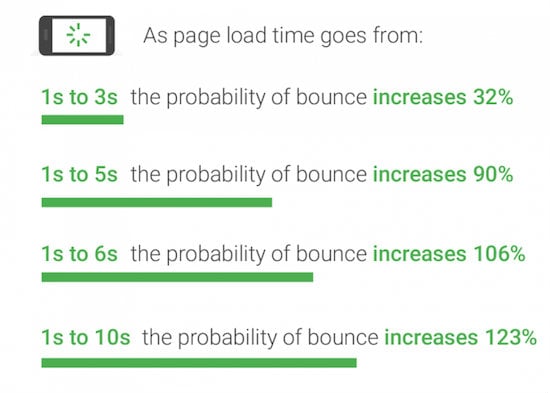 Image Credit – thinkwithgoogle.com
No doubt, Readers like fast sites!
Do you know, what is the recent SEO trend?
Satisfying the visitors with a fast loading website along with high-quality content is the latest SEO strategy!
Yes, Google ranking is about a good user experience these days.
Therefore, you are on the right track to acquire the fastest hosting for WordPress.
Quick Recommendation
Here is the quick recommendation for the best fastest WordPress hosting!
Cloudways – The Fast Managed Cloud Hosting
We host WPGlossy.com with them, and you may have a look at the server speed performance.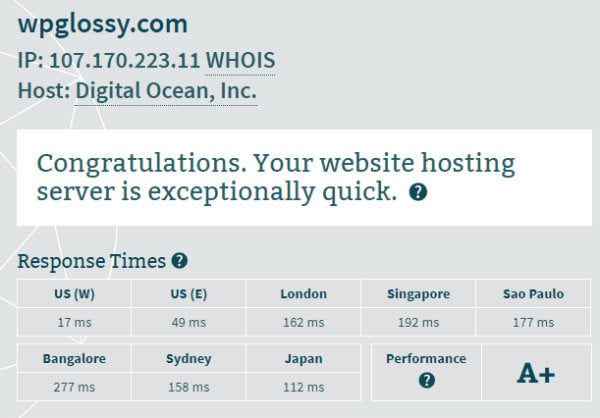 Note: The Google Recommended page load time is 200ms, and yes, we are so quick all around the world.
Let's come to the topic!
If you're regular to my blog, then you would have identified that I used to write a lot more about "WordPress Speed" because it plays a vital role in getting loyal readers and organic traffic as well.
So, it is highly appreciated that you are going to buy the fastest web hosting for WordPress through which your site load speed will get improved.
Before getting into the details of some quickest server companies, make sure that you have done the necessary speed optimization for WordPress and double-check your WordPress theme and plugins are not influencing the site speed in any way.
5 High-Speed Hosting Servers To Load Your Site Under 1 Sec
In my ten years of online journey, I got the opportunities to test several types of web servers like Shared, VPS, Dedicated, and Cloud. And I'm entirely fulfilled with the qualities and performance of cloud hosting.
Without further ado, let's get into the details of some great yet fastest servers for hosting so that you would like to acquire the right one according to your needs and preferences.
| | | |
| --- | --- | --- |
| | | |
| | 3X Faster SSD, Built-in Cache, PHP 7, CloudwaysCDN | |
| | 20X Turbo Sever, CloudFlare Plus, PHP 7 & HTTP/2 Server, Lightspeed WordPress Cache | |
| | Hyperthreading Processors, Infiniband Network, MariaDB, PHP 7.x & HTTP/2 Server | |
| | Server Level Cache, Google Cloud Data Center, KeyCDN, Maria DB, PHP 7 & HTTP/2 Server | |
| | 6X Fast Max Speed Zone, Ultra Fast SSD, PHP-7 Server, Free CDN | |
Let's have the in-depth speed details of every fastest hosting for WordPress 2020!
1. Cloudways
Cloudways has started to play well in the industry by offering the worry-free experience for the customers, and yes, it is the fastest managed WordPress hosting that can drastically decrease your page load time to the minimum.
The company assuring high-speed performance through the improved features, and hence it holds the 1st position in my fast server hosting list.
Moreover, the Cloudways is performing better than its competitors and hence will let you focus on the business growth with complete peace of mind.
Besides, it is one of the best hosting companies optimized for speed and fully managed type; you don't need to handle any technicalities; just sign-up, launch your server, and start using.
What the heck speedy qualities does it have? Let's Check!
Cloudways Speed Features
3X faster SSD drives to provide the breathtaking performance

Optimized stack with ready to use in-built caches to deliver an accelerated response

Redis support to improve the database performance

PHP-FPM pre-configuration to enhance the PHP loading times

Auto-Healing cloud servers to avoid website crashing

PHP 7 ready servers for the additional rapidness

HTTP/2 enabled servers to increase the communication speed between the server and client

Breeze – Pre-installed free WordPress cache plugin for better speed functioning

Easy-to-integrate CloudwaysCDN to skyrocket the global response time of the server
A handful of speed qualities, isn't it?
Do you want to test the speed features of Cloudways?
Here is a great opportunity for you! Use our exclusive Cloudways coupon and get a maximum discount.
2. A2 Hosting
A2 Hosting is a well-known player in the server industry who has been surviving since 2001. No doubt it is the blazing fast web hosting that delivers the "Swiftserver" features for the ultra-fast page load speed.
It is one of the best green web hosting companies that have different hosting plans and pricing. To reap the speed qualities of this fastest SSD hosting, I would suggest you get the "Turbo" hosting plan ($9.31/mo) and enjoy the performance of the swiftness tools.
A2 Hosting Speed Performance Tools
CloudLinux – To isolate your site in the lightweight virtual environment
Websocket – To create a two-way interaction between the browser and website
SPDY – it is a Google-developed protocol to deliver the site content faster and secure
Anycast DNS – To offer quicker response time by lowering the latency
MemCache & XCache – To speed up the database access
And much more speed resources like APC, Railgun, ESI, HHVM, etc.
Still, are there any speed skills of A2 hosting to be mentioned?
Yes, there are a few more!
20X faster Turbo server

Cloudflare Plus integration for faster mobile speed

PHP 7 and HTTP/2 enabled server

Lightspeed WordPress Cache to deliver the superior page load performance
3. Servebolt
Are you hearing it for the first time? Servebolt is the new player in the hosting field, but it will rock soon with its dedicated speed features.
Yes, the company claims that it is an amazingly fast hosting with an extreme performance by minimizing delays at all levels. The managed servers are highly reliable as they are supervised around the clock to ensure site security.
Every aspect of the server configuration of this very fast WordPress hosting has been optimized, and hence you could expect double the performance when compared to other hosting providers and cut down the site response time in half.
Speed Characteristics Of Servebolt
The processors use Hyperthreading so that they can work faster and handle multiple tasks at one time

They also use Infiniband, a standard computer network to offer high speed and low latency

Its OS is optimized for maximum speed at all levels, and maximum utilization of the machines to certify the sites hosting with them is fast

Tailored speed software of Servebolt includes MariaDB, HTTP/2, PHP 7.x, Mod_PageSpeed, and SSH

Fully optimized for WordPress with a fast database, optimizer plugin, SSH & WP-CLI
Other Notable Servebolt Swiftness Qualities Are
The speed improvement research process is ongoing to get the performance enhancements that are being got deployed for their customers

Servebolt declaring that they use less complex technology than its competitors to speed up the websites and could deliver better results when compared to them
4. Kinsta
Kinsta was founded in 2013 by veteran WordPress developers who have built the severs on cutting-edge technologies with a focus on speed, security, and stability.
As they are taking the speed very seriously within their infrastructure and response times, I'm recommending this server service through this list of Fastest WordPress hosting services 2020.
Even though Kinsta is a little bit expensive, it is worth spending money on the speed of obsessive architecture. You could adore the features of a premium tier network powered by Google cloud platform that has been designed in such a way to minimize distance and hops to ensure the fast data transfer.
State-Of-The-Art Speed Evidences Of Kinsta
Server-level Cache to deliver the content instantaneously

Multi-regional deployment mode of the Google Cloud platform to choose the nearest data center and reduce the latency

Amazon Route 53 premium DNS is included for all the users to have quick DNS lookup times

Partnered with KeyCDN for the impulsive assets' delivery

Optimized WordPress stack through PHP 7, Nginx, HTTP/2, and MariaDB to offer the lightning-fast solution to tackle the heavy load at traffic hikes.
5. InMotion
Last but not least! InMotion is the final quickest WordPress hosting in my list that uses the high-performance servers with a single operating system. It is a top-rated CNET web hosting company built to make your site steadfast and secure.
We were using this high-speed hosting service a couple of years back and didn't have any bitter experience with them. I'm sure that the InMotion will never let your site down regarding speed and performance.
Best Speed Qualities of InMotion are
Collaborated with World's largest ISPs and peering exchanges for direct data connections

Max Speed Zone to run your site 6X faster by making the server to respond quick

Ultra-fast SSD storage to cut down the loading speed

Low latency network for fast pings from IXPs

NGINX, PHP 7 & Free CDN included for WordPress speed optimization
Note: There is a special InMotion hosting discount available for my readers, please check and grab the fast web hosting for WordPress at a low price.
Final Words – Which Fastest WordPress Hosting To Choose?
The Blazing Fast WordPress hosting will make your readers feel great when they access your webpage and let them come back for sure. Besides, it also satisfies the search engines so that your overall SEO will get uplifted.
So, the fastest website can make higher conversions to tweak your financial status and also get high SERPs (Search Engine Ranking Positions) to stay authoritative in the eyes of Google & other search engines.
Now, let me answer for the most asked question – Who offers the fastest hosting speed for WordPress?
All the five lightning fast hosting for WordPress offer quick page load times, amazing performance, and world-class tech support. You may select any one of the server companies and check their datacenters and pricing plans.
For WordPress beginners – A2Hosting Or InMotion
For intermediate webpreneurs – Cloudways
For Experts & High budgeters – Kinsta or Servebolt
Cloudways is my top hosting recommendation as they are doing a lot for speed at the server level. If you still have any hesitation to go with Cloudways or any other fastest hosting for WordPress that I have listed above, then discuss it with me in the comment section.