Good that you want to purchase the best SSD hosting for your WordPress site!
I feel proud that I have been in the Blogosphere since 2010. I love blogging and always do experiments to bring organic traffic (Visitors from search engines) to my blogs.
I handle five blogs, and I'm delighted that I'm offering helpful information to the people.
I assume that you're a blogger or digital marketer with a website for your product/service.
You must have known that hosting is an essential parameter for making any live website or blog, and hence you should know the necessary things to have in mind while purchasing the best host.
I always use the hosting service with SSD on the server, and yes, it has some key benefits. Through this blog post, I will reveal the details of 8 top SSD Hosting Providers that I use for my blogs in 2023.
I am damn sure that you'll love the SSD-based hosting more than the traditional HDD hosting service; let me tell you some valid reasons.
Why SSD Web Hosting?
The HDD Hosting is traditional, and the good part is that the people can get it at an affordable price range. Now, SSD-type Hosting has become the real hero in the hosting world. It has more advantages than the HDD hosting part.
SSD stands for Solid State Drive, and it is the trending hosting type. It can provide faster browsing of the website or blog as it is made of ICs (Integrated Circuits), which instantly retrieve the data.
But the HDD Hosting, a disk-based storage unit, requires more time to retrieve the data as the destination can be reached only by the disk rotation. This is the primary reason that the SSD is faster than the HDD.
Major Benefits Of SSD Hosting
If you want to read the in-depth advantages of the SSD server, please proceed with reading my blog post on the topic "SSD Hosting Vs. HDD hosting".
In this well-growing technological era, it is more likely to get a cheap and unlimited SSD server.
Before getting into the details, you may look at the SSD hosting services that give a free trial with no credit card required.
Top 8 SSD Hosting Providers To Load Your Site Super Fast
Several web hosting services use SSD servers, but let me tell you the eight best SSD hosting companies that can be purchased without any second thought and make your site loading ultrafast!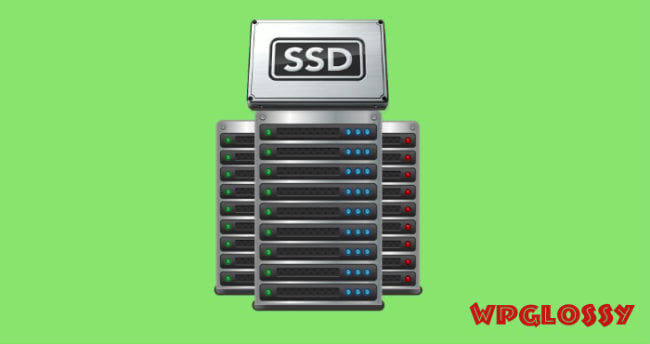 1. InMotion

(Fast SSD hosting – 50% OFF)
Inmotion Hosting is one of the fastest SSD-based hosting providers that provide great flexibility while purchasing SSD-based hosting packages.
I am glad that I have been using Inmotion for several years for my WPGlossy blog, a primary money-making blog of mine. I would recommend its great SSD shared hosting for your site without hassle.
The Inmotion SSD packages come with a Free Domain registration for one year. It has over 300+ one-click installation-based applications, including WordPress. It boasts of Unlimited Storage and Bandwidth data transfer.
The technical engineers are well qualified to help the customer without any hassle. The company guarantees 100% uptime, and the Max Speed Zone feature makes the website page load faster than ever.
This famous hosting company has Spam Safe Email Protection that helps you get rid of spammers.
Pricing Details
1. SSD Shared Hosting Pricing Plans of InMotion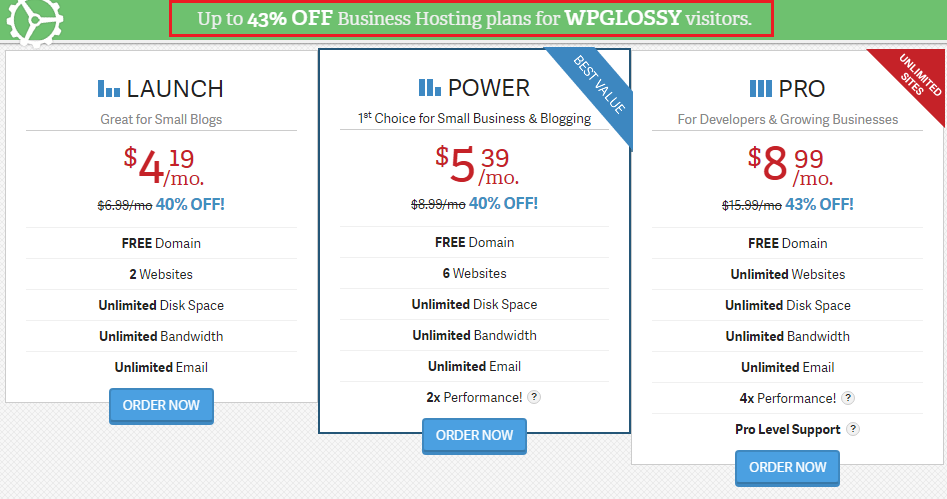 2. VPS SSD Hosting Plans Of InMotion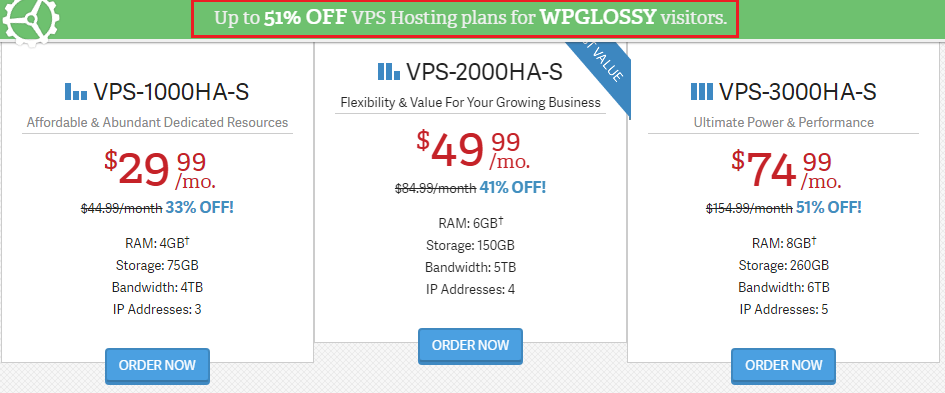 Pros Of InMotion Hosting
Live Chat for instant queries & solutions.

Free Premium Website Builder.

Excellent Uptime.

Unlimited Data SSD Storage & Bandwidth.

Malware Protection.

90-Day Money-Back Policy.
Cons Of InMotion Hosting
No Service Level Agreement.
InMotion Hosting Review & Discount
I love Inmotion hosting as it provides quality service that never lets my blogs down in any case. If you want to check my experience and views, read my InMotion Hosting Review.
Do you know that there is a special, grand InMotion discount for my readers? Yes, please check the InMotion Discount Coupon and grab the SSD server service at a low price.
2. DomainRacer (40% Discount)
DomainRacer is one of the most innovative and fastest SSD hosting providers utilizing solid-state drives for their web hosting, VPS hosting, Reseller, and WordPress hosting service. They have plans for all types of users, varying from starting to advance.
Even though their cheap SSD hosting plans are highly inexpensive compared to others, you still acquire high-speed and performance services with cutting-edge infrastructure.
I would recommend its entire hosting network built on SSDs for your site without hassle.
DomainRacer SSD hosting plans come built on many in-house devices such as LiteSpeed cache technology, HTTP/3 and QUIC, One-click installation-based applications, CloudLinux infrastructures, and robust isolation even for shared SSD hosting.
Moreover, their well-qualified expert 24/7 customer support team helps you without any hassle via Email, phone, live chat, and ticket system. There are several reasons to prefer DomainRacer; the company provides a 99.99% uptime guarantee for fast rendering speed.
Pricing Details
SSD Web Hosting Pricing Plans of DomainRacer

2. VPS SSD Hosting Plans of DomainRacer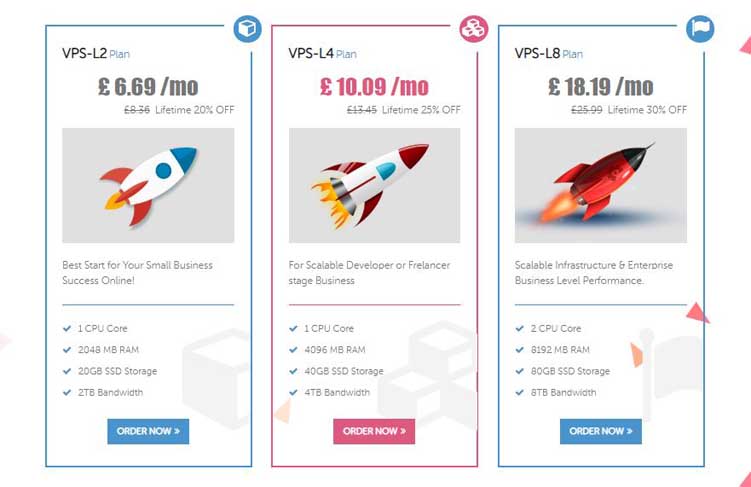 Pros Of Domain Racer Hosting
21x Faster LiteSpeed Cache Technology

CloudLinux Infrastructure with HTTP/3 & QUIC Protocol

24/7 Live Support for immediate inquiries & solutions

Unlimited Bandwidth and SSD Disk Space Hosting

Get 99.99% Uptime Commitment

Let's Encrypt Free SSL Certificates

Free Weekly JetBackup Service

Free Website Builder (Drag and Drop)

Real-Time Server Monitoring

ImunifyAV+ and Imunify360 Security tools
Cons Of Domain Racer Hosting
30 Days Credit Back Guarantee
DomainRacer Best for SSD Hosting Server Technology
DomainRacer has become the leading eco-friendly SSD-based hosting service using a powerful top monitoring server center location in India, Canada, Singapore, Germany, the UK, France, the USA, etc. To improve data fetching problems and fast loading speed.
The most impressive quality about DomainRacer is that you'll get a RAID-10 technology array to boast maximum redundancy and solid data protection services.
3. GreenGeeks

($2.95 Special Price)
GreenGeeks is another great SSD storage-based hosting platform that serves a good service with care. I am using GreenGeeks hosting for my Niche Blog, and I am satisfied with their perfect service.
It offers the users Unlimited CPanel Accounts. Also, a free migration service is available for the customer without charging a single dime.
It has cheap VPS SSD Hosting packages too. You'll exactly get full control of your brand by modifying the Private Name Server. The 150+ Apps Installation features would make you feel lucky including WordPress and other famous CMS.
The best part is that you'll get unlimited SSD web hosting at a low price from GreenGeeks Company. It has RAID 10 Storage Array that brings faster dual benefits in loading speed.
Pricing Details
1. WordPress SSD Hosting Plan Of GreenGeeks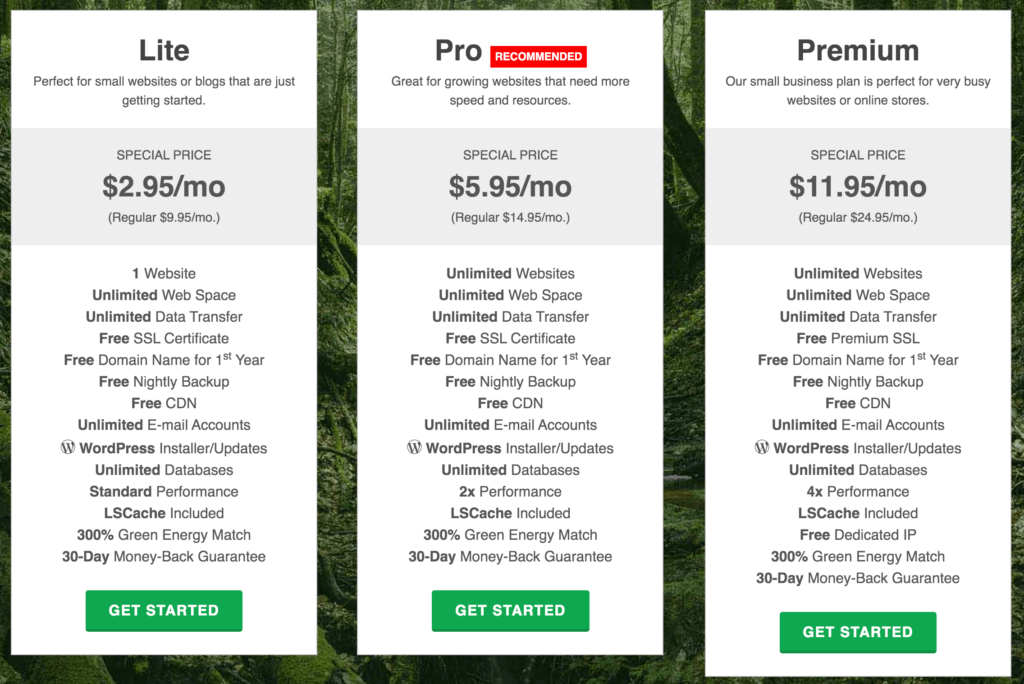 2. Affordable VPS SSD Hosting Plans of GreenGeeks

Pros Of GreenGeeks Hosting
Free Domain on every purchase.

Nightly Backup for free.

Unlimited SSD type Hosting Data Storage & Bandwidth.

30-day Money Back Policy.

24/7 Instant Customer Support.

Free Website Builder & Real-Time Server Monitoring.
Cons Of GreenGeeks Hosting
GreenGeeks Review & InMotion Vs GreenGeeks comparison
GreenGeeks is the cheap and best SSD class hosting package that works well and strengthens my growth to the maximum level. I recommend you GreenGeeks due to its reliable service. Apart from that, they care for the customer to the core.
Just have a look at my detailed GreenGeeks Hosting Review and decide which is the best, GreenGeeks or InMotion
4.

Hostwinds (Award-Winning SSD Hosting)
Are you hearing HostWinds for the first time? Don't think they are a new player in the industry! Founded in 2010, HostWinds started its quality hosting service at a reasonable price.
Yes! Now, it becomes an award-winning SSD hosting company because of its state-of-the-art hardware for high reliability and unparalleled customer service over the years. Even though the headquarters is in Seattle, Washington, US, Hostwinds operates Tier 4 data centers at 3 different locations.
Since this award-winning hosting company uses SSD drives, it can offer faster-performing servers to host your business site. You never need to bother about the speed and reliability because these are their top priorities and achieving it through the latest PHP version, Litespeed webserver, and route optimized networking.
HostWinds offers all types of services from shared to managed VPS hosting for its users and you may give a try to its easy launching SSD Cloud hosting. It is highly scalable that comes with full management and SSH key management support.
Pricing Details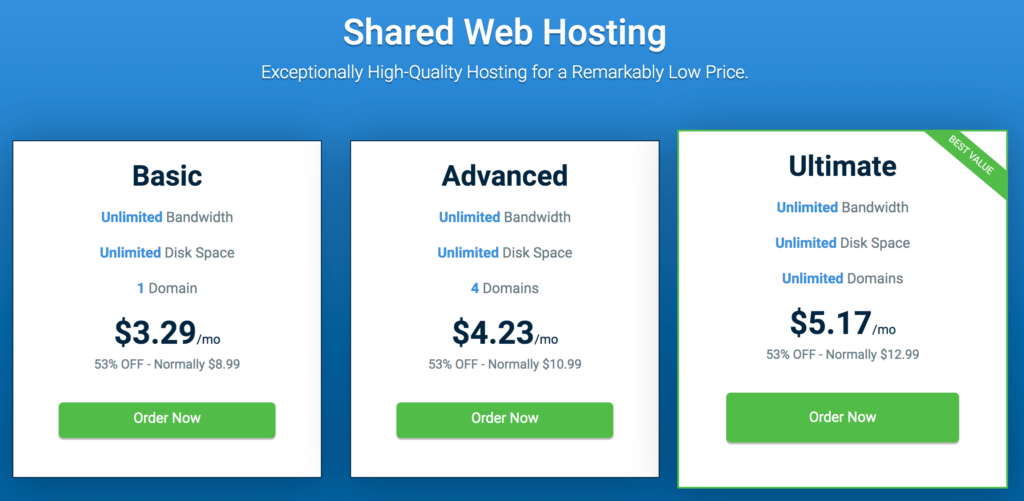 Pros Of Hostwinds Hosting
Smooth & free site migration with no downtime

Lastest PHP version and Cloudflare CDN for super-fast performance

Free domain and Free SSL certificate

Unmatched uptime (99.99%) through a redundant network

Enhanced server security (Windshield service also available)

Pre-installed custom cloud server with preferred web application

Unlimited databases and email accounts

Instant setup and latest cPanel

Shared hosting with nightly backups (Add-on Service)

24 X 7 tech support through phone, chat, and ticket system
Cons Of Hostwinds Hosting
No dedicated WordPress hosting service
Fantastic SSD Hosting For Small Businesses
The beginners always look for an affordable hosting plan and hence HostWinds is well suitable for the small business owners who are looking to establish their foot on the web.
Through the fastest server performance, they can perform well and keep the data safe with the high-secured server service. If you are looking for the lightning-fast SSD server at a cheaper price, then HostWinds is an ideal choice to go!
5.

HostiServer (Managed SSD Hosting)
If you are looking for an excellent SSD hosting VPS server, then I would recommend you to look at the features of Hostiserver. Are you hearing this server company for the first time? Let me tell you its valor briefly!
Hostiserver offers managed web hosting solutions for all types of businesses like entry, medium and heavy traffic sites with the best infrastructure and performance.
Since it is a fully managed hosting service, you can focus on your business growth by staying away from server technical glitches. Moreover, you can adore their expertise and get custom solutions for your high-load games or e-commerce sites, or even professional blogs.
HostiServer VPS SSD server is well-known for flexibility and reliability to ensure smooth work, fast loading, and high level of security. You can easily upgrade and downgrade the resources according to the site requirements.
If the target audience of your business or blog lives in the country US or Europe and you don't have time to handle the technicalities like installation, optimization, software updates, and other tech tasks, then you can buy this SSD server hosting without any hesitation.
Pricing Details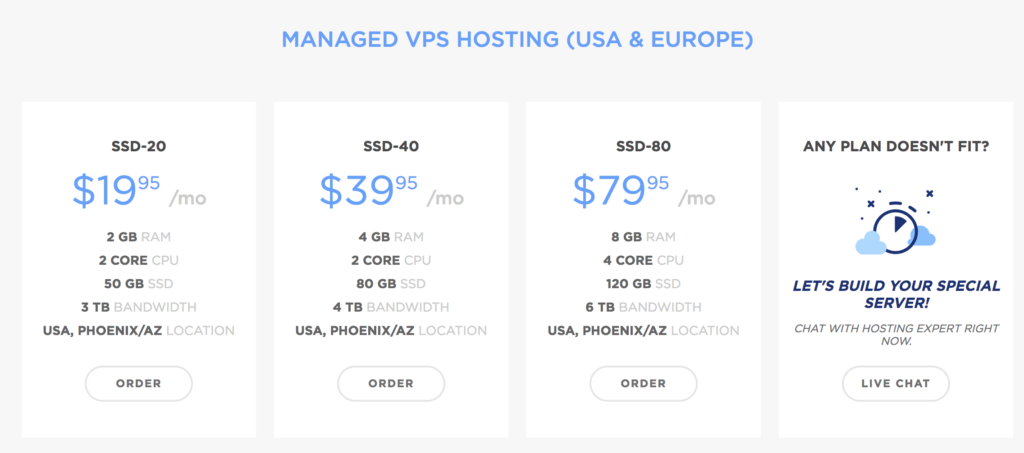 Pros Of HostiServer Hosting
21x Faster LiteSpeed Cache Technology

CloudLinux Infrastructure with HTTP/3 & QUIC Protocol

24/7 Live Support for immediate inquiries &

Free Migration and Initial Setup

$150 Bonus to all new clients (For $150 recharge, you will get $300)

10 MBPS CDN

Unlimited Free Backup Storage

True KVM Virtualization

Website Speed Optimization

Several Payment Options (like PayPal, Epay, Wire transfer)

Full Tech Support and Real-Time Monitoring

2GB RAM, 50 GB SSD, and 3TB Bandwidth (Basic Plan)

Contact through Live Chat, Phone, and Email
Cons Of HostiServer Hosting
The dedicated

server hosting type is expensive (because they use reliable branded hardware and full tech support is

included in the price)

Best suitable for only US and Europe based websites

Only 15 Days Money Back Guarantee
Best SSD Hosting For Non-Tech-Savvy Site Owners
Hostiserver can handle all the technical operations for your business website, and hence you have to stay relaxed and improve your business without the need of worrying about the Speed, Security, Performace, and Hardware & Software updates.
Specifically, if you are targeting the US and European Countries, it is a fantastic SSD server choice. You don't need to spend the dime for Backup, Migration, CDN, and other stuff. This managed hosting is a tremendous choice for dedicated business owners with less technical knowledge.
6. KnownHost

(Best SSD VPS)
KnownHost has the best-managed SSD VPS package with DDoS Protection. It is a user-friendly hosting provider with an affordable SSD web host package.
My best friend, the co-founder of this blog, Sakthi Kumaran is using the SSD VPS hosting of KnownHost hosting for launching his WordPress Themes previews on ThemeForest.
He never faced a single issue till now, and his 6 WordPress theme demos on ThemeForest are live with 100% uptime. See his ThemeForest portfolio!
Yes! The 24/7 Customer Support will make you feel happy and healthy without any doubt. KnownHost SSD hosting platform guarantees the best uptime in the industry than any other hosting provider with their proof.
You can host unlimited domains on the server without any hassle. Moreover, you will get free website builder module for easily crafting your website.
One-click installation of popular applications including WordPress on the server is possible. The 4 World-Class Datacenter Location helps your website load faster around the globe.
KnownHost is best known for its quality service including Free Migration of your existing website and a guide on setting up a fast website.
Pricing Details
Pros Of KnownHost Hosting
1 Click installation of Popular Applications including WordPress.

30-Day Money-Back Policy.

100% Uptime.

Monthly billing hosting plans are available.

24/7 Customer support with Live Chat facility.

Free Premium Website Builder.

Live DDoS Protection.

Affordable & Reliable Hosting Provider.
Cons Of KnownHost Hosting
No Free Domain.

Priced a little high.
100% Satisfied KnownHost User
Having the high-quality managed VPS hosting solution with no downtime, Sakthi has preferred the KnownHost VPS package for his ThemeForest WordPress themes demo setup.
He is enjoying the worry-free hosting experience with the maximum uptime of KnownHost VPS hosting and making consistent theme sales as well.
7. A2 Hosting (Cheap SSD Hosting)
The A2 Hosting is a developer-friendly hosting provider that provides free SSL & SSD including unlimited storage. This Green web server best suited for people with a low budget and who seek a reliable SSD Hosting package.
The Guru Crew Support will assist you all the way and solve the queries in a very short time. They also provide Free Migration and Cloudflare Integration for all your site. They guarantee 20x Fast Server, and that is worth your money spent.
One-Click Installation of the popular application is available which majorly includes WordPress, Joomla & Drupal. It also boasts LetsEncrypt SSL security & also supports Node.js, Python, Apache 2.2, etc.
A2 Hosting is one of the secure SSD hosting companies since it has Free Hackscan Protection to help your server stay clean and safe forever.
Pricing Details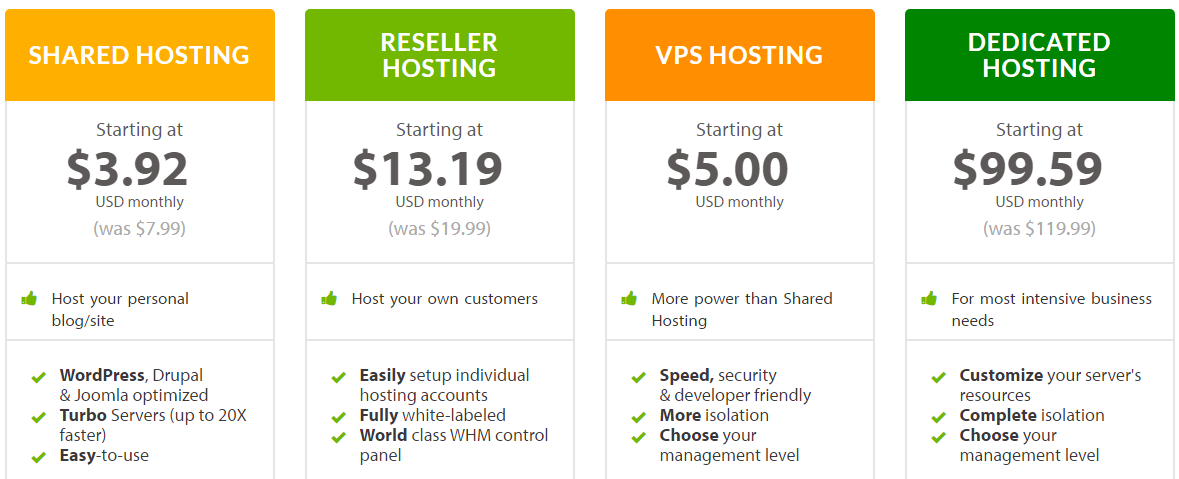 Pros Of A2 Hosting
Anytime Money Back Policy.

Free Website Builder.

Spam Protection & Hackscan Protection.

Cheap SSD Hosting.

Unlimited SSD Storage & Bandwidth Quota.
Cons Of A2 Hosting
No Free Domain.

No Drag & Drop Website Builder.
Best For Event Blogs
I am happy with the A2Hosting's SSD dedicated server as it helps my Event Blogging site rock to the core.
As there would be a sudden traffic increase in the Event Blog, this cheap SSD VPS hosting handles my site without any issues. I don't have any complaints with the tech support as well.
8. WPX Hosting (SSD Hosting For High Traffic)
The WPX Hosting (previously called "Traffic Planet Hosting") is one of the Best SSD Hosting providers that offer High-End Hosting solutions and services to the customer.
WPX is most recommended by the famous Internet Marketing celebrity and also suggested by Thrive Themes (A Popular WordPress Theme Vendor).
Here is the proof!
WPX hosting comes with Free SSL and 99.95% Uptime features for the customers. WPX is a WordPress Managed SSD hosting network that cares more about the website speed and quality of the website.
This SSD server provider has a free migration facility that helps your existing site migrate safely by their technicians.
It also provides free Domain Privacy and full technical support for the non-coders. The loading speed looks fast which makes the browsing experience a smooth one.
They have a Simple UI and Dashboard which would be easily handled by the customer. It is a customer-friendly hosting provider which will never let you down in any case.
Pricing Details
Pros Of WPX Hosting
Free Website Migration.

Free Unlimited SSL & Domain Privacy.

Live Chat Support for instant customer support.

30 Day Money Back Policy.

Customer Friendly.

Malware Protection & DDoS Protection.

14-Days Daily Backup Facility.
Cons Of WPX Hosting
Little bit expensive packages

Limited SSD storage unit.
Suitable For High Traffic Sites
I have been using this SSD lightspeed hosting for my newly created Amazon niche blog since last year. As my targeted audiences are in the UK, I had an excellent option to choose the exact hosting location for my site.
Even though I'm yet to drive massive organic traffic, it's a pleasure using this exceptional SSD server company.
Bonus (Cloud SSD Hosting)
You should know about Cloudways managed hosting which is an excellent SSD-based hosting that is 3 times faster to have reduced page load times.
If you are looking to buy the Cloud SSD hosting, then you may use a special discount through the Cloudways Discount Code – WPGLOSSY to get $30 instant FREE credit, and hence you can use the basic digital ocean plan free for 3 months.
If Indians are your targeted audience, then you should consider getting the best WordPress hosting In India to serve your website faster than before. Also, check some Managed VPS Hosting if you are a busy entrepreneur.
You May Also Like To Check
Conclusion
Finally, you've come to know the 9 excellent SSD-based hosting providers of 2020 via this blog post. I hope that you've got the idea to choose the best SSD hosting for your new/existing website.
The Solid State Drive (SSD) is the advanced hosting part with the latest features that would dominate the whole hosting industry in the nearer future. I am damn sure that every web admin would love these green hosting providers since they would reduce energy consumption to a greater extent and make the web green.
I recommend you try SSD hosting and analyze the actual improvement. I had a great experience with the SSD VPS hosting, and I migrated all my websites from HDD to SSD due to its popularity & features.
If you need real SSD hosting solutions, I strongly recommend you choose any server service that I have listed in this post. So, what is your opinion about these fast SSD hosting services? Which one would you like to buy? I would highly recommend GreenGeeks hosting service for you! Get it now!