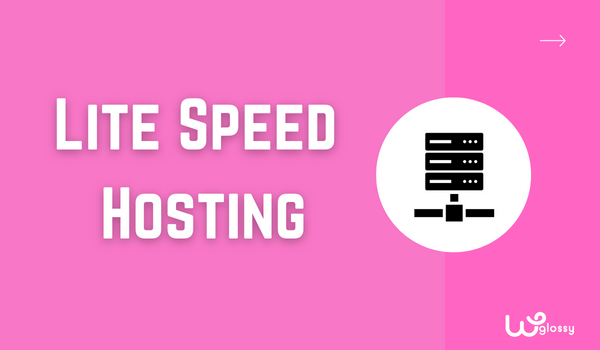 Several options are available to host your website, and LiteSpeed hosting is one of them. But at the same time, many providers are in the market, making it hard to pick the right one. In this guide, I'll list and review the features of some best LiteSpeed hosting you can get today!
Is your website slow? Are you looking for a way to speed it up? Do you think your blog website can perform better than the current state? If that's the case, you're on the right track. The only solution to this problem is to switch to the best LiteSpeed hosting or web server.
Speed is one of the most crucial factors to consider when making a website and is now a ranking factor. It's necessary for all websites, whether your blog, business, company website, or an eCommerce store. So, can you rely on cheap hosting to keep your site fast? A big No.
What Is LiteSpeed Hosting, And Why Should You Get It?
LiteSpeed hosting is a web server software developed for efficient and high-end performance. It's basically an alternative to the old Apache web server available in most WordPress hosting plans. This hosting offers incredible features — scalability, security, and traffic balancing.
You should use this hosting because, compared to other web servers, it's faster and can handle more traffic. You get built-in plugins for caching and optimization, and they provide you with CDN services. LiteSpeed could be your go-to option if you want the best uptime hosting.
10 Best Best LiteSpeed Hostings – Reviews
As I have mentioned, many hosting providers now provide LiteSpeed hosting in their plans. I have done hours of research and found the following reliable hosting providers. Make your final decision after reading through the descriptions and features of each hosting. Let's start!
1. A2 Hosting
Overview
One of the most popular hosting providers known for speed, uptime, and performance is A2 hosting. They offer top-notch features in their plans, including LiteSpeed, and yes, at a pretty affordable rate. If you want fast and reliable hosting, you should try A2 hosting.
You can get Turbo Boost or Turbo Max for your website to stay on top. They claim up to 20x more performance on these plans. Plus, they have a robust and secure service. Your website will remain protected from potential attacks to keep your data and files safe.
Best Features
Can host unlimited websites all at a time
Supports an unlimited NVMe SSD storage
Offers free SSL certificate and website builder
Guaranteed uptime up to 99.9% on all browsers
Can ensure up to 20x faster page loads
Can handle up to 9x more website traffic
Up to 3x faster read and write speed
2. Liquid Web
Overview
Liquid Web is a lightning-fast VPS hosting backed by a very skilled team. This hosting is a little bit expensive depending on the plan you select per your needs. All their plans have a built-in cPanel and offer 10 TB bandwidth. They also have strong security firewalls for managed servers.
This is an advanced-level LiteSpeed hosting service, and you must have the technical know-how to operate it. But it should not be an issue not to get this hosting as you'll miss a powerful tool. It's a fully dedicated server, super fast, and reliable. So, if you're on a budget, go for it.
Best Features
Host unlimited websites with InterWorx
Has top-notch speed with guaranteed uptime
High-level integrated firewalls for security
Cloudflare CDN for fast performance
Easily scalable according to your needs
Get real-time monitoring to mitigate traffic
3. GreenGeeks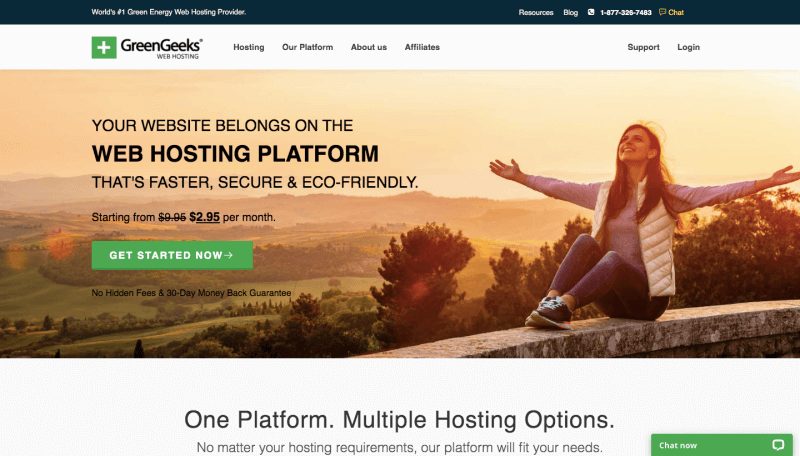 Overview
If you are looking for budget-friendly, fast, and reliable hosting, GreenGeeks could be your next choice. This LiteSpeed hosting provider is super cheap for WordPress websites, and everyone can afford it. However, their VPS hostings are expensive but offer several worthy features.
GreenGeeks is a simple and easy-to-manage hosting server, and anyone can easily use it. A 30-day money-back guarantee backs all the shared and VPS hostings offered by GreenGeeks. Don't confuse yourself with its price; you get the benefits of dedicated hosting.
Best Feature
Easy-to-use, fast performing, and secure
Supports unlimited disk space and bandwidth
Offers multiple options to fit all your needs
Guaranteed average uptime of about 99.95%
Available with Free CDN from Cloudflare
Pricing plans are highly market competitive
4. GridPane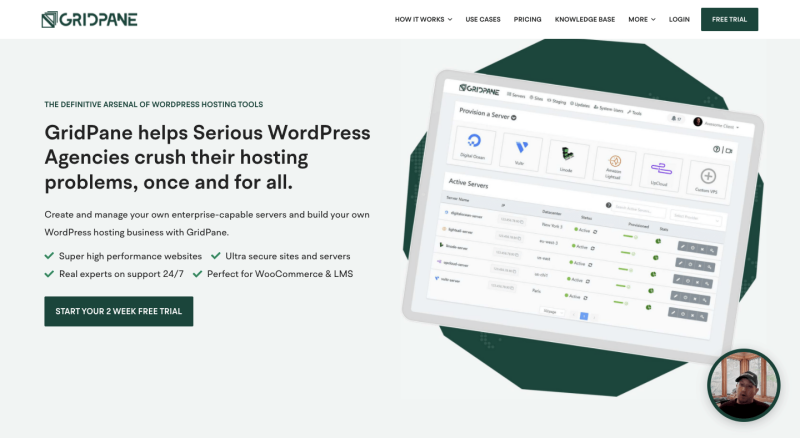 Overview
The next WordPress LiteSpeed hosting provider on our list is GridPane — the best hosting for developers and agencies. It's the perfect platform, with fast speed, highly secure, and easily scalable. Besides hosting plans, you can create your own VPS and dedicated servers.
Gridpane offers a 100% free plan for creating WordPress servers and a 14-day trial for premium plans. So, you can try their service for free and switch to premium ones if you find it helpful and achieve results. You'll enjoy several benefits in their panel, developer, and custom packages.
Best Features
Extremely fast, highly secure, and scalable
Let you build your own hosting and website
Premium plans have Nginx & OpenLiteSpeed
Ensures speed, uptime, and performance
Allows one-click login to Your WordPress sites
Offers you free A+ grade SSL certificates
5. Siteground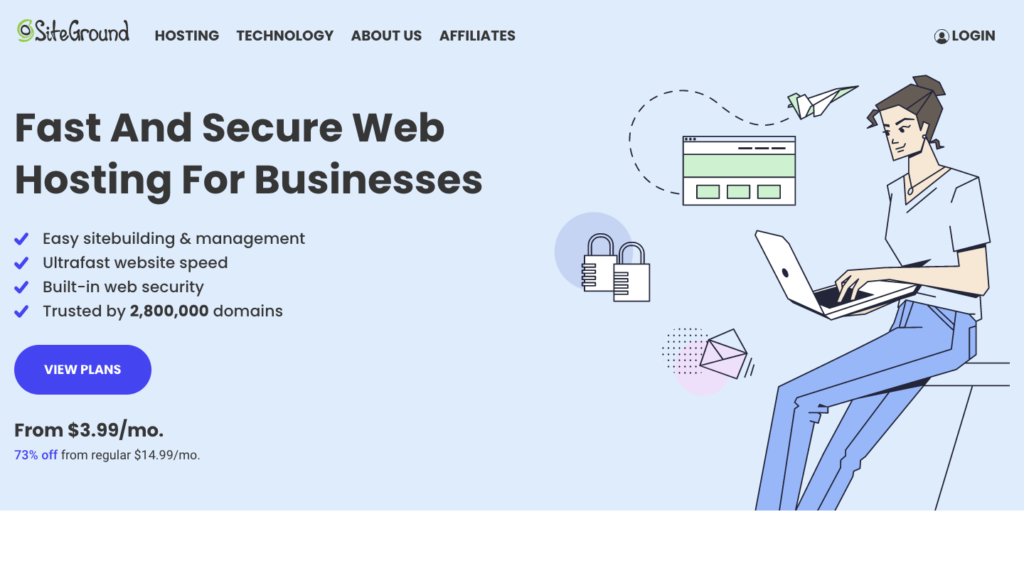 Overview
Siteground is the most famous and widely used hosting among bloggers and developers. Many individuals and companies use this hosting to host their websites and are happy with it. It has got recommendations from WordPress and many positive reviews from its users.
This platform uses premium Google cloud infrastructure, making it a reliable hosting for all users. All the websites hosted on their platform never slow down and have an incredible uptime. They offer extra security features and support to keep your website safe for visitors.
Best Features
Easy-to-Use admin interface and features
Offers beginner to advanced-level options
Guaranteed uptime up to 99.9% on all browsers
Offers free SSL, CDN, and website builder
CDN is available on all premium packages
Users can choose from multiple plans
6. Scala Hosting
Overview
Scala Hosting is a cloud VPS hosting offering reliable and lightning-fast performance. They have integrated LiteSpeed into their plan for speed and security to make your website ideal. Besides LiteSpeed, it has SSD storage to help further increase the hosted website's speed.
This hosting has many unique features, including the sPanel, which works like cPanel. SShield Security is another best feature for protecting up to 99.9% of malicious attacks. SWordPress manager makes it easy to manage your website(s) in seconds and keep them secure.
Best Features
Easy setup, fast with a decent load time
Offers free domain on first registration
All plans have free SSL and free CDN
Has unlimited bandwidth on all plans
Allows One-click WordPress installation
Automatic updates, staging, and cloning
7. Hostinger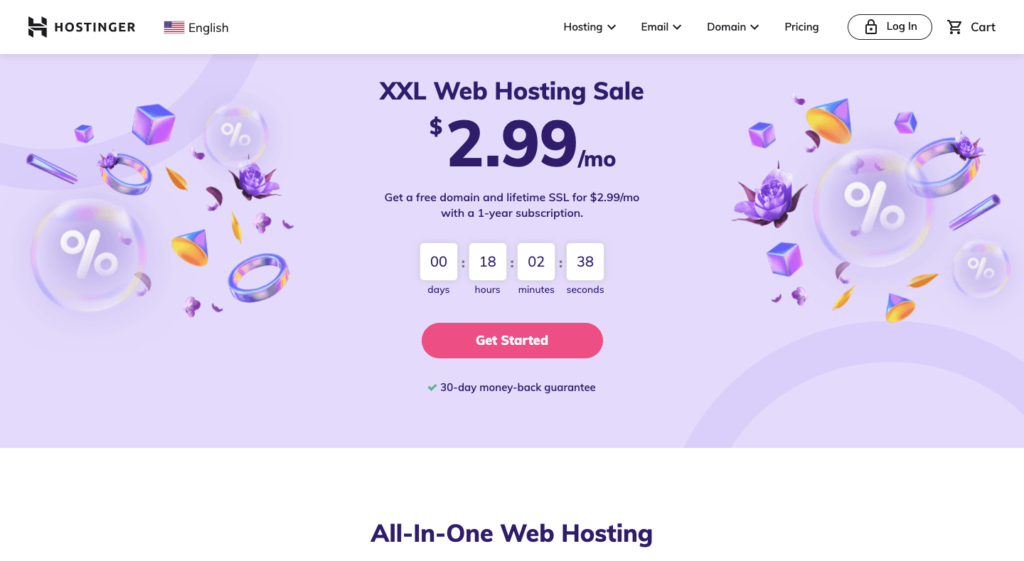 Overview
Like Siteground, most bloggers and developers use this hosting for their websites thanks to its reliability and affordability. If you are starting your blogging journey or an agency wants to host a client's website, Hostinger is for you. You'll get outstanding performance on this LiteSpeed hosting.
This WordPress hosting has many excellent features, including uptime, speed, and installation. If you are a beginner starting with one website, you can start with their Basic or Single plan. Instead of cPanel, it offers hPanel as its control panel, which is pretty easy to manage.
Best Features
Easy setup, beginner-friendly, and super affordable
Powerful caching powered by LiteSpeed web server
Fast loading, perfect performance, and 99.9% uptime
One-click WordPress installation with Auto Installer
Provides you with a free SSL certificate with all plans
Offers free domain in Premium and Business plans
8. KnownHost
Overview
KnownHost is a US-based managed VPS hosting provider known for speed and performance. It's a little expensive for those on a tight budget. But if you purchased this hosting, you can expect many benefits. You'll get everything, from quality to support to migration to security.
This hosting offers diverse hosting solutions designed to suit most businesses. Its shared hosting plan with LiteSpeed features starts at $3.47 per month. What I call expensive is its basic VPS, starting at $40 per month. So, you can get one according to your hosting needs.
Best Features
Built on high-performance and secure architecture
100% fully managed, easy configuration and backups
Support is outstanding and available 24/7
99.9% of guaranteed uptime in the past decade
100% SSD for ultra-high performance on all plans
Offers free DDoS protection against DDoS attacks
9. NameHero
Overview
NameHero is a budget-friendly LiteSpeed hosting provider with many free features in its starter plan. You can easily create and manage your website thanks to its simple and beginner-level cPanel. With this hosting, you'll enjoy perfect speed, ranking, and superb security.
This hosting provider offers shared hosting, managed cloud VPS, and dedicated hosting. Its shared hosting is perfect for everyone, from individuals to business owners. You can pick any plan according to your needs, but I recommend Turbo Cloud for its numerous benefits.
Best Features
Pretty simple, user-friendly, and easy to set up
Offers up to 4 hosting options to suit your needs
Free SSL, website migration, and LiteSpeed server
Fully reliable, speedy, and with full performance
Unlimited websites on Turbo and Business Cloud
Provides free Cloudflare CDN for all hosting plans
10. ChemiCloud
Overview
ChemiCloud is almost new to the hosting market, with a LiteSpeed server. It's pretty easy to set up and gives a free domain to register. You can pick multiple options like shared, WordPress, reseller, and VPS hosting. One thing is pricing is a bit high being a new provider.
If we talk about plans, this hosting has three different packages, Starter, Pro, and Turbo. You can use the Starter plan for a single website as you'll get several other features. It's not for you if your budget is tight. But its features set and performance is worth the price of this hosting.
Best Features
Pro and Turbo plans can support unlimited websites
Instant activation with a 45-day money-back guarantee
Guaranteed 99.9% uptime and speedy performance
All hosting types and packages support SSD storage
Offers free SSL, migration, and Cloudflare CDN
Can handle enough traffic to your website(s)
Best Litespeed Hosting – Frequently Asked Questions
Is the LiteSpeed server good?
Yes, LiteSpeed is the best web server regarding speed, performance, and future scalability. It offers DDoS protection to mitigate DDoS attacks. It's the perfect hosting or web server for serving WordPress, Joomla, Drupal, and other CMS platforms.
Why is LiteSpeed so fast?
LiteSpeed is one of the fastest servers, thanks to minimal hardware resources. It uses minor hardware like memory and CPU and more quickly serves static content than any other web server. By using a custom PHP, LiteSpeed enhances the overall performance.
Is LiteSpeed better than Apache?
Yes, LiteSpeed is far better than Apache and works lightning fast when serving PHP or static content. If we talk about our choice, a one-word answer is LiteSpeed. It has several outstanding benefits, including speed, optimization, security, and more.
Conclusion
LiteSpeed hosting is one of the best servers with guaranteed efficiency and performance. It's among the best uptime hostings, performing better than Apache and Nginx. I appreciate the event-driven architecture of LiteSpeed, which is the best architecture model.
All the LiteSpeed hosting services I reviewed are the best ones. Some offer incredible features and have reasonable price tags. While others have slightly higher price tags, their advantages are worth their prices. These hosting are the best for those who want LiteSpeed WordPress hosting.
If you want to update your hosting plan, the best LiteSpeed hosting you should get is A2 Hosting. It has Turbo Boost and Turbo Max plans, which ensure lightning-fast speed and 20x more performance. So, that's all from our side, and best of luck with your next hosting.