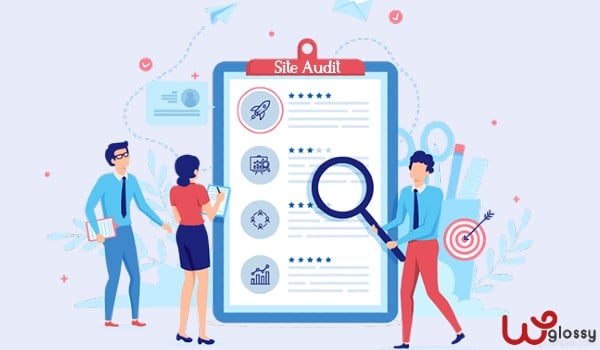 Do you want to buy the best website audit tool for SEO success? You have reached the right place to identify some SEO site auditing tools worth using in 2023 and beyond.
I'm getting opportunities to use several audit tools for my SEO clients and prepare reports for them.
Hence, I can suggest the great ones to avoid the manual check on each page and improve its performance on search engine ranking results.
Before getting into the list, I suggest you download the website audit checklist PDF to understand what to check for on a website and make the enhancements to boost the SEO.
Besides, you should know the features to look for while selecting the ideal SEO audit tool.
Top 7 SEO Site Audit Tools To Monitor Your Website Health
Let's see the best SEO site audit tools; you may pick anyone without hesitation.
1. SEMRush
SEMRush is not only the best SEO tool for doing keyword research and competitor analysis, but it is also meant for productive site auditing tasks. Check your site's health with this analysis tool and fix the issues.
It is the best resource to perform a comprehensive technical audit with which you can tweak the Google rankings. I adore its constant monitoring quality to catch up with the potential issues before they become bothers.
Features
Prioritizes the issues and creates the checklist.
Advanced filters are available to create your own prioritization rules.
Offers detailed reports for crawling, internal linking, and SEO performance.
Tracks SEO optimization progress and automates the reports.
2. SE Ranking
SE Ranking is one of the excellent site audit tools that crawls every page of your website by using several sources for scanning. As it evaluates all the critical parameters like internal links, site loading speed, meta tags & headers, and image analysis, it steals a place in my list.
I'm glad about the adoring features of SE Ranking and its scanning depth. With the help of its comprehensive reports and dynamic comparisons, you can see your progress and conclude what still needs to be done.
Features
Scans the subdomains within one audit and closed domains after an HTTP authorization.
Detects all the technical errors like duplicate pages, pages blocked by robots.txt or marked with Noindex.
Possible to control the crawling speed and adjust the limit for site scanning.
Automated scheduled reports and rechecks to keep your site under continuous review.
Lets you customize the site audit report by adding logo and comments.
3. Sitechecker Pro (20% discount)
The third on my best site audit tool list is a real-time, cloud-based resource! It's nothing but the website crawler from Sitechecker Pro. It deeply crawls your website to find the technical glitches and prepares a to-do list with detailed instructions to fix them. 
I admire the on-page SEO auditing for core web vitals as it is an essential Google ranking factor. After using this brilliant website crawler, my SEO  and organic traffic have improved significantly. Yes, the Sitechecker Pro is a handy tool for running regular technical SEO audits. 
Features
The SEO audit scanning time is super quick; it's just 2 minutes
You will come to know the health of the website through a score.
All the notifications, like critical issues and warnings, will hit your mailbox.
A free trial is available; you don't need to provide credit card details. 
Well-suitable for SEO agencies, in-house marketers, and business professionals.
Setting options are flexible; you can exclude specific pages and categories from the audit.
4. Website Auditor (SEO PowerSuite)
WebSite Auditor is an SEO audit tool for desktop that lets you fully audit your website in a matter of minutes. The tool does a sitewide audit, just like most technical SEO crawlers do, analyzing websites for technical SEO issues, such as duplicates, redirect chains, broken resources, and more.
It shows errors and gives tips on fixing them, so handling all of them won't be a big deal.
Additionally, you can connect WebSite Auditor to Page Speed API to bulk-check all your pages and see if they meet the Core Web Vitals requirements.

Features
It has specialized webmaster tools to create sitemaps, and robots.txt files, manage hreflang tags, and do more technical SEO stuff.
Besides, it contains a special Visualization tool that visualizes the website structure, with all its pages and internal links.
The tool has its proprietor metrics InLink Rank which vaguely corresponds to Google's PageRank to measure a page's or domain's SEO value.
WebSite Auditor is also good for page-by-page optimization. It contains the SEO Content Editor to improve on-page SEO in the app.
You can analyze an individual page (or create one from scratch), check its optimization rate, add recommended keywords, test meta snippets, and more.
5. SEOptimer
Are you looking for a free SEO audit and reporting tool? If yes, SEOptimer is the right choice. It is a fantastic tool that offers a clear and prioritized list of suggestions to improve your site performance.
You can use it comfortably and turn your site into a lead magnet as it has a simple-to-use interface. This embeddable audit tool is highly customizable; hence, it is more likely to produce the White labeled reports with your desired color and font.
Features
Monitors every page of your site to detect possible difficulties.
Unlocks the pages that have ranking potential.
Consolidated crawl reports and real-time results at faster speeds.
Uses unique JavaScript rendering technology to view the site as a real user.
Offers Premium version with 14 days free trial.
6. Raven Tools
The website auditor of Raven tools is exceptional in diagnosing the site issues and improving its visibility. It categorizes the technical problems into six buckets so that you can quickly correct them and make improvements.
Offering two different ways to view your audit is the highlight of Raven tools with which you can quickly optimize your website. It is easy to fix all the errors through the easy-to-follow checklist suggestions and track the progress to reach SEO success.
Features
Possible to schedule and customize the audit with advanced settings.
Integrates directly into your marketing report tool for any KPI customization.
Compatible with all devices, the results can be shared with the shareable link.
Checks the issues related to images, Meta, visibility, content, semantic, and speed.
Allows you to audit your site for free, and later you may opt for the affordable plan.
7. SEOMator
Want to get a free SEO site audit in 3 minutes? Yeah, you may use SEOMator, which is a tool worth trying. You will get a detailed report by identifying all the problems like slow loading speed, low content quality, SSL certificate, and much more.
When you want to go deeper, try its seven days free trials to grasp white label report with detailed analysis along with an embedded SEO audit widget, Bulk processing, API access, and complete data CSV export.
Features
Provides SEO performance analysis and "How to fix tips" for all issues.
The PDF report is directly downloadable and uses it as a work schedule to enhance your site enactment.
Possible to make improvements to the social presence of your site.
Full detectable issues list with complete crawler, structured data, and internal linking report.
Cheap pricing plan with unlimited SEO audits for small businesses.
5 More Excellent Tools For Technical SEO Audits
8. Sitebulb
Sitebulb is an award-winning tool that identifies technical SEO problems without digging around for hours. It is the dominant site crawler that gives the most insightful reporting system.
Features
Rich in data visualization and flexible PDF reports.
Audit websites of any size.
9. Screaming Frog
If you want a tool that thousands of SEO experts have trusted to perform technical SEO site audits, then your choice should be Screamingfrog. It can do an in-depth inspection of 500 URLs for free.
Features
A thorough analysis with a lot of tests.
Got featured in top publications like MOZ and Search Engine Land.
Unlimited detailed inspection and free technical support for the premium version.
10. WebCEO
WebCEO is a fantastic tool that detects, analyzes, and removes technical errors from your site. Checking for broken links, anchor texts, page speed, missing images, server issues, and broken CSS & JavaScript files is a notable feature of this resource.
Features
Advanced site auditing qualities.
Detailed SEO reports attaining top rankings.
14-days free trial with no credit card required.
11. SEOProfiler
Do you want to remove website errors and get high rankings? Are you looking for an SEO auditing tool for mobile ranking? If yes, then SEOprofiler is one of the best website audit tools to give a try. It performs device compatibility and security analysis as well.
Features
Automatic checks for all technical elements.
Fixes duplicate content problems.
Improves the webpage indexability.
12. SEO Site Checkup
SEOSiteCheckup is a fantastic site audit tool with an intuitive dashboard with instant access to reports, monitors, and analysis tools. It creates white-label reports and finds out your SEO faults. You can make automated checkups for constant monitoring.
Features
How to fix tutorials for each issue.
Conducts more than 50 tests.
Signup for free with a 14-day free trial.
Wrapping Up – Which Best Site Audit Tools To Use In 2023?
The website audit is something that I do regularly for my SEO clients, and hence I am aware of a plethora of fantastic tools. When you check the health of your site with the right tool, you can recognize the technical errors and fixes with which you could improve your brand visibility on the web.
We can perform the manual site examination; however, it is a tedious process because you need to check every website page to identify the SEO & technical blunders. Therefore, I suggest some best SEO tools for site auditing to tweak your web presence.
I have spent some quality time curating this top list of SEO site audit tools for 2023 and beyond. So, you may use any of the sources from the list to prevent the negative SEO impact that affects your rankings in SERPs.
Here is my best tool suggestion for you!
Go with SEMRush if you need a professional site audit tool and have a reasonable budget.
Get SE Ranking or Sitechecker Pro for in-depth site auditing at affordable pricing.
Looking for the best free site auditing tool? Use SEOptimer.