Are you looking for reliable cloud web hosting at a cheaper price? Did Cloudways and RunCloud enter your list of hosting services, but not sure which one to pick?
This Cloudways Vs Runcloud comparison article is for you.
Both Cloudways and RunCloud, are similar web hosting service providers and provide better hosting solutions from different servers worldwide, such as Digital Ocean, Linode, Vulr, Google Cloud, etc.
They provide exceptional hosting solutions by scaling server resources and server management differently through the great support team. The main difference is that Cloudways can scale the resources of a server from the hosting account, but RunCloud can only manage the available resources from different servers.
There are several other differences that I will be detailed throughout this article. Let's start!
Cloudways Vs RunCloud – A Quick Comparison
Why is Cloudways Better than RunCloud?
Cloudways managed cloud hosting is better than RunCloud, and here's why.
Cloudways is a managed cloud hosting service operating from five different web servers worldwide, but the RunCloud service manages multiple unmanaged web servers in its control panel.
Cloudways account can scale server resources within its hosting account, whereas RunCloud needs another account.
It has built-in Cloudways CDN for faster content delivery in local areas with maximum uptime.
Cloudways gives access to a free trial for offering managed web hosting services such as application monitoring, website performance, and security services.
SSD-based servers are used, and PHP application management is accessible for quick data transfer.
Subdomain creation is a simple process. Not many technical steps are involved.
Besides, this fastest web hosting provides automated, powerful backup systems and advanced caches for proxy servers with no downtime issues.
Why is RunCloud Better than Cloudways?
RunCloud cloud hosting can manage several servers. Most importantly, RunCloud has an expert team to perform the free migration of websites.
RunCloud holds an API-based server and performs application management within its powerful control panel.
It uses Nginx and Redis caching for lightning-fast web page loading.
RunCloud uses a single dashboard to manage servers and websites for staging and application maintenance.
The basic plan costs $8 monthly, which applies to managing one server and its associated web apps.
Cloudways Or RunCloud – A Detailed Comparision
I use certain parameters to identify the better of the two for a detailed comparison of these cloud hosting services. These parameters are speed, performance, WordPress features, security, CDN, customer support, free services, and ease of use. The control panel measures the hosting service's quality, which helps determine which is better – Cloudways or RunCloud.
Speed
The website's speed is affected by server sources, browsers, webpage scripts, and files used for web page creation. The best hosting services should offer an optimal solution for these issues through their resources, caching methods, and PHP version used in a database for faster connectivity. The storage capacity and available bandwidth limit for quick file transfer are other outstanding elements that can enhance the site.
Both Cloudways and RunCloud use the best servers for website speeds. Let's compare their speed performance!
Cloudways
Cloudways uses SMTP and SSH access to connect servers with application management and their deployments.
This best-managed cloud hosting uses servers from Digital Ocean, Vultr, Amazon Cloud, Google Cloud, and Linode with fully scalable resources.
Due to different pricing plans, RAM, Memory, CPU, and Bandwidth limits are customizable. There is an option to obtain additional bandwidth as well.
The SSD-based hard disk can increase the speed. The server and application monitoring provides information on CPU usage, disk space availability, and RAM usage for easy scaling.
HTTP/2, advanced caches like Nginx, Redis, and Varnish increase the site's speed.
Utilizes PHP-PFM and Breeze caching for quick data access and script execution in web applications.
So, you have come to know the speed features of Cloudways! They are exciting and have the potential to make the pages load fast. The screenshot below shows you the speed performance of our blog – WPGlossy, hosted on the Cloudways DO server.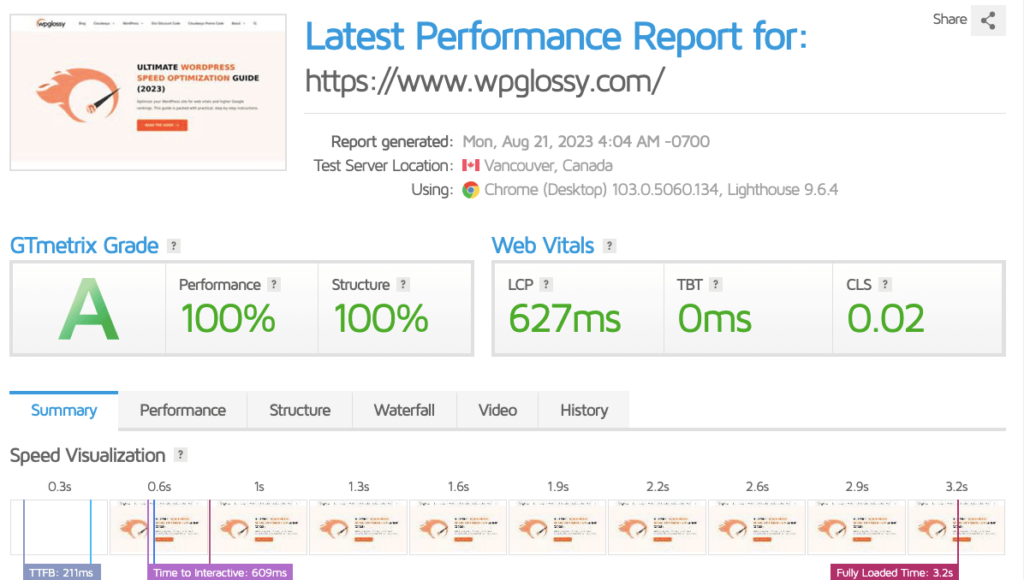 RunCloud
RunCloud uses API protocol to connect servers, and the cPanel helps manage unmanaged web servers.
It encloses PHP- CLI for high-speed data access and availability.
Nginx and Redis caches are used for rapid page loading in hosted websites.
Verdict
In this Cloudways Vs RunCloud speed battle, it is clear that Cloudways is ahead of the competition.
Reason: Cloudways has many options, such as PHP-PFM, scalable server sources, SSD-based servers, Varnish, and Nginx caching. These enable faster data transfer and increase the web page's loading speed.
Performance (Uptime)
The uptime performance provides the availability of websites during high-traffic conditions. The faster availability of site pages at any time implies better user engagement. CDN and advanced browser caches are used to maintain good uptime performance.
Cloudways
Cloudways maintains 100% uptime performance due to its host of 60+ data centers available worldwide. These make the webpage available to users nearby their locations.
The Cloudways CDN can deliver optimized media files faster using advanced browser caching methods.
The breeze and Redis cache can optimize the database and enable faster data access. So, the web pages hosted at Cloudways are always available 24×7 without downtime. You can clear the cache easily.
Regular patching and auto-healing functions with Cloudways bot monitoring provide users with 100% site availability.
Have a look at the uptime performance of our blog! Yes, we don't have any downtime records!
RunCloud
RunCloud uses a Hybrid Apache and Nginx setup. It can also use pure Nginx cache for maintaining maximum uptime performance.
The LiteSpeed method of RunCloud is meant for faster web page availability to visitors.
You can choose Nginx fast CGI and Redis full-page caching to reduce downtime issues.
RunCloud encloses its caching system, RunCloud hub for quick site access.
We are not fully satisfied with the uptime score of our niche blog hosted on the RunCloud server.
Verdict
In the war Cloudways Vs RunCloud uptime performance, Cloudways beats its competitor.
Reason: We didn't experience any site down troubles till now. Because, Cloudways uses its CDN for speedy content delivery and advanced caching techniques such as Varnish, Nginx, Redis, and Memcached, which tend to perform better than RunCloud.
WordPress Features
WordPress features are the key or any cloud hosting to add more value to the business. Whether an eCommerce website, a course, or a business site, it is a fantastic hosting solution that enables the site owner to reach the goal with appropriate themes and plugin integration.
Cloudways
Cloudways promotes free website migration with an SSL certificate.
Deployment of WordPress is available with one click. Further, it also has many one-click application installations and monitoring features with the Cloudways bot.
It gives Automatic backup for WordPress websites, and website cloning is also possible with one click.
WP-CLI pre-installed in the server adds ease to website control with Cloudways.
It has options for e-commerce and other analytical plugin integrations as well.
SMTP add-ons are available for delivering emails from servers.
The staging URL is up for grabs to test the applications.
RunCloud
One-click WordPress installation is possible with free SSL certificates.
HTTP/2 is enabled by default in any WordPress website deployment and its configuration.
A staging URL is available for website migration, but features are limited based on the plan chosen by the user.
You can manage multiple websites inside the site/server management section and check the traffic status inside the admin dashboard.
Verdict
The Cloudways vs RunCloud WordPress features battle ends up in a tie.
Reason: Most WordPress essential features are available in Cloudways and RunCloud hosting panels with staging URLs, free SSL, and website migration.
Security
Regarding cloud-based web hosting, it needs to safeguard sites from malicious attacks and offer other services such as password management, firewall protection, and spam protection for sites and servers. Sites hosted will also have to be monitored for entry of third-party users. Both Cloudways and RunCloud, are using special bots for protection against attacks. Let's see the speed feature in detail!
Cloudways
This leading managed cloud hosting provider uses a dedicated firewall for OS-level and malicious traffic attacks.
Free SSL protection is available for domain protection.
IP whitelisting is used to avoid spammy users originating from unwanted traffic sources.
It provides two-factor authentication, SSH, and SFTP, to handle server resource management and web application.
In Cloudways, regular security patching is used for secured cloud servers with 24×7 monitoring.
Cloudways contains Cloudways bot protection to avoid malicious traffic attacks and brute-force login attacks with DDoS protection.
RunCloud
Uses SSL/TLS encryption for protection in managing your server and site configuration.
This cloud hosting service uses monitoring and control services to enhance server health regarding memory, disk space, CPU usage, and bandwidth consumption.
It conducts periodic server health checkups and transfers monthly reports with updates observed every 12 hours.
Manipulates firewall protection with SSH, HTTP, HTTPS, and 34210/TCP protocols for better site management.
The fail2ban system monitors the server apps for protection against DDoS.
Customer service is encrypted with the SHA256 algorithm and 2048-bit access keys.
Verdict
Cloudways wins the security war!
Reason: Cloudways uses advanced security methods for server and website management. Firewall, special monitoring bot, and 2FA Protection against DDoS tend to outperform compared to security features observed in RunCloud.
CDN
The content delivery network of any hosting solution is responsible to deliver the web page without delay and control the unavailability of web pages. This CDN has a special cache system in its data centers mainly to promote faster loading websites. They use Nginx, Apache2, Redis, and Memcached caches for quicker data availability to users.
Cloudways
Cloudways offers its CDN service at an additional cost. You can easily configure and store web data in 60+ data centers worldwide.
You may also use third-party CDNs for super-fast access to images and their optimized services. Yes, you can easily download media files from the CDN upon user's request of a web page.
Cloudways uses third-party CDN configuration to simplify and secure servers using its hosting solution.
RunCloud
It contains a multinetwork CDN for rapid-fire delivery of data to users.
Makes use of GitHub, GitLab, and Bitbucket services for quicker transfer of files and images to user locations.
RunCloud contains CDN to resize, compress and convert the image to webP format to offer flying pages.
It utilizes statically global CDN for WordPress core, themes, and plugin files to enhance the data-delivering speed.
WP rocket CDN, favicons CDN, and flags are available for better image processing.
It uses statically Libs CDN for Jquery, scripts, bootstrap, and react files operation.
Verdict
The winner of the CDN contest is RunCloud!
Reason: Cloudways uses Cloudways CDN and third-party CDN for faster data delivery to webpages. But, RunCloud used a multi-CDN network for images, scripts, and media files. These provide better performance and simplify the configuration.
Customer Support
The best customer support contains technical experts to make the service effective for the users and can easily resolve their problems. Before buying hosting, you should review existing clients' reviews and feedback to understand their service.
Cloudways
It has a fabulous support system that is available 24/7/365 with technical support.
The online ticketing system can be useful for solving complex problems with its expert team.
It has premium SLA support available for customers to solve their problems quickly.
Telephonic support is available for premium customers with senior engineers.
Services like application-level support, server customization, configuration, and website migration are efficiently guided by the expert technical team in Cloudways.
Private Slack channels and clone website partnerships are available as premium support services for monitoring and maintenance of sites.
RunCloud
RunCloud utilizes an expert team to maintain different web server lists, databases, and CDN connectivity with multiple web applications.
Many servers are purchased from different accounts and integrated using API control in the RunCloud cPanel.
Server management support is available to users with secured customer messaging services.
Verdict
When comparing the customer support of both hosting services, I would say that Cloudways is the champion.
Reason: Cloudways contains a knowledge base containing step-by-step documents and community forums for technical assistance. Apart from these, it has various support modes, including premium support, as I discussed earlier. We have approached them several times and yes, they were quick and helpful in solving the troubles.
Pricing
Affordability is the first thing that comes to users' mind when they think of hosting. Both Cloudways and RunCloud, have set minimum prices for their basic plans. Cloudways offers hosting services and solutions for $11/month, while RunCloud charges $8 monthly. But, RunCloud takes this amount to manage the server and site via its cPanel. Users will have to pay separately for this.
Cloudways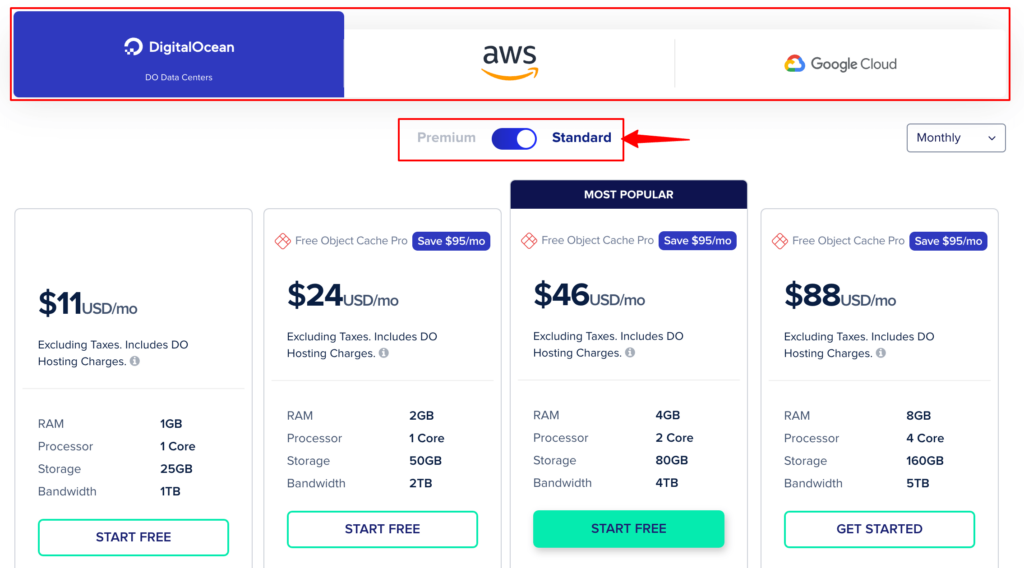 Cloudways charges $11 monthly in its basic plan, offering 1Gb ram, 1 core CPU, 25 GB storage, and 1TB bandwidth from any available servers. For premium services, customers are charged an additional $3 for extra features.
You can scale server sources anytime in Cloudways account, and customers can pay based on usage.
Every plan in Cloudways has full features and add-on services such as CDN to enhance overall user experiences.
RunCloud
RunCloud charges 6.67$ per month in its basic plan, including server and application management.
The plan varies based on the number of servers managed by the RunCloud cPanel.
RunCloud charges separately for unmanaged server resources at an additional $7.
Verdict
In Cloudways vs RunCloud price comparison, Cloudways surpasses its competitor.
Reason: Cloudways has lesser pricing taking server resource cost and website management price into consideration. In RunCloud, you must purchase an unmanaged server from hosting service providers, which can be expensive.
Ease of Use Dashboard
A hosting control panel should have clear navigation and server application access to stay connected to web applications. It should offer web application management, deployment, website configuration, and integration of third-party services as well. These resources' monitoring and control sections can be identified within the dashboard.
Cloudways
Cloudways dashboard has two sections – one is server management, and the other is application management.
Users can also access other features, including security setup, monitoring, configuration settings, .htaccess file, and add-on packages.
Some more dashboard features include resource scaling, SMTP email service integration, and backup settings.
The premium services are also enabled under corresponding sections.
You can manage domain, deployment, SSL, CDN, migration setup, bot protection, and monitoring setup services for easy navigation in the application section.
RunCloud
RunCloud has a simple control panel to access and manage different servers, deployment of applications with backup, and DNS setup.
It provides a separate page for the connected list of servers and also with their availability of resources.
Users can also access resource details, applications in use, associated databases, cronjob details, and PHP-CLI options within the server.
It also has security, deployment, and web application options for users to choose from and customize for their sites.
The web application setup includes domain, file manager, firewall, CDN, and cache settings for easy web hosting services.
Verdict
The ease of use battle of Cloudways Vs RunCloud is a Tie.
Reason: Cloudways and RunCloud have easy navigation to access all the features available in the dashboard. Easy deployment and configuration of website applications are similar in both control panels.
Free Trial and Backup
Free trial and backup features in basic plans enhance the reliability of service providers. It eliminates the hesitation of customers to avail of specific services. In this section, let's determine which service provider offers better backup and maintenance services.
Cloudways
Cloudways platform provides a free trial to test its services. The best part is that it does not ask for credit card information for up to three days.
It gives one-click free SSL installation for migrated websites using staging URLs.
It provides automatic backup and managed offline backup with one-click restore options.
Web applications monitoring and regular patching services are also available, and reports are transferred every month with 12 hours updates.
RunCloud
RunCloud does not offer any trial service for free, but it provides a 14-day money-back guarantee. If customers pay annually, they will get 2 months of free options.
The site migration in RunCloud is free for a limited time; normally, they will charge 20$.
It has a free backup of 50GB, after which additional charges are levied.
Website application monitoring services are outstanding and efficiently handled by the expert team.
Verdict
Cloudways wins the free trial and backup battle.
Reason: Cloudways provides the complete testing of resources without asking for credit card details and enables the pay-as-you-go method.
FAQs – Frequently Asked Questions
Does Cloudways offer discounts?
Cloudways offers users a free service trial option for testing their services without credit card details. However, it offers promotional codes to reduce the price during the purchase. The highest Cloudways discount is $30, and you can grab it by using the Promo code – WPGLOSSY
Is Cloudways more resource scalable than RunCloud?
Yes. Cloudways is much more scalable to its resources; it uses the pay-as-you-go method. You can purchase extra disk space from different servers like Digital Ocean, Google Cloud, Amazon AWS, Vultr, and Linode. RunCloud has only server management in its control setting panel.
Is Cloudways faster than RunCloud?
Yes. Cloudways uses Cloudways bot, advanced caches, and regular OS patching, and its data centers are present in more than 60 locations to make maximum website availability without downtime. Features like multiple databases, CDN service, Breeze cache, and SSD-based servers provide faster data transfer between server resources, enabling quicker webpage availability.
Cloudways or RunCloud – which is better for agency services?
RunCloud is a better option for agency services to maintain different servers and their resources. The deployment of web applications and their maintenance can be easily accessible by RunCloud than Cloudways.
Which is better, Cloudways or RunCloud, for eCommerce websites?
E-commerce websites need scalable resources in the server during high-traffic conditions days like Fridays and Mondays. Cloudways is an excellent choice for scaling applications and server capacity during high-traffic conditions. Regarding e-commerce sites, web application integration is needed for sales tracking. In that case, Cloudways provides dedicated features to handle the same.
RunCloud vs Cloudways, Who is The Real Winner?
Having assessed both cloud hosting service providers on varied dimensions, Cloudways offers promising services when it comes to scalability, unlike RunCloud. On the other hand, RunCloud uses a control panel to manage server and web applications.
In most comparisons listed above, it is evident that Cloudways has won RunCloud, including dimensions like price, security, speed, performance, customer support, and free trial.
RunCloud ties the battle with Cloudways in WordPress features and ease of use dashboard. Nevertheless, it wins in CDN availability for faster delivery of content.
Overall, Cloudways tops the list, winning multiple dimensions, and is the go-to option if you are looking for a hosting solution for your site. Get Cloudways hosting now with $30 free credits!