Cloudways Vs Flywheel – Who is the real champion and which managed WordPress hosting should you buy to host your business site?
Let's dig the details in the post.
Getting the best hosting service for any website has for long been a real big challenge for bloggers, digital entrepreneurs, and businesses all across the world.
Cloudways and Flywheel are the two well players of the hosting industry and many of the webpreneurs like you are getting confused to choose between them.
As we are using both server services, we have decided to do a detailed comparison and suggest you get an excellent company that could take your business to the next level.
Let's get into the topic!
Cloudways Vs Flywheel – A Quick Comparision
| | | |
| --- | --- | --- |
| | | |
| | | |
| | | |
| | 3 Days (Without Credit Card) | |
| | | |
| | | |
| | | |
Through the quick comparison of Cloudways Vs Flywheel, you came to know that the Cloudways offers more memory space, high-performance servers, and affordable pricing plans.
So, without any second thought, you may use the Cloudways discount code – WPGLOSSY and grab $30 Free Credits.
Why Choose Cloudways Over Flywheel?
You may buy the hosting plan from Cloudways managed hosting for the following advantages!
Lightning-Fast Servers – Cloudways has superfast servers for high-speed performance. You cannot get the same from Flywheel manage hosting.
Cloud Server Choices – You have an opportunity to choose from 5 cloud servers in Cloudways. No such feature in Flywheel.
Affordable Pricing – Cloudways contains affordable pricing plans and yes, you will get a $10 plan with all essential features. Whereas in Flywheel, the starting plan costs $15.
Custom cPanel – Cloudways has its custom interface where you can manage everything from scratch. It is interesting to work with the Dashboard. You cannot this much flexibility with the Flywheel user interface.
High Storage Capability – Cloudways offers 25GB storage and 1TB bandwidth in its $10 monthly plan. However, you will get only 5GB storage and 20GB bandwidth from the basic $13 monthly plan of Flywheel.
Global Availablity – Cloudways managed hosting contains 25 data centers across the globe to serve the audience from all parts of the world whereas Flywheel has only 5 data centers.
These exceptional qualities make Cloudways managed hosting a real champion. Hence, I'm suggesting this high-class server service for you. I'm sure that you will get rocking performance on the search engine results and gives the best user experience for your site audience.
Why Flywheel Should Be Your Pick?
I'm not much impressed with Flywheel since it doesn't provide the domain registration and email accounts like Cloudways. However, there is a reason to pick this service.
Free WordPress Themes – After buying the hosting service, you probably design your business site for high conversions or subscribers. To get this job done, Flywheel offers the Genesis Framework and 30+ StudioPress themes for Free. So that you can build the site from scratch for business branding.
Nightly Backup – Flywheel offers free nightly backup every day for 30 days so that you can restore the data for free and stay relaxed from the data loss issue. Whereas, the Cloudways charge you $0.033 per GB for backup storage.
Cloudways Vs Flywheel – Detailed Comparison
1. Speed
Is there anything more important to the bloggers and the website owners when defining hosting, the answer probably no. Thus, we put this as the very first criteria of comparison between the two hosting providers.
Cloudways
When the speed is compared, Cloudways hosting is undoubtedly the best bet in the industry these days. We are fully satisfied with the fast loading performance of our blogs that are hosted by this best managed hosting.
With some outstanding features like PHP 7 ready to perform better than the predecessor, HTTP/2 for fastest communication between the server and client, Pre-configured PHP-FPM to boost the load time and also the likes of various optimizing techniques which leads to the enhanced speed, Cloudways stand out on this department.
Check the speed performance of our blog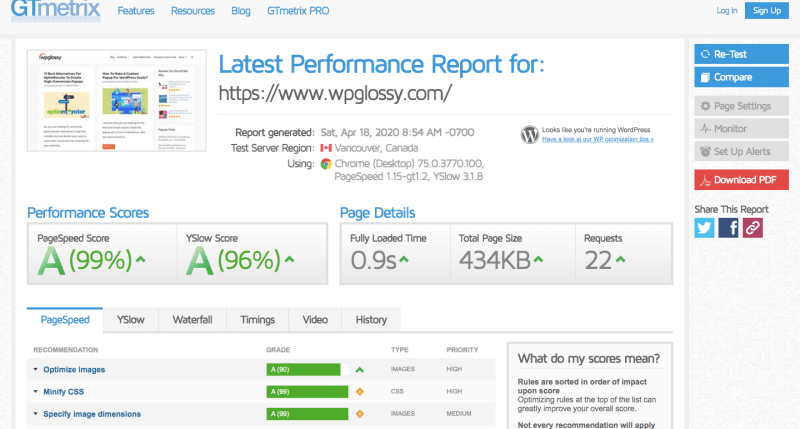 Flywheel
Flywheel has, for long, been trying to match the standards of Cloudways when it comes to the speed. However, even backed by the Google Cloud Platform, the host has been having a tough time matching the standards set by Cloudways.
To assist the users, the hosting company has also come up with no configuration needed speed enhancer, but the same does not seem very attractive when compared with the speed that one can get from its competitor.
Winner – Cloudways
Verdict
Clearly, with the presence of Cloudways in the scene, it seems that Flywheel lags big time in this. In this particular criteria, at least, comparing Cloudways and Flywheel, the first one is a comprehensive winner.
2. WordPress Optimized Features
With almost one-third of all websites and blogs present on the internet running on WordPress, it is almost inevitable that when comparing two companies on the terms of hosting, one would neglect this point. WordPress optimization is something that needs special mention, and thus, we would be putting on the Cloudways vs Flywheel comparison.
Cloudways
The hosting company comes with features like Thunderstack, which guarantees the best speed for a WordPress website. Thus, you can have a faster rate compared to other hosts.
Also, this managed hosting has free cache plugins for the WordPress websites, namely Breeze. Notifications are important for any blogger or website owner so that they can respond to any issue instantly. The same is availed and well facilitated by CloudwaysBot, which is provided by Cloudways.
Flywheel
Flywheel promises to deliver fast speed on WordPress websites, which would help one have a faster loading speed. However, that does not seem very effective as of now. Flywheel also promises reliable performance and a sound support system. The support system is surely something that one can complement the hosting company about; they have done an excellent job in that sector.
Winner – Cloudways
Verdict
Flywheel lacks the fundamental need for any website, which is undoubtedly the speed and the cache. Winning on those parts in this Cloudways vs Flywheel battle makes Cloudways unquestionably a better choice, and thus we would recommend the same on this font, and that surely is the winner.
3. Cloudways Vs Flywheel – CDN
Are you using a content-heavy website? Well, then you must have a look at the Content Delivery Networks. The content delivery network, popularly known as CDN, helps in providing the content across all corners of the world. A good CDN would mean that you would not have to wait for long to get your website up all across the world. Let's see who emerges the winner in this battle between Cloudways and Flywheel.
Cloudways
Cloudways offer pretty cheap and affordable CDN. The company also comes with some of the largest numbers of locations, which makes it more suitable for each and every user. The cheaper variant from Cloudways allows the server to offer the service to a lot more users than the other competitors. Integrating the CloudwaysCDN to your site is a simple process.
Flywheel
Flywheel promises to provide customers with excellent networking. In recent years, the company has started providing CDN services, after being oblivion to such services for quite some time. The options available with Flywheel is way lesser than that by Cloudways. The hosting company depends only on the Google Cloud Platform for providing the service and comes up with just five location options.
Winner – Cloudways
Verdict
Given the importance that CDN has for a website or a blog, Flywheel surely has a lot of areas to cover. Flywheel needs to make sure that they can provide various other options to the users. Thus, surely once again, we would give the winners title to Cloudways among Cloudways vs Flywheel.
4. Security
If any bloggers or website owners are asked, then there is hardly anything that they value more than their website. The security of something so crucial to any customer is undoubtedly something that the hosts should surely keep in mind. Thus, let us check out the security that both Cloudways and Flywheel provide to understand how seriously they take the security of your website.
Cloudways
This managed cloud hosting is determined to make sure that the website that they host remains safe and secured and to make the same feasible. The company provides the customers with Regular OS patches to avoid vulnerability, OS-level firewalls to filter out malicious traffic, 1-click free SSL installation for improved web security,
Two-factor authentication for extra safety, and also IP whitelisting for unrestricted access to SFTP and SSH. All these features together, make any website more secure than what you would have thought or asked of.
Flywheel
Flywheel too offers the customers great features like free SSL certificates, two-factor authentications, and also other such services that enhance the security of a website.
Even after putting in enormous efforts, Flywheel fails to put up to the expectations, and there have been various cases of security breaches with this hosting company. All these surely put up a question mark on the company's creditability in the security departments.
Winner – Cloudways
Verdict
Here too, we would have a simple call on Cloudways, as we can see that Cloudways not only promises some of the most crucial and essential security options but also provides them quite promisingly. This comprehensively helps Cloudways wins the battle among Cloudways Vs Flywheel.
5. Pricing
The pricing is a crucial factor when it comes to choosing the right web hosting service. This is especially true if you are a new digital marketer, blogger, or online entrepreneur who is reluctant to invest a considerable sum initially.
So let's take a look at the various pricing plans of both Flywheel Vs Cloudways to decide which is better for you.
Cloudways
The hosting services provided by Cloudways are quite affordable, starting at only $10 per month and going up to $80 per month.
With Cloudways, you also have the unique advantage of features like free SSL and CDN Add ons bundled with all their plans. This is great for inexperienced users because, with most other server providers, services like the SSL plan must be bought separately.
Flywheel
Flywheel's hosting costs are much higher, with it starting at $13 per month and going up to $242 per month for its annual plans.
If you opt for its monthly plans, the costs are even higher: ranging from $15 to $290 per month. While it offers an excellent service, Flywheel is still too costly compared to other providers.
Winner ― Cloudways
Verdict
There's no competition here in Cloudways vs Flywheel. Even the most expensive Flywheel plan offers you 50GB storage and 500GB bandwidth, compared to Cloudways' 160GB storage and 5TB bandwidth for less than three times the cost. Moreover, you have the Cloudways Promo code to claim a $30 discount.
6. Flywheel Vs Cloudways – Uptime
Speed is not everything when it comes to hosting, and website uptime is just as critical. If your website remains down most of the time due to server issues, it will be a significant inconvenience. Let's see, Cloudways vs Flywheel, which provider is better in this regard.
Cloudways
Cloudways hosting has an excellent reputation for no recorded downtime in a long while. As always, it stays at the top of its game, even in this department.
This cloud hosting for WordPress promise a 100% uptime guarantee and stays true to its promise. It also has auto-healing technology meaning that servers will automatically restart if any issues occur. Being powered by the Google cloud platform helps its servers stay online 24/7.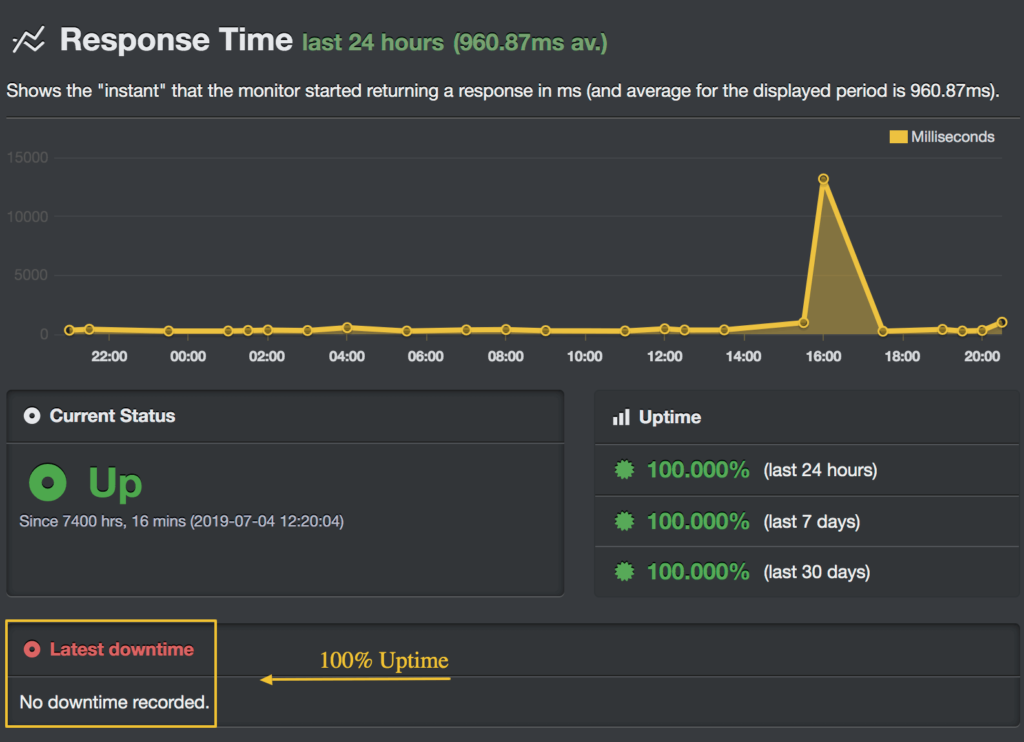 Flywheel
Flywheel's hosting infrastructure is also powered by Google Cloud, helping them offer a fully redundant environment with industry-leading security practices. They also have excellent uptime ratings.
Flywheel guarantees uptime rates of 99.9%. They also have the auto-healing technology like Cloudways, so their service can be safely relied upon to host you. However, we have experienced the downtime for few minutes and you may have a look at it!
Winner ― Cloudways
Verdict
This is a close one. Both services are excellent in this regard, and you cannot go wrong with either. But Cloudways still scores a narrow win by guaranteeing zero downtime. While Flywheel's uptime ratings are also stellar, 98% is still less than a perfect 100% uptime record, which only Cloudways can ensure.
6. Ease Of Use
It isn't easy to compare ease of use because this isn't something that can be quantified and compared with data or stats. It is a subjective area, but a crucial one since user difficulty can be very detrimental to new users. Let's find out who wins in this section.
Cloudways
With this super-fast hosting, you can always be assured of a smooth user experience no matter what you're doing. They have a highly precise, organized interface with very self-explanatory settings. You don't need to be tech-savvy to handle the dashboard and set up a brand new website.
With Cloudways' intuitive and user-friendly platform, you can easily control Webroot application, Varnish cache, Backup and restore and thus run your site very smoothly. You can also do multiple integrations and add-ons easily.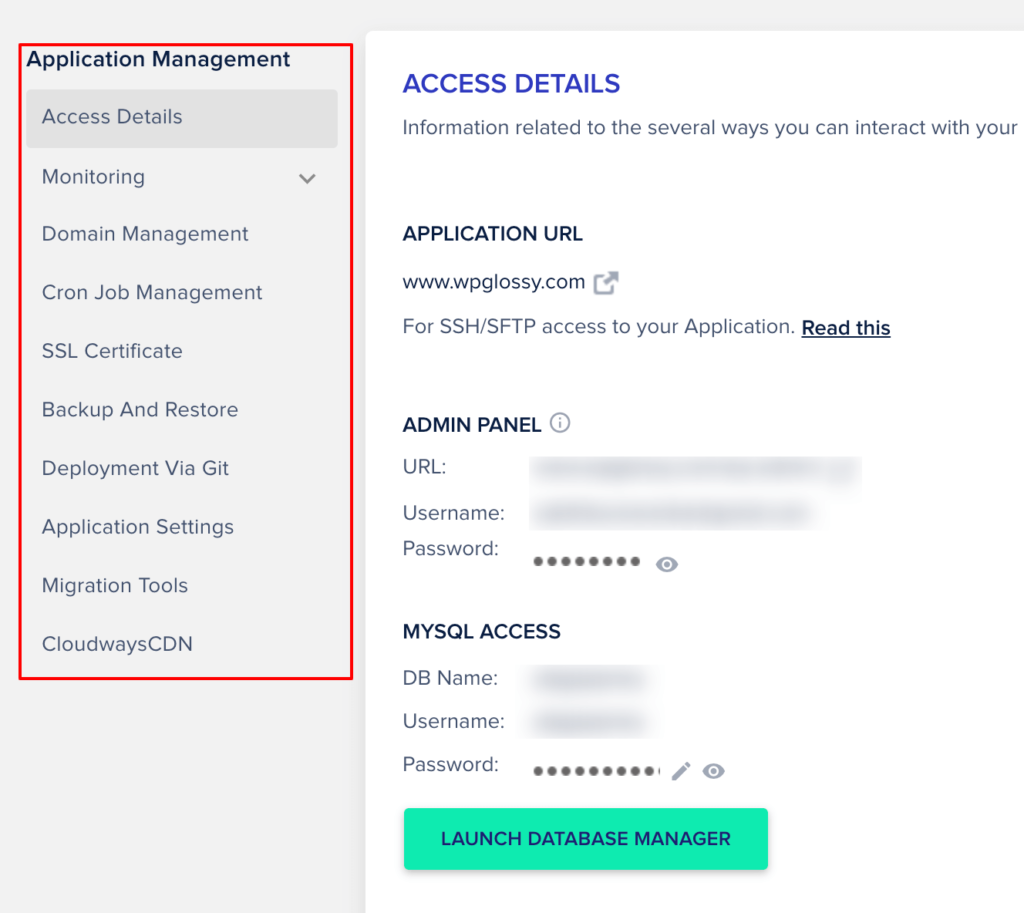 Flywheel
Flywheel's playful and accessible interface makes it easy to handle even the most sophisticated features. It is so easy to navigate and use that it will never stand in between you and WordPress, so you can focus on building a really amazing website instead.
With a user-centric interface and a consistent design across its entire platform, Flywheel can accommodate even the newest users.
Winner ― Both
Verdict
There is extremely little to choose between these two hosting giants on the parts of ease of use. Both are having an intuitive dashboard where you can manage all the settings in a comfortable manner like a pro.
7. Customer Support
Having reliable customer support is very important when it is managed by WordPress plans. This should be obvious with the sheer number of resources at the user's disposal. It is an essential factor to help you decide, so let's take a look at Flywheel Vs Cloudways battle on this font.
Cloudways
Cloudways hosting is truly exceptional for customer support services. No matter when we tried reaching them, they were available 24/7 to assist us in every need.
It doesn't matter what kind of support you are looking for, this WordPress managed hosting will have you covered. From live chats to FAQs, to direct customer care hotline or the ticketing system, they have it all. They always help in solving the difficulties that raise at times.
Flywheel
Flywheel also provides you with lots of customer support options. You can access a detailed knowledgebase on their website, with step-by-step guides and troubleshooting documents to help you find solutions to many common problems.
If you need help from a real person, it also has a handy ticketing system, email support, and live chat. The one-on-one help over phone or chat works only during business hours.
Winner ― Cloudways
Verdict
Even though both provide adequate customer support, Cloudways hosting services win as it allows for one-on-one support 24 hours a day, while Flywheel is only available during business hours and lacks phone support as well. This will make a big difference if you ever get stuck with something critical at odd hours and need help. Thus, among Cloudways Vs Flywheel, the battle continues.
Other Cloudways Comparisons
You might also want to check
Wrapping Up The Battle – Cloudways Vs Flywheel
On most of the essential grounds like Speed, CDN, Security, Uptime, and most others, Cloudways emerge as by far the winners. This overall makes Cloudways hosting service the perfect choice for almost anyone, the armature, or the expert in the battle of Cloudways vs Flywheel.
The battle saw a clear winner, and that surely is Cloudways. Flywheel seems to work on quite a few criteria to make sure that it can be a real threat to its counterpart. Till it does work on the other sections, Flywheel would simply have to take up the back seat and let Cloudways make heads turn.
Without further ado, use the promo code – WPGLOSSY and get the maximum Cloudways discount $30 now!