Cloudways Vs UpCloud, which hosting to buy in 2022 to host my business site? Is this your question? Well! As I'm using both server services, I can compare these two hosting companies better so that you may pick the ideal one for your money-making website.
Do you know the performance of your website depends on the hosting server? Yeah, it does, and it's an essential factor associated with multiple facets of a website that helps to offer good quality service to your audience with the right hosting server.
In short, if you want your website to rank high on Google, always go for reliable hosting to perform better than your business competitors. It's good that you would like to get either Cloudways or UpCloud hosting for higher search engine rankings.
That's why I've come up with this article to help you. Below we'll do an in-depth review of Cloudways Vs UpCloud, as both are renowned hosting services worldwide. So be with me till the end and find which hosting company can provide fantastic features!
Cloudways & UpCloud – Overview
Cloudways and UpCloud, both hosting providers, are famous globally. If we talk about Cloudways, it counts among the best hosting servers worldwide. The reason is its exceptional quality service that wins the heart of users.
It offers a complete, easy-to-use, intuitive platform to host your website. With this platform, you can quickly launch your website and apps to grow your business without hassle. Pricing plans are affordable, and you don't need to undergo technical tasks here.
On the other hand, UpCloud is also a famous web hosting service. It was a European cloud service that was established in 2012. Since then, countless businesses have used this hosting due to its high-speed, fantastic uptime, cost-effective plans, and security features.
Now, let's make the rapid-fire comparison of Cloudways Vs UpCloud hosting!
Cloudways Vs UpCloud – A Quick Comparison
Even though both are great and work exceptionally, it doesn't mean they don't have any cons. Yes, they offer excellent features, but there are some disadvantages, and as a customer, it's your right to know all details to buy the ideal service. So let's start with the upsides of Cloudways and UpCloud.
Why Cloudways Hosting?
It has PHP 7.3 servers that enhance the performance of the website.
Within a few steps, you can install free SSL certificates.
It provides two-step verification and automated backups for security.
It has an in-built CDN for quick content delivery, and yes, CloudwaysCDN setup is easy.
You can set the server size with vertical scaling.
The interface is user-friendly, a good thing for beginners.
You don't have to worry about security; the firewall will protect the website.
It is easy to create a staging environment for testing the new functionalities.
SSD-based cloud providers are suitable for launching an eCommerce business site.
It's easy to create SFTP access and launch Subdomains here.
By using the Cloudways Promo code, you will get the highest discount offer.
Why UpCloud Hosting?
UpCloud allows users to install servers with the previous IP addresses.
You can deploy a new cloud server in about 45 seconds.
After the server deployment, it automates the configuration through the Metadata service.
It allows users to install eCommerce tools without any hassle.
You will get a high-performance, scalable cloud server with no upfront costs.
You may organize servers with tags and add members to manage a specific task.
It has top-notch security features like a 2FA, backup, firewall security, etc.
Cloudways Vs UpCloud – Detailed comparison
Do you know some points we can't neglect while searching for the best hosting server? Overall performance, website speed, easy-to-use interface, and price packages. So, scroll the page and learn about these things as they show the service quality.
1. Website Speed
Good website speed is essential for ranking because websites share users' data (content, images, videos). If the web page loading speed is not good, users will not wait for minutes and certainly go to another website, affecting the website.
Cloudways
It would help if you had a good loading speed to save your audience, possibly by excellent hosting service. That's why Cloudways offers 500 milliseconds of average web page loading speed. Recently, we moved this blog, WPGlossy, to the high-frequency Vlutr server, and now our blog loads lightning-fast.
Have a look at our speed performance score! WPGlossy passes the core web vital assessments and serves the fast pages for our readers. We are delighted with the performance fastest servers of Cloudways, allowing us to play well on search engine ranking results.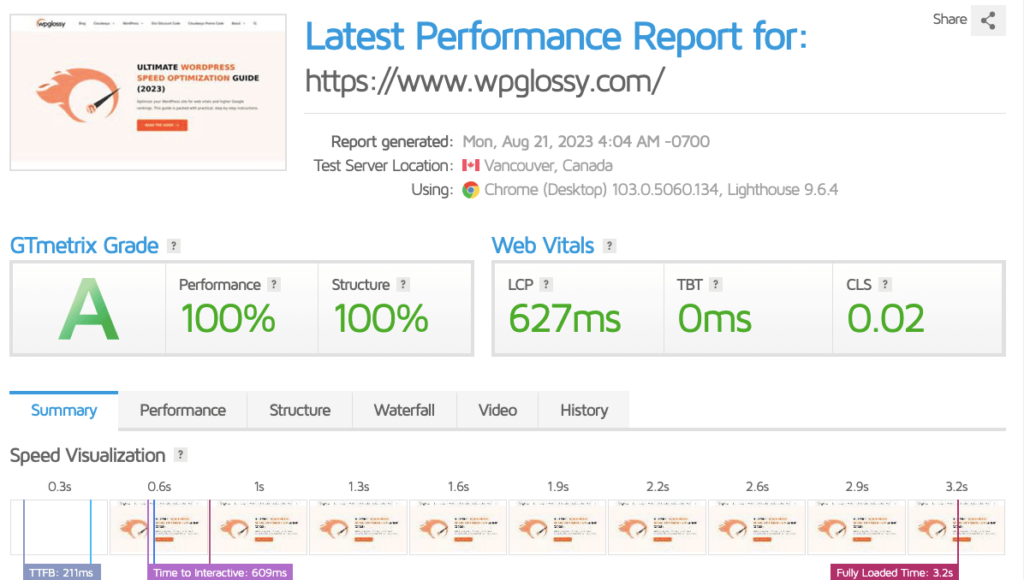 UpCloud
UpCloud claims they provide the fastest servers through MaxIOPS block storage; however, when we tested the speed score of our niche blog hosted over there, we were surprised with the result not so high as Cloudways.
I'm not saying that the speed performance is terrible! But we are very much impressed by the speed results of Cloudways. I feel that they need to improve the optimization techniques on the server side.
Verdict
In the speed test results, we have seen Cloudways loading our long-term, content-heavy blog fast; however, UpCloud is not doing so even for our lower-sized niche blog. Without any doubt, Cloudways is the speed winner.
2. Uptime Performance
Uptime is another important ranking factor that represents the operational time of your website during a specific period. It is essential because if your hosting doesn't offer 100% uptime, then be prepared for server down.
Cloudways
With Cloudways Thunderstack feature, we don't need to worry about uptime performance. As the best PHP stack is installed on excellent cloud providers, your site will never go down at any cost. We have been using the high-frequency Vultr service for the past years, and before that, we were on the DigitalOcean premium server. Till now, there has been no downtime frustration for us.
Look at the Uptime performance of our WPGlossy hosted on the Cloudways Vultr server.
UpCloud
Even though UpCloud claims 100% uptime SLA through the managed database clustered with automatic failover all the time, we had two downtime instances that lasted for more than an hour. It results in a total uptime of 99%, which is an unfavorable condition for our business.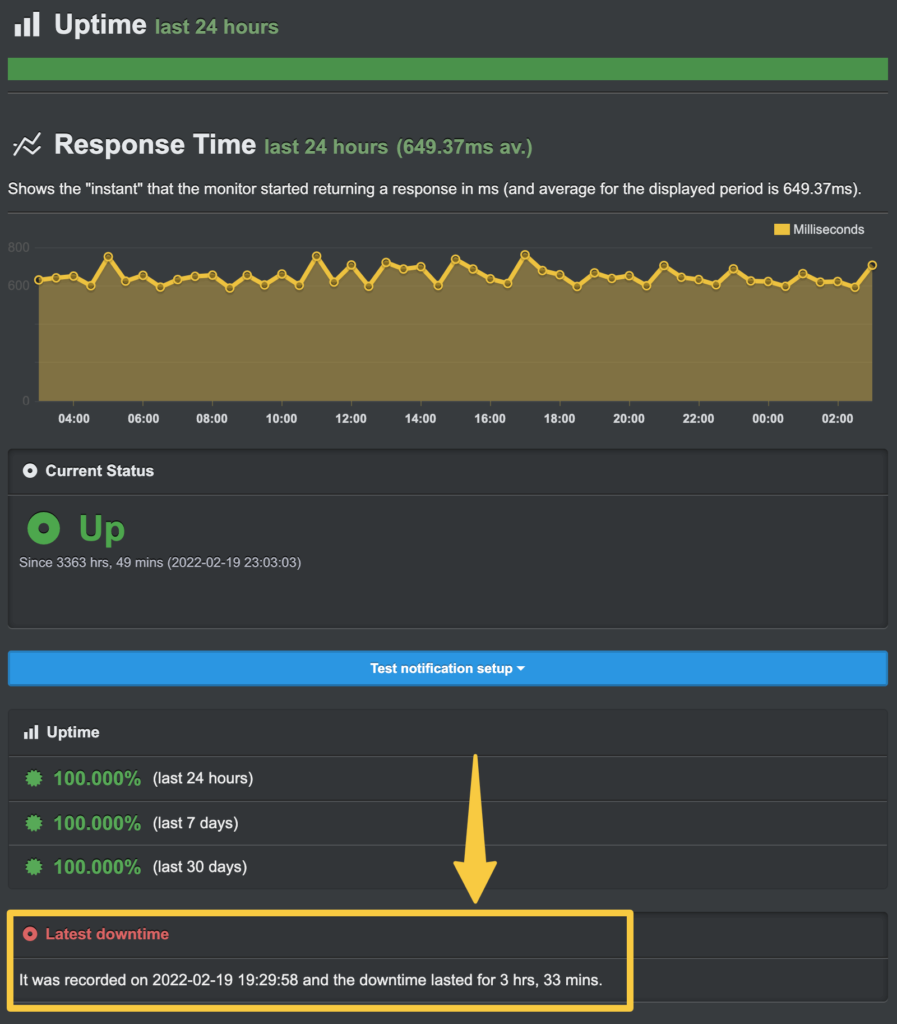 Verdict
It's clear! We had 100% uptime from the Cloudways server; the same hasn't happened from the UpCloud server. It was an annoying situation for us! If you want to buy the best cloud server with all-time availability, go with Cloudways hosting.
3. Ease of Use
Ease of use is critical when purchasing a hosting subscription plan. After all, if the hosting service you're using is good but not user-friendly, you'll face difficulty while managing, which means it'll be useless.
Cloudways
Don't worry because, with Cloudways, you will not face these problems. It offers a dashboard and C-panel with direct settings preferences. You don't need to put much effort into understanding the basics; that will save much of your time. Look at the dashboard settings; they are crystal clear and easy to handle.
UpCloud
UpCloud provides terrific service and features, but it isn't easy to use, particularly if you're a beginner. You've to learn about the use of features and control panels as both are a bit difficult to use in the earlier period. We found it challenging to use the settings options in the Dashboard at the earlier stage. Look at the UpCloud interface!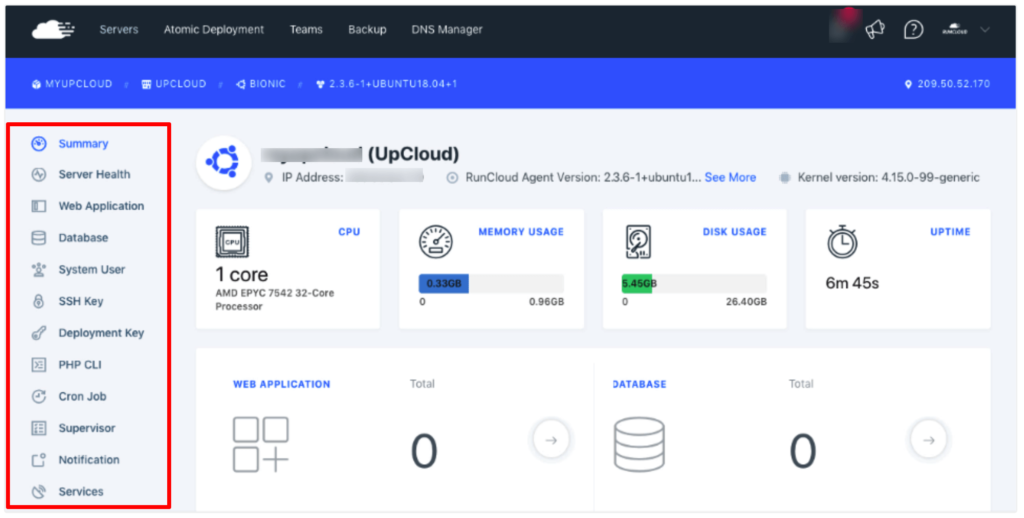 Verdict
In short, Cloudways is a winner in terms of ease of use. Now, it's up to you; if you think you're not a beginner and can easily understand anything, UpCloud is also a good option. However, make sure you understand all features before choosing any service between Cloudways Vs Upcloud.
4. Packages Pricing
It is the price, if anything, that can change a customer's mind about a product. After all, not all individuals can purchase expensive services. That's why customers always choose the service that offers affordable packages and features.
Cloudways
So, if we talk about Cloudways, don't worry; you may choose a cost-effective subscription plan because it offers many packages. The packages start at $11 and go up to $88 per month; See the details in the picture below.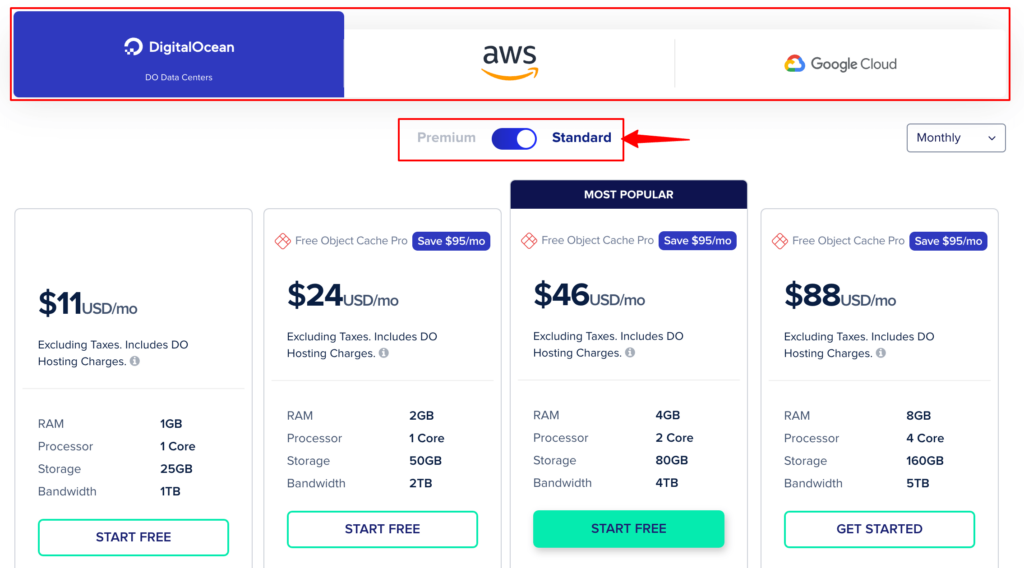 Each plan offers different bandwidths, RAM, etc. Therefore, it's up to you which one you want to choose. However, if you're confused, then you may consider the four main packages featured on the Cloudway website; the plans are:
| | | | | |
| --- | --- | --- | --- | --- |
| Price | RAM | Processor | Storage | Bandwidth |
| $11 | 1 GB | 1 Core | 25GB | 1 TB |
| $24 | 2 GB | 1 Core | 50GB | 2 TB |
| $46 | 4 GB | 2 Core | 80GB | 4 TB |
| $88 | 8 GB | 4 Core | 160GB | 5 TB |
UpCloud
UpCloud also offers different plans, some offer 1GB RAM, and some offer 8GB RAM depending on the pricing plan. UpCloud packages start at $5 and end at $640 per month.
The packages UpCloud are also the same in quantity; the two main differences are price and features. Similar to Cloudways, UpCloud also features five main packages on its website that are:
| | | | | |
| --- | --- | --- | --- | --- |
| Price | RAM | CPU core | Storage | Bandwidth |
| $5 | 1 GB | 1 CPU core | 25 GB MaxIOPS | 1 TB |
| $10 | 2 GB | 1 CPU core | 50 GB MaxIOPS | 2 TB |
| $20 | 4 GB | 2 CPU core | 80 GB MaxIOPS | 4 TB |
| $40 | 8 GB | 4 CPU core | 160 GB MaxIOPS | 5 TB |
| $80 | 16 GB | 6 CPU core | 320 GB MaxIOPS | 6 TB |
Verdict
Cloudways and UpCloud both offer several packages at different prices. All packages are variable in terms of costs and features; you can choose whichever you think is suitable according to the requirements.
UpCloud is cost-effective. It offers the same primary features, but the plan starts at $5. But it doesn't mean Cloudways is not good.
5. Customer Satisfaction
Have you ever heard a quote saying, "Customer is King"? It is not only a quote but its reality. That's why all big companies always think about customer happiness since it is the only way to win customers' trust.
If a service provider company is not treating you the same way as others, it isn't worth a penny. So, don't forget to look at the customer satisfaction of Cloudways and UpCloud. We noticed that both companies have happy customers upon checking the online reviews.
Cloudways and UpCloud both offer online customer support services via social media, emails, and live calls 24/7 to users. UpCloud also provides training to customers through articles and videos.
Verdict
They are undoubtedly treating their customers like a king; you may seek help through social media or websites. In short, it's safe to say that it's a tie. Both companies also offer free trials. So, if you're using the services for the first time, a free trial is the best way to learn about them.
Frequently Asked Questions (FAQs)
Compare the number of data centers, Cloudways Vs UpCloud.
The data center winner is Cloudways! It has 60+ data centers to choose the best one for your target audience. However, UpCloud has a low number of data centers.
Which Cloud hosting server is suitable for beginners, UpCloud Vs Cloudways?
Undoubtedly, both UpCloud and Cloudways are impressive in terms of services. That's the reason countless people choose their hosting services. For beginners, you should go with Cloudways as it offers a straightforward interface that makes beginners' work hassle-free.
Is Cloudways good for WordPress?
Yes, Cloudways is not only reliable but an ideal hosting for WordPress. This secure cloud hosting offers excellent performance, high-up time, good web page loading speed, Cloudways CDN, and many more. This managed hosting has a one-click application deployment (an unseen feature in UpCloud).
Cloudways Vs UpCloud, which is affordable?
Cloudways and UpCloud, both provide excellent services and features. However, the price of their plans is different. UpCloud is cheaper than Cloudways as the price of UpCloud packages starts at $5.
Cloudways Vs UpCloud – Which Hosting Should You Buy?
We know that choosing the right platform for hosting service is a time-consuming and challenging task. It would help if you did not decide on a hassle and didn't delay it long. Both situations can create a lot of problems.
A good hosting company offers security, backups, and, most importantly, good up-time which are essential for ranking. In 2021, Google announced that the page experience of users would play a crucial part in ranking. It also includes the loading speed of all the web pages.
However, rest assured because we know you'll certainly get the idea of the main features of Cloudways and UpCloud services. There's no doubt that both are working exceptionally fine. UpCloud wins in pricing, and Cloudways wins in ease of use features.
There are some features that both companies offer the same. For instance, up-time and web page loading speed are incredible. So, choosing one of them is challenging, but after conducting the research, we recommend Cloudways.
The combination of easy-to-use features, fantastic speed, uptime, and top-notch security makes it perfect. Remember that we're not saying that UpCloud is not good. Instead, it's cheap and a great option if you are not a beginner and can understand the interface.
So, think about your preferences, and make a decision carefully. Don't forget to let us know what you think about Cloudways Vs Upcloud and which hosting you want. When buying the fastest hosting, use the Cloudways Coupon Code and get a discount.
Other Cloudways Comparisons