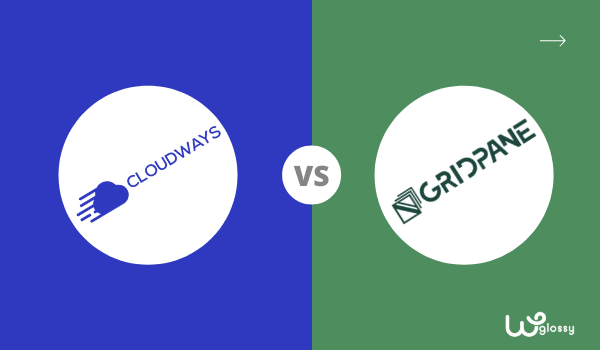 Cloudways Vs GridPane, which is the best managed hosting to buy for my business site! Is this your question?
Do you want to choose the better one for optimal site performance and beat your business competitors?
You have come to the right place to check the detailed comparison between Cloudways and GridPane.
Well, I assume you are planning to start an online business this new year and looking for a reliable hosting provider.
I appreciate your decision to select a great one, Cloudways or GridPane. In this article, I'll compare the features of these hosting providers to help you pick one.
Hosting companies keep their users in mind and provide excellent services based on our requirements.
If you are a dedicated business, you need to get high-performance hosting to enjoy the unbeaten performance through which you can dominate well in search engine results.
No matter if you are getting the hosting for the first time or looking to switch to one fast, capable of holding more traffic.
You'll have to look at every factor according to your business goals. This post-Cloudways Vs GridPane comparison will enable you to buy an outstanding server.
Cloudways Vs GridPane – Overview
Cloudways is a managed hosting provider focusing mainly on quality and efficiency. It provides simple, fastest, and multiple servers and applications and maintains your servers. This way lets you focus on your business and grow it without hassle.
GridPane is an admin panel for hosting WordPress with fast speed, superb usability, and excellent support. When you want to host multiple websites, GridPane is a perfect choice. I don't recommend this hosting for individuals, but it is best for big companies.
Cloudways and GridPane are the most significant hosting providers that let you select your infrastructure as a service. Both have a few similarities between them, as seen from this overview. But still, there are several differences, the most notable being their pricing.
Now, let's have a quick comparison between GridPane and Cloudways!
Cloudways Vs GridPane – Quick Comparison
Why Prefer Cloudways Over GridPane?
You'll get the following benefits while buying Cloudways hosting for your business. It'll let you know whether you should prefer Cloudways over GridPane.
Servers For Hosting
Cloudways offers ultra-fast and multiple servers to help your website load quickly. It also allows you to handle a lot of traffic without affecting speed. We get such ideal features from GridPane, but their prices are high.
Available Packages
Cloudways has a range of plans with affordable prices from $12 per month to $96 per month. You get all the necessary features in its $12 pricing plan and start with it. This is relatively less expensive than GridPane; I'll share it later.
Storage Space
Cloudways offers an exclusive 25GB storage space and 1TB bandwidth in its $12 monthly plan. You can use other plans with more storage spaces to host big data sites. So, all these packages are pretty competitive in price and storage.
Other Notable Features
Is GridPane Better Than Cloudways?
Before starting with GridPane, go through the following features at a glance. You will find out why you should choose GridPane over Cloudways.
Servers For Hosting
GridPane also offers multiple high-speed servers but at a higher price than Cloudways. It does not mean that Cloudways will face some issues when sending visitors. GridPane fails to handle a high load of visitors and slows down slightly.
Available Packages
If we talk about the pricing of available packages, they start at $50 per month to $200 per month. This price is quite high for beginners who cannot afford it. So, if you don't have more visitors in the early stages, consider Cloudways.
Storage Space
Both hosting services offer the same storage spaces, and their pricing differs. In the $50 monthly plan, you get 25GB of space and 1TB of bandwidth. This same storage is available in the $12 plan of Cloudways.
Why Choose GridPane Hosting Over Cloudways?
Even though Cloudways has the upsides mentioned above, you may get GridPane for the following reasons!
Contains a dedicated WordPress hosting control panel
Offers multiple stack options (either Nginx or OpenLiteSpeed, and MariaDB or Percona)
Provides an option to create remote backups at DropBox, Amazon S3, or Backblaze B2
Handles high-traffic websites (Best suitable for WordPress Agencies and Developers)
Cloudways Vs GridPane – Detailed Comparison
So far, we hope you have decided about the two hosting providers. Do you still want to know more about them? Here is a detailed comparison of the features and benefits. So, let's get started with speed first.
1. Website Speed
Website speed is the most critical factor related to SEO and user experience. A website that loads faster makes your visitors stay than a site that takes time to load. Hosting has more impact on your website speed, so choose a good one. Google has made speed a ranking factor; again, you should also consider it when selecting a hosting.
Cloudways
Our testing shows that Cloudways offered more speed than any hosting we tested. We, as a user, have faced no issues with speed, and most websites run smoothly on mobile and desktop devices. It's because of their fast PHP 8 and perfect optimization, which boosts speed.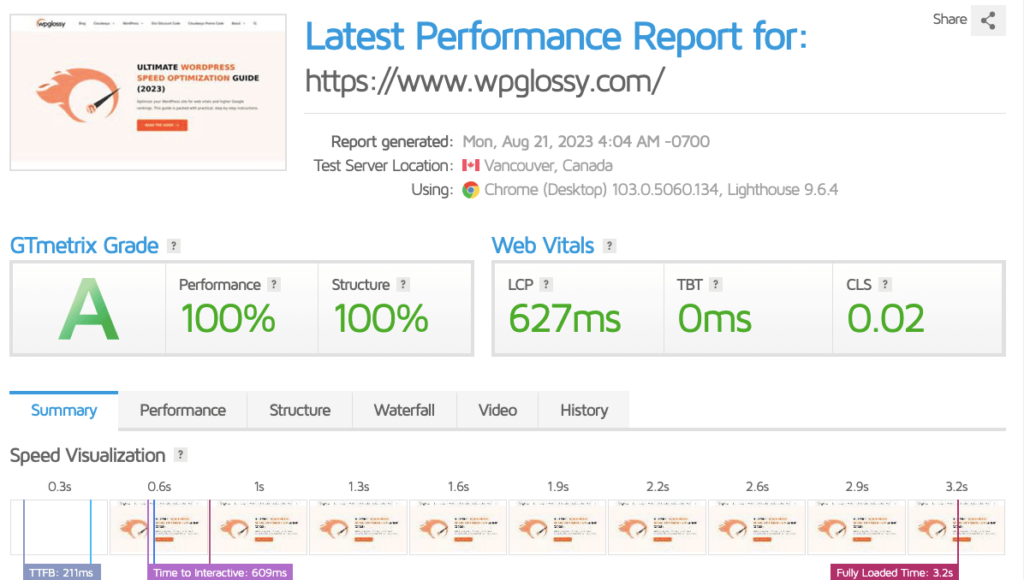 GridPane
Websites hosted on GridPane also load faster but slightly slower than those on Cloudways. For speed, it has various options such as OpenLiteSpeed, MariaDB, Nginx, Percona, and PHP server customization. This hosting is better for handling big websites and high traffic.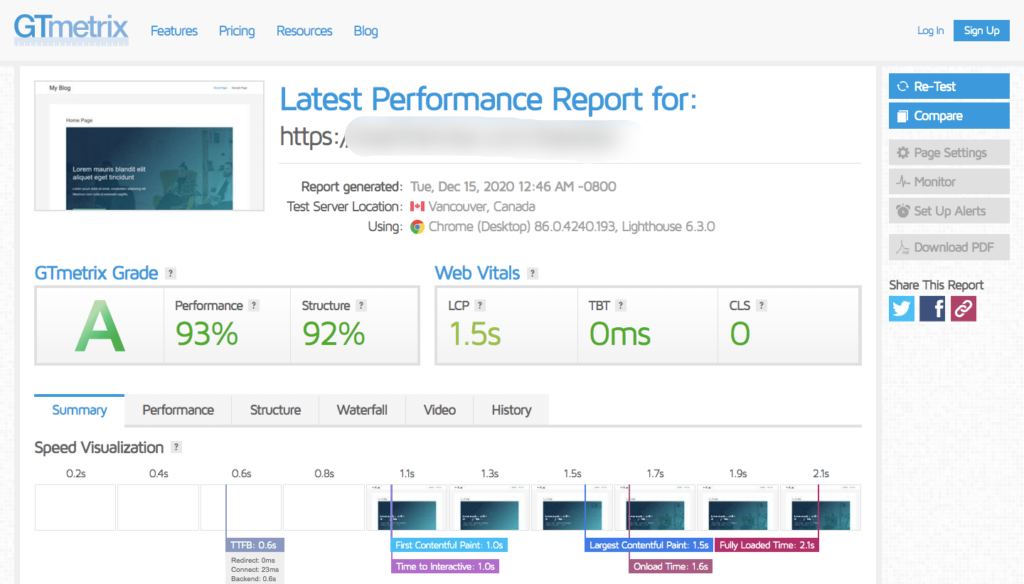 Who Is The Speed Winner?
During a test on GTMetrix, a site on Cloudways gave 100% page speed with a 616ms loading time. However, the same website on GridPane had 93% page speed with a 1.5s loading time. So, the clear winner here in terms of speed is Cloudways.
2. WordPress Optimization
Optimizing your website is another crucial factor in getting more customers by ranking it in today's online world. WordPress website optimization includes caching, image optimization, page load speed, and database cleaning. Apart from manually optimizing your website, you need hosting that allows you to perform high-level optimization.
Cloudways
Cloudways offers great optimization tools, including Breeze, an easy-to-use WordPress plugin to clear the cache. This plugin improves speed even more as part of optimization combined with the Varnish cache. It has internal and static caching features for boosting page loading. Apart from this, vertical scaling, 1-click actions, block storage, and CloudwaysBOT are some of the notable WordPress features available here.
GridPane
GridPane is specifically meant for WordPress. It provides multiple options to optimize websites hosted on their hosting. This hosting utilizes a cutting-edge LEMP7 stack. It features MySQL 8 and Percona, Nginx, and Redis object caching. They also fulfill all website optimization needs, so the site loads quickly.
Which One Is The Winner?
Both Cloudways and GridPane offer excellent features for WordPress users. You can easily maintain your WP web asset with both managed hosting. So, In the WordPress features comparison battle, the result is a tie!
3. Content Delivery Networks (CDNs)
CDN is essential for website speed — let's don't talk about the technical stuff. When you get traffic worldwide, your web pages may get down due to many visitors. When you use the best CDN, it keeps your site speed maintained.
Cloudways
Cloudways has a built-in CDN, the CloudwaysCDN, which delivers global performance on par with the best. Their CDN provides excellent speed, allowing you to reach your audience and scale your business. After integrating this CDN, you'll enjoy multiple features for your web asset.
GridPane
In contrast, we researched a lot to see if GridPane offers CDN. Unluckily, we did not find anywhere with a built-in CDN to view your visitors. Still, it provides excellent speed compared to other hosting providers who don't have their CDNs.
Which One Is The Winner?
Regarding CDNs, pick the hosting with a robust CDN without thinking for a second time. As Cloudways offers its CDN with several features through a partnership with Cloudflare, it won this battle. Please do your research before going with GridPane, and don't ignore the CDN factor.
4. Website Uptime
Uptime is another point worth mentioning when considering a hosting service. It's known for having a more direct influence on a website's performance. If your site faces regular downtime, it can lose its ranking. So, continuous uptime is necessary for website ranking, as a user won't return.
Cloudways
Cloudways has auto-healing servers, which do not let your website go down. It works with Digital Ocean, Vultr, Google Cloud, Linode, and AWS. These are the best cloud providers, so it has a proven record of no downtime to date.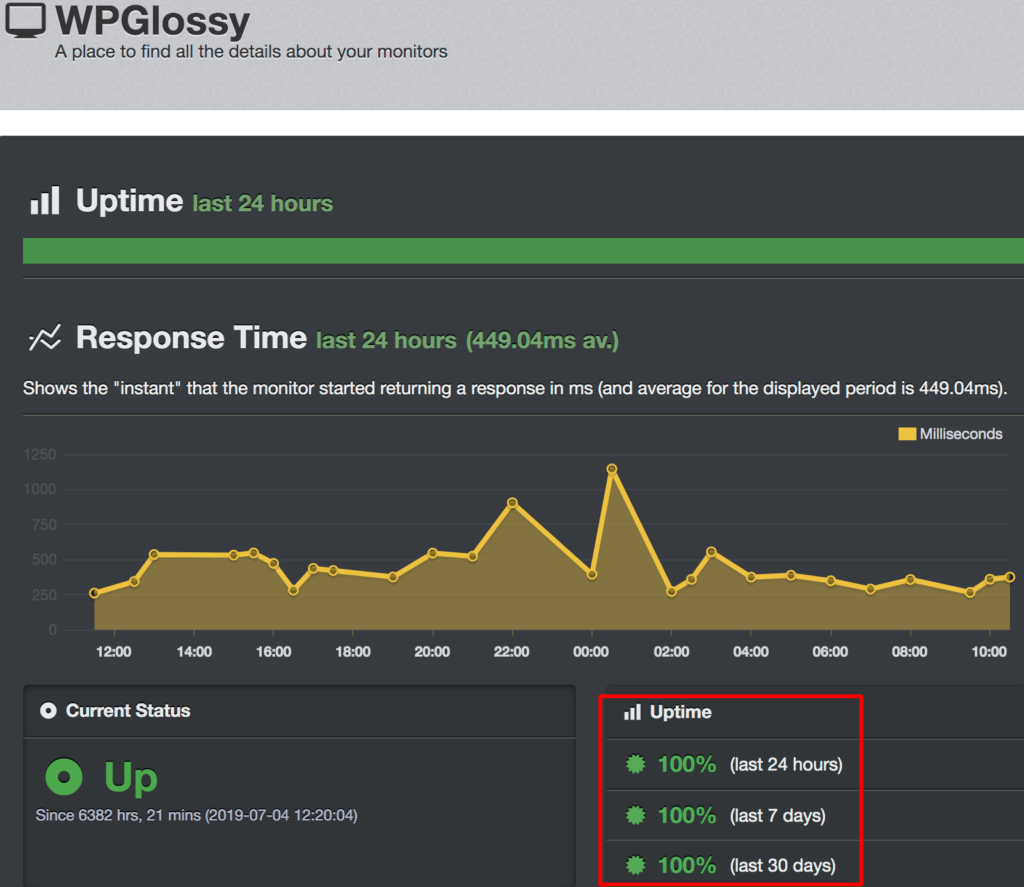 GridPane
GridPane has a "360 Preemptive Support" feature, allowing their team to provide full-time support. This feature helps monitor website uptime, and when your site goes down, they resolve it. They promise to resolve any issues that can result in the disruption of services.
Who Is The Uptime Winner?
What do you think about an automated recovery system or one performed after someone is notified about issues? The process works automatically and eliminates any problem right away. So, the winner for us again is Cloudways, and you can go for it.
5. Website Security
Nothing is more important than the security of our website, as this is where our crucial content resides. It protects access to your WordPress admin panel and protects your web pages from viruses or malicious attacks. All hosting providers offer solid security measures, including login security, dedicated firewalls, SSL certificates, and database protection.
Cloudways
Cloudways holds extensive security features, protecting websites from hackers and other attacks. It offers login, firewalls, database security, 2F authentication, and Bot protection. Their platform itself is end-to-end protected, ensuring the safety of your data.
GridPane
GridPane has multiple security options to secure your website from malware and malicious attacks. Maldet and ClamAV, from their tools, scan your servers for viruses. They have default security features, like secure PHP, usernames and passwords, and directory protection.
Who Wins The Security Race?
Cloudways and GridPane offer free and equal security options, and it's a tie between them. For us, we still trust in the services of Cloudways, and they have never let us down. We will not declare a winner; it's only according to our choice.
6. Packages & Pricing
Pricing might not be decisive for most people who can manage money to invest in their business. But for individual bloggers, price matters a lot, and they look for more features at a fair price. Remember, even if the price does not matter, you must look at the package.
Cloudways
Cloudways pricing plans start at a minimum of $11 per month and a maximum of $99 per month. Do you want to try this hosting? Just go for a 3-days trial before deciding. And, of course, you get unique benefits in each plan, like RAM, storage, bandwidth, and other features. Use Cloudways Coupon Code – WPGLOSSY to get a $30 discount.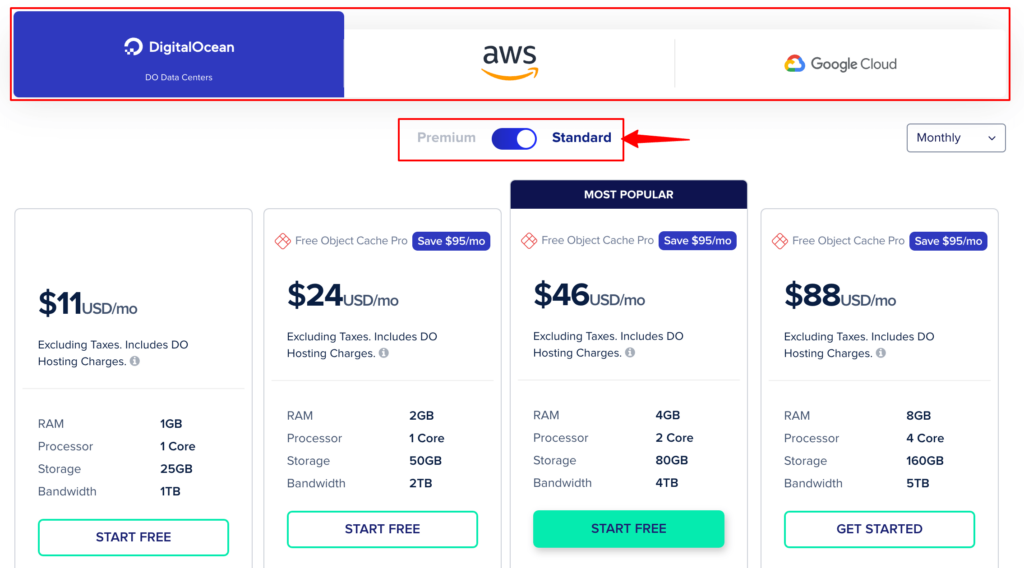 GridPane
There is a vast difference between the pricing provided by Cloudways and GridPane. Gridpane pricing starts at a minimum of $50 per month but still gives fewer features. They offer a 14-day trial for its premium plans. They have a customized agency plan recommended for companies.
Which Is Affordable Hosting?
Cloudways is the winner in terms of pricing, and we recommend this hosting for people with few requirements. Its basic package is good to start with. However, if you are a company and want to run multiple websites, choose a plan from GridPane.
7. Customer Support
Customer support is quite necessary for both providers and users regarding online services. So, for service maintenance, look for reliable support in hosting plans. It's up to you to read a few customer reviews to decide. Cloudways and GridPane both offer exceptional customer support, and you'll always get responses to your queries.
Cloudways
Cloudways offers three levels of 24/7 customer support. They have standard support, free for all users, with access to live chat guidance. Apart from this, you can get advanced and premium support, making things easy. We always get high-class support from Cloudways without any delay.
GridPane
GridPane offers priority support, and their team is always available for users. When migrating your website to their platform, an account manager will help you. They also have a knowledge base to learn how things work, and yes, their engineers are always ready to help.
Who Is The Winner?
If we look at the services of Cloudways, they offer an Advanced Support add-on for enhanced support. Its package includes a Premium Support add-on and an extension working as a Senior Support Engineer. GridPane does not provide such add-ons in their packages.
Cloudways Vs GridPane – Frequently Asked Questions (FAQs)
Should I use Cloudways hosting?
Yes, you can use Cloudways without any worries, thanks to the most advanced features it offers. Cloudways provides an excellent SaaS Platform for hosting websites and applications. If you are looking for an efficient and reliable hosting service, Cloudways should be your go-to choice.
Which is better, Cloudways or GridPane?
Cloudways and GridPane both provide great services and are good at their offers. Most importantly, Cloudways is a perfect solution for individual website owners. However, GridPane is for agencies or companies to host multiple websites on one hosting platform.
Which WordPress hosting has a discount, Cloudways Or GridPane?
Cloudways provides the highest discount of $30 for my readers. You should use the Promo code – WPGLOSSY while signing up. No discounts are available in GridPane; however, you can create a free account to test the features and performance.
GridPane Vs Cloudways, which has easy to use interface?
Both have a user-friendly interface! All the settings options are clear and unique. Simply put, I would say that GridPane and Cloudways have exciting control panels unseen in other hosting services.
Other Cloudways Comparisons
Cloudways Vs Kinsta, Cloudways Vs Flywheel
Cloudways Vs GoDaddy, Cloudways Vs WPEngine
Cloudways Vs Hostinger, Cloudways Vs Runcloud
Cloudways Vs SiteGround, Cloudways Vs WPX Hosting
Wrapping Up the Comparison – Cloudways Vs GridPane 2023
Well! That's all about the comparison of Cloudways Vs GridPane so far. After looking at the features of both hosting providers, we get much impressed with Cloudways. But considering their specific purposes, both are best in their way.
If you want to make your blogging journey easy, Cloudways has everything for you. It helps you manage your website efficiently, and you need little to no technical work to do yourself. Also, their hosting plans are low-cost and affordable for most people.
However, GridPane is perfect for agencies and can help manage multiple websites simultaneously. It would be best to do a lot of technical work here; even the setup is tricky for a novice. If you wish to move from another hosting service to WordPress hosting, you can go for GridPane.
I hope this detailed comparison will have helped you decide on your hosting provider between the two. Do you have any queries for Cloudways and GridPane? Let me know in the comments section. I always recommend Cloudways hosting for small business startups and professional blogs.