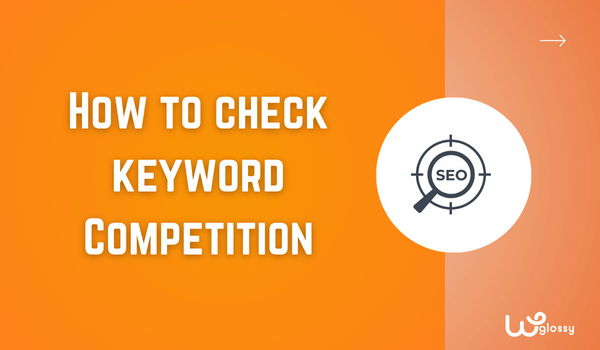 Are you looking for a way to know how to check the keyword competition for a higher search engine ranking? Indeed it's a tough process, particularly now because many tools are available for this specific purpose. But don't worry; I'm here to answer your query in detail.
Finding one or a few reliable keyword research tools that show authentic data is the same as finding a needle in a haystack. But lucky you, I've got your back covered! With my extensive experience in SEO, I can tell what paid and free tools are credible.
Among all, I've listed down the top 10 keyword competition checker tools in this article. Three of these resources are free; the others are paid and come with free trials or limited search offers. So, let's get into the details and determine which keyword competition finder is worth your investment!
Why Do You Need To Check The Keyword Competition?
Coming to the facts, creating a website or blog is far easier than running it well. There would be millions of websites; if not all, thousands of these sites must be your competitors. They might be ranking for hundreds of keywords and, yes, for a single article or topic.
The reason why they're ranking is hidden in their keyword research strategies and competition analysis. They must have worked on low-competition keywords called untapped keywords that are easy to rank. Let me help you understand their importance with an example.
Example:
Suppose you have a travel blog and want to write an article on the keyword "Best places to visit in Europe." It is a highly competitive keyword, with many big and established travel websites competing for this term. Don't you think working on such a keyword makes no sense?
Of course, Yes. If you work on this highly competitive keyword, your blog will rank after 50 to 60 searches. Who reads content on the 7th or 8th page? No one. That's why it's not a perfect keyword, especially if your blog is completely new with no domain authority.
However, if you target an easy, low-competition keyword like "Best places in Europe to visit in December," you can easily rank. The reason is you'll have fewer big blogs as competitors. As a result, your website will get to the first page of Google results quickly and gain more visibility.
How To Analyze The Keyword Competition? Paid Tools
You have in-depth information about why you must work on easy-to-rank, low-competition keywords. Let's move toward how to analyze keyword competition using different tools. For your help, I've selected eight paid tools that always provide up-to-date metrics.
1. Ahrefs
If asked what's the best tool for keyword research in the SEO industry, my answer would be "Ahrefs" without a second thought. What's the reason behind putting this tool at the top of the list? So, it is the reliability and authenticity of the data it provides about a keyword.
You'll check not only the low or high competition of the keyword but also how many websites rank their DA etc. Moreover, several helpful filters related to selecting countries, KD, make the keyword-selecting process easier. For me, it's the best competition analysis tool.
Fantastic Features of Ahrefs
Offers free tools, like DA checker, keyword generator, etc.
Provides site audit, rank tracking, and backlink checker tools.
You can choose 4 different plans from Lite to Enterprise.
An in-depth overview of keyword competition.
Provides an extension named "Ahrefs SEO Toolbar."
2. BuzzSumo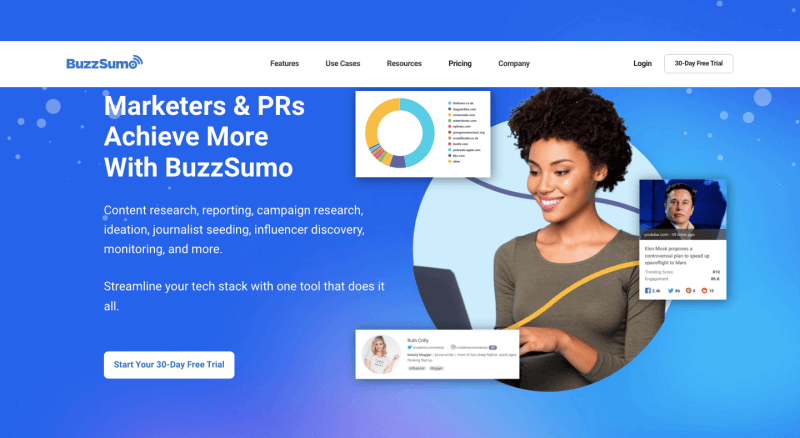 On my list, BuzzSumo is the second-best keyword competition checker tool. It has everyone that an SEO expert will need while selecting keywords, especially trending topics. On the dashboard, you get access to a detailed overview of the keyword and its difficulty.
The best part about the tool is that once you select the keyword, you can analyze it properly in the "content analyzer" tool. It will show you which day you should publish the content, what should be the average content length, etc. So, it's perfect to keep your flow maintained.
Astonishing Features of BuzzSumo
Site audit, rank tracking, and backlink checker tools.
Allow you to analyze content for each keyword.
Trending feed, question analyzer, and topic explorer.
Perfect for content ideas to generate a content flow.
Can create an optimized outline for the keyword.
Offers 5 plans starting with the basic of $95.
3. SEMRush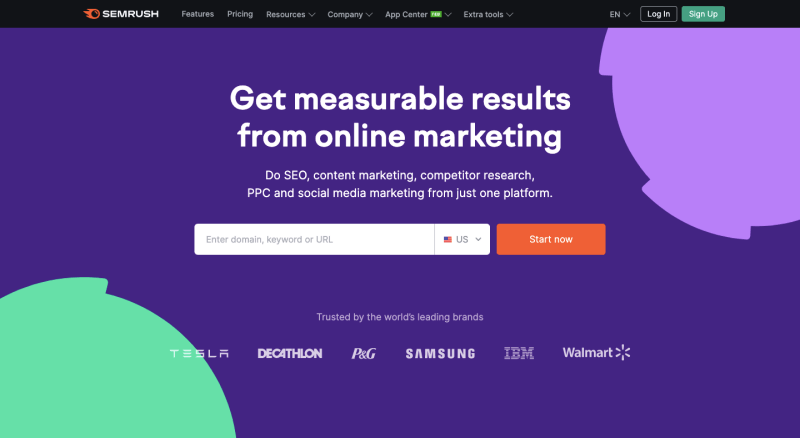 If BuzzSumo had to be taken off this list, I would have put SEMRush in second place. It's a good tool for checking keyword competition scores, and I use it personally. Its dashboard is simple and quite similar to Ahrefs, where you get quick access to all tools in one place.
This tool allows you to check keywords, competition, CPC, and volume, showing the website ranking, DA, and backlinks. With SEMRush, you'll see how much traffic your competitors get from Google. You can also fetch some good related terms or queries to work on.
Exceptional Features of SEMRush
Find low-competition keywords to use in your content.
Analyze competitors' keyword and backlink strategies.
Track your keyword rankings, and allow site audit.
Analyses of search volume, CPC, and competition.
Provides 3 different plans, Pro, Guru, and Business.
4. SpyFu
SpyFu, perhaps this is your first time hearing about it, but it's an excellent keyword competitor analysis tool. The data is accurate, and I have cross-verified its metrics with many other famous tools mentioned above. And why should you go for SpyFu?
The best part about the tool is that it's affordable or a cheaper alternative for those just getting into blogging. Although it's not a free tool, the prices are comparatively lower. You can check keyword competition but must pay to access all data (more than 5 to 6 results).
Remarkable Features of SpyFu
Keyword analysis in detail with all information.
SERP analysis feature to spy on your competitors.
Let users check the ranking history for the keyword.
Domain overview, backlink analysis, PPC research, etc.
3 affordable plans for beginners and SEO experts.
5. Moz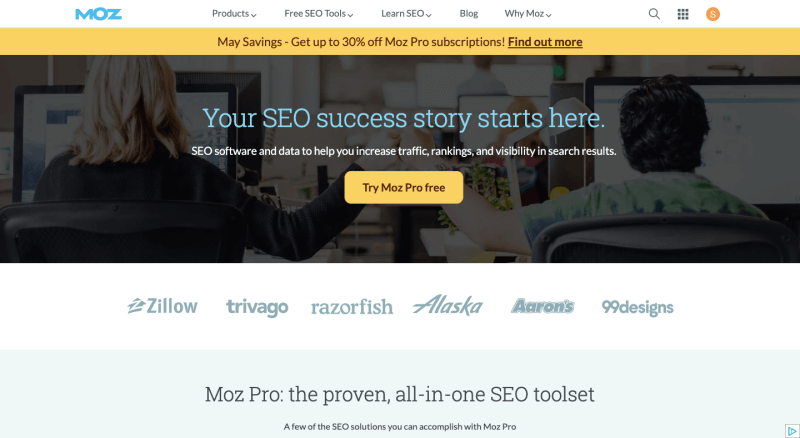 "Old Is Gold," and this phrase suits Moz perfectly. It's not a new tool in the market, but it works fantastically. Moz provides comprehensive keyword research options. They allow users to find profitable keywords with high search volumes and low competition.
Like any other SEO keyword tool, you can easily analyze your competitors, backlinks, traffic, etc. What I like about this excellent SEO tool is that you'll get 10 free monthly queries after signing up. Besides that, a 30-day free trial is also available for the users to try.
Excellent Features of Moz
Keyword difficulty and SERP analysis.
Rank tracking and complete reporting.
MozBar (extension) for easy research.
Link explorer, domain analysis, etc.
It comes with four different plans.
6. KWFinder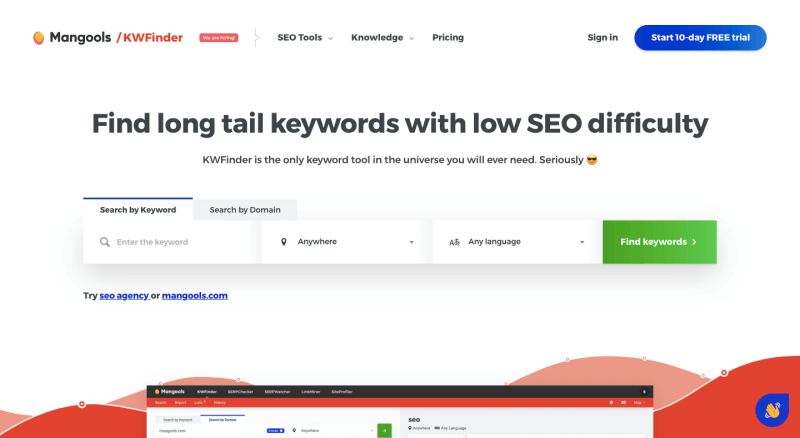 The next keyword competition checker tool I recommend to check the competition for higher Google search rankings is KWFinder. This tool is from Mangools, which has offered many other SEO tools like Site Profiler, Link Minor, etc. It's the best tool for finding long-tail keywords with low difficulty.
With the help of this tool, anyone can track keyword competition over time and monitor the keyword of competitors. Using KWFinder, it's easy to discover new keyword ideas based on related search terms and questions in a few moments. For me, it's a reliable SEO tool.
Best Features of KWFinder
Provides highly accurate keyword difficulty scores.
Helps identify high-traffic, low-competition keywords.
Supports SERP analysis and ranking tracking features.
Long tail, related keywords, and question-based queries.
Users can choose from 3 plans starting at only $29.
7. LowFruits
LowFruits is the last paid keyword difficulty checker tool I want to suggest in this article. Like KWFinder, it's also an affordable alternative to expensive tools like Ahrefs, SEMRush, etc. The credit system, like Keywords Everywhere, makes this tool different from other tools.
To get keyword research service, you must purchase credits that aren't expensive (2000 credits for $25). You can also go with the monthly subscription and get 3000 credits for $29.9. Once the credit ends, you must purchase again to analyze keywords and their competition.
Amazing Features of LowFruits
Competitive analysis and keyword tracking.
It's a cheaper alternative to expensive tools.
Competitor analysis for creating better strategy.
Shows top-performing websites in your niche.
Supports keyword clustering and grouping.
Free Tools To Analyze Keyword Competition
How to check competitors' keywords for free without spending a single penny? Is there any way, or is it a must to spend hundreds of dollars getting a keyword competition checker tool? No need to fret; I've found three free tools that allow you to find easy-to-rank keywords.
1. Wordstream
Let's start with Wordstream, a powerful keyword research tool that helps you identify keywords that rank higher. The first few things I like about the tool are its free and easy-to-use interface. It doesn't require any long registration or free trial process.
You only have to go to the website and select the keyword analysis tool. After that, add the keyword you want to analyze and click on search; that's it. Finally, this great tool will show you the search volume, CPC, competition, and how I can forget the related keywords.
Highlights of Wordstream
A completely free keyword research tool.
Offers keyword suggestions and research.
Search volume and competition analysis.
2. SERPs.com
You might not have heard about SERPs.com before, but it's a great free tool to check keyword competition. I've used it multiple times, and to my surprise, the experience was far better than I expected. As it's a free tool, you only need to go to tools, click keyword research, and enter your keyword.
With this tool's help, you can check the overall keyword competition score, search volume, intent, CPC, etc. You can also get related terms and questions, allowing you to analyze keywords in bulk. By using these keywords in your content, you can get great results.
Highlights of SERPs.com
Keyword analysis with reliable and accurate data.
Keyword suggestion shows related terms and questions.
Provides useful filters that make work quite easy.
Free source to check keyword competition; no sign-up required.
3. SEMScoop
The last on the list is the SEMScoop. It's a powerful keyword tool that helps users find low-competition keywords and uncover new opportunities to improve their search rankings. It's not completely free, and you need to sign up to do 10 keyword analyses a day.
You'll only have to add your keyword in its search bar. Select the country and the language for accurate results. After a few seconds, you'll get all results, like competition score, related terms, volume, estimated content length, etc. Here are the best features I love about SEMScoop:
Highlights of SEMScoop
Find low-competition, high-traffic keywords.
SERP analysis and competitor research.
Related keyword suggestions and questions.
Frequently Asked Questions (FAQs)
How to check the competition on a keyword?
Checking the competition of a keyword isn't difficult. First, select the tool you want to use, then go to its keyword research web page, add your keyword, then click search. The tool will show all data, including the keyword's competition score.
How to find low-competition keywords for free?
Here are the top three tools to find low-competition keywords for free:
Wordstream
SERPs.com
SEMScoop
How to rank for competitive keywords?
Here are a few things that will improve the ranking for competitive keywords:
Find the most relevant and competitive keywords in your niche.
Optimize your website for search engines.
Create valuable and engaging content of high quality.
Use on-page SEO techniques to optimize your content.
Obtain high-quality backlinks from authoritative websites.
Utilize social media platforms to promote your content.
Stay relevant and consistently update your content.
Conclusion
Checking the keyword competition is essential for higher search engine ranking results. I have shared my top 10 favorite tools; you can go with the paid or the free ones. After picking the keywords, start working on high-quality content and track the SERP results.
Lastly, the only thing I want to say is KEEP GOING! Ranking on Google takes time; it's not a quick procedure. You may not be able to find the right keyword now in the beginning. But with time, you'll easily learn the skills to find high-volume, low-competition keywords.