As a proud user of Cloudways hosting for the past six years, I want to share some exciting news with you. Last week, the king of managed WordPress cloud hosting, Cloudways, announced its new partnership with the popular WordPress theme of all time, Astra Pro. Let me share more details about this integration!
Suppose you are looking for a powerful website solution for your dedicated business site or blog built on WordPress; you should get a reliable hosting service with maximum uptime and the fastest, highly customizable theme. And when you get this exciting combo in one place, it would be splendid, right?
Cloudways + Astra Pro – Excellent Partnership For WordPress
Let's look at the benefits of biggies' collaboration!
When you buy any cloud hosting server from Cloudways, you will get Astra Pro bundle free for one year. Therefore, you can
Access fully customizable pre-designed templates of Astra theme
Build high-performance professional websites without touching a single line of code.
Make your site load faster through the lightweight WordPress theme
Save $59 and use the superfast theme for unlimited sites
Create high-converting eCommerce stores that offer the best shopping experience
Save your time by not searching for a fantastic theme for painless WordPress design.
Simply put, when you sign up for Cloudways, it will be easier to build attractive websites for your brand awareness and offer the best user experience through a 1-click installation of the Astra Pro WordPress theme.
Why Do We Recommend Cloudways Hosting?
I assume that you are my loyal reader or subscriber. In that case, I hope you understand that we strongly recommend the superfast Cloudways servers for long-run business websites and blogs because of their simplicity, flexibility, and scalability.
We have been using the high-frequency Vultr server through Cloudways since last year (Earlier, we were on the DO server). The performance and uptime are top-notch! Our blog, WPGlossy, passes the core web vitals assessments and ranks top for many high-competitive keywords. 
To create engaging websites, Cloudways partners with amazing digital products like Cloudflare, Divi, SERanking, OptinMonster, etc. Look at the Cloudways Partnerships so that you will realize their care for the customers.
Here are the other primary reasons for recommending Cloudways
Optimized stack for improved site speed.
Higher Bandwidth and Storage capacity than other managed hosting services.
Cloudflare CDN integration for enterprise-grade performance. Edge Page Cache available.
Affordable Pricing plans and exclusive promo codes with high discounts
Two-factor authentication, SFTP login access, and OS level patching for increased security.
Knowledgeable support team available 24 * 7 through live chat and ticketing.
Why Should You Use Astra Pro Theme?
You might think, what's so special about the Astra Pro theme? Astra is the ultrafast WordPress theme that makes your website load lightning fast. As it is highly customizable, you can build any eye-catching website with it. 
This fastest WordPress theme has significant upsides like
Attractive Header designs and Footer widgets for high user engagement.
Page Headers and Spacing control to construct readable websites.
Substantial WooCommerce integration for appealing web stores.
Trendy design Blog and Site layouts for enhanced call-to-actions.
Custom layouts to get a unique brand identity for your business.
Now, let's see how to get Astra for free through Cloudways hosting!
How To Install Astra Pro Theme In Cloudways Hosting?
If you are an existing user of Cloudways, go through the step-by-step process to install the Astra premium version for free. The process looks long, but it is simple!
Step 1: Go to Cloudways Menu > Grid Symbol > Add-ons > Astra Pro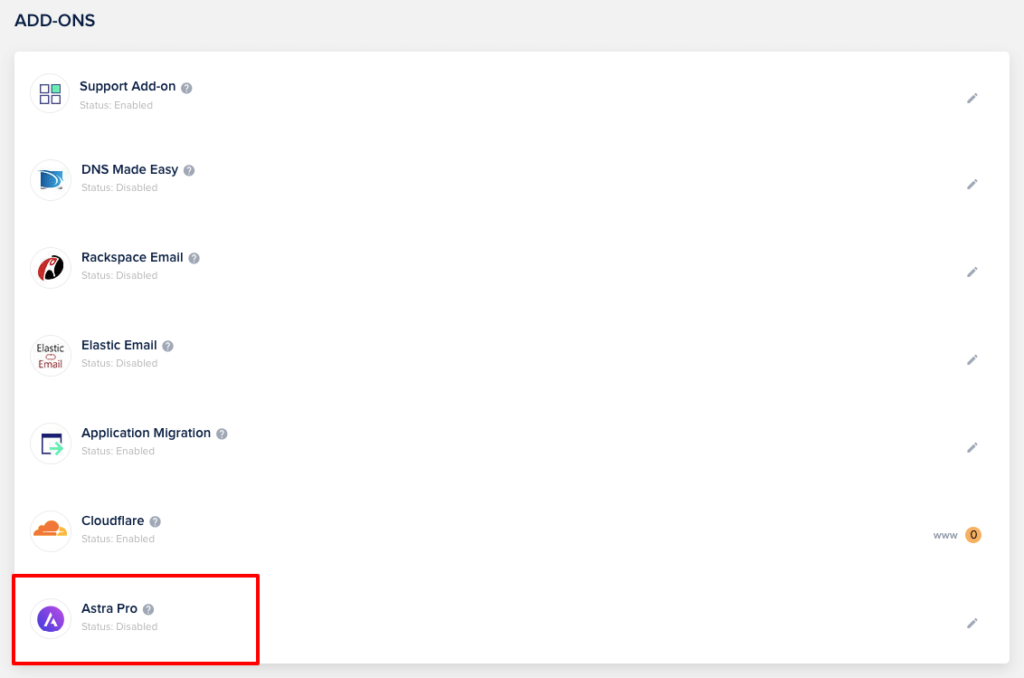 Step 2: Click Edit > Subscribe
You will get an email from Cloudways, and click Astra Dashboard
Step 3: Now, redirection takes you to the Astra Store website that lets you get a password for your new account. After that, enter the Brainstorm force profile page.
Step 4: Visit the Brainstorm force store > Account > Downloads to install the Astra Pro Plugin
Step 5: Again, click Account > License > Copy the key
Step 6: Visit your WordPress Dashboard and enter the key in the Astra Pro option located on the right side
That's it! You have installed the world's best theme on your WordPress business website.
I'll publish a detailed video tutorial for this theme installation procedure soon; stay tuned for it!
Cloudways & Astra Pro – FAQs
1. Is Astra Pro free with Cloudways?
Yes, while signing up for Cloudways hosting, you will get the premium version of Astra (worth $59) free for one year.
2. How many sites can you use the Astra premium theme offered by Cloudways?
You can use the Astra Pro theme for unlimited websites.
3. Is it possible to boost the site loading speed by the partnership Astra Pro + Cloudways?
Astra is a feather-light theme built for speed, and Cloudways is the fastest hosting service. Hence, building blazing quick web pages through this fantastic teamwork is possible.
4. Who can all benefit from this association?
It is an ideal offer if you have decided to buy Cloudways hosting and wish to design interactive websites for a great user experience. Besides, if you use the free version of Astra + Cloudways hosting and want to test the paid features, you may proceed with the theme subscription for free.
5. Is this offer available to existing Cloudways users?
Yes, Cloudways users can download, install and use the paid Astra theme for free for one year. For unlimited usage, $4/mo should be paid.
Wrapping Up The Cloudways + Astra Pro partnership
Cloudways has partnered with Astra Theme to provide its premium version free for its customers. This offer has 1-year validity and can be used for unmetered websites. With this remarkable hosting and theme collaboration, building eye-catching websites and high-converting e-shops is just a piece of cake! 
Besides, the Astra Pro theme installation is accessible on the Cloudways platform I have explained above. Both new and existing customers can use this exceptional offer and boost their site loading speed score by under 1 second. If you use any other hosting service, I suggest you try this combo for mind-boggling performance.