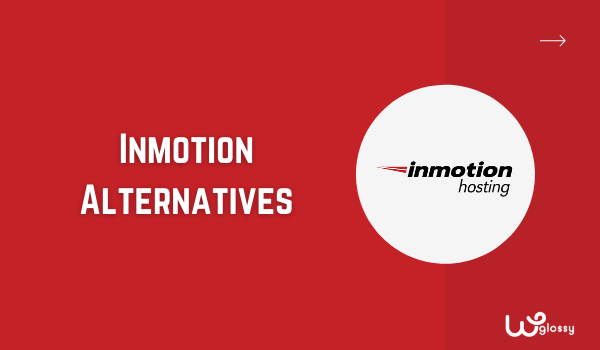 Are you searching for the best InMotion hosting alternatives because of its unremarkable performance? I understand that your articles are not ranking top on Google search results for the targeted keywords?
If so, possible reasons for this could be poor server response time and not passing the core web vitals assessments. Yes! the hosting server is the heart of a website as it can provide the best user experience for your readers.
Besides, if you are a newbie in the internet marketing field, you should try several InMotion alternatives to check which hosting suits you the best. InMotion hosting is also among the good hosts that offer great services. However, they lack some features and are also a bit costly.
Before reviewing the best alternatives, let's look at some of the downsides of InMotion hosting. You might find the reason why your website is not performing well. After that, you can decide on whether to change your server service or not.
InMotion Hosting Downsides
Before buying anything, we try to figure out its negative points to get ready for any issues that arise in the future. Similarly, knowing the drawbacks of your web host is essential.
InMotion tends to provide great hosting services, but some of its flaws and drawbacks might be headaches to some users. Here are the drawbacks of buying the InMotion Hosting service!
Slow Checkout Process
The checkout process is nerve-racking. It is very slow and also a bit messy. You don't know where to click or what to do next to complete the checkout process. Though this is not a big issue that may affect your website's performance, some people might find it annoying.
Only US Located Data Centers
InMotion has servers located in the US, due to which the overseas sites' loading speed decreases considerably. Though its Max Speed Zone™ is optimized for global reach, the performance in Asia and Europe is not much better.
We received the response time of InMotion Hosting in the US is 2 ms, while in Canada, it's 67 ms. Similarly, when we moved to Japan, the response time increased to 109 ms. Hence it is best only for US users.
No NGINX
Most server companies use NGINX, which increases the website's performance and stability and reduces the load time. Unfortunately, InMotion is not using NGINX for its shared hosting plans.
However, the latest news is that they are testing it with their shared servers, and it will be available to users very soon. InMotion plans to switch from Apache to NGINX, greatly benefiting small to medium business owners.
Expensive Short-Term Pricing
You have to look for an InMotion Hosting alternative if you need a short-term hosting plan. InMotion does offer short-term plans, but they are comparatively more expensive. If you are a growing or unestablished business, you should look for alternatives to InMotion hosting.
The only efficient and best method to spend money with InMotion Hosting is to go for a two-year plan as it is more reasonable. However, long-term plans are only suitable and work for established businesses.
Allow Limited Websites In Some Plans
InMotion hosting allows only limited websites on its lite and launch packages. You can only create one or two websites.
Are you an online marketer or entrepreneur and need to create multiple websites? If yes, then this hosting cannot be the right option. You should look for InMotion hosting alternatives to create unlimited sites.
List of 7 Best Alternatives To InMotion Hosting
Now we know why we should consider some substitutes for InMotion hosting. Here is the list of the best InMotion Hosting Alternatives to try if you need a better host.
1. Cloudways ($30 discount)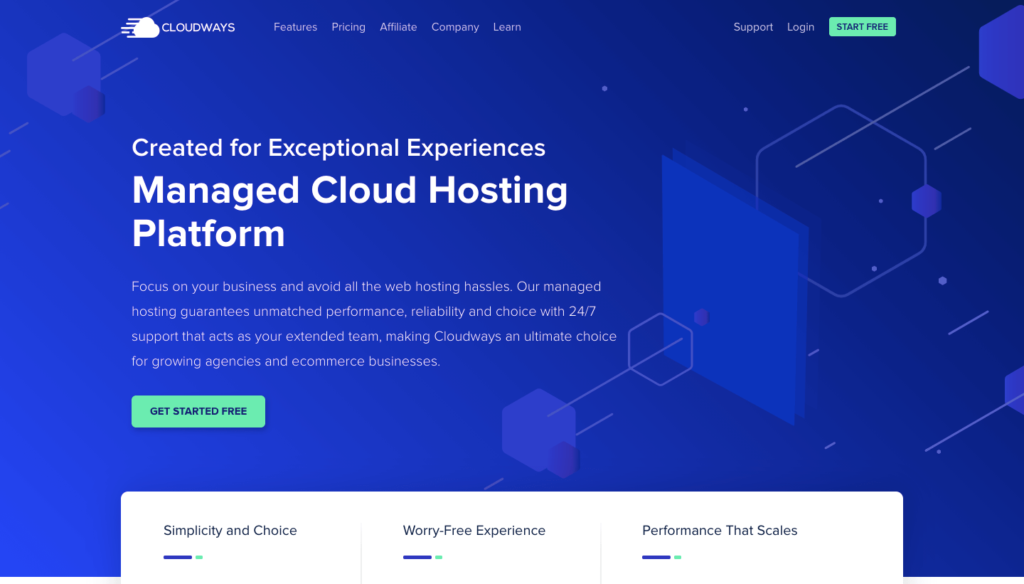 Do you need high-performance hosting at a reasonable price, Cloudways will never disappoint you. The main goal of this managed cloud hosting is to deliver maximum performance while maintaining simplicity.
The easy-to-use interface of Cloudways makes it a top choice for beginner entrepreneurs. Moreover, the foolproof security system builds a trusting relationship between the host and the users.
Features
SSD drives offer a 3x faster performance
Has PHP 7.3 servers
24/7 support available
8GB RAM Available
Cloudflare Add-on is available now
Pros Of Cloudways Hosting
Cons Of Cloudways Hosting
Email Hosting is not included
Why Cloudways Than InMotion?
Cloudways is a better hosting than InMotion due to its ability to meet users' requirements. It offers an easy-to-use interface which makes the business easier. Moreover, Cloudways offer a pay-as-you-go feature that allows you to optimize the package as per your requirements.
2. A2 Hosting
Among the list of best InMotion Hosting Alternatives, A2 Hosting secures the second rank. A2 Hosting offers a turbo server facility which boosts the website loading speed up to 20 times faster.
Moreover, it offers a guarantee of 99.9 percent uptime. The tireless team of A2 hostings tries their best to keep your website secure and live every time. Though it's a bit expensive, it's worth its cost.
Features
99.9 percent uptime guarantee
Plans that offer unlimited bandwidth and SSD Storage
Free backups that work automatically
A simple interface to make it easy for the beginners
Flexible plans from one month to three years duration
Pros Of A2Hosting
Easy-to-use interface
Fast speed on different devices
24/7 customer support
How A2 Hosting Is Superior To InMotion?
A2 Hosting offers turbo servers which increase the website's loading speed by up to 20 times, while InMotion servers offer a slow speed. Moreover, the 24/7 customer support and 99/9% uptime guarantee are features that can't be ignored.
3. Kinsta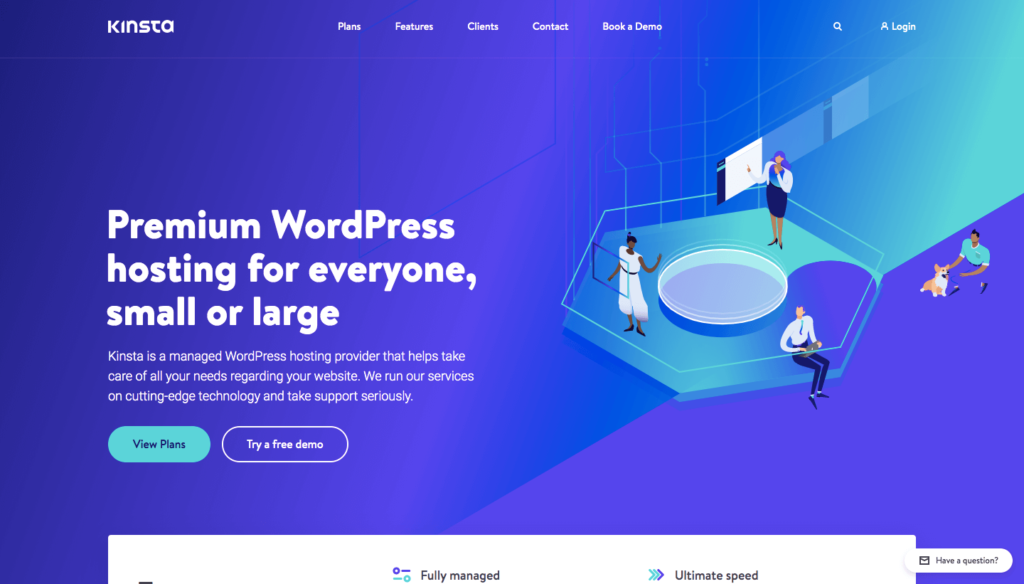 Kinsta is a cloud-based web host that delivers awesome services up to its strength. The strength of Kinsta is its speed and scaling options which attract most small to medium business owners.
Kinsta is an expert in WordPress website hosting, and it provides a lot of WordPress management tools. The company has been delivering its services in Europe and America since 2013 and has earned a respectable reputation.
Features
Cloud-based infrastructure
Offers free migrations
Up to 250 GB of disk space is available
Free CDN is available for 1000 GB
WordPress installs for 150 premium packages
Pros Of Kinsta Hosting
Its cloud-based infrastructure offers a high speed.
99.9% uptime guaranteed
E-commerce optimized
Why Kinsta Instead of InMotion?
Compared to InMotion, Kinsta offers a high website loading speed due to its cloud-based infrastructure. Moreover, the 24/7 support of expert WordPress developers keep your website live.
4. GreenGeeks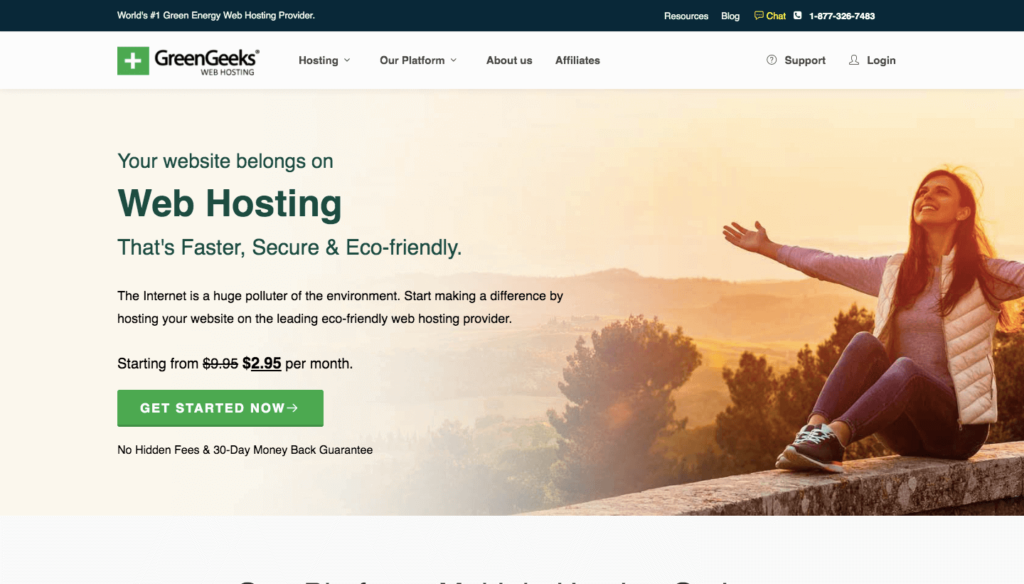 GreenGeeks is a US-based hosting with its headquarters in Los Angeles that aims for 100 percent environment-friendly hosting. It is powering over 600,000 websites through different technologies to reduce their carbon footprint.
GreenGeeks is a famous web host for its blazing fast website performance, 24/7 support of expert developers, and eco-friendly services. Moreover, it offers a free domain name with a free SSL certificate.
Features
Solid-state RAID-10 storage arrays offer a fast speed
Uses technologies such as LiteSpeed, LSCache, MariaDB, HTTP/2, and PHP7
30 Days money-back guarantee
unlimited websites and disk space
300% green energy match
Pros Of GreenGeeks Hosting
Highly affordable
Environment friendly
Bundles of useful features with every plan
Cons Of GreenGeeks Hosting
Phone support is not 24/7
Why Prefer GreenGeeks Than InMotion?
To stop the increasing everyday pollution while still using technology, GreenGeeks is offering its great services. It offers bundles of features with fast website loading speeds and excellent performance. Check GreenGeeks Vs InMotion!

5. Hostinger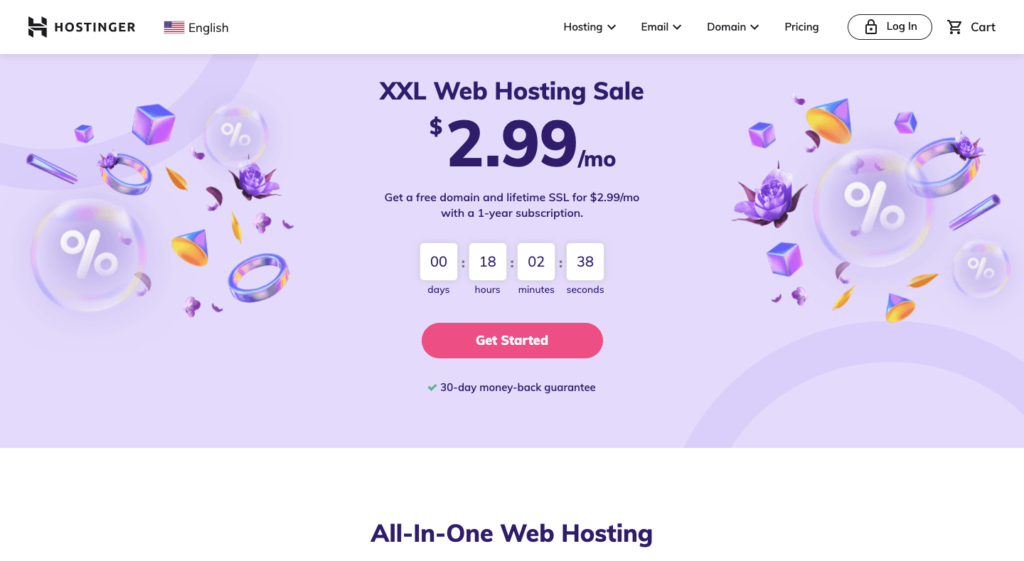 In 2007, Hostinger offered free hosting services with the 000webhost name. In 2011, the name changed to Hostinger, and by 2017 the company had crossed 29 million users.
Nowadays, Hostinger is offering paid hosting services. However, it still offers some free web hosting tools and features. The amazing point of Hostinger hosting is its affordable pricing for all plans.
Features
Up to 200 GB SSD storage
Six million inodes limit in the premium package
Dual CPU cores for large websites
1536 MBs of physical memory in the business plan
unlimited bandwidth usage
Pros Of Hostinger Hosting
Excellent uptime
Affordable
Fast load time
Cons Of Hostinger Hosting
Why Buy Hostinger Rather Than InMotion?
Hostinger offers hosting services at a much more affordable price than InMotion. The company holds a record for average uptime of 99.97 percent. Moreover, the excellent customer support makes it a better choice than InMotion.
6. Templ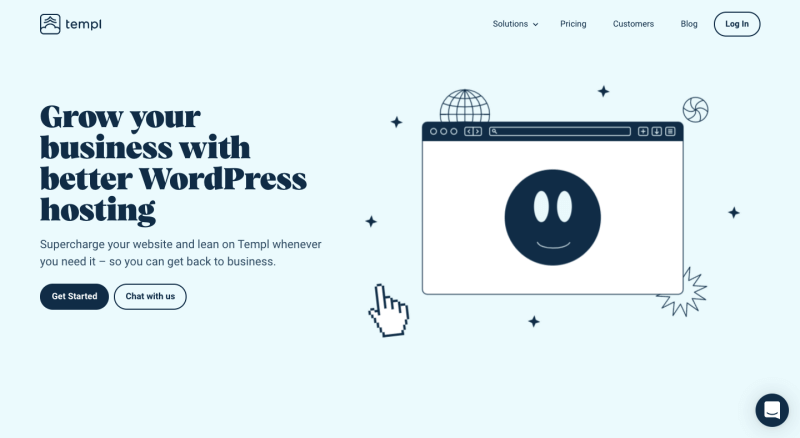 The Templ is a highly secured hosting that aims to provide foolproof web hosting. It uses Secure Linux powerhouse systems, well known for their robust security. This hosting is an ideal option for bloggers who want to host their blogs.
It is one of the fantastic InMotion Hosting Alternatives for small and medium businesses as it offers specific features on all the packages. If you have a large website, 50 GB of disk space and 50 GB of monthly bandwidth might not be enough.
Features
50 GB of disk space is allowed only for premium packages
Unlimited email accounts are allowed with the premium package
SSL certificates available
Also offers website maintenance and SEO support
The expert marketers are available to boost your business online
Pros Of Templ Hosting
Highly secured with military-grade security
Highly affordable
24/7 customer support is available
Cons Of Templ Hosting
You don't get unlimited disk storage and bandwidth
Why Should You Pick Templ In Place Of InMotion?
The Temple host is a multi-featured web host that aims to provide secured hosting at the most affordable prices. It is a better alternative to InMotion Hosting as the packages are more affordable and the prices are reasonable for short-term packages.
7. SiteGround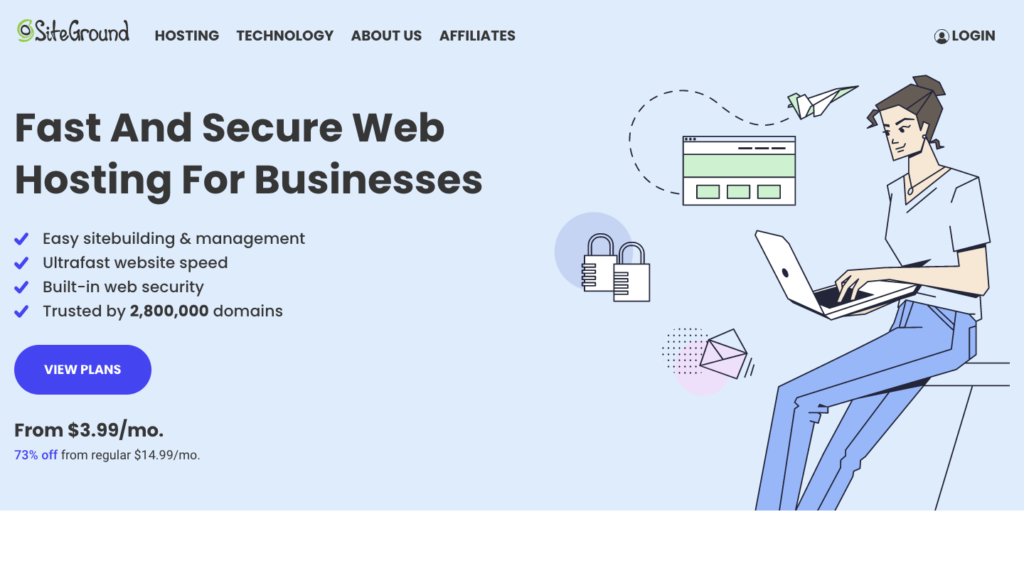 SiteGround is also one among the ideal InMotion hosting alternatives. Though the monthly packages of this hosting are a bit pricey, you can manage the cost by subscribing to yearly packages.
SiteGround is an authentic and premium host company recommended by WordPress.org with over 2,800,000 domains. The ultra-fast server setup allows your website to work 500% faster.
Features
Up to 16 CPU cores
The automatic scaling allows you to create a package of your choice.
Several collaboration tools
Dedicated IP
A free encrypt SSL certificate
Pros Of SiteGround Hosting
Several free services
Great Uptime average
Excellent customer support
Cons Of SiteGround Hosting
Why Your Choice Should Be SiteGround Alternatively To InMotion?
If you have a high budget and are looking for the perfect alternatives to InMotion, Siteground should be your choice. Though the packages are a bit pricey, the performance and quality of services are exceptional compared to InMotion.
Which Is The Top InMotion Hosting Alternative?
Selecting a reliable server is the dream of every website owner to get the desired results. However, only a few succeed in getting the right hosting after trying a few ones. Glad I got a great opportunity to list the best InMotion hosting alternatives for you to choose the ideal one for launching your business site.
My top pick for you is Cloudways, as it offers more secure and fast web hosting. Moreover, its packages are also reasonable with an additional "Pay-as-you-go" feature. I'm very much satisfied with its superfast cloud server performance, Vultr high-frequency which helps this blog pass CWV tests. Grab its high $30 discount now!