WordPress – It is currently dominating the web world with its incredible features.
There is no wonder that the big business brands and popular tech websites like The New York Times, and Mashable are using the WordPress content management system as it has some breathtaking qualities like SEO friendliness and extendable functionalities through themes and plugins.
Are you still in the dilemma to opt this content publishing medium for your business website? If yes, then you should read the "Amazing Features of WordPress" where I have explained its basic features and benefits.
Let's come to the key point now!
Handling the events is a tricky task!
Do you systematize the events for your business or wish to catch the organizers' attention and make them list their events on your WordPress website?
As the marketing of events through the web is trending now, I have taken a nice opportunity to talk about the possibility of creating event sites with WordPress through this post.
Yes, don't think that WordPress is a blogging platform; It is the best solution for event management sites. Let's dig the details in an in-depth manner!
Features To Be Incorporated In Event Website
Before making a WordPress website for events, you should know the essential features that it should boast!
Make sure that you have the management aspect for
Easy & broad customization settings
Venue and Content details
Integration with third-party tools
SEO-friendly and mobile responsive
Specialized widgets for scheduled and upcoming events
Fortunately, I came to know about a wonderful WordPress event list plugin, WP Event Manager that possess all the above-listed features.
So, through this post, I have taken a nice opportunity to review this best WordPress event plugin by testing its qualities in a comprehensive manner.
WP Event Manager Review – Make Event Websites from Scratch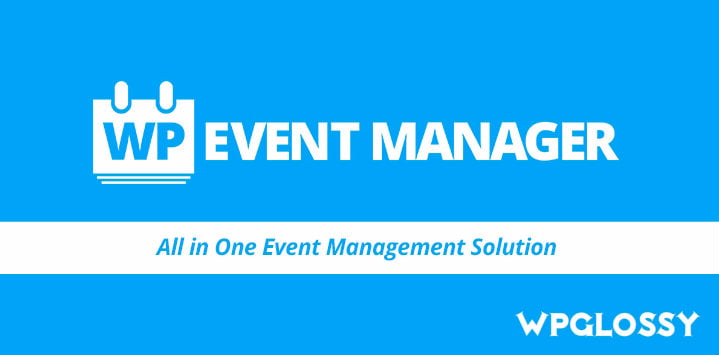 WP Event Manager is a weightless, feature-rich event management plugin for WordPress. It is simple to customize and compatible with any WordPress theme.
Having the front-end admin settings to list the events is the exciting feature of this event managing WP plugin. You can also preview your listings before they go live.
Besides, you don't need to bother about the responsive, cross-browser compatible and SEO friendliness of this WordPress plugin for event sites since it has been perfectly optimized for search engines.
This amazing add-on for WordPress will let you organize the events through categories and your readers can find the relevant listing of those events through the Ajax search filters.
Best Free Features of WP Event Manager Plugin
WP Event Manager is a robust plugin to build the WordPress event site. 
Check Its Great Features
1. International support for multilingual translation.
2. Add event listings to the pages through shortcodes that are searchable & filterable.
3. Registered users & guests can submit and handle the events via the Frontend forms and they can preview their listing.
4. It is possible to attach a contact email or web address for each listing and hence the attendees can register to the events.
5. Relevant new event alerts will be sent to the partakers through the RSS feeds.
6. Specialized widgets available for Recent, Forthcoming and Featured Events
7. It is easier to create a custom event field and assign & view events by location.
8. Lots of template tags and shortcodes to use in the posts & pages.
9.Good customer support; Also, detailed documentation & how-to guides are presented to set up the event website without any hassle.
Download WP Event Manager
You may download the latest version of WP Event Manager from the WordPress plugin repository.
Or Go to WordPress Dashboard > Plugins > Add New
Search WP Event Manager > Install Now > Activate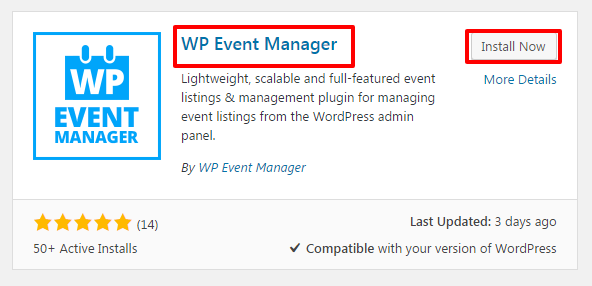 How To Use This WordPress Event Plugin?
WP Event Manager is the best WordPress events plugin that has uncomplicated settings for creating and managing the events with no trouble.
Let's see how it works!
Step 1: After activating this best WordPress event plugin, you will get the setup wizard like this
Step 2: You may click "Continue to Page Setup" to create the essential pages like
1. Post an event – Submission form for your visitors for posting their events to your site (if you don't want to accept event submission, skip creating this page by unticking the option)
2. Event Dashboard – This page is also for the event submitting users to edit and manage their events. (If you are going to handle the events, don't create this page)
3. Events – Your site audience can browse and filter the events through this page

Step 3: Click Create Selected Pages; Now, you will get all the selected pages!

Note: If you skip this step by not creating all the pages, then you will have to create the pages manually by adding the shortcodes.
Let's see how to create the pages manually!
Create the pages and enter the corresponding shortcodes as given in the below image!

Go to Dashboard > Pages > Add New
Enter the Title & Shortcode and hit Publish

Similarly, you have to create the event dashboard and submit event pages if required.
Now, look at the general settings choices of the WP Event Manager!
Step 4: Go to Dashboard > Event Listings > Add New (We are adding the event at the back-end; front-end submission form is also available)
After entering the Title and content for the event, just scroll down the page to the wide customization options to enter the event data.
Fill up the event details as shown below and hit Publish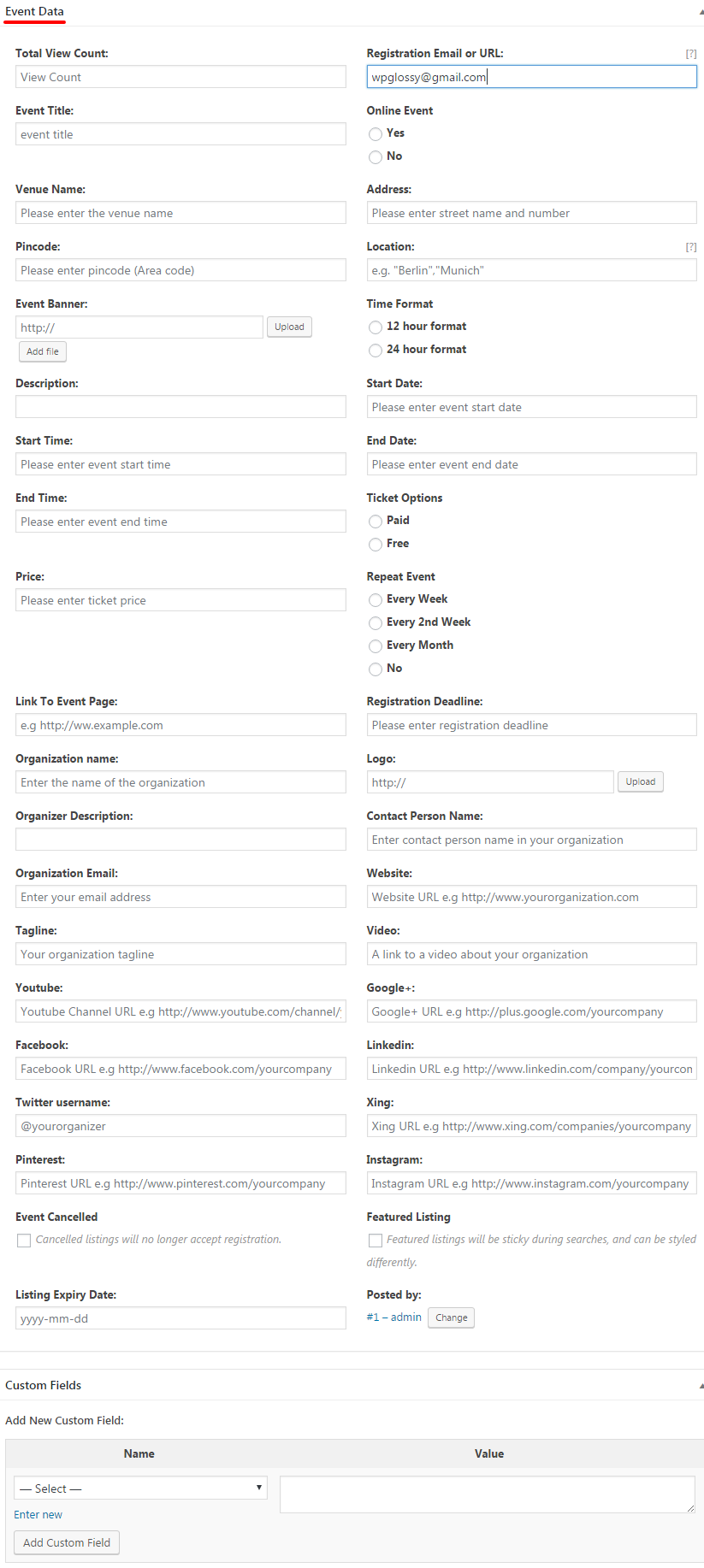 Step 5: Dashboard > Event Listings > Settings
The general setting of this WordPress event plugin free has 3 sections.
1. Event Listings
2. Event Submissions
3. Pages
You have to customize each section as per your requirements!
You can set up the Categories, Type of the events, Ticket prices, Date format and filter type for category & event for the event listings.
Look at the customization options for Event Listings; make your preferences and click Save Changes.
After completing the Event listings, move to the next tab Event Submission, enter the particulars and click Save Changes.
You can control almost everything in the event submission by the users through the vast setting options like Account details, Account role, Allow banners, Moderate the new listings, Method of registration, Event ending date and much more!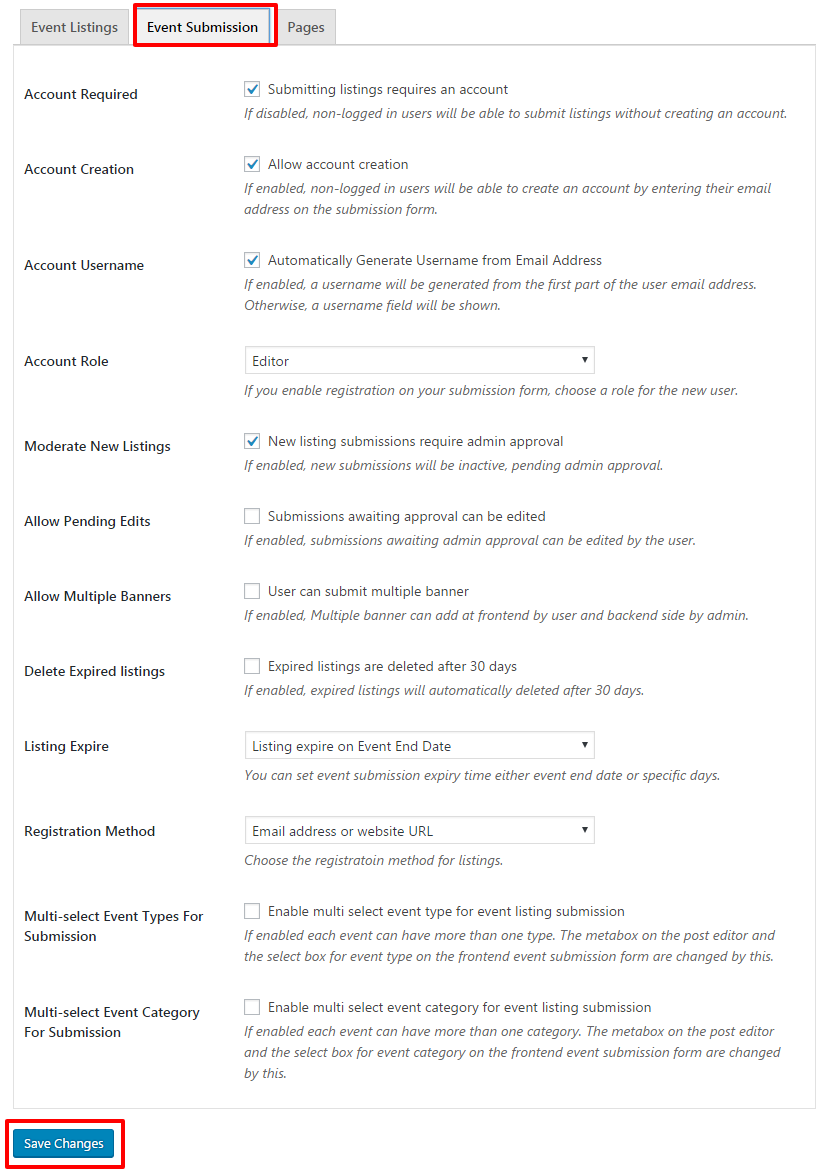 Next, you have to do the Pages settings by adding them (shown in the image below)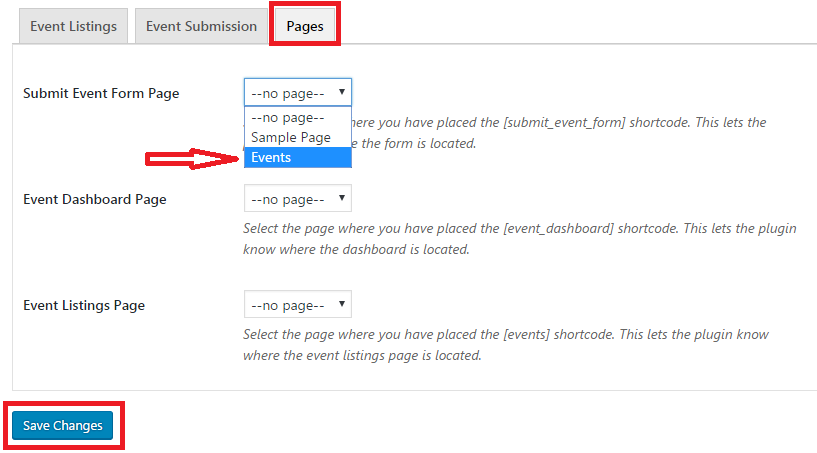 Once you have done letting the plugin know where the pages are located, hit Save Changes.
Exciting Features OF WP Event Manager That I Most Like
You should know the remarkable features of this event plugin for WordPress so that you can utilize its merits completely!
1. Front-end Event Submission Form
The handy submission form for the events which is available in the front end settings is one of the best features of this event management plugin.
In most of the WordPress event plugins, this is a premium feature where you have to pay the fee to use this choice. But with this amazing event extension for WordPress, you will get the front-end event submission for free of cost.
Besides, you will adore the design and user-friendly features of this form with which you can gather all the required data from your visitors.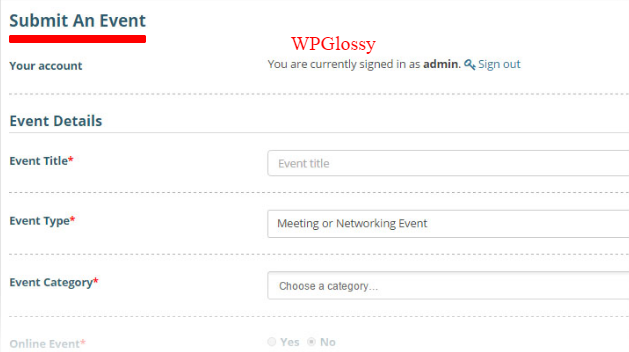 2. Preview Of Event Submission
Before publishing the events, the event owners can view their listing through the Preview option which is the exact replica of the event that they register.
So, they will get a complete idea about the look of their event details and if they want to edit them, they can do it!
3. Precise Layouts For Listing The Events
WP Event Manager offers 2 types of layout designs for listing the events!
Box Layout – You can list out the events in a logical way through the Grid View of box layout.
So, your site visitors will obtain a chance to see a huge number of listings without scrolling and they will easily get into the details of the events in just a click.
Line Layout – If you don't want to distract your readers with the vast information, then you may opt this line layout to show the event listings in line format.
Here, all the events will get listed one after the other and thus will help your audience to find out the particulars what they exactly look for!
4. Event Dashboard
Managing events is more important! This event extension for WordPress provides an intuitive Dashboard where you can control all the listed events on your site.
5. Easy-to-use Admin Interface
The Admin interface of this WordPress event plugin with the map is handy, well-organized and straightforward as well. You don't need to tweak the code for any purpose and you can efficiently handle the functions like Edit, Cancelled, Approve, Mark, Preview etc.
6. Include Event Category & Event Type
If you have a plan to use your WordPress site to list out the variety of events, then you can add "Event Categories" and "Event Type" options through the backend settings.
Make sure that you have enabled the options "Categories" and "Event Types" in the general settings of Event Listings as shown below!
Once you have enabled those options, you will get them in the Dashboard to add the event type and event categories for user convenience.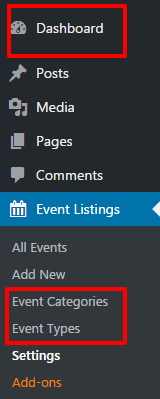 Just click on the options and add the New event category & New Event Type for better user experience as they could sort out the events by category and type.
7. Single Event Page
You can create a single page for a particular event with entire details like Event title, type, location, Google Maps, description, social share buttons, Ticket Information, and the contact details of the organizer.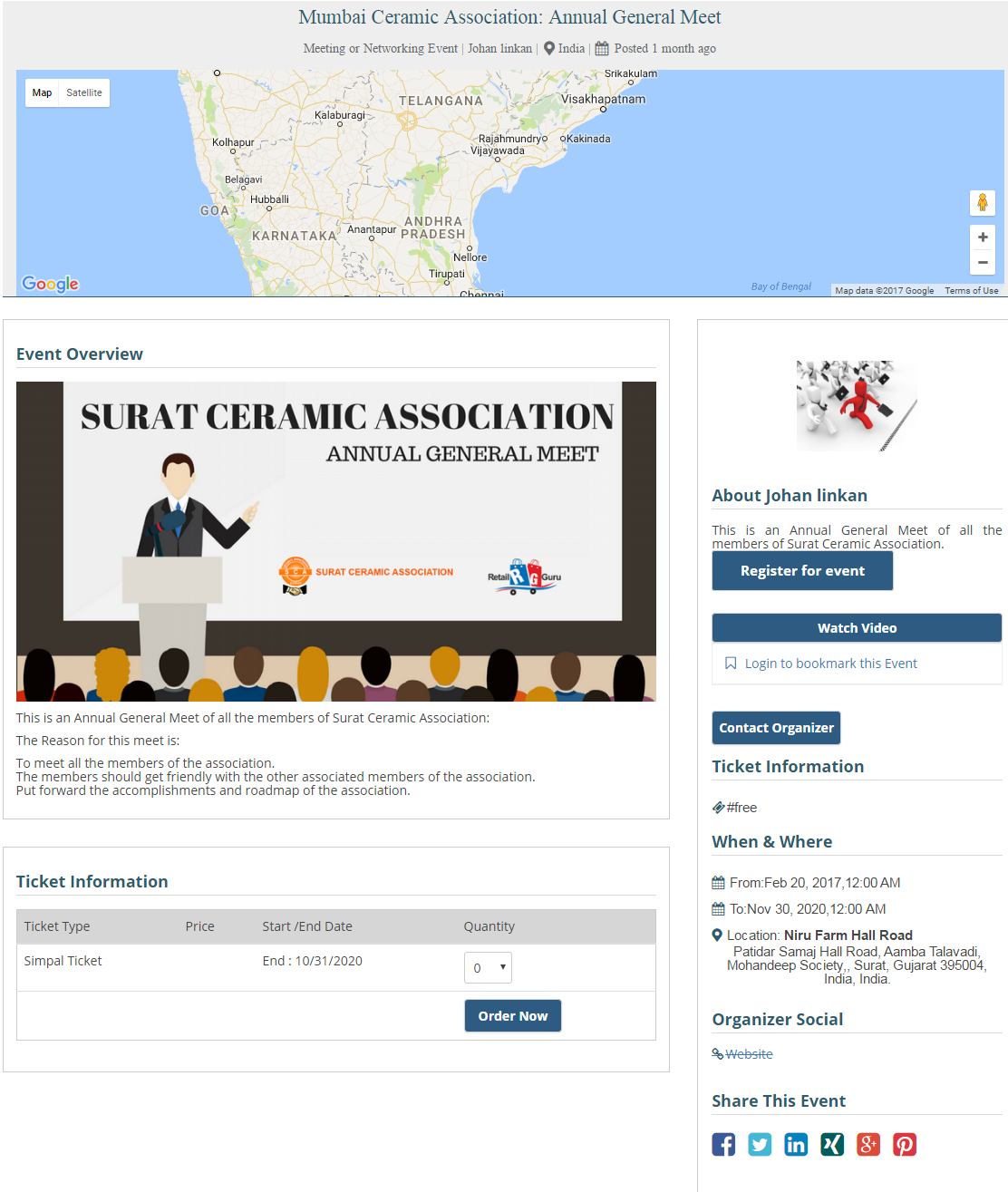 Add-ons of WP Event Manager Plugin
WP Event Manager Plugin has extendable nature. Yes, it supports the following paid WordPress Add-ons to stretch the functionality of your event WordPress site.
Calendar ($39) – To display an event calendar that lists the future events on your website.
Google Maps ($39) – To integrate the feature of the search through maps and locations.
Registrations ($39) – To allow the registration for your visitors as an attendee. You can manage them from your dashboard.
Sell Tickets ($39) – To sell events tickets on your WordPress website.
Attendee Information ($39) – To collect the information of the attendees while registering their events.
Event Alerts ($39) – To send the event alerts to the registered users.
Sliders ($19)– To display the event listings in the slider format. Sliders are elegant and responsive.
Event Tags ($19)  – To improve the ability of search and target more keywords quickly.
Bookmarks ($19) – To permit you or the users to bookmark the events. The event organizer can also bookmark the attendees.
Embeddable Event Widget ($19) – To generate the embed code and help you display the event listing in other places.
Pros
Simple and vast features for customization.
Free of cost (only add-ons are premium).
Final Words
WordPress continues to rock as the most used content management system because of its flexibility; WP Plugins do magic!
If you are a small business who often host the events, then it is better to build a WordPress website with event management functionality and promote your gatherings or webinar.
Or, if you would like to invite the event organizers to register their events on your site and sell tickets online, then you should create a website that boasts event management portal.
Whatever may be your requirements, if you wish to display the events on your WordPress site, then you should get a proper extension to avoid messing up the things.
You can make the event management website with WordPress from scratch with the help of a lightweight, open source and intelligible plugin, WP Event manager.
Even though it is a new player in the market, it has ample features in its free version. It allows your visitors to have a look and filter your events, buy tickets, register through front-end settings and so on.
So, what are you waiting for? Just download the WP Event Manager WordPress plugin for free and make your site look appealing with your events.
What is your opinion about this WordPress events plugin? Do you use/recommend any other WP extension for handling the events? Share your thoughts in the comment section.