The Google Maps set out its journey back in 2004 as a C++ program written by Lars and Jens Eilstrup Rasmussen. The service became legendary once the search engine titan bought it.
Are you a business owner who created a web presence through WordPress? If yes, have you ever unleashed the power of Google Maps for your business? In case you say no, you are missing out a lot of benefits.
In this article, I will tell you how to add Google maps to WordPress business website like a cakewalk with and without WordPress plugin. 
Before we get into the core of this post, I want to give you a few advantages of having Google maps on your business site. You must make sure you claim your business on it, though.
Benefits of Google Maps for Business
You will reap the following advantages if you add Google Maps (of your business location) on your WordPress website.
#1. It is a Free Marketing
You won't have to add Google Maps on your site for this. Once you claim your business on it, people who browse the same location get to know about your business.
If you run a business that needs offline customers, people will even come to your store only because of the Google Map reference.
You should fill a few forms to get your business listed on Google Maps. Still, it is worth it.
#2. It is Good for SEO
You know what defines the organic ranking of your site the most, don't you? As you might have guessed, it is the number of backlinks. High-quality backlinks, to be precise!
When you claim your business on Google Maps, you can add your website link there. That means you get a backlink from a reliable source.
Adding the exact map location on your site further increases the authenticity of your business.
#3. People Find Your Location Without Roaming Around
You have to go through a series of steps to get an exact location on Google Maps. Though it is easy, you may feel tedious.
On the contrary, the exact location map on your website serves the purpose without your visitors specifically doing anything.
And, they can do any action like zoom-in, zoom out, rotate, etc. just as on a full-fledged map page as well.
#4. You Can Add Multiple Maps
Let's say you have more than one office. When it comes to finding the location manually, people have to search multiple times.
But you can integrate multiple maps to your site, depicting exact locations. That reduces the effort needed by your customers.
Guidelines To Integrate Google Maps With WordPress
Now that you know some of its benefits business, let me tell you how to add Google Maps to WordPress without and with plugin!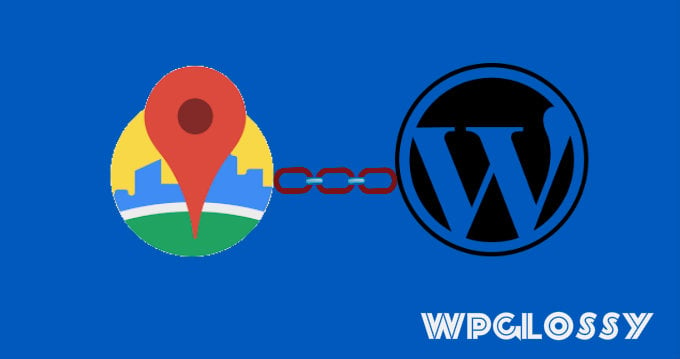 Manual Method For Including Google Maps To WordPress
Step 1: First, you have to visit Google Maps website. Then, search for the location you want to show on your site. Let's say you want to show Chennai. Then, search for it.
Step 2: You can adjust the navigation by zooming in and dragging. Once you set the correct orientation, click the three-stripes on the top-left corner of the site.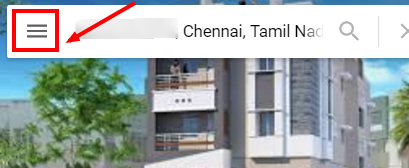 Step 3: There you can see a Share or embed map option. Clicking on it gets you a small window. Choose the second tab that says Embed map.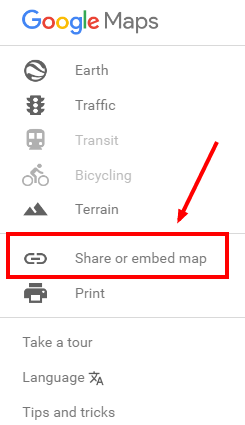 Step 4: Can you see the embed code? To the right, you get to select the size of the map. Even if you don't choose the preferred size here, you can alter the width and length later. Don't forget to copy the code.
Step 5: Now log into your WordPress website. Go to the post or page you want to display the map on. Switch to Text tab and copy the code. There you go! You can change the dimensions if you want.
Switch to Text tab and copy the code. There you go! You can change the dimensions if you want.
Just hit Publish or Update.
View the page you just updated. You can see the map, can't you?
But wait for a moment! 
What would you do if you want to have more control on the Google Maps that you are adding to your WordPress site? 
Yes, adding the Google Maps to WordPress manually has customization restrictions and hence it wouldn't give a pleasurable experience to your site visitors. 
So, what would be the solution to have an interactive Google Maps that has a hell lot of customization options? 
Plugins come handy when you don't want to go through tedious manual steps on WordPress and have a simple one. I have tried a few Google Maps plugin. But most of them disappointed me with some bugs and slow-loading nature.
Recently I came across Google Maps Widget plugin and guessed what? It rose up to my hopes to show the Google Maps with attractive Thumbnails and Lightbox. 
Read how to add Google Maps To WordPress through this awesome plugin!  
Google Maps Widget WordPress Plugin

Google Maps Widget is a well-known map plugin in the official WordPress directory. Till now, it has more than 1 million installs and acquired 5-star ratings from the hundreds of users.
Step 1: You have to install this popular Google Maps plugin for WordPress. 
Log into your site, go to Plugins>> Add New, search for Google Maps Widget, and there you have it.
Note: There is a premium version with additional features. If you like the free version, you must go for it.
Step 2: You need an API key to display Google Maps on your site using this plugin. Visit this link to get thorough information on how to create one.
Step 3: Go back to your WP admin dashboard.
Access Settings>> Google Maps Widget.
Paste the copied code into Google Maps API key field.
Step 4: Access Appearance>> Widget.
Can you see Google Maps Widget on the left? Hit it and choose a location for displaying the map.
Step 5: You need to add the address first. In most of the cases, providing the exact name of the place with correct spelling would do. You can choose between interactive map and road map there.
It is possible to change the color scheme, width, length, map language and a lot more. Once you choose all the options you want, click Save.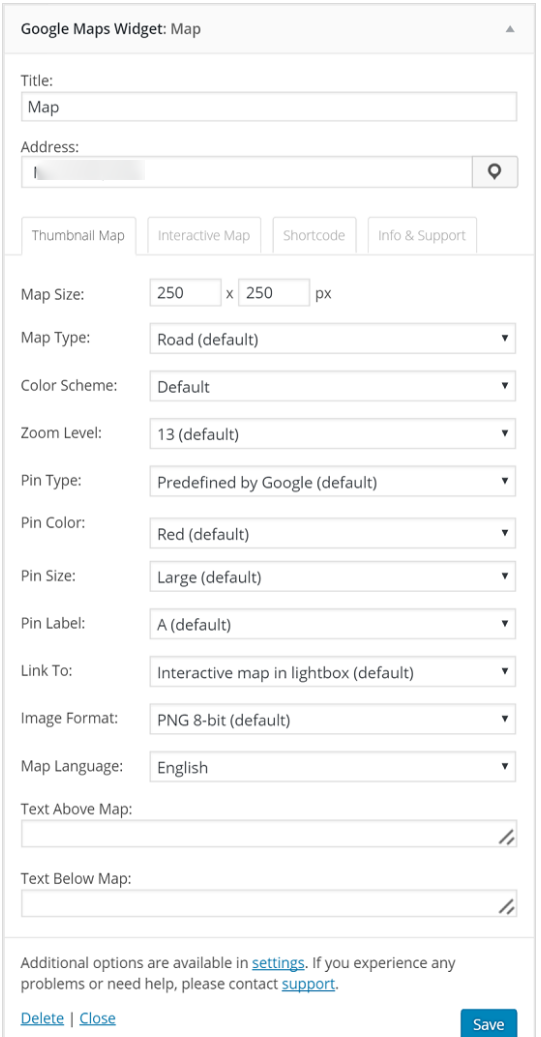 That's it. Visit your website to see the Map widget in action. Just have a look at the remarkable features of Google Maps Widgets Plugin! 
Features of Google Maps Widget Plugin (Free Version)
Simple to use WP plugin with easy settings.
Multiple thumbnail image formats.
Supports lightbox for interactive maps.
Possible to add multiple pins and custom pin bubbles.
Multiple thumbnail map colors.
Lightweight plugin that doesn't affect the site loading speed.
Different map size & type and interactive map modes.
Customize and control pins on maps.
Paid Version of Google Maps Widget
The pro version of Google Maps widget WordPress extension has 50 additional features over the free version. Few of the qualities are given below!
1. Unlimited Maps – You can create as many maps as you want.
2. Limitless Pins With Description – You may also pin as many places on one map with the custom description for every pin.
3. Thumbnail and Lightbox Skins – You get 19 lightbox skins and 12 thumbnail map skins to choose.
4. Add Maps Anywhere – Maps that you have created maps can be used anywhere on your site like posts, pages, custom post types, sidebars, menus and as widgets or shortcodes.
5. Attractive Preferences – It is possible to add some stunning options like satellite view, directions, street view, Google Analytics and so on. 
6. Improve Site Loading Speed – This premium WordPress plugin takes one request instead of 40 and hence reducing the site load by 2MB. 
7. Try Pro Account For Free – You may use the pro version as the free trial for seven days.
8. Top Notch Support – If you need any assistance, you may reach the customer support through email. You will be getting the reply from US based support within 3 hours or at least within 24 hours maximum for sure. 
Wrapping Up
If you display your business address in a visual way through the interactive map, then it is more likely to enhance your brand awareness as the potential client could reach you easily.
Since the WordPress is the flexible content managing medium that allows plugins to improve its ability, you can add the customized Google Maps for your business within minutes.
I have given you two different methods to embed Google Maps on your site. Obviously, the second way using the plugin offers more control and customization attributes over the manual method.
Given that Google Maps Widget is a free plugin which is being installed by millions of users and thus, you have nothing to worry about. Once you like the service, you can go on buying the premium version.
I hope that you came to know the best way of adding Google Maps to WordPress site. So, would you like to install & use this easy-to-use, feature rich WordPress plugin, Google Maps Widget?
Are you using any other add-on to generate location maps for your WordPress business site? Share your opinion and experience in the comment section.