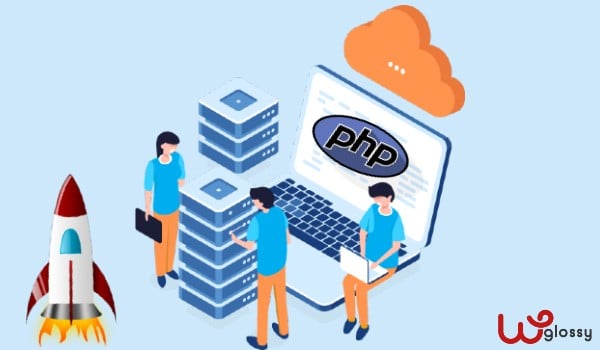 So, you have decided to buy the best PHP hosting for your business site, right? You have reached the correct place to get the affordable PHP web hosting that would boost your site performance.
In web development, PHP is one of the popular backend languages. It is a server-side scripting language that is interpreted at run time.
As it runs on the server, rather than on the web browser, it can be embedded with HTML, and hence it is ideal for developing both dynamic and static websites.
Even popular CMS or Content Management System, WordPress is also built on PHP. However, in case if you have a website built in PHP and then I would suggest you buy the top PHP hosting server
But as you already know that the market has a lot of PHP web hosting companies. Hence, choosing the right company among them is a hard task. Therefore, to make it easy, I have handpicked 6 Best PHP Hosting 2023.
So, let me start with the basic details!
What Is PHP Hosting?
PHP is a well-known scripting language designed to produce dynamic web pages like login pages, blogs, social media, shopping carts, etc. PHP language gets integrated into the HTML code and runs on the web hosting, not the browser.
This open-source language is easy to learn and highly versatile. It is affordable as well. Hence the developers are keenly interested in creating dynamic pages with the help of PHP. Earlier, it wasn't a complete language. However, the latest version facilitates error handling and enables accurate function declaration.
Now, web hosting companies have started utilizing the advantages of this recent version of PHP language and deploying its related applications on their servers. As they can run PHP scripts, they could offer super fast service with a zero downtime guarantee.
Benefits Of PHP Hosting Servers
Affordable: PHP is a free yet open-source scripting language. Therefore, PHP hosting does not cost you too much compared to other types of hosting.
Simple To Use: PHP is extremely simple to use and integrate. It allows developers to build web applications fast and implement them.
Blazing Fast: The best part of PHP is that it is pretty fast and optimized for speed. As a result, your website will perform much faster, so you don't need to worry about the site loading speed.
Highly Scalable: Most cloud hosting providers offering PHP web hosting servers are scalable, so you can increase the resources when your site grows.
Reliable: The best PHP web hosting has the potential to make your site available all the time. It never lets you face downtime and frustration at any cost.
| | | |
| --- | --- | --- |
| | | |
| | Supports all major PHP frameworks, including Codeigniter, Laravel | |
| | Offers a popular tool like suPHP | |
| | Wide range of PHP modules | |
| | Improved performance through preloading | |
6 Top Web Hosting Services With the Latest PHP Version
1. Cloudways Hosting ($30 Discount Coupon)
Cloudways is one of the most reliable cloud hosting services for dedicated bloggers, developers, and digital marketers. Cloudways is known for its highly scalable, managed cloud hosting.
In addition, they come with excellent features and responsive customer service. So you would not face any trouble with their service. This excellent PHP cloud hosting allows you to manage your website like a pro.
Since it offers SSD-based hosting, you can enjoy 3x faster website performance. Also, it gives you a dedicated environment and PHP 7 servers back it. So you can get a high-performance experience.
General Features
Free WordPress Cache Plugin.
Dedicated Firewalls.
Install 10+ apps with just one click.
Easy to use dashboard.
Beginner-friendly tutorials.
Cloudways PHP Hosting Features
You will get a performance boost with the simplified PHP hosting of Cloudways. Its great qualities are
Deploy PHP applications in zero downtime
Supports all major PHP frameworks, including Codeigniter, Laravel, etc.
Lets you choose the desired PHP version.
Offers Cloudways stack and lightweight DB manager for high flexibility.
PHP cloud hosting servers are vertically scalable.
'100% load time because of ThunderStack
If you have decided to go with this excellent cloud hosting, use Cloudways Promo Code – WPGLOSSY to get $30 free credits for the hosting for 3 months Free.
2. InMotion Hosting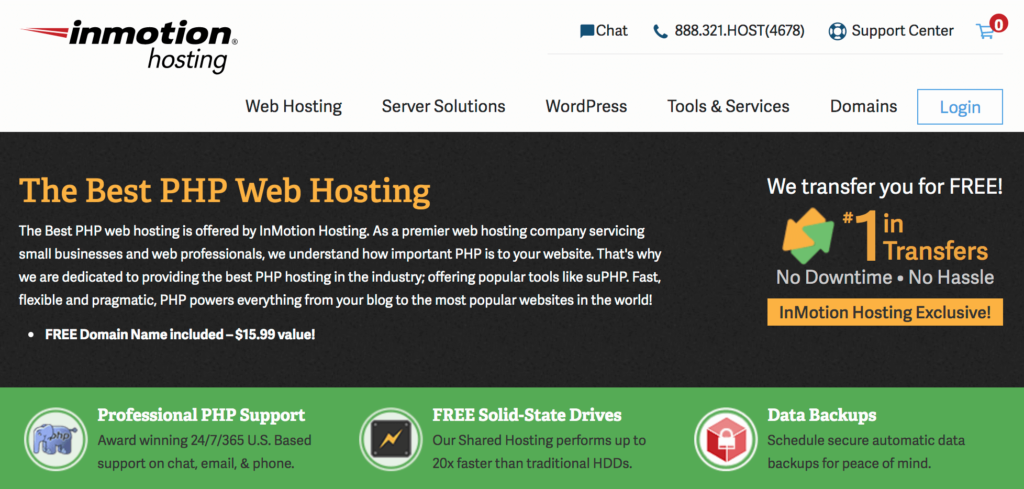 InMotion Hosting is also known for its high-performance and trustworthy services. This best PHP web hosting provider ensures your website loads fast and functions securely.
From InMotion Hosting, you will obtain all types of hosting plans you might need. Like it offers you shared hosting, WordPress Hosting, VPS, and Dedicated Servers with affordable hosting plans.
Regarding the features, with the shared hosting plans, you will get a free domain name. Also, gain access to unlimited disk space, bandwidth, and email, and a free SSL certificate, which will keep your website secure. The hosting company also uses SD drivers, and installing up to 400 applications with just one click is possible.
General Features
SSD Only drivers.
Create backups and restore them with just one click.
Free domain name.
Gives you SSH access.
InMotion PHP Hosting Features
InMotion understands how important PHP is to a website and hence offers the best PHP hosting in the industry! Its exciting upsides are
Fast, Flexible, and Pragmatic.
Free Domain name included.
Offering a popular tool like suPHP.
Award-winning professional PHP support through chat, phone, and email.
3. SiteGround
SiteGround is one of the best PHP hosting providers that you can try out. The company is also known for its reliable services, and it is used by developers, bloggers, and businesses all around the globe. From Siteground, you can buy web hosting, managed WordPress Hosting, WooCommerce Hosting, and Cloud hosting. Plus, it has affordable plans too.
This cheap PHP server hosting is also powered by Google cloud so that you will acquire superior performance. To improve your experience, it uses SSD storage, which offers you optimal speed and a high level of redundancy. What's more? Siteground PHP web hosting plans also come with Free SSL, CDN, and Email, offering unmetered traffic.
General Features
Ultra-fast network.
Daily backup.
Unmetered Traffic.
Awesome customer service.
Easy to use dashboard.
SiteGround PHP Hosting Features
The cheap PHP hosting of SiteGround is carefully crafted for superior performance. As it has more options and better performance, you should know its exciting properties!
Automatic PHP updates.
Possible to change your PHP version manually.
Faster & Secure PHP executions.
Availability of a wide range of PHP modules.
Advanced PHP optimizations.
4. A2 Hosting
A2 Hosting is the other top PHP hosting provider in 2023. The company offers you breakneck web hosting loading speed. Moreover, it has a term called Turbo Servers, providing you 20X faster speed.
From this amazing PHP hosting USA, you may purchase different types of hosting, like Shared, WordPress Hosting, and WooCommerce Hosting, dedicated servers, VPS, and so on. Just adore the affordable pricing across these plans.
Moreover, A2 hosting also offers you unlimited SSD storage and bandwidth. In addition, you will receive free automatic backups, 99.9% Uptime Commitment, Free SSL Certificate, and excellent customer support.
Features
Unlimited SSD Space & Transfer.
Free & Easy Site Migration.
Free Automatic Backups.
Anytime Money Back Guarantee.
24/7/365 Guru Crew Support.
A2 Hosting PHP Hosting Features
Through the high-speed package, A2 Hosting provides the best PHP hosting solution that is tailored to your needs. Look at its amazing highlights!
Offers the latest version of PHP (Old versions are also available).
Improved performance through preloading.
Several development software are available.
Got positive reviews from PHP Webhosting customers.
MySQL and PostgreSQL to free SSH access.
5. GreenGeeks
GreenGeeks is also a faster and secure hosting company that you may try! The company uses the best speed technologies like Power Cacher, MariaDB, HTTP/2, PHP7, and others to offers you the best performance. And, get a free CDN as well.
This green web hosting company uses SSD storage only for fast page loads and maximum redundancy. It takes care of the security part very well too. Also, the company offers you many other hosting plans with affordable pricing.
General Features
SSD-only storage.
Unlimited web space & data transfer.
A free domain name for the first year.
Green server and hence less carbon footprint
Free Wildcard SSL.
GreenGeeks PHP Hosting Features
GreenGeeks gives you powerful PHP hosting, which is ultra-fast and secure. Its great hallmarks are
Multiple PHP versions with advanced optimizations.
Faster PHP execution time.
Free domain name transfer and registration.
Custom PHP environment variables.
Multiple server locations.
6. Amezmo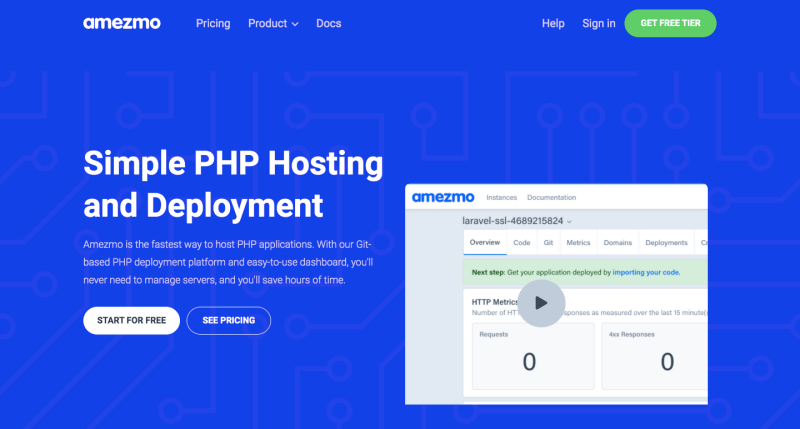 In the end, I have the Amezmo. It is the newest PHP hosting company that you can check out. The company offers you a true PHP web server and not shared hosting. This means you will get dedicated memory, CPU, and storage for your website. Also, it supports all the latest PHP versions, and it uses managed Redis and MySql for databases.
In addition, be ready to utilize other features like automatic backups and in-dashboard backup/ restore. Also, Nginx is configured for PHP. So you will obtain the best website performance ever. Simply, it is the fastest way to host a PHP site.
General Features
Latest PHP Versions.
It comes with dedicated system resources.
Nginx is pre-configured.
Receive the latest security updates.
Amezmo PHP Hosting Features
This full-stack PHP app hosting gives you the following features!
No more running apt commands or configuring server software.
Works well with Git providers (Automatic deployments).
Powered by AWS with Docker.
Not a shared hosting.
Supports Wildcard custom domains.
Which PHP Hosting do I Recommend?
How to find a web host with PHP support? Many site owners wonder about this question and are glad I could answer it. The primary benefits of using excellent PHP hosting servers are higher SEO rankings and increased conversions, as your site will become super-fast with reliable performance.
As I'm getting a great opportunity to use all these fantastic PHP Hosting services in 2023, I recommend them for your business site. Each of these providers has its features, pros, and cons and my vote goes to Cloudways, which supports my blogs with lightning-fast performance.
So, here I'm summarizing my suggestions!
Get Cloudways PHP hosting for your business site if you have a good budget and want to move to a new level. Use Promo Code – WPGLOSSY and grab $30 free credits.
If you care for the environment and want to use the green PHP web hosting server, then your choice should be GreenGeeks and InMotion Hosting.
When you would like to try a new player in the industry, give it a shot to Amezmo, which is a reliable option for a free PHP web hosting service.