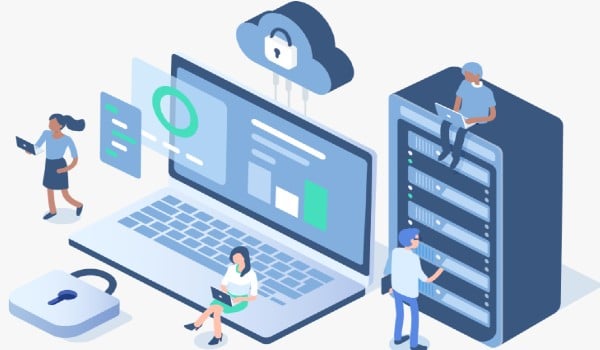 As your website starts to grow, you would need more and more resources to run your website smoothly. And this is where Virtual machine hosting comes into play. Virtual Machine hosting or VM hosting is designed to offer you ultimate performance and handle high traffic.
However, whenever it comes to buying a VM hosting plan, we have too many options available for us. Hence, to make it easy for you, I have handpicked top providers that offer the Best Virtual Machine Hosting 2021.
So let's just go ahead and have a quick look at them!
What Is Virtual Machine Hosting?
Virtual machine hosting is a cost-effective virtual server that comes with the flexibility of a dedicated server. VM hosting does not use resources allocated for a single server only. But it uses multiple servers.
Here, your website gets backed by resources from multiple servers and hence your site performs the best. Also, it is incredibly inexpensive, highly scalable, and easy to upgrade.
Benefits Of Virtual Machine Hosting
Flexibility
Shared hosting does not offer you flexibility at all. Thanks to the limited resources. However, in VM hosting, you will receive complete control over your hosting service. So you can easily customize the server according to your needs.
Super Fast Server
VM hosting services contain the 10X rapid SSD servers launched on the dedicated cloud environment with inbuilt advanced caches. Moreover, this type of hosting runs on the latest PHP version with auto-healing quality. Hence you don't need to bother about the speed performance of VM hosting providers.
Value
VM hosting is extremely valuable for money. They are cost-effective and a cheaper alternative to a dedicated server. Finally, you can get the same performance as a dedicated server but at a lower price. From most of the companies, you can grab the money-back guarantee as well.
Scalability
This high-end hosting uses a combination of multiple servers and hence it is highly scalable. You can easily upgrade or downgrade your website resources according to your needs and pay for what you use. Yes, it is more likely to allocate additional resources with a single click.
Security
Virtual machine hosting also offers you top-notch security and makes sure your website is always up and running. Since hardware failure is a common issue in a dedicated server, hence, your website has to face downtime. But in this hosting, your website is hosted in a multi-cluster environment. So even if one of the hardware fails, your website will still be up and running. Besides, you will receive a daily automated backup and don't face any data loss frustration.
Top 7 Virtual Machine Hosting Providers 2021
1. Cloudways ($30 Discount)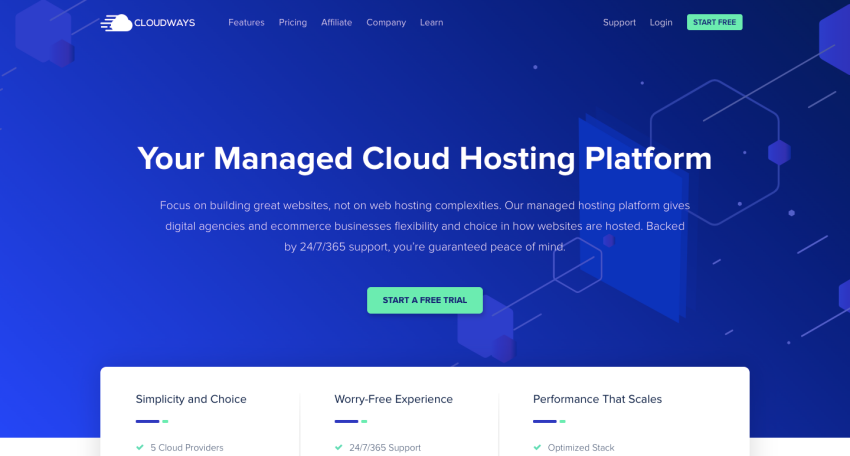 Cloudways is one of the top virtual machine hosting providers as it let us access the VM servers without being a programmer. The company takes care of everything from offering you a high-performance server to quality customer support. Along with that, it comes with affordable pricing plans which will go easy on your pocket.
Talking about the features, Cloudways only uses SSD hosting for reliable performance. Furthermore, you can enjoy a dedicated environment that will help you unlock maximize server and app performance. Moreover, it uses PHP 7 servers, and they are HTTP/2 enabled, which will help in increasing the speed of communication between the web servers and clients.
If you have decided to go with this managed cloud hosting, then you may use our exclusive Cloudways discount code to grab a $30 price deduction.
Features
Free WordPress Cache Plugin.
Offers the servers of several virtual machines.
Pre-configured PHP-FPM.
HTTP/2 Supported Servers.
Dedicated Firewalls & Redis support.
2. DomainRacer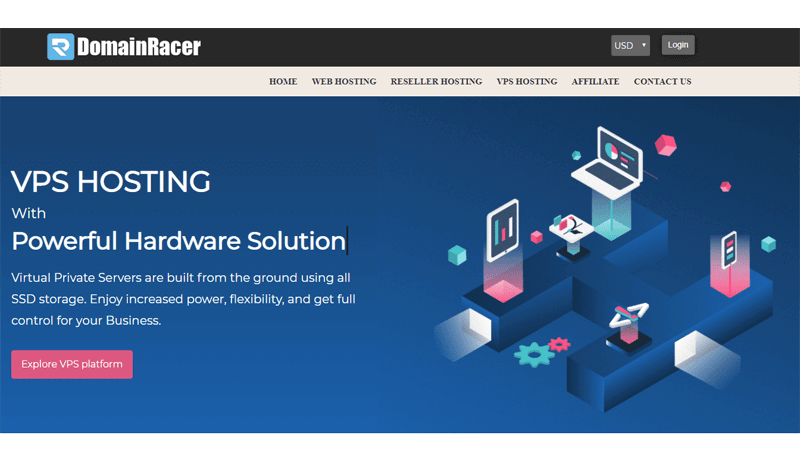 DomainRacer is the productivity head in the VPS hosting universe. They offer a range of hosting are: VPS hosting, Shared hosting, Reseller hosting, Dedicated Server hosting, and Application Based hosting.
The best VM hosting provider for maximum people is unquestionably DomainRacer. All cheap Virtual Machine hosting plans prices are economical. Along with free SSL certificate, highest server operational time, unlimited storage, free backup facility, latest security features, and many more.
At DomainRacer you can increase your traffic with their Standard VPS, Storage VPS, KVM Linux VPS, KVM Windows VPS hosting. Here also you will get full root access. All these hosting bounded with powerful hardware, Cloud-based infrastructure, full root access, fastest connectivity, and many more.
DomainRacer supports tier-III VPS hosting data centers located in Europe (Lithuania). VM servers are highly secured with 9+ protection as ImunifyAV+, Imunify360, DDoS Protection, MagicSpam, Firewall, email spam protection, etc.
Uptime for DomainRacer is high almost 99.99%. They have 24/7 live customer support through phone, live chat, email, ticket, and WhatsApp. Also, they provide YouTube video series to solve your queries.
Features
Heighten With LiteSpeed Cache Technology
Unlimited SSD Storage And Bandwidth
Free HTTPS Approval With 99.99% Uptime
24/7/365 Prompt Support Guarantee
Great Servers Security Techniques
Speedy VPS With Stress-Free To Manage
Upturn Your Business Trustworthiness
Full Root Access To Server
Support To Linux & Windows OS
On-Demand Resources Are Available
Multi-Core, Intel Xeon E5-2640 v4 Processors
Introduce Premium SEO Tool & LMS Hosting
3. SiteGround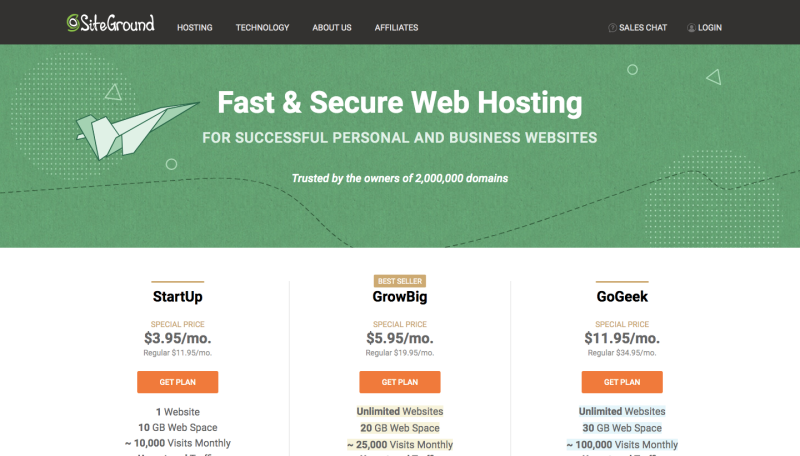 SiteGround is also considered as a reliable VM hosting provider. Siteground helps you with all types of resources that you need to start your website. The best part of the company is that it is powered by Google cloud so that your website will get hosted over an ultra-fast network. Besides, they also use SSD disks for the ultimate performance.
Moreover, the SiteGround also offers you fully managed services with guaranteed resources. Along with that, they offer you a dedicated IP, Free CDN and SSL, daily backups, collaboration tools, and so on.
Features
Daily backups.
Dedicated IP.
Google Cloud powered servers.
Free SSL and CDN.
SSH and SFTP Access.
4. A2 Hosting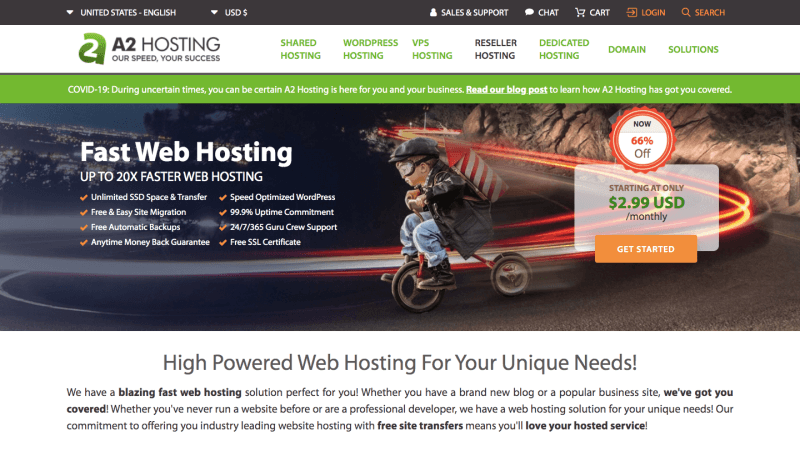 If you are looking for a cheap virtual machine hosting service that can offer you great speed and reliable performance, then you can consider using A2 Hosting. With A2 Hosting, you have fully managed hosting and get backed by the 24/7/365 Guru Crew Support team.
Also, be ready to get root access along with the complete server control. Also, there is the 20X faster Turbo Boost option along with the cPanel. So it would not be hard for you to manage your website at all and configure it the way you wish to.
As long as the features are concerned, there is unlimited SSD space and transfer as well. They also offer you free automatic backups and speed optimized WordPress. Additionally, you will be getting a free SSL certificate and top-notch customer support.
Features
Unlimited SSD Space & Transfer.
Free Automatic Backups.
99.9% Uptime Commitment.
Root Access.
24/7/365 Guru Crew Support.
Free SSL Certificate.
5. DreamHost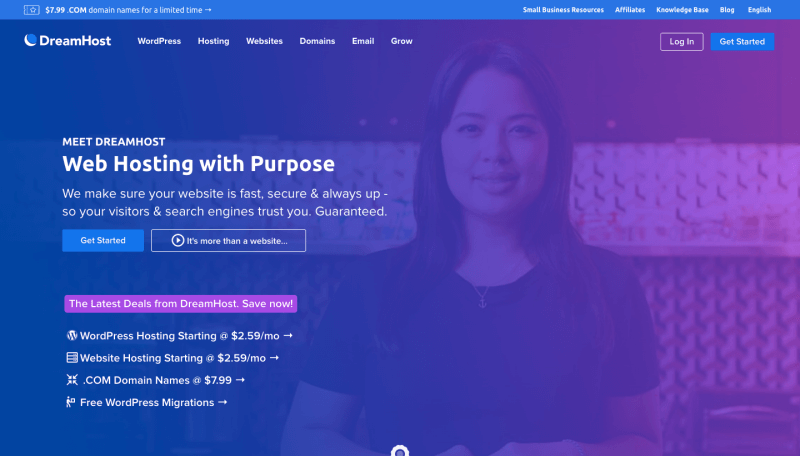 DreamHost is also one of the best VM hosting providers that you can check out. The company offers you servers which are designed to meet your unique needs offers you great flexibility and scalability. The company also provides you unparalleled speed thanks to the SSD disks, accelerated networks, and high powered machines.
Further, you will also be getting full root access and complete control. They will not limit you in your choice of OS or software. So you can configure your server the way you wish to as well as it supports different DB and programming languages like MongoDB, Redis, Python, Node JS, and so on. It is also one among the cheapest virtual machine hosting that would fit your needs.
Features
SSD disks powered servers.
Full Root Access.
You can create servers automatically with OpenStack-compatible API.
Highly scalable.
6. Go4Hosting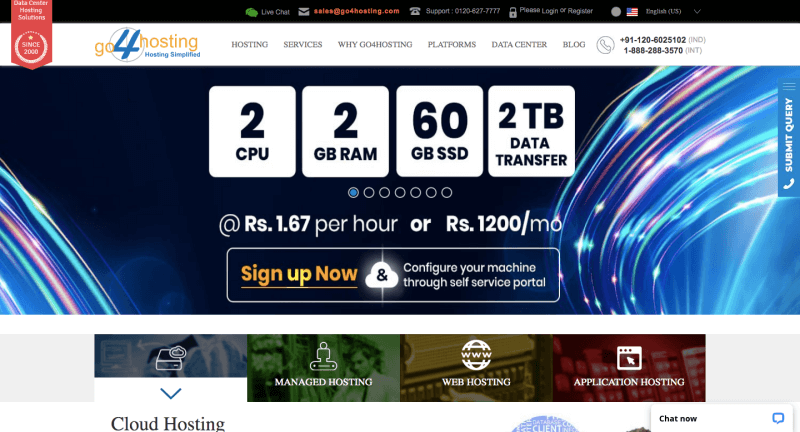 Go4Hosting is also one of the best companies that offer you the best in the business VM hosting. The company comes with tons of features and adoring great flexibility and scalability across plans. In addition, it comes with unlimited usages, and it only charges you for the resources that you use.
Moreover, their VM hosting plans also let you choose your OS, workload for your VM, language, and enable you to configure the server the way you wish to. You can also scale your plan effortlessly. If you are looking for free VM cloud hosting, then you may get this high-performance hosting service.
Features
24×7 Server monitoring, maintenance, and management.
Customize and add the virtual machines as per your need.
Highly scalable Cloud infrastructure.
Updated anti-virus and anti-spam applications for enhanced security.
24×7 Technical Support.
30 day free trial
7. Kinsta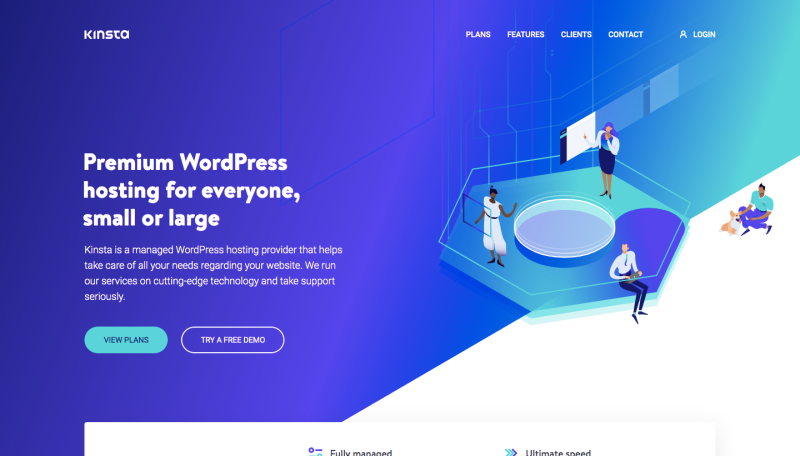 Kinsta offers an excellent virtual machine server in its Google cloud platform for the highest performance. It is a managed WordPress hosting provider, which is known for its unlimited speed and reliability. Yes, the company offers you ultimate speed, and Google Cloud Platform backs them.
As far as the features are concerned with them, the company daily backups. Also, their plans are highly scalable and therefore, you can easily upgrade or downgrade your plans. Moreover, the company is backed by a speed obsessive architecture, and it uses top technology like Nginx, PHP 7.4, LXD software containers, MariaDB, and compute-optimized VMs. This makes sure that your website loads faster than ever.
Features
Highly optimized servers.
High-security network.
Easy to upgrade or downgrade.
Google cloud platform.
Free website migration.
Wrapping Up – Which Is The Best VM Hosting In 2021?
The VM hosting service has the potential to boost your business site and keep you ahead of your competitors. Get ready to adore its high bandwidth, secured system, and scalable platform with almost zero downtime.
So, which virtual machine should you use? Here is my best suggestion!
If you are a dedicated business and want to move to the next level, go with – Cloudways VM Hosting service.
When you have a high budget to take your business to a new height, get Kinsta VM hosting.
If affordable VM hosting is your requirement, your choice should be A2Hosting, DomainRacer or SiteGround.
When you just want to give a try to the VM hosting and don't have anything to spend, then use the go4hosting VM Hosting service.