How is Cloudways better than other well-known WordPress Cloud hosting providers?
As I have been using this cloud server service, let me tell you its valor through this blog post!
Let's continue the discussion!
Launching your WordPress website to the online arena with the best hosting server is a predominant task because you have to satisfy your readers and search spiders through the fast loading and reliable server.
So, you have to be cautious while buying an excellent hosting service for your website.
I always recommend the best products and services for my loyal readers like you, and hence I would suggest you get the managed WordPress cloud hosting to perform well on the web.
Yes! It will make you free from technicalities like Security, Speed, Backup, Software upgrades, and so on. You can just sit back and relax!
Moreover, the cloud features will let you scale the sources when your site grows with lots of traffic.
Out of all, you can get the maximum uptime (99.99%) since the resources get splits on multiple servers to tackle the potential failure.
If you have decided to purchase Cloud WordPress hosting with the managed features, then you are on the right path to reach success.
Look at the image to support my viewpoint where I have taken from the blog post of WPEngine!

Let's come to the point now!
Cloudways is offering incredible service for their customers, and we are one among them.
As we are using this best-managed cloud hosting for WordPress, I have written a detailed Cloudways review by sharing our 4 years of experience with them. They are just amazing!
I have a special Coupon code for you!
Use Cloudways Promo Code – WPGLOSSY and get 3 Months of hosting for free. Yes, you have Cloudways $30 Free credits to use the basic Digital Ocean plan for 90-days FREE. Moreover, you have an option to choose the premium or standard server for your business site.
Cloudways Hosting Vs 6 Best Managed WordPress Cloud Hosting Providers
I have done a detailed analysis to make this Cloudways vs other well-known cloud hosting companies!
Moreover, I'm using a few of the cloud hosting services like Digital Ocean, SiteGround, GoDaddy, InMotion VPS Cloud, and HostGator Cloud for my other blogs.
So, I can easily compare the features and share my hosting experience with you!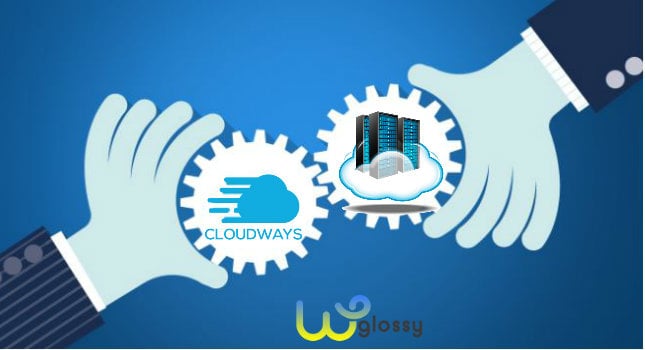 Cloudways Vs SiteGround
Like Cloudways, SiteGround also offers the scalable, fully managed cloud hosting through its ultra-fast SSD servers.
However, what makes Cloudways better than SiteGround? Let's see!
#1. Inexpensive Pricing Plans
Choosing the best yet affordable hosting is the desire of every website owner. So, when it comes to cheap cloud hosting, Cloudways win the race as it has inexpensive monthly plans than SiteGround managed cloud hosting.
The entry cloud plan of SiteGround is $80 (with 5TB data transfer) is too high when compared the basic plan of Cloudways which is $10 (with 1TB data transfer), and you're forcing to buy the expensive plan in SiteGround.
If you're a budding blogger or business startup, I feel that that Cloudways hosting is the right choice.
#2. Trouble Free Site Migration
When you look for a superior in the website transfer, Cloudways is the best. You can do the job through the migrator plugin or get help from the expert to move the files with zero downtime.
I have seen that SiteGround has bad reviews about the long process of site migration that was sluggish and may bother you a bit.
When the data center locations of both cloud hosting services are compared, Cloudways has more choice when compared to SiteGround. Keep in mind, for quick content delivery, you have to choose the closest data center for your target audience.
SiteGround doesn't have a data center in South America, Africa, Australia, India, and Japan whereas Cloudways has around the globe. Other Better Features Of Cloudways Than SiteGround
Breeze – It is a free Cloudways cache plugin for WordPress
CloudwaysCDN – Instead of configuring CloudFlare CDN, you may use CloudwaysCDN
PHP 7 ready servers – SiteGround has only PHP 5 version
CloudwaysBot – The smart AI assistance to send real-time notifications and helps you to optimize the server
[table id=7 /]
After having a look at the comparison Cloudways vs SiteGround, I hope you would like to purchase Cloudways managed hosting for WordPress!
Grab the Cloudways Offer through Coupon Code – WPGLOSSY and get 3 months FREE hosting worth $30
Cloudways Vs ServerPilot
The ServerPilot is the fantastic cloud hosting service to host WordPress CMS on Digital Ocean server.
However, do you know its inferior qualities to Cloudways?
When I made an analysis of the best WordPress cloud hosting, I came to know that Cloudways is the best alternative to ServerPilot.
Let me tell you the advanced features of Cloudways than ServerPilot, and hence you can decide to get the best server.
If you're a non-tech savvy person, then the ServerPilot is not for you because you need to handle the technical undertaking like setting up the username with the root password of the server.
When it comes to ease of use, you can set up the app much quicker with Cloudways in just a few clicks.
Cloudways has several inbuilt advanced cache settings on the server like Nginx, Redis & Varnish for WordPress speed optimization. There is no such improved speed feature available in ServerPilot, and yes, you have to install & configure the Varnish cache by yourself, which is an overwhelming process.
If you care about the loading speed of the site which is a Google ranking factor, then go with Cloudways hosting without any second thought.
If your priorities are 1-click server deployment, free managed migration, add-ons, auto-scaling, and single monthly billing, then your choice should be Cloudways as these qualities are not present in ServerPilot.
Cloudways is a complete managed service, and you can focus on site development with no worries about the technical chores. Other Best Features of Cloudways Than ServerPilot
Managed backups and the hourly backup feature is available

Live chat support to connect with the technical experts anytime

Team collaboration feature for assigning different roles to the team members.
| | | |
| --- | --- | --- |
| | | |
| | | |
| | | |
| | | |
| | | |
| | | |
| | 24 X 7 Live Chat & Ticket | |
Actually, the ServerPilot is the free remote control panel that can be installed on Ubuntu server to create a DO droplet for the WordPress site, but it involves several technical aspects.
Thus, I would advise you get Cloudways managed WordPress cloud hosting to enjoy the peaceful hosting experience.
Utilize the Cloudways Offer through Promo Code – WPGLOSSY and get 3 months FREE hosting worth $30
Cloudways Vs DigitalOcean
First, you should understand that there is no point in comparing the Cloudways and Digital Ocean because you are going to use the DigitalOcean server (Or Vultr, Linode, Google Cloud, Or Kyup server) through Cloudways and yes, you have to spend a few extra bucks for it.
If you're not a good server admin, then installing the server from scratch is a big pain!
There are many technical assignments involved in DigitalOcean, and hence the Cloudways is taking the opportunity to make things more accessible through the managed cloud hosting concept.
You may check my detailed comparison between Cloudways and DigitalOcean so that you can understand things in a better way!
Have a look at the features supported by the Cloudways DigitalOcean Cloud platform; you will come to know the benefits of buying the DO server through Cloudways managed hosting.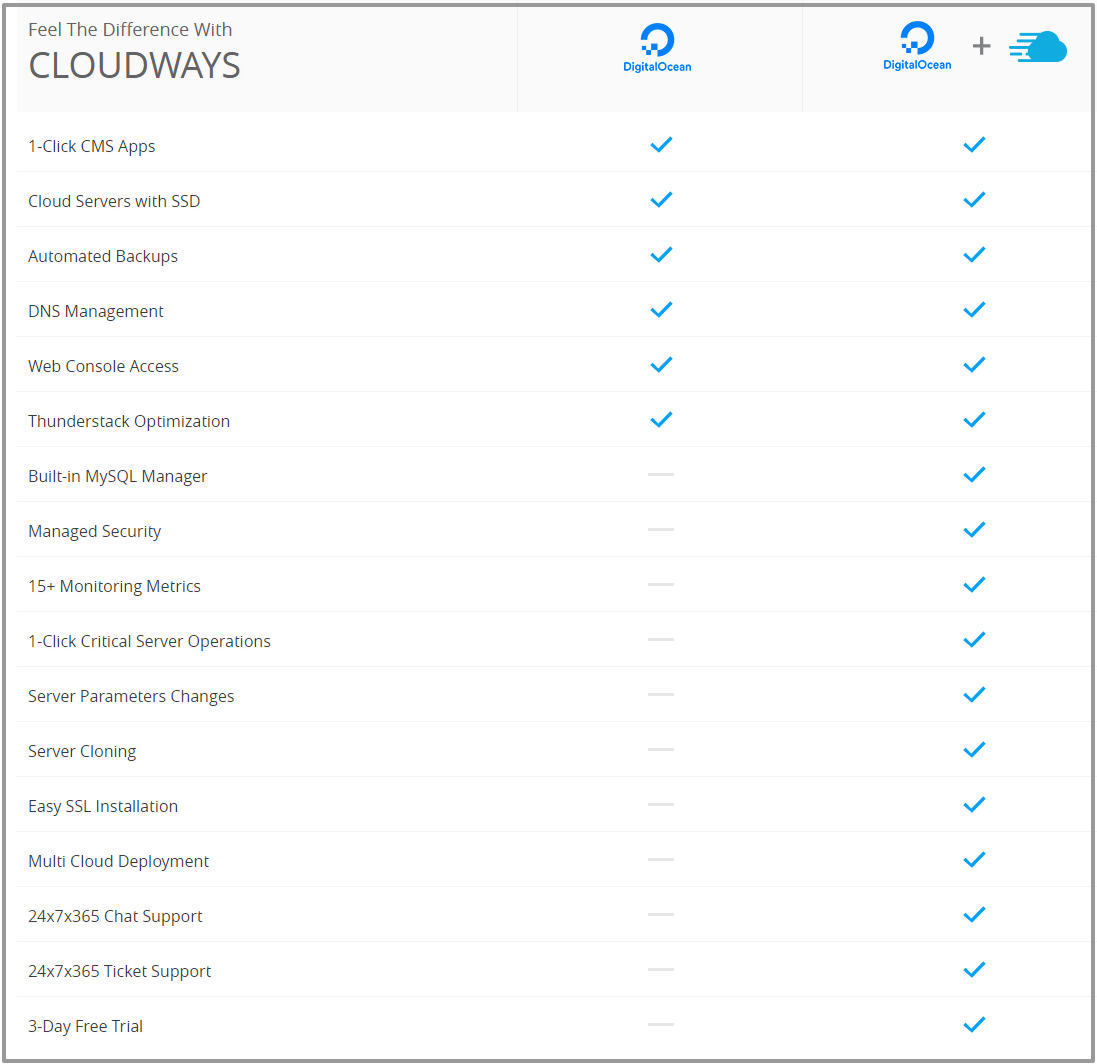 Note:
In Cloudways, it takes just less than 10 minutes to deploy the PHP CMS or development app on the DO servers.
In simple words, Cloudways is one-click cloud management for the non-technical persons where you can get managed security, unlimited staging, Git workflows, and SSH & SFTP access.
Cloudways – Managed Digital Ocean Cloud hosting

Digital Ocean – Unmanaged Cloud Hosting (You have to set up everything)
| | | |
| --- | --- | --- |
| | | |
| | | |
| | | |
| | | |
| | | |
| | | |
| | | |
| | 24 X 7 Live Chat & Ticket | |
When the price of both cloud hosting services are compared, Digitalocean is cheaper ($5/mo) than Cloudways.
So, if you have a limited budget and are ready to involve in the technical aspect of setting up the cloud hosting, then make DigitalOcean your choice.
Otherwise, get Cloudways and finish the server set up in a few clicks.
Get the Cloudways Offer through Coupon Code – WPGLOSSY and get 3 months FREE hosting worth $30
CloudWays Vs InMotion
InMotion has launched its Cloud VPS service in the year 2016 and it could handle 10X more traffic with optimized configurations for WordPress.
Both Cloudways and InMotion cloud hosting can offer the best performance and uptime for your website.
If you want to get the cloud server with the control panel option and root access, then you have to choose InMotion hosting only!
The cPanel of Cloudways is different, and you will not get root access to install any software.
Besides, Cloudways can beat the InMotion cloud VPS hosting through price, speed, and security features.
The digital ocean plan of Cloudways is $10 for 1GB RAM, 25GB storage, and 1TB bandwidth, whereas the starter VPS plan of InMotion Cloud charges you $27.99 for 4GB RAM, 75GB storage, and 4TB bandwidth.
Both the plans are almost the same (if we consider the RAM & Bandwidth) for the price, but you are forced to choose an expensive pricing plan in InMotion cloud hosting.
If you look for cloud-based managed hosting for your start-up website, then Cloudways is the best selection because you can afford $10 per month instead of paying $28 per month.
#2. Great Server Response Time
There is no doubt that you will get an excellent server response time in Cloudways through its server-level caches and HTTP/2 supported servers. Moreover, the pre-configured PHP FPM dramatically boosts the loading time of your site.
Getting the speedy cloud server at an inexpensive monthly plan with reduced response time is the greatest thing about Cloudways.
InMotion hosting still needs improvement in providing a lower server response time for its users by widening the server level caches and PHP 7 ready servers.
Comparing the security features of InMotion and Cloudways, the proactive security practiser – Cloudways is the champion as it provides managed security through the dedicated Firewall, Auto-healing servers, two-factor authentication, and consistent security patches to avoid the vulnerabilities.
Keeping your valuable data safe is a wiser thing rather than frustrating yourself with the data loss episode. I'm not saying that the InMotion security features are bad, but when they are compared to Cloudways, they look mediocre and needs to be developed. Other Best Features of Cloudways than InMotion
An active community where the experts share their knowledge.

IP Whitelisting for easy team collaboration

Git integration to get the updated code deployed on the servers
| | | |
| --- | --- | --- |
| | | |
| | | |
| | | |
| | | |
| | | |
| | | |
| | | |
| | | |
| | 24 X 7 Live Chat & Ticket | Live Chat, Phone & Contact Form |
Note:
Before moving to Cloudways, we were on Cloud VPS of InMotion hosting, and it was good. However, we want to perform better in terms of speed and scale our resources affordably. Hence, we have shifted to Cloudways hosting.
As we didn't have any bitter experience with InMotion, I'm recommending both managed cloud services for you.
CloudWays Vs WPEngine
WPEngine is a great player when it comes to managed hosting, no suspicion in that! To make robust WordPress site, WPEngine has combined with Google Cloud Platform.
But still, Cloudways can beat the WPEngine through some of best qualities! Let's check those features!
The technical support accessibility round the clock is essential for the customers to get assistance for the common troubleshooting issues or to solve any other technical concerns. In Cloudways, you can reach the experts anytime through the 24 x 7 Ticket system and get the job done.
However, the start-up pack of WPEngine Cloud hosting does not endow with 24 x 7 ticket/Phone support. If you need all-time support through the ticket system, then you have to purchase the higher plans of WPEngine cloud hosting.
Cloudways follows the "Pay As You Go Method" and therefore you need to pay only for the resources that you use. Also, the basic plan is inexpensive which is suitable for startups.
The starter plan of WPEngine cloud hosting is $35/mo that is quite expensive when weighed against Cloudways hosting ($10/mo).
Moreover, the overage charges are high! You may have a look at the bad experiences of industry experts, Harsh Agarwal and Brian Jackson with WPEngine.
When the WPEngine is evaluated with Cloudways hosting, you will come to know the constraints of WPEngine. Yes, it has a list of prohibited plugins and imposes a limit on the number of WordPress sites that you can install.
Moreover, the setting up of the Cache is somewhat a big task in WPEngine.
If you want to get away from these restrictions, then your pick should be Cloudways cloud hosting service. Other Better Features Of Cloudways Than WPEngine
Real-time monitoring and new Relic integration to track your server and apps

Cloudways has more server resources when compared to WPEngine
[table id=11 /]
Check my detailed comparison of Cloudways Vs WPEngine and am sure you would like to get Cloudways managed hosting!
Grab the Cloudways Offer through Coupon Code to get a $30 Discount
Cloudways Vs HostGator Cloud
I'm using the Hostgator Cloud service for my very first blog, mymagicfundas.com since last year; I'm quite satisfied with the ease of use and price.
But, when comes to performance, scalability, and customer support, Cloudways is the real winner.
Let's start the war Cloudways vs HostGator Cloud hosting!
Cloudways will never let your site down at any cost! They have sophisticated qualities for customer requirements and satisfaction. Till now, I didn't get any server down issues for this blog, www.wpglossy.com.
It is maintaining 100% uptime even during the traffic hike at times. In addition, our blog is loading fast, and we are also glad to perform well in search results.
I experienced a few downtime issues with Hostgator Cloud (in minutes to hours). My blog is slowing down for no visible reasons and I'm not satisfied with the server response time as well.
Even though they have a user-friendly interface to manage all the stuff in one place, they have to implement advanced features like Cloudways to provide optimal performance for the users.
1-click seamless vertical scaling is the foremost upside of Cloudways where you can scale the CPU, Memory, and Disk without affecting the customization.
The scalable resources are precise; just you need to hover the mouse for the vertical scaling and pay for the increased server size.
In Hostgator Cloud, it is tricky to get the information regarding the scaling, and I'm not sure that you could handle the high-traffic bursts.
Reaching and lending a hand from Cloudways support is trouble-free as you can reach them anytime. You may also get help through the community forum where the experts are engaging with the users.
Recently, Cloudways has decided to go to the Facebook WordPress community to find out their pain points.
On the other hand, the tech support of HostGator is an exhausted one!
I have to wait in the queue every time to get assistance from the support staff. If something needs to be solved urgently, then you would be in trouble as their support is slow and might not be helpful at times. Other Better Features Of Cloudways Than HostGator Cloud
You can install free SSL Certificate

You will get hack-free hosting experience

The Varnish cache settings are custom based

You can control your site through commands with the help of Pre-Installed WP-CLI
| | | |
| --- | --- | --- |
| | | |
| | | |
| | | 2GB & Unlimited Bandwidth |
| | | |
| | | |
| | | |
| | | |
| | | |
| | 24 X 7 Live Chat & Ticket | 24 X 7 Live Chat & Ticket |
Cloudways Promo Code – WPGLOSSY to get 3 months FREE hosting worth $30
Other Cloudways Comparisons
Wrapping Up – Cloudways Comparison With Other WordPress Cloud Hosting
Hosting comes before anything else to step into online or to mark your footprints. Buying untrustworthy hosting for your website will be a big failure as it has a significant impact on the SEO of your site.
We bought three different hosting packages from Cloudways and wholly fulfilled with the features, performance, and price.
Thus, I'm recommending this cloud server service for you without any uncertainty! I hope this managed hosting comparison post would help you understand which service is better to go with!
I would suggest you go with Managed WordPress Cloud hosting through Cloudways. I'm sure that you will adore its ease of use and skyrocket your sites' performance.
If you still have any difficulty or wrong opinion about the Cloudways hosting, let me know, I'll try to clear the things through my experiences with this best WordPress hosting.