Divi is the greatest WordPress theme created by Elegant Themes. But have you ever considered using any other theme than Divi? And that's what you are going to learn today. This post will show you the best Divi alternatives to create powerful websites without hassle.
WordPress is the world's #1 CMS with thousands of free, freemium, and premium themes. When Divi comes with an elegant drag-and-drop builder to create websites, you could get the same features (or better) on other WordPress themes.
We always look for better alternatives to design interactive WordPress sites to win the readers' hearts and please the search engines. So, which themes are those? Before getting into the list, let's see why you must look for a Divi WordPress theme alternative.
Why Do You Need to Look for a Divi Alternative?
Divi is a premium WordPress theme. It will cost you $89 a year for the bundle. Also, since it is an annual subscription, you must spend $89 yearly to update the theme to the latest version. So if you think that's not feasible, you must check for a Divi alternative. Like the Divi theme, several free, freemium, and premium (affordable) themes will be found.
Another scenario when you need a Divi alternative is when you need to consider switching themes. As you know, the Divi theme for WordPress comes with an in-built page builder. Once you have completed creating a custom page design with Divi Builder, switching to another theme can be challenging.
On top of that, Divi is a heavy theme. Your website will be slower without any extra caching or image optimization plugins. For a performance-optimized website, consider using a lightweight theme. Now you know why and when to look for Divi alternatives. Let's move to the core topic of the article – some of the finest Divi WordPress theme alternatives.
Top 8 Best Divi Theme Alternatives To Build Attractive Sites
Let's see what each theme offers by closely examining each option.
1. Astra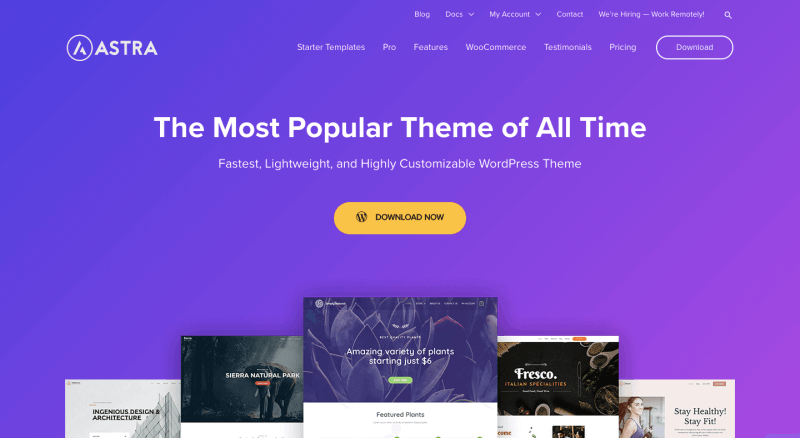 When your main priority is to purchase the lightweight and highly customizable theme, you should check out Astra. It is the same WordPress theme we use on our niche blogs. It allows you to customize every inch of your WordPress site or WooCommerce store using Astra.
What makes Astra special is the unique features you can get with it. The development team bundled features like design control, header & footer editor, layout options, and typography control in the theme, so tweaking your website's design would be a cakewalk.
Astra's Notable Features:
SEO Friendly
Lightweight
Highly Customizable
Pre-made Templates
What makes Astra the best Divi alternative?
The customization feature makes Astra one of the excellent Divi alternatives. With access to the Astra premium add-on, you can tweak every element of your WordPress website and WooCommerce store. Just give Astra a try, a well-coded theme.
2. Kadence
Do you require a theme without any bloat? Kadence is a popular theme known for its speed and performance results. Apart from performance boosting, Kadence is highly-customizable. You can edit every design through the Gutenberg editor without using any extra WordPress page builder plugin.
Try to take control of the website's typography, colors, layouts, and spacing, and choose a font from 900+ Google fonts available in the settings. On top of that, upgrading to a premium subscription can easily enhance the theme's features. When you want to build unique designs without affecting performance, Kadence could be a good fit.
Notable Kadence Features:
Starter Templates
Layout Controls
1500+ SVG Icons to Use
Visibility Controls
Colors and Background Controls
Why use Kadence instead of Divi?
While looking for a Divi free alternative that's easy to use and customizable, Kadence is the best option. For the features they offer, it is worth a shot. Even its free version has many helpful features to make stunning WordPress sites.
3. X-Theme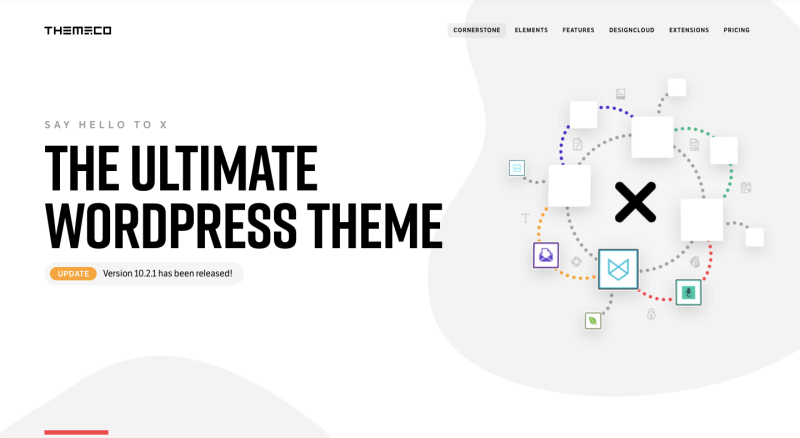 Do you prioritize features like a live page builder? You must get X-Theme. It's the top-selling WordPress theme, with over 200K sales. The development team has added many custom importable demos to this WordPress Divi alternative theme. Hence, setting up your website's design won't be a trouble.
All the demos are 100% customizable to change the elements according to your brand's requirements. The team also bundled an advanced WordPress page builder plugin called Cornerstone with the theme. Using it, you may edit your pages visually without going to the website's backend.
Features of X-Theme You'll Love:
Lifetime Updates
Custom Typography
Role Management
Dynamic Content
Undo/Redo Options
Visual Builder
What Makes X-Theme Better than Divi?
When you desire to use a theme with fascinating features that don't limit your customization needs, X-Theme is the right fit. Don't miss using this best-selling theme.
4. GeneratePress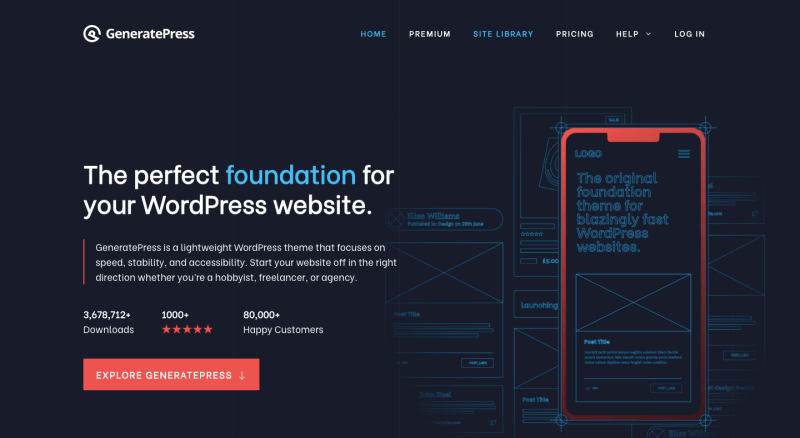 If your primary concern is a faster-loading website without fancy features, try GeneratePress. GeneratePress is one among the best Divi alternatives for creating a well-designed website or online store. The theme has a stable, lightweight code that doesn't cause performance issues. I would suggest you check GeneratePress Free Vs Paid versions for better understanding.
Also, building complex designs with GeneratPress won't be a problem. Since the theme is optimized for Gutenberg, try creating custom designs through the editor without relying on a dedicated page builder. Similarly, combine the GenerateBlocks plugin with the GeneratePress theme to create stunning designs without touching a single line of code.
Notable Features of GeneratePress:
Optimized for Performance
Great Support Team
Header Control
Navigation Control
Easy Code Insertion
How is GeneratePress the best Divi Alternative?
GeneratePress will be an excellent alternative to Divi, thanks to the lightweight code and highly customizable environment. Combining GeneratePress with their in-house page builder GenerateBlocks, you may take the customization opportunities to the next level. Finally, preferring a faster WordPress website, use GeneratePress instead of Divi.
5. Avada
Looking for a multipurpose WordPress theme for your website? Avada will be a great fit. With the Fusion Builder, you can create any template you need without any struggle. With over 878K sales, Avada is a popular theme most people love. It can score better in page speed tests by disabling features you do not use and enabling image, JS, CSS, and video optimization.
Avada is also optimized for eCommerce. So if you are considering running an online store with WooCommerce or Easy Digital Downloads, there won't be any compatibility issues. Regarding speed & performance, Avada has a dedicated theme panel to enable/disable custom features.
Avada Features:
Live Page Builder
WooCommerce Optimization
Header & Footer Builder
Mega Menu Options
In-Built Performance Optimization Options
How can Avada be a better alternative to Divi?
With Avada, you may create any website in a few minutes. No matter whether you are designing a personal blog, membership site, fitness website, or portfolio website, Avada got you covered. Due to that flexibility and customization options, use Avada in the place of Divi.
6. Enfold
Want to build a powerful website with minimal effort? Enfold can help you. The Enfold team created a decent number of demo templates you can import to a live WordPress installation; hence if you want to skip the design process and start your WordPress website or WooCommerce store, demo templates can be convenient.
With Enfold's drag-and-drop editor, creating custom page designs is simple. Other notable features of Enfold are it's retina ready, SEO friendly, WooCommerce optimized, and WPML compatible. Finally, Enfold will also give you access to the popular premium WordPress form builder plugin Gravity Forms.
Valuable Features of Enfold:
WooCommerce Ready
Drag and Drop Page Builder
WPML Ready
Multiple Demos
Free Access to Gravity Forms
How can Enfold replace Divi?
Enfold is an excellent alternative to Divi, comparing its features and support. Should you build a custom page design without hiring a WordPress developer or using any codes? Enfold will help you.
7. BeTheme
Do you like feature-rich WordPress themes? You are going to love BeTheme. BeTheme is a popular theme with cutting-edge features and customization options. Their BeBuilder option allows you to edit your website without any issues visually.
It has a fantastic header & footer builder. Also, the developers have created hundreds of importable sections inside the theme. The templates are handy when importing a custom section to your WordPress website. BeTheme also comes with a dedication theme panel. So, tweaking options and managing the theme will be simple with it.
BeTheme Features:
Multipurpose
Lifetime Updates
WooCommerce Optimized
Custom Editor
Elementor Ready
How good is BeTheme?
Are you a fan of fancy features? You should buy BeTheme. With the in-built page builder, you can tweak the design of your WordPress or WooCommerce site any way you want. On the other hand, if you rely on Elementor for page designs, BeTheme is 100% compatible with that.
8. Blocksy
When you consider getting a Gutenberg-optimized WordPress theme like Divi, check out Blocksy. Blocksy is a freemium theme that can help you customize your website however you want. Besides, it is translation-ready, so anyone worldwide can use Blocksy and translate it into any other language.
Besides that feature, Blocksy can be easily integrated with page builders like Elementor, Beaver Builder, WPBakery Page Builder, etc. So, creating custom designs are simple. Also, the theme is SEO optimized, making it more welcoming to bloggers and small business owners.
Notable Blocksy Features:
Optimized for SEO
Gutenberg Ready
Translation Ready
WooCommerce ready
Highly Customizable
Why Should You Go With Blocksy?
When you hunt for a feature-rich WordPress theme optimized for Gutenberg editor and page builders, Blocksy would be the perfect fit. With this Divi theme alternative theme, create stunning websites in minutes without writing/editing codes.
Conclusion: Which Divi Theme Alternative to Pick?
When you want a speed-optimized and lightweight theme that can be customized well, try Astra, Kadence, and GeneratePress, the best Divi alternatives. On the other hand, when you search for a feature-rich theme, you should use X-Theme, Avada, or Enfold.
Finally, BeTheme is a feasible option for WooCommerce, and Blocksy is perfect for a Gutenberg website. According to your preferences and requirements, you have to choose a theme that suits your needs.
Divi – great theme for WordPress to use on your website. But, if you prefer an alternative, check out the eight themes mentioned in this blog post. We hope you have found this content helpful and enjoyed reading it. Which Divi alternate are you going to pick? Let us know in the comments.