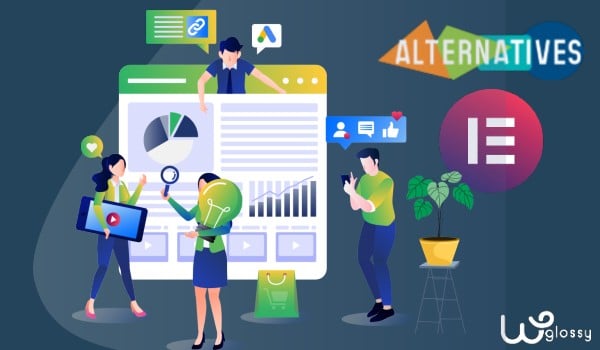 Are you looking for some best Elementor alternatives to pick the suitable page builder for your business site?
You arrived at the right place to get the ideal one of your choice. You might be aware of a few resources; however, I'm sure you will see a few unknown tools in this article.
I agree, Elementor is an excellent page builder for WordPress with a drag-and-drop editor with 300+ pre-made templates for website usage. It has 90+ widgets and several third-party add-ons to get a unique responsive design for your business sites.
Social media integration, Block editing, and individual widget customization are available with Elementor. Community interaction to marketing and advanced custom design with Addon and API support are also present here.
Then, why do we look for Elementor alternatives in 2023 and beyond? Let's see some valid reasons to go for a substitute, and I hope your concern about Elementor will also be included in the list.
Why Do we need Elementor alternatives?
Elementor uses many widgets for every feature inclusion so that it may slow down the web page speed.
As it affects the page load speed, some users struggle to pass the core web vital assessment, so they need to optimize their site to get improved web vitals scores.
It contains many templates for the site design and if we need to customize the page, we cannot edit it with the WordPress editor. Instead, we should import it with the Elementor theme editor.
The pricing plans are expensive for novice bloggers and business startups as they can't afford the high budget at their carrier beginning.
The usage of third-party widgets would cause a mess. It creates problems when used with the WPRocket plugin. Custom codes will not work with WooCommerce.
Technical support is not up to the mark. Sometimes they deny offering custom solutions for the customers.
Bloggers like me expect more in-built blocks and advanced SEO settings.
Missing some marketing-oriented features and hence the business sites may have to leave the money on the table by not getting the leads or conversions.
Contains a low number of templates compared to the competitors, and there should be better integration between the layouts and themes.
So, we need to look at the Elementor alternatives to get an excellent page design experience to avoid these concerns.
4 Excellent Elementor Alternatives In 2023
As a quick suggestion, I would like to recommend the three best Elementor Alternatives in a tabular column.
Real-time Editing Experience

Easy To Use User Interface
Top 7 Page Builder Tools I Recommend As Elementor Alternatives
I recommend the best 7 Elementor alternatives to achieve an attractive design for your business websites. These page builders have certain unique features such as vast customization options, lightweight, faster page speed, and SEO to compete with Elementor in WordPress.
1. Divi Page Builder (10% Discount)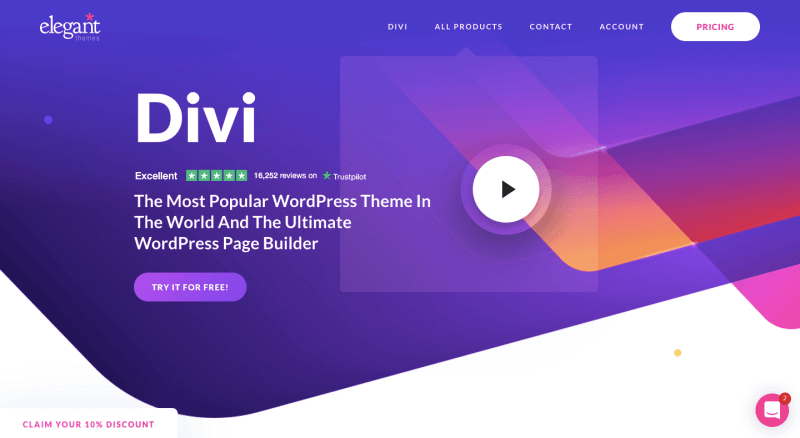 Divi theme comes as WordPress theme and visual page builder plugin. So we can check your business website's live view during the visual builder's customization.
Many drag & drop options and more than 1400 page layouts are present for detailed customization. You can design your dream website with this exceptional resource and hence it is considered as one of the best Elementor alternatives for 2023.
Features of Divi
It incorporates a true visual editor with drag-drop options to implement better design without touching a piece of code.
Divi provides custom CSS control, Inline text editing, and undo-redo options with responsive layout design.
The global elements styles and typography makes it easier to change the site's look and feel.
Divi uses a module-based design for new feature extensions. It uses 60+ modules for WooCommerce operations.
The sharp divider used in Divi makes to achieves a unique style in different parts of the theme.
It uses animations, shadows, and gradient effects to customize with quick access to every element's styling.
Divi uses lead generation; Built-in split testing, and powerful conversion insights for content marketing.
It owns Woo Builder for stunning eCommerce websites, a Theme builder for complete website design, and provides good support for remote access and management.
Why Divi Than Elementor?
Divi wins the race in Divi Vs Elementor battle when it comes to A/B testing, page builder usage for multiple websites, a huge number of templates & layout packs, and premium support. So, if any of your preferences are in the above-mentioned qualities, don't hesitate to buy this popular WordPress theme and enjoy the site design experience.
2. Spectra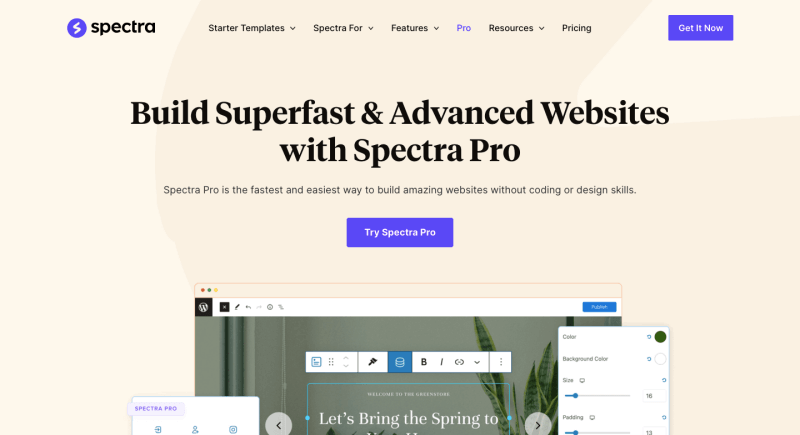 Spectra should be at the top of the list if you don't want to get the expensive Elementor plugin. For me, it's one of the best page builder plugins that doesn't cost an arm or leg and is compatible with almost all themes.
The premium features offer custom blocks for images, sliders, forms, and social media like Instagram feeds. Besides that, you also get powerful extensions such as Animation and Motion Effects. Dynamic Content and so forth.
Features of Spectra Page Builder
It has a responsive design preview for desktop, tablet, and mobile.
A wide variety of templates, blocks, and wireframes is available.
You'll get ready-made pages with subpages for quick website setup.
A simple black and white wireframe for basic designs.
Features blocks include schema markup for enhanced search visibility.
It comes with full schema support for How-to, FAQ, and Review blocks.
It utilizes a modern Flexbox layout for efficient designs.
You can copy styles between blocks for a consistent design.
The call to Action block prompts user interaction.
The tabs block elegantly presents information in sections.
Why Choose Spectra Instead of Elementor Builder?
The main reason why I suggest using Spectra instead of Elementor Builder is the price. Spectra Builder costs $49 yearly; the lifetime plan costs only $279, While Elementor Builder costs $199 per year.
3. Beaver Builder
Beaver Builder is one among the best alternatives for the Elementor builder plugin as it is also a WordPress theme that comes with a page builder plugin for building awesome websites in a minute. Beaver theme addon is there to customize templates like 404 pages, search pages, and theme parts like header and footer.
This addon will connect every template with page data for customization. The assistant plugin is used for quick edit pages one posts within the WordPress dashboard.
Features of Beaver Builder
This design tool got a page builder, and theme for WordPress webpage design and customization.
It is the fastest page builder plugin with many drag-drop customizations.
Best suitable for developers with clean code, the Best documentation, CSS, PHP, and JavaScript access.
Beaver is an SEO-friendly theme builder with an inbuilt Yoast option; webpages load fast with a beaver theme and fully responsive to mobile devices.
We can build many websites for eCommerce, Membership, Blogs, and marketing landing pages with beaver builder.
It comprises separate tools for freelancers, developers, Agencies, eCommerce businesses, and WordPress users.
This amazing resource works with Astra, Genesis framework, and much more WordPress themes.
It comes up with 99$ for a year with 30 days moneyback guarantee.
Why Choose Beaver Builder Instead Of Elementor?
After comparing Beaver Builder and Elementor, I conclude that Beaver has a user-friendly interface, advanced Javascript, dynamic data conditions, sophisticated developer features, and dedicated customer support than Elementor.
4. WP Bakery Page Builder
WP Bakery has a Front end and backend page builder for WordPress. We can design any website and manage its content using the WP Bakery plugin. The easy drag & drop options are useful for creating stunning websites in a minute for your business.
This Front end and back-end WP Bakery page builder can be installed in any WordPress theme to customize and create new landing pages for the website.
Features of WP Bakery
It includes 50+ content elements for a better presentation of WordPress content such as a row, Pie chart, separator, Image gallery, social, tabs, message box, etc.
WP Bakery has 100+ templates in its library for better representation of content on the website.
It supports third-party plugins like Gravity forms, contact Forms, WooCommerce, slider, and Grid for awesome content display.
It has Skin builder and Page builder API for theme design options and elements styling in your website.
This exceptional source uses responsive layouts with mobile-ready designs.
Along with the Yoast SEO compatibility, this web designing tool is available at $45 with a single site license.
How Is WPBakery Superior To Elementor?
WPBakery has extensive elements and social media add-ons when compared to Elementor. Besides, it includes several impressive pre-made templates and customization choices for deep designing.
5. Oxygen Builder
Oxygen Builder is a powerful visual page builder for WordPress. This site builder is one of the best Elementor alternatives by its drag & drop editor, WooCommerce function, advanced SEO, and faster website page speed.
This fantastic design resource has simplified client UI for dashboard options and page customization with the Gutenberg block editor inside WordPress.
Features of Oxygen Page Builder
Oxygen is a developer-friendly tool that can write PHP, CSS, and JavaScript code in a live visual editor.
It includes a header builder with advanced options like sticky and overlay header. We also create custom headers visually.
A non-programmer can do the customization by its drag & drop elements and visual editor.
Its size is lesser than 300kb with just 12 HTTP requests that make it good from an SEO point of view.
Its unlimited license is available at 129$ with 60 days money-back guarantee.
In What Ways Is Oxygen Builder Better Than Elementor?
It would help if you got Oxygen page builder than Elementor because the oxygen builder contains a dedicated header builder, overlay effect, flexible layout controls, excellent Woocommerce features, advanced PHP, CSS & JS coding, and amazing client accessibility.
6. Themeum WP Page Builder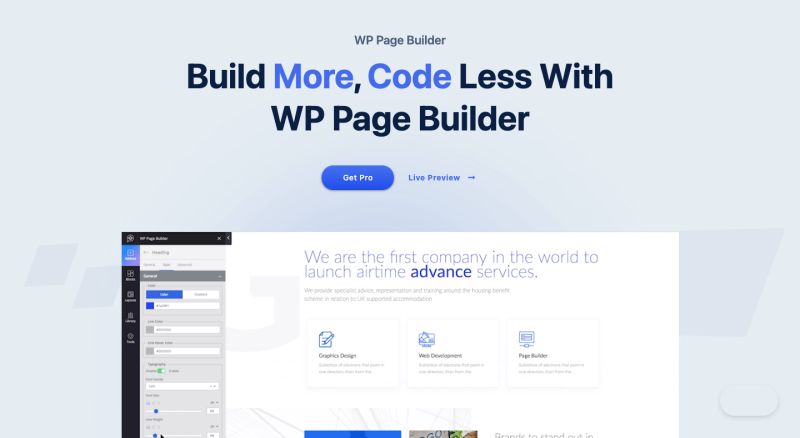 WP page builder is an intelligent tool to develop business websites with 60 blocks, 38 addons, and 27 layout packs. No coding knowledge is required to design websites. It is a real-time front-end page builder with blocks.
Besides, this uncomplicated tool has ready-made blocks with drag and drop customization to achieve a unique design for business websites. Its library has many pre-made layouts design with just one click to deploy the layout for customization, and you will get an awesome look.
Features of WP Page builder
Superfast website building with a real-time front-end editor.
Likewise, it contains a flexible row and column layout with fully responsive to mobile devices.
We can create, design, and save blocks in the library and reuse it anywhere on the website.
30+ addons exist for contact forms, post grids, videos, popups, pie charts, animation, etc.
The single site license is available at 39$ with 30 days money-back guarantee.
What Is Notable In WP Page Builder?
This best Elementor alternate contains a simple interface and a handful of add-ons and content blocks to design your page at ease. Moreover, this website page builder is highly affordable than the Elementor plugin.
7. Page layer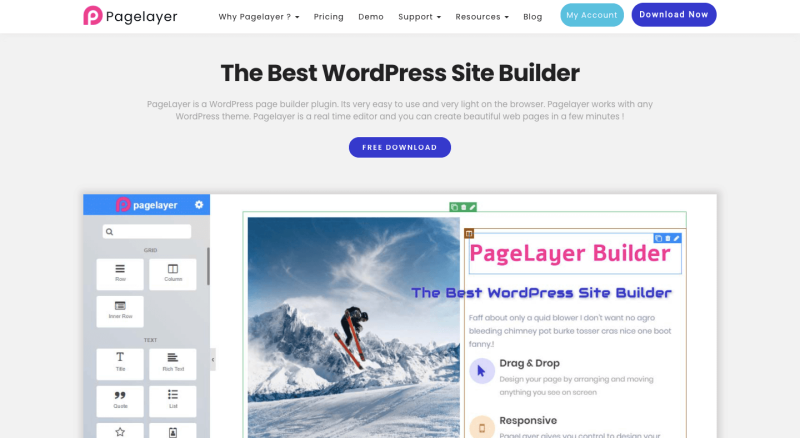 Page layer is the drag-drop page builder for WordPress with widget implementation for new feature extensions. This page layer builder can be added to any WordPress theme and converts that theme into the best customizable platform.
Page Layer provides the WooCommerce builder, Popup builder, and Form builder for WordPress websites with simple drag-and-drop functions.
Features of Page Layer
Page Layer has a real-time theme editor, widgets, design, and theme builder to achieve the design we want in WordPress websites.
For web page design, 500+ ready-made designs are available for sections.
The Inline editing options are available with the page Layer.
Best typography and global styling options are there for page customization.
30+ basic widgets and 60 + pro widgets are included for the design of WordPress websites.
A single site license is available at 39$ with good documentation support.
Pagelayer Vs Elementor
I admit that the Pagelayer has no superior features to Elementor. However, if you need a lightweight page builder with an easy-to-use interface, you may get Pagelayer. It incorporates a theme builder to perform detailed customization, and you will adore its real-time editing experience.
8. Themify Builder
Themify builder is one of the ideal Elemetor alternatives to build high-converting landing pages in a few clicks with 40+ layout packs. This site design tool has a simple backend interface with drag-and-drop modules for front-end design with the live editor.
Themify builder pro has 12 addons for different functionality in WordPress themes. These add-ons are used for the audio, countdown, progress bar, WooCommerce, timeline, pricing table, etc.
Features of Themify builder
Drag-drop elements with live preview options are available in Themify builder.
Copy and paste the modules from one page to another. We can also clone the module prototype by duplicating the modules.
The page layout can be arranged as grid modules for page customization and is responsive on all devices.
Layout parts are reusable and updated on any website page.
60+ animation effects and triggers are available for site customization, such as flash, bounce, swing, etc.
It has custom styling with google font, background, overlay, etc. In addition, it uses extendable addons for WooCommerce, slider, mosaic, etc.
A single theme is available at 59$ with an unlimited site license and 30 days money-back guarantee.
Why Is Themify Preferable Than Elementor?
If you are looking for a page builder with an excellent frontend and backend builder, full site template kits to get the site design in a click, and a single-time payment option, then your pick should be Themify.
Wrapping It Up: Best Elementor Alternatives
Undoubtedly, Elementor is one of the leading page builders for WordPress because of its exceptional features and ease of use. As you know, every tool has pros & cons and yes, the Elementor too. As a WordPress theme designer for over a decade, I have pointed out some drawbacks of Elementor at the beginning of my post.
If you are a beginner with a tight budget, Pagelayer and Beaver Builder are ideal options for building your site design. You may get Oxygen builder to load your pages fast and pass the core web vitals assessment for higher Google rankings. Besides, Themify and WPPageBuilder are worth trying tools for landing and other site page designs.
Here comes my best recommendation!
Divi is a complete design system with entire control to build a unique business site with beautiful icons and royalty-free images. It has all options as the Elementor has, and it uses fewer HTTP requests for faster-loading pages. I'm sure you can grab more eyeballs through the site design and get massive leads & conversions with a stunning look and marketing features.