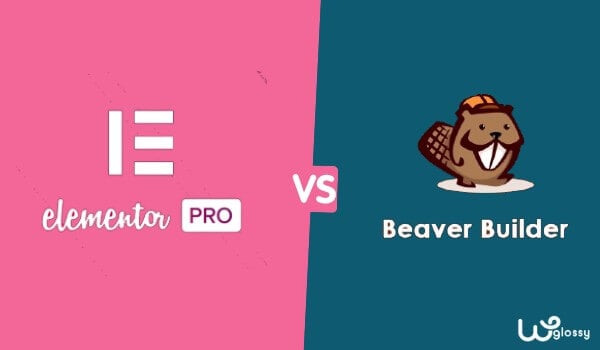 Are you struggling to choose between Elementor Vs Beaver Builder? You have come to the right place to pick an appropriate page builder to design your business site.
I have been designing WordPress themes (Launched several themes in ThemeForest) and websites since 2012. Glad I'm getting wonderful opportunities to work with many design tools to build WordPress websites for my clients.
When it comes to the page builder for WordPress, I often use Elementor and Beaver Builder because I feel more comfortable with their flexible features that let me work as an expert and produce the desired output that my clients are exactly looking for.
Hence, I would like to share my knowledge & experience with both page builders and decide to write an in-depth comparison – Elementor Vs Beaver Builder. I hope it would help the site owners and bloggers to buy a suitable tool to make their website look more appealing.
WordPress page builders have been around, and there are plenty you might consider, however, Elementor and Beaver Builder has been talking for a long time in 2020. These two-page builders are the most functional choices to choose from, without getting too profound in and out of your budget.
Elementor and Beaver have affordable deals that make the development of a website equally desirable and cost-effective. Their success has also helped users worldwide deliver meaningful programs that help fellow page builder users address their issues.
If you want me to make a quick comparison, here is the deal for you!
Elementor Vs Beaver Builder – A Quick Comparison
Elementor has detailed features and also extreme user friendly


Beaver builder has less features when compared with Elementor. You can easily understand the settings.

More than 300+ Video tutorials available


Less than 50 videos available.


Front End live Visual Builder

Amazing front end visual editing in elementor, we can easily create any type of web pages without any confusion, because you can see the live action for every section.

Same here but less features when compared to elementor. However, its front end live visualizer is beautiful

Full Control with front end visual builder, like popup builder, woo builder theme builder, etc.

Even though it has front end drop and drop visual builder, you will not get 100% design control

Separate section is available to build header & footer.

There is no separate header and footer builder

Social Media share, follow, facebook embed, and like button are present

But beaver have only follow module

Only 10 Email marketing service providers can be integrated

More than 21 Email service provider can be integrated

Separate popup builder available, you can build any type of popup optin

No Popup Optin feature available

Woo builder is available to build stores, and templates.

Woocommerce module available, to build store front, product page, etc.

In latest version 3.0, reduced DOM elements to improve Page Speed

Fully Optimed for Page speed

Responsive & Mobile Friendly

Each and every design mobile friendly. Separate option available to edit responsive design.

Motion effects, background video, parallax

Only animation is supported for extra effects

Yes compatible. However you should activate license in each network site.

All WordPress Theme Compatible.

No lifetime package available. Yearly- Max $199 for 1000 sites- Min 1site $49

30 Day Money Back guarantees available.

No lifetime package available. Yearly- Max-$399 for unlimited sites but some extra features available. Min-$99 for Unlimited Sites.

30 Day Money Back guarantees available.

Winner Elementor- Because they are giving $49 for 1 site.
Why Elementor Page Builder?
You should go for Elementor Pro for the following reasons!
Efficient Front-end page builder
Pro-level ready to use templates
Attractive user interface with ultimate customization
Helpful global widgets & integrations
Allows us to build custom page layouts
Detailed documentation to fix everything from scratch
Has an active Facebook community to solve your queries
Highly affordable and hence suitable for the beginners
Why Beaver Builder?
You may get Beaver Builder for the below benefits!
White label feature for unlimited usage
No confusing settings in the interface
Customer support is excellent
Content widgets can be conveniently accessed
Supports a huge number of email services than Elementor.
1. Beaver Builder Vs Elementor – A detailed Comparison
Now, let us dig deeper into the Elementor Vs Beaver Builder comparison in detail.
1. Interface (Ease Of Use)
So, which page builder has developed more in terms of their interface and ease of use? Let's begin the Elementor Vs Beaver Builder interface comparison.
Elementor
At first, the interface can look vastly condensed, with two key pieces to interact with.
Main Editor – The first is the editor's main interface, where you drag widgets into place to create your page.
Settings Panel – The bottom bar has a variety of page settings open. As you create your website, Elementor actively allows you to switch between views. In the top-left corner, there are many other settings you can find. These pertain to the page's default and global settings.
Note that all module configurations are in the static area only.
Elementor has far more features and is also user-friendly. It is more likely to create attractive custom layouts through its new intuitive interface.
Beaver Builder
Beaver Page Builder user-interface is really simple and quick to understand. It has covered three key areas which are:
Main Editor – It fills in the title of the page or post you set inside the WordPress editor and stimulates more content to be added.
The Bar Settings – It can be found along the top of the screen. It contains many options you may explore, whether you want to edit, design, publish, upgrade, and more.
Modules Panel – It is parted into three sections, such as Modules, Rows, and Templates. Moreover, this tool allows you to work with the panel wherever you feel most comfortable with it.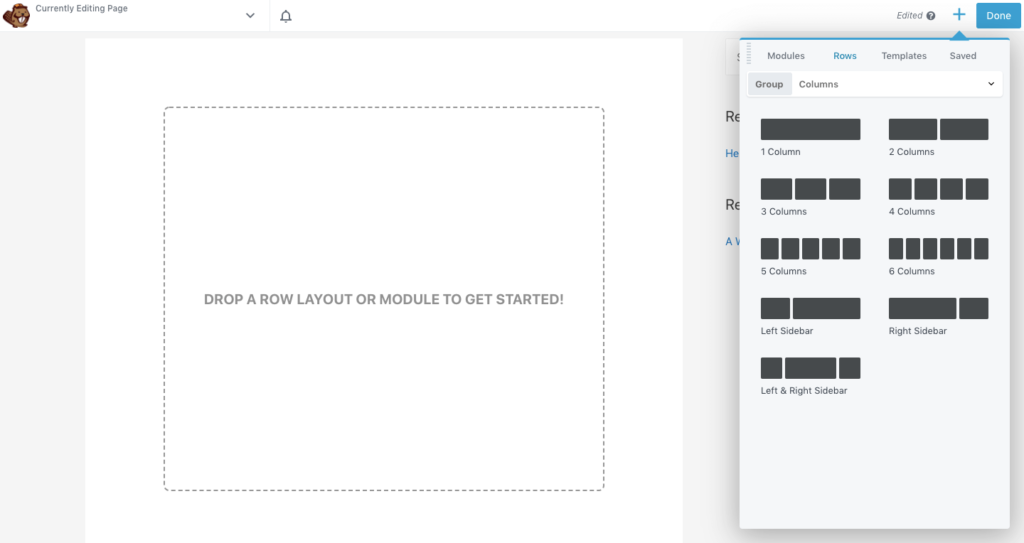 The Beaver Builder interface is very user-friendly, whether you are just a beginner or a pro. Also, it has fewer features compared to Elementor, which makes it easier to adopt with Beaver Builder at first.
Winner: Both
Reason: Therefore, in the battle between Elementor Vs Beaver Builder interface, both page builders have a flexible user-interface, so that you can easily get the desired design output. However, do you still want me to choose the winner? I would say that the Beaver Builder is a solid all-around choice. For an extensive range of developers, excellent features, a user-friendly interface, and complete versatility make it a great option.
2. Page Builder (Drag & Drop Builder)
In this section, let's take a closer view of both page builders. As we all know, the drag and drop builder helps you to develop and configure eye-catching websites so that you wouldn't have to hire a professional designer.
Elementor
Elementor works similarly to how other website builders work when it comes to building your page. Locate the widget that you want to apply to the tab, click it, and then drag & drop it into the editor. It's quick to drag-and-drop your items all over the page if you're unsatisfied with where an element ends up or want to play with various layouts.
Not like Beaver, Elementor has solid consistency in the editing panel. The settings will always be divided into three categories: Content, Style, and Advanced, whether the element selected on the page is text, visual content, a divider, or some other form of the element. This enables page builder navigation, an easy one to understand.
Beaver Builder
Now, let's focus on how to build a page using drag & drop modules. Let's begin with how you may add widgets to a page.
First, you add the configuration of a new row and column. Drag the chosen modules or WordPress widgets to their positions. It's simple to switch them around if you may not like the particular way you have spread them out. Set them up to your preference, and then save your changes to the top admin panel.
Moreover, this excellent page builder has amazing front end visual editing. Since you see the live-action for each part, easily create any form of web pages without any misunderstanding. Beaver Builder and Elementor have almost the same page builder. However, Beaver offers fewer features than Elementor.
Winner: Elementor
Reason: Elementor is one of the best out there in the comparison between Elementor Page Builder Vs Beaver Page Builder, in terms of what you could do inside the Elementor interface. The free edition alone comes with a full of features and templates that will make your job much easier.
3. Design Options
You must aim at their versatile design choices when purchasing the theme. It is possible to have a better user interface for proper navigation to reduce the bounce rate that the search engines expect higher rankings. Let's see the comparison between WordPress Elementor Vs Beaver Builder theme that makes excellent design options.
Elementor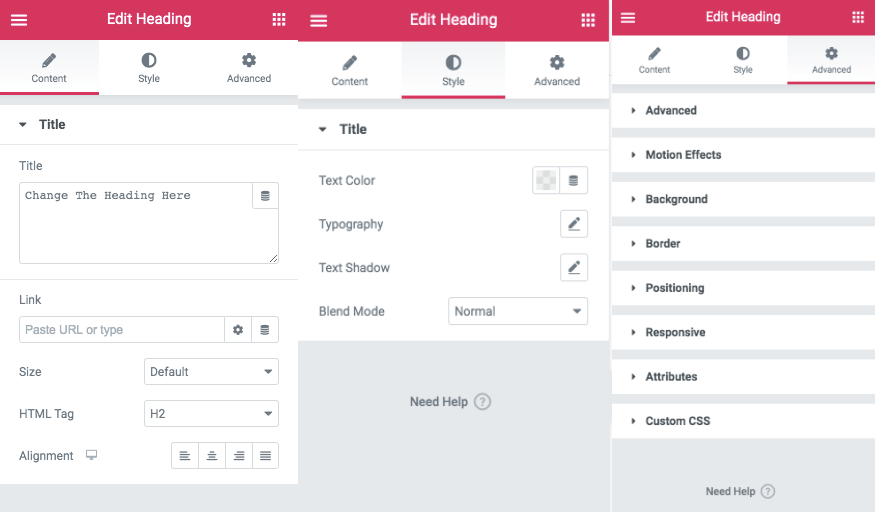 Elementor design Settings can be found in Elementor > Settings. And Elementor design options available can be found in the editor itself.
You may customize whether to disable the Elementor default colors and fonts in the General settings. Checking these boxes is recommended to maintain the continuity of style on your web. It is more likely to customize numerous other design settings under the Style tab.
Elementor has full control with the front-end visual builder, like popup builder, woo builder theme builder, and more. Also, Elementor offers amazing themes that are more than 300 templates.
Beaver Builder
Beaver Builder inherits the font and color of your theme by default, unlike Elementor. It enables quality out of the box. Based on the features, its styling options differ. Still, you essentially have style, separator, typography, and advanced options that surely maximize the preference you have in mind.
This design tool also has full control with front end drop and drop visual builder, including excellent themes for more than 30 modules.
Winner: Elementor
Elementor offers a wide range of design options and modifications. Moreover, it allows up to the smallest specifics of each feature on a page to be personalized endlessly.
4. Elementor Vs Beaver Builder – Speed Comparison
Another important factor, along with code quality, is how each page builder influences performance, especially speed. So in this section, we will see which is the faster page builder between Elementor Vs Beaver Builder.
Elementor
Elementor is graded A with a 95% of page speed score, and a Yslow score of 92%. Have a look at its other metrics!
Largest Contentful Pain – 1.4S (should be < 1.2)
Total Blocking Time – 56MS (should be <150MS)
Cumulative Layout Shift – 0 (Should Be <0.1)
Beaver Builder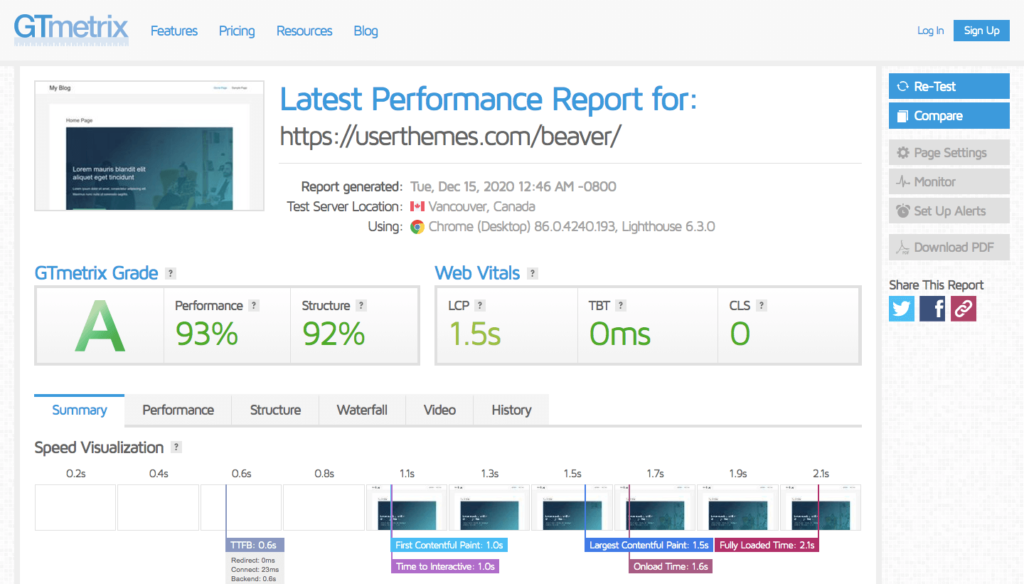 Beaver Builder is graded A with a 93% of page speed score and graded B with 92% of Yslow score. Its other metrics are
Largest Contentful Pain – 1.5S (should be < 1.2)
Total Blocking Time – 0MS (should be <150MS)
Cumulative Layout Shift – 0 (Should Be <0.1)
Winner: Elementor
Reason: According to the comparison made between the Elementor Pro and Beaver Builder speed test, the results are similar and differ only on fully loaded time. Elementor is faster than Beaver according to raw numbers without any page speed optimizations.
5. SEO-Friendliness
This section will know which of these two-page builders is most SEO optimized, as every digital enthusiast's vision is to get visitors from the search engines. It's easier to purchase a theme that is highly SEO-friendly.
Elementor
Due to the plugin's open-source nature, there are dozens of free and premium third-party themes to choose from Elementor. Besides, Elementor has expandable and developer-friendly systems. It was built out of the box based on the most recommended coding standards, making SEO pages ready.
Furthermore, Elementor requires a coding structure that concerns many that page builder plugins will affect page load. However, do you wish to uninstall the plugin? you wouldn't have to worry about getting random codes displayed on your homepage.
Beaver Builder
The page builder plugin from Beaver Builder works great with most themes. The developers of Beaver Builder made SEO-friendliness a significant core principle of their page builder. It meets standards such as schema.org markup and includes features such as compression of text, which helps search engines quickly locate pages.
Winner: Both
Reason: The winner of Elementor Vs Beaver Builder SEO is Beaver Builder itself as it is perfectly made as SEO-friendly without any complications.
6. WooCommerce Support
Ecommerce is the fastest growing industry! When you want to build an attractive online store for your eCommerce business, then the page builder plugin would help you create a beautiful functioning site that could make huge sales. Let's compare the Wocommerce support of Elementor and Beaver Builder.
Elementor
Elementor provides the stablest WoCommerce builder to design the product and archive page templates without any coding. You could customize the product page as per your desired format with the help of available widgets like
Add to cart button
Product price & rating
Product image
Additional product details
Moreover, you can offer a complete shopping experience through the stunning product showcase. As the page builder includes everything for WooCommerce, you don't need to install any other 3rd party plugin.
Beaver Builder
No doubt, the Beaver page builder is WooCommerce compatible and it is easy to design a storefront with it. However, it doesn't have any exclusive builder to produce the sales page like Elementor Pro. You may have to rely on some additional plugins to get a complete eCommerce website that sells more.
Winner – Elementor
Reason: Beaver is just compatible with the WooCommerce plugin, however, Elementor Pro gives you a wondrous Woobuilder to make engaging web stores that grab more eyeballs and increase the product sales.
7. Social Media Features
Getting the authority of social networks reveals your online establishment to your readers and search engines, which guarantees both parties' trust.
Elementor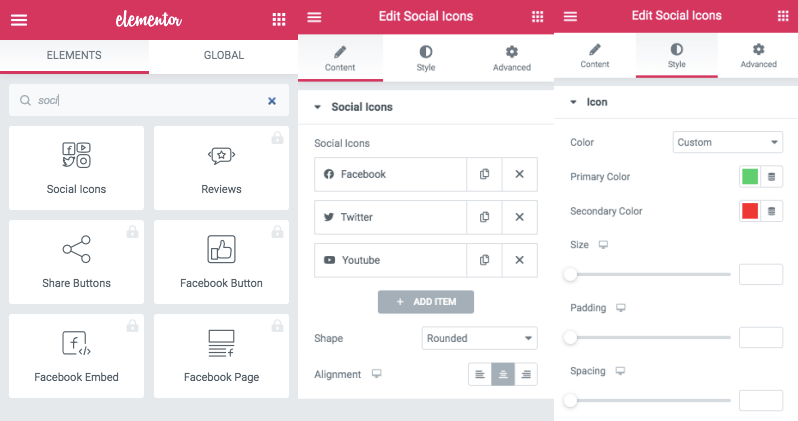 Elementor has a lot to offer when it comes to Social Media features and very easy to navigate. It has a social share, follow, Facebook embeds, and a like button.
Beaver Builder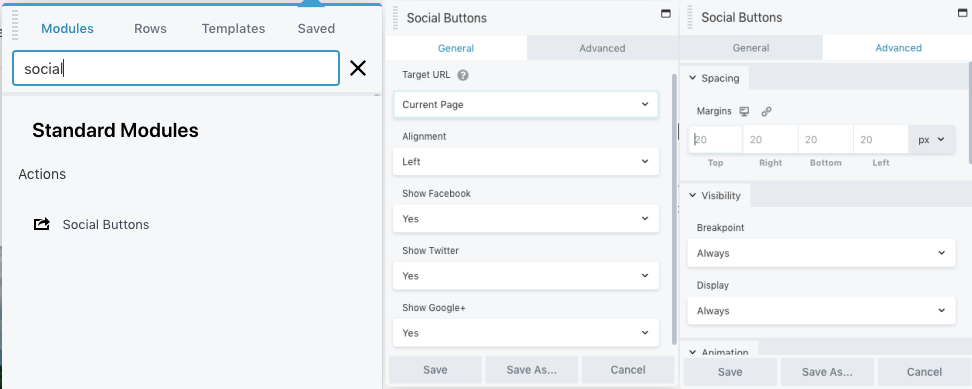 Beaver Builder does not offer much of Social Network features compared to Elementor. It has only a 'follow' module.
Winner: Elementor
Reason: Elementor has better Social Media features than Beaver Builder.
8. Customer Support
Customer support is very important, especially when you need an assist in any issues or problems that may occur. Let's dig in, which has great support between these two design tools.
Elementor
Elementor customer support is through the ticket forum. You may submit your concern through a ticket, or join their community forum. Elementor has also prepared Knowledge-Based, FAQs, and Video Tutorials that are less than 50 videos as a comparison.
When I have reached technical support, they assisted me well but it took a long time. Its active community on FaceBook is really helpful in getting tips and advice.
Beaver Builder
Here, customer support is through a ticket system where you need to submit a ticket personally, regarding your concerns. They may take a few hours to solve your problem.
However, they already answered the most frequently asked questions, which you can see whenever you need to. Also, join their community forum or watch more than 300 tutorials presented to you.
Winner: Beaver Builder
Reason: Beaver Builder's customer support is better than Elementor in terms of general perspective. They responded immediately and solved my difficulties.
9. Pricing – Which Page Builder Is Affordable?
The pricing comparison of Elementor and Beaver builder is essential when you are on a tight budget and looking for an inexpensive tool. Let's see the pro plans of both page builders
Elementor
Elementor has 4 different pricing plans and yes the first plan is FREE. The free plan has decent features and you may begin with it. However, if you want to design an eye-catching website with engaging landing pages for more conversions, then you should get any of the premium plans according to your requirement.
All the paid plans include 50+ pro widgets, 300+ pro templates, 10+ full website, template kits, theme builder, WooCommerce builder, popup builder, support for one year, and updates for one year. Moreover, you get a 30-day money-back guarantee.
Personal – $49 (1 Site)
Plus – $99 (3 Sites)
Expert – $199 (1,000 Sites)
Beaver Builder
The pricing of Beaver page builder is somewhat expensive and hence it could not be afforded by the beginners. Yes, the basic plan is $99 and it can be used for a single site. If you want to get the White-label feature for unlimited usage, then your choice should be the "Agency" plan.
All the pricing plans include unlimited site, page builder plugin, world-class support for 1 Year, premium modules, and templates, starting from its Standard plan. Also, 30 days money-back guarantee.
Standard – $99
Pro – $199 (exclusive Beaver Builder Theme and Multisite Capable)
Agency – $399 (Beaver Builder Theme. Multisite Network Settings and White Labeling)
Winner: Elementor
Reason: Elementor Pro is much better than Beaver Builder in pricing as there is a subscription plan for as low as $49 which can easily be bought by the newbies.
10. Marketing Features
In this advanced era, it's more likely to improve the leads and conversions through the site design, popup optin, contact forms, social media buttons, testimonial carousel, etc. Let's see who wins this marketing race?
Elementor
Unlike Beaver, Elementor is very particular when it comes to its features. They have a separate category for marketing features and offered:
Contact Forms
Integration of marketing tools
Beaver Builder
It does not have a specific section in terms of marketing features. However, they provide features that can help you digitally market your sales and build landing pages.
Winner: Elementor
Elementor has great marketing features! You have plenty of choices and tools to develop your digital marketing and boost sales, leads & conversions.
Frequently Asked Questions – Beaver Builder Vs Elementor
1. Which is better, Elementor Or Beaver Builder?
Ans: Opinion varies! My vote goes to Elementor because of having an active interface, affordability, a powerful popup builder, marketing features, and a variety of pre-built templates & widgets. Moreover, I got stuck with the boring interface of Beaver at times!
2. Can you use Beaver builder and Elementor together?
Ans: Yes! you may do it. However, I would suggest you go with anyone tool to design your site. The more plugins you have on your site, there will be more mess which would affect your site speed performance.
3. Which page builder is best for beginners?
Ans: Elementor is best for beginners and individuals as it offers a single site license at an affordable price and a wide variety of design choices when compared to beaver builder.
4. Is Elementor faster than Beaver Builder?
Ans: Beaver builder is the fastest page builder because of having a minimalist interface with limited design features.
5. Which one has more styling options and convenient to deal with custom CSS?
Ans: Of Course, Elementor Pro page builder!
Conclusion – Which Should You Buy, Elementor Or Beaver Builder?
Beaver Builder Vs Elementor – Both are almost similar in what they can offer. However, they are primarily different inside on how much you could utilize and maximize the resources they offer. You have nothing to lose whichever you plan to subscribe to. Nevertheless, here's our transparent judgment between the two.
Beaver Builder is a great page builder plugin, especially if you are looking for easy and less complicated navigation. It is very user-friendly and has exciting features, whether Lite (Free) or Pro version.
This page builder is perfect for starters, especially if you have no knowledge of coding or programming and it will help you to start from scratch without any hassle. Moreover, it is also suitable for pros or experts looking for fast load time, easy navigation, unlimited site, and more broad features.
Elementor is very flexible, whether you are a beginner or an expert. However, this tool may be intimidating because they offer so many features and tools that can be utilized. But later on, Elementor Pro can be a great choice, especially if you love to play around with features and be creative with your pages.
Moreover, Elementor is also a great start as they offer lower pricing in comparison. You can maximize all the resources that Elementor offered. It is also a perfect choice for developers who would like to upgrade and build a more professional look page.
Even though the Beaver is an older tool launched in 2014, Elementor which was introduced in 2016 has quickly gained popularity because of its affordability, dynamic interface, and a handful of content widgets & templates.
So, If you are a beginner or an individual who wishes to build a stunning site for your business, then I would suggest you buy Elementor Pro after using its free version and take your site design to the next level. If you are a developer who wants to pick the best one to use for the clients' sites, then your choice should be Beaver Builder.
You may check some page builder alternatives and Elementor Alternatives as well to choose other than these two biggies! Share your thoughts in the comment section, let's discuss.