If you don't invest time to do the keyword research, you won't be able to target the right set of the keywords.
So, I'm sure that you are going to miss a lot of valuable organic traffic (Visitors from search engines) for your website.
I should admit that the Keyword research is considered to be a messy area for the content marketers and bloggers.
However, with the right tool, it becomes less time consuming and simplified.
You should read "Why Keyword Research Is Important?" where I have explained its basics and importance.
Let's assume that you're a newbie who has a tight budget to spend on blogging resources.
Then, How to do free keyword research?
In this blog post, I would like to list some free keyword finder tools that are worth using.
So, you can't skip the KW research process by blaming the lack of resources.
Also, you should have it in mind that targeting the right set of keywords can highly affect the failure or success of your content.
The exact set of keywords will help you increase the visibility of your blog post(s).
Note:
With the free SEO keyword research tool, get the long-tail keywords instead of short phrases. Ex: Instead of targeting "Walking shoes," target "Nike men walking shoes" or something similar.
Don't get the keywords to stuff in your post. Find the relevant search phrases that can naturally be added to your content.
The following list is in no particular order. I have chosen the free keyword research tools based on their functionalities (like export results & other metrics), and impulsive usability.
Read until the end (Conclusion), I have some valuable data and exclusive discount for you.
Now, let's take a look at some of the best free long tail keyword tools!
Top 14 Free Keyword Generator Tools Online
Rather than making your content optimized for search engines with a bulk of unessential keywords, focus on finding out the most relevant ones that could give a pleasurable experience to your readers.
Most of the following keyword generators allow you to get a considerable amount of keyword, other helpful search metrics and export the result.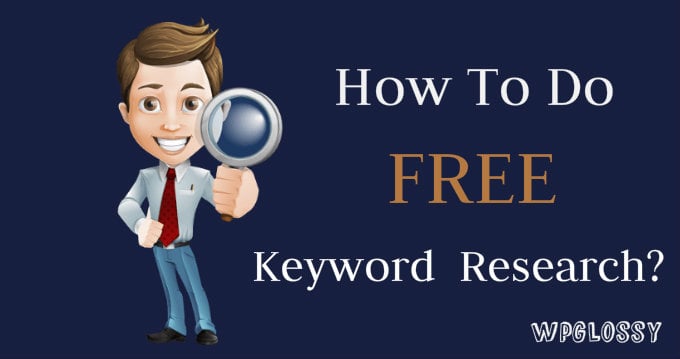 Are you ready to do the keyword research for free?
Let's get into the details of some best free keyword analysis tools to enhance the search engine visibility of your WordPress site!
Google Adword planner
The Google Adwords keyword planner is the best and free keyword research tool that lets you take out the exact keywords to add to your content.
If you are a beginner in keyword analysis, it is an excellent place to start. Here, you can get the data like Average monthly searches, Competition and group ideas.
Even though it is meant for advertising purpose, you may use it to grab the organic keywords. It is possible to download the result as a CSV file.
I have entered the search term "Noise Cancelling Headphones"; Look at the long search terms related to it!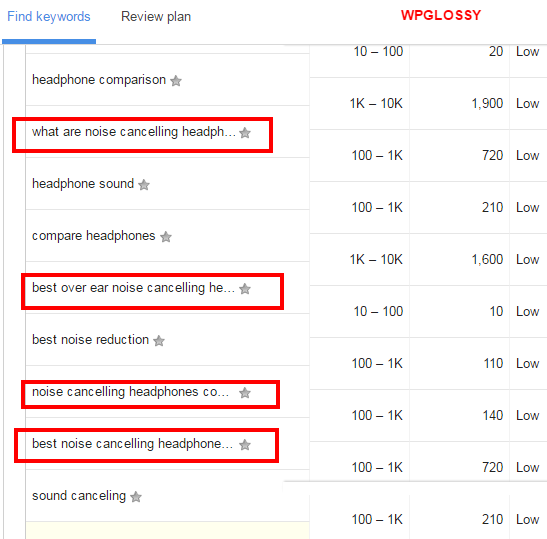 Get Into Google Keyword Planner
Google Search (Utilize In 2 Ways)
You can utilize the Google search to find out the long tail keywords in 2 different ways!
Yes, let me tell you, how!
Way 1
Prepare trial of phrases and words that you can add before or after your prime keyword.
For example, a lot of people use Google's voice search to find information. If they are on voice search, they are likely to ask a question – Where do I buy a new computer for gaming?
Your long tail keyword research might include queries such as what, when, why, which, how, does, etc. and much more.
Type any question into google search and add (*) – this is a Google wildcard operator at the end of your query.
This tells Google to fill in the blanks; so Google populates the instant search with most search queries around that word.
For Example
"Where * gaming computers," "How to * gaming computers" and much more. It all depends on how you take benefit of this feature.
Way 2
Make use of the suggestions given by Google when you start typing your target keyword.
We can call it is as "Google Suggest" that displays the most searched long-tail keywords related to your search phrase.
InMotion Hosting is my target keyword; Look at the below image for better understanding!
Also, Google has other suggestions for you at the bottom of the search result page under the title "Searches Related To Your Keyword". Check the image below!
Google Trends
Google has one more free keyword research tool for you, and yes, it is Google Trends.
It can be used as a free long tail keyword research tool and that too in an in-depth manner.
You can compare the popularity of one of your keywords to other and also find trending topics in your niche.
If you start using this site as a free keyword analysis tool, I'm sure that you will fall in love with it.
Let's see how can you get benefited from Google Trends for your keyword discovery strategy.
Best Wireless Headphones is the keyword that I want to target.
You can see that it is a trending topic and most popular in the country, United States. And, you will also be able to see the related search terms in the result.
I would say that it is an excellent free keyword tool for SEO as it offers the geotargeting data for us.
SEMScoop
SEMScoop is one of the best Free keyword finder tools that lets you get amazing keywords to your site with low SEO difficulty.
Here you will get high search volume with low competition LSI keywords in minutes. Moreover, you can do the SERP analysis for your competitors and plan for better content creation and link building approach.
As it is a complete keyword research tool, you will be able to check the top backlinks, keyword density, on-page SEO score and social engagement of your competitors.
This free keyword discovery application has a clean interface and quick in delivering accurate results. You can save the data, delete the keywords and manage the projects here.
What is the search limit of the Free plan of SEMScoop?
With the free version of SEMScoop, you can make 5 searches and 10 keyword analysis per day. You will get 50 keyword results per search and they can be imported for future reference.
You may also try the affordable pricing plans through the SEMScoop Coupon code – SAVE50LT and get 50% OFF Lifetime on the monthly or Annual plans. It is an exclusive discount for WPGLOSSY readers.
Keywordtool.io
Keywordtool.io is a fantastic free keyword suggestion tool that can offer hundreds of long-tail keywords related to your business or blog with the help of Google Autocomplete feature.
It penetrates deep down into tons of permutations & combinations and then ends up with an active list of very actionable long tail keywords.
If you are looking for the best alternative for Google Keyword planner, then it is the right choice.
Finding and organizing the keywords from several resources like Google, Amazon, Bing, and YouTube is the best feature of this free keyword research tool online.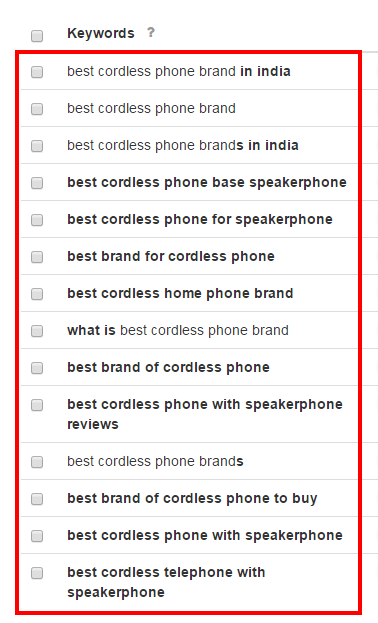 What is the free keyword search limit of keywordtool.io?
Through its free version, it can give you 750+ helpful suggestion within a second. You can copy or export them!
However, the pro version of keywordtool.io has impressive features to skyrocket the SEO of your site.
Ubersuggest
This application is quite simple and completely free (No pro version available).
All you need to do is to enter a keyword and select your language; Click "Suggest."
It is one of the best keyword research tools that will extract suggestions based on that search term. You can then view their google trends report, or expand it.
Displaying the CPC and Competition of every keyword is the notable stuff of this SEO keyword generator.
Also, you may get some fresh keywords which are unseen in Google Adwords Planner.
One more exciting news about this keyword suggestion tool is that it has been acquired by the blogging expert, Neil Patel and hence you may get some awesome features soon.
Here is a YouTube video that explains the features of Ubersuggest.
Wordtracker
Wordtracker has the potential to reveal the long tail keywords for your SEO keyword research.
It has a clean homepage that makes easy for you to understand what it is all about.
Once you enter your keyword, you will get ten suggestions around your keyword which are highly searched.
It also shows how hard/easy it is easy to rank for that keyword (Keyword difficulty), and thereby intends to find out keywords with the highest potential.
It provides all sorts of data such as KEI, competition, search volume and much more, everything is done easily and simply.

How many searches can be made for free from Wordtracker?
You are limited to 10 searches in the free plan.
If you want thousands of keywords, then you should get the pro plan or try its 7-days free trial version.
WordStream
WordStream is an online marketing company that offers a helpful free keyword tool for us.
To offer excellent results, it purchases data through the US-based search industry partnership that includes search engines, browser toolbars, and internet providers.
After getting the information, they apply several algorithms to compute the accurate results.
Claiming that they are fast, FREE, accurate and better than Google keyword search tool is an impressive character of this keyword research software.
So, what's is the free limit of WordStream?
You can search 30 times for free.
Along with the long-tail keywords, you will get its relative frequency metric (How often the keyword is searched).
WordStream can send the keywords to your Email. Just you have to click the link in the email to download your free keyword list.
KWfinder
Do you want to grab the long-tail keywords with low SEO competition?
If yes, then KWfinder is the right tool!
This tool doesn't only find suggestions for your keyword but also provides quite useful information about how quickly you can rank for that keyword along with search volume data.
It also displays Google results for your keyword, and then analyze their domain strength as well.
Data such as some Facebook likes, backlinks, etc. are also provided to you so that you can get an idea whether or not you can compete with them.
Also, in case if KWfinder doesn't show the keyword you want, you can manually enter and get the analysis.
If you don't want to go with this keyword search tool, have a look at the KWFinder Alternative applications to perform the keyword research process efficiently.
Note: I'm glad to mention the KWFinder in my best free keyword research tools list, however, you have to create the account to access the free service.
What is the free search limit of KWFinder?
You can search 3 times and have 3 SERP looks ups daily. And, you will get 25 – 50 related keywords per search. If you register, you can get the keyword difficulty for 5 search terms.
Soovle
Soovle is a customizable keyword research tool available for free.
It not only provides the suggestions from the top search engines but also from Wikipedia and Answers.com.
You just need to type the search term; hit enter. Now you will be able to see the massive suggestions by this tool.
Search Engine Journal has explained that the Soovle can be used in a fun way.
This website has no search limit; you can use as much you want!
SEO Chat
SEO Chat offers a wide variety of tools for beginners to boost their knowledge about search engine optimization.
Suggestion Keyword Finder is one of the SEO tools in its list with which you could do the in-depth keyword research for your content.
With this pleasant tool, you can discover some fresh keywords that might be missed by your competitors.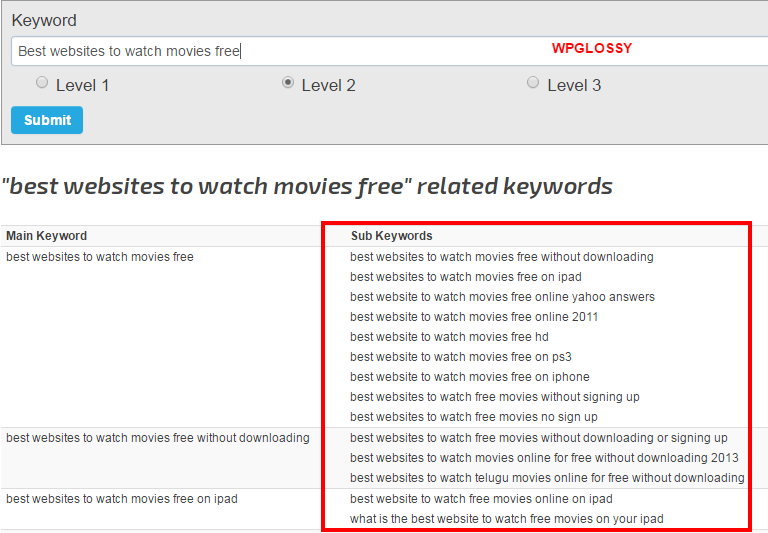 You can obtain a hell lot of long tail keywords in 3 deep level search results for free.
SEO Book
SEOBook gives several free and paid SEO tools in the form of Firefox extensions and web-based SEO tools.
From the list of tools, you can get a freemium to perform the keyword research in a fast and detailed manner.
After registering your account for free, you can acquire the long-tail search phrases with monthly searches, daily searches, CPC and much more.
When I searched the term "Watch Sports Live Streaming," I got 86 helpful suggestions.
You may look at the search result in the below image.
Offering a broad matching search feature is the highlight of this keyword search tool free. You may export the result to CSV file and download.
SERP Stat
SERPStat is a professional & paid keyword research tool, but yet it is available for free with some limited features.
You can get long tail keywords and its search volume, competition & CPC, trends, organic competition and much more.
It is possible to choose your preferred country to get the exact result as well.
What is the free search limit of SERPStat?
With this great SEO tool, you can do 25 searches every day.
In every search, you can grab 10 keywords with in-depth data.
Keyword Revealer
Keyword Revealer is a keyword intelligence site that can present low competition long tail keywords for you.
Even though it is a paid tool, its free plan is worth trying!
I searched "How to make money from FaceBook" and got 700 related searches. You may see some of them below!
The possibility of calculating the "Keyword Difficulty" for every keyword is the exciting feature of Keyword revealer.
So, you can conclude whether you could rank for that particular keyword or not.
What is the free usage limit of Keyword Revealer?
The search limit of this best free keyword tool is 3 searches and 3 evaluation per day.
Make Use Of KeywordRevealer Free
Few More Free Tools For Keyword Research
LSIGraph.com – It is one of the best free keyword research tools to find out the long-tail keywords to boost the SEO.
AnswerThePublic – It is a wonderful free long-tail keyword suggestion tool that you should try at least once.
Yahoo Answers & Quora – You may make use of the answer sites like Yahoo Answers & Quora to get the tons of search queries related to your niche and help the people with your content.
Moz Pro – The Keyword explorer from Moz is also an excellent tool to find out the long tail keyword related to your blog topics.
Keyword.guru – Just start typing the word and you will get the keyword suggestion from Google, Yahoo, Bing and other search engines. You can download the results as well.
Conclusion
Google is a smart search engine that would like to deliver personalized and accurate results for the searchers.
It uses the advanced algorithm like Latent Semantic Indexing (LSI) and statistical model like Latent Dirichlet Allocation (LDA) (I came to know the relation of LDA & Google through Moz's post).
You Should Have In Mind
User behavior and User Satisfaction matters a lot in pleasing the search engines.
You never make results with Article Spinning and Keyword Stuffing!
Finding out the relevant and profitable (rankable) keyword is most important!
It is good to learn how to use the tools smartly to perform keyword research for free.
Then, inject those chosen keywords in your content smartly so that it wouldn't spoil the interaction of your readers.
[bctt tweet="Relevant Long Tail Keywords + Better User Experience = High Search Engine Ranking" username="wpglossy1″]
I hope that you have gained knowledge on how to do keyword research for free!
Now, you tell!
How do you implement the Keyword discovery strategy? Are these best free keyword research tools helpful?
Which tool would you like to utilize for free keyword research? Or do you want to get the premium tool to find out rankable keywords?
Let me know your valuable thoughts in the comment section!