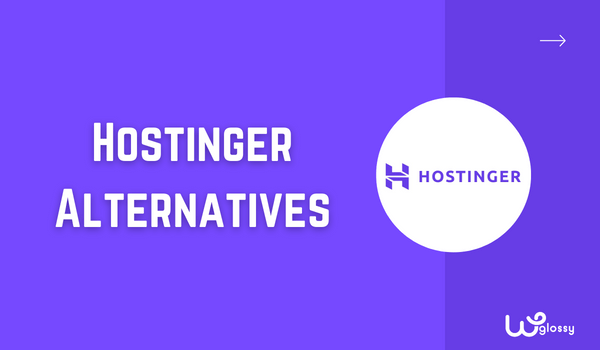 Are you using Hostinger for a long time and not getting the required results? So, looking to find an alternative for it? If yes, you're in the right place. I have consolidated some best Hostinger alternatives to buy in 2023. Keep reading this post; you'll find reliable hosting.
Any web hosting significantly affects your website's health and security. It stores all your site data and keeps its backup. You get a lot of tools to use for your site and help offer a better experience to your user. Good hosting can improve load time and ensure ranking.
If you think Hostinger can't provide these features up to the mark, it's time to switch hosting to another company. And yes, many budget-friendly alternatives have quality and more efficient features. But before going into the list, let's discuss some downsides of Hostinger.
Hostinger Downsides – What's Wrong With It
We all know that Hostinger is an excellent hosting for its features and price tag. You get ideal hosting at a reasonable price with enough storage, LiteSpeed servers, and much more. However, here are a few downsides where you can't go for it to fulfill your hosting needs.
Frequent Loss In Uptime
Uptime is crucial, as your web asset always needs to remain live. Hostinger has some issues with its uptime and stops working, i.e., your site goes down. You will lose much of your traffic if your website is unavailable. It could be the primary reason you must switch to another hosting.
Can't Handle Huge Traffic
Hostinger's web hosting plan can work for small websites, not getting massive traffic. But when your website grows and its traffic increases, you'll need hosting which can handle more visitors. So, you may buy this server for a new website, but we won't recommend it from the beginning.
No Traditional cPanel
As you have used Hostinger, you'd know they offer a specialized cPanel called hPanel. Most users feel it difficult to use the advanced interface and customize it. So, hPanel is a tricky tool added instead of cPanel, which is easy for every beginner and seasonal user.
8 Hostinger Alternatives With Excellent Features & Performance
Okay, so I have spent hours researching and found some best alternatives for Hostinger. What were my criteria for the study, and how did I pick these hostings? So, it's the speed, uptime, tools, performance, and other features. Let's get started with the reviews of my top picks.
1. Cloudways ($30 Discount)
Overview
Cloudways is the most potent hosting provider known for its speed, performance, and credibility. It supports robust servers to deliver an affordable, superb, and non-stop service. It's fast, easy to install, and reliable for any website with multiple features.
When you want to eliminate the hassle of cloud hosting and focus on your business, Cloudways is the right option. With excellently managed servers, your site can take a lot of traffic and perform smoothly and fast. Its uptime is great and remains very stable all the time.
Amazing Features Of Cloudways
Affordable, fast, reliable, and accessible settings
Excellent speed and guaranteed uptime
Offers pay-as-you-go cloud hosting plans
Staging environment to test the new features
Easily scalable packages to fit your needs
Supports built-in cache and Cloudflare CDN
Has several apps and eCommerce tools
Easy to create Subdomains for business expansion
Gives free SSL for your website's security
Cloudways Coupon Code is available to claim the discount offer
2. A2 Hosting
Overview
A2 Hosting is one of the best Hostinger alternatives, and I recommend it to anyone just starting their blogging journey. It's speedy and is effective in helping you in quick ranking thanks to its fast servers. For handling traffic, it's a fantastic alternative for Hostinger; you should get it right now.
This green hosting is common among new bloggers and those running their eCommerce stores. Are you want Shared or Cloud VPS hosting at an affordable price? A2 Hosting is the right option. Though this service has fewer features than Hostinger, it won't let your web pages slow down.
Fantastic Upsides Of A2 Hosting
Offers unlimited bandwidth on all packages
Unlimited websites on all plans except Startup
Turbo plans to deliver up to 20 times more speed
99.9% uptime with a money-back guarantee
Free site migration and automatic backup
Provides you with multiple hosting solutions
3. BlueHost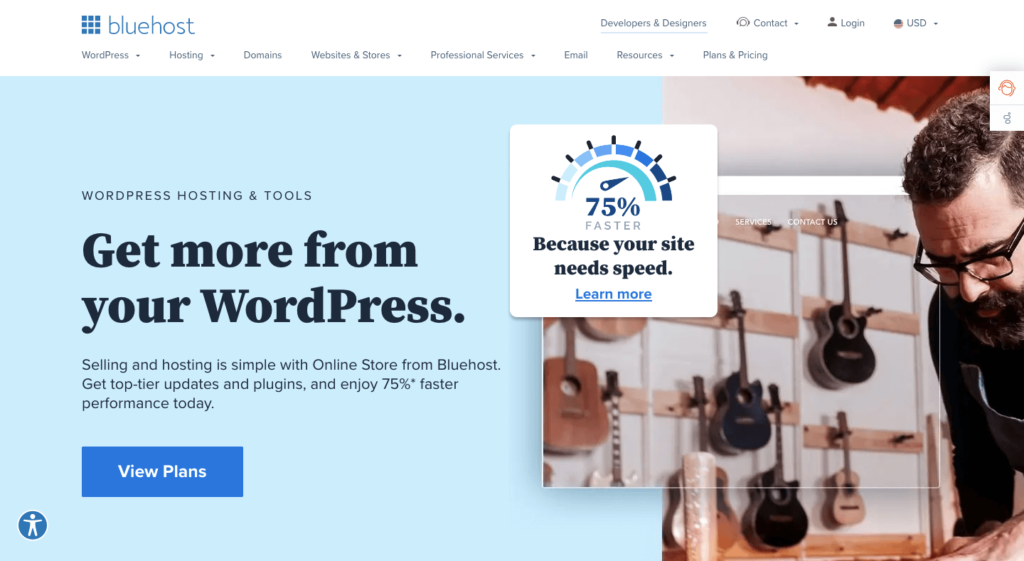 Overview
BlueHost is the most popular and reliable hosting provider and the best alternative to Hostinger. I love BlueHost's perfect hosting plans, and I recommend it for beginners. All its packages include free domain registration; yes, you don't have to pay much.
Besides, it offers unlimited features, including storage, SSL certificate, and much more. You don't have to worry about traffic as it can handle more traffic than Hostinger. If I talk about its plans, BlueHost offers four plans at an affordable rate with different features or specs.
Positive Points Of Bluehost
Pretty affordable and easy for all types of business sites
All plans have a free domain and a website builder
Offers unlimited features in shared hosting plans
Customer support is comparatively amazing
For website security, you get a free SSL certificate
One-click setup installations, so best for beginner
4. InterServer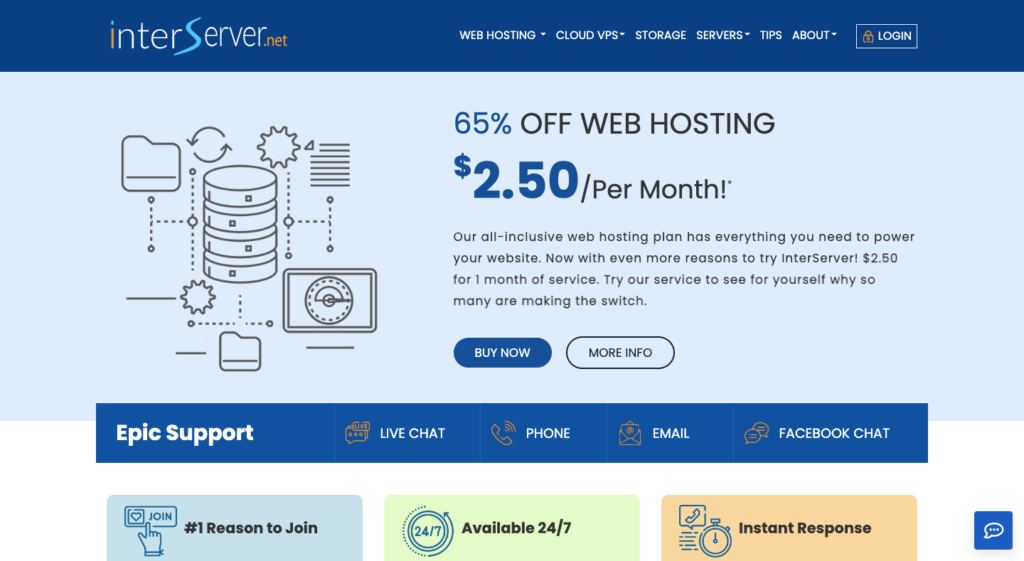 Overview
InterServer is the oldest hosting provider; hence, you can rely on it. Most reviews of this steady fast hosting are positive, making it worth a chance on. If you think about why you should go for it, around 70% of its users are migrations. And that's why you have to shift from Hostinger. 
You'll have to pay $2.5 per month for its shared hosting. However, you may choose from many options according to your hosting needs. Just buy any of its packages, standard, boost 2, and boost 4. All these plans offer various features at different prices to suit your business.
Best Features Of Intersever
Robust shared plans with many top-notch features
Unlimited storage, bandwidth, and SSL certificates
Supports power-packed SSDs and free migrations
Speed is outstanding and has stable performance
Softaculous in cPanel makes the installation quick
InterShield security makes you feel safe and secure
5. GreenGeeks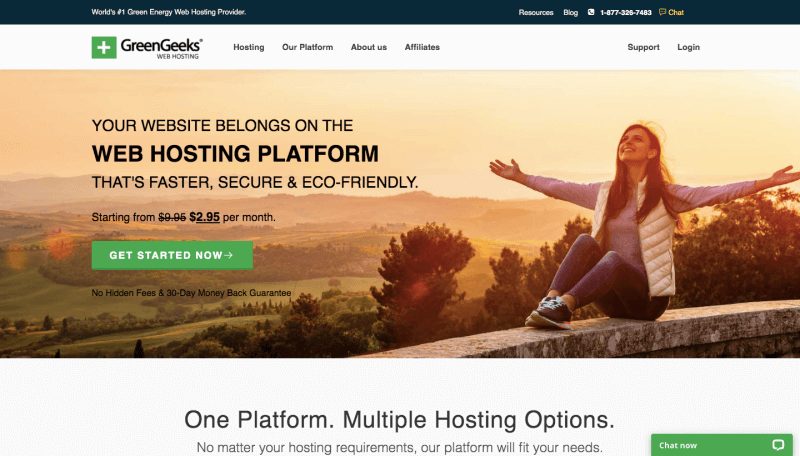 Overview
GreenGeeks is another fast, reliable, and budget-friendly alternative to Hostinger. This green web hosting should be your go-to option while you look for affordable hosting with multiple features. I'm not too fond of the price of their VPS hosting, which is a bit expensive with more features.
If you lack technical knowledge, GreenGeeks is for you — managing the settings is easy. Give this great hosting a try right now to check its performance. If unsatisfied with its quality or speed, you can request a refund within a month. Let's look at its best features:
Excellent Characteristics Of GreenGeeks
Easy to use for beginners, speedy, and secure
All packages compete vigorously in the market
Offers unlimited disk space and bandwidth
Gives several options to suit your hosting needs
Guaranteed uptime of up to 99.95% (average)
Provides you with Free CDN from Cloudflare
6. Kinsta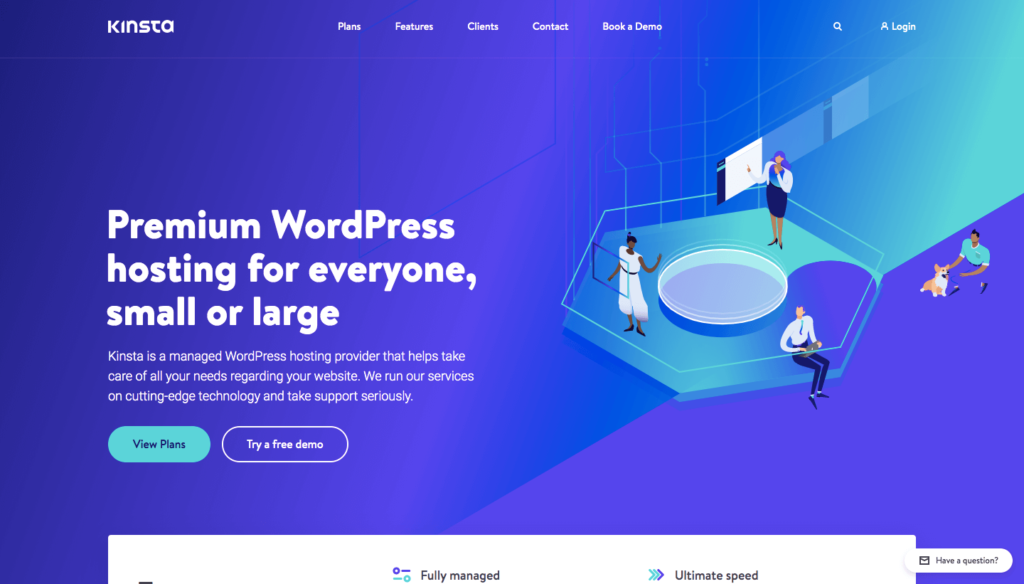 Overview
When you look for dedicated WordPress hosting, Kinsta could be your ideal option to host your business website. This hosting is a one-stop solution for a small website, eCommerce store, or blog. As Kinsta is working on a single hosting solution, its uptime is quite excellent — 99.9%.
I accept that Kinsta is expensive compared to other shared hosting services, but its features are worth it. You get lightning-fast site speed and robust security, allowing you to scale your site. If you switch from Hostinger to Kinsta, you'll love its features and enjoy many benefits.
Exceptional Qualities Of Kinsta
Extremely user-friendly and easy setup options
Offers about ten packages to choose from
Provides users with free SSL and CDN
A stable 99.9% uptime and guaranteed
Supports Nginx, PHP 8.0, and MariaDB
Best caching plugin to keep site light
Fully automatic backups done daily
7. Chemicloud
Overview
ChemiCloud is a relatively new hosting service; however, it can be used instead of Hostinger. It's also beginner-friendly, and you can set it up quickly. Also, register a free domain here. You have several options to choose from, such as Shared, WordPress, Reseller, and VPS hosting.
It offers three different packages — Starter, Pro, and Turbo. Its Starter plan is a good option for one single site as it includes several other features. Though the pricing is a bit high, its features and speed are worth the investment in this new hosting.
Exciting Features Of ChemiCloud
Handle unlimited websites on Pro and Turbo plans
Provides you with a 45-day money-back guarantee
Guaranteed 99.9% uptime and fastest performance
SSD storage is available in all hosting types and plans
Gives free SSL, migration, and free Cloudflare CDN
Easily handle 2x more traffic than Hostinger
8. DreamHost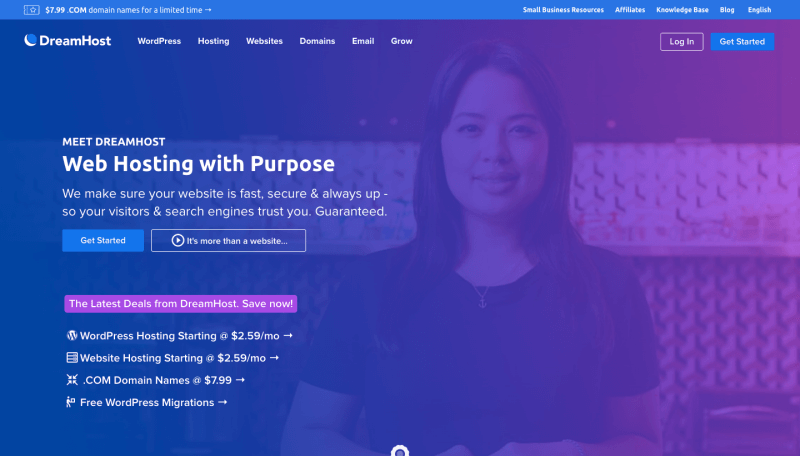 Overview
Last but not least, DreamHost is one of the recommended hostings by WordPress. It's the best alternative to Hostinger, thanks to its excellent features. What I like the most about this server service is its 100% uptime. You can buy any of its plans every month, an added advantage.
DreamHost is a very old, reliable, and famous provider in the hosting industry. All its packages support unlimited storage, bandwidth, and free domain registration and SSL. You will find almost all the features a premium hosting provider offers in this hosting.
Notable Points Of DreamHost
Easy to set up, supports one-click installation
Offers unlimited SSD storage and bandwidth
Free domain registration and SSL certificate
Guaranteed 100% uptime and robust security
Supports automatic daily backup of your data
Support is immediate and pretty outstanding
Hostinger alternatives – Frequently Asked Questions (FAQs)
1. Is Hostinger a good host?
Yes, Hostinger is an excellent hosting provider with certain limits. When you have a new site and don't have much traffic right now, go for Hostinger. And yes, it's budget-friendly hosting with enough features. However, if your demands are high, I won't recommend it.
2. Should I use Cloudways or Hostinger?
Hostinger has cheap pricing plans and an easy-to-use interface. It is suitable for startup projects. However, if you are a dedicated, long-term business, your choice should be Cloudways. You may look at the comparison of Cloudways Vs Hostinger to check the real winner.
3. What are the cons of Hostinger?
We are searching for the best Hostinger alternatives because of its limitations like
No cPanel, like almost all hosting services offer
Its speed and performance are average
A few issues with its uptime performance
Not much good for high-traffic websites
Does not support daily backup features
4. Is Hostinger Slow?
Yes! After using the service for one year, we evaluated its low speed because of slow TTFB. Even though we have optimized our site for speed, we got stuck with the slower server performance. Hence, we have moved from Hostinger to Cloudways.
Which Are The Best Hostinger Alternatives?
Hostinger is among the best hosting providers in the market to host your money-making site. But its limited features make it a poor choice for most highly-traffic website users. When you need hosting to support more and more traffic, find an alternative to Hostinger. 
I have listed the eight best Hostinger alternatives to get the right one according to your needs. I recommend Cloudways and A2 Hosting for their incredible features. You'll love these hosting services for your improved speed and security.
So, your hosting greatly affects the performance and speed of your website. With dedicated managed hosting, your web pages can perform better on the search engine and let you get more visitors. Get Cloudways or A2 Hosting without any second thought and surpass your competitors.