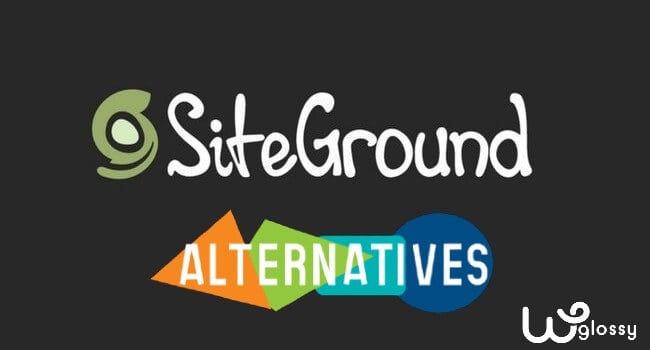 Are you looking for SiteGround Alternatives because of its increased pricing and limited storage?
Well!
You have reached the right place to know some amazing hosting services mainly made for speed, security, and high-performance to beat your competitors.
Even the best hosting like SiteGround has some downsides, and that's why the businesses are looking for other web hosting choices with affordable pricing plans.
Through this article, I would like to list some of the best hosting options other than SiteGround. It can be very beneficial for digital marketers, bloggers, and business owners who are unsatisfied with SiteGround hosting.
One cannot ignore that SiteGround is estimated to be a great web hosting service available in the market meant for easy site management. However, it has certain downsides, and they are as follows!
Downsides Of SiteGround Hosting
Although SiteGround is known to be the leading web hosting company, there are some limitations like
The UX of the cPanel of the company is extremely basic, and redesign is required for better understanding.
The pricing point is higher than the other hosting services. As of June 18th, 2020, SiteGround has increased its pricing. The intro prices have increased to $6.99, $9.99, and $14.99 for StartUp, GoGeek, and GrowBig. On renewal, the monthly prices increase from $6.99 to $14.99 for StartUp, $9.99 to $24.99 for GoGeek, and $14.99 to $39.99 in GrowBig.
At the same price or lower, there is more storage space offer by other hosting companies as compared to SiteGround.
Git integration and WordPress staging are available only in the higher pricing plans.
SiteGround is not suitable for someone who has multiple websites and even those who have a small budget. This is because the most affordable plan allows only one domain for the user, with around 10,000 visitors daily.
SiteGround hosting service is good, however, it has some downsides that push us to look for its alternatives. If you are in a hurry, just have a look at its best competitors in the table format.
Top 4 SiteGround Alternatives – A Quick View
| | | |
| --- | --- | --- |
| | | |
| | Blazing Fast & Eco-Friendly | |
| | | |
| | Simple, Fast & Convenient | |
| | | |
Top 7 Hosting services That I Recommend As Alternatives to SiteGround
I have spent quality time to list out the better hosting services than SiteGround. Every hosting has its own pros and cons, and hence you need to pick the ideal one per your requirements.
1. GreenGeeks (Cheap Siteground alternative)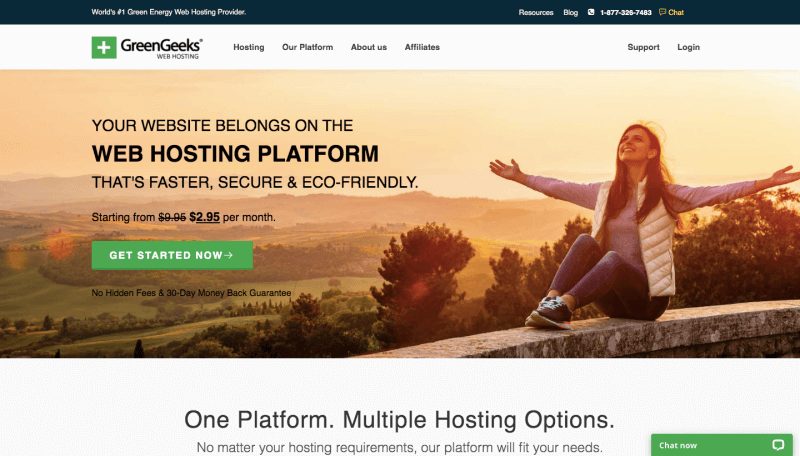 GreenGeeks web hosting platform offers a lot of the latest technologies, which help speed up the services provided. It comes with built-in services such as LiteSpeed, LSCache, MariaDB, HTTP/2, PHP7, and free CDN.
It offers high rates of uptime performance, and hence, you can be confident that his website would be very well functional, along with running almost all the time on the internet. We are using this green hosting service, and here is our GreenGeeks review.
This green hosting company boldly claims that it offers 99.9% uptime performance. This rate of uptime performance is very high and is often referred to as more than average. The performance of this server company has been extremely high, especially in the last 12 months.
For the users' betterment in terms of the services provided, the web hosting service offers a free service for CDN hosting. It uses the best hardware technologies and networks available on the internet, which makes the websites with GreenGeeks quicker than the other sites.
It also automatically caches the statistics and content of the websites, which naturally makes the websites faster in functioning.
GreenGeeks is the leading eco-friendly web hosting service provider, which gives back more than three times the energy utilized by the service. It gives back the energy in the form of renewable energy.
GreenGeeks offers various modes of customer support. There is a Live Chat option that can be accessed by the client and can assist the client in getting rid of their problems without any hesitation. There is a feature for phone support, where the client can directly place a call to the company's agents.
It is one of the excellent SiteGround alternatives that provides its customers with an easy 100 percent money-back guarantee within 30-day use of the hosting service. If you decide to cancel the hosting service within a month of its initiation, GreenGeeks provides you with the full amount after reducing any transaction or setup fees.
GreenGeeks hosting performs daily disaster recovery backups, which are retained for 24 hours and replaced by the most recent data backup. It also uses RAID-10 storage features, which help preserve the precious data of the users.
Exceptional Features Of GreenGeeks
New website builder
Unlimited web space & data transfer
Let's Encrypt Wildcard SSL certificates
New account manager
Free CDN & nightly backups
30 days money-back guarantee
Active customer support
Free and unlimited bandwidth
Allows premium SSL certificates
2. DomainRacer (Cheap Hosting Than SiteGround)
If you are looking for the best cloud-based SSD service with LiteSpeed technology along with the free SSL, then your choice should be DomainRacer hosting. It is an ideal SiteGround alternative that offers 20x faster server speed for optimum performance.
Even the basic plan of DomainRacer contains some great features like 5GB bandwidth, mailboxes, autoresponders, cPanel accounts, imunify360+, free SEO tools, etc. No matter where is your site audience is located, this affordable hosting has the data centers across the world for fast content delivery.
You don't need to worry about customer support as it has experienced professionals in the tech team to help you with multiple solutions for your concerns. As its main mission is to provide high-quality server service to its customers at an affordable cost, DomainRacer is standing out from the crowd by serving over 37000 sites.
This SiteGround replacement has all types of hosting servers like shared, reseller, VPS, and dedicated server and hence you can pick the ideal one suitable for your site requirements. Right now, it serves more than 37 thousand websites with the help of high-quality SSD servers.
Amazing Features Of DomainRacer
LiteSpeed + SSD disks
Secured & 20 times faster
Full server backup
Raid 5 data redundancy
Fully managed service
Great Email management
Worldwide data centers
Cheaper pricing plans
3. ChemiCloud (New Hosting Better than siteGround)
ChemiCloud is one of the new players in the industry. It was started just a few years back. It offers excellent customer service in the industry. Also, it is highly user-friendly, which makes it super simple to use. Also, it is extremely reliable for customers and their data.
ChemiCloud offers Solid Storage Devices or SSDs, which help in better backing up systems. Also, there are a lot of cheap hosting options that are made available for clients. It uses high-grade SSDs, which quickly and easily access the files and documents around 300 faster.
Other than these, a free domain name is provided for the user and access to the website builder, which can easily help the users. It is one of the most exceptional web hosting services which take care of backup systems. Also, it enables automated backup systems that are highly useful for your site.
The backup is carried out daily and keeps there for almost 30 days. Hence, the backup can be restored when required, within 30 days from the website's Control Panel. We got the opportunity to use Chemicloud hosting for our niche blog, and it is perfect.
This low-cost cloud hosting company provides a free service for CDN hosting. It uses the hardware technologies and networks available on the internet, which makes the websites with ChemiCloud faster than the other sites.
ChemiCloud offers different modes of customer support. There is a Live Chat option that can be accessed by the client, which can help the client to get rid of their problems without any hesitation. There is a feature for phone support, where the client can directly place a call to the company's agents.
Also, the pricing costs around $2.76 per month. The bill is generated for around two to three years at a time. Also, there is unlimited access provided to bandwidth, unlimited email accounts, and different server locations for you!
Other essential features of this exceptional hosting service include free lifetime domain, free daily backup systems, free site migration, and SSD-only hosting systems. Its managed WordPress hosting service is optimized for high-performance, security and speed.
Best Features Of ChemiCloud hosting
Seven worldwide server locations
Unlimited hosting sites
Free lifetime domain
Easy to use hosting service
Unlimited bandwidth
Free website migration
Rock-solid security
Unlimited email address
4. Cloudways (Best SiteGround Alternative – $30 Discount)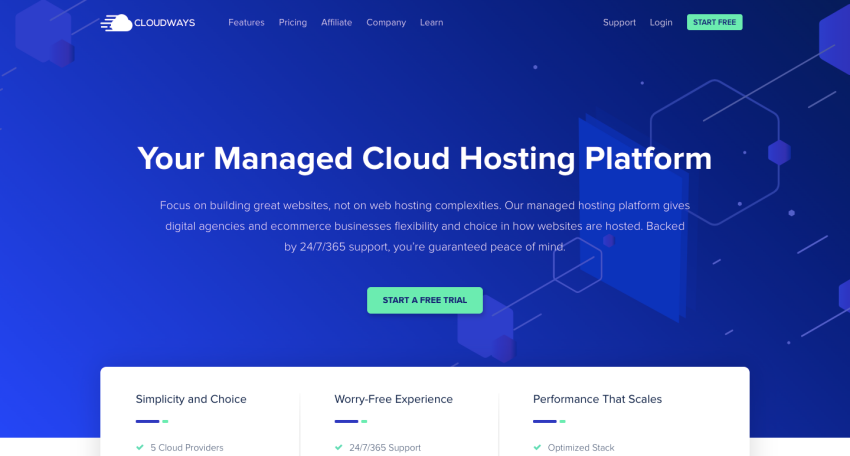 Cloudways is a managed hosting company that provides affordability and flexibility to the users with the freedom to use their data. It helps you in building your website without any hassle or trouble.
Cloudways consists of a platform that comes along SSD hosting service, which increases the performance by around 3 times compared to its competitors. Also, the time which would be required for loading a page would be reduced.
All the websites that are hosted by this managed cloud hosting company have dedicated resources. This helps the client to use the maximum of the resources.
All the Cloudways servers are PHP7 ready, which is much faster than the older PHP versions. For high-speed performance, it also provides a CDN service.
It uses the hardware technologies and networks available on the internet, which makes the websites with Cloudways faster than the other websites.
Mostly, it focuses on the enhanced performance and speed for the clients. As it comes with HTTP/2 servers, it is perfect for increasing communication and performance by massive levels.
Apart from speed and performance, there are many other features present in the Cloudways hosting service. Apart from the speed, a lot of emphasis is laid on security, firewalls, Two Factor Authentication, and a few more.
Along with this, it offers flexible and special pricing as well. This service allows you to bill for a few hours as well. Also, you can upgrade your monthly plan anytime you wish for. Even though its price is a little bit higher, Cloudways is the best replacement for SiteGround hosting.
We are using this super-fast managed WordPress hosting for the past 5 years, and our satisfaction level is always high. We didn't have any trouble till now, and our sites are performing well in the search engine results.
As we are their active customer, they have activated a special coupon code for my visitors like you, and yes, through the Cloudways Coupon, you will get the maximum discount of $30 that will save your hard-earned money.
Astonishing Features Of Cloudways
One-click SSL certificates
Supports multiple PHP versions
SSH and FTP access
Git integration
Pay as you go pricing plans
Knowledgeable customer support
Best security services
5. InMotion (Flawless SiteGround Alternative)
InMotion is one of the best hosting services and SiteGround replacements. The high speed of this service is what makes it different from every other company.
The company has a great support team, which is highly knowledgeable and patient, which plays a significant role in providing instant customer support.
InMotion offers a great speed, which is not evident in other server services. It uses its server speed checker, which helps in discovering the time response of InMotion.
With its enhanced speed and performance, it can help better load the websites and webpages, which is of great importance. Also, it has the Speed Enhancement Zone, which allows its servers to respond faster based on their strategic location.
Moreover, it provides an ultra-fast SSD, which increases the chances of storage in SSDs compared to HDDs.
It offers a 99.9 percent uptime guarantee, allowing customers to receive monthly credits within time. The client can receive the credits of one month even after dropping the level.
The DDoS attacks and server interruptions do not affect the company's system, which also does not affect the credit points and units for the customer.
As InMotion provides you with credit points, it also offers free domain names along with websites. It is one of the greatest Siteground alternates with a very low monthly starting price suitable for beginners.
In an InHosting Plan, it includes a free domain with all its shared hosting plans. It is free for just one year, which makes a difference in customer satisfaction and appreciation.
Notable Features Of InMotion
Free domain registration
No downtime website transfer
Free data backups
99.99% Uptime guarantee
Offers professional email address
Free SSL and holds high-security features
Risk-free with no hidden money-back guarantee
6. A2 Hosting (Top SiteGround Competitor)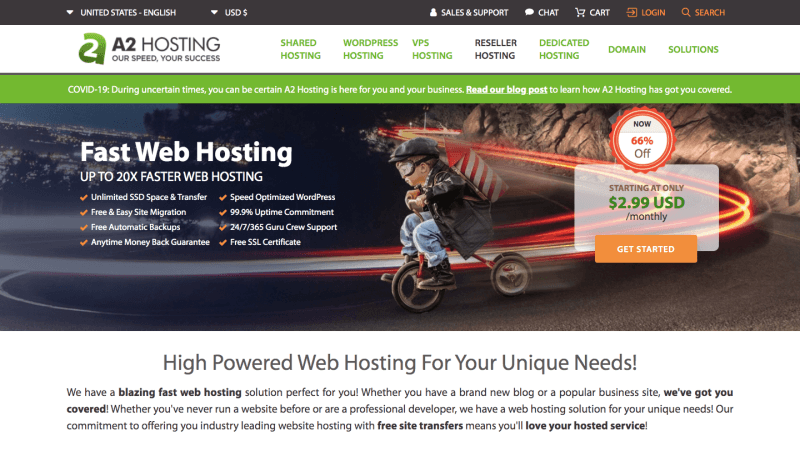 A2 Hosting is the under-the-radar company that provides an anytime money-back guarantee, with around 99.9 percent of the server-uptime guarantee. It has unlimited storage options and bandwidth, along with excellent speed options.
The speed of the company is extremely higher than the current trending players in the market. The platform comes with enabled LiteTurbo Speed servers, which help track the regular speed of the servers and take control of the speed at which websites and web pages load.
Also, the location at which servers are placed is very strategic, which can help manage the platforms' speed and performance. As it comes with HTTP/2 servers, it is perfect for increasing communication and performance by massive levels.
All the A2 Hosting servers are PHP7 ready, which is much faster than the older PHP versions. For better performance for the clients, it also provides a CDN service.
This cheap SiteGround alternative offers a free website migration, and also, it comes with WordPress pre-installed. It provides free automatic daily backups, along with the Server Rewind Tool.
It is pre-tuned for security purposes and has a free SSL with Let's Encrypt. Also, it has an A2 Accelerator, which helps boost the servers' speed and performance.
Amazing Features Of A2 Hosting
Free Cloudflare CDN
Unlimited Data Transfer
Free automatic backups
Free website migration
New hosting plans (Cheaper plans)
Anytime money-back guarantee
99 percent uptime guarantee
7. Hostwinds (worth Trying SiteGround Opponent)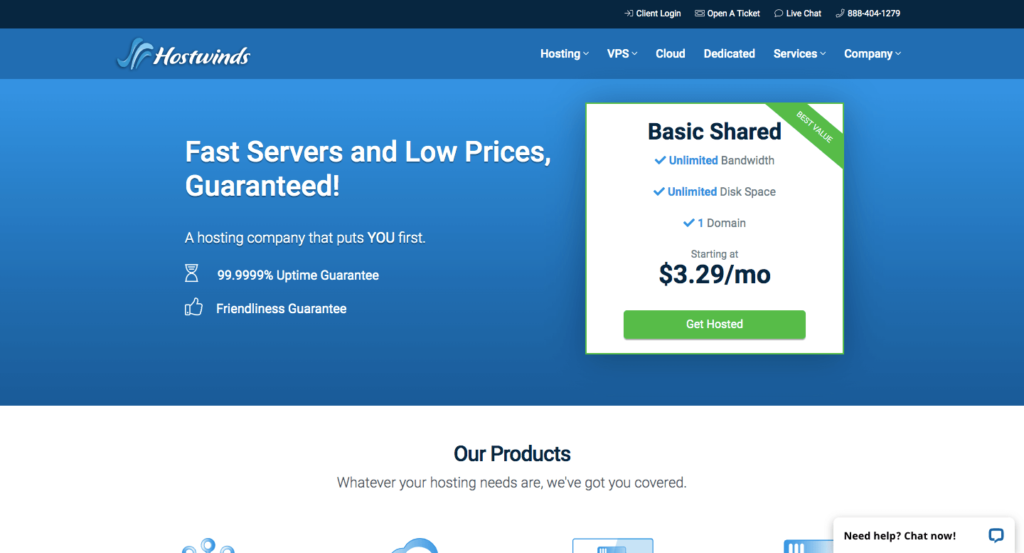 Hostwinds provides around 99.999% of uptime performance. Also, the customer service that is provided by the company is excellent, which helps in providing support in real-time.
It consists of a platform that comes along SSD Hosting service, which increases the performance by around 3 times greater than the traditional hosting services. Also, the time which would be required for loading a page would be reduced.
It offers fast and reliable hosting services, which are perfect for personal use as well as businesses. It also provides customizable cloud servers with a lot of one-click applications.
The customer support team is highly knowledgeable and patient, who are always ready to support the customers and help them with their questions. The team is dedicated to support and guide the customers 24/7.
Hostwinds has cutting-edge software, which helps in providing the best platform for fast and reliable network and data sharing. I'm sure that it is one of the best SiteGround alternatives that will meet your hosting needs and help you take your site to a new height.
Remarkable Features Of Hostwind
Designed with speed in mind
Unlimited Storage
Dedicated IP address
All types of VPS plans are available
Constant monitoring
Tier 3 data centres
Awards & reviews reveal a reputation of excellence
Unmetered bandwidth
Which Is the Best SiteGround Hosting Alternative?
With the increase in the pricing of SiteGround hosting on various of its pricing plans, it's almost imminent that many would surely be looking for the best alternative. In this article, I have tried to compare some of the excellent hosting alternatives for SiteGround that one might think of.
I hope that this article would help you reach a final decision about the SiteGround alternative if you are searching for one already. However, one last piece of advice here would be to make sure that you are entirely aware of what you might need.
Here is my best suggestion!
When you are on a tight budget and badly need affordable web hosting to take your business site to the next level – Get GreenGeeks Or A2 Hosting.
If you are a dedicated online business that wants to perform well than your competitors – Go with Cloudways Or ChemiCloud.
If you are still looking for a better hosting service, you may look at the list of SSD hosting or best PHP hosting and get the superior server service to perform well than your business competitors.
The servers of these SiteGround hosting alternatives are blended with the latest technology features and optimized for more speed and performance along with the highest uptime. So, which one would you like to go with?